Beach House Lamps & Lighting ~ illuminate your ocean decor
When you really start getting into decorating, one thing that you will notice is that lighting options seem practically endless. There is no shortage of lamp styles for whatever decor option you choose.

And since the decor option that we have chosen is coastal decor — and since we're currently talking about coastal living rooms — I would like to share with you some of what I think are really great options for Beach House Lamps & Lighting.
See all of our Beach House Living Room Decorating Ideas:
Beach House Lighting • Beach House Sofas • Beach House Chairs • Beach House Coffee Tables • Beach House End Tables • Beach House Fireplaces • Beach House Pillows • Beach House Rugs

Coastal Accent Table Lamp with Sea Shells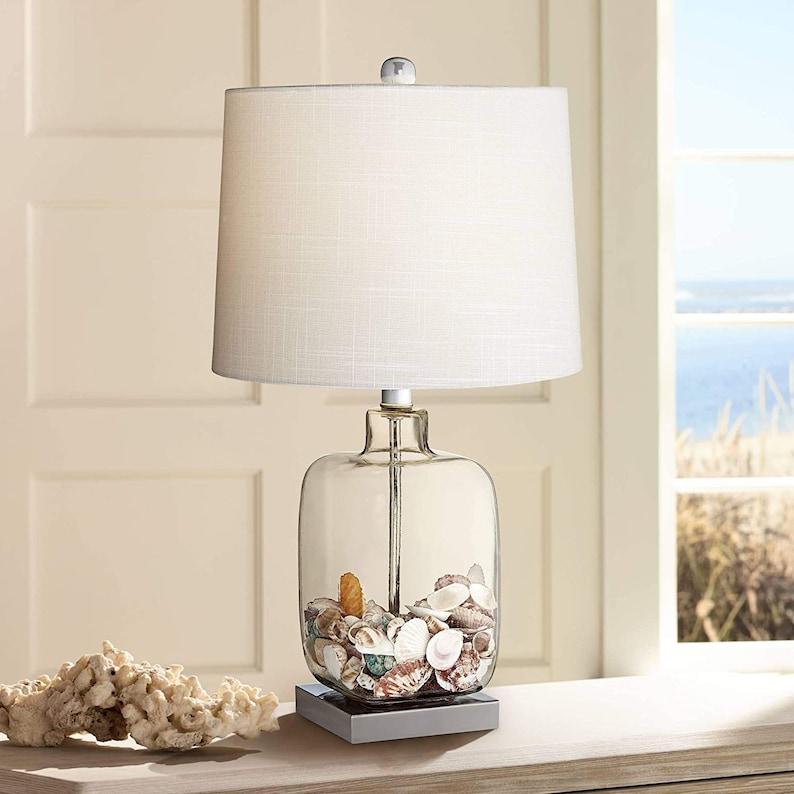 Can you guess why someone who runs a website called Seashell Madness might want to lead off this list of coastal lamps with this particular coastal lamp?

Ocean Treasures Coral White Table Lamp
Okay, so first off this is faux coral. No reefs were harmed in the making of this lamp. But, wow, what a look to this one. I really like the shape that has been created with this coral. And in the "what a neat detail" department: the top piece which screws in the lampshade is also coral. Way cool!

Alana Coastal Accent Table Lamp w/LED Rope & Blue Glass Gourd
In a lovely coastal turquoise color, this lamp evokes the feel of not only a gourd, but also of the old-fashioned Japanese glass fishing net floats, made all the more interesting by the use of metal wire rope in the shape of netting.

Nantucket Coastal Table Lamp w/ Natural Seagrass
As has been noted elsewhere on this site, I am a big fan of driftwood. There's just something about walking along the beach and finding a wonderful little piece of wood which has been floating in the ocean for a while. If, like me, you have coastal decor that features a fair amount of driftwood, then this lamp will fit in perfectly with your decor. And if you have a lot of rattan in the room? Even better.

Maui Arc 82 in. Antique Bronze Floor Lamp
If you like a soft lighting solution, then you'll love the fact that these barrel shaped lamp cages are lined with white rice paper which creates a relaxing diffused feel to the light. In addition, I personally really like the way that these lights are suspended in a lantern-like way. A stylish combination there.

Shaws Cove Turquoise Shells Table Lamp
Shells, shells and more shells! Here we have not only a great outline for a table lamp, but the surface is also one of cascading shells. And if cascading shells weren't enough to bring out the beach theme of a room, it is also teal-colored, which is one of the most common color palettes in a coastal themed decorating project.

Eneya Ceramic Blue & Green Swirl Glaze Modern Coastal Table Lamp
This lamp is definitely a work of ceramic art. To start with, I really like the extended barrel shape of this lamp base, and the wonderful texture here is like a weathered barrel. But it is the hand-glazed colors that really do it for me.

Rope Net Coastal Nautical Contemporary Table Lamp
A lot of beach house decor will include items with a fishing net theme. For obvious reasons, fishing nets work really well when decorating coastally. I like how this lamp really highlights the fish-netting by wrapping it around a clear base.

Mia Coastal Blue/Clear Drip Ceramic Table Lamp
Start off by applying a classic perfume-bottle shape to a lamp base, and then finish it off with some amazing hand-glazing work. The way that the blue glaze gently rolls down the side of this lamp is beautiful.

Windley Shell Roses Table Lamp
As you can probably guess by the name of this website, I am a bit obsessed with seashell art. You could say that I have a madness. So a lamp like this one really, really thrills me. One of my biggest interests in seashell art is in using shells to create flowers. The possible types of flowers which can be created using shells is virtually endless and it's really great when I see something new. I love how the artists here have used shells in one direction to create the flowers, while turning the same shells in another direction to depict the space around the flowers. Beautiful.

Turtle Reef Night Light Table Lamp
A sea turtle theme can be a wonderful way to go with your coastal living room. After all, the beauty and grace of diving sea turtles is something amazing to see and has inspired many an artist over the years. So incorporating sea turtles into the design of a lamp is a phenomenal idea.

Starfish and Sand Dollar Contemporary Table Lamp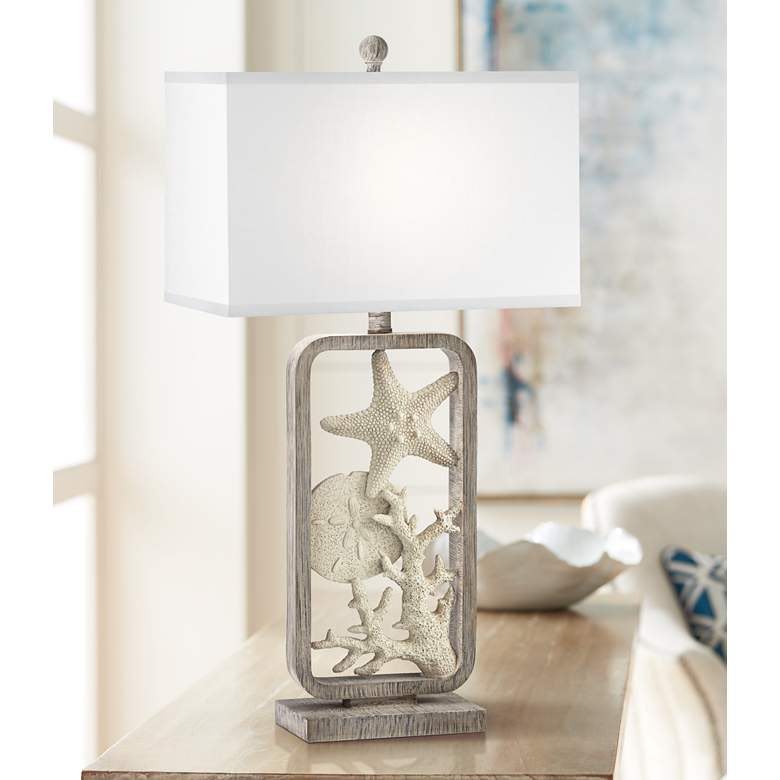 There are several things that I like about this lamp. First, there's the shape: how wonderful this rounded open rectangle is as a start. That's the sort of design that would fit in with a contemporary decor. And it is great that the open space of the rectangle has been filled with starfish and sand-dollars — two eternal symbols of the beach lifestyle.

Coastal Ceramic Starfish Table Lamp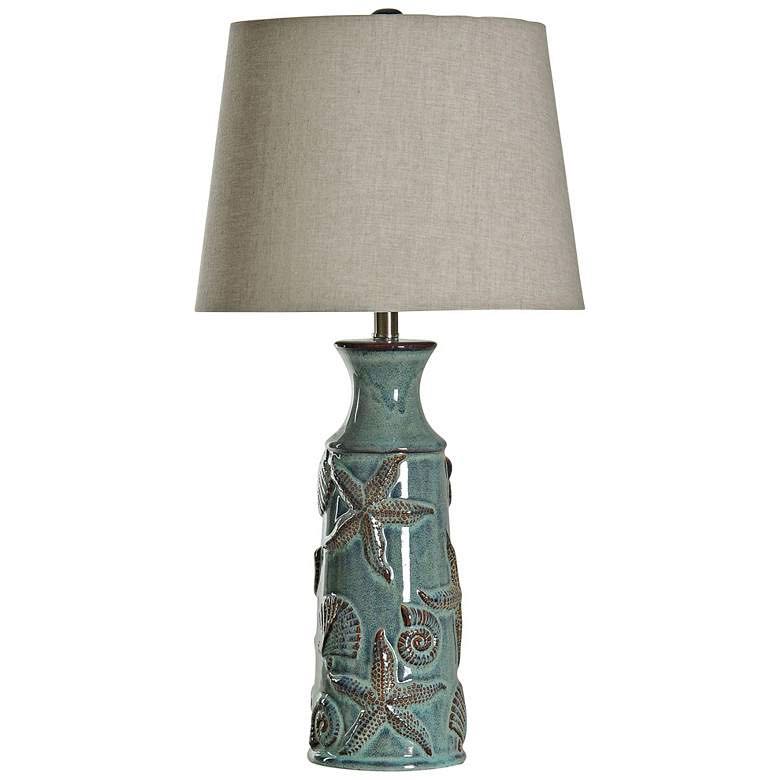 A good coastal-themed work of ceramic art works really well in beach house decor. So why not take that great piece of coastal-themed ceramic work and use it as the base of a lamp? That certainly works.

Woven Seagrass & Burlap Table Lamp
Rattan is commonly used in coastal design, with its patterned weaving giving it a feel reminiscent of woven reeds. If you've decided to go with some rattan in your decor, then I would suggest that this woven theme lamp would fit perfectly. I really like the thin profile of this lamp and the woven cover is just wonderful.

Monkey's Fist 24" Knotted Rope LED Table Lamp
Any sailors in the reading audience will surely recognize this design. For those who are more beach-oriented than boat oriented: this wrapped ball shape is called a monkey's fist. A monkey's fist is used as an aid to throwing ropes. It is also a pretty advanced knot to master. At any rate, because of its importance in sailing, a lamp with this as its center core fits in perfectly with a coastal living room (and will be a likely conversation starter with any sailors who may visit).

Clear Blue Swirl on Art Glass Gourd Contemporary Style Table Lamp
There's something about the shape of this lamp which is evocative of a diving stingray. Or maybe that's just me? Anyway, the smoothly flowing lines are great enough, but add in that swirl pattern of blues to the glasswork and you definitely have yourself a bit of coastal decor for your living room.

Sea Life White Accent Table Lamp
Reminiscent of coral covering the bulkheads on a sunken ship, this lamp also features a low, squat type of a profile — giving it a lower center of gravity for stability and making it wonderful for up-close reading.

Shells and Sea Stars Ceramic Table Lamp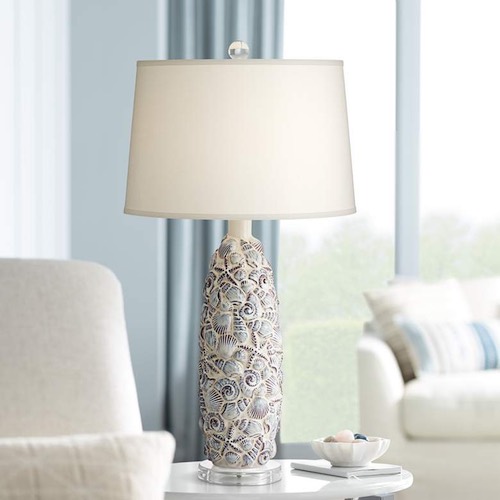 With a ceramic surface decked with a motif of sand dollars, shells and starfish here is a lamp that is perfectly suited for coastal decor. I particularly like the way that rather than being the stark white that is common in coastal decor, this lamp has some darker burgundy shadowed areas which really make the shell shapes "pop!"

Crackled Crab Porcelain Table Lamp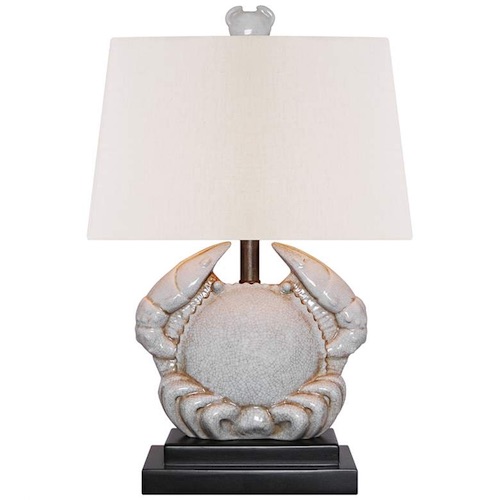 There can be absolutely no mistaking your intentions when you have a lamp with a sculpted crab base! I'm actually a big fan of crabs in the form of artwork (honestly though, not as much in real life), and the depiction of this giant crab is perfect for the person who wants to be absolutely clear about this whole "coastal" thing.

Helene Vintage Country Cottage Table Lamp
I love the texture that's been given to this lamp. Though it has been done in ceramic, the texture of the base evokes a woven rope feel while the top of the base has a old-time riveted look to it. And the white-washed glaze is the perfect way to finish it off.

Round Blue Dimpled Glass Coastal Contemporary Table Lamp
I love the dimpled look to the glass base on this lamp. With its soft blue coloring, those little dimples definitely evoke the feel of water. In fact, if I sit and stare at it, I would almost swear that not only is it water, but that I can see the ripples moving.

Seahorse Glacier Blue Table Lamp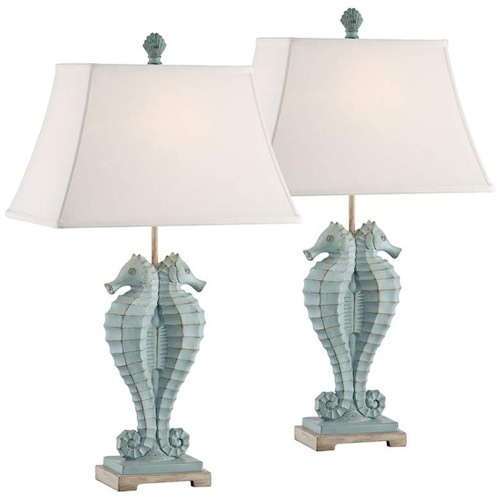 I'm not gonna lie to you: I like seahorses. There is just something about these little creatures that makes you want to take them home. But since you can't do that, you can have in your home items which are shaped as seahorses. Which is close enough for me.

Vintage Japanese Glass Fishing Float Lamp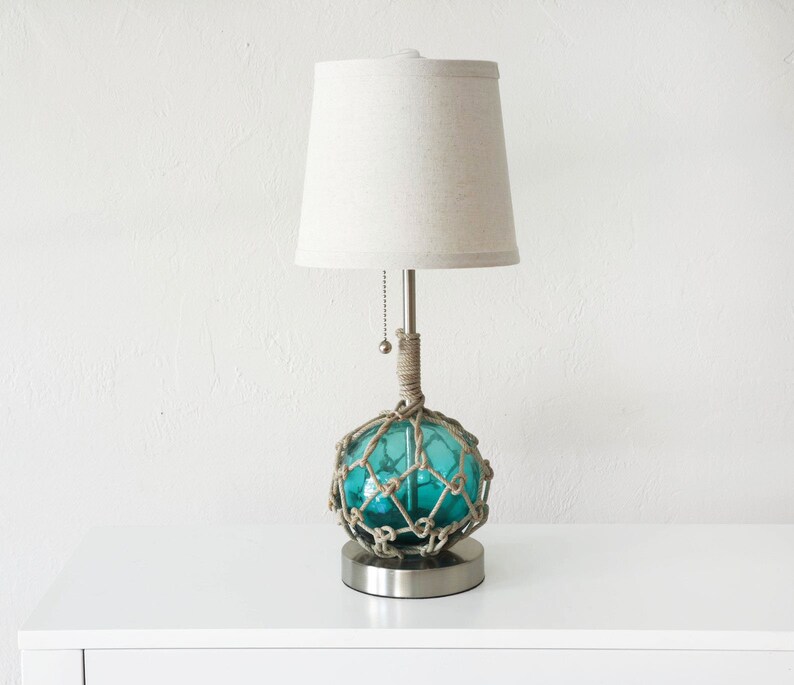 In days of old, fishermen would use hollow glass spheres as floats to keep their nets from sinking away into the deep. Though no longer in use in that way, many people found that the design of these spheres was really quite beautiful. Thus, they've been a staple in seaside art and decor for quite a while now. This lamp makes perfect use of one of these glass floats, artfully entwined within a fishing net pattern.

Blue Glass Open Base Table Light
Sometimes simple is the best way to go. I really like the modest simplicity of this little table light. The frosted green, reminiscent of sea glass, is the perfect beach color.

Sea Blue Glass Table Lamp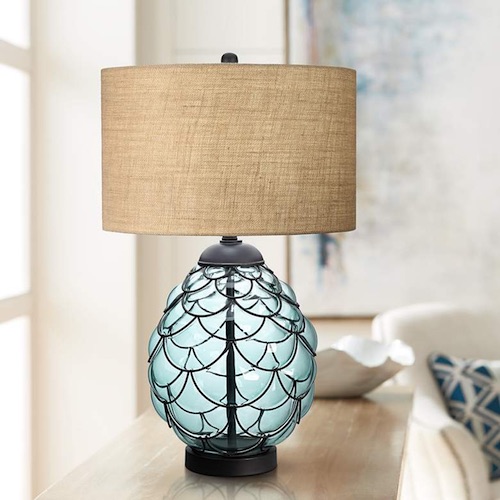 Not only is this lamp in a very pleasing translucent sea blue color, the fish scales pattern to the gild work really gives it that coastal feel.

Nautical Driftwood Wood Box Table Lamp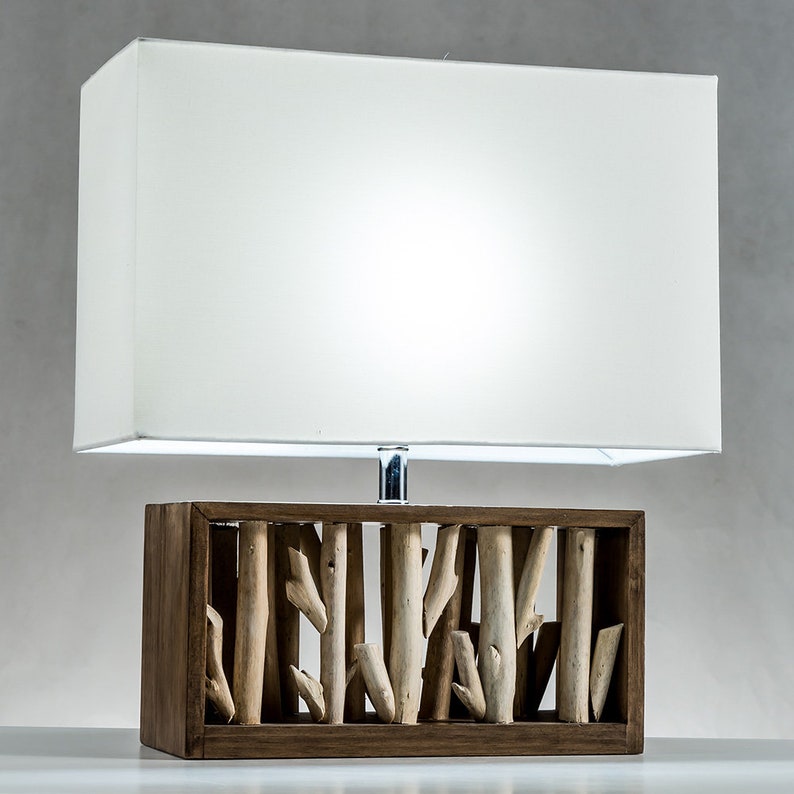 What a wonderfully creative piece of contemporary furniture! First let's start off with the general design. The rectangle above rectangle motif creates some fabulous and distinctive lines. I am truly fascinated with the lines on this one. And then bring in the unique addition of driftwood (which is one of my favorite artistic materials) and this lamp truly becomes a one-in-a-million design. If you are going for a contemporary vibe with your coastal living room, then this right here is the lamp for you. Truly.

Hanauma Bay Table Lamp
A coral reef. A wonderful shell. Memories of Hawaii… all in a lamp.

Stella Coastal Modern Contemporary Table Lamp
I love the wonderful ridges on the sides of this slim profile lamp. There are really beautiful accents here in this beautiful sea-blue transluscent glasswork.

Modern Blue Bubble Cascade Glass Table Lamp
One of the best artistic representations of bubbles that I have ever seen! This lamp really brings up visions of scuba diving, when you look up and see the glittering bubbles rising toward the surface. This would fit well with a modern coastal theme where the color palette is dominated by white — with small pieces like this accentuating the room with spots of sea blue. Stunning!

Ocean Blue Stream Table Lamp w/ Night Light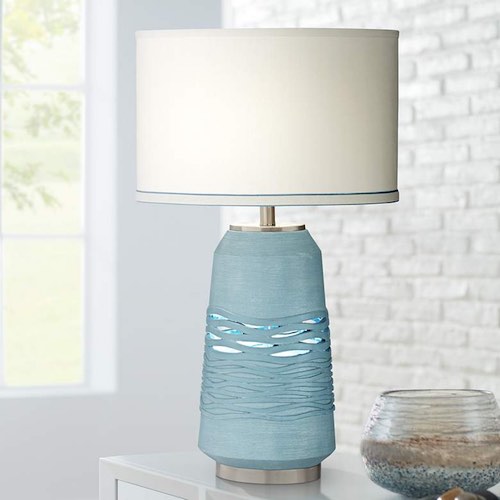 Like currents within the vast ocean of blue… I am really fond of the weave on this one. Rippling, rippling, rippling…

Jaime Handcrafted Blue Gray Art Glass Table Lamp
It's the little flowing currents of teal which really make this lamp. A perfect accent to your beach house decor.

"Jewel of The Sea" Smoke Blue Art Glass Table Lamp
Did you ever see that movie The Abyss? If you have, then looking at this lamp you will immediately know why I brought it up. The flowing design here, punctuated by jewel-like spots of white is truly, truly beautiful. Everything about this lamp is perfect. Add this to your coastal room and you can bet that it will be the center of attention no matter what else is in the room.
Beach House Lamps and Lighting
Thanks for checking out my list of great beach house lighting options. If you enjoyed this article, please share it on your social. Thanks!
Written by Renee