Beach House Fireplaces ~ for the warm fuzzies
Though we usually think of beaches as being bright and sunny, for a lot of beaches when the sun goes down the temperatures do tend to drop.

You need some form of heater in there for those chilly nights. Luckily these days adding an electric heater is no longer a boring thing, that's because these days we have the exciting choice of an electric fireplace!

So join me today as I have a look at some really awesome Beach House Fireplaces.
See all of our Beach House Living Room Decorating Ideas:
Beach House Lighting • Beach House Sofas • Beach House Chairs • Beach House Coffee Tables • Beach House End Tables • Beach House Fireplaces • Beach House Pillows • Beach House Rugs

BELLEZE 48" Ashland Pine TV Stand/Fireplace
Unlike a real fireplace, an electric fireplace can serve a variety of purposes beyond just heating the room. The most common cross-use is for a TV stand. If that's your intent, you want to make sure that you go with a nice, wide model like this one which can accommodate a television up to 50 in. wide. I also really like the design of the top shelves on this one — perfect for miscellaneous storage.

BELLEZE Hilo 58 Inch Fireplace
If you're looking for a sleek, modern design which also features plenty of storage space, this is the option that I would go with. The crisp, sleek lines and stone gray coloring will fit in perfectly if your coastal room has a modern feel to it.

Della 70 in. Electric Fireplace with Enhanced Log Display
A great combination of classic fireplace design with modern, clean lines. This unit also has plenty of side storage — I love the feel of the open cubbies, perfect for displaying art and knickknacks. And the solid white theme makes it fit in perfectly with coastal decor.

Birkover Electric Fireplace w/ Marble Surround
Sometimes you would like for an electric fireplace to convey something of the feel of a traditional fireplace. This model with its faux mantel and brickwork definitely pulls off that trick really well.

SEI Furniture Dendale Faux Marble Electric Fireplace
Let's say that the coastal room that you want to heat has a very crisp, modern design. Let's also say that you want to make your electric fireplace a focus of the room rather than a utilitarian storage space or TV stand. If that's the case, then I'm confident that this faux marble electric fireplace will fit the bill nicely.

Lorraine TV Stand/Electric Fireplace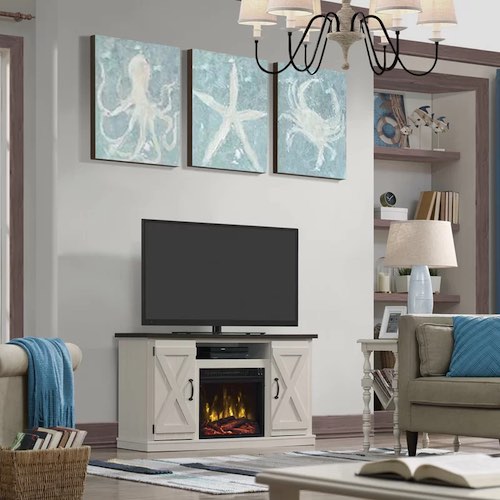 Farmhouse decor and coastal decor quite often overlap one another due to the focus of both being on a relaxed sort of vibe. I really like the design of this farmhouse style electric fireplace. The X shaped doors are a wonderful touch, and I really, really like that it has a devoted space for a DVD player (for those of us who still use such things).

SEI Furniture Seneca Faux Stacked Stone Electric Fireplace
If you had a traditional wood-burning fireplace in a space that you were decorating in a coastal style, it would be a pretty good bet that you would paint it white — mantel, bricks and all. So if you are instead using an electric fireplace in the same sort of room, well, it just makes sense to go with a solid white model such as this one.

36 in. Freestanding Electric Fireplace in Gray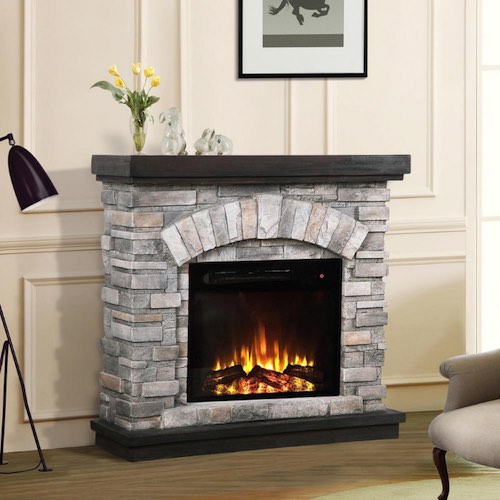 For the traditionalists in the house, here's a wonderful option. I really love the faux brick work on this one. Definitely lends a "homey" feel to the whole enterprise.

Comfort Smart Sargent Oak Electric Fireplace
Another great example of the farmhouse style. Simple, elegant and beautiful.

Dinatale Electric Fireplace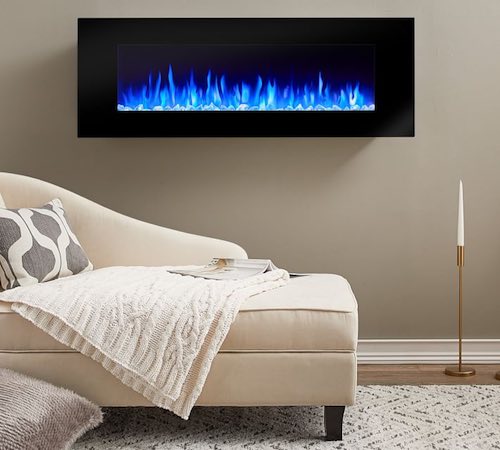 And for those of you who are absolute adherents to the concept of minimalist: this is really the only electric fireplace option to consider. Really.

PHI VILLA Electric Fireplace Stove with Faux Stone Mantel
If you're limited on your space allotment for an electric fireplace, then I would suggest this one. The tall, thin design fits perfectly in a small space while still cranking out the heat that you need. And the faux stone and mantel on this one are really well done.
Beach House Fireplaces
Thanks for checking out my suggestions for beach house fireplaces. If you liked this article, please share on your social. Thanks!
Written by Renee