Beach Art
At Seashell Madness we're a bit obsessed with Beach Art & Decor. We couldn't even begin to estimate how many hours we've spent in the pursuit of the subject — from checking out hundreds of seascape paintings, to reviewing every sort of seashell art, to gawking in amazement at wonderful works of ocean resin, to finding the perfect shelves for a beach house kitchen, to selecting just the right mermaid shower curtain rings... We're hooked!

And we pass our experience on to you. Look below for the most recent posts on BEACH ART & DECOR!

Beach Artists

Best Beach Painters
There are some amazing painters creating amazing ocean and beach-inspired paintings out there! Here seashellmadness.com takes a look the Top 50 Best Beach Painters on Etsy! Looking for beach art, say a great abstract ocean painting? Or a watercolor of the waves? Or a realistic portrait of a sea creature? These are the artists who do it best!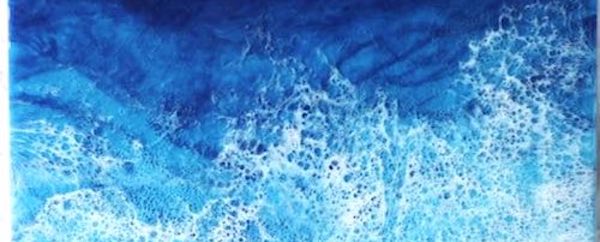 Best Resin Artists
You can create an ocean with resin! (if you're artistic enough) Because of the fluidity of resin, it makes an excellent medium for depicting oceans and beaches (again, if the artist is artistic enough!)
Best Seashell Artists
Seashells. Who doesn't like seashells? Nobody that I know. And when a talented artist uses seashells to create artwork? Fantastic! Here seashellmadness.com lists the 50 BEST SEASHELL ARTISTS on Etsy! From mind-blowing murals, to frogs made from shells to shells mixed with resin, there are some great works being made with shells.

Best Driftwood Artists
It's always fun to find some weird, twisted piece of driftwood on the beach. And there are some artists who then take an additional step and turn that driftwood into cool art. Here seashellmadness.com lists the top 30 Driftwood Artists on Etsy!
Beach Books

Best Seashell Books
When you're serious about seashell collecting, you need a serious book on the subject, so here's my list of the best seashell books!

Best Sea Glass Books
Once you start collecting sea glass, you'll likely become hooked, which is why you need a great Sea Glass book to guide you on your quest!
Sea Glass

Sea Glass Art
Sea glass is definitely one of the most interesting things to wash up on the beach. Which is neat enough, but then some fantastic artists use sea glass in fantastic projects. Let's take a look at some great sea glass art!
Sealife Art

Crab Artwork
Crabs may not be the prettiest creatures on the planet, but artists have made some fantastic works based on these crustaceans! Today on Seashell Madness we'll take a look at some incredible artwork whose subject is crabs, and offer up some reviews of 19 different pieces of crab artwork (with links to where you can get them)!

Dolphin Artwork
Dolphins are some of the most beautiful animals living in the sea. And there is a lot of amazing artwork featuring our intelligent aquatic friends! In this article, I&srquo;d like to show everyone 16 examples of what I feel to be great dolphin art — along with links to where you can get it!

Mermaid Artwork
Mermaids are magical, and they make for beautiful, beautiful art. Wouldn't you agree? Here seashellmadness.com takes a look at 15 great examples and includes links to where you can get this fantastic art!
Octopus Artwork
Octopus art: some of the most fascinating beach art features our 8-legged friends of the ocean, the octopus! So today we're sharing some of my favorite pieces of cool octopus art!

Sea Turtle Artwork
Sea turtles gliding through the ocean are beautiful, so what could be better than some great sea turtle paintings and other sea turtle art. Join me and see what you think!

Seahorse Artwork
One of the most beautiful and elegant creatures of the sea has to be the seahorse, so let's take a look at some great Seahorse Artwork!

Starfish Artwork
Though starfish aren't really fish, they are some of the most beautiful sea creatures around. Elegant and beautiful! How about we take a dive into the world of starfish artwork where we'll check out a bunch of great examples (along with links to where you can get your own hands on them)!
Cat Mermaids
There is some great art which is (rightly) devoted to the Cat Mermaid, or Purrmaid, a wonderful mythical creature. Let's have a look!