Seahorse Art ~ It's a Seahorse Stampede!
I see horses.. seahorses!

Today Seashell Madness again takes a look at some fantastic beach art and home decor, with today's theme being one that I am crazy about… seahorses!
There's just something about seahorse that is just so darned cute, isn't there? Whenever I see one of these little guys I find myself wishing there was some way that I could take a few home for pets.
Since that doesn't really work, I'll settle for seahorse art. And boy, is there some amazing seahorse art out there. Such a huge amount and huge variety.
Let me show you!

Seahorse Collage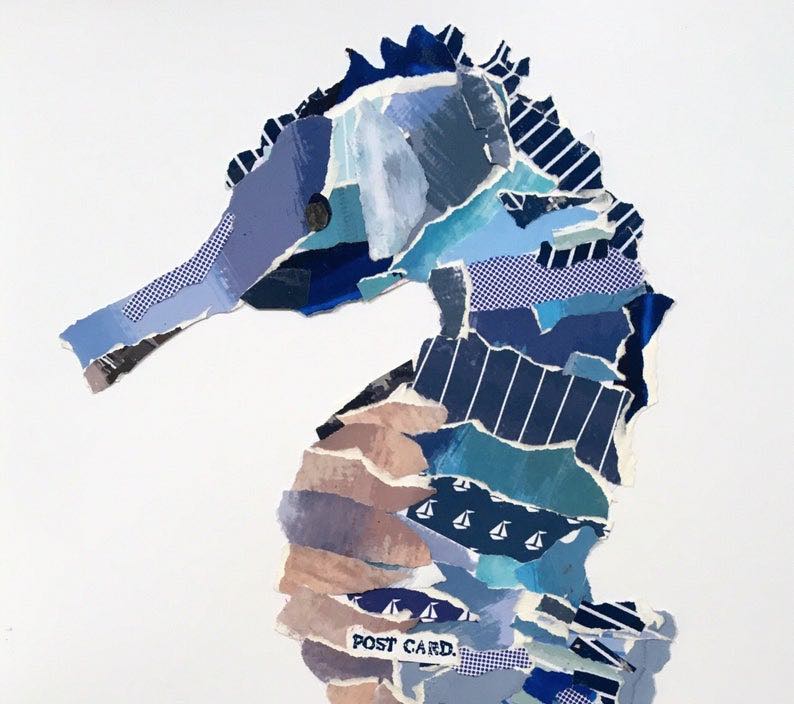 I certainly love a good collage — just the act of taking random bits and scraps of images and assembling them into something new requires quite a bit of skill — and this Seahorse Collage by Jane Hirst is a great collage.
I especially like the details of the 'crown' area of the seahorse's head, which have been achieved with the careful tearing of the bits of paper. And the use of sailboat patterns as one of the collage elements? That is terrific.
All in all a great piece of work here.

See all of our Sealife Art Pages:
Dolphin Art • Sea Turtle Art • Octopus Art • Crab Art • Seahorse Art • Starfish Art •
Seahorse Original Watercolor Painting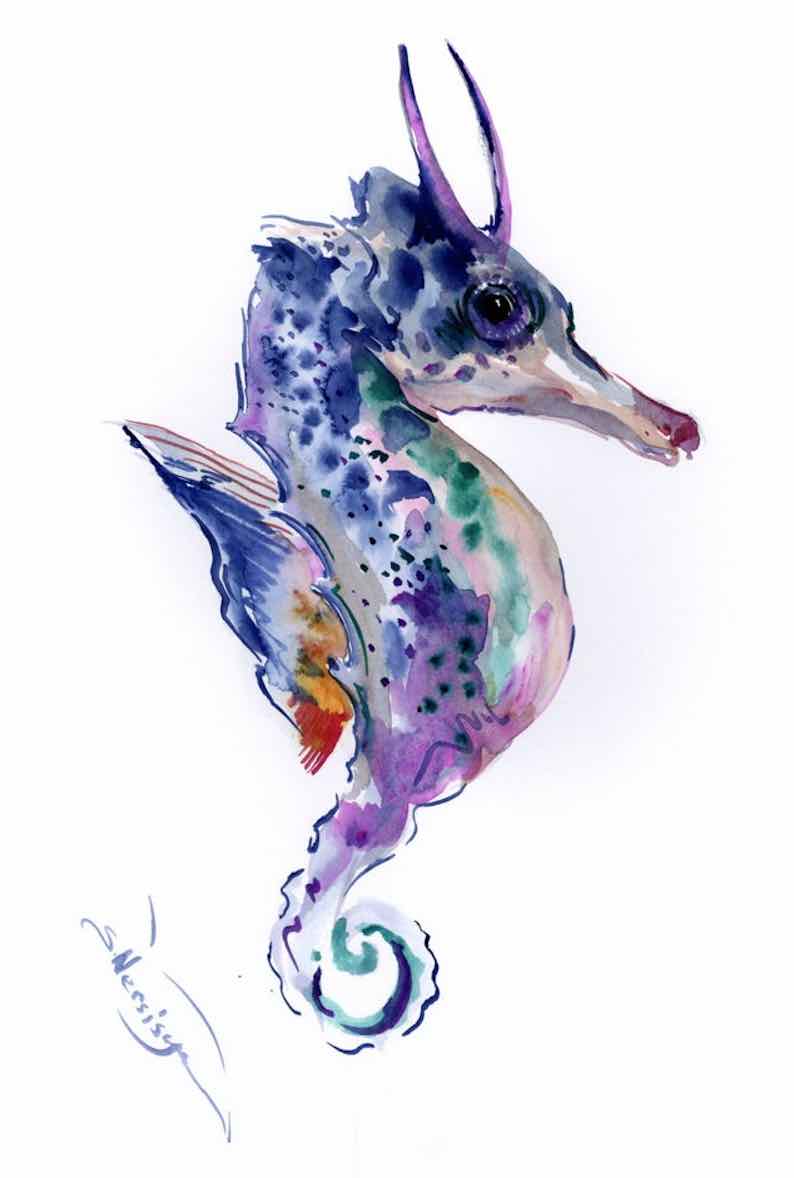 If you've spent much time of Seashell Madness then you've heard me rave once or twice (or 50 times) about how much I enjoy a good watercolor painting. When used right, there is just something magical that happens with watercolors.
And something magical certainly is happening with this Seahorse Original Watercolor Painting by Suren Nersisyan. Just look how the purples and the blues blend together. It's a beautiful effect.

Steampunk Seahorse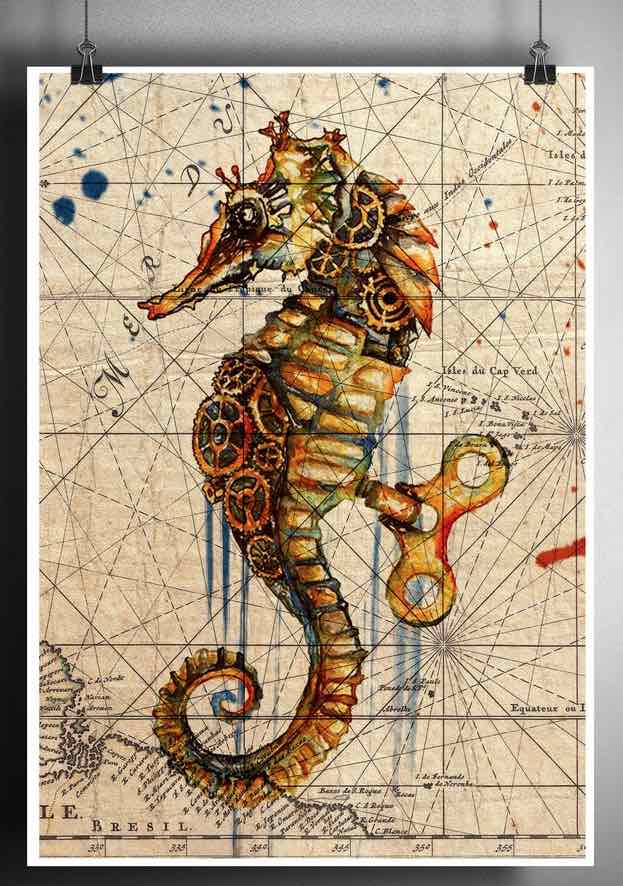 A clockwork theme is common in steampunk, and that clockwork theme has been so wonderfully realized in this Steampunk Seahorse by Kris Keeffer. I love how this little seahorse's body is comprised of gears and metal plates and a winding key.
The golds and browns give it that 19th century feel. And the overlay of the map is a great touch, charting out the great oceans where this little windup guy may swim. All in all a terrific piece of art.

Original Framed Artwork – Under the Ocean Series: The Seahorse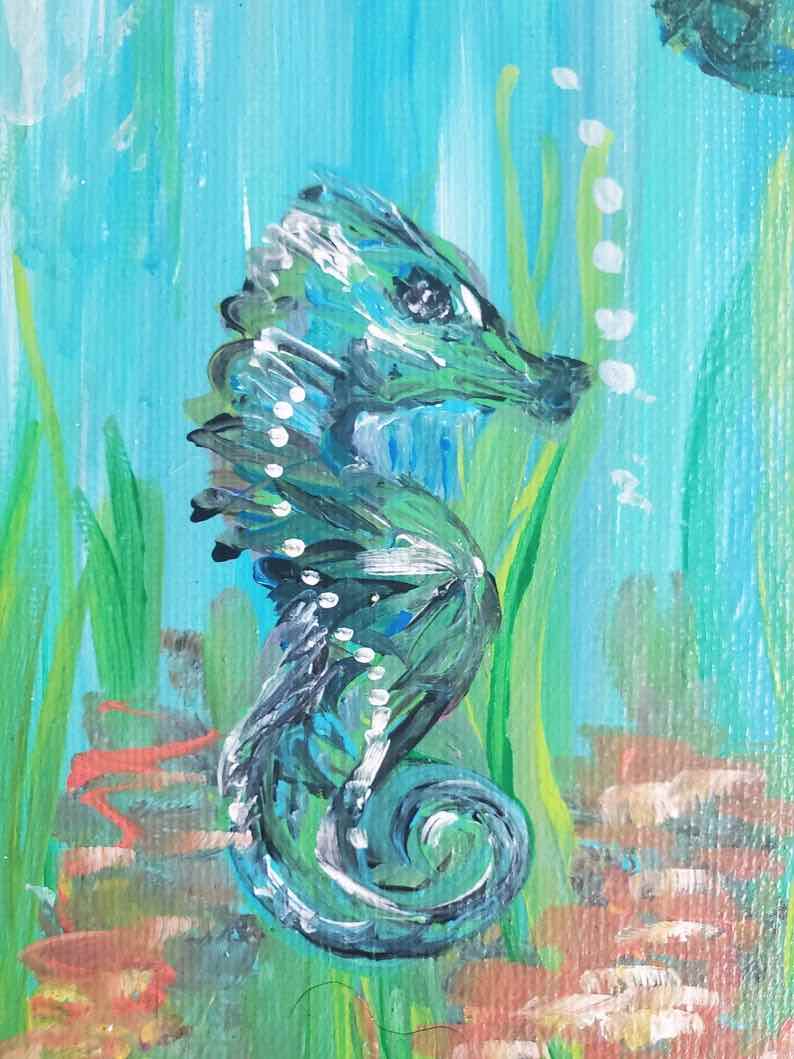 I love the big, bold brushwork of Under the Ocean Series: The Seahorse by Cici Lawson. The colors of this work are really great. And I love the way that Cici describes this series of paintings as being "inspired by my brief time as a scuba diver in Mexico and the Caribbean. The dark, ominous view from the boat is a sharp contrast to the amazing peace and serenity of floating under the waves. It is truly another world."
I think this painting gets that across perfectly, don't you?
By the way, this one is not a print, it is an original acrylic painting, meaning that there's only one, meaning that you should get it right now before someone else does.

Shell Seahorse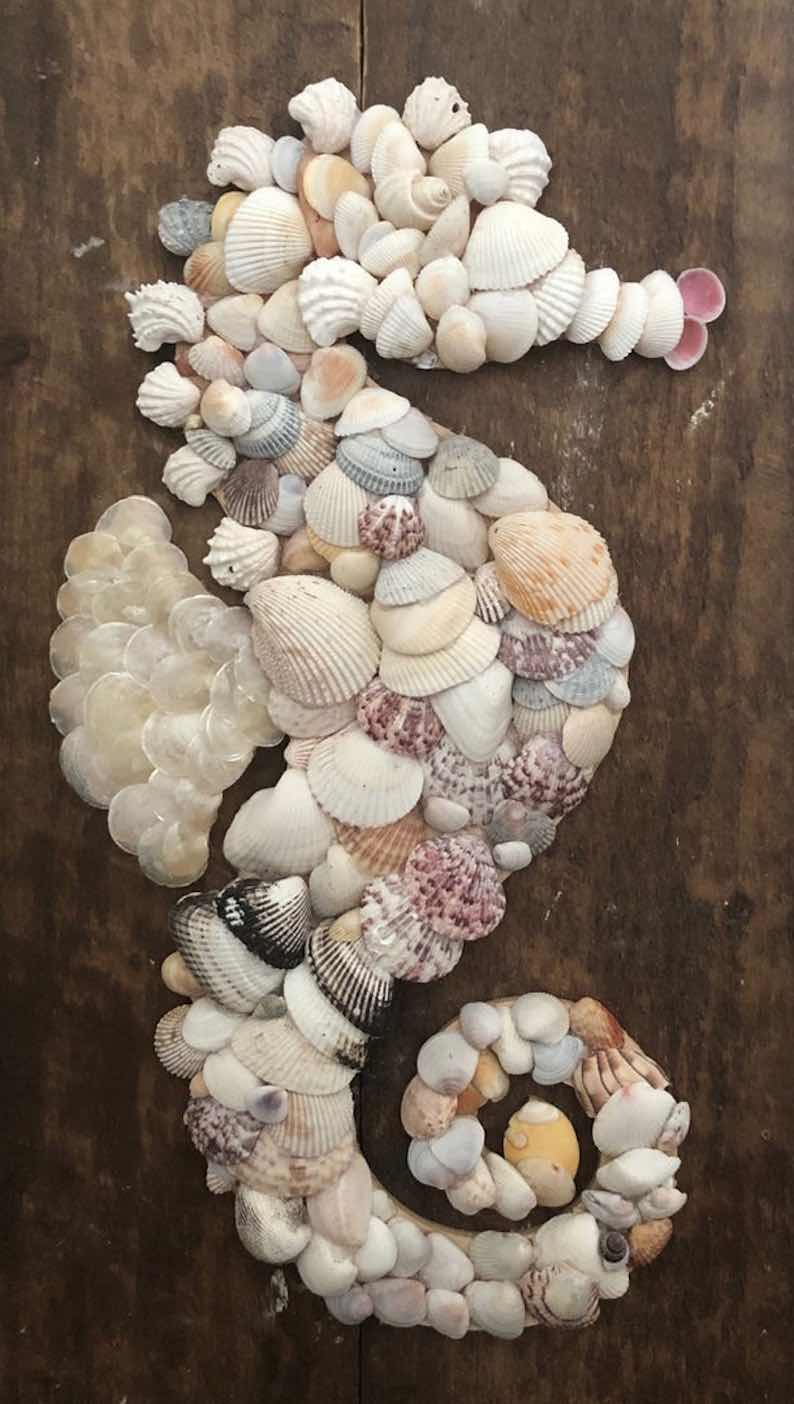 I never pass up an opportunity to check out seashell artwork. I create seashell artwork myself, so it always catches my eye. This Shell Seahorse is a wonderful example of using shells to create a sculpted piece. And I especially like the curly tail. Neat!

Purple Seahorse Original Watercolor Painting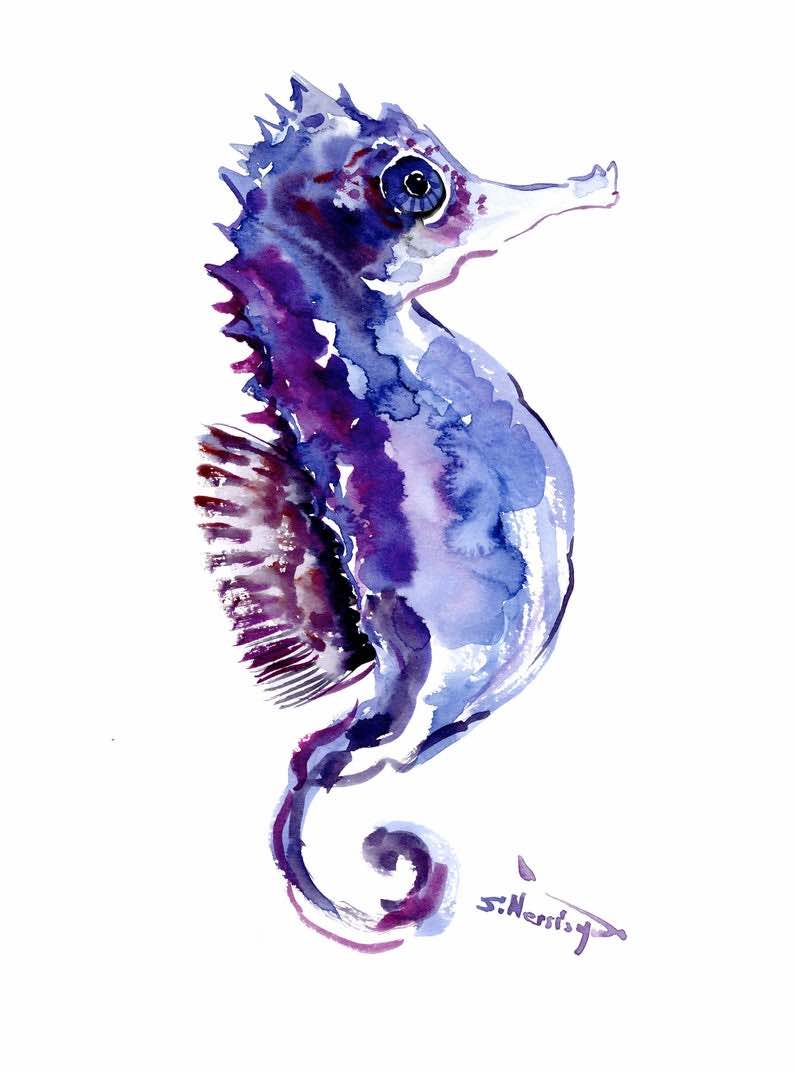 Another great use of watercolors here by Suren Nersisyan on this Purple Seahorse Original Watercolor Painting. I may be a bit biased because I am a huge fan of purple — purple all the way! — but I just think that the colors on this seahorse are extraordinary. And I love how you can see that wonderful watercolor technique in action as the purples blur into one another at different intensities.
And an interesting thing here, unlike most of the artists on Etsy, Suren doesn't sell prints of his works. In fact he calls his Etsy shop Originals Only, as all he sells are the original works. So if you like this one, you can have the original. How neat is that?

"The Coral Seahorse" Wall Art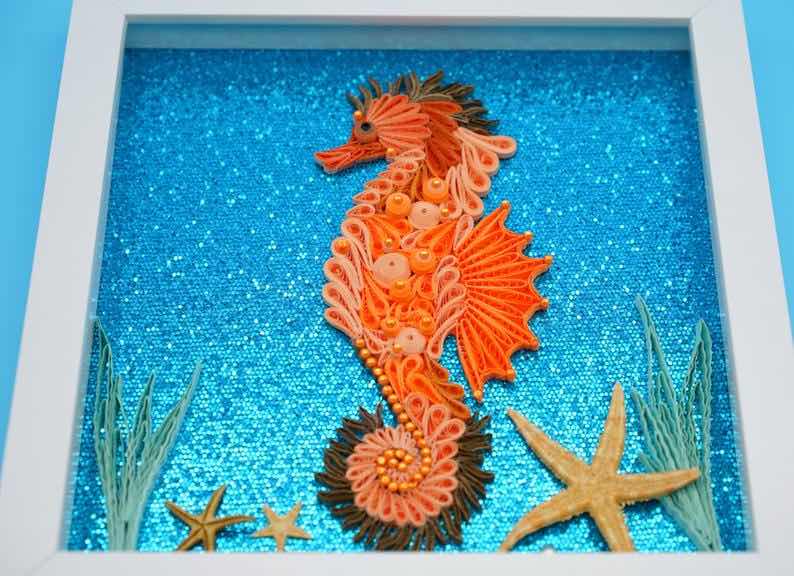 Quilling is a really distinct artistic style. Basically, it achieves its effect by using small strips of paper set on edge and shaped and curled — so what you end up with is a wonderfully 3 dimensional piece of art.
"The Coral Seahorse" is a terrific example of this art form. I love the amount of detail that artist Andrea has been able to put into this little seahorse. The bright oranges against the peach outlines work really well for a seahorse — and make for an excellent piece. And the quilling has been set against a sparkling backdrop and accented with real starfish. Fantastic!

Seahorse Watercolor Painting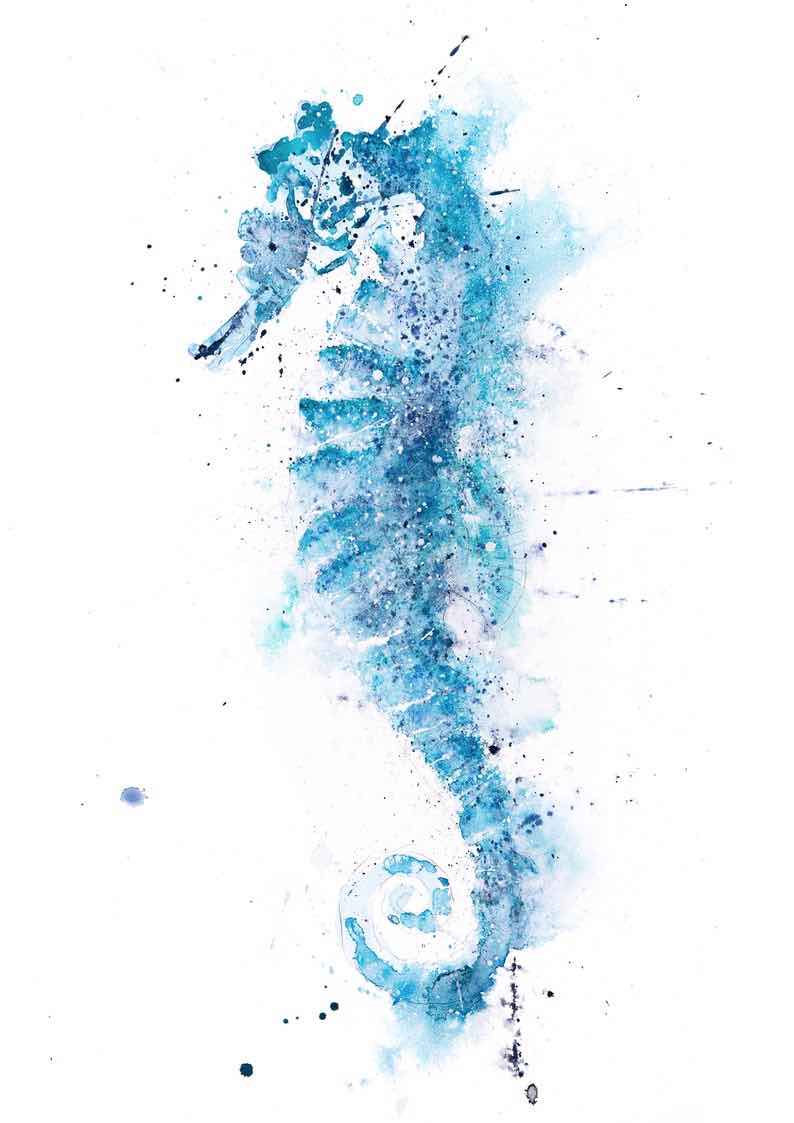 The technique used on this Seahorse Watercolor Painting is truly stunning. Look really closely at the brushwork in use by Syman Kaye. I just love how you can see not only fine lines but the gentle blurs of blue. And the accent of those purples and darker blues, and the way that they have been applied, is really amazing to me.
This is the kind of painting that you could stare at for long periods of time, just lost in the flow of it. Truly beautiful.

"Seahorses of Atlantis" Original Watercolor Painting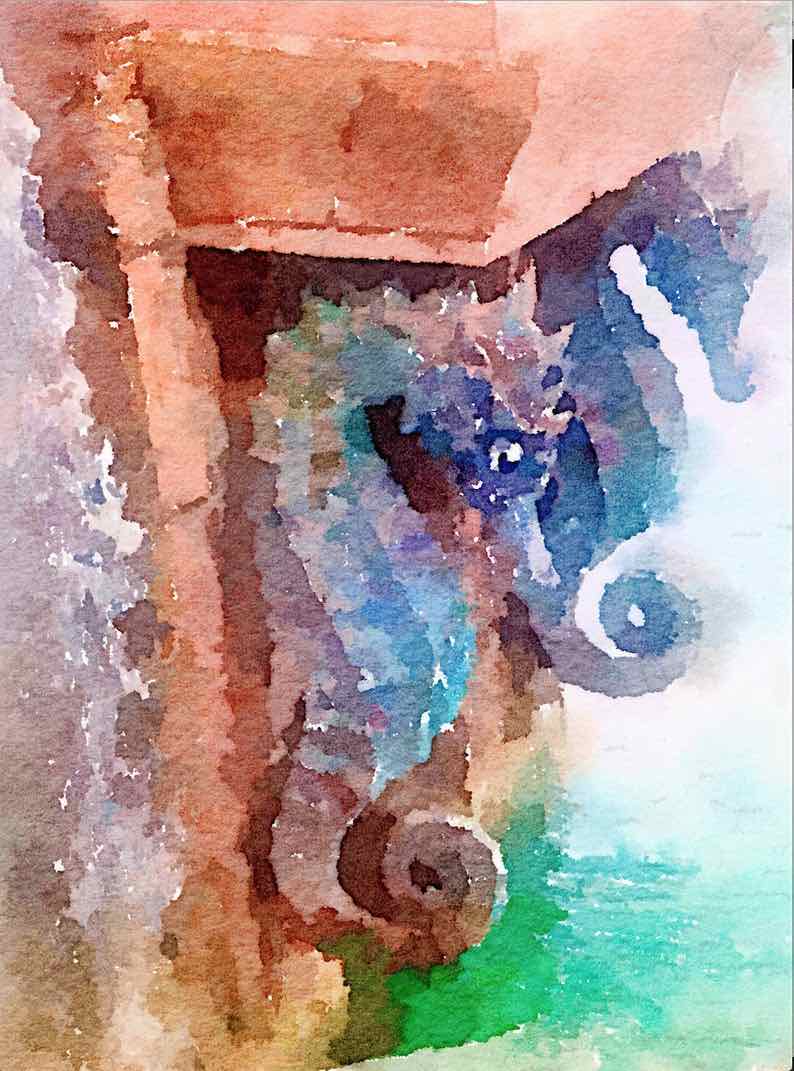 I love the subtlety of "Seahorses of Atlantis" by Kath Speha. I literally gasped at this one — you see, at first I saw no seahorses at all, I thought it was an Abstract, and then all at once the seahorses came rushing into my vision.
The effect, for me, was exhilarating. I hope you experience something similar.
At 24″ by 32″, Seahorses of Atlantis is actually quite large for a watercolor painting, and I find it amazing that a work of that size can still express the subtlety in the way that it has.

18″ Resin Seahorse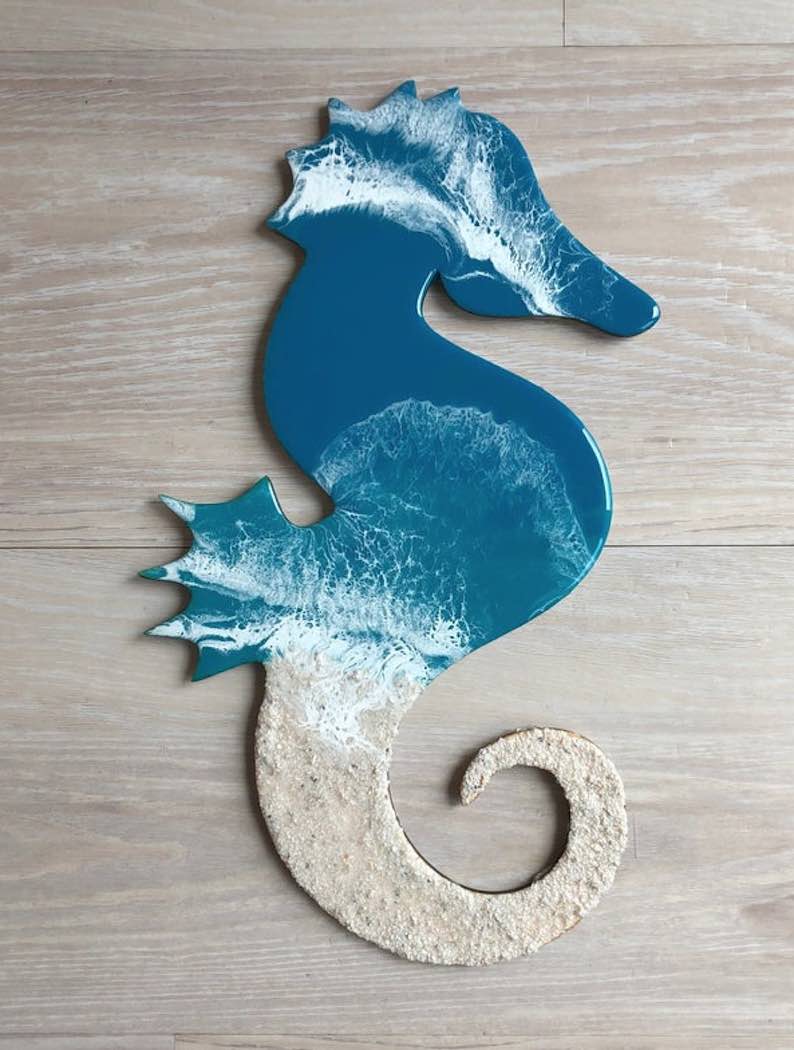 I am a pretty big fan of resin artwork and I am entranced by the way that it can be used to depict beautiful oceanscapes (I even have a post on the best artists creating ocean resin work). So when I see a resin ocean I stop and take notice.
Artist Kim Marr is quite adept at this particular form of art, as can be seen in this 18″ Resin Seahorse. You can see the sand of the beach, the crashing surf on the shoreline and the breaking waves on the reef further out.
And all of this done within the outline of a seahorse. I am enamored!

Seahorse Cocktail Print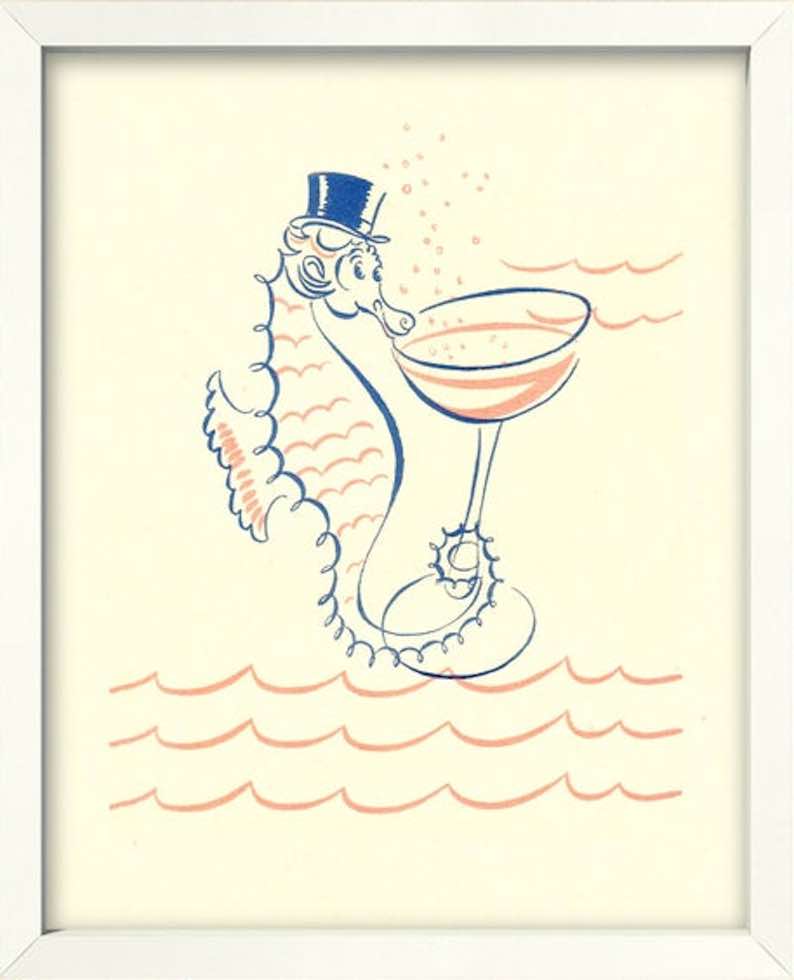 To be honest, I'm not really sure why I enjoy this Seahorse Cocktail Print as much as I do. But I do.
I think maybe it is just the classic mid-century pop art kind of a feel it has to it. Or maybe it's the idea of a seahorse enjoying a little champagne. Or maybe it's the smile. Or the tophat.
I still don't know, but I do know that I really enjoy this little work of art.

Seahorse Original Art Watercolor Painting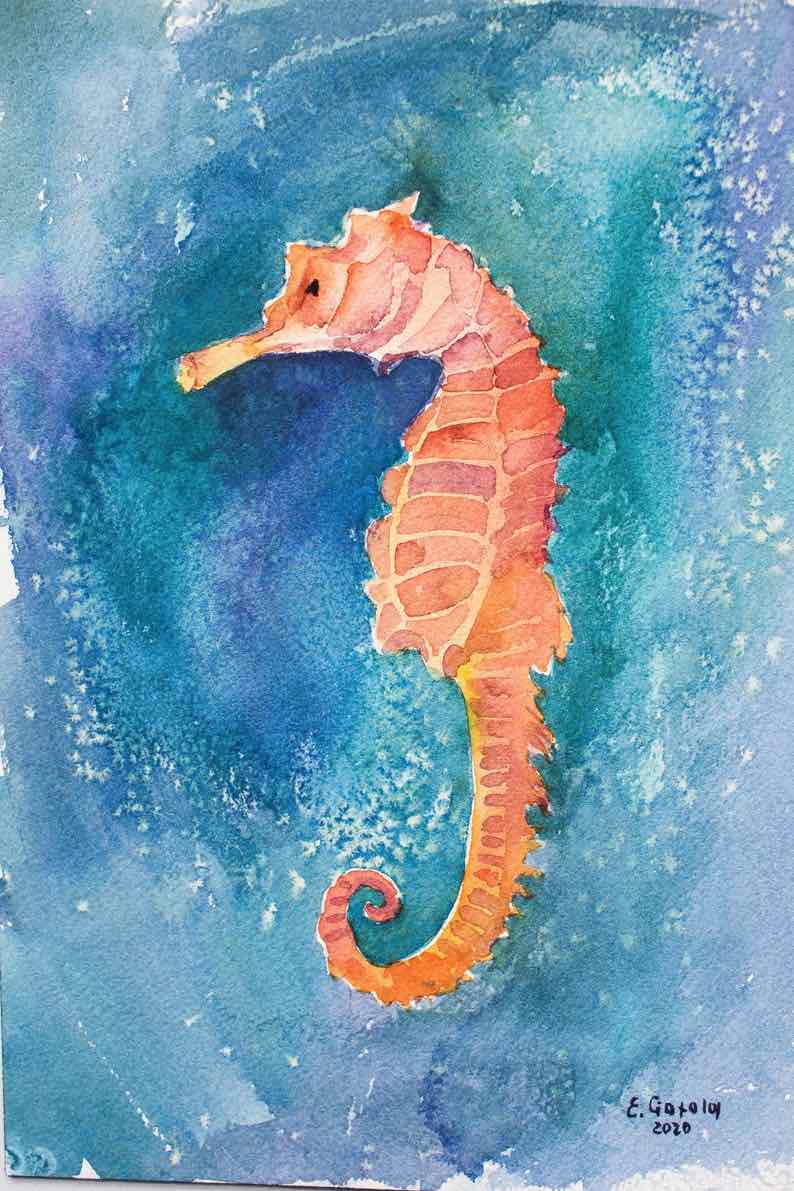 Another artist who sells the originals rather than prints, Eugenia Ciotola has done something really wonderful with this Seahorse Original Art Watercolor Painting.
First, let's talk about that ocean in the background: the swirls of blues, teals and purples is truly beautiful on its own — it would make a wonderful abstract ocean painting. And then add in this really well-done rendition of a seahorse which seems to be floating above the ocean. It's fantastic.

Steampunk Seahorse Pyrogravure Plaque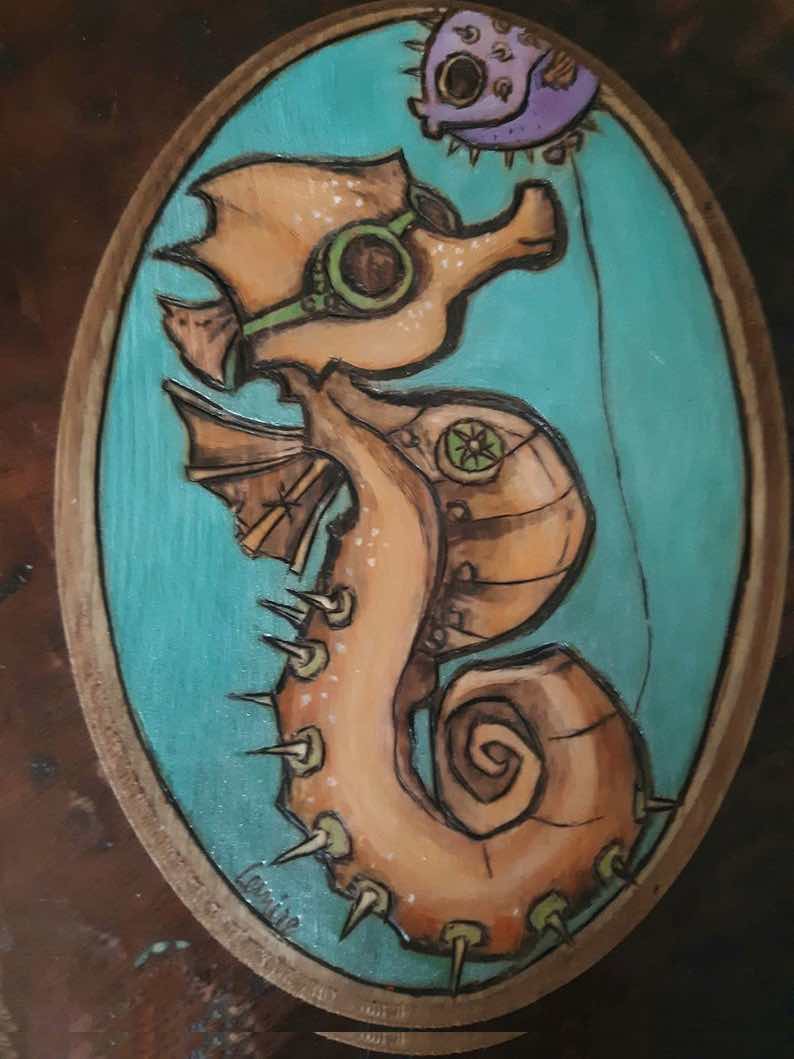 What wonderful use of wood burning technique on this Steampunk Seahorse Pyrogravure Plaque. There is a certain feel that can only be achieved by the use of this technique — something about the way that focused burning really affects wood — and that technique has been executed wonderfully here.
Then artist Sherri Lemire has added a whole 'nother layer to this work by filling these burnt outlines with a delicate hand-painting style which is simply beautiful. The effect is a finished piece that I can definitely appreciate. Fabulous!

Original Seahorse Watercolor Painting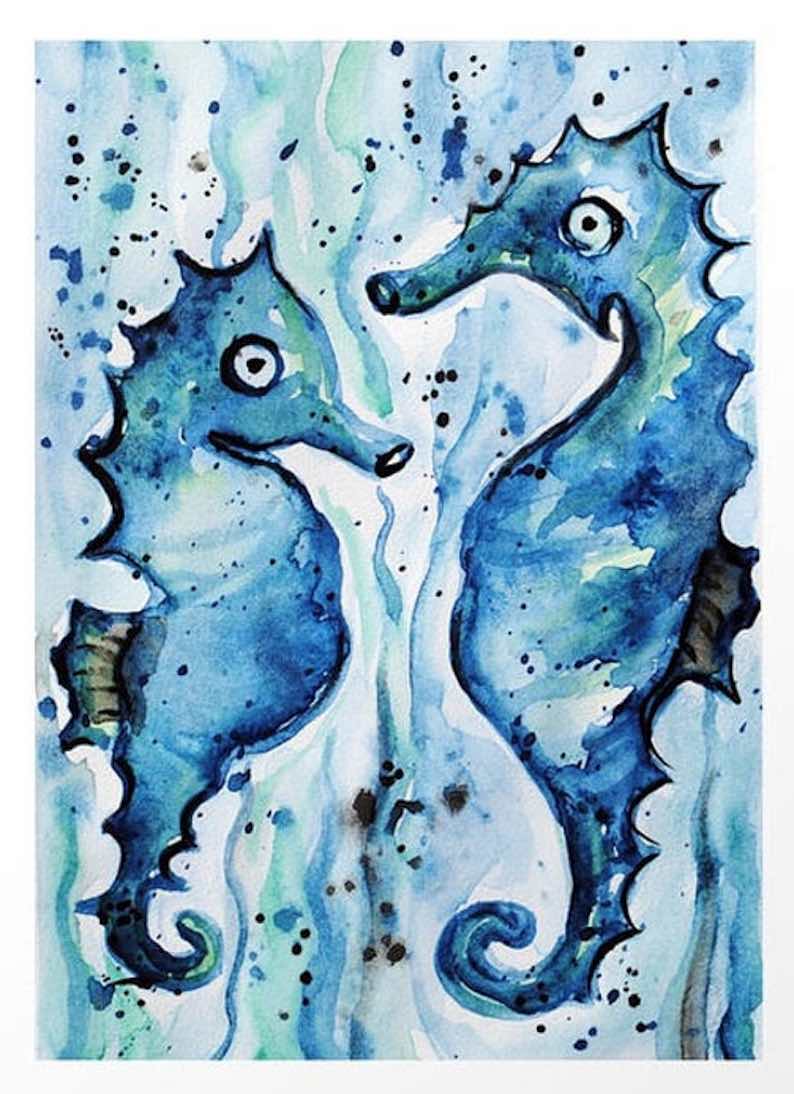 It's the eyes on this one. If you've ever seen a seahorse up-close in real-life, this is the exact expression that they have in their eyes — one of shocked panic! Artist Nikki Hoffman has captured that perfectly in this portrait of Two Seahorses.
This original watercolor uses a great combo of colors. While sticking to a palette of almost exclusively blue, this piece manages to show such a wide range of gradations that it feels much more colorful than it really is.
What a watercolor!

PRODUCTFantasy French Seahorse Original Painting Wall HangingHEAD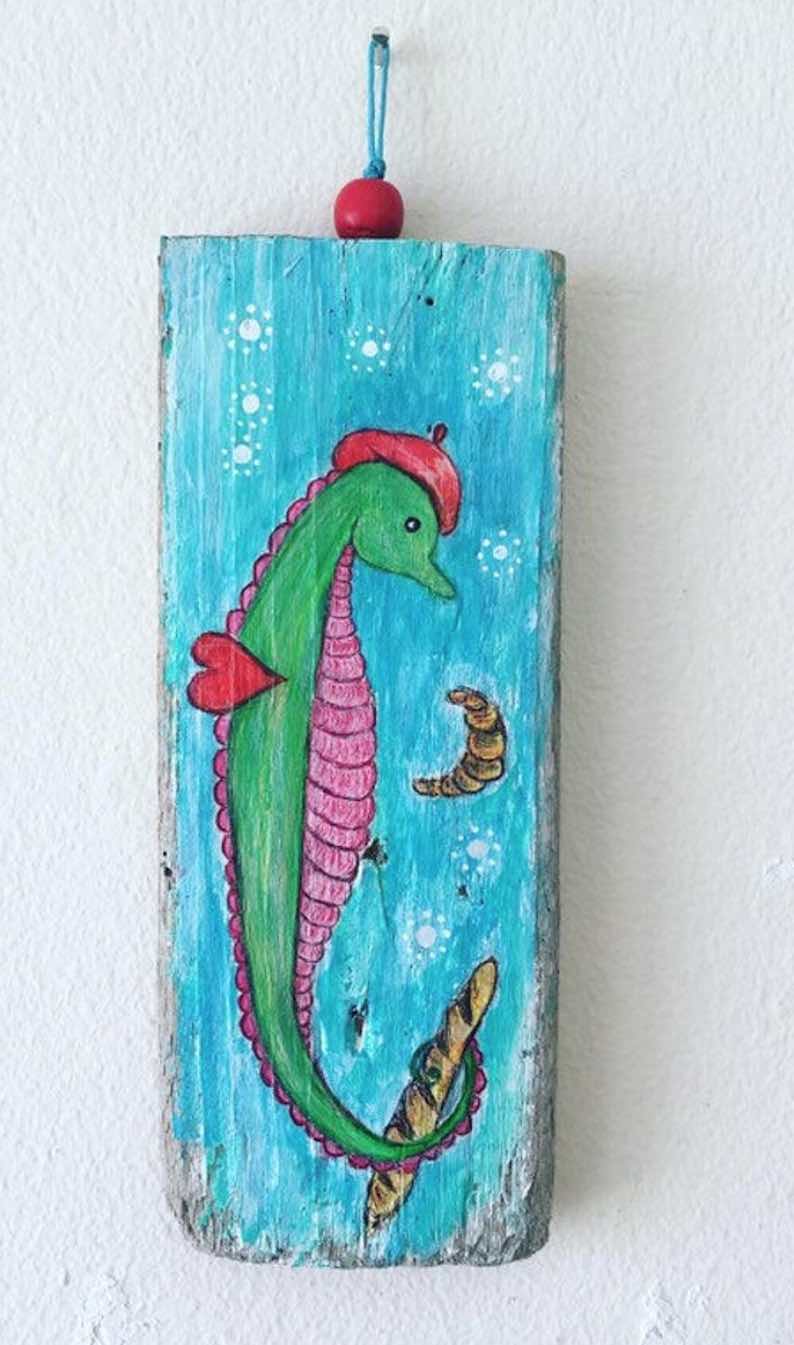 I'm not exactly sure where artist Mila Luna came up with the inspiration for Fantasy French Seahorse Original Painting Wall Hanging, but wherever it came from I'm glad she found it.
Why is this seahorse wearing a beret and carrying a baguette? Who knows, but I love it. I think that anyone who is into funky or boho decor would snap this guy right up. It's unique. It's well-done. And it's beautiful.

Majestic Magical Seahorse Print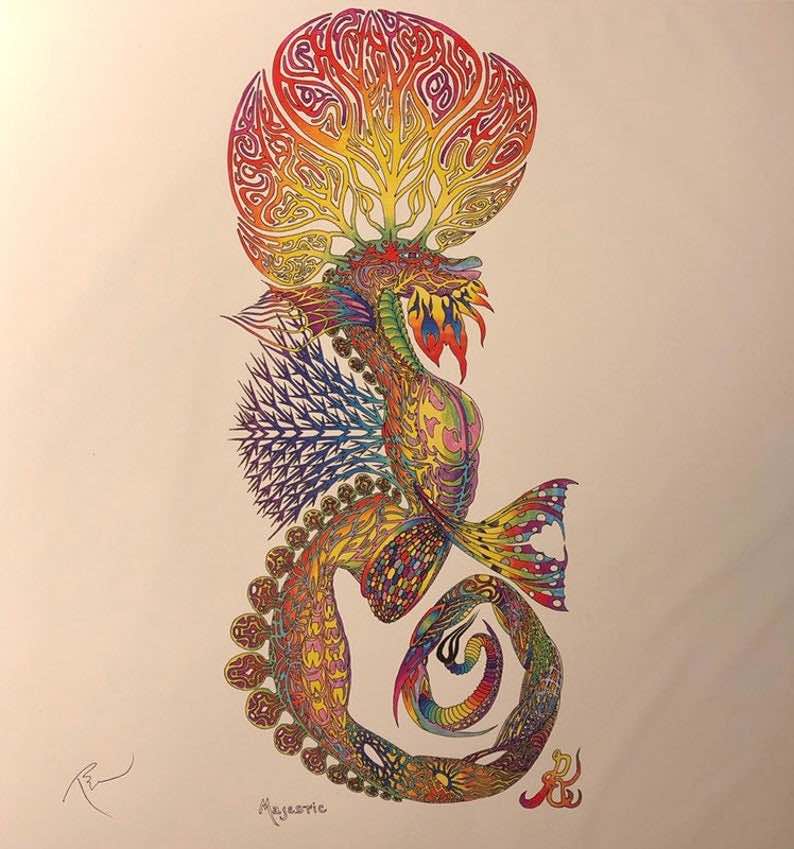 Majestic Magical Seahorse by
Rockin' Re
"Majestic" is certainly the correct word for this Majestic Magical Seahorse Print by artist Rockin' Re. First off, I absolutely have to mention that this is a work created using colored pencil.
Colored pencil?! Can you believe that this amazing look was achieved with colored pencil? I find that stunning.
And the idea of taking the humble seahorse and turning it into something that looks like a legendary mythical being… takes my breath away.

Seahorses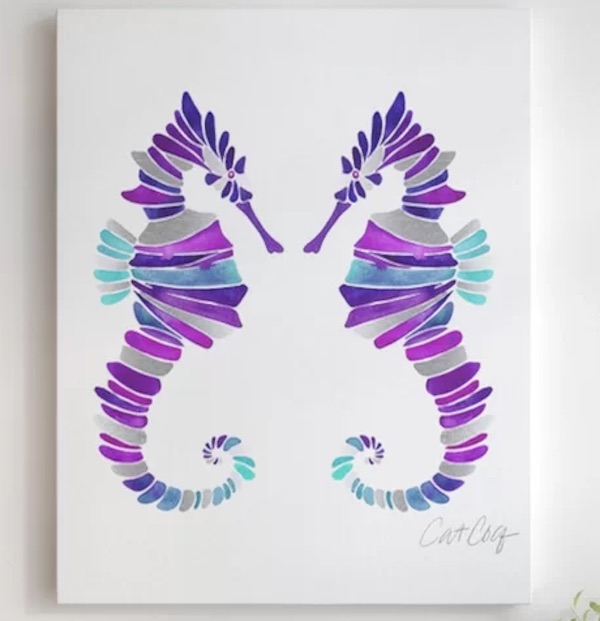 I'm a fan of purple. I'm a fan of seahorses. So this purple Seahorses print really appealed to me.
Then there's the soft look of the watercolors (in purple! did I mention?) which I think is great. Aaaaaand…
I love how it looks like they are maybe a couple, leaning in for a kiss.

Mosaic Seahorse Art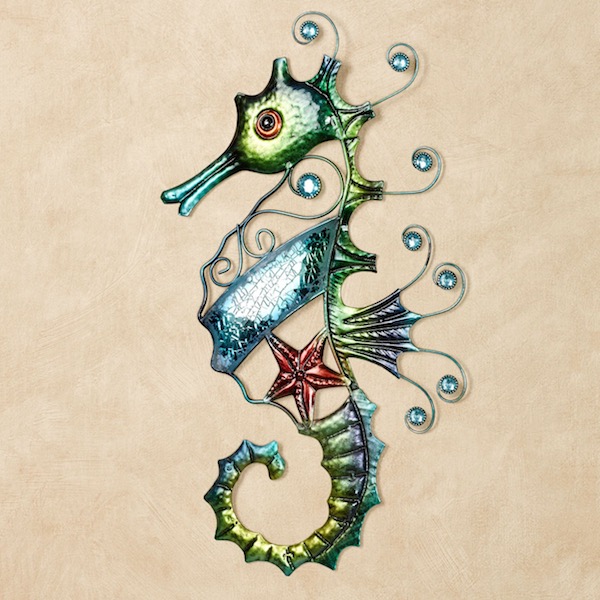 I found myself fascinated by all of the little details and curlicues and all of the tiny little details on this Mosaic Seahorse. The blue glass accents caught my eye so well that I found myself counting the stones on this piece! (it's so fun when a piece of art pulls you in that way)
This one was so unique that I just had to put it on my list.
And the colors are fantastic! Plus, with all the metal work and stones, when the sun hits it at different times of the day it will sparkle in different ways. And who doesn't like a good sparkle?

Seahorse of Seashells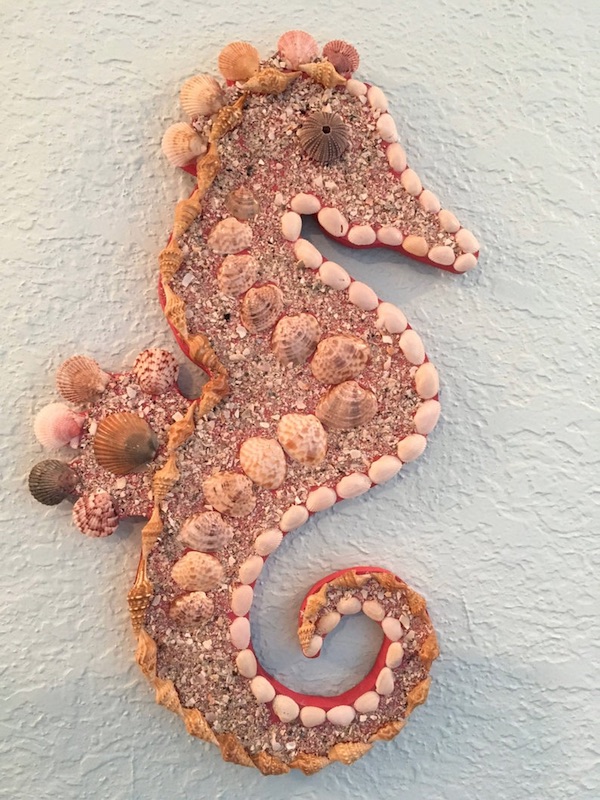 This Seahorse of Seashells is one of the most original works that I have seen. I love how artist Maria Lampton has so skillfully used the shells which she hand-collected on Florida beaches.
Check out the great selection of tiny seashells used for the outline (look closely — it's not obvious on first glance, but that closer look will blow your mind!) then add to that the way that she has used crushed shells to give the look a sandy texture.
This one is the coolest! I love this one!

Seahorses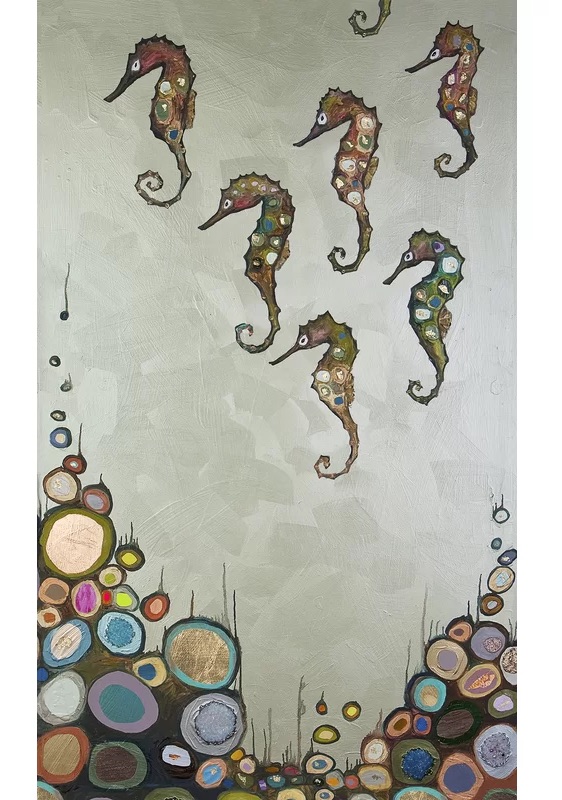 One of the great things about artist Eli Halpin (who did a really cool Octopus painting you should check out) is the expressions that she puts on the faces of animals. To me, this group of Seahorses looks like a choir focusing their attention on the conductor and excitedly waiting to sing their first note.
I also love the use of colors on the sea floor. Something about it just grabs me!

Seahorse Purple Natural
Did I mention before that I like purple a lot. I did? Okay, I'll say it again, I like purple and I love the way that it has been used in Seahorse Purple Natural — how the watercolors blend from greens to blues to purples all along the body of this beautiful piece of seahorse art.
And I really felt my attention pulled toward the eye of this seahorse. It's almost like the little guy is startled. Artist Sam Nagel has given this seahorse a wonderful expression.

Seashell Seahorse
Now talk about original! Artist Cheryl has taken bits of broken seashells and arranged them together in the one-of-a-kind design of Seashell Seahorse.
The first word that came to my mind on seeing this one was crazy! It is crazy just how involved and unique this seahorse is. It is amazing how she has selected just the right shells to form just the right shapes to pull off this incredible piece of seahorse art. I mean, just look at the face and eye!
Incredible!

Driftwood Seahorse
Cue the Game of Thrones theme as you check out this Driftwood Seahorse. I mean, you've got to admit that seahorses in general look a little dragon-y, but this guy looks really dragon-y.
As a collector of driftwood myself, I am amazed at how artist Wendy Austin — who hand-gathers all of her own driftwood in beachcombing expeditions — has found not only great pieces of driftwood, but managed to arrange them together so skillfully to create this piece.
If you check out Wendy's page you'll see that she does a lot of beautiful work in this style. But I've got to say that I think that this seahorse art is the cream of the crop.

Seahorse
I definitely have a crush on this Seahorse.
Get it? Crush… because for this piece artist Mia Pascale has made amazing use of crushed shells.
Oustanding!

Wood Wall Seahorse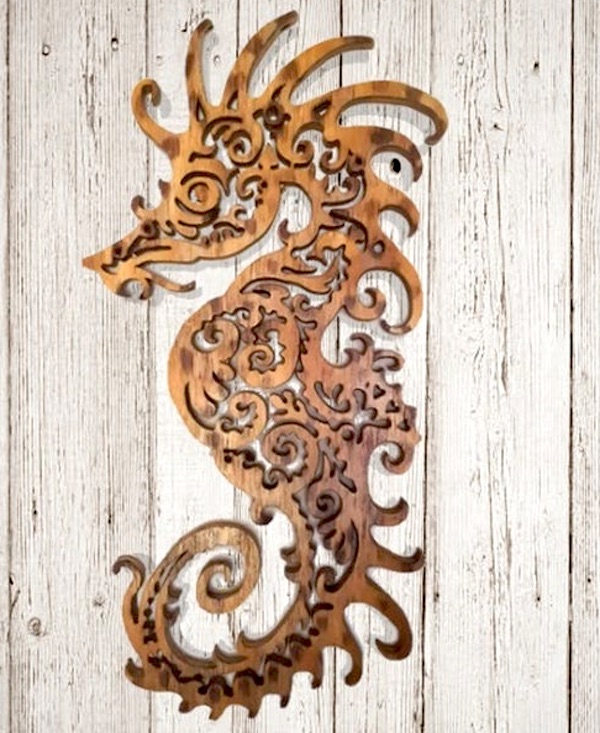 You've got to admit, the detail on Wood Wall Seahorse is simply amazing! I don't know how he does it (wood artist Jacob hand draws and hand cuts each one of his pieces — wow!) but I know that I absolutely love it.
I'm sure that the initial hand-drawn step was already beautiful — I love all of the detail and the flowing look of the crown — but then to take that and somehow cut it out of wood just simply amazes me. The detail. The detail!
It's also great that the finished product is stained not painted. That makes for a wonderful artistic choice.

Seahorse Mosaic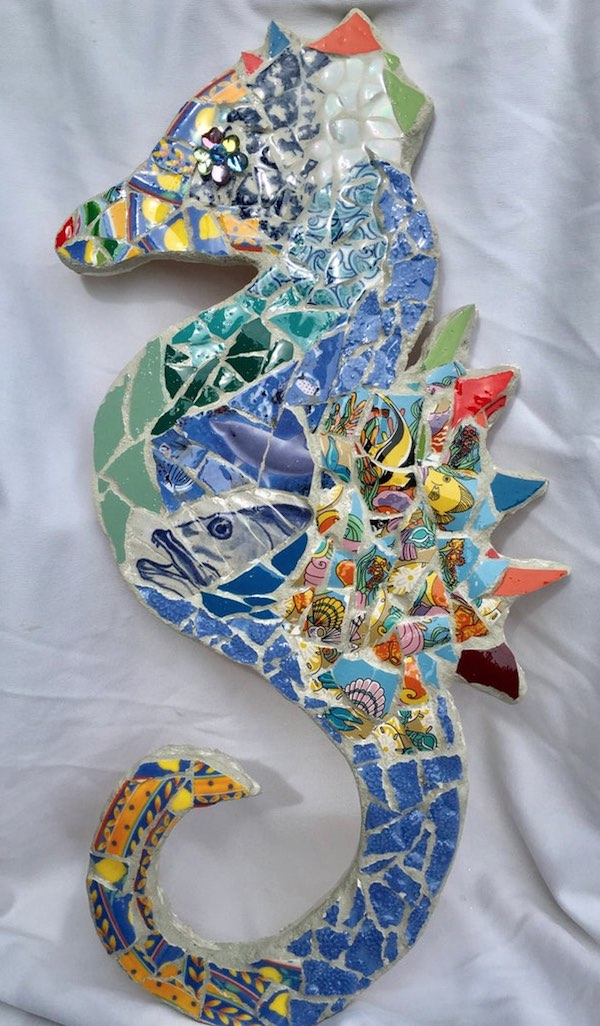 When you're talking about beach decor, you are almost always including some sort of mosaic tile in there. It's as natural a fit for a beach house as is sand in the entryway. The way that artist Julia Zimmerman has used mosaic tile scraps to fashion this Seahorse Mosaic is phenomenal!
Not only have the shapes of the pieces been so skillfully assembled so as to form the outline of a seahorse, but I absolutely love the choice of the scraps used.
It's not just sticking to a few different tiles — there is an amazing variety here. I spent a lot of time just examining each of the little tiles (there's dolphins and turtles in there!).
I love this piece.

Seahorse Beige
I think that the colors and patterns of Seahorse Beige are very cool. It's really interesting to me that the artist has painted this seahorse with almost a paisley sort of pattern.
Paisley ocean, I suppose. Actually, I think that's what I would have called it, "Paisley Ocean," but that wasn't up to me.
But no matter what you call it, I think it's great.
Also, I assume from the eyelashes that this is a girl seahorse. Which is neat. Or am I just reading something into it?

Seahorse Coral Red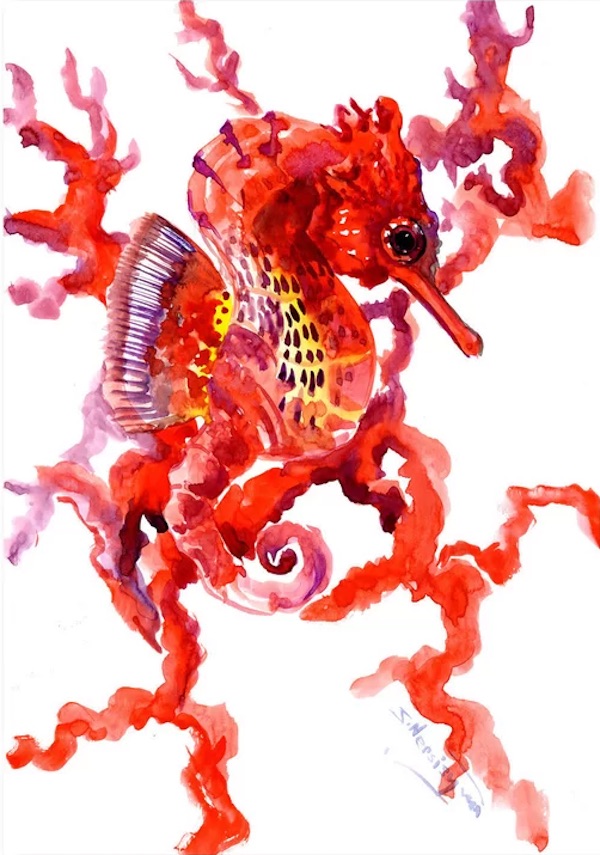 Artist Suren Nersisyan has created something pretty darned extraordinary with this piece (in my opinion). First off, Seahorse Coral Red is a great example of watercolor technique — the way that the seahorse and the coral almost melt together. Almost, but not quite.
And then of course the thing that jumps out at you the most — leaps out at you — is the use of deep reds. So red it seems almost impossibly red (in fact, the color listed for this painting is "maximum red!")
Is it a devil seahorse?
Hmmm.
Now I'm scared.

Seaglass Seahorse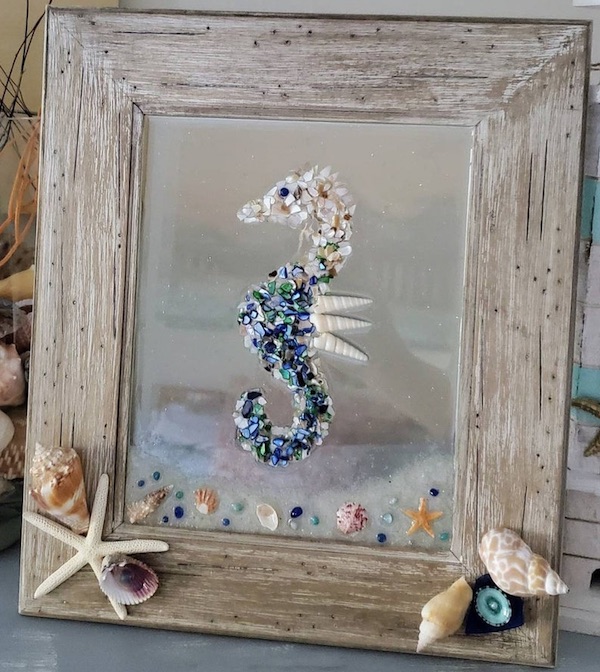 I really like the colorful use of resin in this one to give the appearance of sparkling seaglass. Artist Sherri Ortega has a whole line of projects which she has made this way, and I love how this little guy appears to be floating.
Floating in the sea…

Seahorse Artwork
Thanks for checking out my list of great seahorse art. If you like it, please share on your social. Thanks!
Written by Renee