Starfish Art ~ A twinkle in the ocean
It's another Beach Art day at Seashell Madness, and today we are looking at something which just screams ocean to both young and old — the starfish!
Which, of course isn't really a fish at all. But that doesn't really matter.
What matters is that there is some really great art out there styled after starfish.
Check it out with me:

Intricate Carved Wooden Starfish
Flowers and leaves: intricate indeed!
I love all of the tiny details in Intricate Carved Wooden Starfish. It's like each time that I look at it I see a new detail.
Seriously, really look at this starfish. It's been cut out of a slice of walnut wood and there are all of those leaves and flowers — and while writing this sentence I just now noticed the rose in the lower right.
Amazing!
Details: 10.5″ x 9.5″ • walnut wood • handmade
See all of our Sealife Art Pages:
Dolphin Art • Sea Turtle Art • Octopus Art • Crab Art • Seahorse Art • Starfish Art •

Knobby Starfish Rope Ladder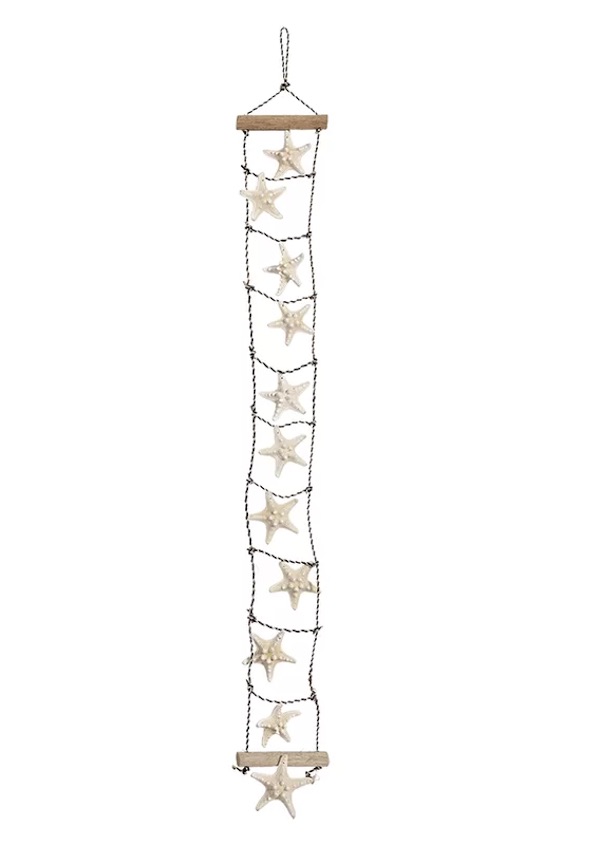 Who doesn't like a bunch of starfish climbing a rope ladder? I think that the look of Knobby Starfish Rope Ladder is really appealing. At 32″ long I can see it as a great compliment to any wall.
And that wall could be either indoors or outdoors, as it is rated for both.
Also a great bonus: you get not just one starfish rope ladder, but two!
Details: 32″ x 3″ • seashells and cord

Mexican Talavera Ceramic Starfish
Okay, I couldn't resist getting that in. But seriously, I find this Mexican Talavera Ceramic Starfish to be absolutely beautiful.
I've always liked the talavera style of pottery, which has an amazing history to it.
And I love the hand-painted artwork on this guy. The blues and the oranges really pop out on this piece.
I think it's great.
Details: 8.5″ x 8.5″ • hand-painted talavera pottery • handmade

3-Panel Starfish Print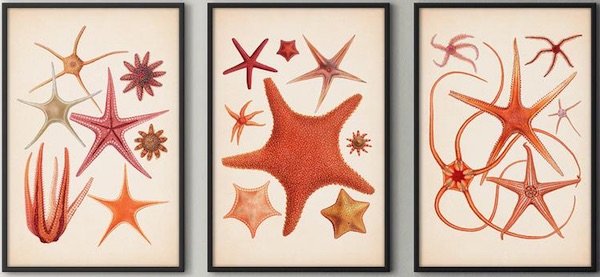 When I first looked at this 3-panel print I was immediately drawn to the antique illustration look of it. Little did I know that the reason 3-Panel Starfish Print had that look was because it does indeed have a history — of about 100 years!
Let me explain.
Artist Chanpory has for the last 15 years been a collector of vintage nautical prints. He apparently has a rather large collection at his San Francisco studio. And he restores and reproduces those vintage prints with some really eye-popping results! (This would look great in a beach house or a business)
This particular set of prints is reproduced from a series of French scientific illustrations. That just fascinates me.
Scientific and beautiful. How can you beat that?
And what a great way to give your place an instant beach vibe.
Details: available in multiple sizes • artist print from vintage illustrations

Coastal Starfish Painting with Starfish.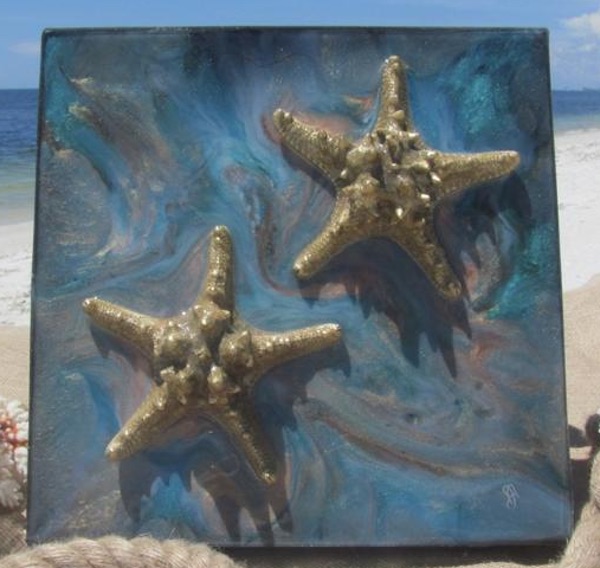 I love the mixed-media look of Coastal Starfish Painting with Starfish. First there is the background which is a fantastic abstract ocean.
I think that this is a really pretty painting. Even with nothing else, it is a really pretty painting.
But to make it even better, artist Anita Johnson has added real starfish, painted gold, to pull things out into 3 dimensions (she and her husband gather shells themselves from the beach by their Naples, Florida home).
I love the flowing blues against the golds.
Details: 12″ x 12″ • seashells, paint • handmade

Seashell Starfish
As the name of my website would suggest, I am a sucker for seashells. So I was really drawn to what I saw with Seashell Starfish.
Artist Peggie Herrin has used a pretty large number of shells — as well as a tremendous variety to boot! — to create this mosaic of a starfish. It's one of those where you kind of take a step back to look more closely, if you know what I mean.
And the way that it is mounted with the blue shadow board works really well.
Details: natural seashells • handmade

Nautical Nursery Wooden Starfish
It's the colors (which I'm informed are Pearled Seafoam Green and Deep Blue Sea). I just love the way that artist Jennifer Gillen has hand-painted this scene to give a very real feeling of churning waters of the shoreline.
I feel like I'm wading through the surf right now!
Also, the basic shape of it, cut out of MDF wood, has a beautiful flowing feel to it. Then that paint atop it.
Did I mention that I was entranced by this one?
Details: 13.5″ x 13.5″ • MDF wood w/paint • handmade

Sea Glass Starfish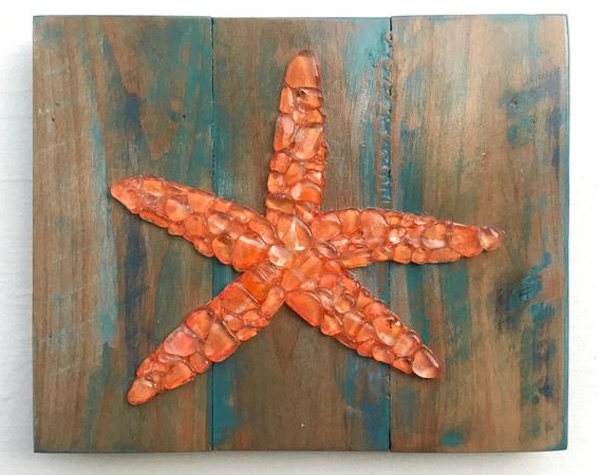 If you've spent much time on this site you know that I am a huge fan of sea glass. And I love it when people use that sea glass to create great things. So it should come as no surprise that my eye was drawn to Sea Glass Starfish.
The glass comes from beaches in Washington State, handpicked by the artist.
It's also really cool that the background is made from reclaimed wood. I always like that sort of thing. Gives it real character.
Details: 10″ x 8″ • sea glass, beach glass, reclaimed wood • handmade

Rustic Reclaimed Hardwood Starfish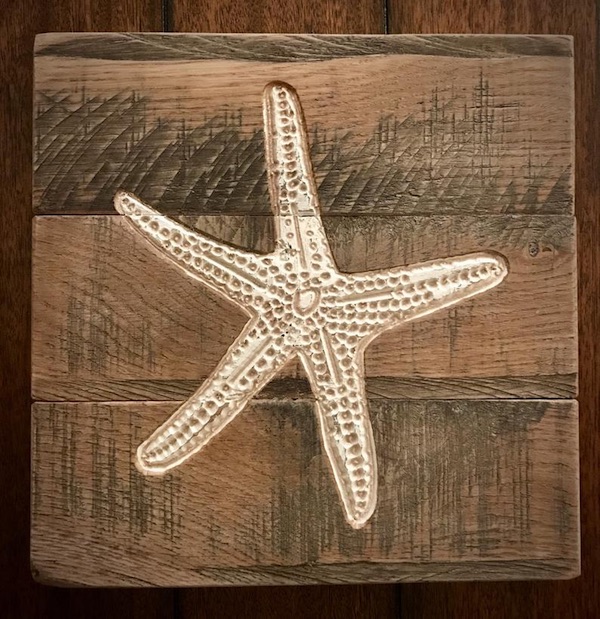 As I mentioned, I think that there is something innately appealing about reclaimed wood — it has its own history and personality. So Rustic Reclaimed Hardwood Starfish really caught my eye.
And I love how the wood has become the medium for the art rather than just a background for the art. Artist Jeremy starts with a thick piece of reclaimed wood and etches out the pattern, which is then lightly painted.
The effect is stunning.
Details: 10″ x 10″ • reclaimed wood • handmade

Turqoise Ceramic Starfish
I love the playful nature of Turqoise Ceramic Starfish. From the flippy little whips of the tentacles to the little star patterns to the bright turquoise coloring, artist Renee Kilburn (not me, a different Renee) has captured something special.
I also love the way the colors — very oceany, indeed! — play against one another.
It's just fun!
Details: 7.5″ x 7.5″ • ceramic and glaze • handmade

Sparkly Blue Starfish
Sparkly Blue Starfish is very aptly named and it was that very sparkly-ness that attracted me to this particular starfish.
Artist Jennifer Gillen has taken this brass starfish — look at the details and the absolutely beautiful textures — and added that shiny sparkle that just reached out and grabbed me.
So shiny! So sparkly!
Details: 7.5″ x 7.5″ • hand-painted brass • handmade

Fossil Starfish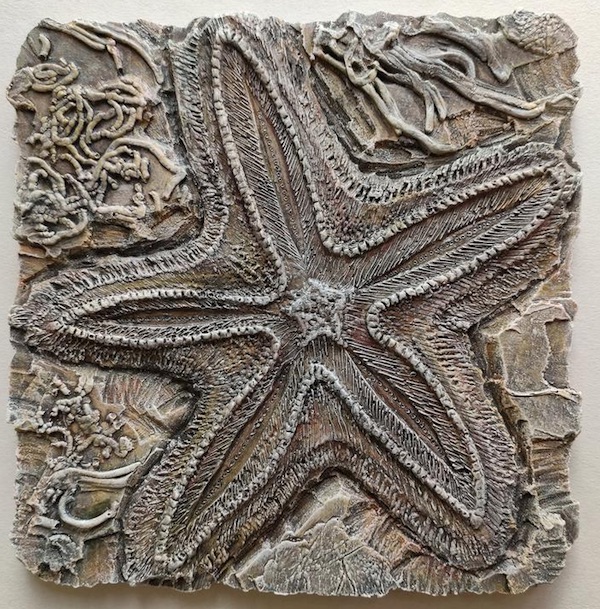 Just to be clear: Fossil Starfish is not a real fossil. It's a plaster cast.
But isn't it an amazing plaster cast? I love the detail that artist Gennadiy Yatsenko puts into this (he also has several others for other forms of sea life — including a really cool trilobite!). Each little curve and ridge… the detail is just stunning.
And to make it even better, each cast is hand-painted to really draw the image out.
Details: 6″ x 6″ • plaster & acrylic • handmade

Copper Metal Starfish
You don't see a lot of hand-worked metal art around anymore, but that is exactly what you get with Copper Metal Starfish.
I love the hand-made feel to it, and the textures and details are all just great. Not to mention that copper is a beautiful metal to create art with.
Love it!
Details: 12″ x 12″ • copper • handmade

Fun Starfish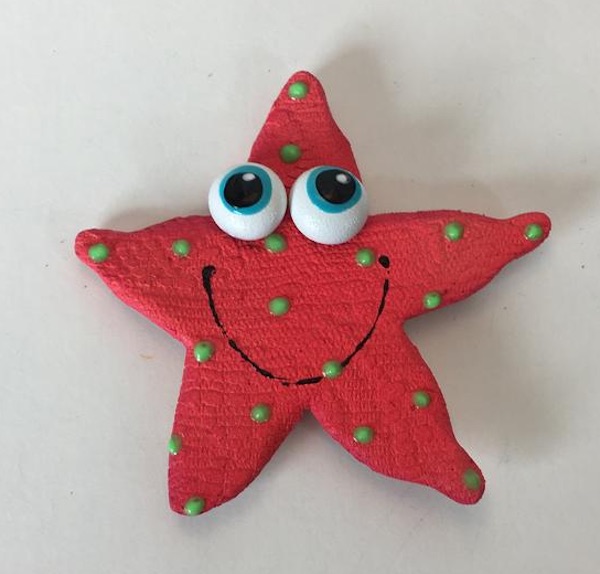 Ya just gotta smile looking at Fun Starfish, don't you?
I love that artist Stephanie Pierson-Hutson has created a hand-made ceramic which definitely conveys a hand-made feel!
And those eyeballs!
And the big ol' grin!
And the eyeballs!
Like many of her whimsical works, I think that the fun starfish would be an absolutely great addition to a kid's room.
Details: 4″ x 4″ • ceramic with acrylic paints • handmade
Starfish Art
Thanks for checking out my recommendations for starfish art. If you liked this article, please share it on your social. Thanks!
Written by Renee