Cat Mermaids ~ art and fashion inspired by the purrmaid
Cat mermaids, also known as purrmaids, are some very magical creatures indeed…. and you can just never get too much of them. How neat is the thought of a cat — a creature well-known to dislike water — taking mermaid form? I love it! That's why I've done this collection of great art and other fun items which have been made in honor of the fabulous Cat Mermaid.

'Welcome to the Purrmaid Lounge' Poster Canvas Print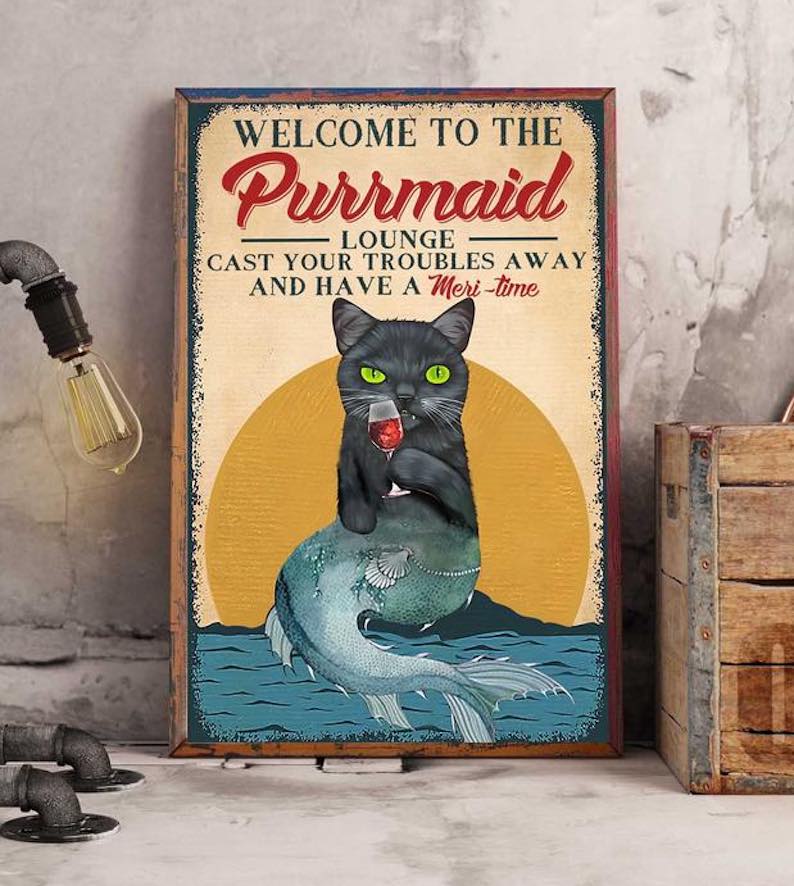 I love this cat mermaid poster. Stylistically, the design really fits with the theme, but it's more than that. I love the expression on this cat mermaid's face. It's a very femme fatale sort of an invitation to enter… if you dare.

Mermaid Cat Wall Art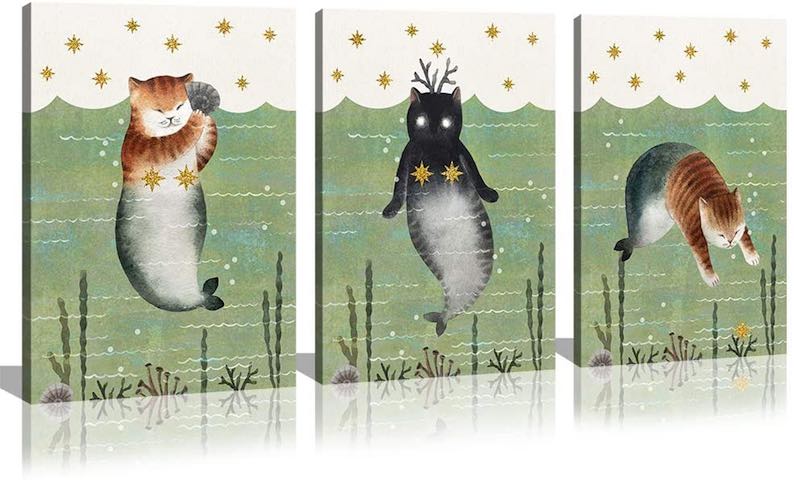 I'm a fan of a good triptych and these three wonderful panels just really work for me. How wonderful it is that each of these little purrmaids has her own personality made evident (and what a great expression on the face of the purrmaid holding the shell to her ear!). This would be a great way to fill up a cat-lover's wall.

Mermaid Cat Stemless Wine Glass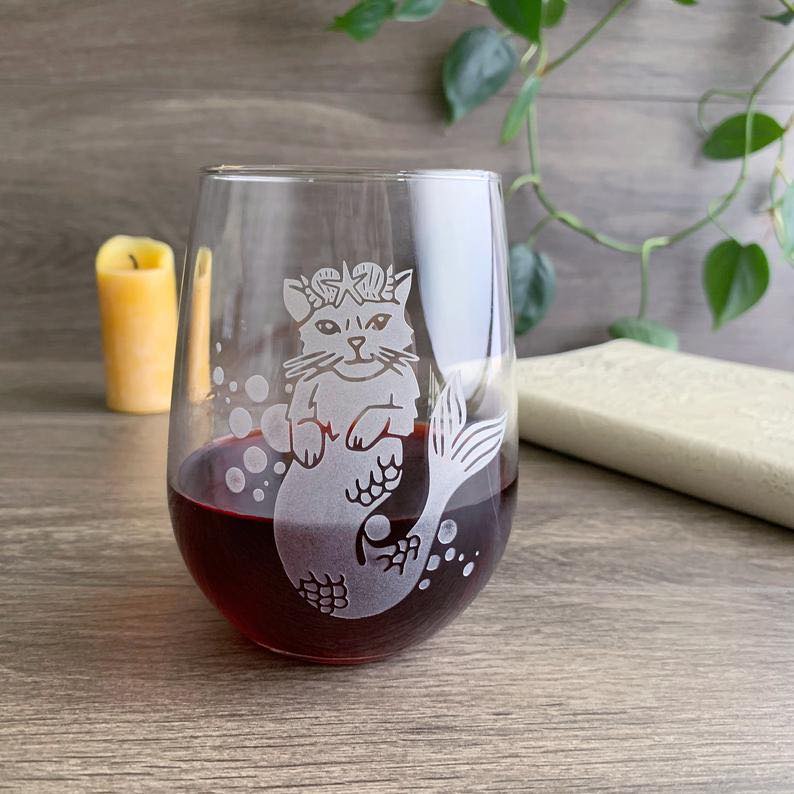 A toast to the Mermaid Cat!

Cat Mermaid Wall Decor Canvas Print
I really like the contemplative look on this cat mermaid's face. This painting is obviously a take on the well-known theme of the mermaid longing for life on the land, and you can certainly see that on this little kitty's face as she gazes toward the distant land.

Surreal Big Eye Cat Mermaid Art
Okay, how cool is this Surreal Big Eye Cat Mermaid painting? It's an absolutely wonderful rendering of the purrmaid. And you've gotta love that this cat's got a coffee cup in one hand and a wine glass in the other — something that many of us can identify with.

Cat Mermaid Charm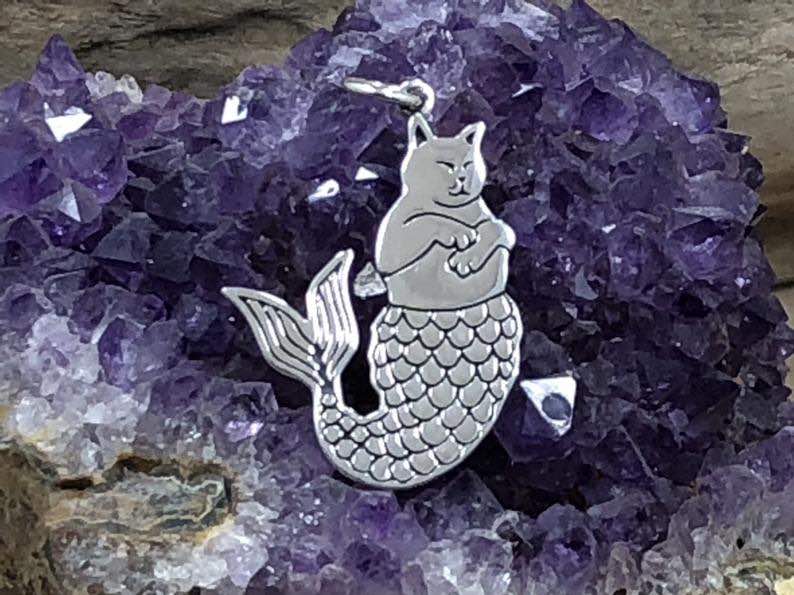 Take your cat mermaid with you with this delightful cat mermaid charm. Made from sterling silver, this is one cool cat.

Mermaid Cat Purrmaid Coffee Mug
And in case anyone at work doubts your commitment to the mermaid cat, here's the perfect purrmaid coffee cup to proudly display in the break room.

I'm A Meowgical PURRMAID Cute Mermaid Cat T-shirt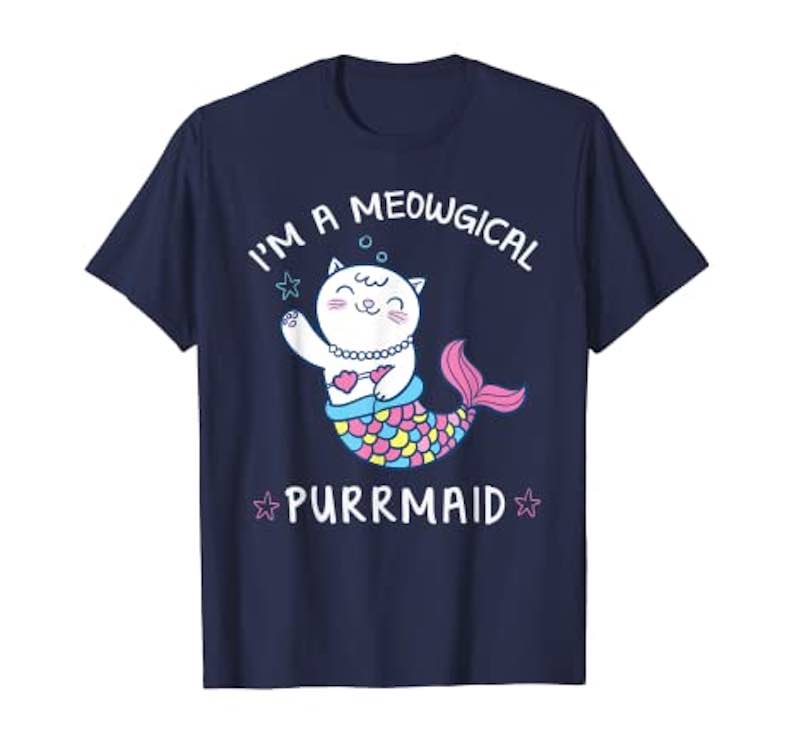 How cute is this "meowgical Purrmaid?" A wonderful little smile as she swims in the sea. This is cat mermaid fashion at its finest.

GUND Cat Mermaid with Rainbow Iridescent Tail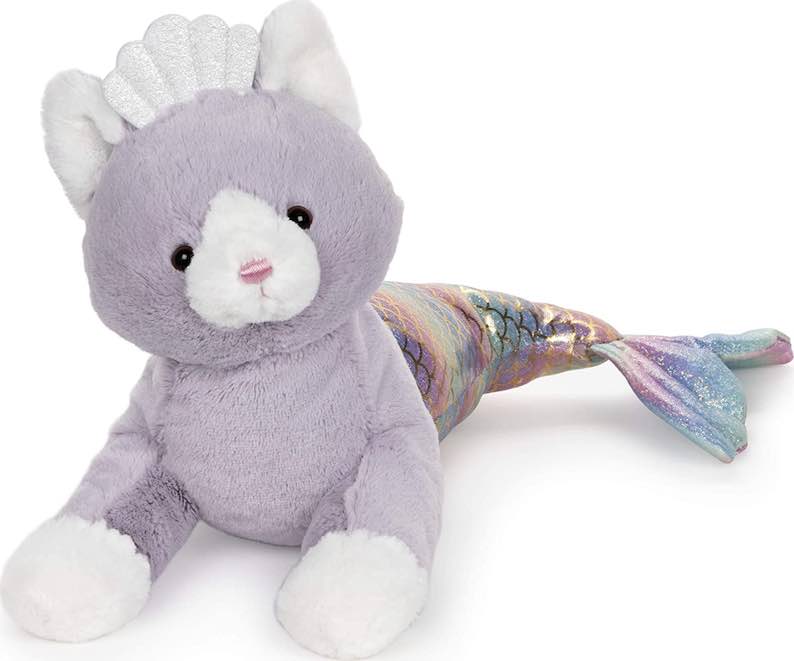 'In A Sea Of Fish Be A Purrmaid' Poster

Cat Mermaid Throw Pillow Cover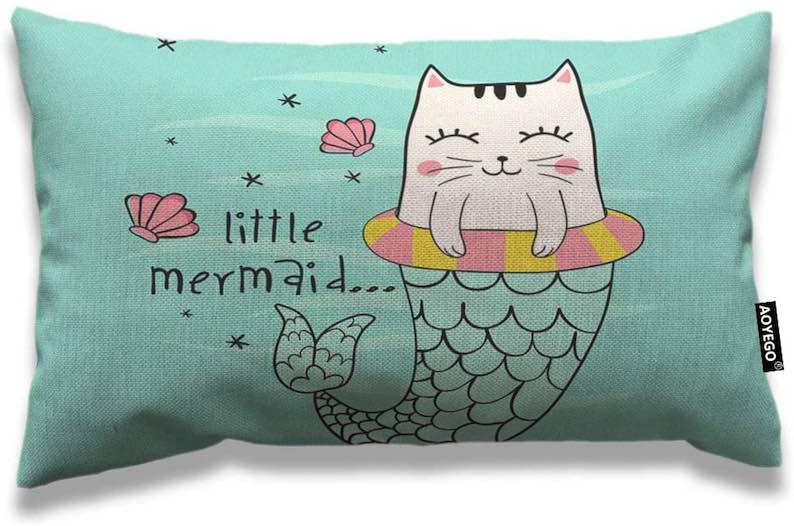 Cat Mermaid Art Sea Music Painting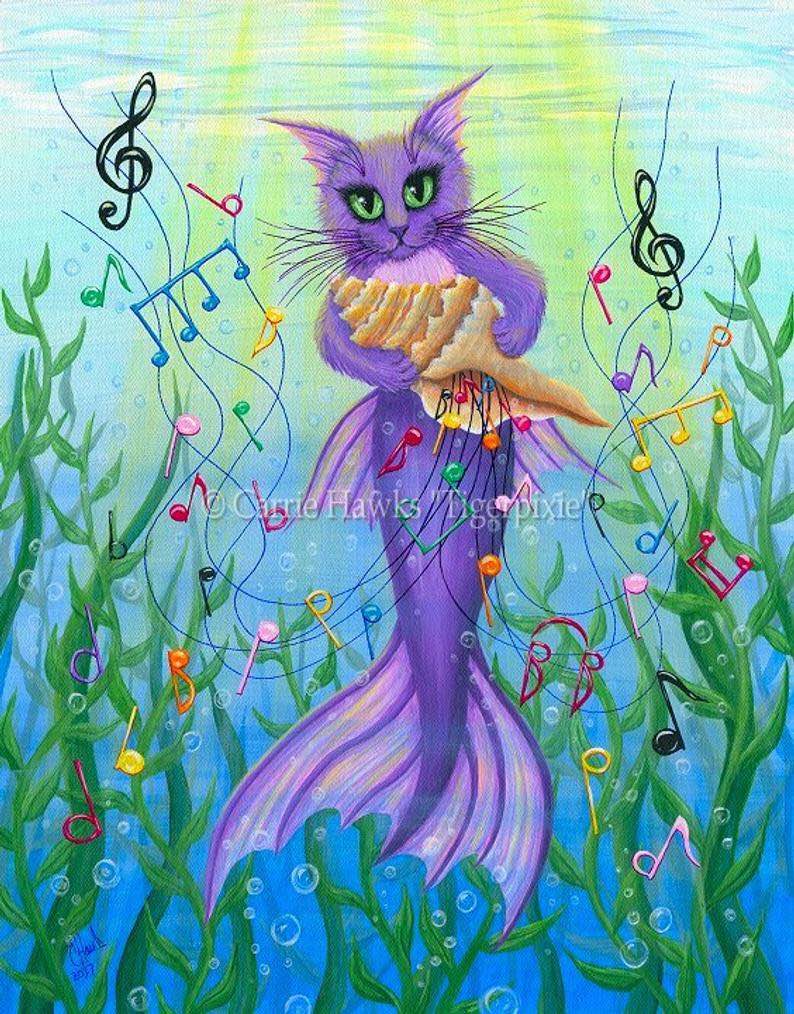 Personalized Cat Mermaid Door Sign

Catlantis Mermaid Cat Sterling Silver Pendant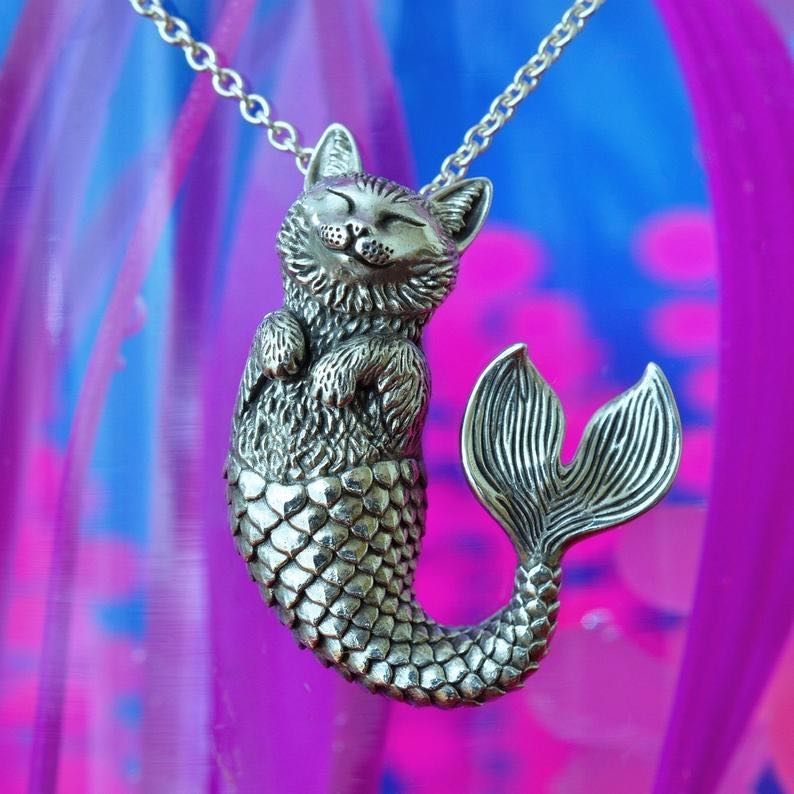 Purr-Maid Mermaid Cats Salt and Pepper Shakers

Hand Towel with Mermaid & Her Kitty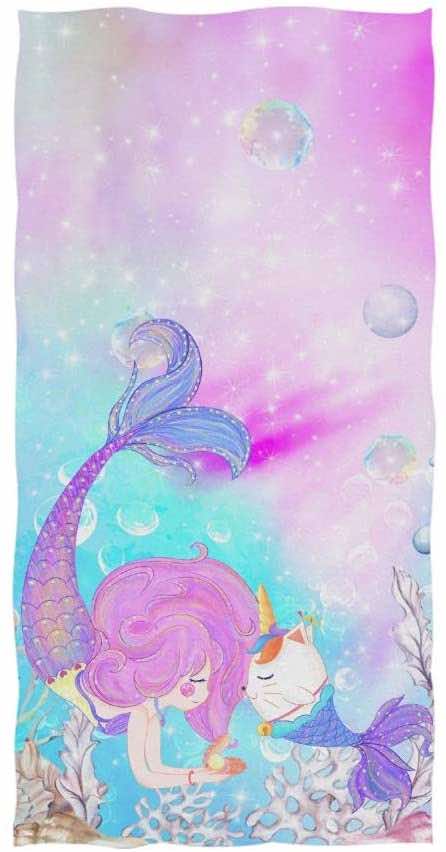 Cat Unicorn Mermaid Underwater

Mercat Wearing Flip Up Sunglasses Cat Mermaid Girls Shirt

Mercat Pendulum Clock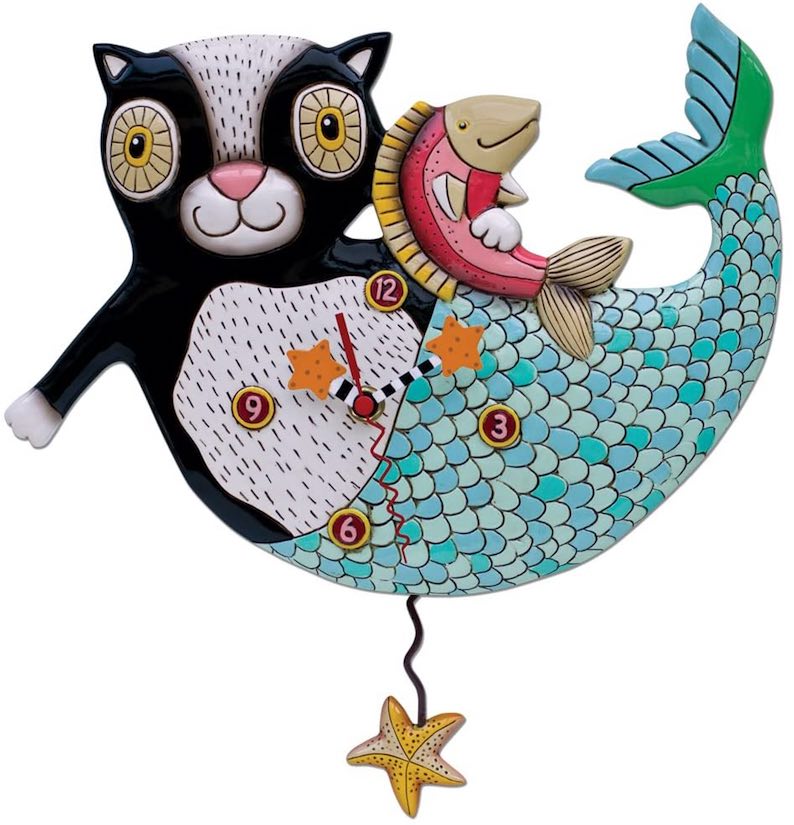 Mermaid Cat Beer Glass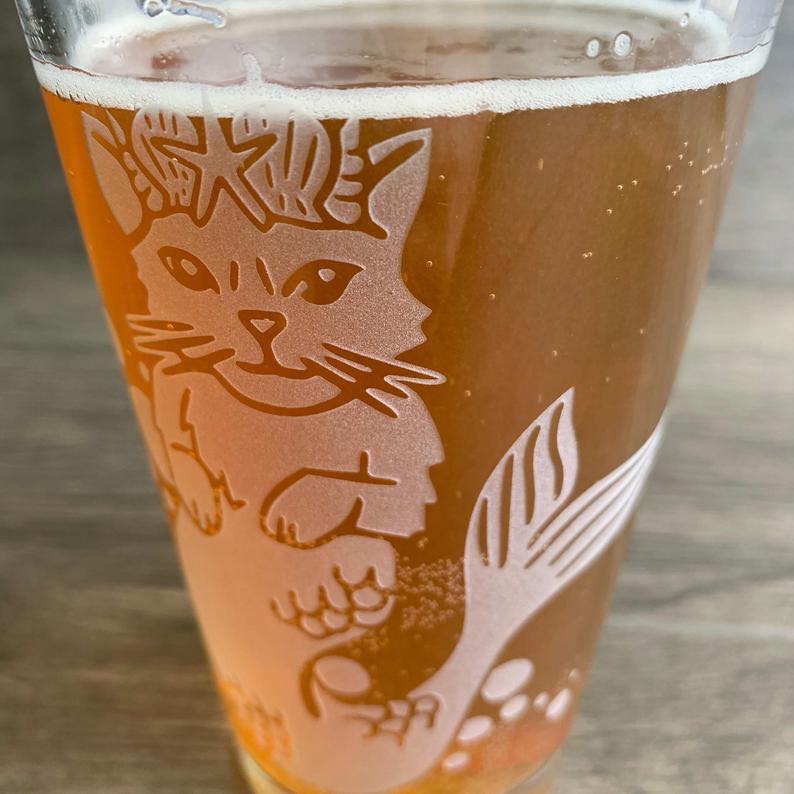 This has got to be one of the best beer glasses that I've ever seen. What wonderufl artistry on this mermaid cat beer glass.

Mermaid Cat Card Holder Bi-fold Leather Wallet

'Purrmaids are real' Women's Crew Socks
Never doubt that purrmaids are real. Never.

Magic Cat Unicorn Mermaid Kids Apron


Mermaid Cats Airpod Case

Unicorn Cat Mermaid Wall Art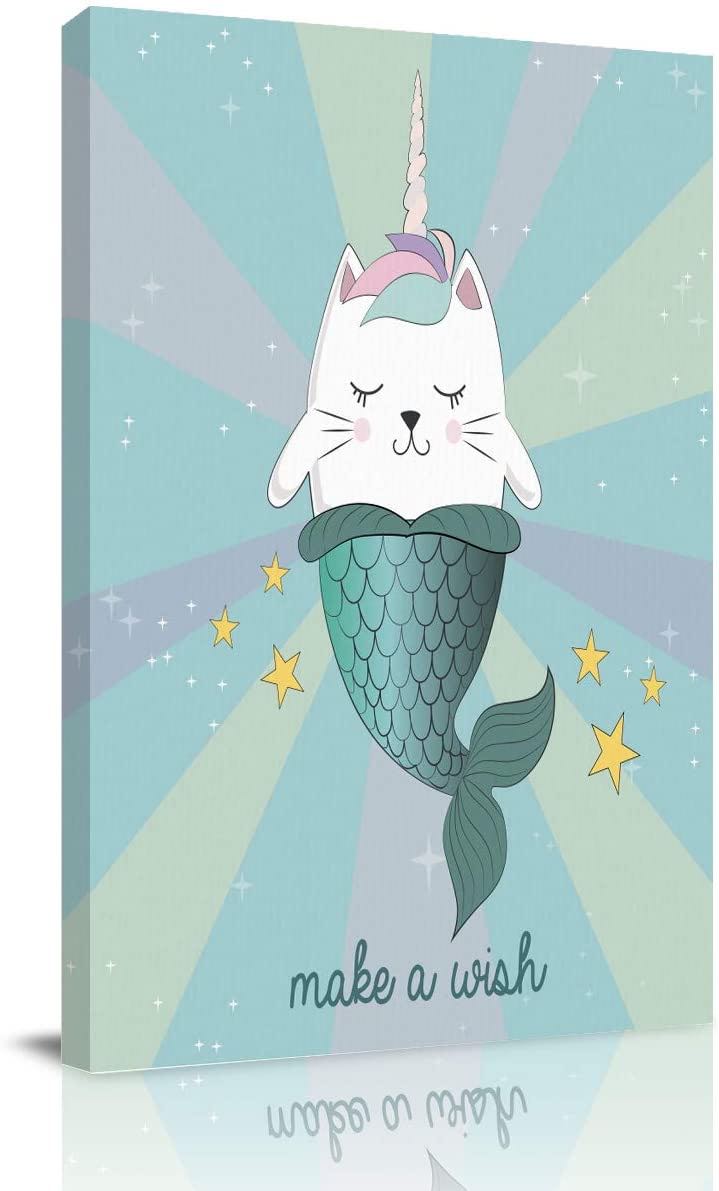 Cat Mermaid Enamel Pin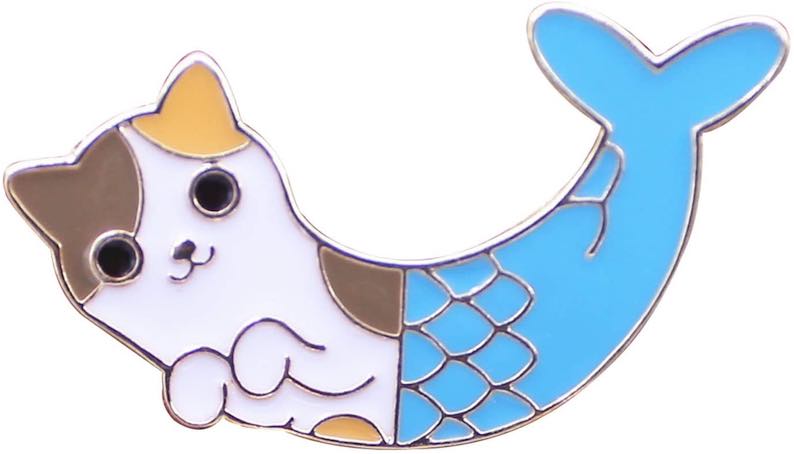 Teal Blue Mermaid Unicorn Cat Water Bottle

Purrmaid Cat Mermaid Purple PopSockets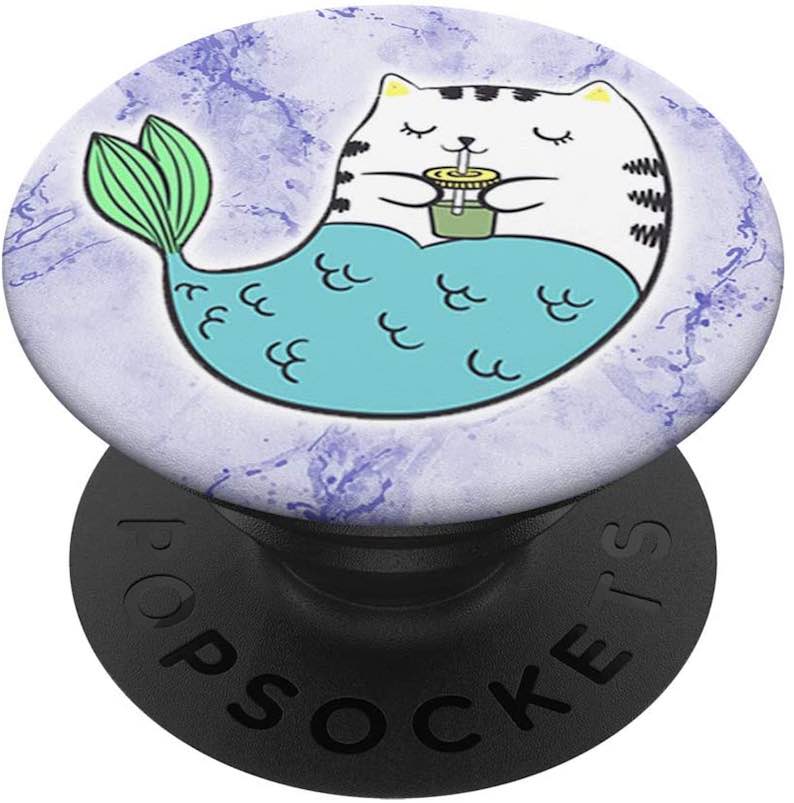 Relax Time Cat Mermaid Journal

Mermaid Cat Mermaid Old-Fashion Brooch Pin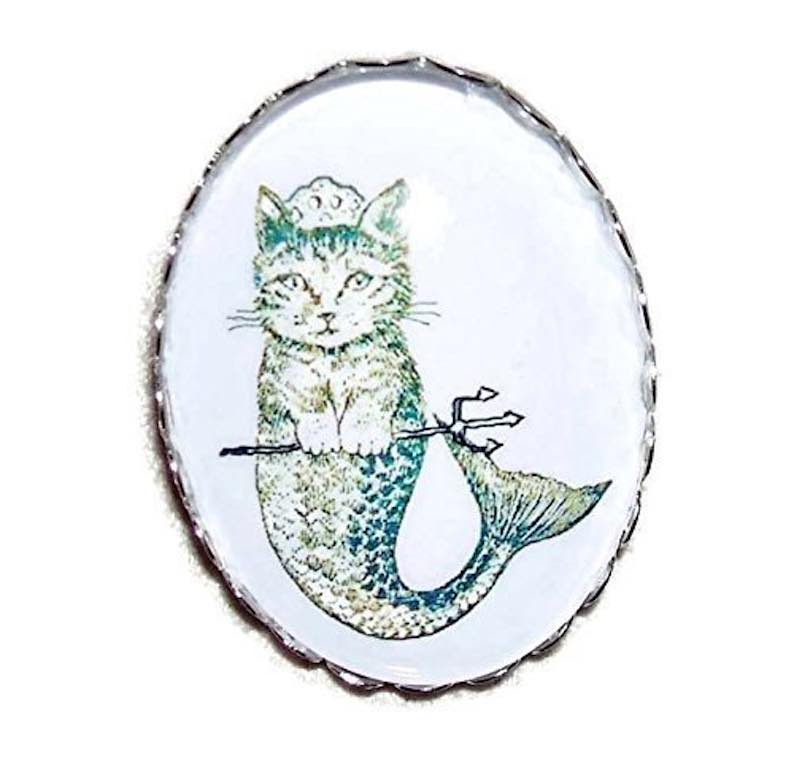 Cats Mermaid in Kawaii Style Face Mask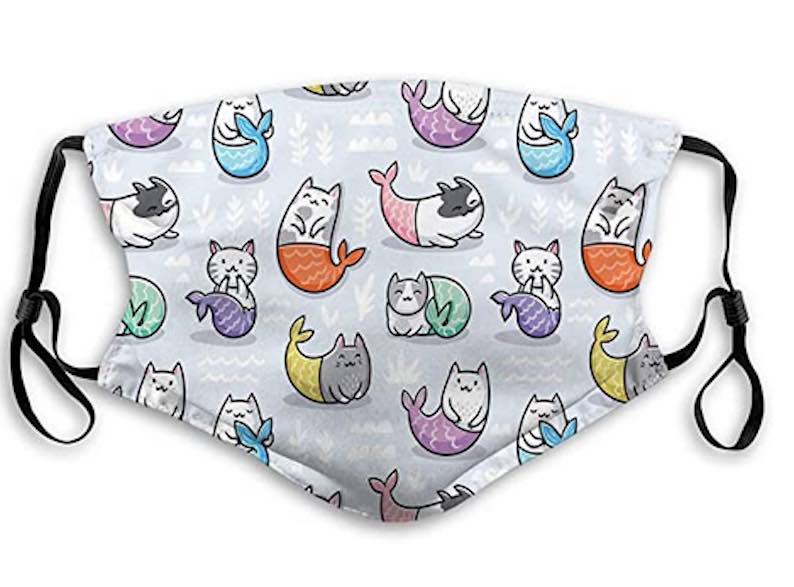 Mermaid Cat Plushie

Purrmaid Shirt

Merkitty Original Print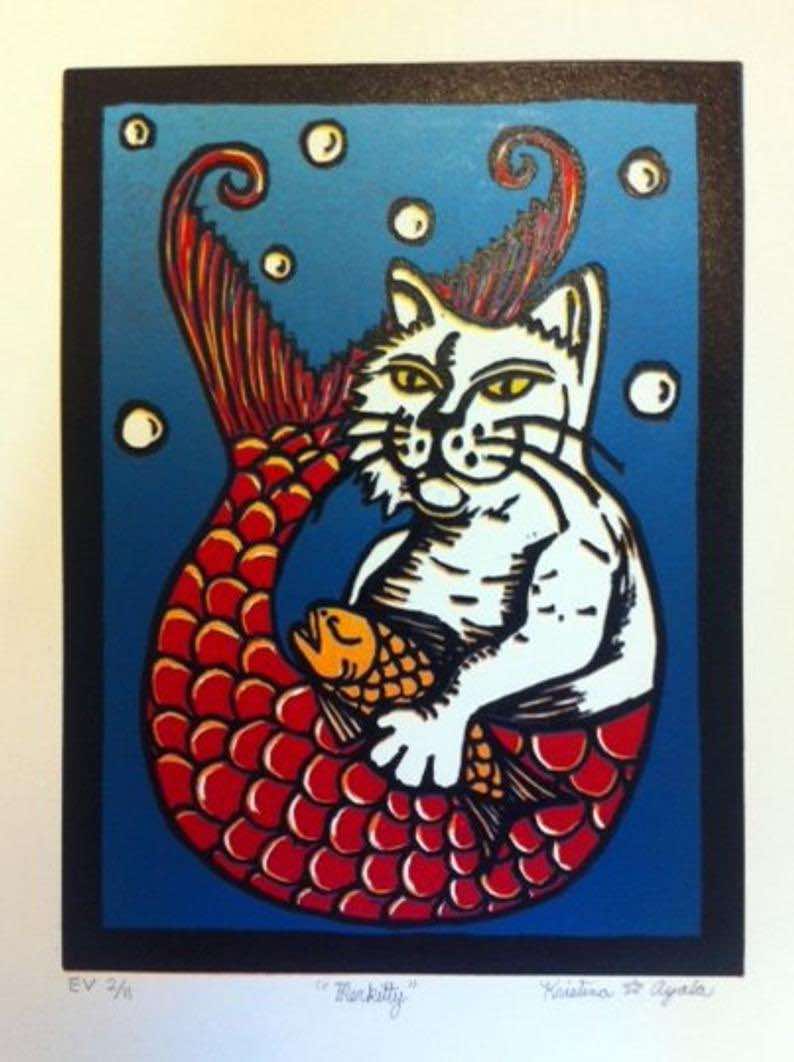 Cat Mermaid RUBBER STAMP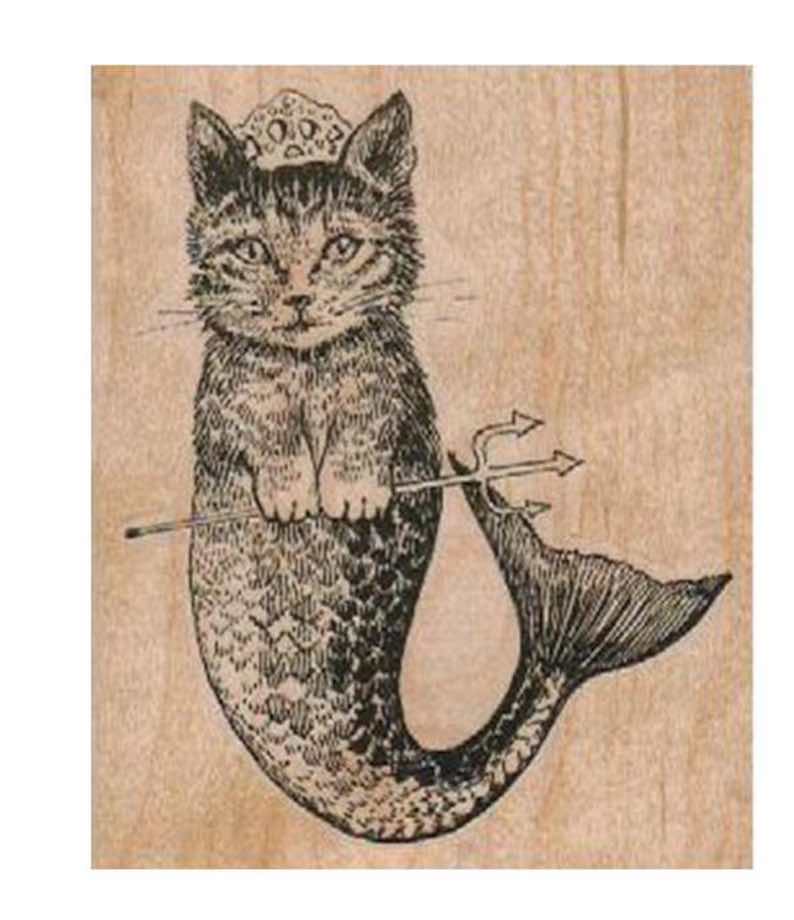 Cat Mermaid Turquoise Tile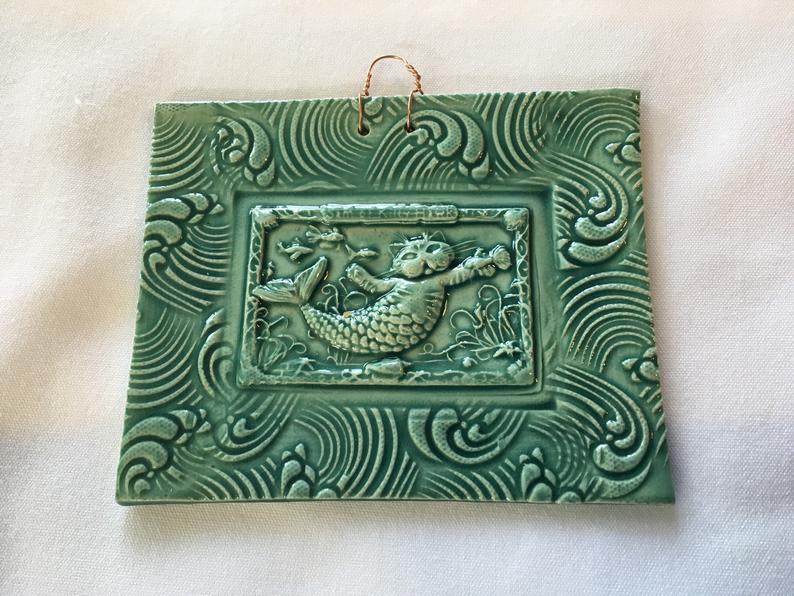 Purrmaids Print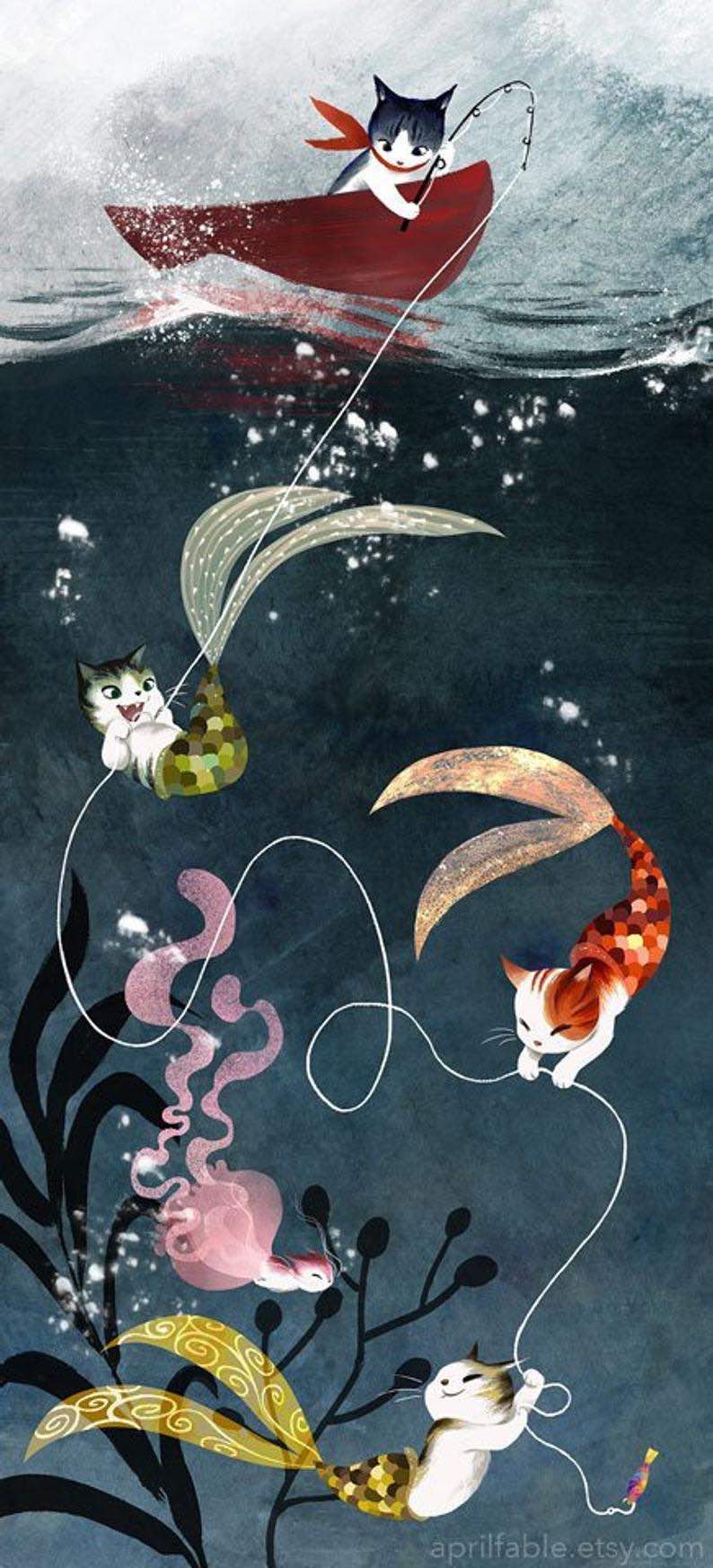 SeaMeowCon Cat Enamel Pins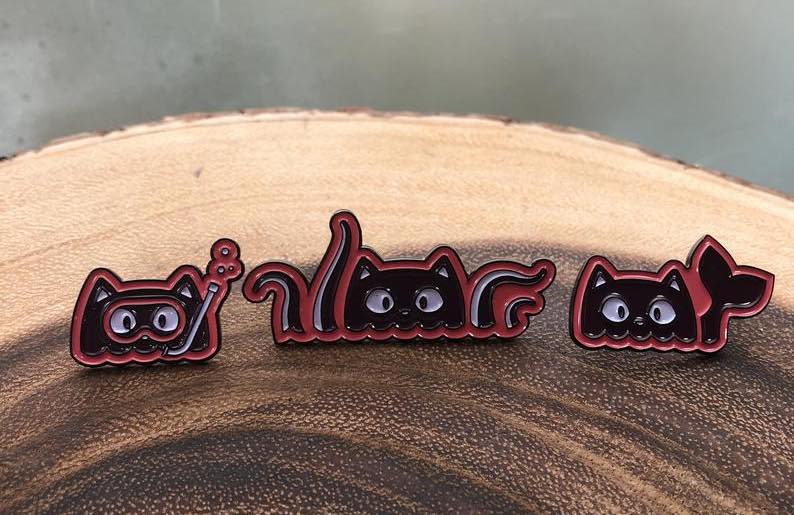 Cat Mermaids
Thanks for checking out my list of cat mermaid art and fashion. If you liked it, please share on your social. thanks!
Written by Renee