Sea Turtle Gifts ~ 33 ideas featuring these graceful swimmers
If you've spent much time on Seashell Madness you've heard me rave a time or two about sea turtles. I'm a big fan of the beauty and grace of these titans as they glide through the water.

(I also have a daughter who lives in Kauai — basically the capital of sea turtleness — so that might also have something to do with it.)

Either way, I've spent a lot of time looking at great art and entertainment featuring sea turtles. So today, for those of you who are as fascinated by these creatures as I am, I would like to show you my 33 top ideas for sea turtle gifts.

Happy Face Sea Turtle Mug
I know that we've all been there. So I would imagine that this cool little mug would be a great gift for… anyone.
See all of our Sealife Gift Ideas:
Dolphin Gifts • Shark Gifts • Octopus Gifts • Sea Turtle Gifts • Whale Gifts • Ocean Gifts •

Personalized Sea Turtle Home Sign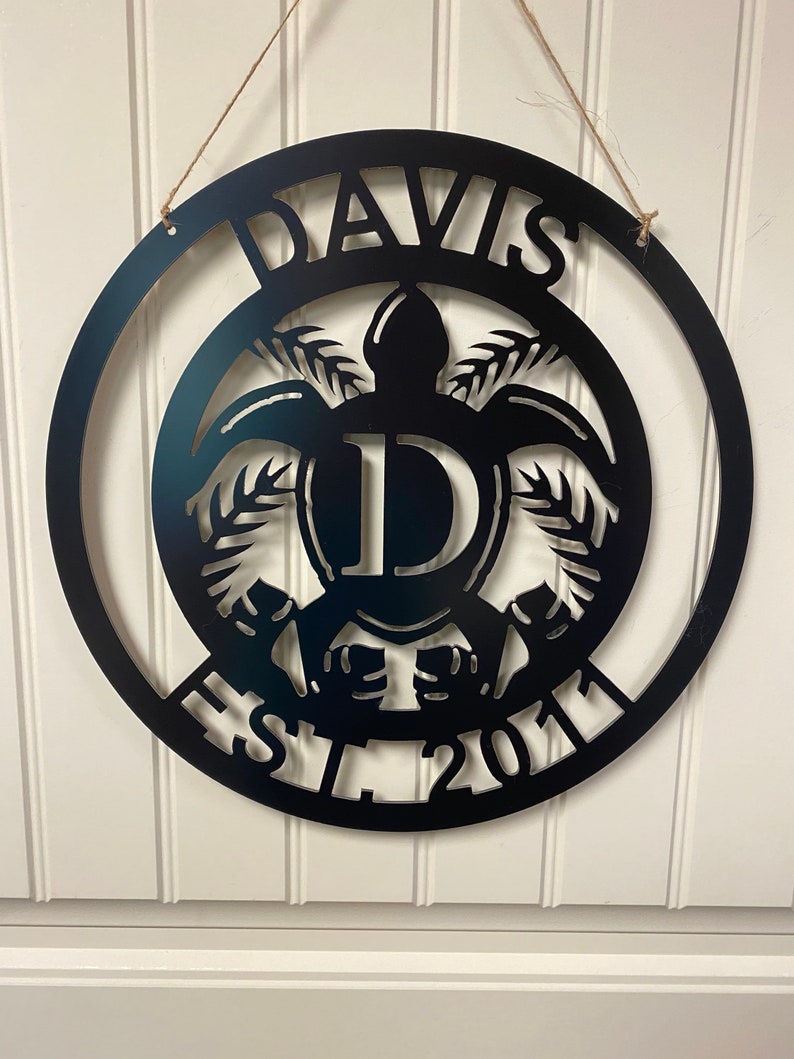 A personalized sign is one of those things that can really make a house a home. And if you know someone whose house is done in a coastal decor, then what better personalized sign than one featuring an awesome sea turtle.

Sea Turtle Paper Towel Holder
Yes, I know that I've recommended this particular sea turtle gift more than once before, but that's because I love the design of the sea turtle paper towel rack. I mean, just look at it. Having that little turtle swimming along the edges of a paper towel roll just makes me smile. So I'm betting that given as a gift it would make others smile as well.

Black & White Sea Turtle Coffee Mug
A great mug always make for a great gift. And this is one great mug. Even before taking the illustration into account, I love the shape of this one. But that illustration… The folks who make this mug have a whole series of sea-life art done in this wonderful style — the stark black and white is both beautiful and attention-grabbing.

Teal Sea Turtle Mini-Handbag
And for anybody who is still toting a boring handbag, I suggest you give them something like this really cute sea turtle handbag. The colors on this one are wonderful — I can't help but think beach when I see teal, and then you add in that really cool sea turtle and you've got yourself a winner.

Eyeglass Holder… Turtle Style
Know someone who is always misplacing their reading glasses? I do. (actually, it's me, but that's beside the point) Then this little turtle-themed stand is definitely the thing. They'll never misplace those glasses because they will always want to see that turtle wearing them.

Mandala Turtle Round Beach Blanket
Here's one recent trend that I really love and think has been a long time coming: round beach towels. They just make so much sense. Now you have room next to you on the blanket so that you don't have to plunk all of your things down in the sand. Why didn't we think of this sooner? So do someone a favor by letting them in on this trend, and do it in style with this brightly colored sea turtle mandala.
Fun Sea Turtle Fact:

"Sea turtles migrate thousands of miles in their lifetime through ocean basins and high seas. One female leatherback traveled more than 12,000 miles round-trip across the Pacific Ocean, from Papua in Indonesia to the northwest coast of the United States."
source: worldwildlife.org

Turtle Trivet
They have to set their hot pans down on something now don't they? And if they're just plopping them down on a potholder, then they will likely welcome a trivet. I know I really love using them, even before I knew what they were called. And this wonderful turtle-themed trivet is just the most awesome variation I can think of.

Turtle Paper Clips
Even in this digital age, everyone needs paper clips. There are just some things that you can't store on your phone — you've gotta clip 'em. But why go with those same old boring paper clips that have been haunting offices since the 1950s? Help someone add some style to their clippage with these turtle-shaped paper clips.

"You Should Turtley Drink More Water"
In our caffeinated world a lot of us don't get enough of the good 'ol H2O. So here we have the perfect motivational reminder tool: a water bottle with the daily intake helpfully marked on the side. And a cool turtle too!

Sea Turtle Bookmark
For the avid reader in your life, books can actually be a risky gift — you never know if it's one that they have already read, or if it's an author they dislike — but you can never go wrong with a bookmark. And I love this whole series of cartoon bookmarks, which give the impression that little cartoon characters, like this sea turtle, have been squished in the book. Fun!

Art Print: "Baby Sea Turtle's First Splash"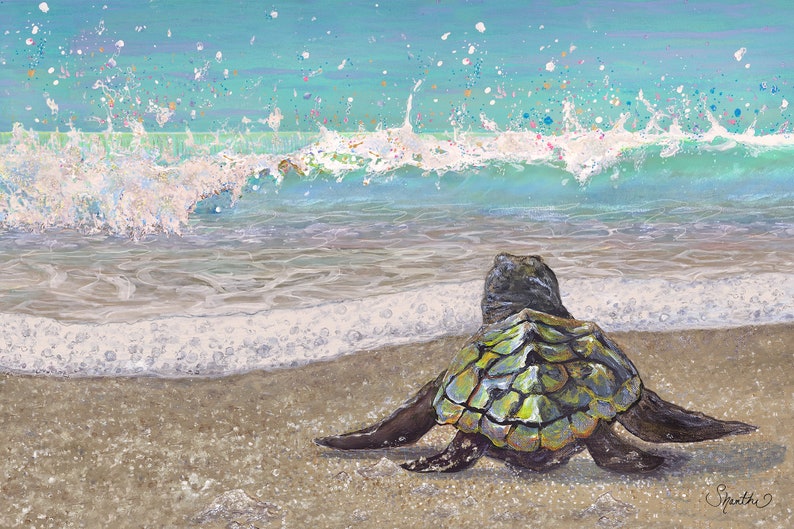 I've viewed and reviewed quite a bit of sealife-inspired art in my day, and I have recommended print of this work, "Baby Sea Turtle's First Splash" more than once. I think that it is a beautiful work of art that wonderfully captures a beautiful moment in nature: when the freshly-hatched sea turtle first finds her way to the sea. This print would make a great gift for anyone who is a fan of coastal decor.

Sea Turtle Sleeping Bag Blanket
Maybe not the most practical of sleeping bags, but definitely one of the most fun! I don't know any kid who wouldn't want to be wrapped up in a turtle shell for the night.

Sea Turtle Oven Mitts
Oven mitts are one of those practical things that everyone needs. Therefore, they always make a great gift for anyone. But that doesn't mean that just because they are practical that they have to be boring. Be the person who gives the gift of cool practical things, like these oven mitts featuring great sea turtle art.
Fun Sea Turtle Fact:

"Sea turtles are ancient species, having been around since the time of the dinosaurs — about 110 million years."
source: noaa.gov

Stemless Wine Glasses
I love these stemless wine glasses, and I'm betting that the folks on your gift list will as well. First, there is the hand-blown glass. That's always great in and of itself, but look at the "crackle teal" along the bottom which gives the feel of the ocean at work. Then add in a great, sand-carved rendition of a floating sea turtle and you're giving someone one great little glass.

Sea Turtle Stepping Stone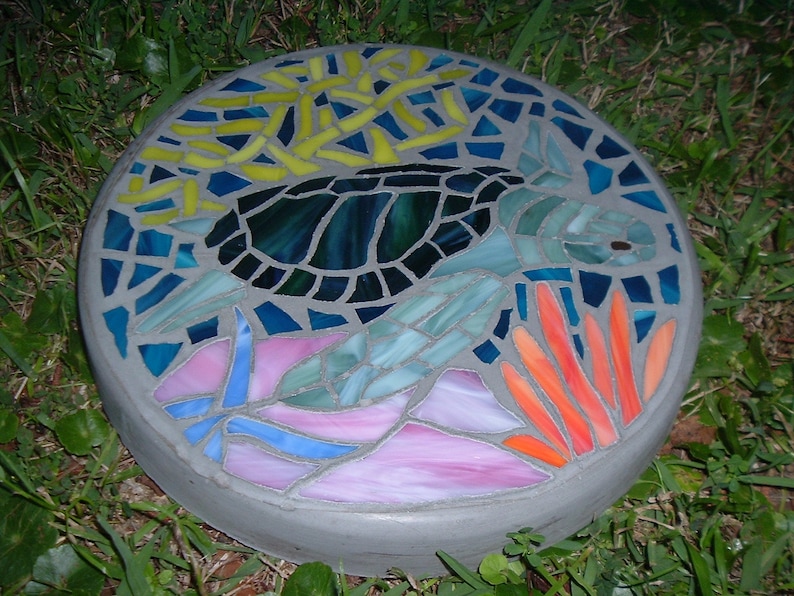 A lot of yards have paving stones, but usually they are just flat rocks or pieces of concrete. They usually aren't made with great stained glass mosaics embedded into them. So help someone elevate their yard with these wonderful handmade stones featuring a great sea turtle mosaic.

Hawaiian Honu Coffee Mug
In Hawaii, the sea turtle is called "Honu" and can be found swimming in large groups around the islands (especially the island of Kauai). This mug, with its wonderful raised illustrations of sea turtles can help them dream of their next trip to the islands (or remember their last).

Throw Blanket with a Sea Turtle Theme
Everyone needs a throw blanket or two around to slip over the shoulders when temperatures dip a bit. So why not give a throw blanket with an awesome sea turtle illustration?

Sea Turtle Wind Chimes
Is there anything as soothing as a good set of wind chimes? Seriously, I can't think of anything. So if you've ever been sitting out on someone's porch and thought "this would sure be a nice place for some wind chimes" then you should definitely take it upon yourself to get that person some wind chimes. Like this set which features a great sea turtle theme. You'll be giving the gift of tranquility.

Cookie Cutters in Sea Turtle Shapes
The baker in your life would definitely appreciate having another set of cookie cutters to inspire them to new designs. Just think of the cool cookies they could make with cookie cutters shaped like sea turtles. And if you think that you might get some cookies out of the deal, you could encourage them to try lots of different designs.

Rucksack of the Ocean Turtle
When you're talking about useful items, the backpack certainly has to rank right up there. And for the fan of sealife, this sea turtle-themed backpack is just the ticket.
Fun Sea Turtle Fact:

"Sea turtles typically live between 30 and 50 years, with some documented cases of sea turtles living as long as 150 years."
source: thoughtco.com

Bottle Cap Turtle Figurine
Now their favorite beer can be turned into a turtle! Imagine that. These handcrafted little pewter beer cap turtles are magnetic — which means that the caps can be interchanged. Different beer, different turtle.

Psychedelic Sea Turtle Duvet Cover Set
For whatever reason, sea turtle art often depicts turtles with multi-colored patterns and colors (maybe it's the Hawaiian influence? I'm not sure.) The upshot is that we get some really cool designs from sea turtles, like that used in this duvet cover set. If you know someone with a boring duvet, you now know exactly what to get them.

3D Illusion Night Light
Back in my day, nightlights were pretty boring — just a tiny white bulb in a plastic cover plugged into the wall. But these days a person in need of a nightlight (and who doesn't need a nightlight?) has a ton of options. I'm really fond of these 3D illusion lamps. They come in all sorts of great designs. And since we're talking turtles…

Sea Turtle Patterned Socks
A gift which used to be lame is now way cool. I am talking, of course, about socks. Just check the wonderful sea turtle pattern on this particular pair. Fantastic!

House Slippers, Turtle Style
House slippers serve the double duty of keeping shoes off of the carpet and keeping toes snuggly warm. I can't think of anyone who would say 'no' to a nice fuzzy pair of slippers. Especially when they have a great print on them, like, say, a sea turtle.

Swimming Turtle Plush Blanket
If you know someone who likes sea turtles and who also likes a soft, warm, snuggly blanket then here's the one. The illustration is really great (I love the vibrant blues in the background!) and the fuzziness factor is right up there as well.

"I have searched the ocean for you" Coffee Mug
What a wonderful sentiment to this wonderfully illustrated coffee mug: "I have searched the ocean for you." That's the kind of gift that really touches the heart.

Sea Turtles: A Complete Guide to Their Biology, Behavior, and Conservation
And on the educational side: "Sea Turtles: A Complete Guide to Their Biology, Behavior and Conservation" will help turn that sea turtle fan into a sea turtle expert.
Fun Sea Turtle Fact:

"Hawaiian green sea turtles, or honu, are native to Hawaii. They are the largest hard-shelled sea turtle in the world, reaching lengths of four feet and weights over 300 pounds."
source: mauioceancenter.com

Turtle Bracelet With Blue Sea Glass Made Of Sterling Silver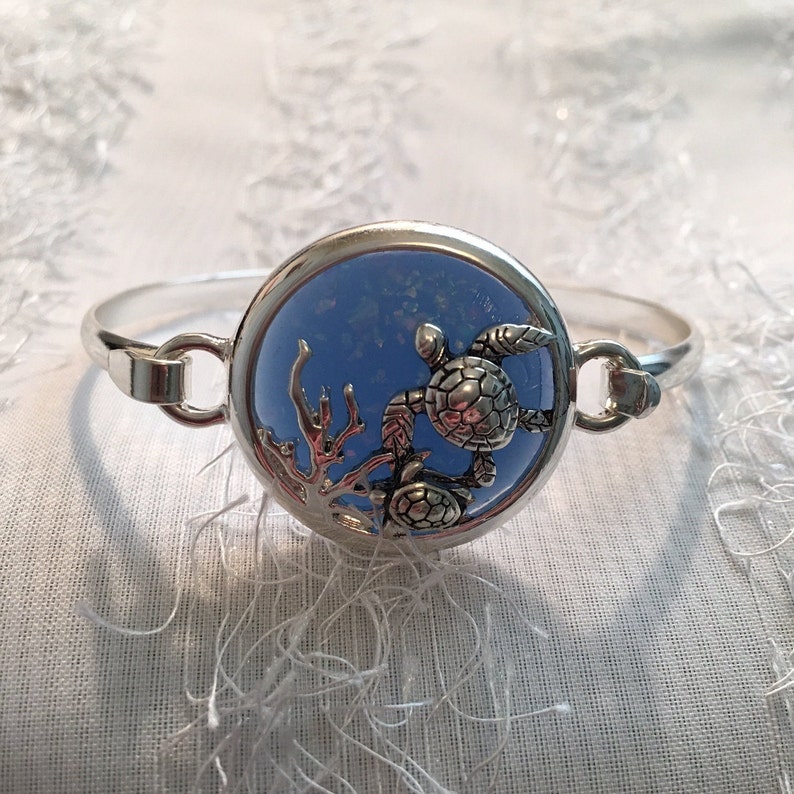 As noted elsewhere on Seashell Madness, I am a huge fan of sea glass and sea glass art. I absolutely love the look of this handmade bracelet which depicts in sterling silver a scene of swimming sea turtles, while the base of blue sea glass makes a wonderful ocean.

Sea Turtle Switch Plate
You may think it odd to include a light switch plate in a gift list, but I'm tellin' ya: a light switch plate with a pattern like this wonderful sea turtle goes over great as a gift.

Sea Turtle Napkin Ring (Set of 6)
And if they like getting all fancy with things, like, say, wrapping napkins in a ring, then might I suggest this particular set of napkin rings inspired by the sea turtle.

6 Piece Wine Charm Set
The wine lover on your list will appreciate this one: little charms that dangle from the necks of their wine bottles. These add a fun and special little touch to the presentation of the wine, and the sea turtle theme makes them really great!
Sea Turtle Gift Ideas
Thanks for checking out my list of ideas for sea turtle gifts. If you liked it, please share on your social. Thanks!
Written by Renee