Ocean Gifts ~ because two thirds of the earth's surface can't be wrong
There's a certain affinity that most humans have for the ocean. Though we don't live in it, it does cover most of our planet, so I suppose this attraction is understandable.

But whatever the reason for our love of the ocean, that love does inspire a whole lot of art and entertainment. And that art and entertainment makes for great gifts! So today I would like to show you the Seashell Madness top 33 ocean gift ideas.

Large Abstract Ocean Print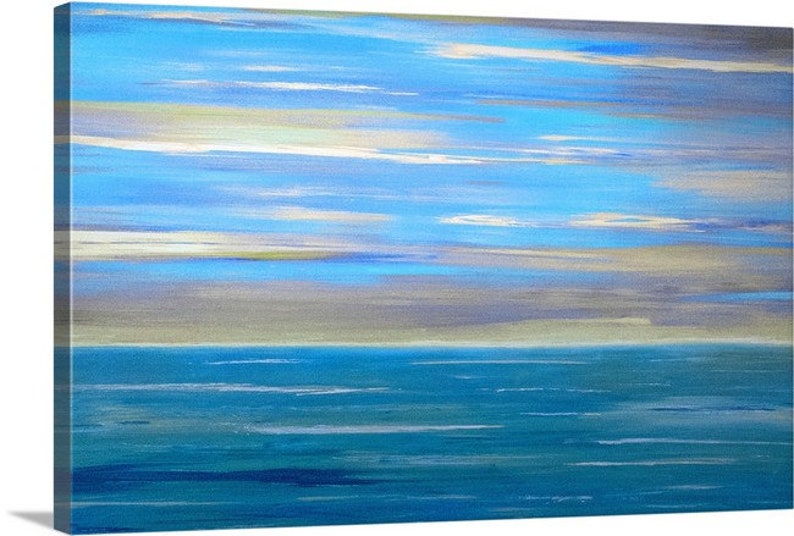 You really can't go wrong with the gift of art. And you really, really can't go wrong when that art is a beautiful abstract ocean print like this one by artist Debby Neal. I've written a lot about art on the pages of Seashell Madness, so I feel that I've developed a pretty good eye for the good stuff. And this one is the good stuff. So if you know someone who has a bare wall… well, here you go.
See all of our Sealife Gift Ideas:
Dolphin Gifts • Shark Gifts • Octopus Gifts • Sea Turtle Gifts • Whale Gifts • Ocean Gifts

Jellyfish Night Light
Hey, everybody needs a night light, am I right? But just because it's practical, doesn't mean that it has to be boring. So if you know someone who is sporting a boring, basic, white bulb nightlight may I suggest JELLYFISH!!!

Abstract Ocean Ceramic Coasters
For those who want to keep their coffee tables ring-free, coasters are a necessity. And I personally love the artistic look of these ceramic coasters in beautiful wave patterns. I would imagine that anyone who has these would get great compliments from their guests, who before setting their drinks down would likely take a long gander at the beautiful artwork of these ceramic pieces. And, they're cork-backed so as to prevent scratching furniture surfaces.

Ocean Ceiling Projector
Give the gift of the ocean on the ceiling! I know that I wish that I had been able to project an ocean onto the ceiling of my childhood bedroom. So if you can bring that joy to others, I think that would be an excellent idea. This little projector also has great speakers and can interact with Alexa and Google Home. "Alexa, project the ocean for me!"

Starfish Stepping Stone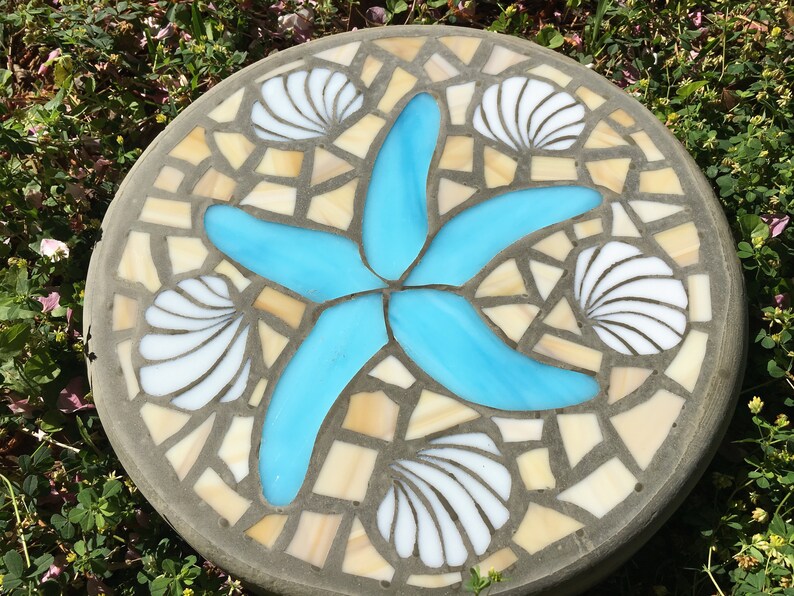 A lot of yards have stepping stones (or don't have them but need them), but usually those stepping stones are merely functional. Now you can help someone move beyond that mindset by helping them add art to their stones. This wonderful starfish design is handmade from stained glass which has been embedded into concrete. Beautiful and durable for that special someone's yard.
Fun Ocean Fact:

"Historically speaking, most countries recognize [a] four-ocean model, which tends to focus on the Pacific, the Atlantic and the Indian oceans as the major ones… Functionally speaking, there is only one ocean, since every ocean is connected to at least two others."
source: britannica.com

Octopus Coffee Mug
Do you have a co-worker who drinks his or her coffee from a boring, old-fashioned, generic coffee cup? Well, bring some excitement (and a coastal feel) to their lives with this wonderful hand-painted ceramic octopus mug. (I mean a ceramic mug shaped like an octopus, not a mug of a ceramic octopus: that would be silly). I love how one of the tentacles has been turned into the handle. Their coffee will be boring no more.

Fused Glass Ocean Wall Art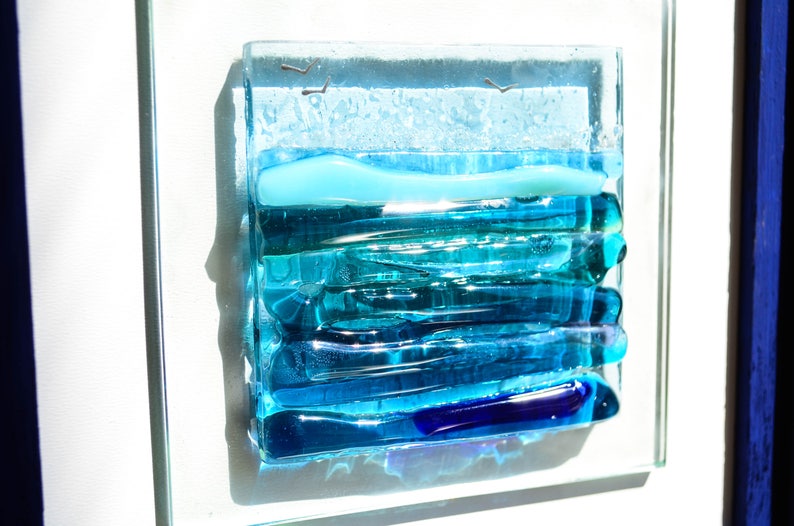 Here is a beautiful piece of abstract ocean artwork — a fused glass sculpture. This would make a tremendous gift for that person who loves abstract art in 3 dimensions. Help them branch out in a beautiful way.

Handmade Hawaiian Sea Glass Necklace
Sea glass makes for some beautiful jewelry. A good artist can take a few pieces of glass, which are beautiful on their own, and embellish them with silver to create something even more beautiful. Like this handmade silver wire-wrapped necklace, which will remind them of the ocean not only because it is sea glass, but also from the beautiful wave motif atop it.

Sea Turtle Paper Towel Holder
Come on, there's nobody who could resist this one: a paper towel holder adorned with a sea turtle swimming the waves of those towels. What a cool gift this would make.

"Gold Fish School Cyclone" Oil Painting on Canvas
A shoal of fish swirling beneath the shining surface of the water is one of nature's beautiful sights. And this beautiful sight has been beautifully rendered in this hand-painted oil on canvas artwork. I love the blue and gold combination, which would make a great addition to any wall.
Fun Ocean Fact:

"The average depth of the ocean is about 12,100 feet. The deepest part of the ocean is called the Challenger Deep… [which is] approximately 36,200 feet deep."
source: noaa.gov

Ocean Sounds Sleep Sound Machine
If you've ever had the opportunity to sleep on a beach or in a beach house, you know how pleasant and relaxing it is to hear gentle surf rolling away and lulling you to sleep. Those folks who are living inland might just appreciate that sound too. So, for them, this sleep machine generates that gentle sound.

Ocean-Themed Cosmetic Bag
Cosmetic bags are a necessity for, well, anyone who uses cosmetics. So if you know anyone like that, then maybe they would like this particular cosmetic bag which is decorated with a wonderful abstract ocean pattern.

Steampunk Tentacle Wall Hooks
I know that whoever you give octopus wall hooks will giggle as much as I do at the sight of them. This is how you add character to an otherwise mundane household object. "Yeah, just hang your jacket over there on one of the tentacles…"

A Resin Ocean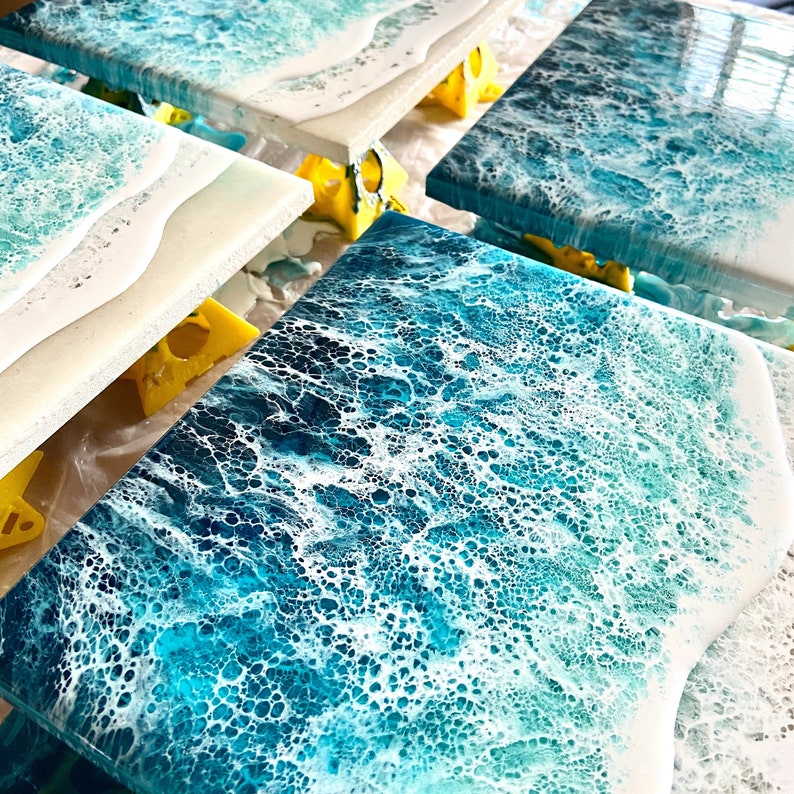 Resin art makes wonderful oceans. The wonderful flowing nature of the medium makes it perfect for the job of portraying an ocean. Just look at the way that the waves crash upon the shore! So if you know anyone who pines for the ocean, then you know someone who definitely needs a good piece of resin art.

Plush Blanket with Starfish & Shells
If all you know about the person you're gifting to is that they like the beach, then a throw blanket depicting the beach is a great bet. After all, everyone wants a throw blanket or two hanging around for those times when the room gets a bit chilly. And starfish and shells make that throw blanket even better.
Fun Ocean Fact:

"At its widest point, from Indonesia all the way to Colombia, the Pacific Ocean is 12,300 miles across, which is more than five times the diameter of the moon!"
source: bestlifeonline.com

Wooden Flip Flops Wall Hanging
I know that for a lot of people, the beach is their happy place. So I love this piece of wall art — flip-flops cut out of wood — as a great gift item. It can be used indoors or out as a reminder to always find the happy.

Seashell Stoneware Coffee Mug
I love the gentle curves and flow of stoneware. And whoever is drinking from this one will be reminded of the wonders of the ocean as they sip their caffeine on a chilly morning.

"Baby Turtles Find the Beach" Blanket
One of those beautiful and wondrous facets of nature is when baby sea turtles, just hatched in the sand, know to make their way to the ocean. Here's a wonderful mural of such an event which has been printed on a plush fleece throw blanket. Whoever you give this to may have a hard time deciding wether to use it as a blanket or hang it on the wall like a tapestry.

Beach Life Dinnerware
Here's a great housewarming gift for a beach house… or any house that calls out for a coastal feel. This wonderful scene of beach chairs in the sand adorn the whole set of this dinnerware.

"Mermaids Drink Free" Serving Tray
Mermaids may not be real, but they are still an important part of the culture of the ocean. And as such, they deserve to get their drinks on the house. This serving tray is perfect for anyone who shares a similar sentiment about these ladies of the sea.
Fun Ocean Fact:

"Over 17,000 species thrive in the deep sea where no light penetrates the ocean waves."
source: ocean.si.edu

Sturdy Ocean-Themed Phone Case
Some people need a phone case that's tough. Some people need a case that's decorative. And some people need a case that is both. So for those people who need their beauty to be tough, I would recommend this ocean blue phone case. It features a wonderful abstract ocean design, and it has cushioned corners and a screen protector.

12in. Metal Sand Dollar
It can be a real thrill to find a sand dollar on the beach. But, in some areas that can be a rare occurrence (and of course it never happens in places like, say, Denver). So if they can't have the real thing, a wonderful piece of metal artwork may be just the thing. This 12" steel sand dollar works well both indoors and out.

Sanibel Island-Themed Dinnerware
Sanibel Island in Florida is something of a Mecca for seashell collectors, as tons of shells in multiple colors and varieties wash up on its shores every day. This lovely dinnerware is adorned with artwork inspired by the island — a great gift for the seashell collector in your life.

Whale Tea Light Holder
Do you know someone who is a fan of tea lights? I know that I'm a fan of tea lights, and I've got to honestly say that I would love to receive this unique and playful candle holder as a gift. How fun this is to see a smiling whale balancing a boat on its tail. Fun!

Shark Rug
"Sharks! Sharks in the living room!" How cool is this rug of circling sharks? It's very cool, that's how cool. Know someone who is a beach fan and has a bare floor? I've got one word for you: Sharks!

Classic Japanese-style Wave Phone Case
Here's a phone case which utilizes an illustration of a wave made in the classic Japanese style, but with a slight twist. The slight twist is that you can pick the color! So before you give this one to that beach lover, make sure you know their favorite color.
Fun Ocean Fact:

"It is thought that between 70 and 80 per cent of the oxygen we breathe is produced by marine plants, nearly all of which are marine algae."
source: trafalgar.com

Sea Bird Sculptures
A fun thing to watch at the shoreline is the seabirds. Certain spindly legged birds will run out as the waves recede, peck at the sand to find sand crabs, then run back to dry land as the waves crash in. It's fun to watch. And these little birds are wonderful representations thereof.

Ocean Floor Floor Mat
Who wouldn't want the ocean on the floor of their living room?

"Ocean: A Visual Encyclopedia"
There's a lot to learn about the ocean, so if you want to help someone get started learning, then a copy of the Smithsonian's "Ocean: a Visual Encyclopedia" is a great way to go about it.

Ocean Waves Light Switch Plate
A plate for a light switch might seem like an odd choice for a gift item. But trust me on this one, a beach lover will love it. Trust me.

Tabletop Jellyfish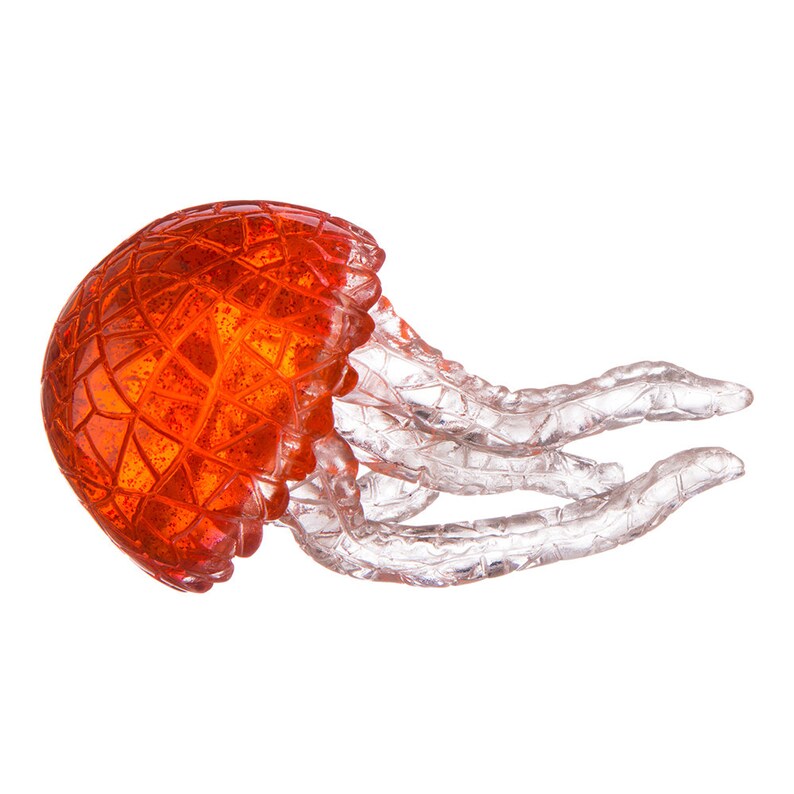 Jellyfish are fascinating. I think that most ocean lovers would agree. The way that they gracefully glide around, and their translucent bodies, is mesmerizing. So a great reminder of them would be this jellyfish tabletop figure. Made from resin, it is 5 inches long and would certainly make for an amazing conversation starter on any desk in the world.

"Ocean Storm" Acrylic Glass Wall Art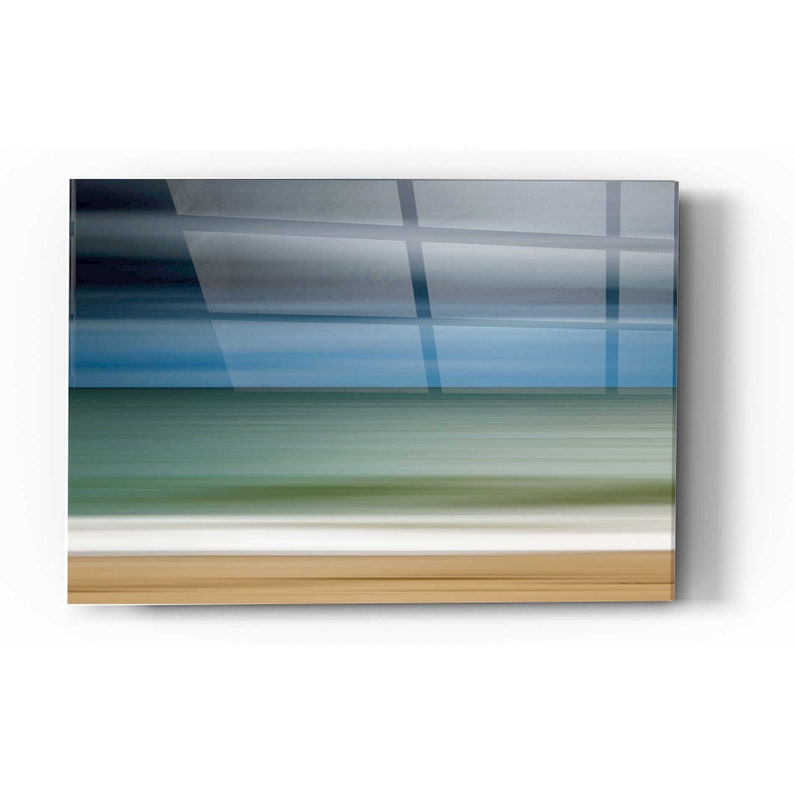 I like me a good work of acrylic art, and this one, "Ocean Storm" by Katherine Gendreau is a good one. Ocean scenes are a wonderful subject for abstract art, and the addition of acrylic with its wonderful shine, really makes the artwork "pop!"

Beer Preserver
Beer Preserver. Help someone keep their beer safe. Beer Preserver.
Ocean Gift Ideas
Thanks for checking out my list of ideas for ocean gifts. If you liked it, please share on your social. Thanks!
Written by Renee