Shark Gifts ~ 33 presents with bite
Admit it: when you go to the beach you take a look for dorsal fins. Don't you?

Though it's not very likely that we'll encounter one, most of us are still both frightened and fascinated by sharks. Which probably explains why these giant swimming carnivores are the subject of so much art and entertainment.

So today, I would like to take a moment to show you the Seashell Madness top 33 suggestions for shark gifts.

Blue Shark Earbuds
Let's start off with a great gift idea for the music-loving shark lovers on your list. They'll definitely catch attention at the coffee shop when sporting a tiny shark protruding from their ears!
See all of our Sealife Gift Ideas:
Dolphin Gifts • Shark Gifts • Octopus Gifts • Sea Turtle Gifts • Whale Gifts • Ocean Gifts •

Shark Slippers
Ah, slippers. Nice & warm. Comfy. Fuzzy. And… SHARK!!!!!!!!!

"Everything Awesome About Sharks and Other Underwater Creatures!"
Sharks are awesome, are they not? And since they are awesome, then giving a book which lists all of their awesomeness in one place will definitely make a great gift.

Shark Fin Bookmark
Even if the book lover in your life is not also a shark lover, they certainly will love this shark fin bookmark. And an especially good gift for those who love a good beach read!

Shark Wine Glasses
The wine lover on your list will definitely go for these shark wine glasses. Make sure that you look carefully at the picture: the shark is not etched on the outside of the glass, the shark is swimming on the inside of the glass! And although a person could serve white wines in these glasses, any sommelier would definitely recommend a good red.

Metal Wall Art: Shark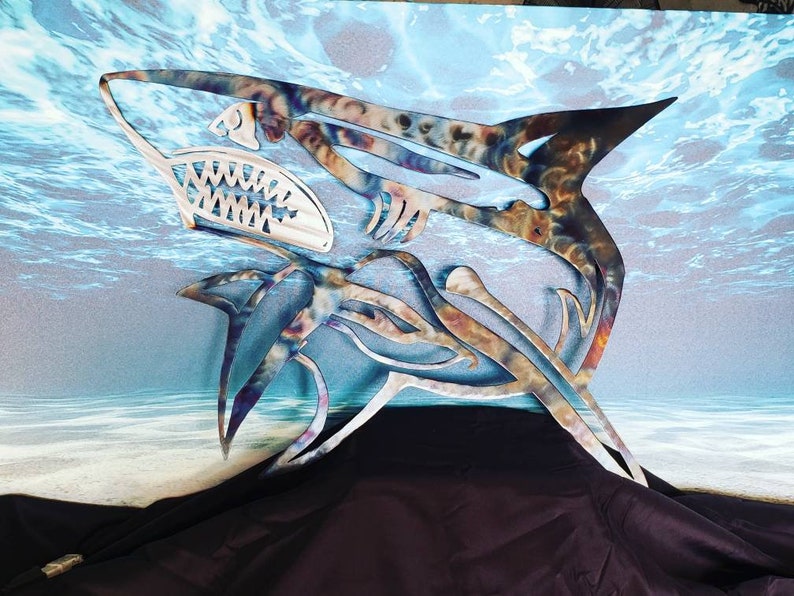 There's some fantastic art being produced in metal these days. Take for instance, this really cool metal shark. I love the design of this one — this shark appears to be in a feeding frenzy — and the colors applied by heat treatment give an almost ocean-reflection look to the piece.

Sharkopoly
Like Monopoly, but with, you know, sharks.
Fun Shark Fact:

"Sharks do not have bones… Their cartilaginous skeletons are much lighter than true bone and their large livers are full of low-density oils, both helping them to be buoyant."
source: noaa.gov

Remote Control Shark
What kid (or overgrown kid) wouldn't want a remote control shark? I mean, come on — to be able to guide a shark as it swims about? This electric shark may not have speakers to blast out the theme from Jaws, but still, I know that anyone who doesn't have a remote control shark will be extremely jealous.

Shark Sleeping Bag Blanket
I tell you, the shark blanket has got to be one of the most fun gifts out there! I don't think that anyone — anyone — receiving a shark blanket as a gift could resist taking a photo like the one shown here. And just that one moment makes it a tremendous gift! (Oh, and it's also a blanket)

The Shark Multi Tool
Multi-tools often make great gifts (after all, they're tools and they're also, you know, multi). And giving a multi-tool with a shark theme will definitely make you look cool.

Shark Bite Socks
Once a cliche lame gift, socks are now some of the coolest gifts going, thanks to the great designs that are out there like this pair of shark socks. You've gotta love that design with the shark rising up from the depths of the toes to attack from the ankles.

3D Illusion Shark Lamp
I've really gotten into these 3D illusion nightlights lately. This one, with its great angry shark illustration is definitely one of my favorites. Plus it comes with a remote control!

Shark Bite Can Cooler
Here's a great gift to present to someone who is taking you to the beach — shark can coolers! They'll need something to keep that can cool at the beach anyway, so why not one that will remind them of what they may be facing when they leave the safety of the shore?

Shark & Co. Bath Soap Wall Decor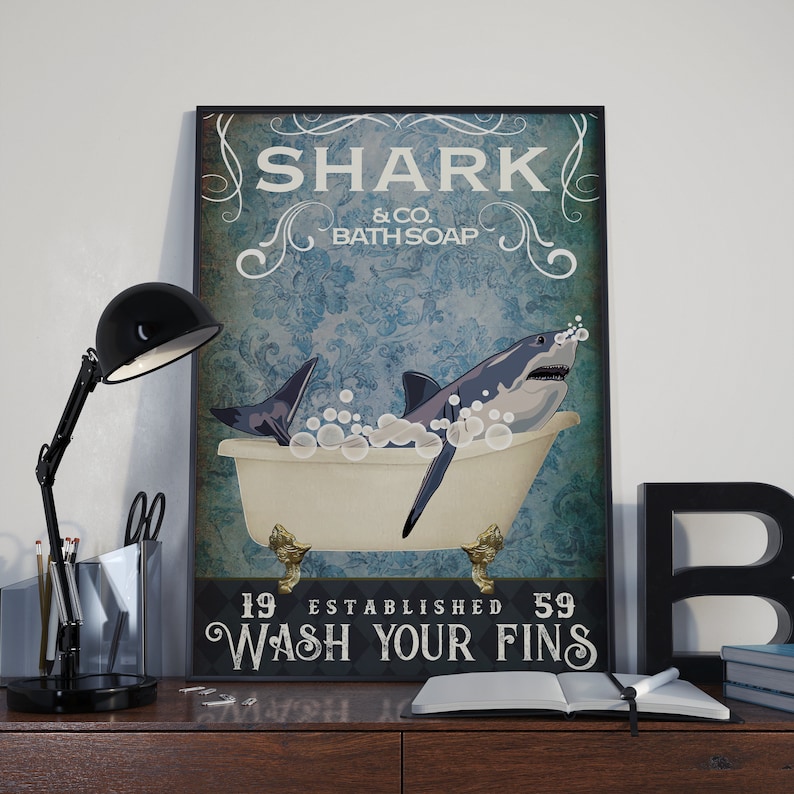 Do they have a blank spot on their walls? In the bathroom perhaps? Then what better than a print of a shark in a bathtub advertising Shark & Co. Bathsoap?
Fun Shark Fact:

"Sharks have between fifty and a couple of hundred teeth that can be placed in as much as 15 rows… Sharks' teeth do not have roots, and they grow back thousands of them during their lifetime."
source: worldatlas.com

"Feed Me!" Shark Socks
I'm sorry, but I just couldn't resist putting in some more shark socks. Maybe that's overkill, I know (and I also know that "overkill" is a great word to use in any shark conversation). But these shark socks are just great, and I am certain that they would make a great gift.

"Fluent in Sharkasm" Pint Glass
Pint glasses are a great addition to anyone's set of dishes, so I'm confident that this particular pint glass featuring an etched (not printed) shark will go over great. Especially since it also claims that the drinker is "fluent in sharkasm."

Shark Fitted Sheet
Not only a great illustration of a sihouetted great white, but also huge letters which scream out "SHARK." Now here's a gift that will brighten up anyone's bedroom. (Okay, so maybe "brighten" isn't the right word, but you get the idea)

Stainless Steel Shark Wine Aerator Pourer
Your wine-loving friends need to keep that vino fresh, yet pourable don't they? So might I suggest this shark-themed wine aerator & pourer featuring a humble little shark charging toward the surface, its ghastly maw wide open exposing rows of razor sharp teeth ready to maul and crush… and, you know, keep wine fresh.

Friction Powered Motorcycle Shark
You know how some things are attractive for no discernible reason? Yeah, that's how it is with these little toy motorcycles. I have no idea what they are supposed to mean. I have no idea why a big-headed shark would be riding a motorcycle. All I know is that I want one. And if I want one I am confident that others will as well.

Shark-Tooth Shaped Abalone Earrings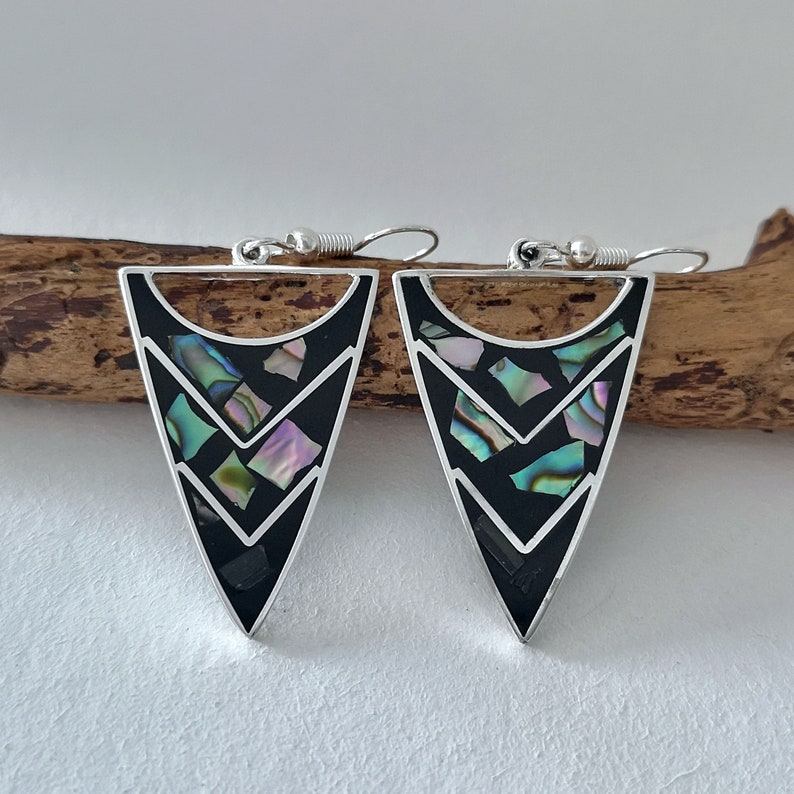 As a fan of beach jewelry I was instantly drawn to these handmade shark-tooth inspired earrings. What a great shape to these earrings. But what really makes them special (and I think a wonderful gift idea) is the small pieces of abalone shell which have been incorporated into the design.

Shark Coffee Mug
No shark gift list would be complete without a shark coffee mug. And this particular shark coffee mug is a real winner.
Fun Shark Fact:

"Sharks come in all sizes. The largest is the whale shark, which has been known to get as large as 60 feet. The smallest fits in your hand. And the great white shark is somewhere in the middle [at 23 feet]."
source: ocean.si.edu

Great White Watercolor Print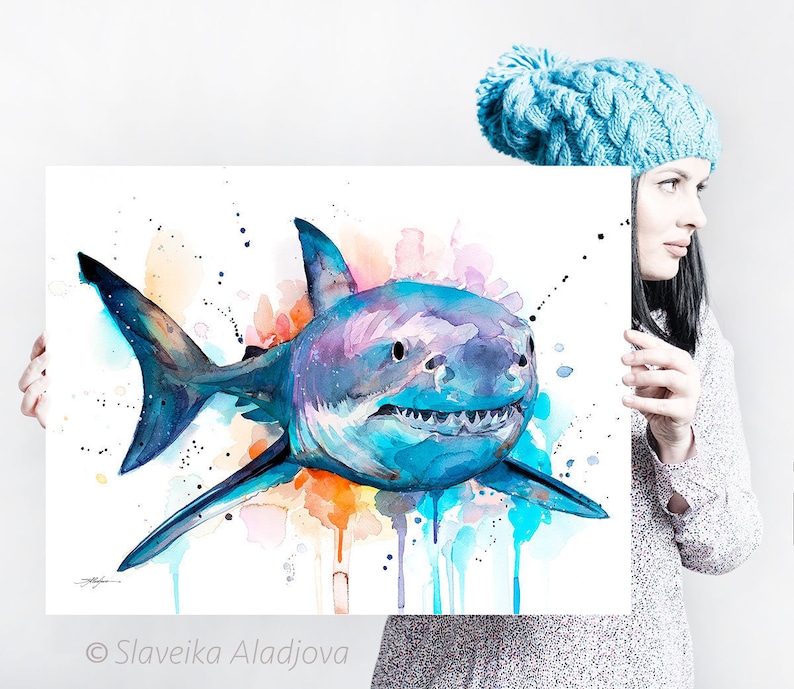 Slaveika Aladjova is one of my favorite painters of sea life. She does has a whole series of these wonderful, wonderful watercolor paintings of sea life. I absolutely love the use of super bright colors — what a great gift for someone with beach house decor!

Shark Cookie Cutters
I'm sure that you have a friend or two who is fond of baking cookies (and if you don't, then you really should make such friends as they are totally worth it). And those cookie-baking friends would be sure to get a kick out of shark-shaped cookie cutters. And they might even share a fin or two with you.

Shark Attack Costume Hat
And then the shark attacked her head… No, not really. But how much fun is this goofy little shark attack hat? If you have anyone on your gift list who is a little goofy, then this hat is just the ticket.

Shark Car Seat Covers
Sharks on the go! We all know someone whose car seats could use a cover. And trust me, this is the cover for them.

Smithsonian Sharks Casting Kit
And now they can make their own sharks. With this craft kit from the Smithsonian they'll cast their own sharks, paint them, and learn about them all at the same time.

Shark Teeth Backpack
A good backpack is pretty much a necessity for the young person toting around a whole bunch of stuff. So why not a shark-inspired backpack, whose jaws unzip to devour whatever it is that deserves devouring.

Shark Scrubby Holder
Not everyone associates sharks with kitchen scrubbies. But the shark-lover on your list surely will. And they'll be thinking of you every time they do the dishes.

Hand Towels featuring Sharks
Hand towels are a traditional housewarming gift. So you're always safe there. But why not go the extra mile and make your housewarming hand towels shark-themed? Come on. I dare you.
Fun Shark Fact:

"Sharks have survived five massive planet extinction events. These extinction events killed most life on earth and the last one around 65 million yeas ago killed the dinosaurs."
source: sharkguardian.org

Shark Lollipops
Because sharks are cool and round lollipops are so yesterday… shark lollipops!

"Shark Biology and Conservation: Essentials for Educators, Students, and Enthusiasts"
And if I may be serious and scholarly for just a moment, allow me to suggest this fantastic reference for anyone seriously interested in sharks. It's a great book entitled "Shark Biology and Conservation: Essentials for Educators, Students, and Enthusiasts." 448 pages full of great info on great whites (and all other sharks as well).

Shark Silhouette Wall Decals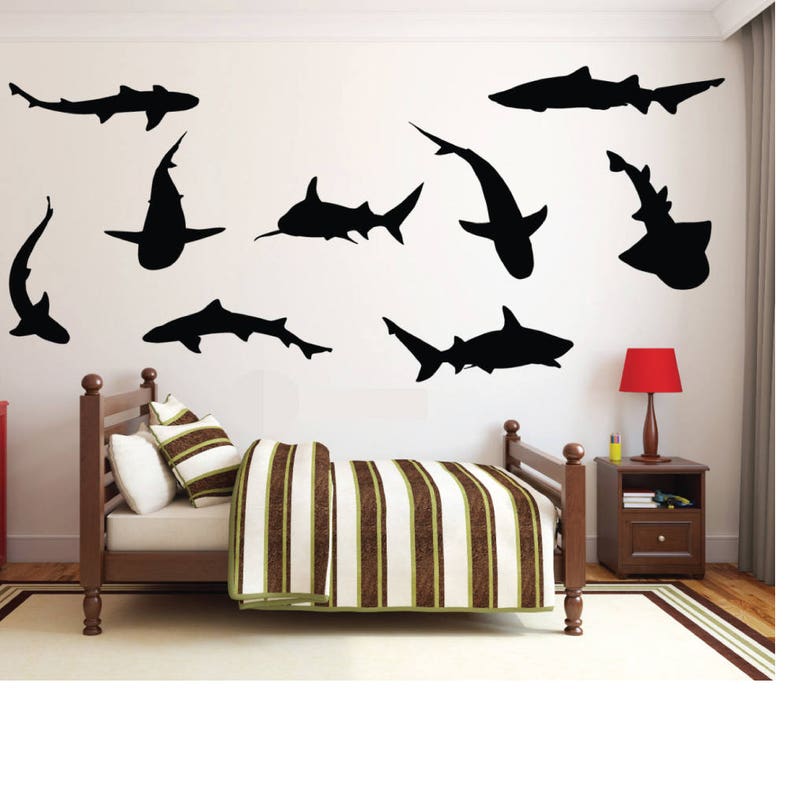 Give them the feel of sleeping in a shark tank with these great shark silhouette wall decals. Each set has 9 different sharks which can be placed wherever they feel they would make the most impact. And make an impact, they certainly will.

Land Shark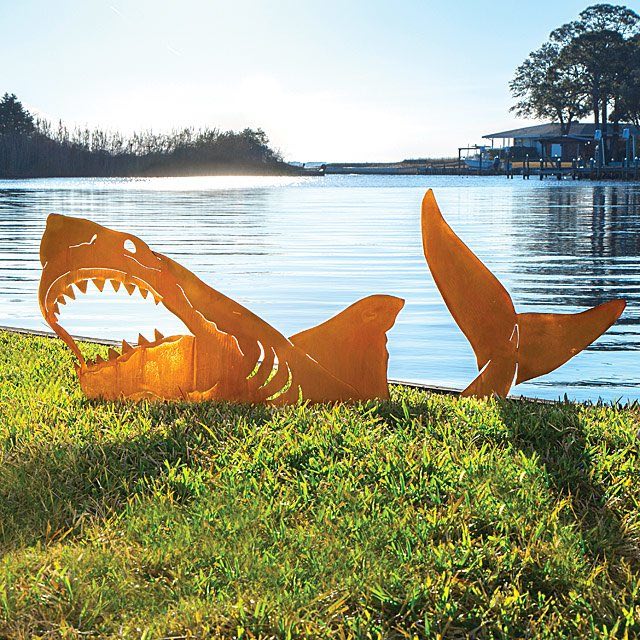 Beware the day when the shark leaves the ocean and surfaces in the garden. Beware.
Shark Gift Ideas
Thanks for checking out my list of ideas for shark gifts. If you liked it, please share on your social. Thanks!
Written by Renee