Sea Glass Art ~ Beauty from Old Bottles and the Sea
One of the favorite materials for beach artists to choose when creating an ocean-inspired project is a material that has actually come from the ocean: sea glass!
Today on Seashell Madness I'll be showing you some really creative and cool examples of things that artists have done with these treasures that have washed ashore.
Please join me!

Personalized Maine Sea Glass Art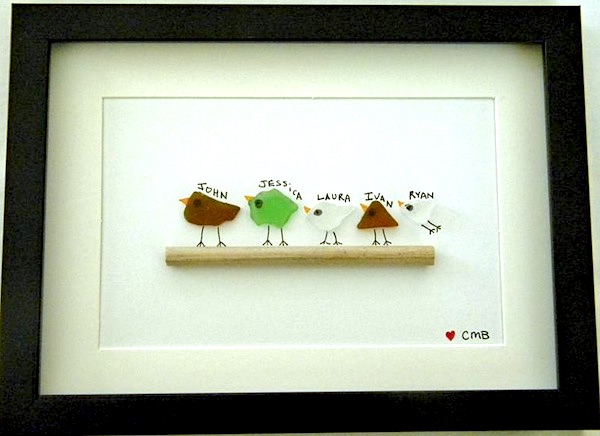 Okay, for the record I just think that this Personalized Maine Sea Glass Art is the cutest!
I love how artist Christine takes chunks of all-natural sea glass (which she has personally found during beachcombing excursions to her favorite Maine beaches) and creates cute little representations of your family members!
And it is great that she personalizes them! She'll not only label the individual family members, which is really neat, she'll also add a little quote below if you would like.
Did I say "cute?"
Cute!

Flower Beach Pottery
In my own seashell artwork I am a big fan of using shells to create flowers, so when I see an artist using found objects to create flowers, like Flower Beach Pottery here, I am immediately drawn to it.
Artist Heidi Bissel uses all handpicked sea glass and pottery to create her work and I think this piece is just great.
The way that she has mixed all of these different materials, such as driftwood and pottery, and used them to create things like tables and vases really appeals to me.

Mosaic Anchor
I really like the way that artist Charlene has taken pieces of sea glass (which she has personally collected on the shores of New England) and arranged them so skillfully to create the shape of Mosaic Anchor. It takes a certain eye to find just the right shapes for a mosaic, and she does a fantastic job of it here.
Also, there's something about the way that she has mounted this on distressed wood. The diamond shape, rather than a square, seems perfectly suited to this piece.

Ocean Wave Resin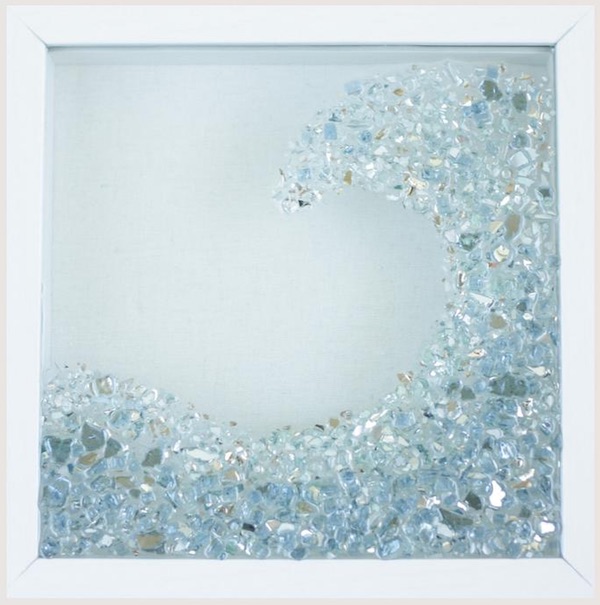 Okay, so this one is not technically sea glass, but it is glass used to represent the sea, and I really like Ocean Wave Resin.
I think it's great how artist Carissa Natalewicz has used crushed glass and resin to create this awesome wave. The wave has such a great shape to it and it's amazing how darned sparkly it is!
Gotta love a good sparkly!

Sea Glass Wave
Duuuuude, since we're on the subject of waves, here is another one that I think is really awesome. I love the simplicity of Sea Glass Wave.
Artist Kayla Macleod has created this piece by using authentic sea glass from British Columbia. And I love how she has fleshed out the wave with the sparkling blue beads and assorted sea shells.

Sea Glass Bikini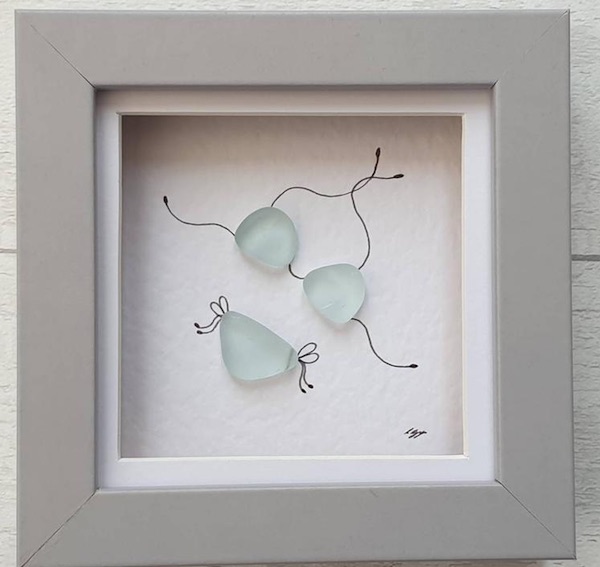 I love it when I see someone do something really creative that I didn't see coming. I've seen quite a bit of sea glass art in my day, but I can say without a doubt that this is most definitely the very first Sea Glass Bikini I have ever seen.
I love it.
I think the minimalism of it is awesome. Artist Cat has taken only 3 pieces of sea glass and a few pen strokes and done something really unique with them.

Irish Sea Glass Flowers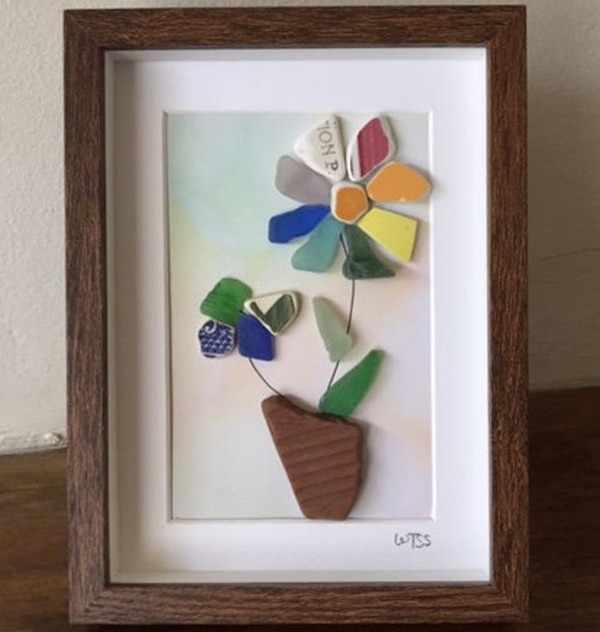 Once again: I love flower art. Love it. And I think that it is fantastic how the artist has created these Irish Sea Glass Flowers. How they've managed to find just the right pieces using authentic sea glass is pretty wild to me.
This work is made from glass and pottery found around the Belfast area. And it's that mix of glass and pottery that really catches my eye. The mix of shades and colors is just fantastic.

Sea Glass Boats & Birds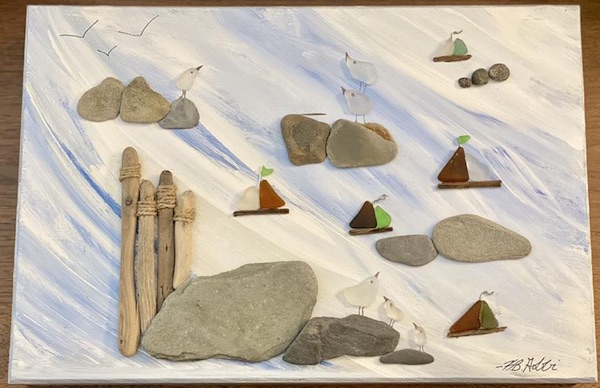 Oh wow, I just love the creativity that has gone into Sea Glass Boats & Birds.
I mean, just look at it!
So much more than just cute (although it definitely is cute). Artist Kim has taken authentic sea glass, along with rocks and driftwood — all hand-gathered by her during beachcombing expeditions off the coast near Boston — to make this stunning wildlife scene.
It's not just simply one object that she's rendered, it's a whole beach wildlife scene! Boats! Birds! A Pier!
And then add to that, it is absolutely perfect that she has used as a backdrop an abstract painting that definitely evokes the feel of the beach.

Mosaic Sea Glass Bowl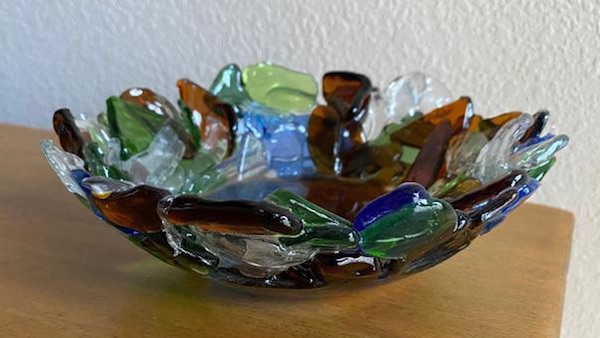 All I've got to say is: is this not the coolest bowl you've ever seen?
It's great how artists Stevan and Renee (not me, a different Renee) have used the different colors and shapes of authentic sea glass collected near Seaside, California to create Mosaic Sea Glass Bowl.
Like I said, the coolest bowl ever.

Sea Glass Heart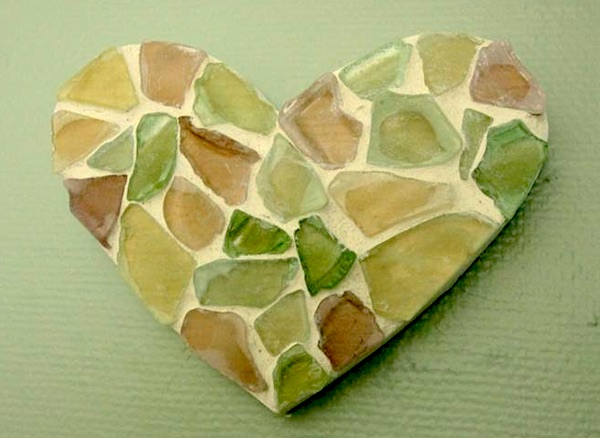 I found that the colors of Sea Glass Heart really drew me in. The pastel feeling tends to work really well with beach art, and this one is no exception.
The pieces of sea glass are each hand-picked off the shores of Massachusetts by artist Stephanie Figuerado. I tell you, there are a lot of hearts made of sea glass out there, but this is the one that grabs my heart.

Mahi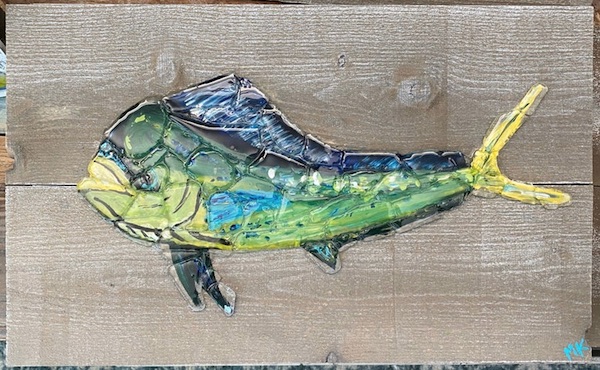 The look on this guy's face is what really pulled me in with Mahi. A great expression sells it every time.
Now, artist Marji Engle works with sea glass and resin, but since she doesn't specify which pieces are which, we have to guess. And having seen many works of sea glass art it's my guess that this piece is purely resin.
But that doesn't matter to me. I think this guy is absolutely awesome!

Beach Glass Wave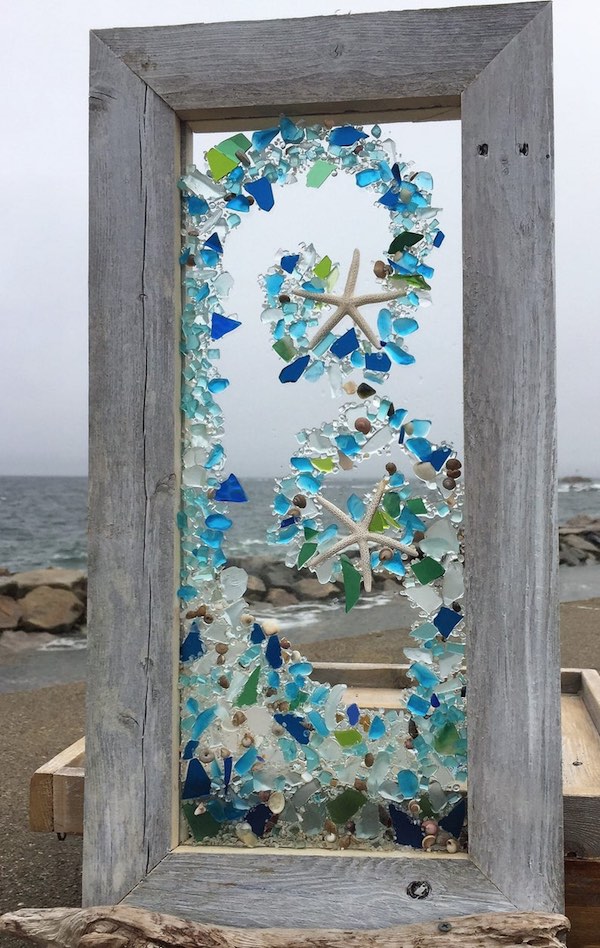 Using sea glass and recycled glass from the Boston Harbor Islands area, artist Ree Martin creates some pretty stunning artwork, like this Beach Glass Wave.
This is an exceptionally beautiful piece which uses a fusing process (rather than glue) to pull it all together. The color choices are amazing and I'm sure you can picture the afternoon sunlight streaming through the window of a beach cottage and through this wonderful creation.
Also cool: the frames are handmade from the wood of old barn doors.

Sea Glass Resin Beach
I find the colorful and whimsical look of Sea Glass Resin Beach to be just wonderful. While not a lot of actual sea glass in it, artist Stefanie has included some other really neat stuff. Look closely and you'll see that the bulk of the piece is made up of organic items such as twigs and seaweed that has been encased in resin. Really interesting.
Oh, and the frame has been handmade from reclaimed wood fencing, and it looks great!

Rare Blue Flower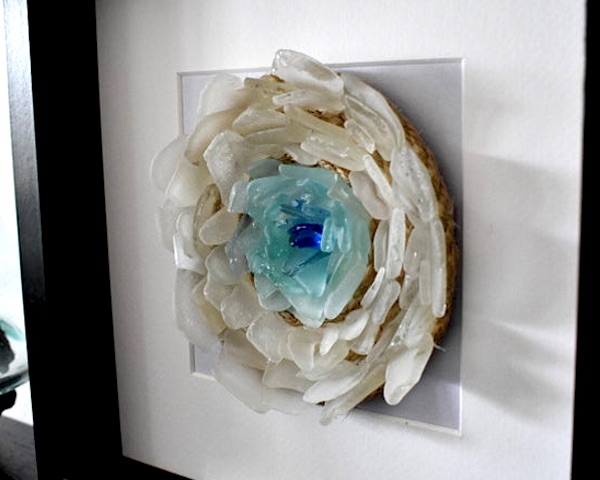 I'm really entranced by the abstract beauty of Rare Blue Flower. I love the depth of it — that 3D nature that seems to be reaching out to you from the wall. You can almost feel the flower coming open in the sunlight like one of those time-lapse movies.
Artist Sarah Goss makes all of her pieces using sea glass which she and her family have hand-picked while beachcombing along the coast of Cornwall. And she has an amazing eye for pulling all of those pieces together to form breathtaking works of art like this one.
This one gets a rating of: Very Cool!

Irish Sea Glass Couple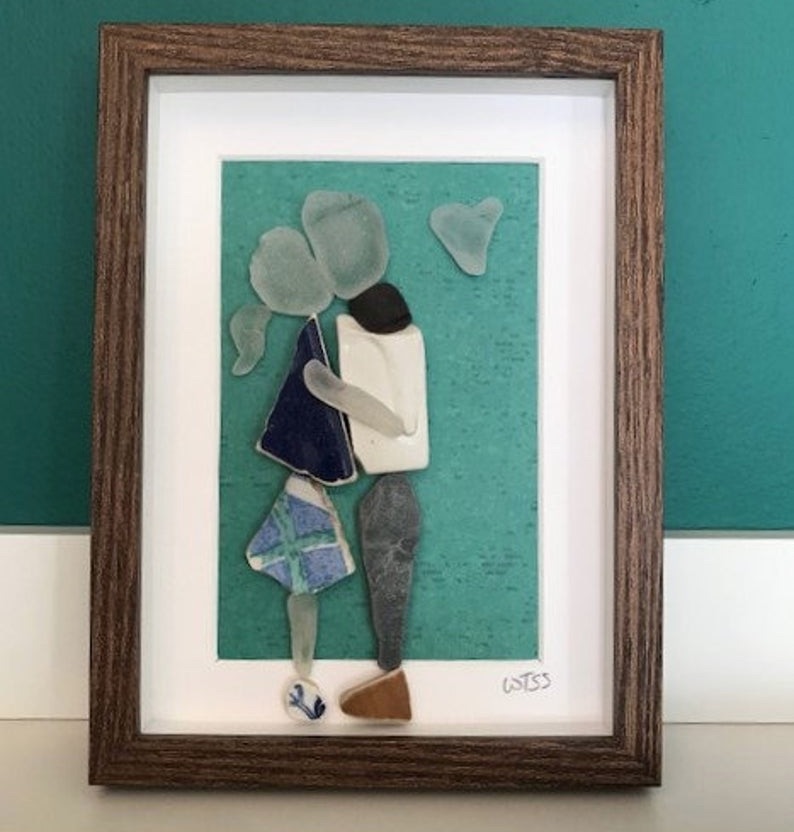 I don't usually feature the same artist more than once in a list, but this Irish Sea Glass Couple was just so adorable that I absolutely had to.
This is such a unique little work. I love it. I think it's great the way the mix of authentic Irish sea glass and sea pottery (gathered near Belfast) has been used here. It takes quite an artistic eye to look at those fragmented pieces and see the makings of a couple kissing.
It's unique. It's beautiful. It's romantic.

Sea Glass Art Circle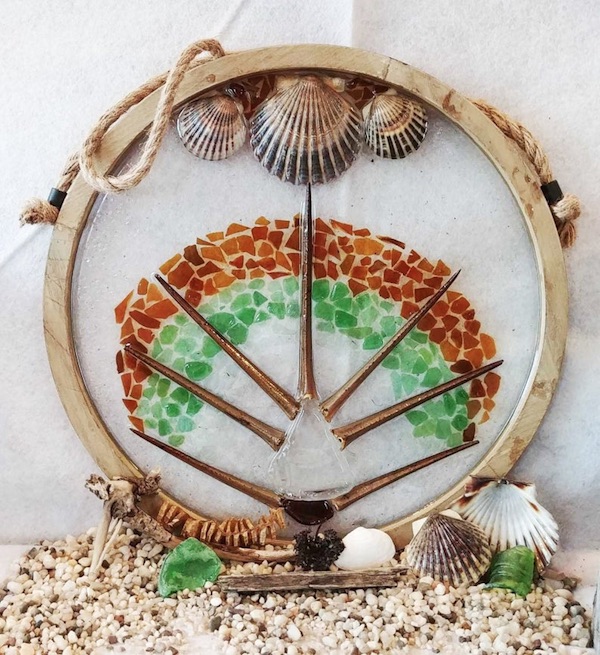 What a wild design! Sea Glass Art Circle is one of those pieces that I spent a lot of time just staring at — my eyes finding one new detail after another (the giant spikes in the middle had me most defiinitely intrigued!)
Artist Roxane Lynch has used sea glass, seashells and real horseshoe crab tails to create this eye-catching piece. I can just picture this one hanging in the window of a sunny beach house.
Definitely different. Definitely cool.

Sea Glass Lighthouse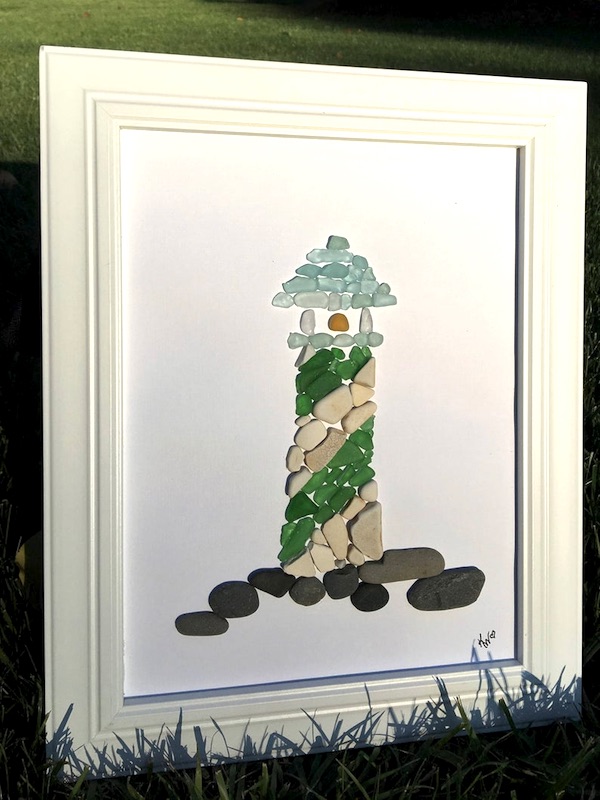 Who doesn't love a lighthouse? There's something about the feeling that is evoked when we see one: it's kind of a feel of old-time peacefulness. And this Sea Glass Lighthouse is no exception.
Artist Kerrie has made this great little scene using authentic sea glass and beach stones which she has personally collected along the New England coast, including a rare yellow piece of sea glass which serves as the lighthouse's strobe.

Tree Heart of Love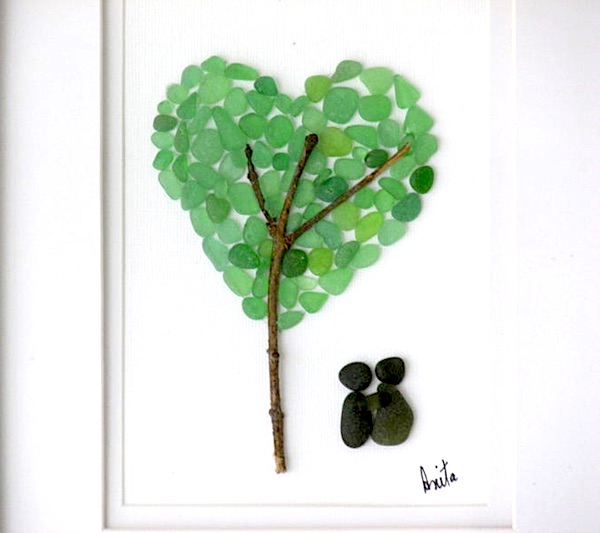 And let's end on a note of love, okay?
This Tree Heart of Love is just one of those pieces that is so simple and yet so effective. I love the heart-shaped tree created from authentic sea glass hand-gathered by the artist from beaches along Canada's Prince Edward Island.
And the couple kissing.
It's wonderful.
Great Sea Glass Artwork
Thanks for reading. If you liked this article, please share it on your social.
Written by Renee