Octopus Gifts ~ 33 suggestions for 8 legs
Did you know that the octopus is the smartest invertabrate on the planet? I didn't either until a mistyped Google search (intending to find more octopus art for my collection) led me down the path of really neat facts about octopi.

Which, in a way, led eventually to the post we have today. I've long been a fan of octopus art (which I've discussed on these pages before) and today, I would like to share 33 of the Seashell Madness suggestions for octopus gifts.

"I Wish I Was an Octopus" Mug
Everybody has those days, right? Well, here's a great octopus gift to help them get through those days when they want to "slap eight people at once." Because a funny mug is better than, you know, actually slapping people.
See all of our Sealife Gift Ideas:
Dolphin Gifts • Shark Gifts • Octopus Gifts • Sea Turtle Gifts • Whale Gifts • Ocean Gifts •

"Wild Octopus I" Metal Print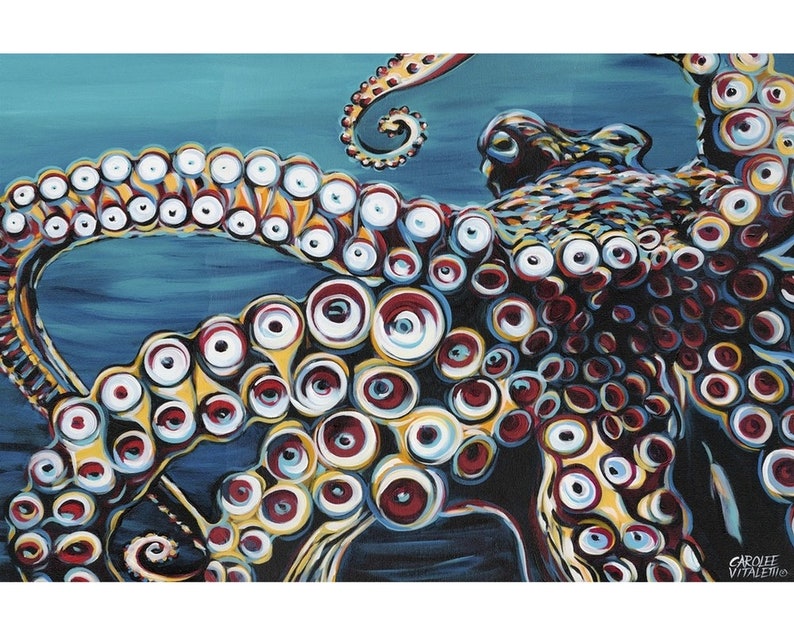 The octopus is a featured subject in a some great art. Art can make a great gift. Therefore, this great piece of octopus art would definitely make a great gift. I love the color and the drama of this painting, and it has been printed on aluminum, making it both durable and shiny.

Octopus Wine Stopper
Any wine lover knows that once you've got that bottle opened then you either need to drink it all (which, of course, you really shouldn't do unless there is a group of people helping you out) or put a stopper in it. So if you know a wine connoisseur in need of a good stopper, might I suggest this one featuring a stunning silver octopus.

Vinyl Octopus Wall Clock
Vinyl records have made something of a comeback in recent years, but that doesn't mean that it has to be all music. For instance, that vinyl music lover in your life might just appreciate a clock cut out of vinyl into the shape of an octopus. Random? Yes. Cool? Undoubtedly.

Tentacle Martini Glass
I'm sure that octopus lover in your life could find a lot of variations on "shaken not stirred" with this wonderful octopus tentacle martini glass. And I'll bet that this is one of those gifts that they don't already have.

Print of Watercolor Painting "Light Reading"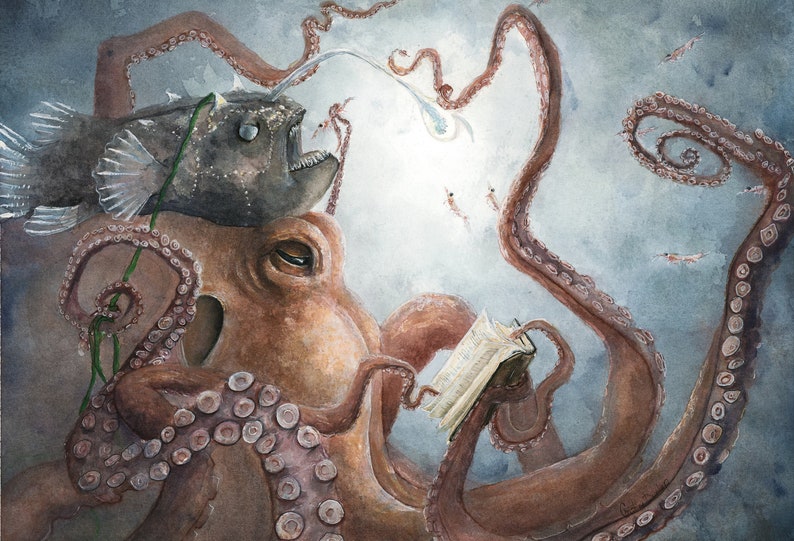 If you know someone who is a fan of whimsical art, then the works of Christine Dunlap are definitely for them. I've featured this one on other pages of Seashell Madness because I love it so much. What a wonderful image of the octopus getting a little help while catching up on its reading in the deep, dark ocean.

Angry Octopus Socks
Let's take a time-honored gift solution — the lowly pair of socks — and give it a cool octopus makeover. I really like the print featured on these socks (that blue octopus seems to be glaring outward), while the fact that these are lightweight breathable cotton also makes them work great as… socks.
Fun Octopus Fact:

"The giant Pacific octopus is considered the largest octopus species in the world… The largest individual on record weighed an impressive 600 pounds and measured 30 feet across in length."
source: oceana.org

Shower Squids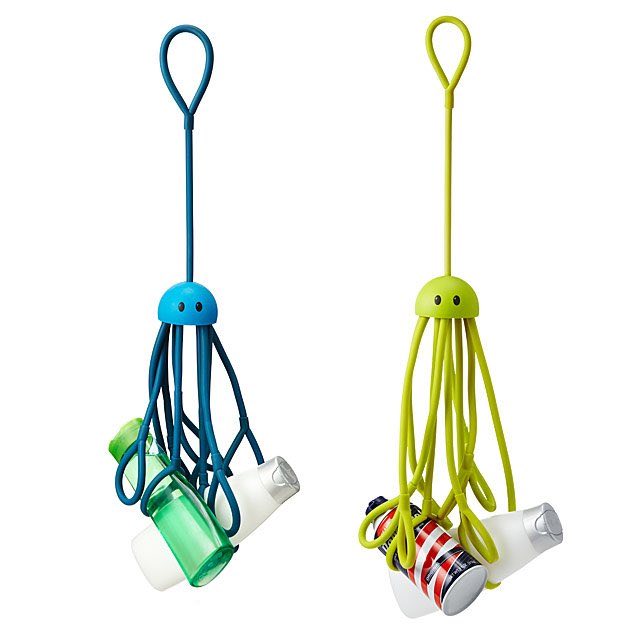 You know how sometimes you visit someone and when you go to use their restroom you notice that they've got tons of bottles of every sort lined up along the edge of their bathtub? That person is the perfect recipient of one of these shower squids. These little guys grab hold of those shampoo bottles and hold them in place and close by for when they are needed.

Black & White Octopus Tea Towels
Okay, so an octopus print with the words "seize the day" is just plain delightful. And that's what we've got here with these tea towels. Plus, the folks at Karma Gifts Boho have a distinctive visual style — a stark black and white — to all of their works. And it's a style that I for one think is really great.

Octopus Trivet
Every home needs a trivet, even if they don't know it. Well, they only wouldn't know it if they don't know what a "trivet" is (I didn't for a long time). But if you said "every home needs one of those metal stands that you set hot pans on so that they don't burn the counter," then you might get more agreement. And why not give them a trivet with an octopus theme? Works for me.

Octopus Insulated Tumbler
Whether somebody wants to keep hot drinks hot or cold drinks cold, an insulated tumbler is surely the way to go. Personally, I really like this octopus-themed insulated tumbler — the octopus print is certainly light years better than the plaid of the old days (and if you're not old enough to catch that reference, well, never mind, just be thankful that these days we have octopus prints).

Cast Iron Octopus Wall Hook
What a terrific housewarming gift this one would make. After all, everyone needs some hooks that they can hang jackets and hats and so forth from. Help them out here by giving them a whole slew of hooks in the form of octopus tentacles.

"The Drinking Octopus" Wine Bottle Holder
Need I say more here? I will anyway, because I get a real kick out of this drinking octopus wine bottle holder. It makes me smile every single time that I look at it. Trust me, this is the perfect gift for that wine connoisseur in your life.

"Drumming Octopus" Print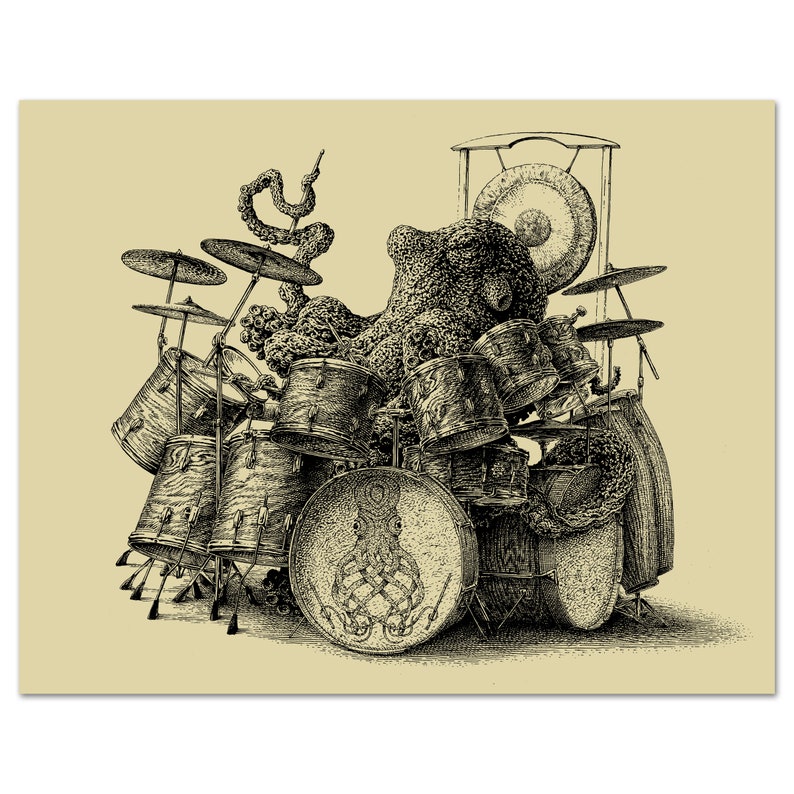 This fun print would make a great gift for the musician in your life (though I don't think that they have to be a musician to get that an octopus drummer would be an amazing drummer!). I love the feel of this one… and the look of smug confidence on this octopus' face is absolutely priceless.
Fun Octopus Fact:

"Octopuses have three hearts. Two of the hearts work exclusively to move blood beyond the animal's gills, while the third keeps circulation flowing for the organs."
source: smithsonianmag.com

Colorful Kraken Shower Curtain
Tell them to be bold with their shower curtains! I'm on a bit of a personal quest to banish all plain, boring shower curtains, and this one is anything but plain and boring. I love the artwork here as well as the fact that it is printed gigantically filling the entire curtain. If you know someone who still has a boring shower curtain, this is certainly a great way to push them toward greatness.

Octopus Wooden Journal Notebook
Some people view notebooks as simple throwaway things, while others look upon them as documents to be preserved. If you know one of the latter, then one of these wood journals is for them. Yes, the outer cover is actually wood, making it sturdy enough to last as an archivable document. But that's not all, each of these wood journals has a laser-cut image on it, and this one of an octopus is particularly striking!

Red Octopus Plush Throw Blanket
Everyone needs a throw blanket or two hanging around — we all need that cozy fleece sometimes. So why not give them a nice, soft, fluffy throw blanket with a fierce-some print of a giant octopus! I mean, I would.

Octopus Fitted Sheet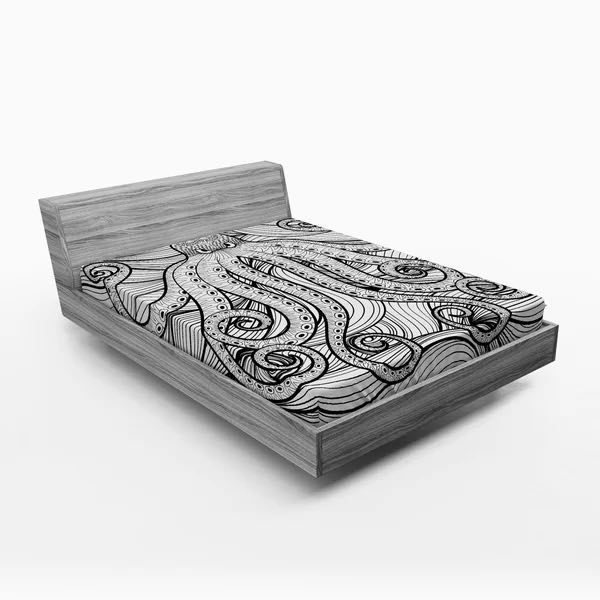 Okay, so how wild is this? A fitted sheet featuring a print of giant tentacles! I know — absolutely know that you know someone who these would be perfect for.

Tentacle Ballpoint Pen
When you want to give a practical gift… with tentacles. This wonderful pen shaped like a curling octopus appendage will surely be a big hit.

Cookie Cutter for Octopus Cookies
Mmmmm… cookies. That baker in your life definitely needs this: an octopus-shaped cookie cutter. Imagine the wonderful octopi that they'll bake up (and maybe share with you, let's keep our fingers crossed) with these wonderful cookie cutters.

Stainless Steel Octopus Ring
I've written a lot on Seashell Madness about jewelry: from mermaid jewelry to sea glass jewelry to some of the most creative beach-themed jewelry out there. And I'm tellin' you right now: this octopus ring is an awesome gift idea. Awesome.
Fun Octopus Fact:

"The octopus… has the useful ability to regenerate a tentacle if it loses one."
source: animalfactguide.com

Octopus Whiskey Decanter Set
There are lots of occasions when fine alcohol makes a great gift — from Christmas gifts for dad to groomsmen gifts for the guys — and you can make your gift of alcohol truly unique with this fantastically engraved decanter set.

Plush Octopus Stuffed Animal
No matter what age, there is a certain comfort that comes with a hug from a stuffed animal. So a hug with eight arms? Wonderful!

Fierce Octopus Tapered Cuff Bracelet
We all know someone who likes their jewelry to be big and bold. And I can't think of anything bigger or bolder than this octopus cuff bracelet.

Octopus Ceramic Drink Coasters
If someone has gone to the trouble of selecting great coastal decor for their home, they probably want to protect the surfaces. That's where coasters come in (I know, you always wondered why your mom always made you use them). These wonderful cork-backed ceramic coasters have a great bit of octopus artwork in a color scheme that will fit perfectly with their coastal decor.

Octopus Pink Necktie
A tie is serious business… Or is it? If you know someone who is not above a little whimsy in their choice of ties, then for them we have: octopi!!!

Green Octopus Oven Mitts and Potholders
Sometimes in the kitchen we wish we had eight arms. Well, you can't give them those extra appendages, but you can give them these really cool green octopus oven mitts and potholders. Close enough.

"Octopus: The Ocean's Intelligent Invertebrate" Book
And if you know someone who wants to get serious about this whole octopus thing, then they're gonna need a book. I would recommend this one (and not just because it has a cool cover, but because it is also a great book). And here they will learn all about octopi.

Mosaic Octopus Sculpture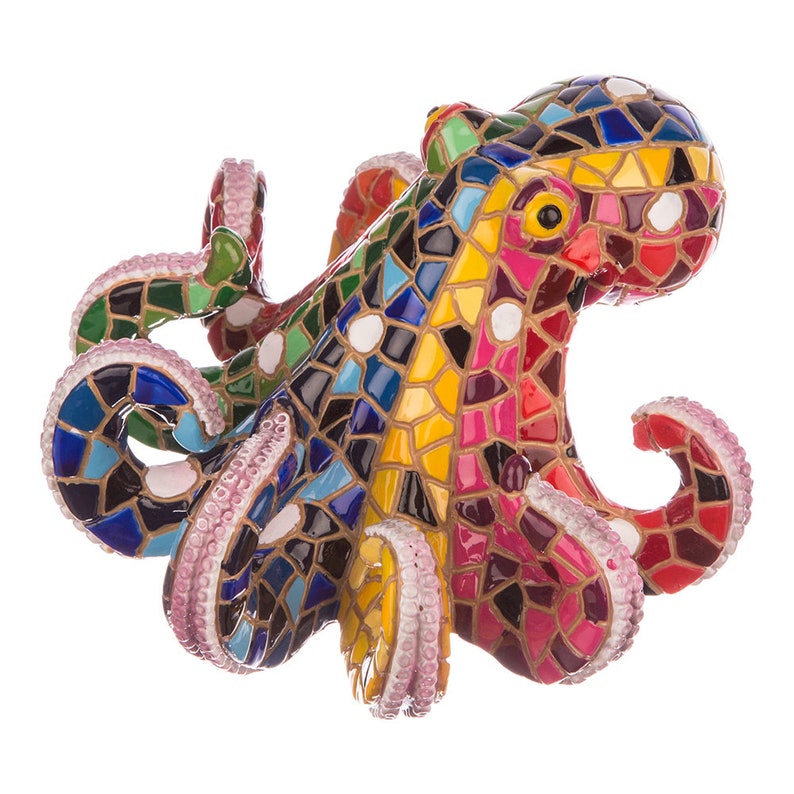 Creating great mosaic art is a real skill. Not only do you have to fashion a great image, but you have to do it by puzzling together smaller pieces. This colorful octopus figure is a great example of a mosaic sculpture. And it would look really cool sitting atop a stack of papers on anyone's desk.
Fun Octopus Fact:

"Octopuses have impressive camouflaging skills. In the blink of an eye, they can change their color, pattern, shape, and texture to blend in with their surroundings, protecting them from predators and helping them sneak up on prey."
source: treehugger.com

Octopus Beer Tap Handle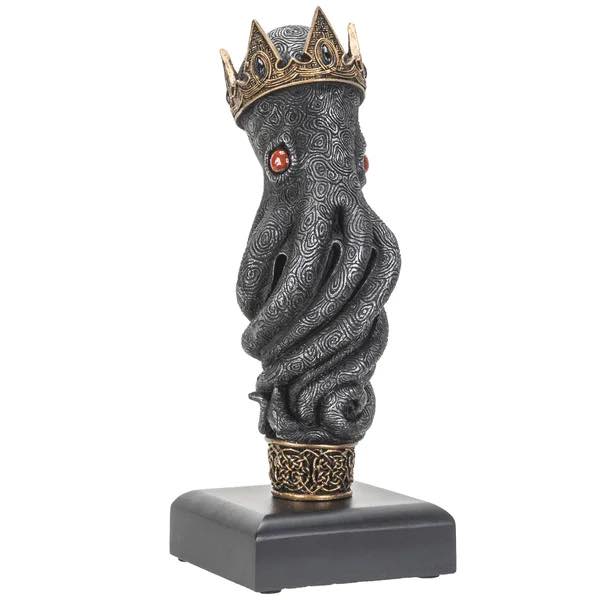 Know someone fond of serving their brew on tap? Of course you do. And that person would certainly have to love this tap handle in the shape of a fierce octopus.

Octopus Garden Sculpture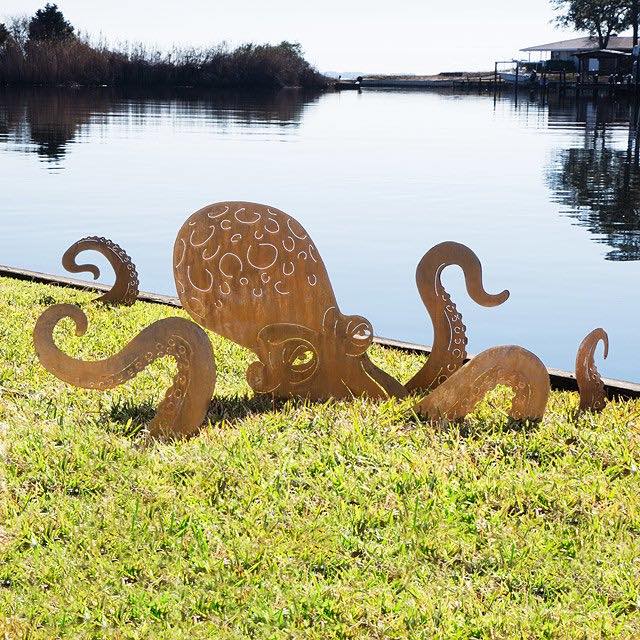 Make their garden the envy of the neighborhood with this octopus garden sculpture.

Tentacled T-Shirt
A great shirt always makes a great gift. I'm a big fan of this particular shirt. The tentacles reaching across the abs are a sure attention-getter. And attention-getters always make great gifts.

Octopus Warning Metal Sign
You. Have. Been. Warned
Octopus Gift Ideas
Thanks for checking out my list of ideas for octopus gifts. If you liked it, please share on your social. Thanks!
Written by Renee