Sea Glass Jewelry ~ The ultimate trash to treasure story
It's a day for more beach art at Seashell Madness! Today I'm looking at Sea Glass Jewelry.
Sea Glass is kind of an obsession of mine. I love finding it. I love all that you can do with it. And I love the challenge of picking out the real deal from the immitation glass.
Let me show you some of my favorite pieces of sea glass jewelry:

Cascade Sea Glass Necklace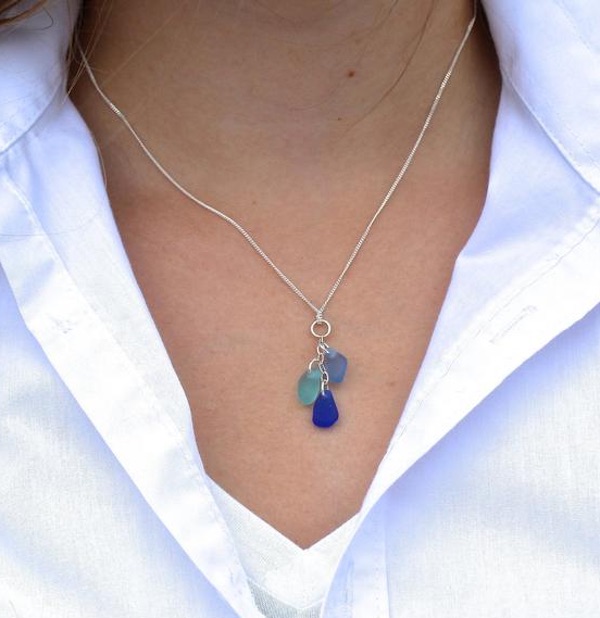 I'm going to start this list off with Cascade Sea Glass Necklace for one simple reason: I want this one! In fact, when I look through artist Carla's catalogue I find a whole lot of things that I want (Hmmm… this could be dangerous)
For starters, I love that Carla uses 100% real sea glass in all of her creations. As I mentioned in my article overview of sea glass, although I don't object to the faux glass in mosaic artworks, I feel that jewelry should be the real thing.
And her jewelry is designed in such a way that it always really shows off that real glass rather than hiding it behind other elements.
With this great piece of sea glass jewelry, it's amazing how she's made something new out of the concept of the simple pendant by hanging 3 separate pieces of sea glass from the same spot — they do indeed cascade!
And the color combination of the 3 separate pieces works really, really well.
I love this one!
Details: necklace • sea glass & silver • handmade
See all of our Beach Fashion Pages:
Beach Jewelry Designers • Women's Beachwear • Girls' Beachwear • Men's Beachwear • Boys' Beachwear • Beach Activewear • Beach-Themed Face Masks • Beach Wedding Dresses • Mermaid Clothing • Sea Glass Jewelry • The Beach Aesthetic •

Ombre Sea Glass Necklace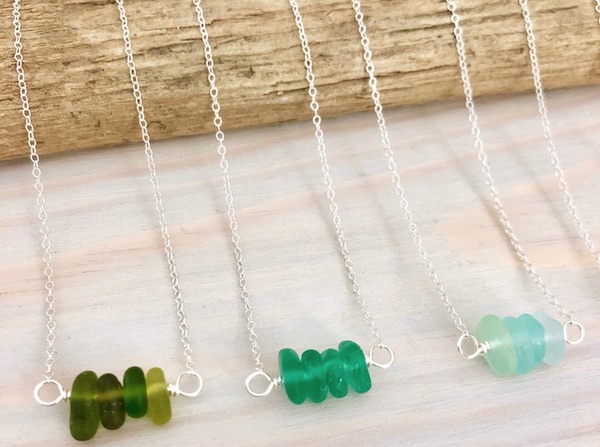 Something about seeing these three pieces together made me think that Ombre Sea Glass Necklace by artist Katherine Makaiwi would be the perfect accessory for a group of bridesmaids (or I suppose you could change "ombre" to "hombre" and it could be for the groomsmen. Just a thought).
All I know is that I really like this design. It is simple, using just a few pieces of sea glass strung together, but there is something very appealing about it.
And the thought of each of your bridesmaids wearing a different, complimentary color set as they flank you at the head of the aisle is a vision that just works for me.
Beautiful!
Details: necklace • 4 glass pieces • handmade

Scottish Sea Glass Earrings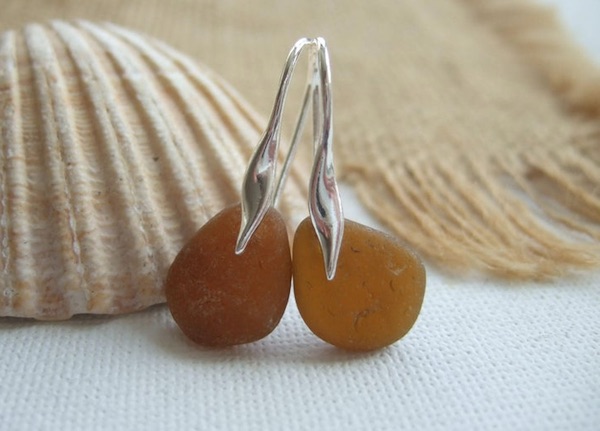 Although brown sea glass is one of the most common colors of glass found on beaches (think of all of the beer bottles which have gone into the ocean over the last few hundred years) you often don't see that color made into jewelry.
But here it has been done very effectively with these Scottish Sea Glass Earrings. I just love the way that rare color works against the sterling silver.
Speaking of the sterling silver, just look at the elegant and downright beautiful sweeping design that artist Nicole Lind has created to attach these pieces of glass. That little design element in and of itself is beautiful.
Now combine that sweeping silver with sea glass collected by the artist and her friends in the Edinburgh area (in the shadow of a ruined 13th century castle — can an origin story get more romantic?) and you've got a wonderful pair of earrings.
Details: earrings • sea glass, sterling silver • handmade

Aqua Sea Glass Ring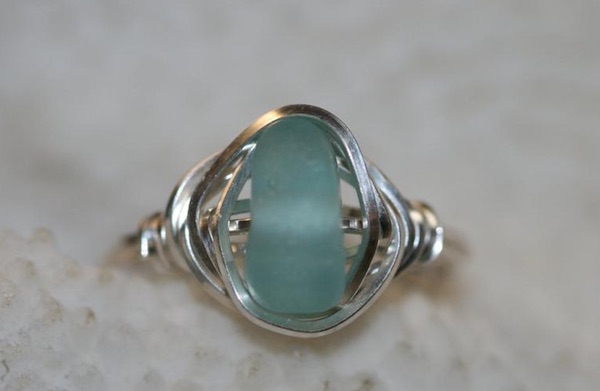 This Aqua Sea Glass Ring is another item on this list that I really want for myself (I can see a long credit card statement coming next month!)
One thing that I find really interesting, and really beautiful, is the way that artist Flori Nelson really lets the sea glass breathe.
Often in sea glass rings the silver is wrapped around the edges of the glass (which can be absolutely beautiful, don't get me wrong), but I love how Flori has opted to do the opposite.
The feeling of space that comes with this design is just breathtaking.
Did I mention that I want it?
Details: ring • sea glass, silver • handmade

Sea Glass Set in Stone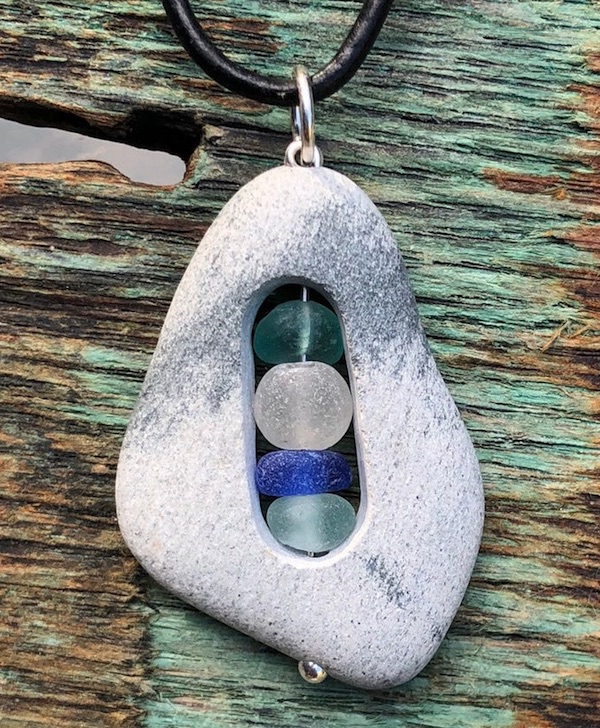 This has to be one of the most creative pieces of sea glass jewelry that I've ever seen. I love what artist Arlene Nebbia has done here with Sea Glass Set in Stone.
Both the set of sea glass and the stone come from beachcombing excursions made by the artist along the coast of Maine. I'm simply in awe of the creativity displayed here of taking similarly sized pieces of glass and cutting out a groove in the rock to accomodate them.
Amazing!
And the stone she's chosen is beautiful too.
Details: pendant • sea glass & stone • handmade

Double Sea Glass Necklace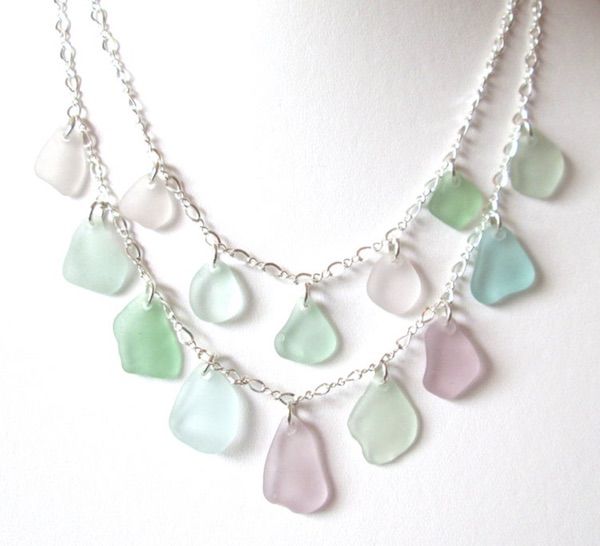 Because this Double Sea Glass Necklace uses several pieces of genuine sea glass, it is a bit more pricey than other items on this list, but it is certainly worth it.
And the soft pastel colors are amazing!
Husband and wife team Amy and Drew Burchenal create their jewelry with sea glass that they have collected themselves, mostly from the East Coast of the United States, but with other pieces from as far away as England and Scotland.
This is another piece of sea glass jewelry that I can see being used in a beautiful beachside wedding — the setting sunlight would be absolutely amazing as it sparkled off of these pieces. Stunning!
Details: necklace • sea glass & silver • handmade

Pink Sea Glass Dangle Drop Earrings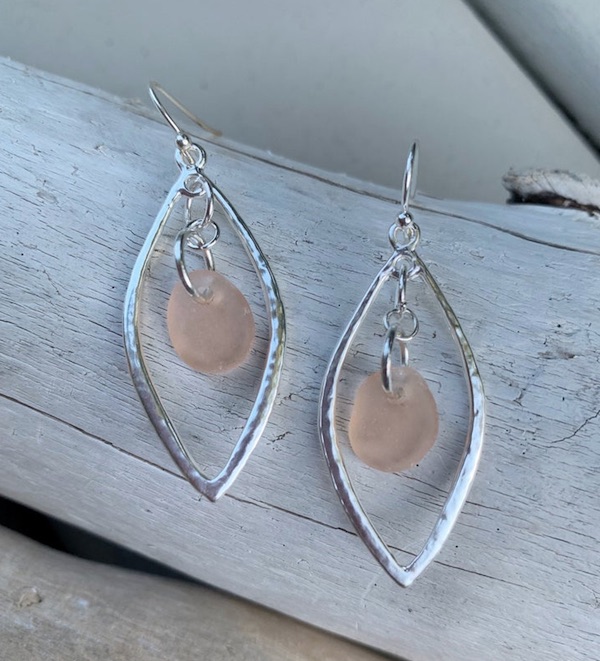 Okay, so you remember how I was saying that the necklace above would be great for a wedding? Wouldn't Pink Sea Glass Dangle Drop Earrings go perfectly with that necklace! If I were a bride I would think so!
First let's start with the glass itself (gathered on the beaches of Hornby Island in British Columbia). The lovely pink pastel of this set of stones is really pretty.
Then add to that the design of the silver which encases them, turning the pieces of sea glass almost into little pendulums.
Perfect for those beachside bridal photos!
Details: earrings • sea glass & silver • handmade

Beach Glass and Copper Earrings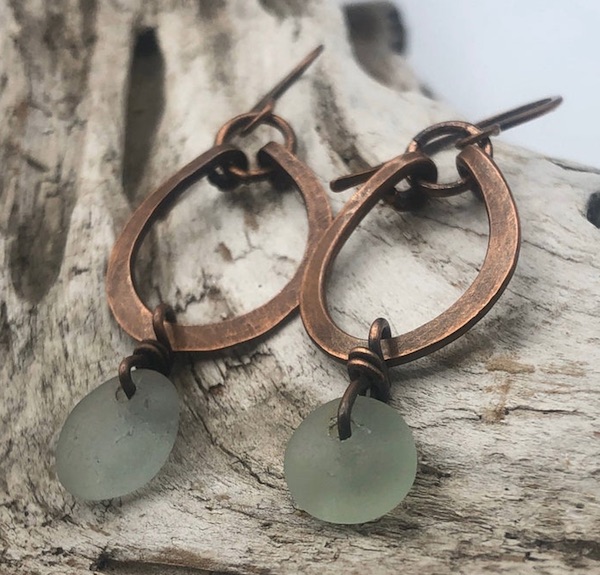 The combination used in Beach Glass and Copper Earrings is one that I've not seen before, yet it gave me some instant flashbacks. For many years I lived in a small mountain town in Colorado, where copper is commonly used in jewelry design.
And seeing how artist Jeannine Russell Roemer (who gathers her beach glass along the shores of Lake Ontario) has combined the copper of my past (in an almost horseshoe shape, which is also very "Colorado") with the glass of my present… It just thrills me more than I can say.
Details: earrings • beach glass & copper • handmade

Red Sea Glass Earrings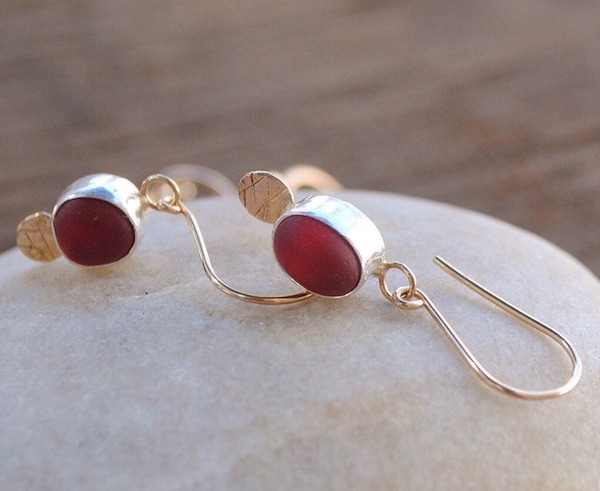 When you start getting into sea glass, one thing that you notice is that red is rare. If you think about it, it makes sense. I mean, how many red bottles do you see around? So that's what makes a piece like Red Sea Glass Earrings so exciting!
Artist Kate Samson uses sea glass that she has collected along the California coast and brings it together with silver and gold to create some very attractive pieces. Like these earrings.
Details: earrings • sea glass, silver & gold • handmade

Cornish Sea Glass and Faux Leather Necklace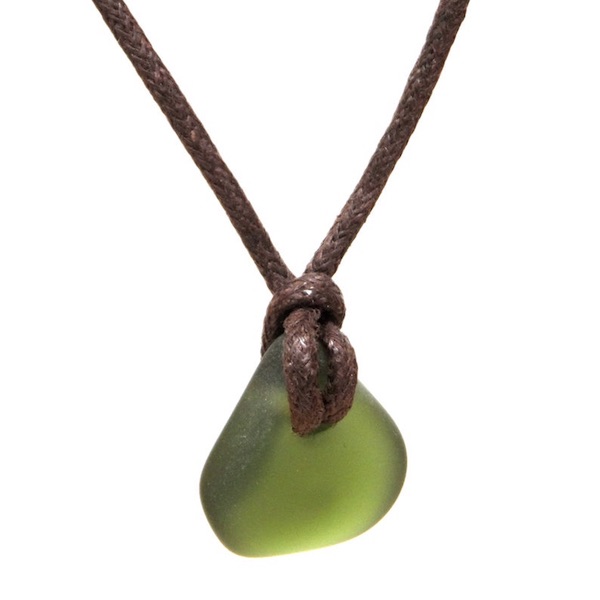 I'm a big fan of the minimalist look of this Cornish Sea Glass and Faux Leather Necklace (which, by the way, I think would go well with the sea glass and copper earrings I talked about earlier).
Artist Sue creates her sea glass pieces with glass she has personally collected on the Cornish shoreline.
I love that she points out that because the necklace is made of faux leather, it would make a great gift for any vegan in your life (or, I suppose, you could replace it with real leather if that was your thing).
Either way, I think it's great.
Details: necklace • sea glass, faux leather • handmade

Kelly Green Sea Glass Pendant & Earrings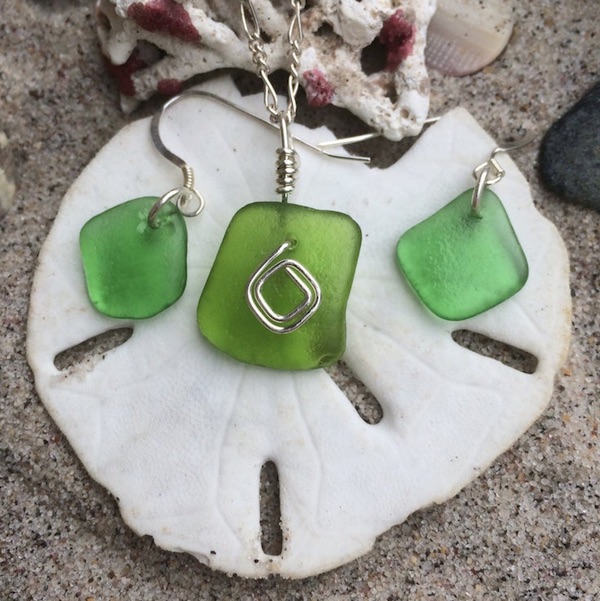 I love the beautiful bright color of Kelly Green Sea Glass Pendant & Earrings. (I wonder if they began life as Heineken bottles?).
Artist Tony uses sea glass that he has collected, mostly from the Atlantic shore of the US to make his creations. And they are great.
I love that he has taken the time to create a set here. Pendant and earrings in colors that go together really well.
And bright!
Details: pendant & earrings • sea glass, silver • handmade

Floating Sea Glass Locket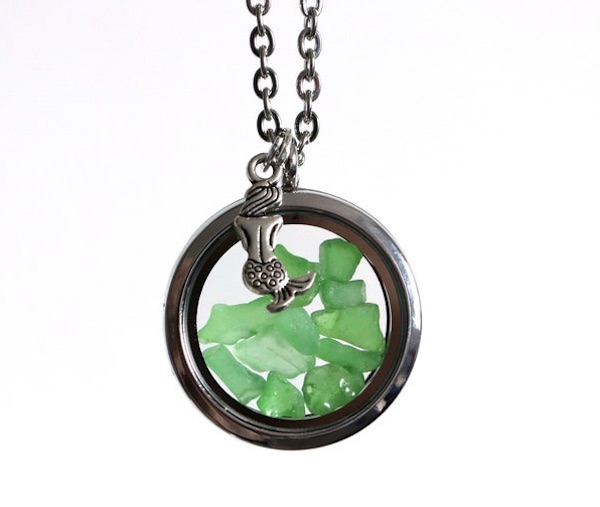 There are so many things that I think are great about this Floating Sea Glass Locket. First, I love that it is a locket. There's something about a locket that is appealling.
Second, is the creative use of very small pieces of sea glass. I love how artist Paula has found such a creative use for very small pieces. Very unique.
Third, it's like the mermaid is peering through a submarine window! What a story those sailors could tell!
Details: locket • stainless steal and sea glass • handmade

Seaglass Stud Earrings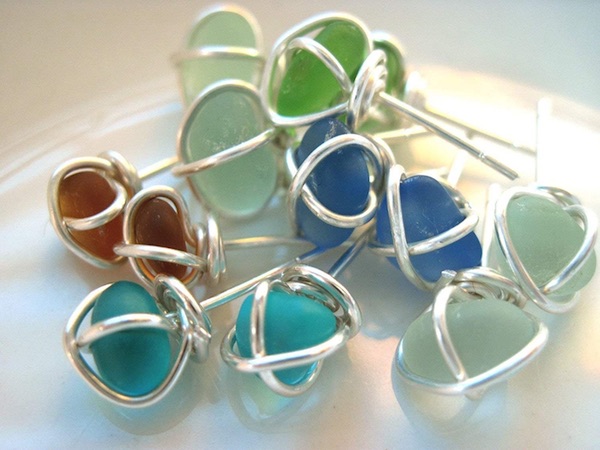 These Sea Glass Stud Earrings are another item that I think would be absolutely great for a wedding party. Don't you?
I can just imagine all of the bridesmaids with these little gems of different colors in their ears. I suppose, groomsmen could get in on this too, but I definitely can picture the bridesmaids.
There's something I find very peaceful about the soft colors of these New England sea glass pieces and artist Liliana's simple one-strand wraparound design.
Details: earrings • sea glass & silver • handmade

Untouched Blue Sea Dangle Earrings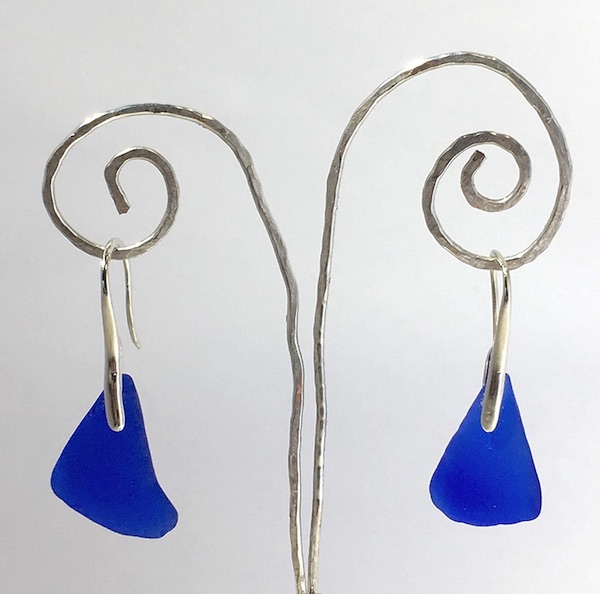 The deep, rich cornflower blue of Untouched Blue Sea Dangle Earrings is an amazing, eye-catching color. Artist Nancy DiTocco Mccarthy makes her creations with "untouched" sea glass just as it has come washed up on the beach.
And that blue… so bright!
Details: earrings • sea glass & silver • handmade

Mermaid Headband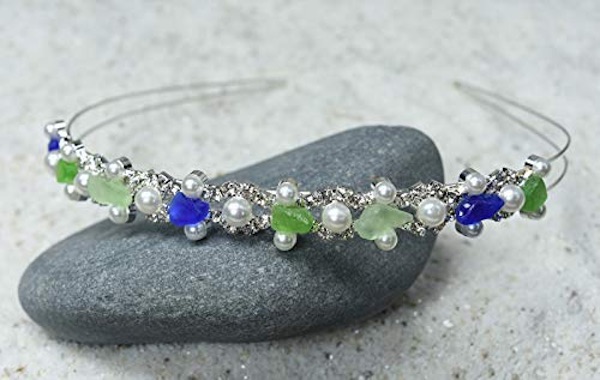 Okay, I promise this is the last time in this article that I'll mention weddings… but how could I resist when we're talking about a Mermaid Headband?
Can't you just picture that wedding: on the beach, sun is setting, the bride in a simple flowing dress and this beautiful headband. You have to be able to picture that. It would be a beautiful wedding.
Oh! And what if the flower girl had one to match? That would make it perfect!
Made with genuine sea glass from Maine, this one is just terrific.
Details: headband • sea glass, faux pearls, stainless steel • handmade

Sea Glass Bangle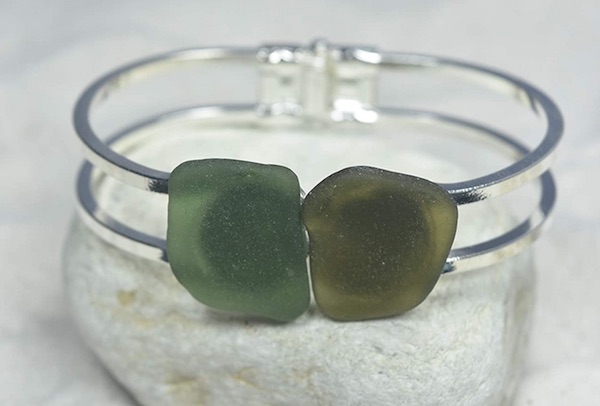 I always think it's a great thing when using real sea glass to go with a minimalistic design that really highlights the glass. And this is exactly what's been done in the creation of this Sea Glass Bangle.
I love how the simple double-band design really draws your focus to this set of Maine sea glass pieces. And I love how the designers have chose to use glass of different and complimentary shades of green.
Details: bangle • sea glass • handmade

Sea Glass Bracelet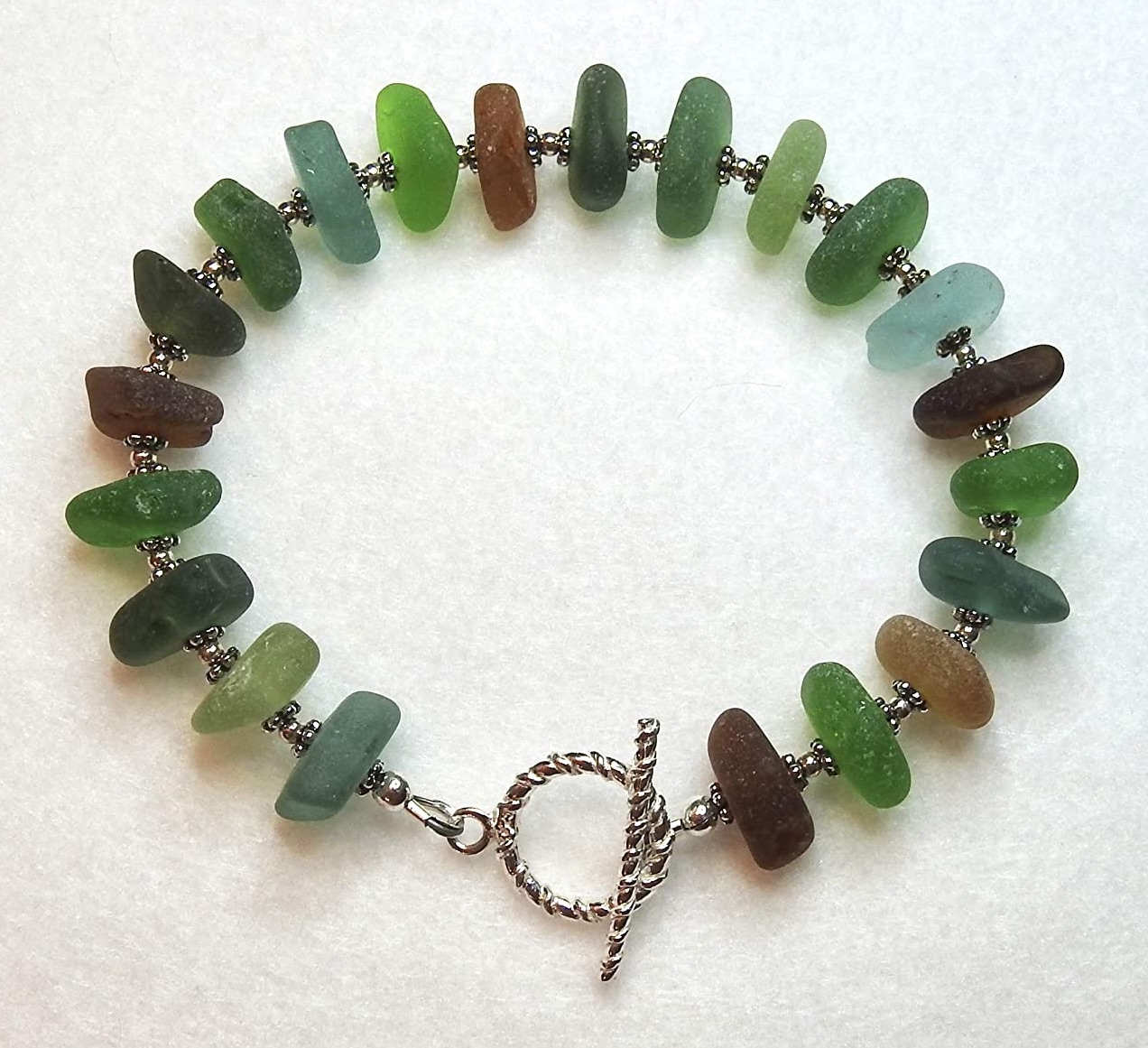 It's great how artist Donna has gathered together so many similarly-sized pieces of glass for this Sea Glass Bracelet.
Created using glass collected from the Black Sea she also hand wraps the sterling silver used to connect them all. And I think that pattern of the silver is beautiful.
Combine that with the great colors of the glass and you've got something great!
Details: bracelet • sea glass & sterling silver • handmade

Witchy One Beach Glass Necklace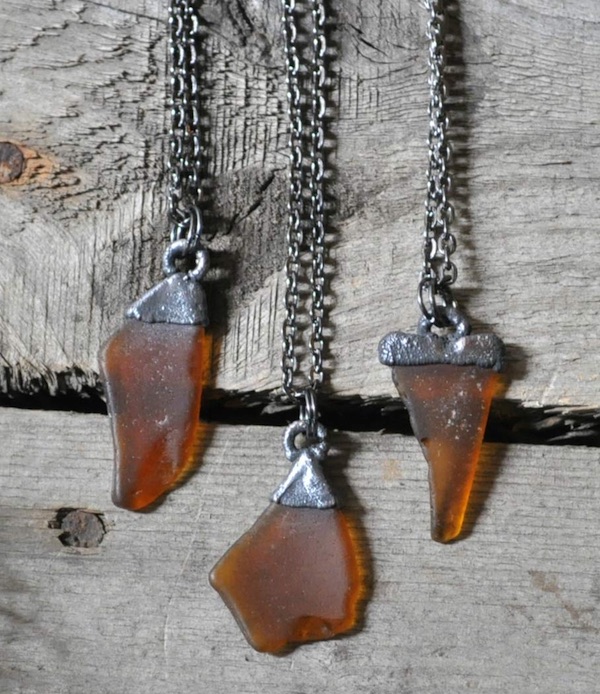 Since most glass is sea glass, most of the artists and designers live near a coast somewhere. It's kind of rare to see something produced in the American Midwest using sea glass, because there is no sea nearby.
Ah… but there are the Great Lakes! These lakes have surf and that surf produces Beach Glass which can be used to create great pieces like this Witchy One Beach Glass Necklace.
Artist Sarah has used beach glass collected on the shores of Lake Michigan.
She's also used pieces of brown glass, which likely came from some beer bottles discarded in Wisconsin, Michigan or Indiana (those Midwesterners know how to party — I know because I've lived there too!)
I love the fact that she's used the brown glass. I love the mounting style she's chosen to use. And I love it when an artist gives their work a name (I'm hearing that Eagles song in my head). Witchy One, indeed!
Details: necklace • beach glass • copper with patina • handmade

Seaglass Jewelry
Thanks for checking out my favorite seaglass jewelry. If you liked this article, please share it on your social. Thanks!
Written by Renee