Whale Gifts ~ 33 giant, floating gift ideas
Okay, so we all agree, right: whales are big. I mean really big.

Which I suppose is what has led people to be fascinated by them and to devote so much art and entertainment to these ocean giants. I mean, that much size in a living, breathing creature is hard to wrap the mind around.

But wrap we shall, for today I would like to show you the Seashell Madness top 33 ideas for whale gifts.

Large Wooden Humpback Whale Wall Art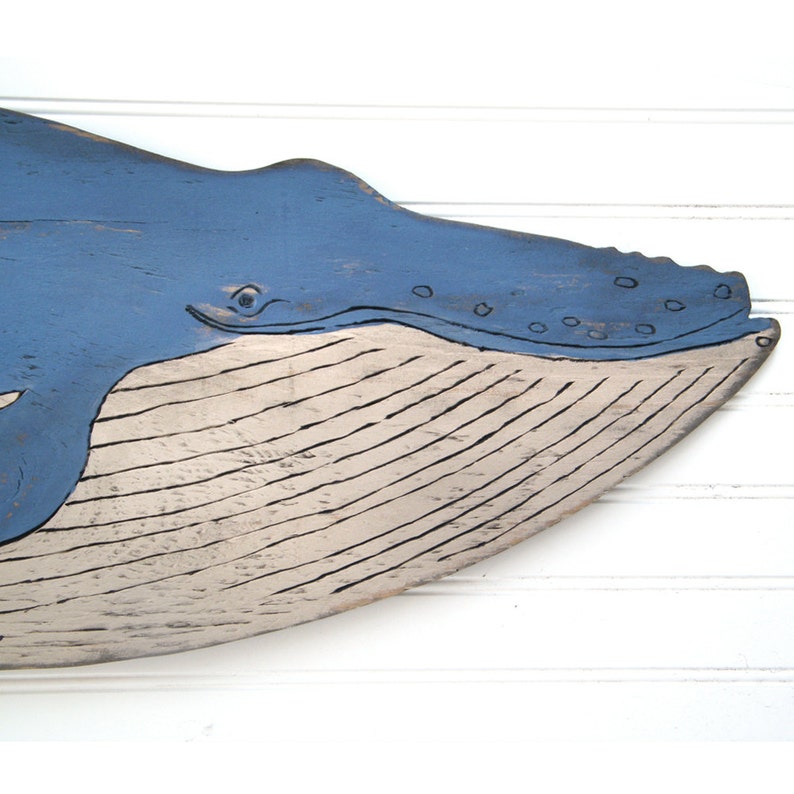 I've just gotta say: I absolutely love the expression on the face of this humpback whale. A nice, friendly little smile. And at 42in. long this piece of wall art does justice to this large cetacean.
See all of our Sealife Gift Ideas:
Dolphin Gifts • Shark Gifts • Octopus Gifts • Sea Turtle Gifts • Whale Gifts • Ocean Gifts •

DIY Paper Whale Model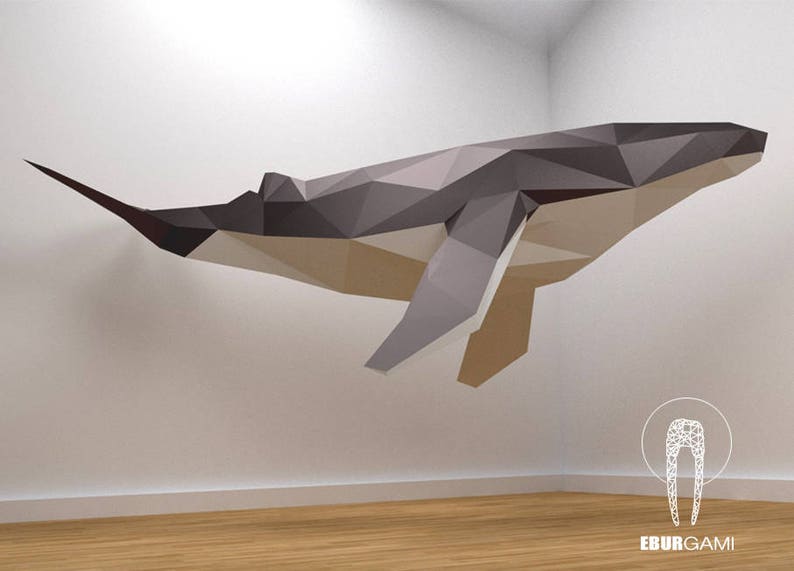 For the crafty person on you gift list, give them something quite mind-blowing. They download the pattern and then construct this giant 3D origami version of a whale. Anyone into crafts would simply have to get a kick out of this one.

"Where there's a whale there's a way" Coffee Mug
Good puns make for great coffee mugs. Know anyone who is searching for some inspiration? Get them this mug so that they know "Where there's a whale there's a way."

Ceramic Fin Whale Dish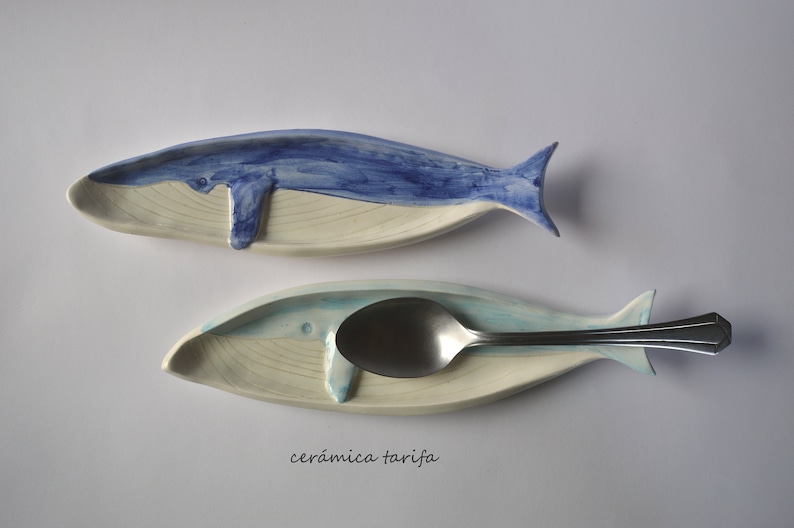 Someone with a coastal theme to their decor would really enjoy this one: a ceramic whale plate. I know that I love the look of this one.

"Humpback Whale Takes a Bath" Print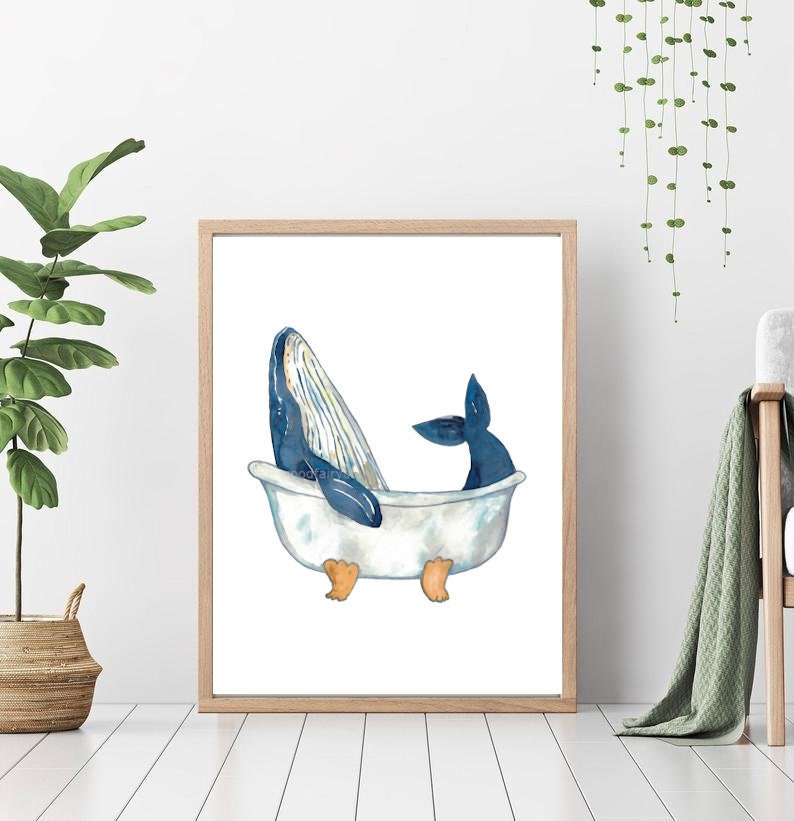 If you know someone whose bathroom could use a little bit of character, I would suggest this whimsical print of a humpback wale taking a bath. This kind of thing is always fun and really helps to bring something special to the most important room in the house.

Whale Ceramic Mug
Nobody can have too many mugs. Which means that a good mug always makes for a good gift. I really like the rough ceramic look of this one and the blue/gray color combo works really well. Oh, and it's pretty darned neat that the whale's tail is the mug's handle.
Fun Whale Fact:

"The Antarctic blue whale is the biggest animal on the planet, weighing up to 400,000 pounds (approximately 33 elephants) and reaching up to 98 feet in length."
source: worldwildlife.org

Wall Art: "The Fisherman's Daughter"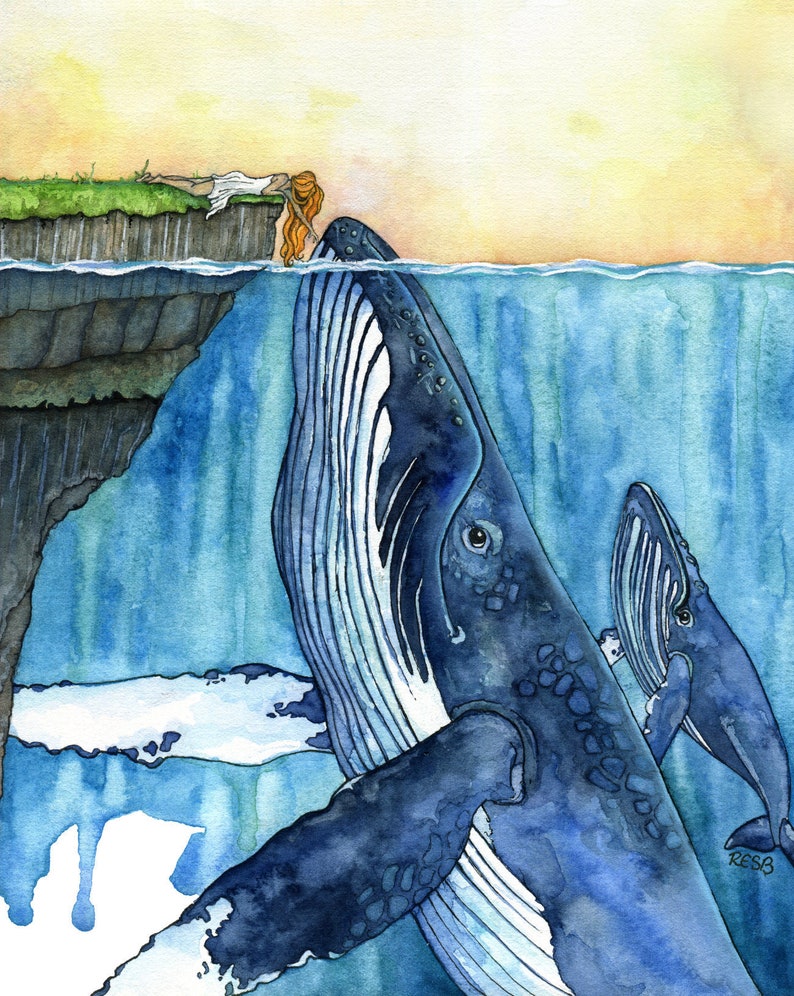 A print of this delightful watercolor painting makes for a really terrific gift. I've featured the beach-themed art of Rachel Byler before, as I think that her work is really tremendous. I particularly like this one, entitled "The Fisherman's Daughter" as it conveys a beautiful little moment.

Wooden Geometric Whale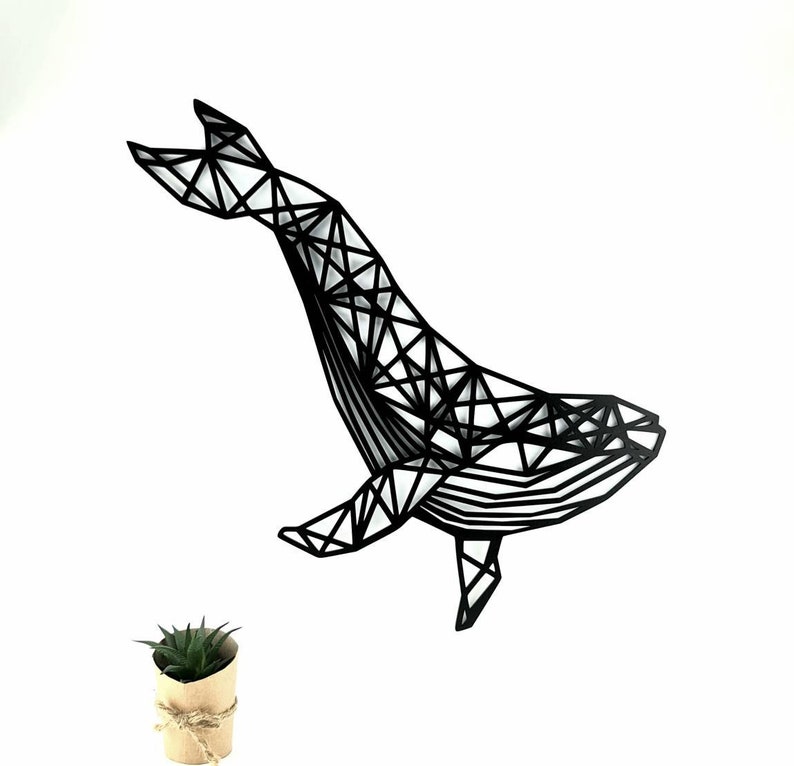 Help them hang a whale on the wall. I love the way that this geometric whale is at once minimalistic and detailed. I can just about see the expression on this whale's face. If you know someone who has a blank white wall that could benefit from a little bit of whale, then I think that this is the one to go with.

Natal Whale Bookends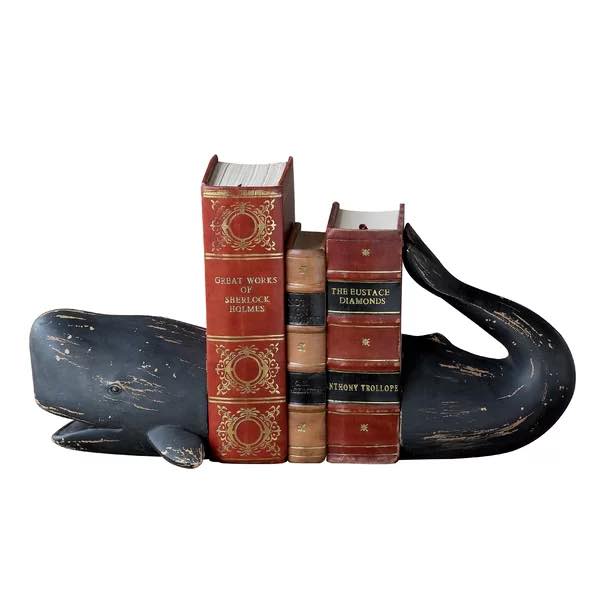 One thing about book lovers: they never don't need bookends. With more and more books being accumulated all the time, they've got to keep them under control. So why not get a whale to do the job?

Whale Sweatshirt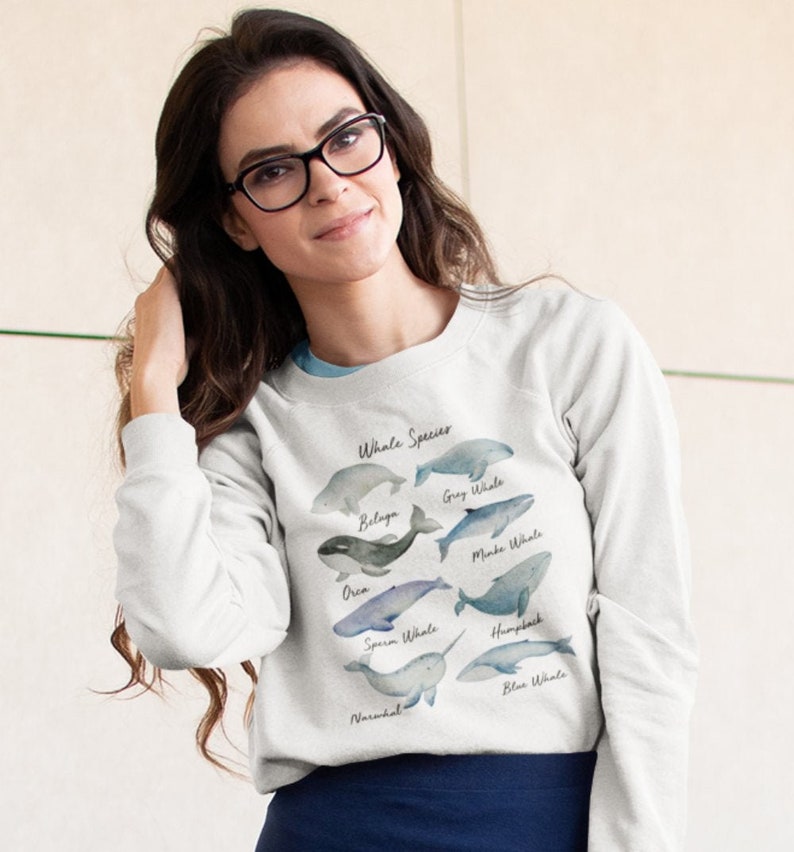 If they like to look smart, then here's a great gift idea: a shirt which identifies different varieties of whale. Style and brains. Fantastic.

Whale on a Bike Sweatshirt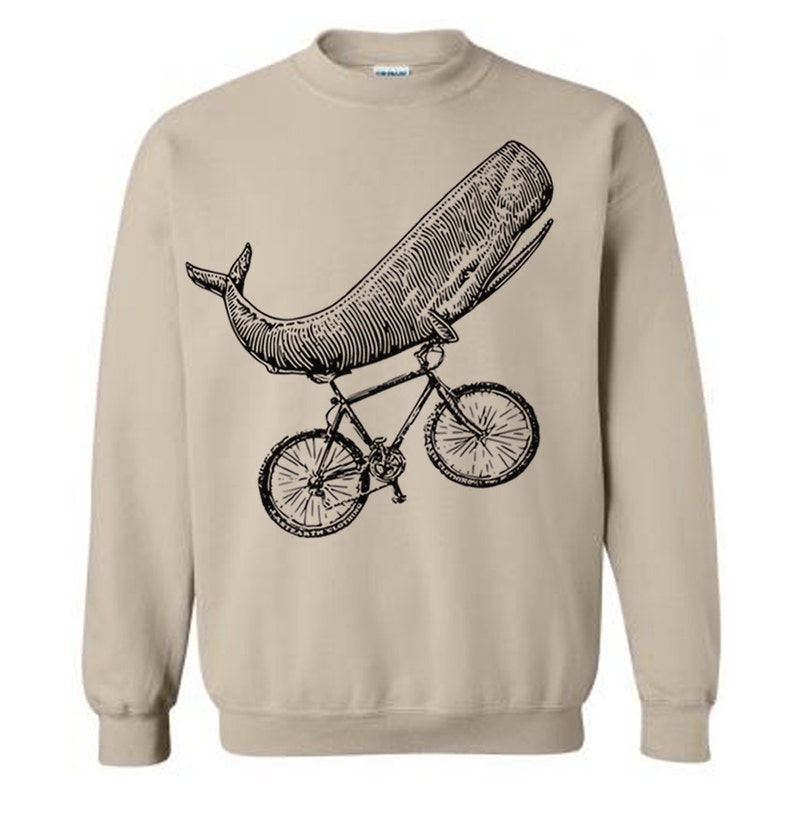 No, a whale does not need a bicycle. That much is true. But does a whale desire a bicycle? This fun sweatshirt tries to answer that very question.

Decorative Whale Pin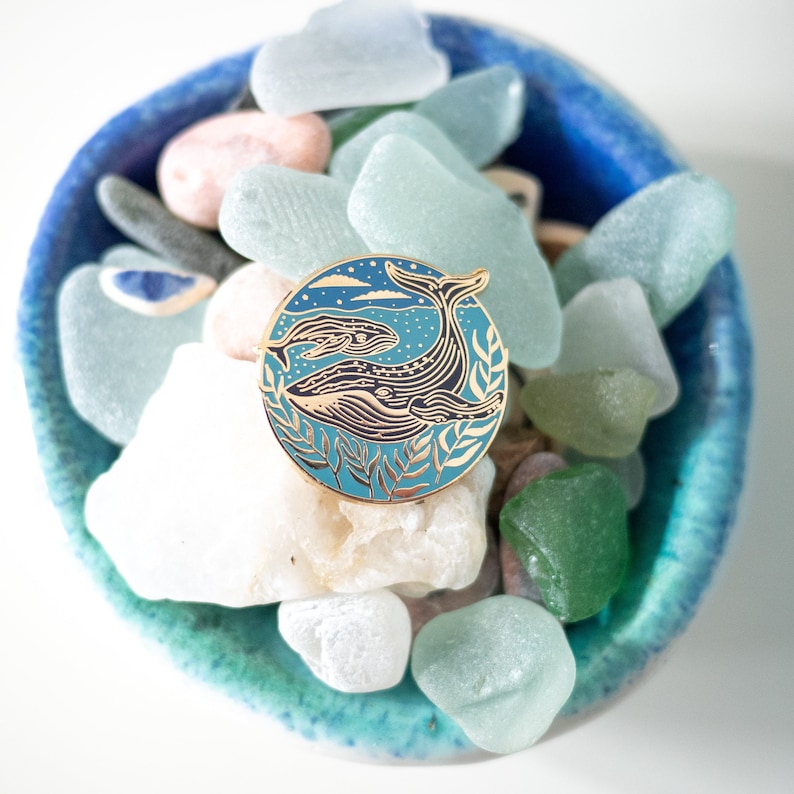 Here's a nice, subtle way for someone to show their support for whales. This small enamel pin is handmade and the distinctive illustration if simply wonderful.

"Mother and Baby Whale" Bracelet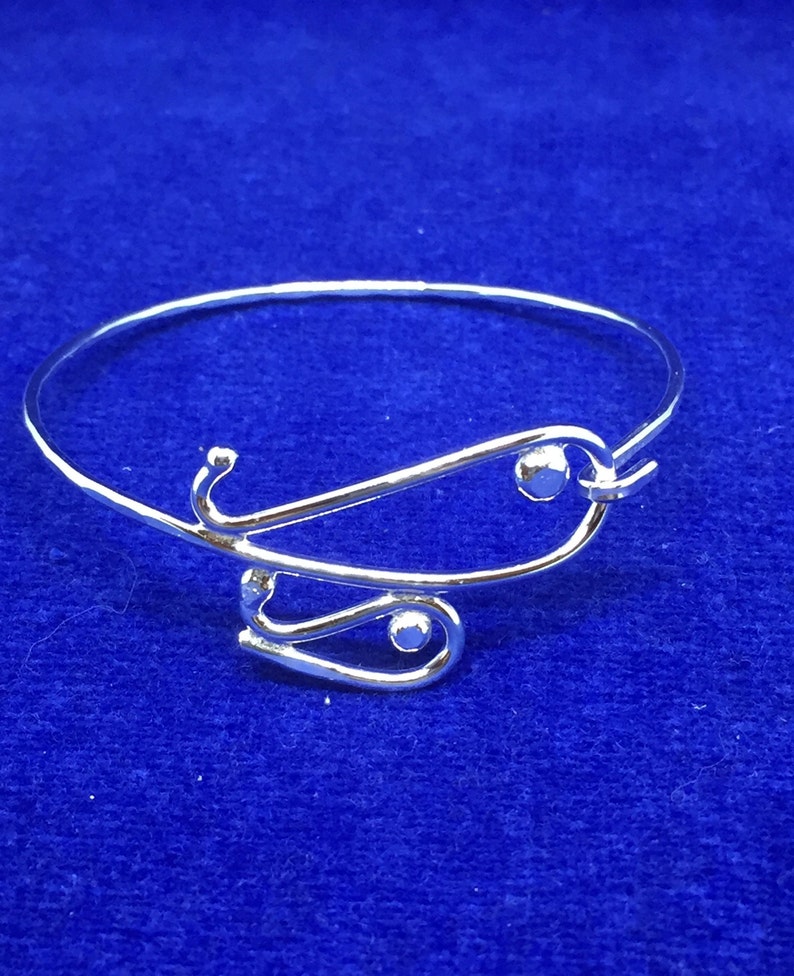 And for the jewelry lover on your list, here's a really interesting piece. This is the "Mother and Baby Whale" bracelet. Take a moment and you'll see it. This one would make them a fabulous conversation piece.
Fun Whale Fact:

"When it comes to eating food, the blue whale can consume as many as 40 million krill per day, which ends up weighing close to 8,000 pounds of food daily."
source: whalefacts.org

White Ceramic Succulent Planter
Succulents make great gifts — they are very resilient and low-maintenance plants, perfect for folks who don't have the time for those more spoiled plants. But what to put them in? How about a whale?

Whale Fitted Sheet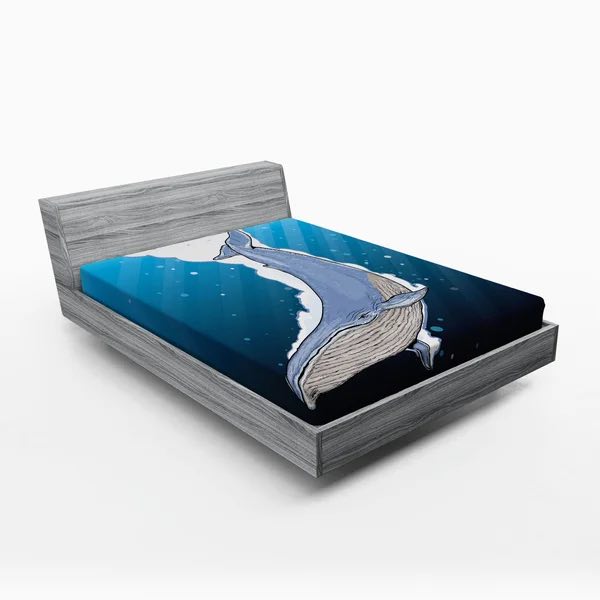 I love the great big print of a humpback whale featured on these sheets. Something like this would make a great housewarming gift for the ocean lover in your life.

Whale Tail Ceramic Jewelry Tray
Their jewelry can quickly get out of control without some sort of holder. Spilling across the tops of dressers and nightstands — we all know that person, don't we? For that person we have not only a functional deep dish for their jewelry, but one with a wonderful whale tail motif. Perfect for hanging necklaces from!

Tap Night Light
What a fun lighting variation! This tap light provides soft illumination (in different colors!) while being operated with a gentle tap.

Cork Holder with a Whale Theme
The wine drinker on your list will certainly appreciate this one. Pretty much every wine drinker likes to save the corks, since corks are great for crafts projects. But where to put them? Well, I would say they should go with this whale-themed cork holder. That's my opinion anyway.

Whale Tail Bottle Stopper
And speaking of gifts for wine lovers, a bottle stopper is always a great gift idea. And this one shaped like a whale's tail is a great one to give.

Whale Socks
Socks are the new cool gift, thanks to patterns like this one. How great it is to see this pod of whales swimming along around the ankles.
Fun Whale Fact:

"A sperm whale can spend around 90 minutes hunting underwater before it has to come back to the surface to breathe."
source: nhm.ac.uk

"A smooth sea never made a skilled sailor" Print
Know someone who needs a little inspiration? How about this one:"A smooth sea never made a skilled sailor." So there!

Whale Stroller Handmade 3D Pop Up Card
3D popup cards are really neat. So neat, in fact, that along with accompanying a gift they actually make great gifts themselves. I think this one, of a whale themed stroller, would be absolutely perfect as a gift for a new parent. Wonderful.

Blue Whale Butter Dish
Help someone add a little class to the kitchen table: instead of just plunking down the butter, it can be enclosed in this wonderful whale butter dish.

Whale Bubbles Foam Soap Sleeve
If you know someone who just kind of puts a bar of soap up on their bathroom sink, give them some gentle help with a gift of this whale themed soap sleeve. It really will make their bathroom better.

Whale Pattern Phone Case
Friends don't let friends have boring cell phone covers. Not in this day and age. So if you know someone who needs a little help in that particular direction, I would suggest that they can't go wrong with a phone full of happy whales. Happy!

3D Whale Wooden Desk Lamp
Everyone could use a little extra light on their desks. And this option is not only functional, it is darned cute! I love how the whale is a cutout of the wood, with the light provided along the outside of the illustration. This one's neat!

Humpback Whale Plush Hugging Pillow
For many people on your list you won't go wrong with a giant plush animal, like say, this 43in. long humpback whale. Perfect for a warm snuggle or to use as a nice, soft pillow. And it's a whale. Which is a plus.

Whale's Tail Wall Hook
I don't think that I know anyone who doesn't need a few extra hooks on their walls. And making those hooks whale tails certainly works.

Non-Slip Baby Bath Mat
A baby bath mat needs to be not only functional, but fun. Like this particular whale-themed baby bath mat.
Fun Whale Fact:

"While sleeping, the bottlenose dolphin shuts down only half of its brain, along with the opposite eye. The other half of the brain stays awake at a low level of alertness… After approximately two hours, the animal will reverse this process."
source: scientificamerican.com/

"Handbook of Whales, Dolphins, and Porpoises of the World"
At 528 pages, this "Handbook of Whales, Dolphins, and Porpoises of the World " packs an educational wallop. A great gift for anyone who wants to learn more about the cetacean world.

Whale Microfiber Sand Free Beach Towel
The advent of the sand-free microfiber beach towel is one of those amazing miracles of modern technology. Pairing this wonder with the natural wonder of a wonderful whale painting makes for the perfect gift for the beach lover on your list.

Abstract Whale Shower Curtain
No more boring shower curtains! If you know someone who is still sticking with a plain vanilla shower curtain, do them a favor and get them this really cool abstract whale shower curtain. You'll be helping them, believe me.

Whale & Boat Tea Light Holder
If you know someone who is as big a fan of tea lights as I am then I promise you that this is a great gift. I love the smile on the face of the whale as it balances a boat on its tail, and the boat contains the tea light. Makes me smile too!
Whale Gift Ideas
Thanks for checking out my list of ideas for whale gifts. If you liked it, please share on your social. Thanks!
Written by Renee