Mermaid Art ~ Style and Grace Underwater
With my love of seashells I sometimes think of how great it would be to be mermaid, just floating free beneath the waves… as long as there are no sharks around!

For this Beach Art day at Seashell Madness, I'm having a look at mermaid art.

Jump in and join me!

Rustic Coastal Mermaid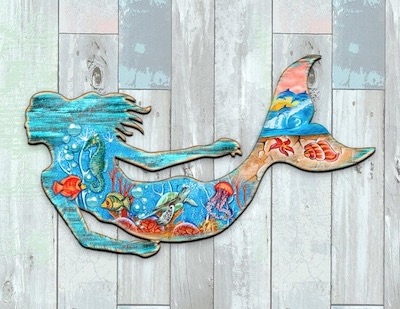 I love the underwater look of Rustic Coastal Mermaid. The blues and the teals and the waves just really make this one for me.
The funny thing is that at first glance I didn't notice all of those details. What I noticed were those great teals and blues in the shape of a mermaid. But then I looked closer.
It was then that I saw that those great teals and blues were actually part of a larger painting depicting an underwater world.
And that made it even better!
Details: 24″ x 14″ • acrylic on wood • handmade
See all of our Mermaids Pages:
Mermaid Necklaces • Mermaid Clothing • Mermaid Earrings • Mermaid Bracelets • Mermaid Jewelry Boxes • Mermaid Art • Mermaid Rings • All Things Mermaid

Mermaid with Ghost Ship
Not just a mermaid, but a Mermaid with a Ghost Ship!
Wooooooah.
It's that golden background that really got me about this one. I think that this is just an amazing rendition of a beautiful sunset at sea. Just beautiful.
And the way that the mermaid's long beautiful golden hair is rendered against the golden background is really cool.
And, besides that, who doesn't like a good Ghost Ship?
Details: available in multiple sizes • print on canvas

Purple-Haired Mermaid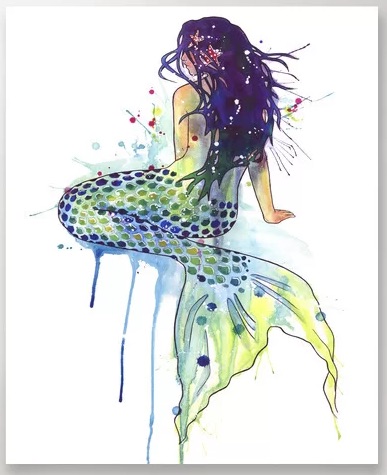 I'm a fan of purple. I'm a fan of watercolors.
Enough said.
Okay, I'll say some more… The look of this Purple-Haired Mermaid really caught my eye. The way that the purples play against the greens really pulled me in.
And I'm a big fan of when watercolors are allowed to drip away and find their own path.
Is that weird? I don't know. But I really like this one.
Details: available in multiple sizes • print on canvas from watercolor original

>Mermaid & Dolphin Sign
I think it's really neat how the mermaid in Mermaid & Dolphin Sign is reaching out for a starfish that's floating by.
This is another one where I'm really drawn to the colors — the aquatic teals and blues against the white background really draws me in.
Artist Lisa Reich (who calls herself a mermaid due to her hobbies of boating, snorkeling, scuba diving and shell collecting) creates these signs using reclaimed wooden pallets. Which is really great. I think it's really wonderful when artists use reclaimed or recycled materials.
And I think this would look great hanging in any little beach house!
Details: 12″ x 5″ • acrylic on reclaimed wood • handmade

Driftwood Mermaid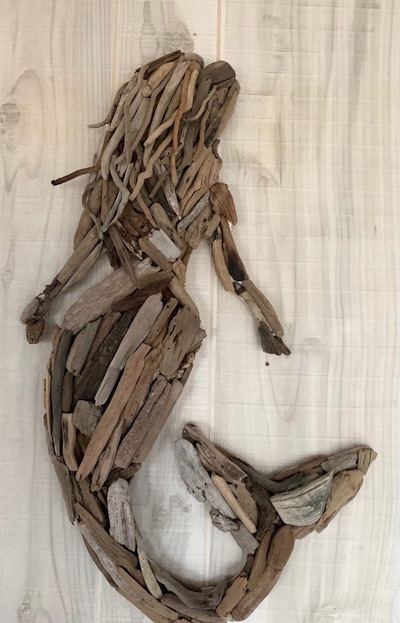 There's something almost hypnotic about this Driftwood Mermaid, isn't there? It's something about the way the hair flows, I think.
Anyone who collects driftwood for their art (which I also do) knows that it can be really trickier than you would think to find just the right pieces of driftwood to create whatever piece or art that you see in your mind.
So, that's why I'm especially impressed with how artist Emily Demeo has created the hair. That flowing look is a very original use of driftwood.
I love it!
Details: 18″ to 20″ high • driftwood • handmade

Mother and Baby Mermaid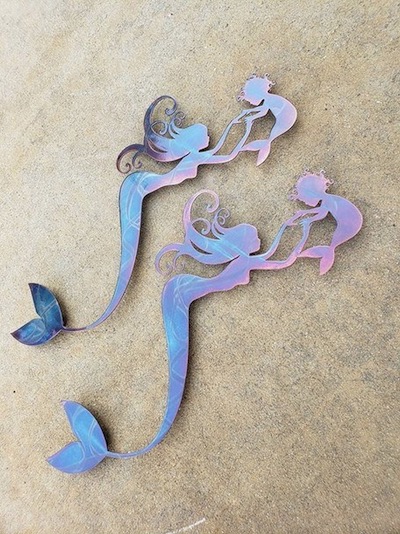 When I saw Mother and Baby Mermaid my heart just kind of melted and I thought Wow, what a great gift that would be for a mom!
I think that if one of my daughters had given this to me I probably would have started crying!
I love how the mother and daughter just seem to be dancing away beneath the waves. It's really beautiful.
And the colors on this piece are really interesting. Artist Lori Bertsch makes these out of metal and each one has a unique and beautiful patina to it. If you look closely at it, you can see these wonderful subtle variations of purples, pinks and teals. Perfect for adding a beach aesthetic to your room decor.
Again, what a great gift for mom!
Details: 20″ x 16″ • metal • handmade

Metal Mermaid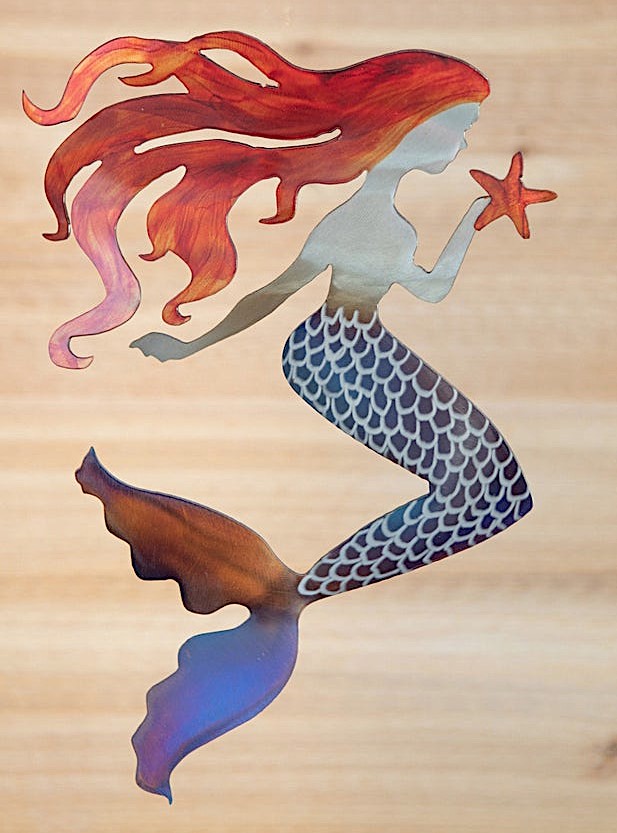 I think that the 3-dimensional look of this Metal Mermaid is really fantastic! I love the way her hair flows, and the subtle coloring of that hair really draws me in.
But the part that is really the coolest about this piece is the way that the tail is hand-engraved. Look at that detail in that tail!
Shiny and beautiful!
Details: 14″ x 7″ • steel • handmade

3 Purple Mermaids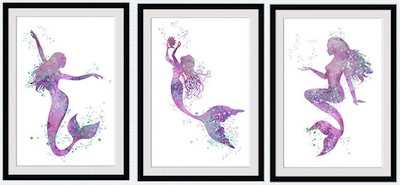 I believe that I've already mentioned that I'm a freak for both purple and watercolors, so the 3 panels of 3 Purple Mermaids is a natural fit for me!
Artist MilJas has really captured something special here with these 3 watercolors. You know, honestly, I would have been thrilled with just one of these panels, but the combination of the 3 different mermaids in different poses really works for me.
I keep looking at it and wondering which order these 3 ladies should be in. You could put them together in several different ways and they would look as great.
Wouldn't they?
Details: different sizes available • print from watercolor original

Dreaming of Being Human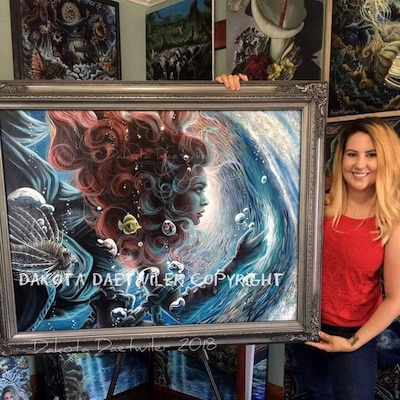 This painting — entitled Dreaming of Being Human, and based on the popular tale of Ariel — is just gorgeous!
I mean, this one really takes my breath away, it is so amazing.
I simply love the detail that artist Dakota Daetwiler has put into this one (and by the way, if you look at her shop you'll see that Dakota has created a lot of really beautiful pieces). The colors as Ariel gazes out through the waves, and that expression… you can just feel the longing in this mermaid's heart in that expression.
I wish I could think of a word that's better than "gorgeous," but since I can't, I'll just repeat that I think that this painting is GORGEOUS!
Details: available in multiple sizes • print on canvas from painted original

Mermaid and Dolphin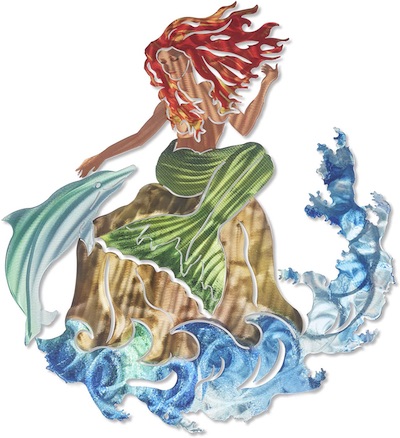 I'm always amazed at that things that artists can do with metal. It's gotta be really tricky to pull off something like Mermaid and Dolphin.
If you look closely at this one, you can see that it is constructed in layers, and that each of those layers has been hand-bent to create a unique shape.
The combination of the bends and the layers gives this piece a really incredible 3D feel.
And the colors are just great!
Details: 22″ x 25″ • powder-coated metal

Wooden Mermaid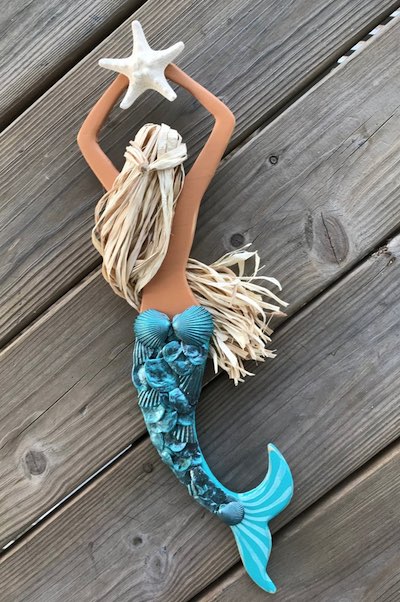 This one is really cute, isn't it? This Wooden Mermaid is cut out of plywood, then artist Wendy paints it and adds details.
Details, you say? What is the detail that you notice the most?
Why, of course, you can't help but notice how this mermaid's cute little backside has been fashioned out of shells. I thought that was so clever.
By the way, the shells used have been hand-collected by the artist along the coast of North Carolina.
And the colors are just right.
Details: 19″ x 5″ • wood, acrylic & seashells • handmade

Sea Glass Mermaid
As can be seen from several other sections of the Seashell Madness site, I am a huge fan of sea glass. So it's natural that I would be attracted to this Sea Glass Mermaid mural. It has lots of real sea glass!
I especially like the effect of the hair. It really looks to be flowing, doesn't it?
Artist Stephanie Figuerado makes her sea glass murals using real sea glass and beach glass that she has collected during beachcombing excursions on beaches in MA and RI.
I also like how the body has been made out of crushed shells. Really neat!
Details: 20″ x 18″ • sea glass, beach glass • handmade

Starfish Mermaids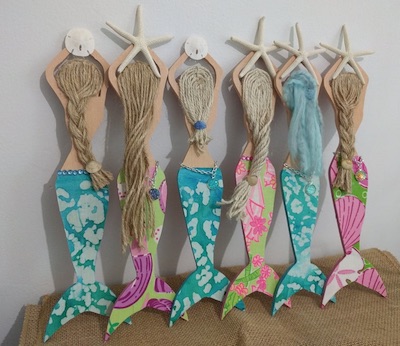 Soooooo cute! That's all I've got to say about Starfish Mermaids.
Okay, that's not all I have to say about them, but they really are the cutest, aren't they?
Artist Dawn Phillips not only hand makes each one of these mermaids, she lets you customize them yourself!
That's right, before she starts she gives you choices of hairstyles, colors and fabrics… it's like the old days of dressing your Barbies, only better!
Did I mention that I thought these were cute?
I didn't?
They're soooooo cute!
Details: 13.5″ • maple, chain, yarn, acrylic & fabric • handmade

Pink Mermaid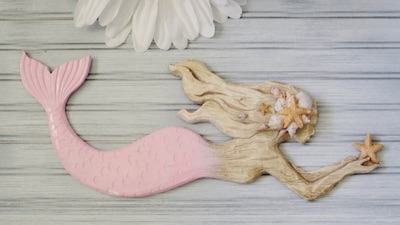 I think that Pink Mermaid would make a tremendous addition to the bedroom wall of a little girl. Don't you?
I love the little details that artist Allison Homer has added here. Like all of the shells in the hair.
And the way that the pink of the tail just sort of fades into the wood-grain look of the body really works.
Wonderful!
Details: 7.5″ x 20″ • handmade

Seashell Mermaids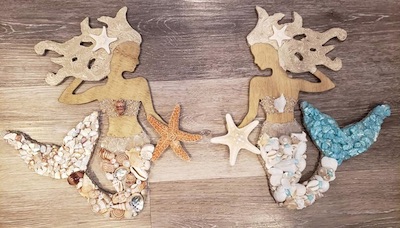 I love the way that the tails of these Seashell Mermaids are made using a whole bunch of shells (I do run a site called Seashell Madness after all).
Artist Cathy starts off with a wooden cutout (which by itself is a great design — I love the flowing hair!) and from there she decks out this mermaid with lots and lots of shells.
Love it!

Carved and Painted Mermaid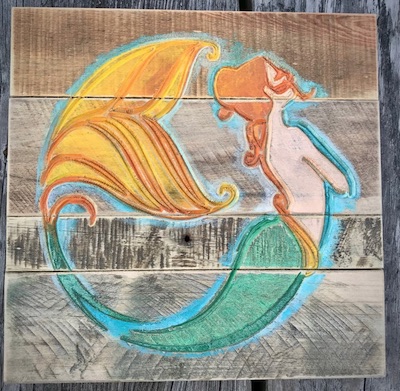 This is one of those pieces of art where something which seems basic actually reveals a whole world of wonders the more you look at it, which makes Carved and Painted Mermaid a fabulous piece.
Artist Jeremy makes all of his works from reclaimed wooden pallets, which is a great thing to do, in my opinion. And if you look at this one, he's done a really interesting thing — combining 2 different techniques to create something really unique.
This mermaid has first been carved out of the wood. And once you notice that I think you'll agree that if Jeremy had stopped there it would already be beautiful. But he takes the next step and hand-paints it. And look at the way it is painted: I love the details and the shading on the tail and body.
What a great mermaid!
Details: 12″ x 12″ • reclaimed wood, paint • handmade
Mermaid Artwork
Thanks for checking out this list of my favorite mermaid artwork. If you liked it, please share it on your social. Thanks!
Written by Renee