100 Mermaid Necklaces [Winter 2020] ~ mermaids for luck!
A necklace is a great piece of jewelry — it allows you to make whatever statement you want, just by dangling something from a chain around your neck!

We found a whole lot of mermaid necklaces out there (and we narrowed it down to about a hundred). Here are some great examples along with links to where you can find 100 Mermaid Necklaces!
Silver Mermaid Necklaces

Mermaid Necklace With Green Abalone Stone Made Of Sterling Silver
The inside of the abalone shell can make for some really great colors. I love how this necklace mixes those wonderful colors with a sterling silver mermaid.
See all of our Mermaids Pages:
Mermaid Necklaces • Mermaid Clothing • Mermaid Earrings • Mermaid Bracelets • Mermaid Jewelry Boxes • Mermaid Art • Mermaid Rings • All Things Mermaid

Glow in the Dark Little Mermaid Ariel Necklace
I think the glow-in-the-dark nature of this necklace is really cool (I assume — and hope — that it isn't radioactive). This design is actually featured on several different pieces of mermaid jewelry, including bracelets and earrings, but I think that it's at its best when dangling on a necklace.
See also: Mermaid Rings • Mermaid Clothing • Mermaid Earrings • Mermaid Bracelets • Mermaid Jewelry Boxes • Mermaid Art • All Things Mermaid

Personalized Silver Mermaid Pendant
Personalization of jewelry is always a really neat thing, and with this pendant you can make sure that everyone knows to keep their hands of your mermaid.

Personalized Silver Mermaid Charm Necklace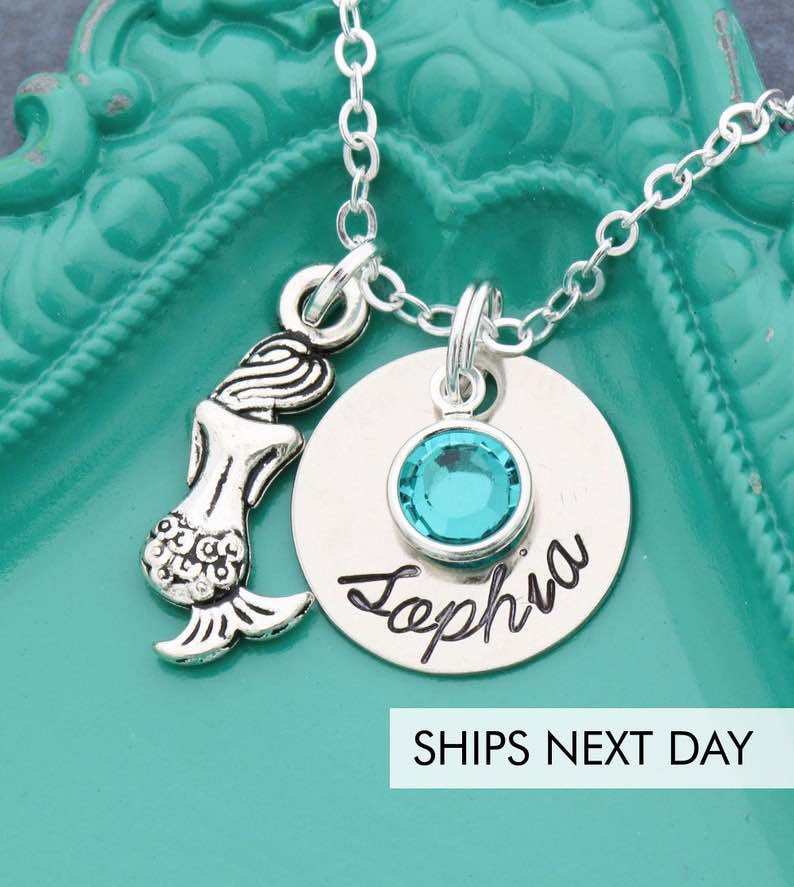 There's something about the personalized charm that is a great accompaniment for this little mermaid charm. And add it to a necklace and you're set.

Sterling Silver Mermaid Tail Necklace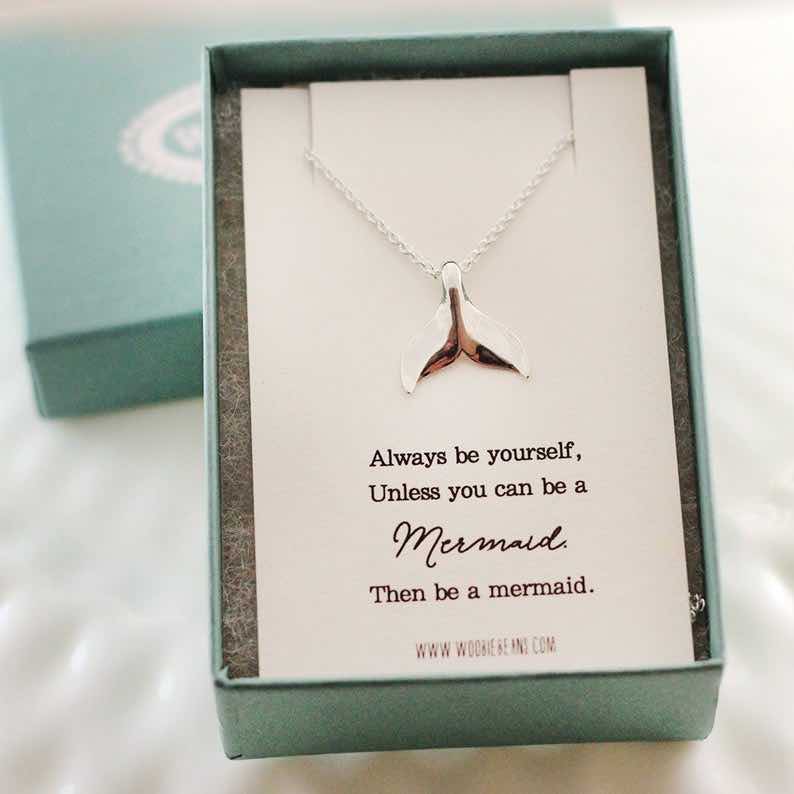 Mermaid's tails can be used in a lot of creative ways, like this silver necklace.

Ariel Silhouette Charm Necklace in Silver Gold or Rose Gold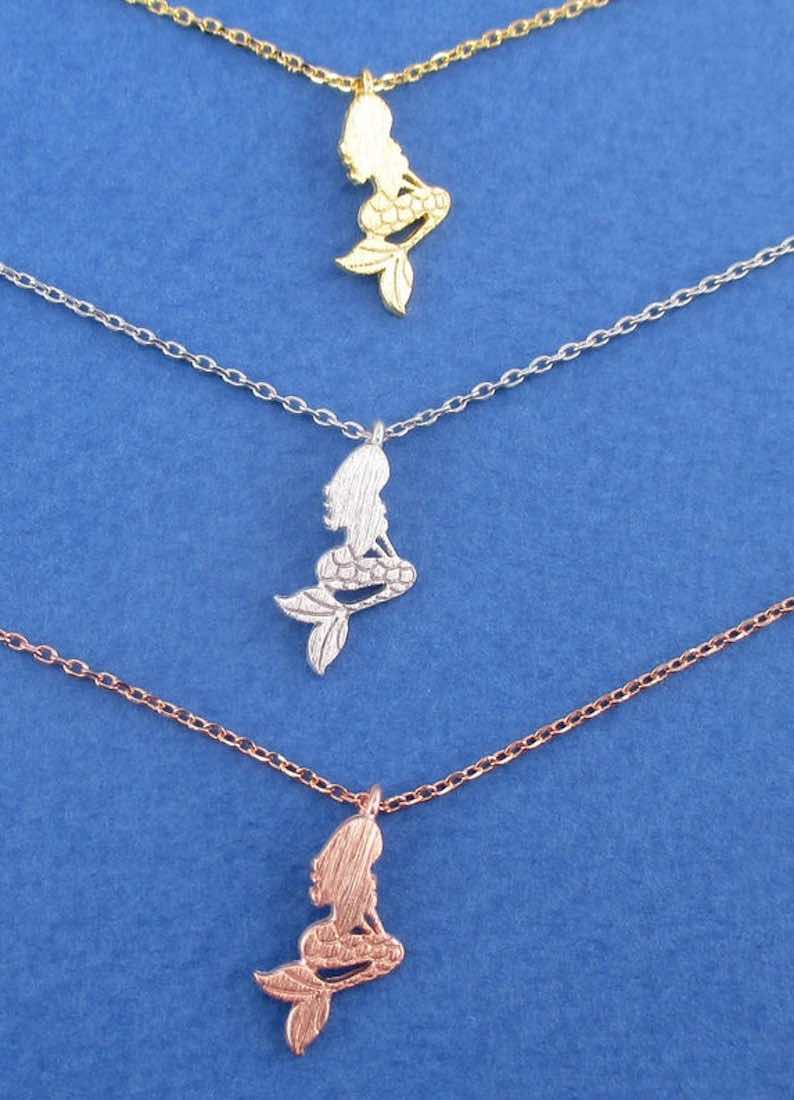 You'll definitely want to dangle the most famous of mermaids from your neck. This particular rendition of Ariel is not only a great silhouette, it also comes made in your choice of materials: silver, gold or rose gold.

Silver Mermaid Pendant
I really like the pose that this mermaid is in for this silver pendant. Usually, the mermaid is depicted either swimming or sitting, but this mermaid seems to be rocketing up toward the surface. Which I think is really neat.

Mermaid Wax Seal Necklace
Wax seal artwork and sculpture work is kind of a neat way of creating 3D images. It leaves you with a rough, almost primitive kind of look, which is something that I always find appealing.

Black Onyx Necklace Tear Drop and Mermaid Tail Silver Layered Necklaces
This one is, in my opinion, a really great combo. Not just a silver mermaid's tail (which is great in and of itself) but add to that a wonderful teardrop onyx piece.

Sea Fairy Mermaid Pendant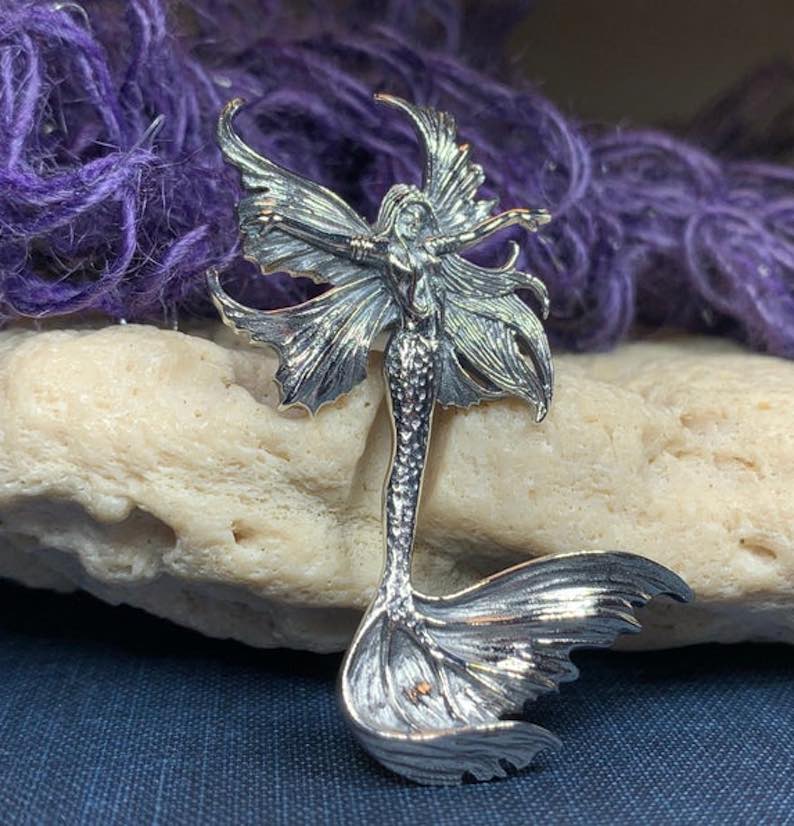 Doesn't the sea fairy look magical? Can't you see her spreading her fairy dust (or whatever the waterproof equivalent of fairy dust would be) throughout the ocean? This is another one where I really like the pose of the sculpted piece. There is a fluidity to the whole thing and I love how the tail fans out as if caught by the ocean's currents.

Handmade Sterling Silver Mermaid Jewelry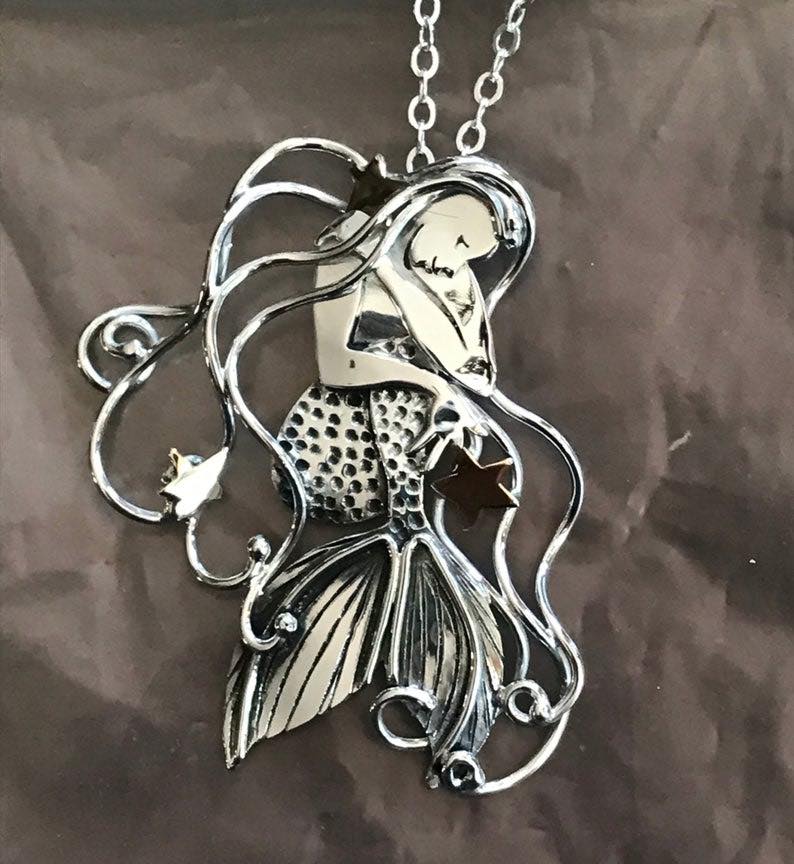 The contemplative mermaid is a common theme (it is a part of the original story, after all), and I love this one as she sits, surrounded by flowing seaweed and starfish.

Sterling Silver Mermaid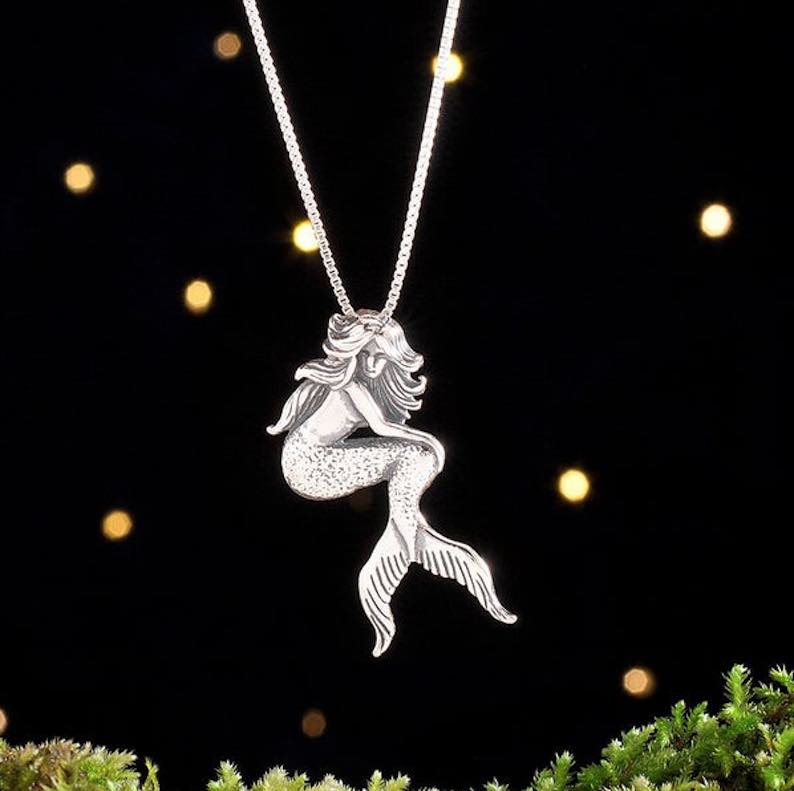 This sterling silver mermaid strikes me as looking very modern. I don't know why, but it's something about the pose that is different from the classic mermaid depictions. And I like it a lot.

Mermaid Beach Jewelry Necklace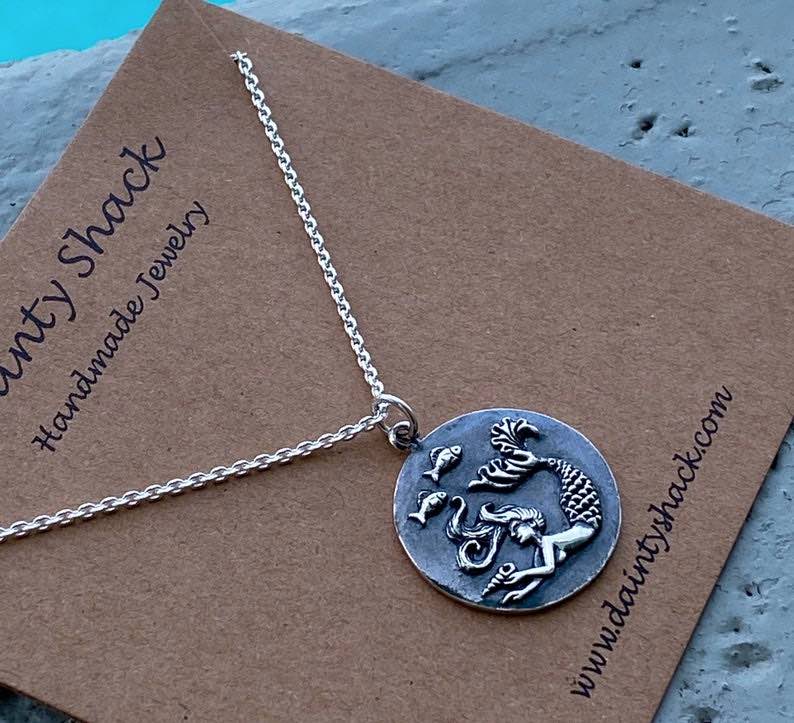 The handmade embossed nature of this mermaid necklace caught my eye right from the start. I love the contrast between dark and light areas of this silver piece. It almost looks like a coin (perhaps this is what you would use in a soda machine in Atlantis?).

Mermaid Luminous Pendant Necklace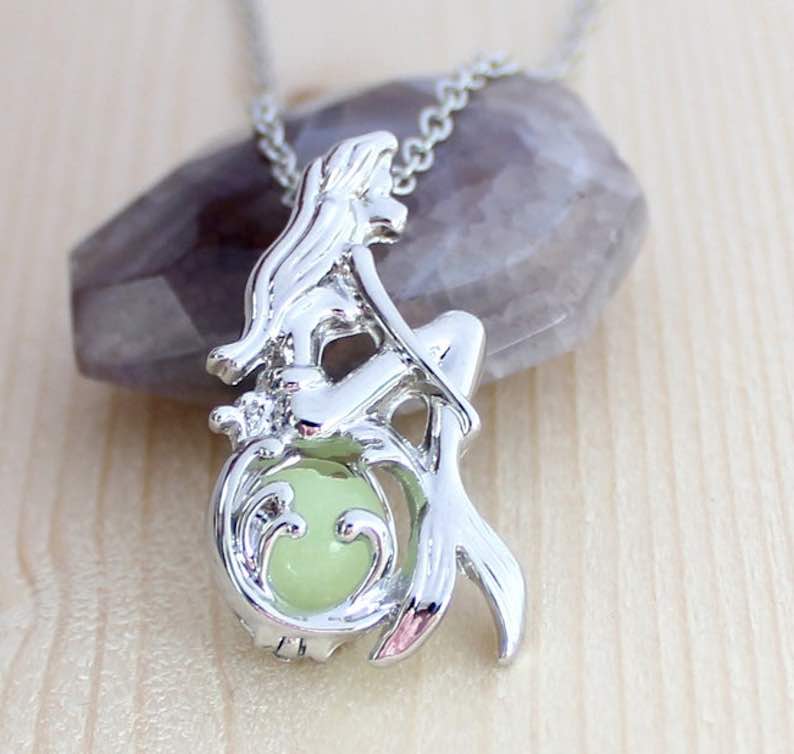 Another glow-in-the dark variety.

Hand Wrought Fine Silver "Star Dust" Mermaid Pendant
Wow! Just look at the detail that has gone into this hand-wrought silver piece. It's one of those that you can look at again and again and see something different each time that you do so.

Antique Silver Mermaid Pendant Necklace
I love the antique feel of this particular silver mermaid pendant. It looks like something you might see worn by a grand woman boarding a luxury liner in the early 1900s. Doesn't it? I can envision this one dangling from the neck of a woman as she waves goodbye to her friends on the shore.

Silver Mermaid Pendant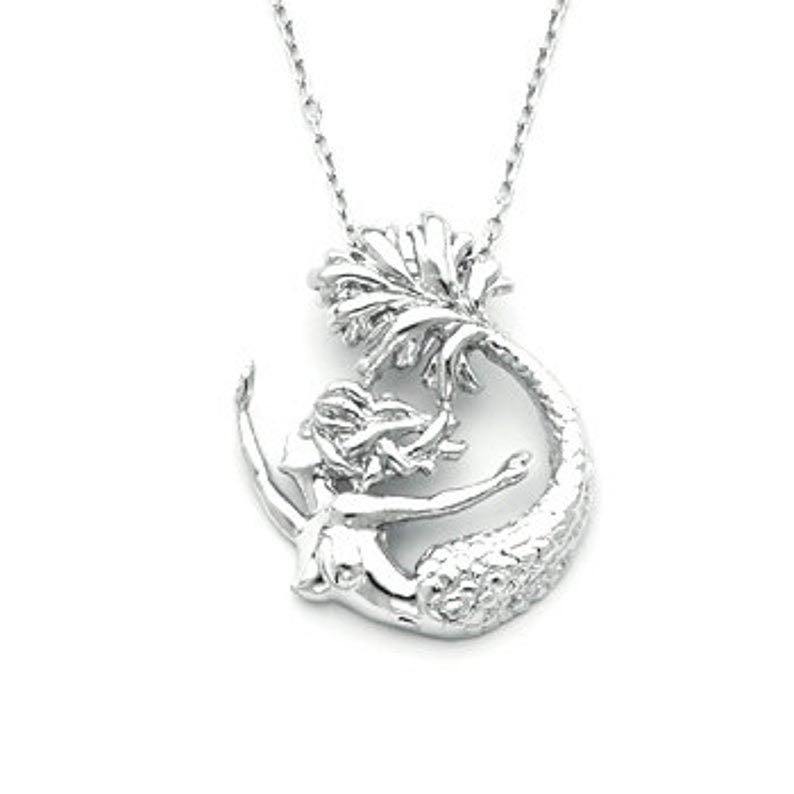 The pose on this silver mermaid pendant says "freedom" to me. If I had been the artist, that's what I would have called this one: Freedom!

Handmade Sterling Silver Mermaid Pendant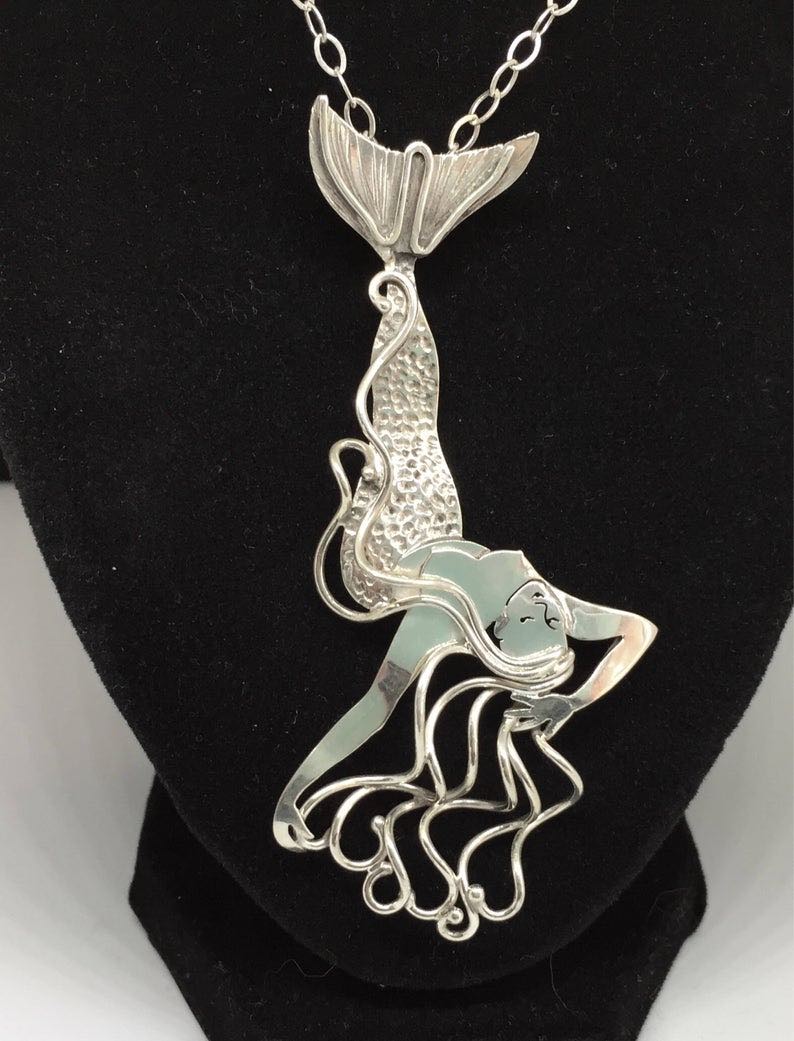 I love the way that this mermaid's hair has been rendered, with its long flowing strands. I imagine that this mermaid is relaxing and gently sinking down through the ocean.

Dainty Mermaid Necklace
Dainty. I just like that word. So I chose these dainty mermaid necklaces. (Well, I like the way that they look too.

Yoga Backbend Pose Mermaid Pendant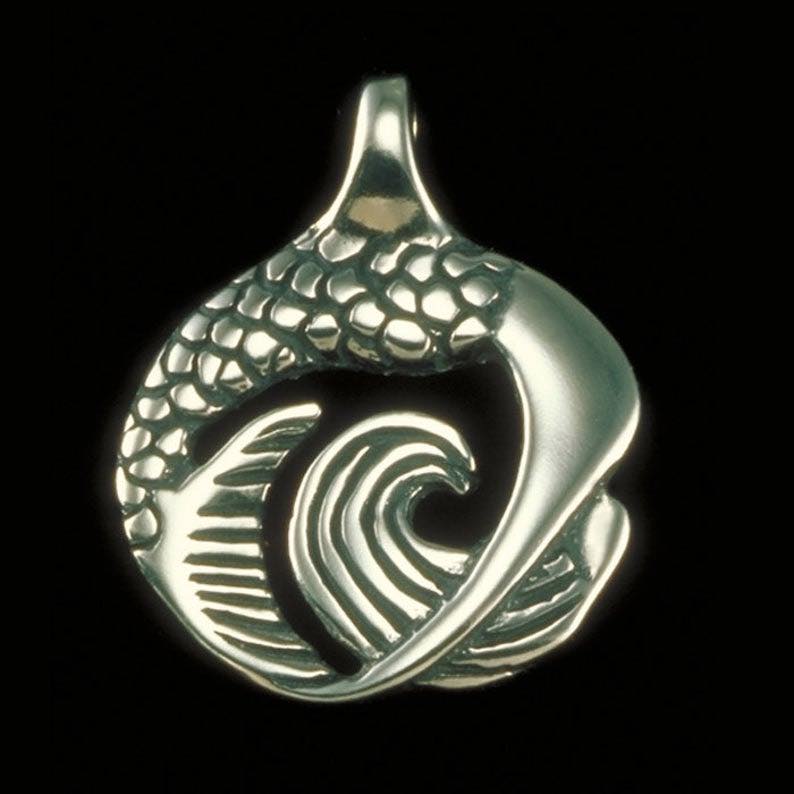 Here's another where I think that I just fell in love with a beautiful design. There's just something about the look of it, the wonderfully smooth lines as the mermaid bends back into a soft, elegant circle. I truly enjoy pieces like this one.

Sterling Silver Cat Mermaid Necklace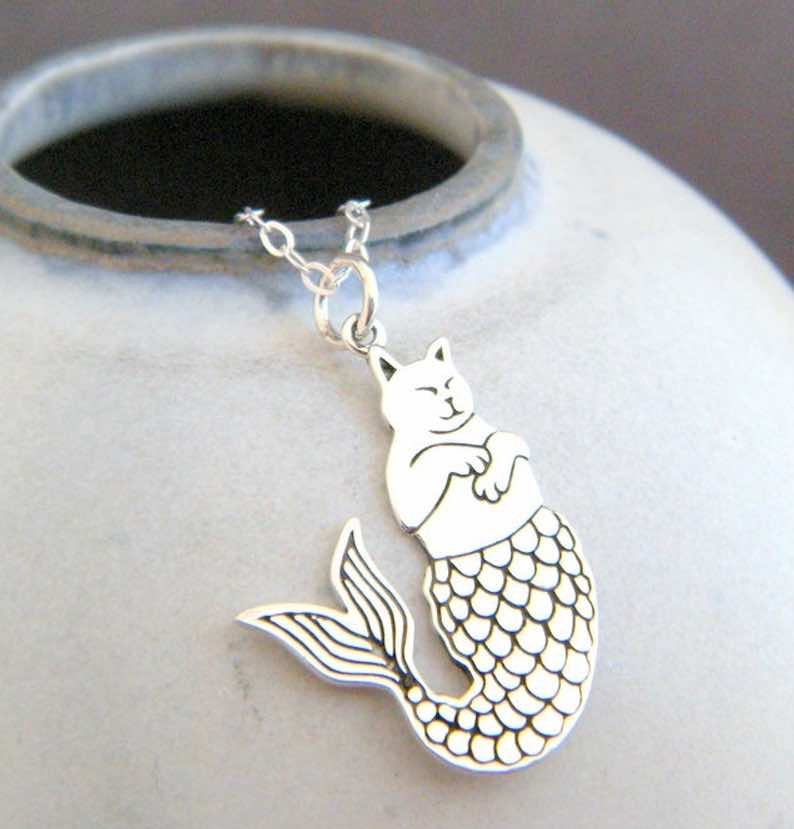 I'm not exactly sure why the cat mermaid is such a popular theme (other animals as mermaids are around, but not nearly as popular). But I've got to confess that I do think that there are some great cat mermaid designs around. So many, in fact, that I'm collecting them for another page devoted exclusively to this magical creature.

Silver Aqua Mermaid Necklace on Rhodium Chain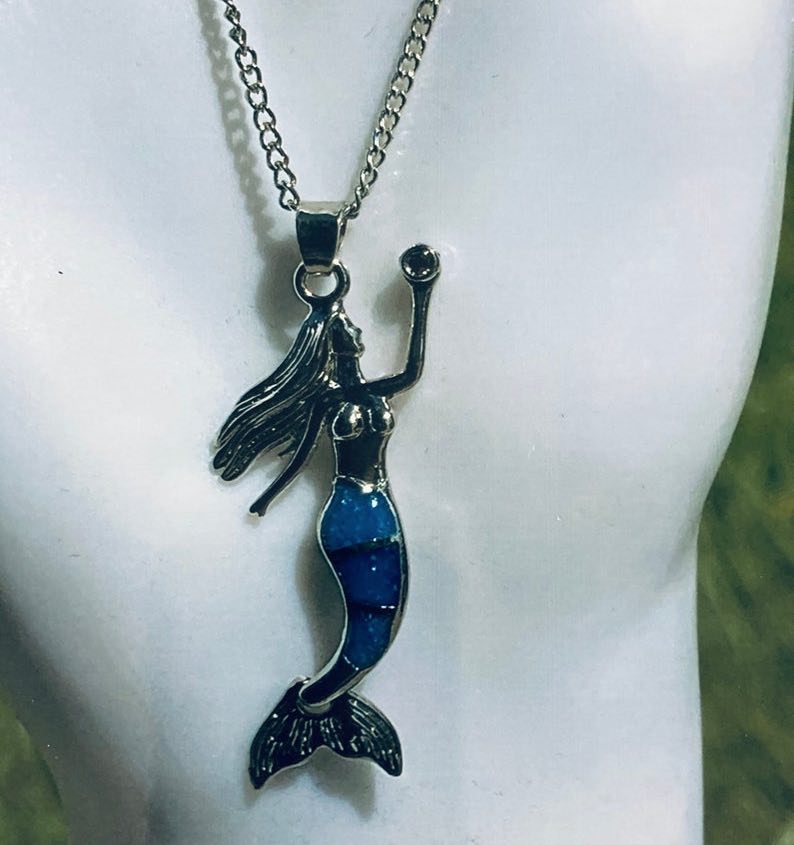 The blending of the blues and the silvers really impressed me on this one. What a wonderful look to it.

Mermaid Half-Moon Sterling Silver Pendant Necklace
There's some really wonderful detail on this tiny mermaid half-moon sterling silver pendant. For instance, just look at the scales of her fin, and then the wonderfully flowing lines of her hair. Wonderful!

Coin Pearl Mermaid Necklace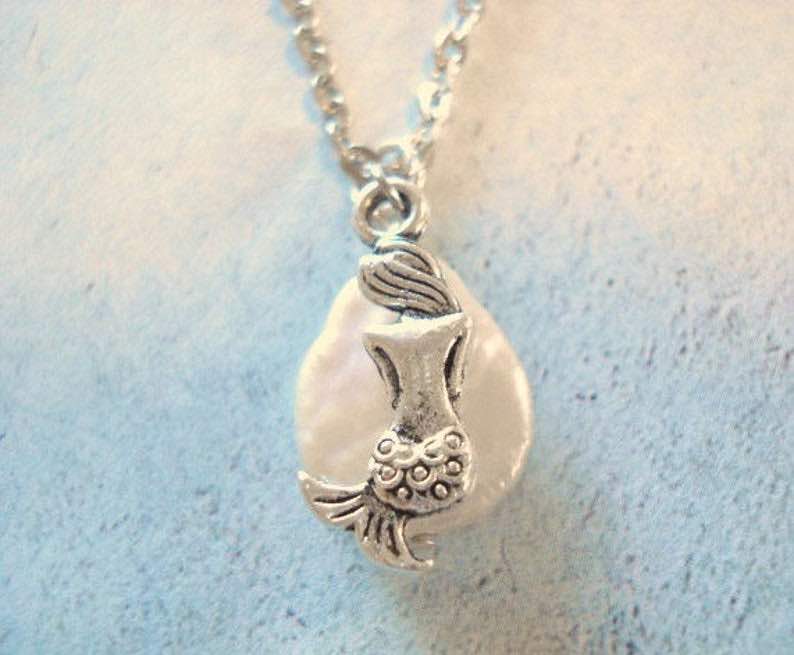 I think it's really neat how this coin pearl mermaid necklace has combined a fairly common mermaid motif with a rough pearl teardrop to produce something much more than the sum of its parts.s

All 925 Sterling Silver Mermaid Outline Charm
What a wonderful outline of sterling silver for this one!

Handmade Sterling Silver Mermaid Necklace
There's a lot that I like about this handmade sterling silver mermaid necklace. First, I really like the small smile on this mermaid's face as she stares longingly into the distance. I also really like the layered look of it — for instance, notice how the mermaid's hair flows in multiple directions on multiple planes. This is fantastic craftsmanship.

Topaz, Silver, Indonesian Cow Bone Dancing Mermaid Necklace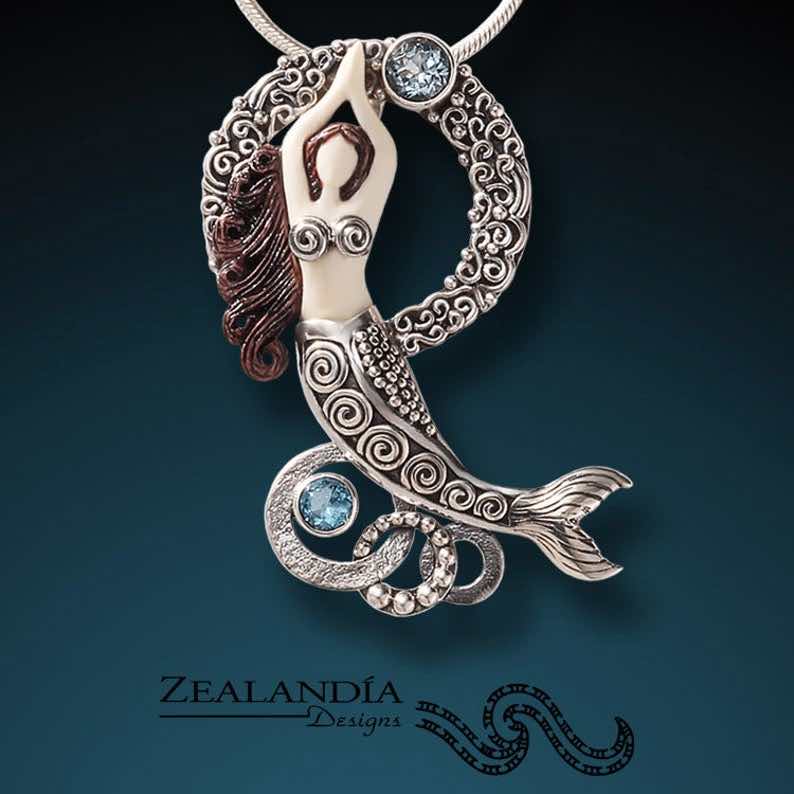 This mermaid features a wonderful combination of media, from the carved cow bone of the body, to the sterling silver of the tail and wreath, and then there is the topaz floating beautifully nearby.

The Daughter of the Sea, Green Mermaid Pendant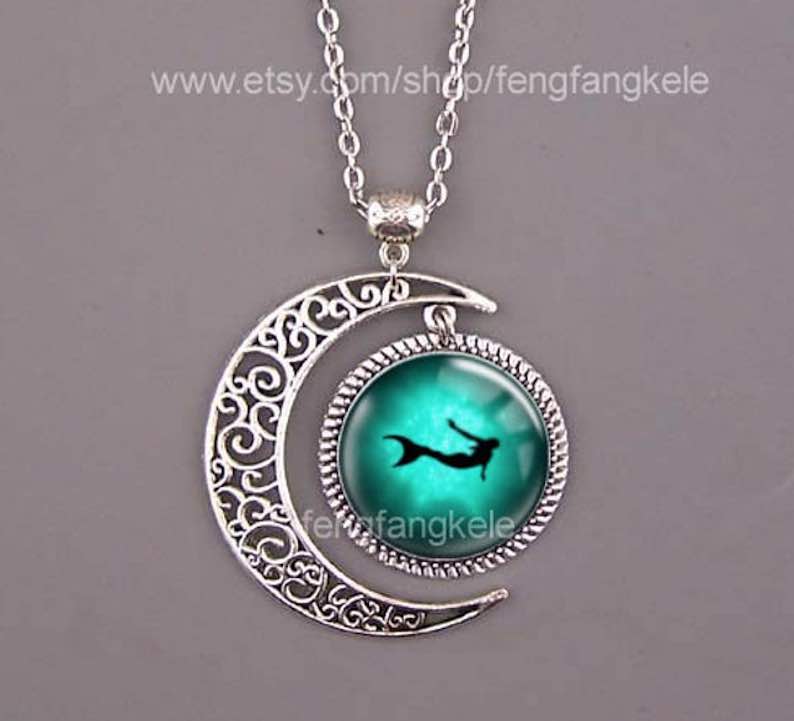 The combination of the silver carved moon with the painted green stone really drew me in on this one.
Sea Glass Mermaid Necklaces

Artisan Crafted Blue Sea Glass Mermaid Necklace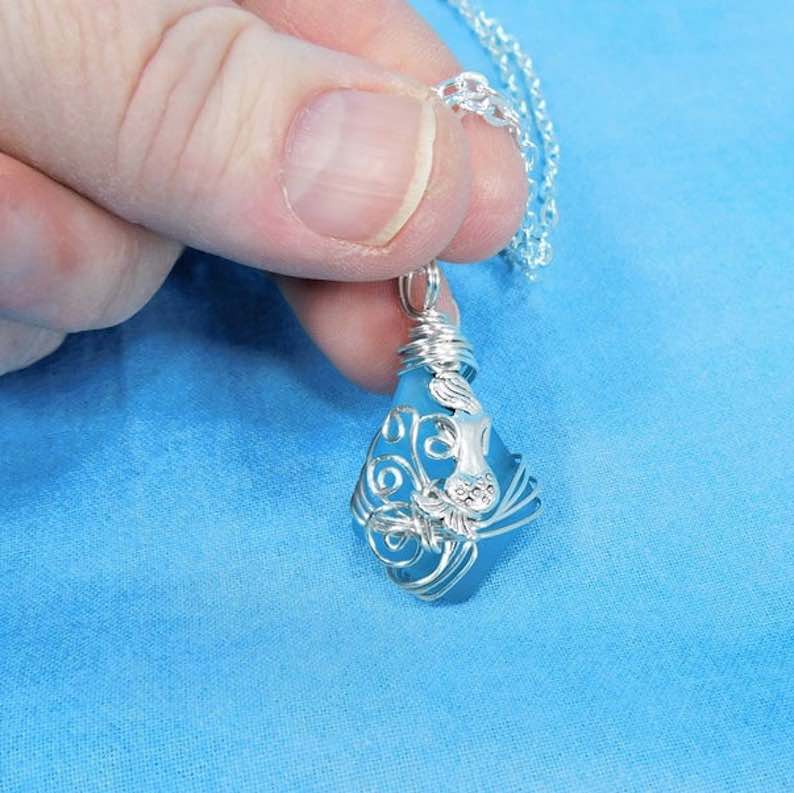 If you've spent much time on the Seashell Madness website, it's obvious to you that I am a big fan of sea glass. So I was thrilled to find that there are quite a few jewelry designs which combine sea glass and mermaids. I find this design, with its delicate swirls of silver, to be absolutely beautiful. Especially knowing that each piece of sea glass is uniquely shaped and that silver adornments need to be hand-wrapped. Simply beautiful.

Mermaid with Sea Glass Necklace
t a lovely way to go here: we've got a standard mermaid charm mounted simply on a piece of sea glass. And the effect is wonderful

Hand Painted Sea Glass Mermaid Necklaces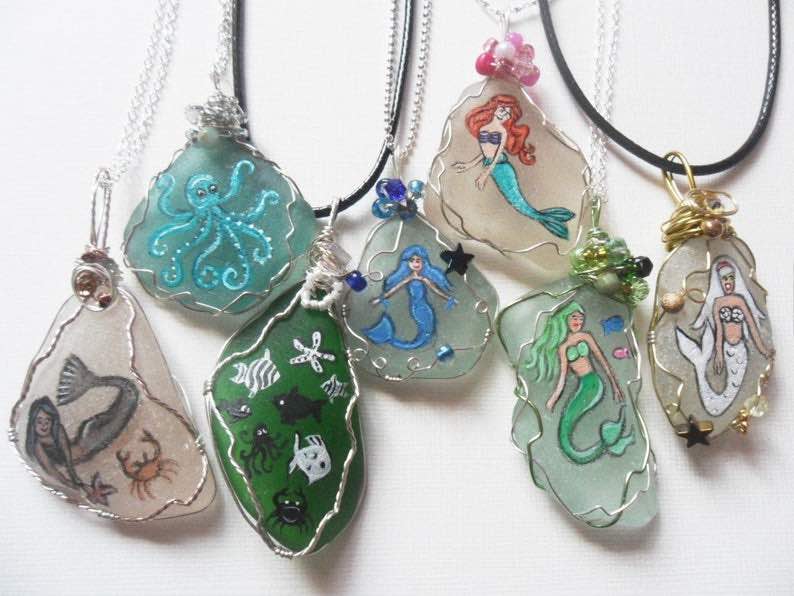 I am always in awe when artists create tiny paintings. Painting on the small scale requires a special degree of talent. And it is really amazing the details of the different mermaids painted on small pieces of sea glass.

Gold Mermaid Necklaces
Tiny Rose Gold Mermaid Necklace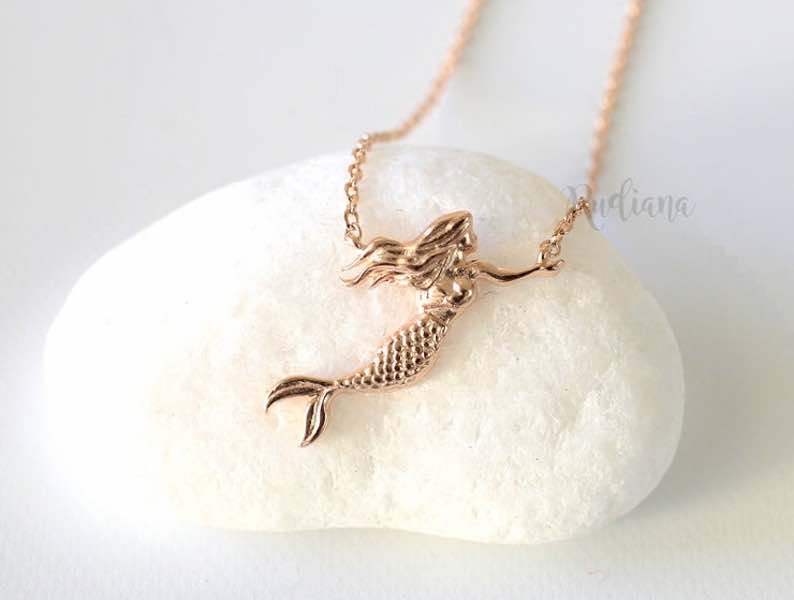 And there she goes… the gold, swimming mermaid.

Mermaid Toggle Necklace – Gold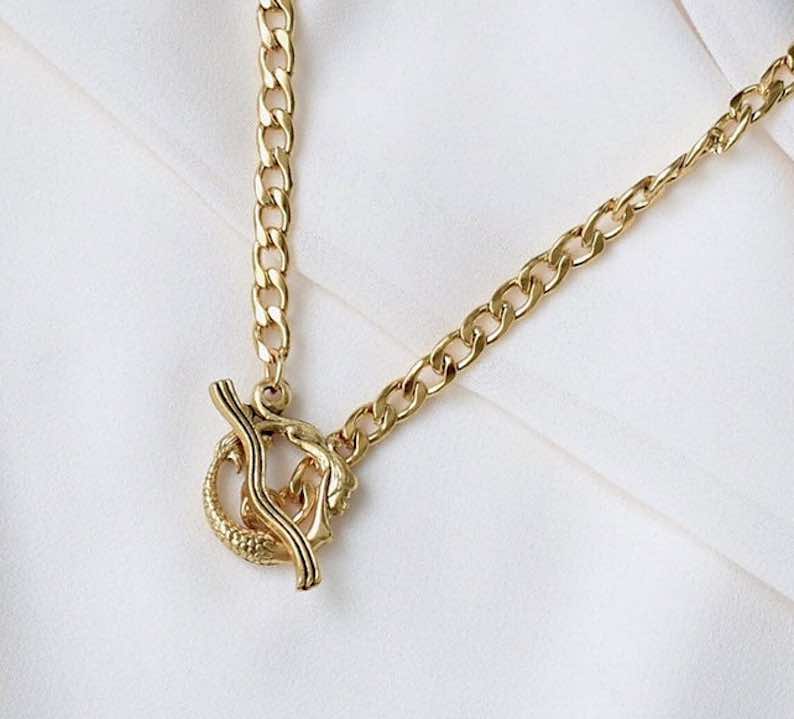 I always love a unique take on a design, and this mermaid toggle necklace sure has a unique design. I think it's lovely how the mermaid is in a swirling circular pose, as she seems to be breaking the surface of the water in her acrobatics.

Gold Mermaid Pendant Necklace
Another embossed mermaid, but this time in gold. It's great how the softness of the metal lends itself to a rough shape.

Gold Mermaid Charm Necklace
This wonderful gold charm necklace featuring a contemplative mermaid really drew me in.

Gold Enamel Swimming Mermaid Necklace
What a great color combo on this swimming mermaid necklace. I love how the gentle blues of the body contrast with the golds of her face and arms and the burgundy of her hair.

Gold Enameled Rhinestone Mermaid Necklace<
Add a little bling to your mermaid necklace. This one, with gold and rhinestones, is about as glittery as you can get. And glittery definitely works for mermaids, in my opinion.

The Queen of the Ocean
Okay, so at $3,000 this one is probably out of the budget for most folks reading this article. But I had to include it because it is so amazingly beautiful. What a wonderful look to this one, which uses gold and diamonds to depict the queen of the ocean. An absolutely stunning piece.

Antique Gold Mermaid Pendant
How wonderful is this gold mermaid pendant? I love it!

Glass & Gold Mermaid Necklace
This glass and gold mermaid necklace is a locket-type design with a great mermaid painting accentuated by its gold container.

Girls' Mermaid Necklaces
Girl's Mermaid Tail & Pearl Necklace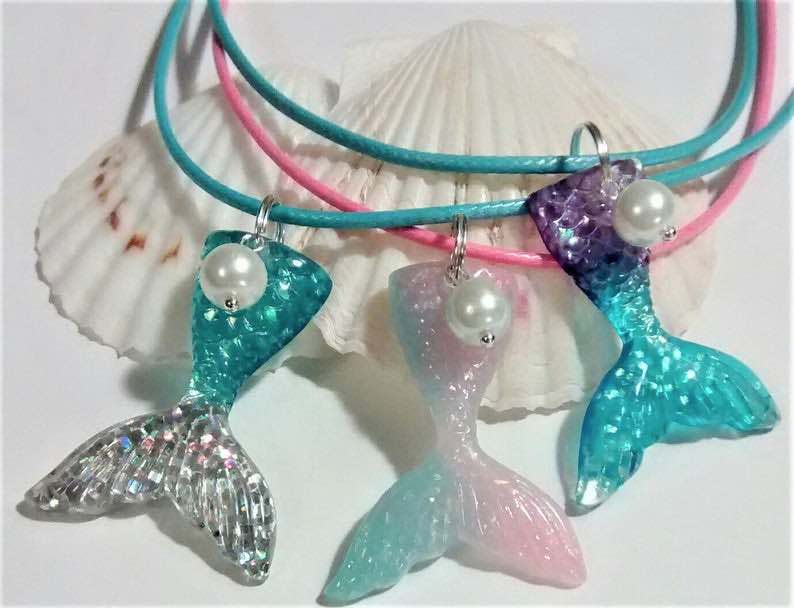 Color and pearls and mermaid tails!

Little Girl's Mermaid Necklace
I think that these little girl mermaids are just the cutest things. Made out of felt, so they're not only cute, but lightweight as well! Oh, and did I mention that they're cute?

Mermaid Hand-Painted Wood Bead Necklace
I love the simplicity of this one. That an artist can take a few wooden beads, paint them and then come up with something like this, makes me smile every time.

Purple and Bronze Polymer Clay Mermaid Necklace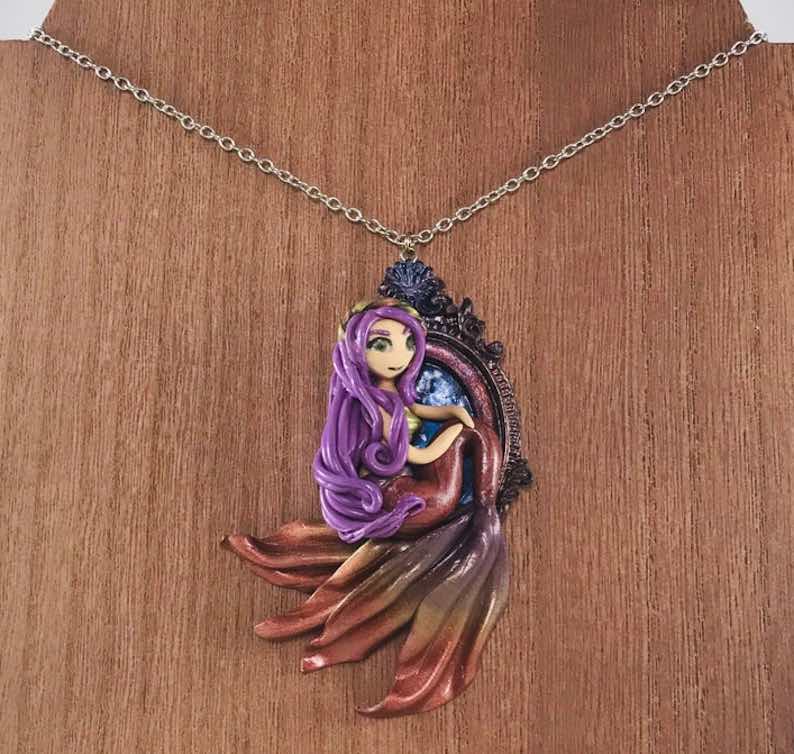 There's a lot of detail going on with this purple and bronze clay mermaid. First the sculpted design is wonderful — I especially like the flowing feel of that full tail — but in addition, it is then painted in such a delicate way. Plus, you've gotta love the purple hair!

Mother Of Pearl Girl's Mermaid Necklace<
Mother of pearl makes for wonderfully simple jewelry and I think it's great the way that this tiny mermaid has been integrated along with the mother of pearl to make a great necklace.

Miniature Mermaid Necklace in Resin
Something about this mermaid in resin makes me think of a magic charm. Perhaps unlocking the secrets of the ocean?

Clay Doll Figurines Mermaid Necklace
Another wonderfully sculpted clay figurine of a mermaid. With wonderful coloring making it a great mermaid necklace.

Mermaid Cats Aquapurr Necklaces
Once again: cat mermaids, there's just something about them.
Mermaid Tail Necklaces

Pink and Gold Sparkly Resin Mermaid Tail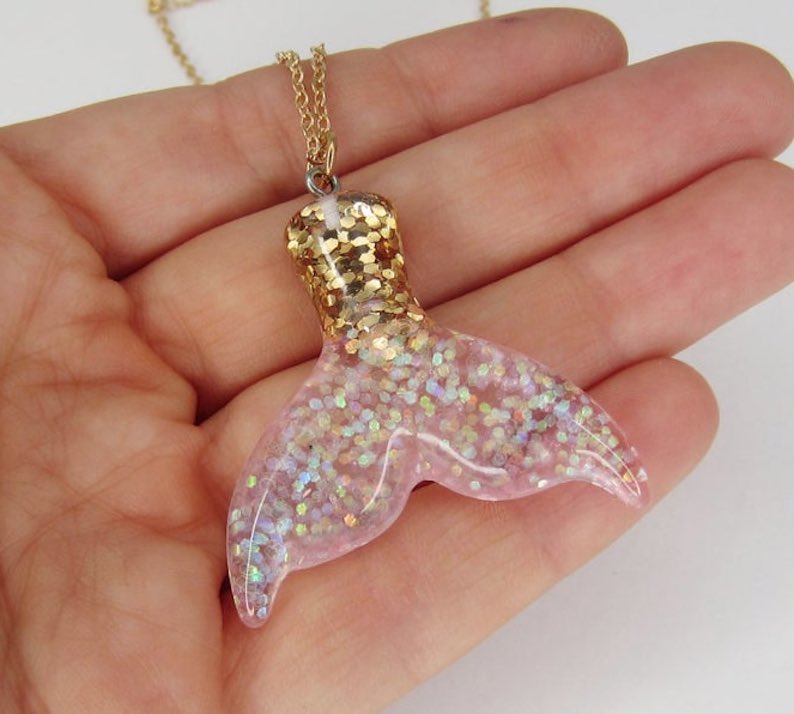 Sparkly resin seems very fitting for a mermaid tail, does it not?

Mermaid Tail Cord Necklaces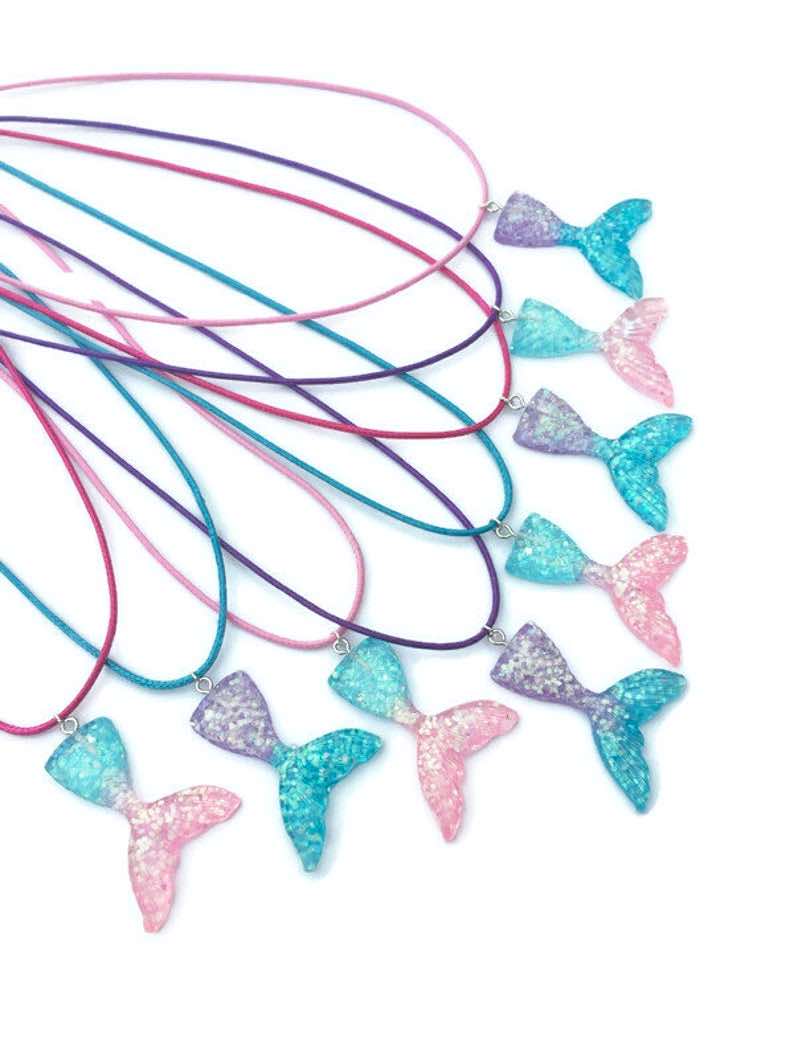 What fun colors on these mermaid tail cord necklaces. A very simple design, with a bubbly look and a basic cord to hang them from.

Clear Resin Mermaid's Tail Necklace
I suppose that these are for arctic mermaids, as they look like they're made of ice.

Mermaid Tail Necklace
As has been noted on other pages of this site, I'm a big fan of purple. So when I saw these purple mermaid tail necklaces I was on board at once.

Vintage Spoon Mermaid Necklace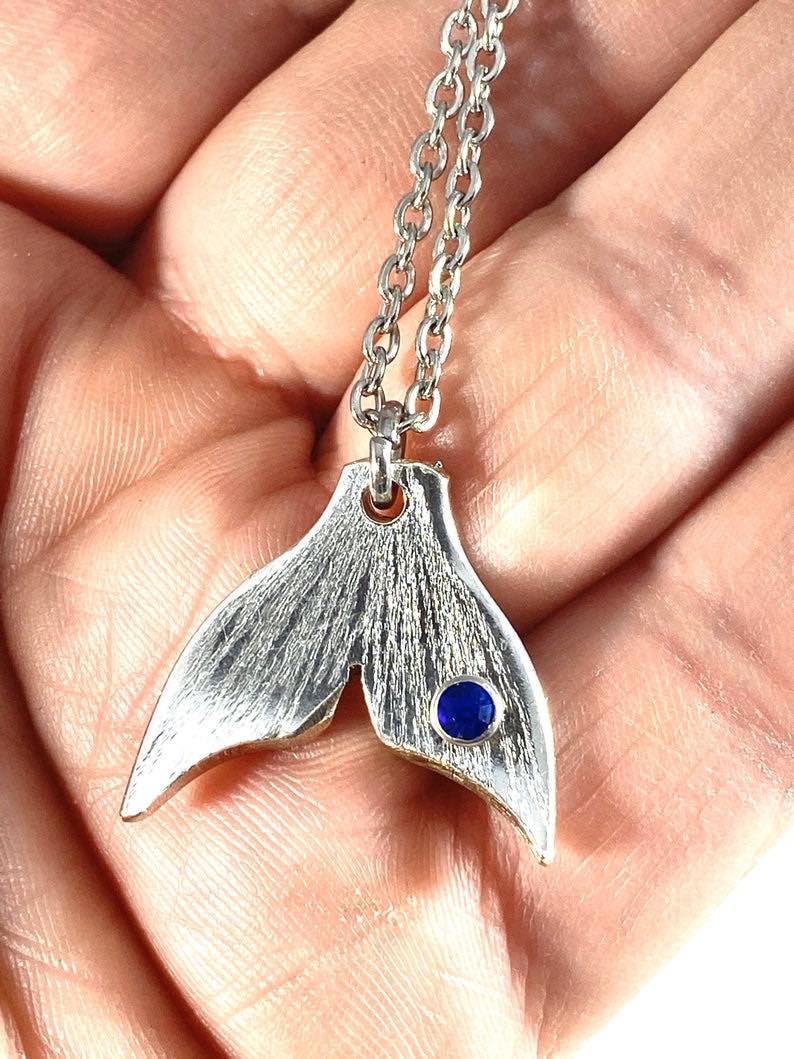 The antique look of this vintage spoon mermaid necklace really draws me in. I love the soft etching details on the flippers!

Mermaid Tail 14k Solid Yellow Gold Pendant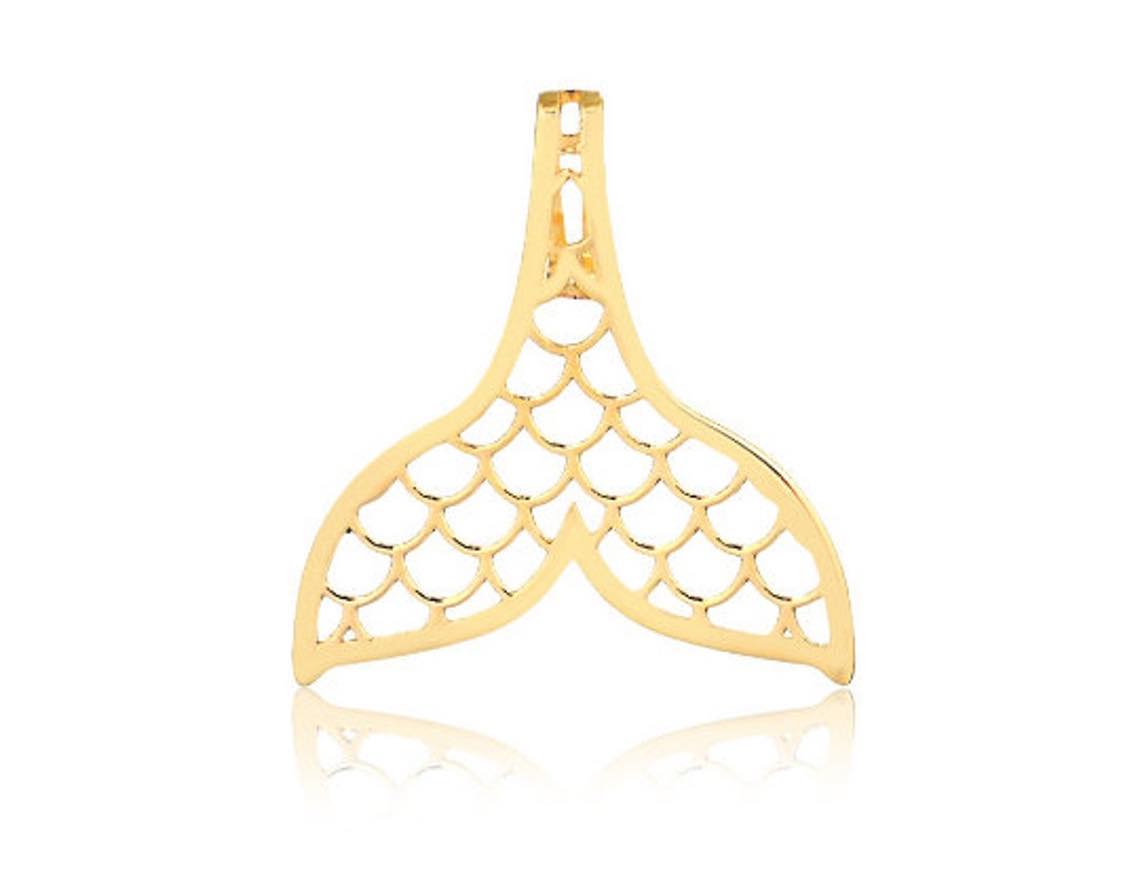 A nice outline of a mermaid tail — and this one done in 14k yellow gold. This makes for an amazing pendant and would work well for any mermaid lover.

Mermaid Tail Necklace or Choker
The unique colors of the fins really struck me with this particular mermaid tail necklace. Definitely a boho sort of feel with this one.

Vintage Art Mermaid Necklaces
The Mermaid's Pearl Pendant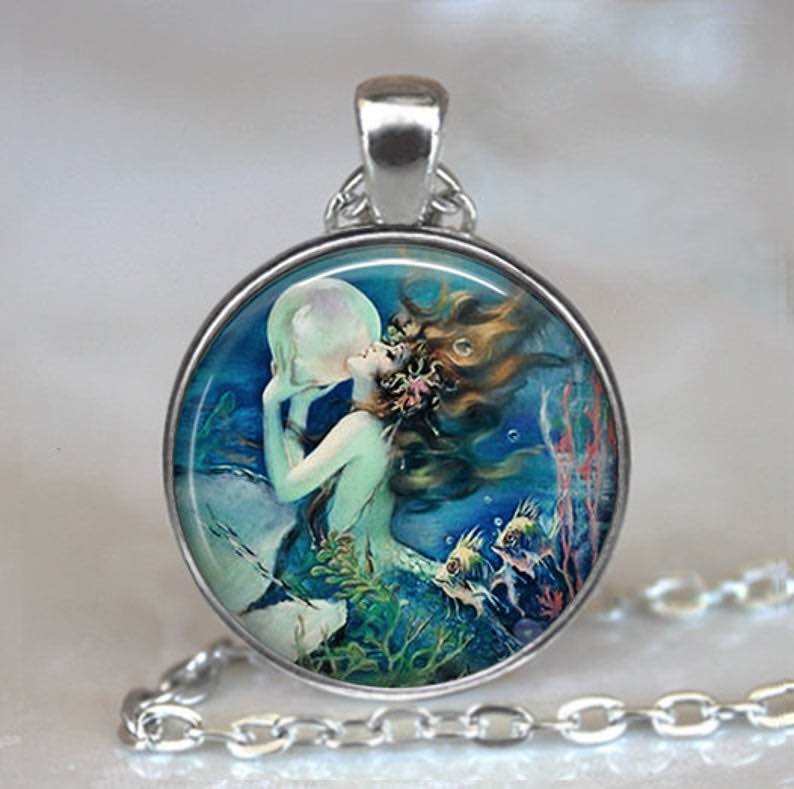 I love this sort of vintage artwork. It's a wonderful style. Just check out the details of this amazing mermaid painting as the mermaid admires her pearl. And mounted on sterling silver really makes it work.

Vintage Art Mermaid Necklace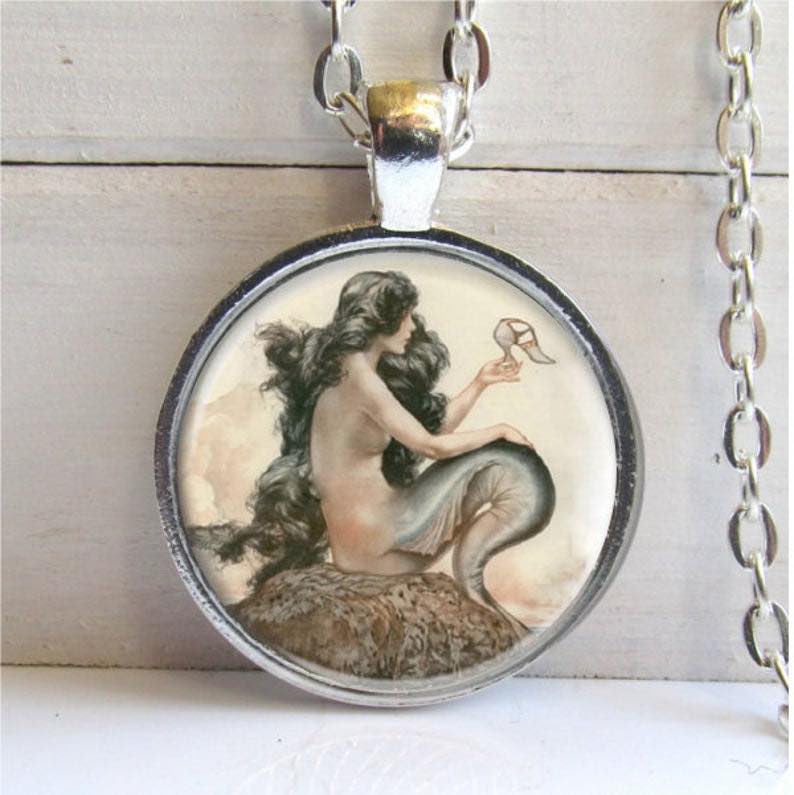 Back in the early 1900s, the art decco movement made its way into the common culture. In a way, I wish that I had been around at that time when even advertisements used beautiful painted images like this one on everything.

Steampunk Anchor & Waiting Mermaid Necklace
What a great combo: an anchor and a mermaid.

Fairytale Mermaid Pendant
This fairytale mermaid pendant shows off a classic illustration style that is, unfortunately, a lost art today. Well, wait, we found it here, didn't we? So I guess it's not a completely lost art, but I would love to see more of it.

Black and White Mermaid Pendant
I'm really intrigued by the way that the gold framing of the pendant housing really makes this black and white mermaid portrait pop.

Sea Beach Undersea Mermaid Charm Pendant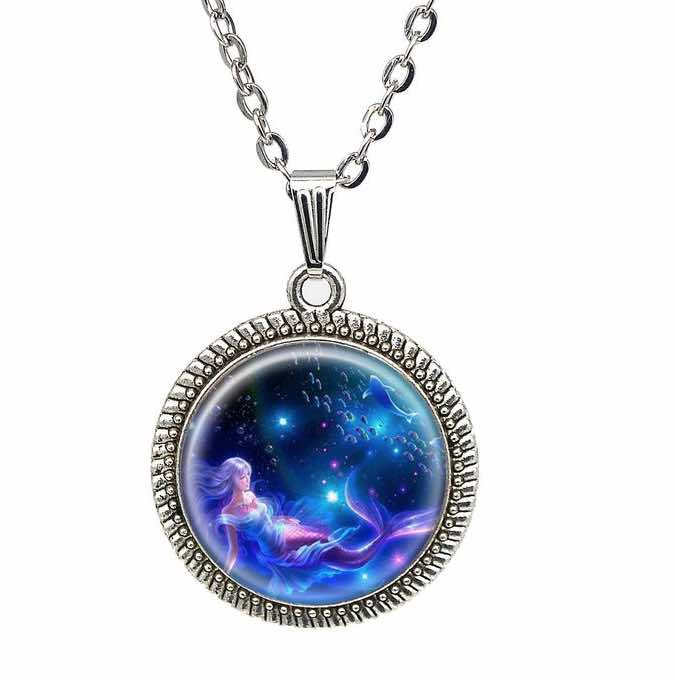 The colors on this one! The colors!

Classical Painting Mermaid Pendant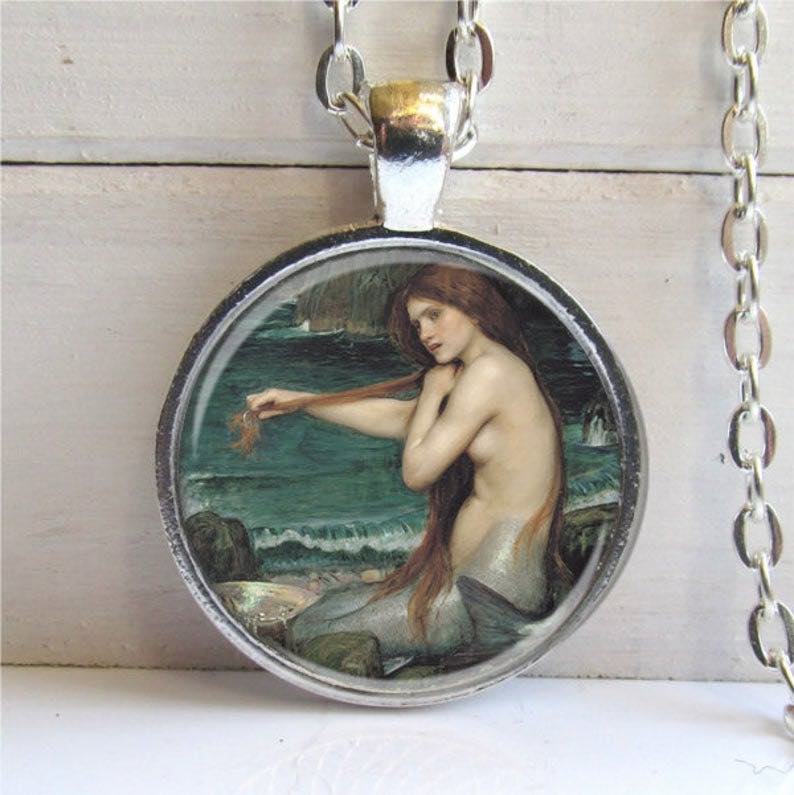 I love the overall feel of this classical painting mermaid pendant. Just look at the detail of this painting with the waves crashing on the shore and the mermaid brushing out her long and lovely hair. What a piece of art! And also mounted in a pendant.

Mermaid and Child Pendant
This mermaid and child pendant is just a heartwarming little scene. I love the expression on the baby mermaid's face as she cuddles up next to her mother's arm.

Mermaid and Pearl Art Nouveau Pendant
PRODUCTDESCRIPTION

Baby and Mermaid Pendant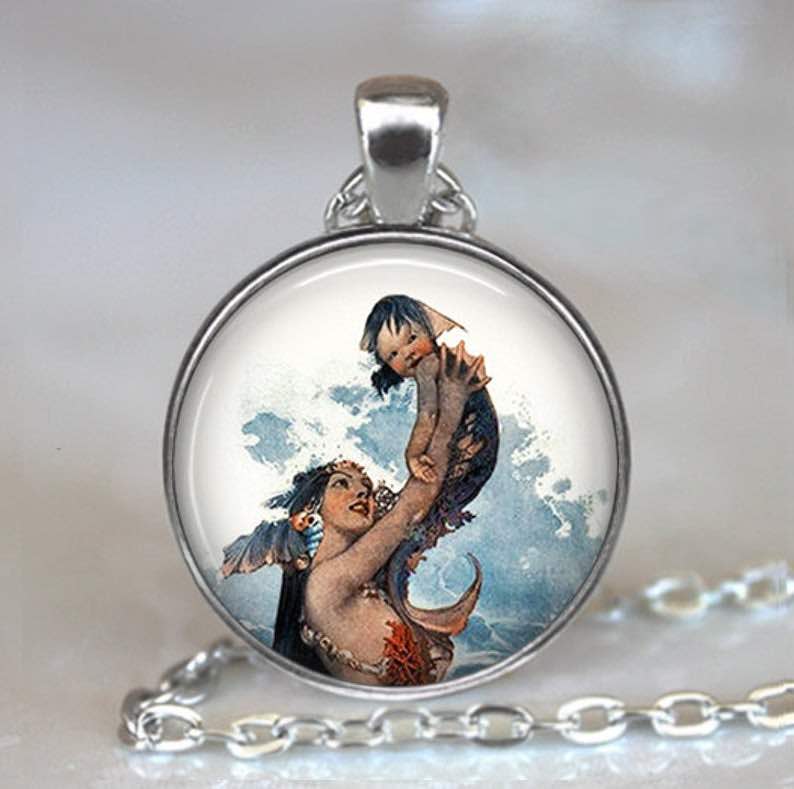 Look at the pure joy expressed in this wonderful painting of a mother mermaid and her baby.

Mermaid Cameo Necklaces & Lockets
Mermaid Cameo Necklace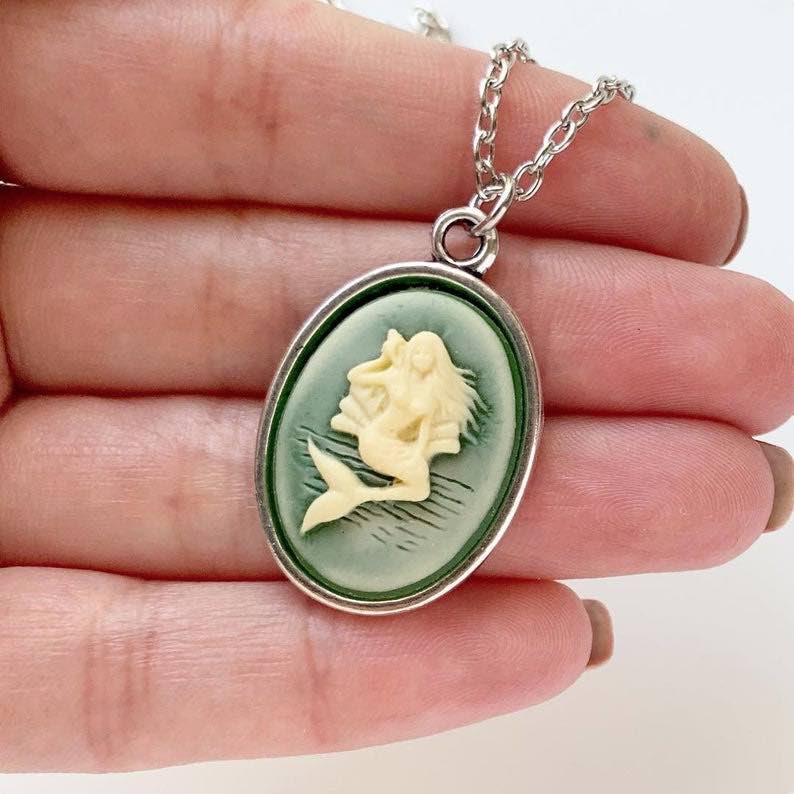 There's a classic feel to this mermaid cameo necklace that I find really appealling.

Mermaid Locket Made Of Sterling Silver
Wonderful and intricate detail on this sterling silver mermaid locket. Look at that expression of joy as she frolics with the other ocean creatures amongst the reef.

Mermaid Locket Cameo Necklace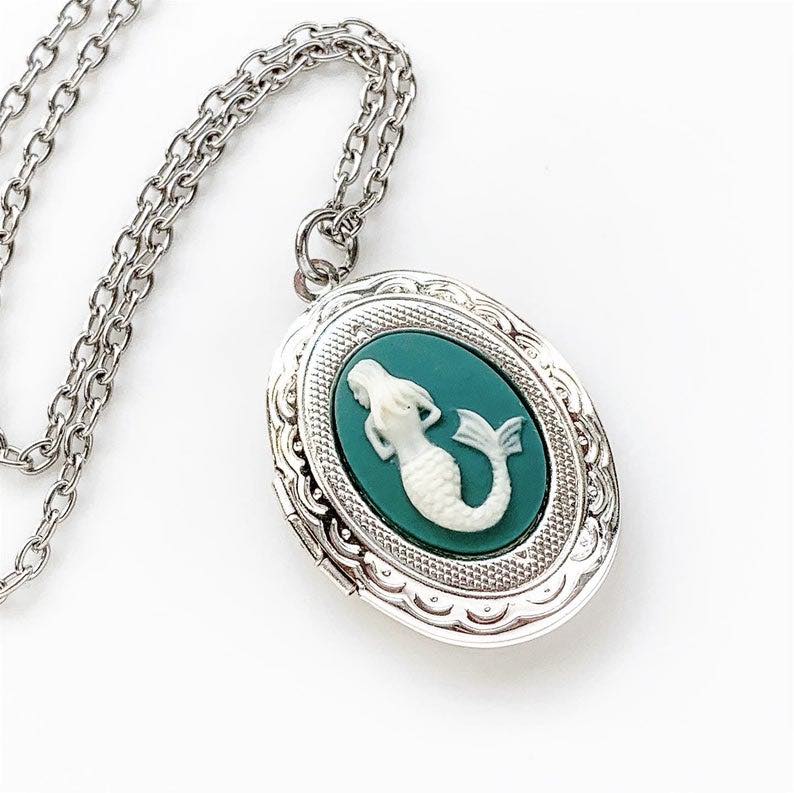 A classic cameo locket.

Nautical Mermaid Sea Siren Cameo
The unique and intricate details on this cameo really caught my eye. And the fine details are not just on the mermaid (though this depiction of her in her shell with long flowing hair does contain wonderful detail) the locket part is ornately detailed with fine flowing lines reminiscent of the sea.

Lilac and Ivory Cameo Mermaid Necklace
This cameo is created in the Victorian style, with the look of lilac and ivory.

Mermaid Resin Necklaces
Blue Mermaid Necklace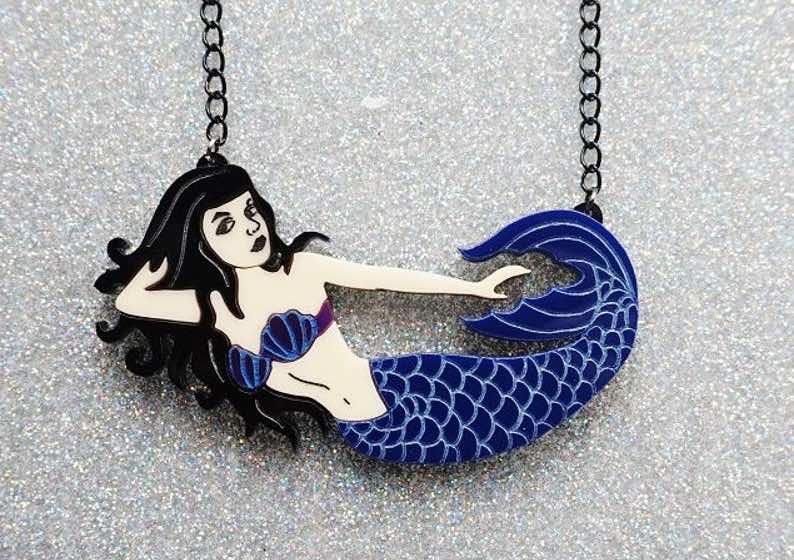 You've gotta love the attitude of the mermaid on this blue mermaid necklace. Just try dumping anything into her ocean, I dare ya!

Flameworked Glass Mermaid Necklace
This little flameworked glass mermaid just flows, doesn't she? I love how well-realized this mermaid is in three dimensions, and I'm especially fond of the way that it is mounted on the necklace strand by working through a curl in her flowing hair.

Huge Green Acrylic Mermaid Pendant
A simple silhouette in acrylic, but very effective.

Flameworked Glass Dolphin with Mermaid Necklace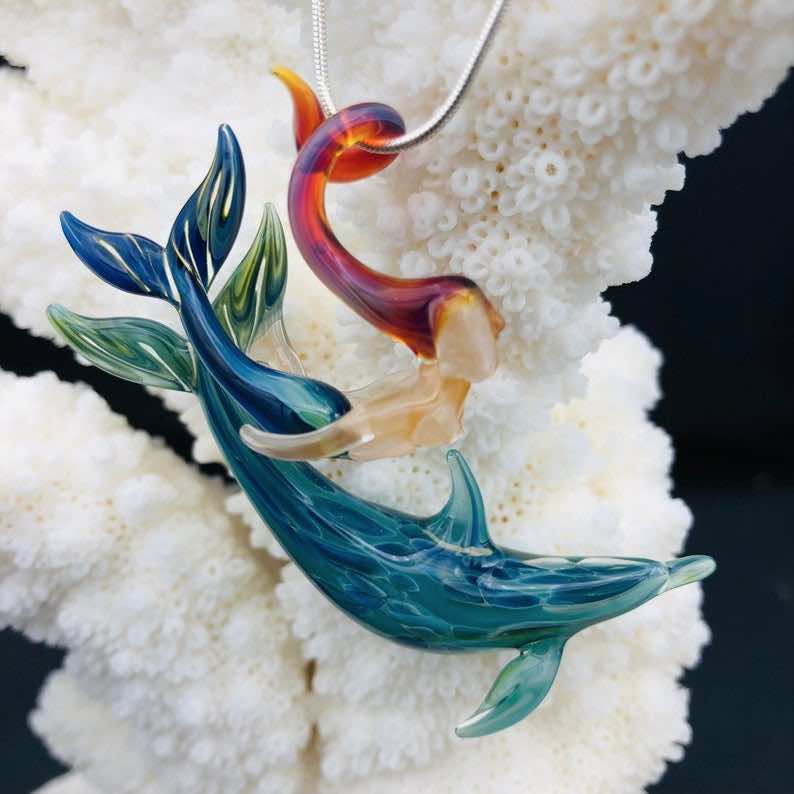 I liked the flameworked mermaid so much that I've also included another version wherein that lovely lady is swimming with an equally lovely dolphin.

Laser Cut Black Acrylic Plastic Mermaid Necklace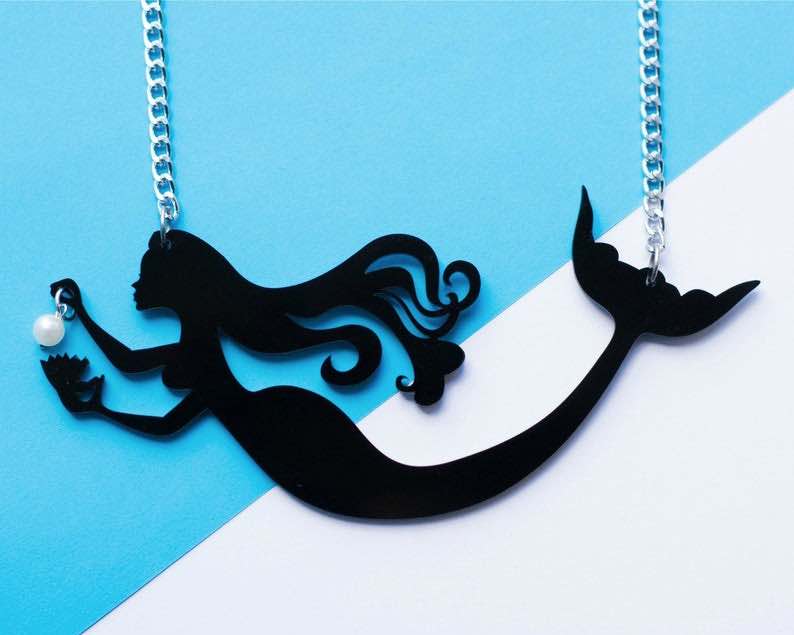 A simple silhouette, highlighted with a pearl. Really works for me.
Wooden Mermaid Necklaces

Natural Wood and Inside 3D Little Mermaid Necklace
This natural wood necklace was one of those pieces that made me do a double take. Just look at the intricate detail of this little scene of a mermaid with her harp, sweetly serenading on the seashore. Amazing detail. Beautiful design.

Handmade, Carved Wooden Mermaid Pendant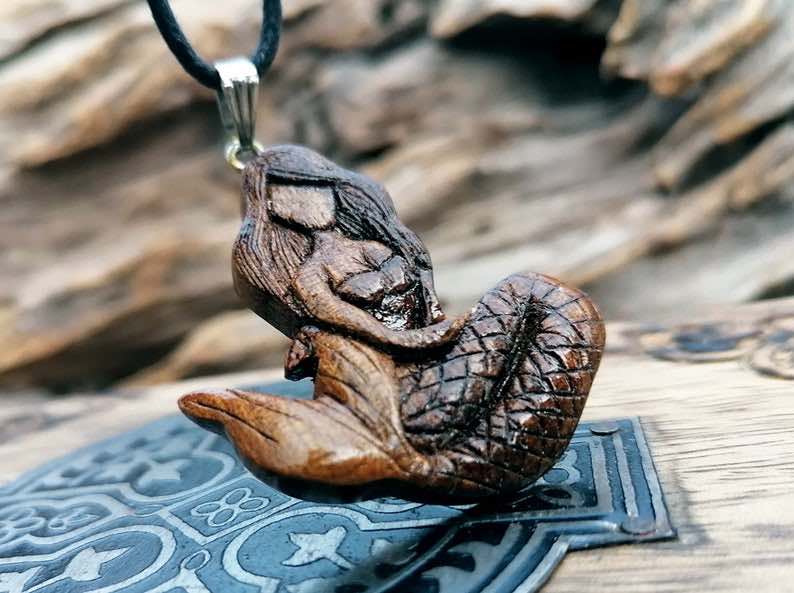 >Hand carving can be a pretty tricky thing to pull off. Especially when including details into your carving. I love the way that this mermaid's hair flows. And the way that the wood has been stained using different colors for the different areas of her body just really adds to the beauty of it for me.

Wire Wrapped Mermaid Statement Necklace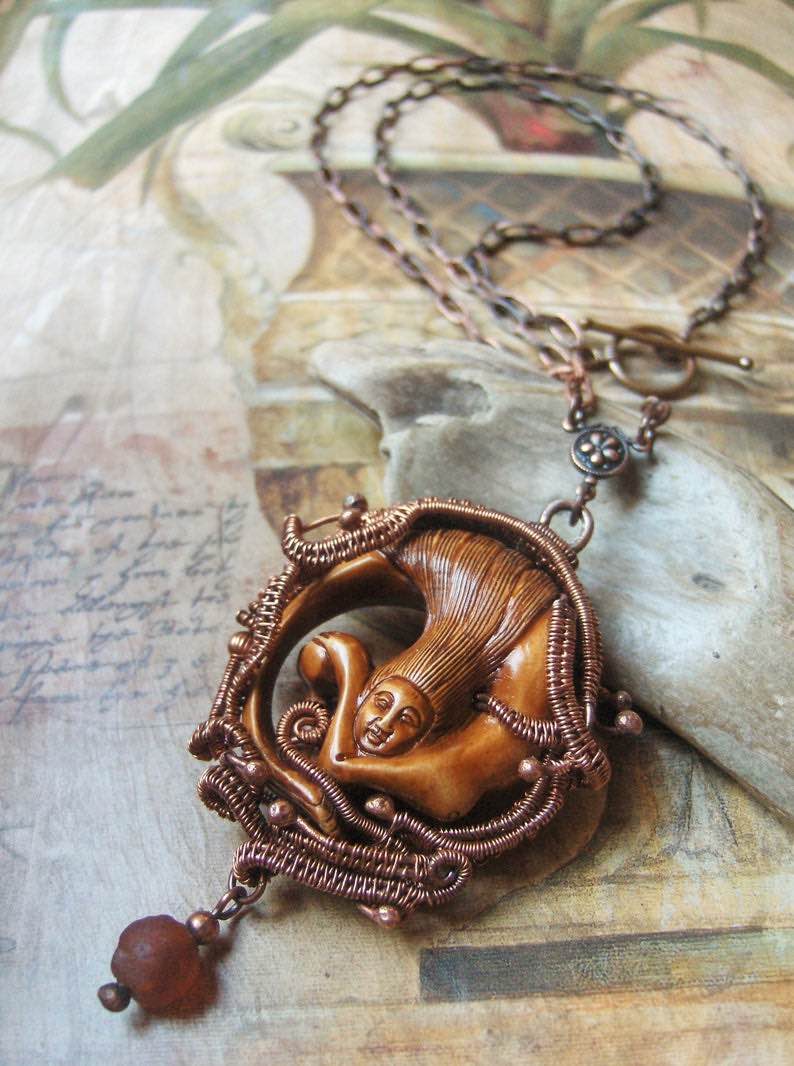 What a wonderful mix of media here on this wire wrapped mermaid statement necklace. I think it's wonderful how this gentle and intricate wire wrapping weaves around this diving mermaid.

Hawaiian Mermaid Choker Necklace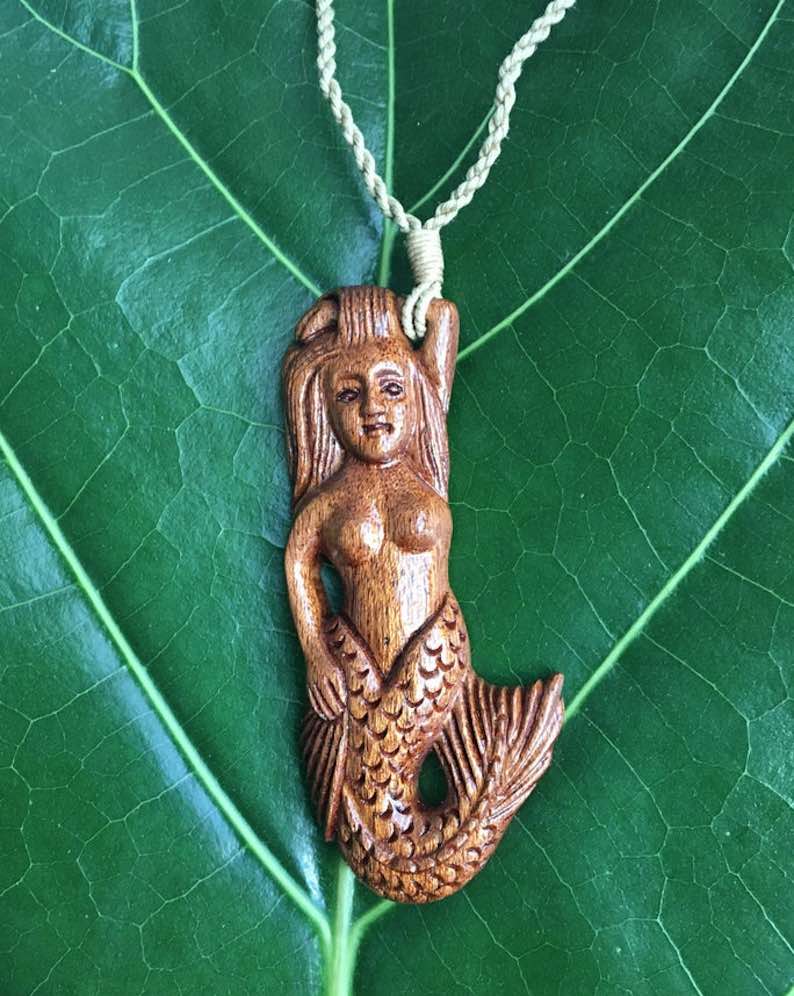 You can definitely see the Hawaiian influence on this carved wood choker necklace.

Other Mermaid Necklaces
Intricate Mermaid Necklace and Pendant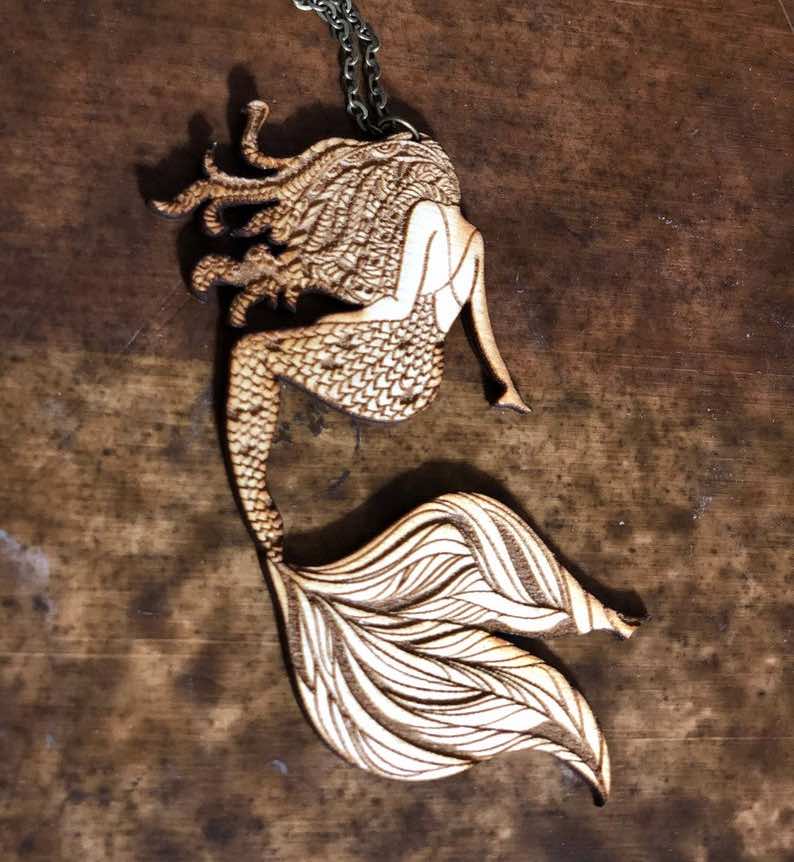 I wasn't sure where to put this intricate mermaid necklace and pendant, but I knew it had to be here somewhere. I believe that this mermaid is my favorite of the bunch. Just look at the fine lines of her flowing hair and tail. Truly spectacular.

Wire-wrapped Handmade Mermaid Necklace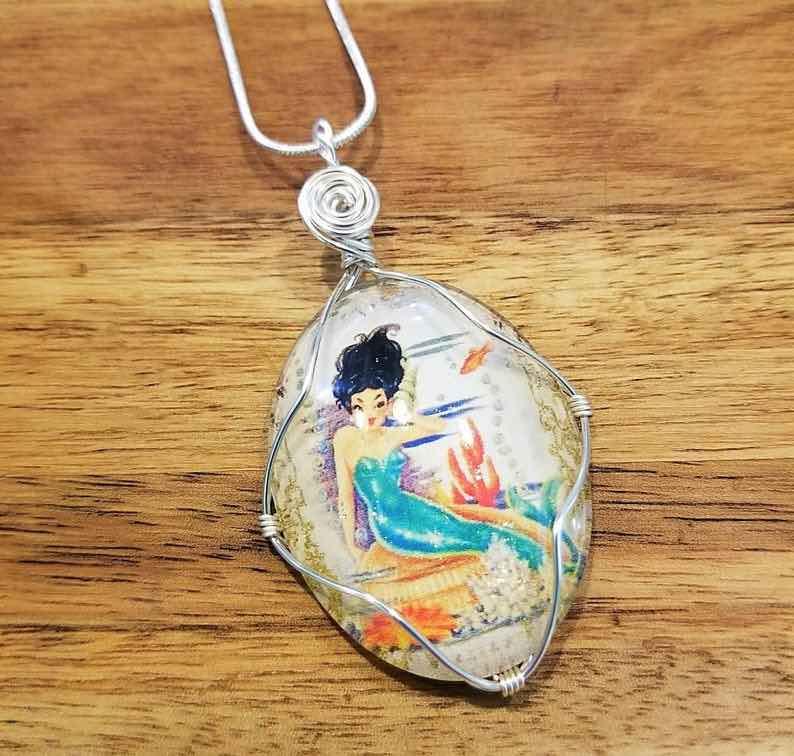 Wonderful wire wrapping surrounds this colorful portrait of a mermaid.

Mermaid Necklace – Sparkling Sand in Corked Bottle
So, not really a mermaid necklace, technically. But come on, how cool is it to have a small bottle of mermaid magic sparkles hanging about your neck? Very cool!

Blue Green Mermaid Necklace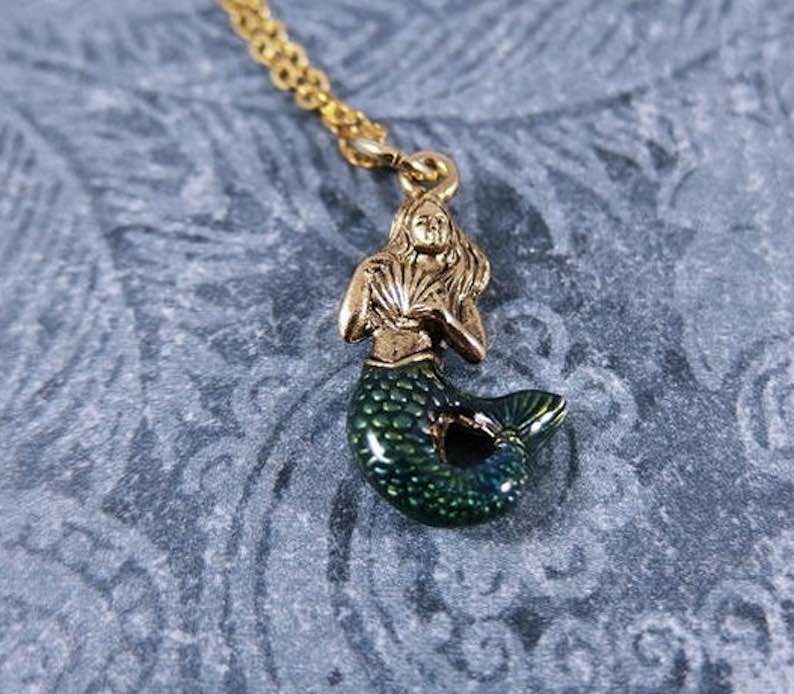 Wonderful contrast here between the blues of the mermaid's tail and the gold of her body.

Mermaid Necklace
I love the boho style of this one. It's a standard mermaid charm, but it has been mounted on a beautiful piece of colorful shell.

Mermaid Assemblage Necklace
Though this mermaid assemblage necklace might be a bit large for some, you've got to admit that the combination of elements makes for one beautiful piece of jewelry.

Personalized "Mergirl" Girl's Mermaid Necklace
Tell the world you're a mermaid with this personalized "mergirl" mermaid necklace.

Pewter Stamped Mermaid Necklace
Peweter stamping gives a unique and interesting look. And I'm glad that someone has used pewter stamping to create a mermaid necklace.

Blue Mermaid Charm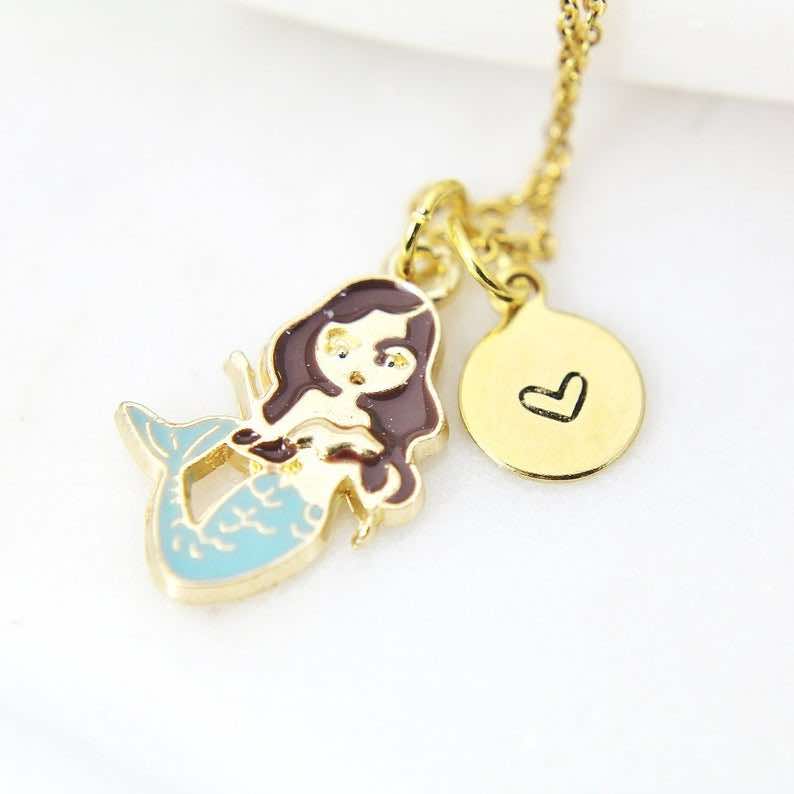 Fun!

Art Nouveau Mermaid Necklace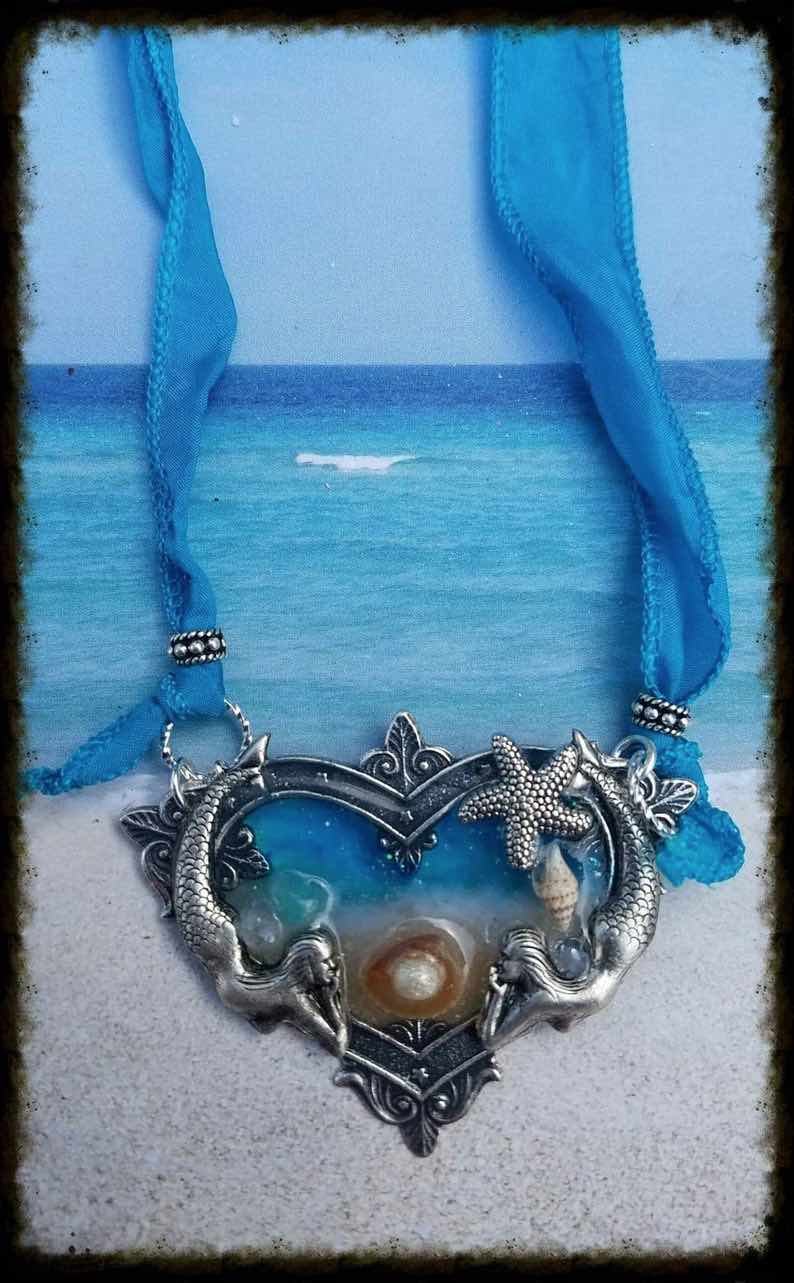 As I think I mentioned earlier, I'm a fan of art nouveau. So I'm a big fan of this art nouveau mermaid necklace. I love the combination of styles on this one. While the main focus of the piece is the two mermaids gazing into their pearl, I also love the soft blues of the ocean and sky, as well as the intricate carvings that bring the whole scene together.

Tiny Mermaid Wax Seal Pendant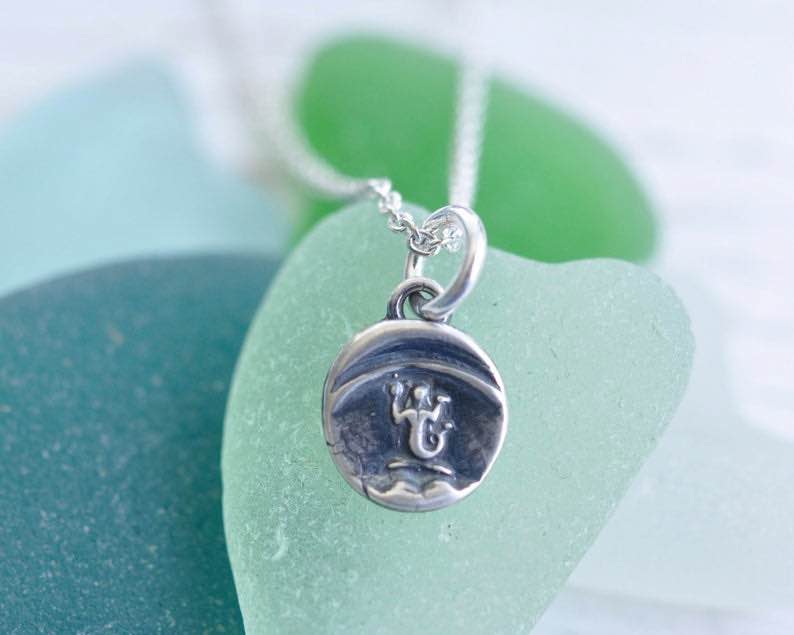 It's a tiny mermaid!

Mermaid Seashell Necklaces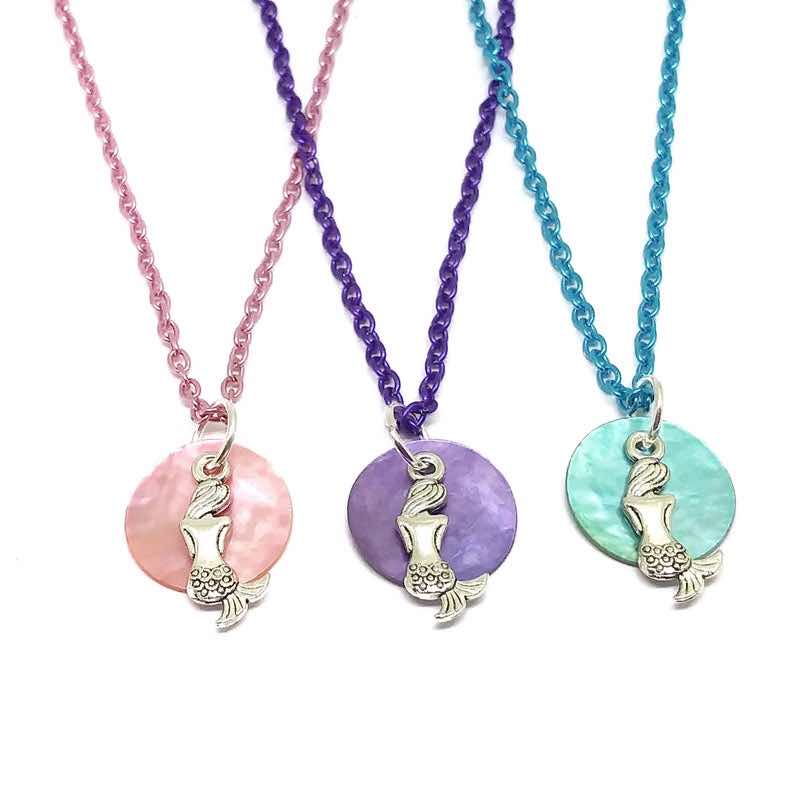 More charms mounted on shells. This makes each of these beautiful mermaid seashell necklaces unique.

Red Mermaid on a 28" Chain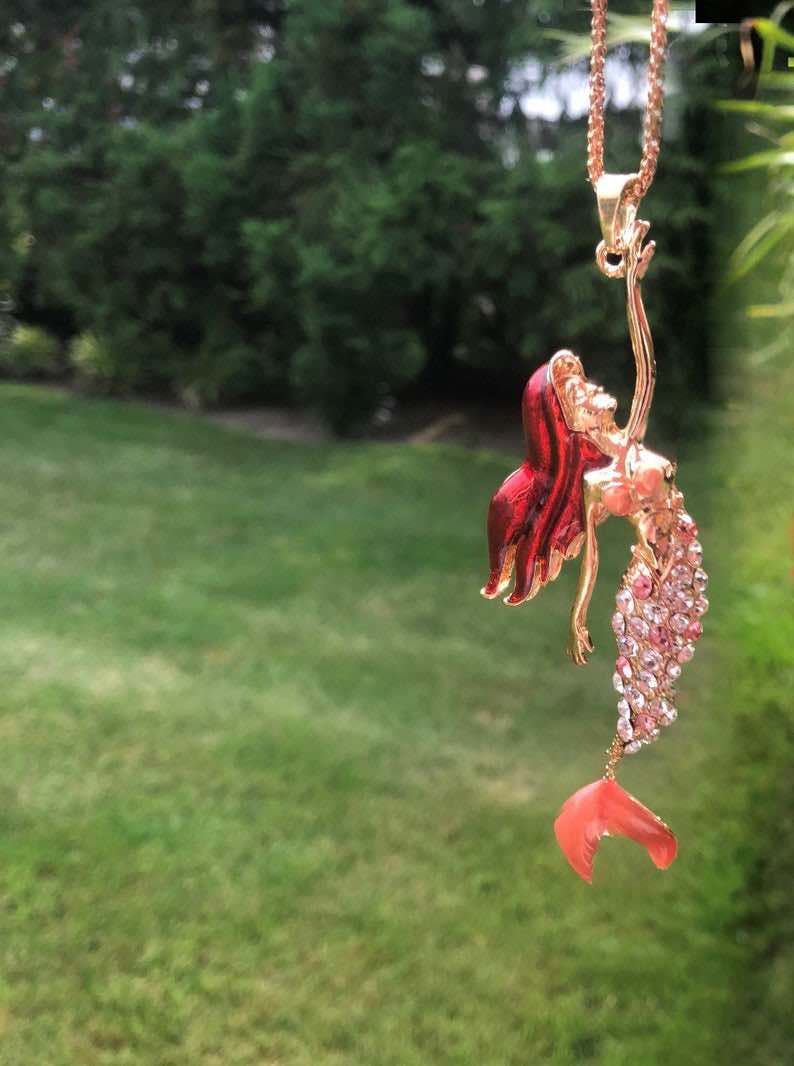 This red mermaid is shown in a wonderful pose, reaching up toward the surface of the ocean, ready to break free.

Romantic Mermaid Assemblage Necklace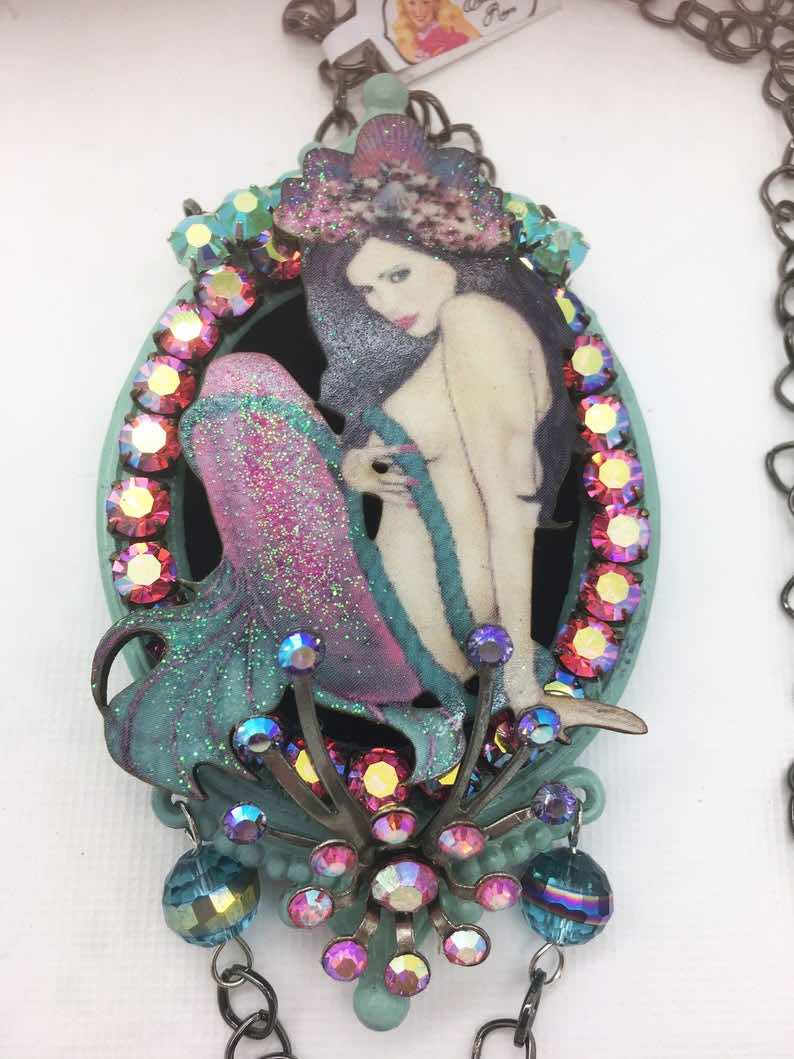 Boho to the max with this romantic mermaid assemblage necklace. I'm particularly fond of the glitter used throughout.

Diving Mermaid, Hand-Carved Pearl Necklace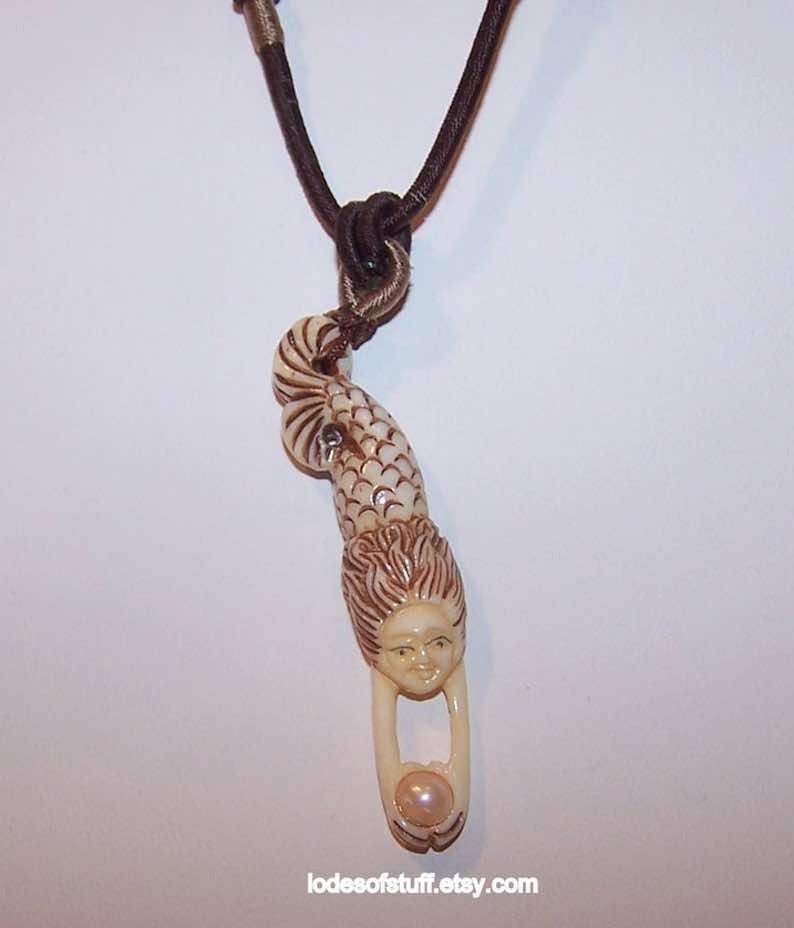 What a lovely piece of hand-carving! And this depiction of a mermaid diving with her pearl is a motif that you don't often see. And the expression of joy on this mermaid's face just makes this necklace inspirational.

Hand Stamped Mothers Mermaid Necklace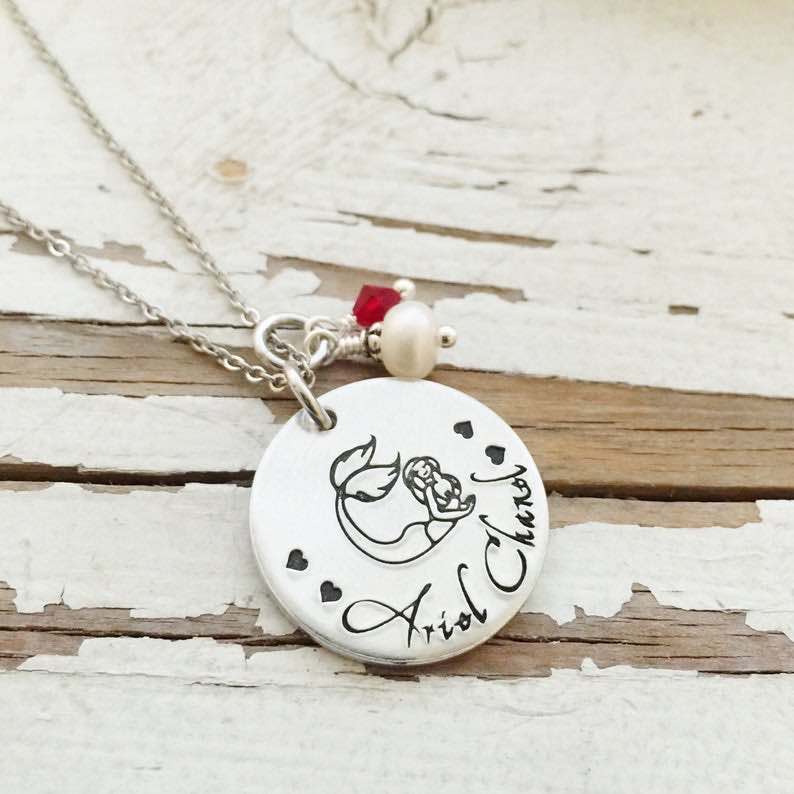 Beautiful hand stamping on this mermaid necklace.

Handmade Russian Purple Onyx "Golden Mermaid" Pendant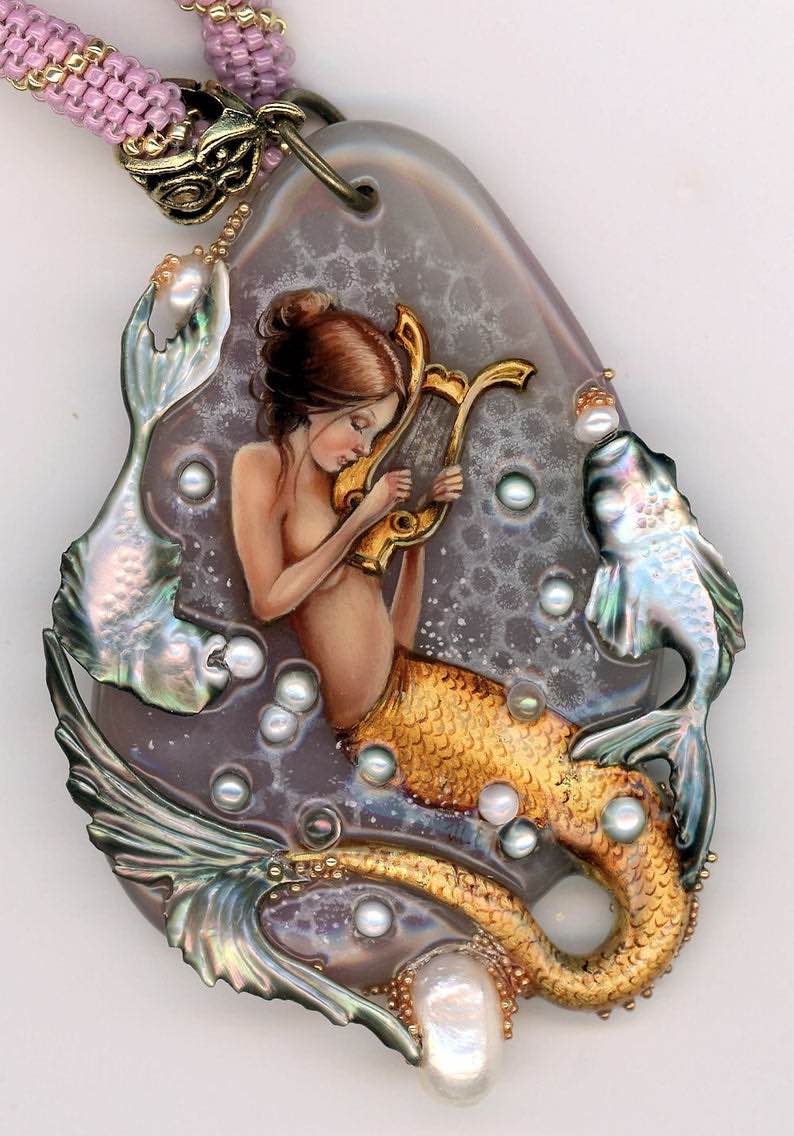 This is truly some wonderful artwork on this handmade Russian purple onyx golden mermaid pendant. The expression on her face as she strums on her harp, and the colors of the fish and the onyx. Breathtaking.

Little Mermaid Pendant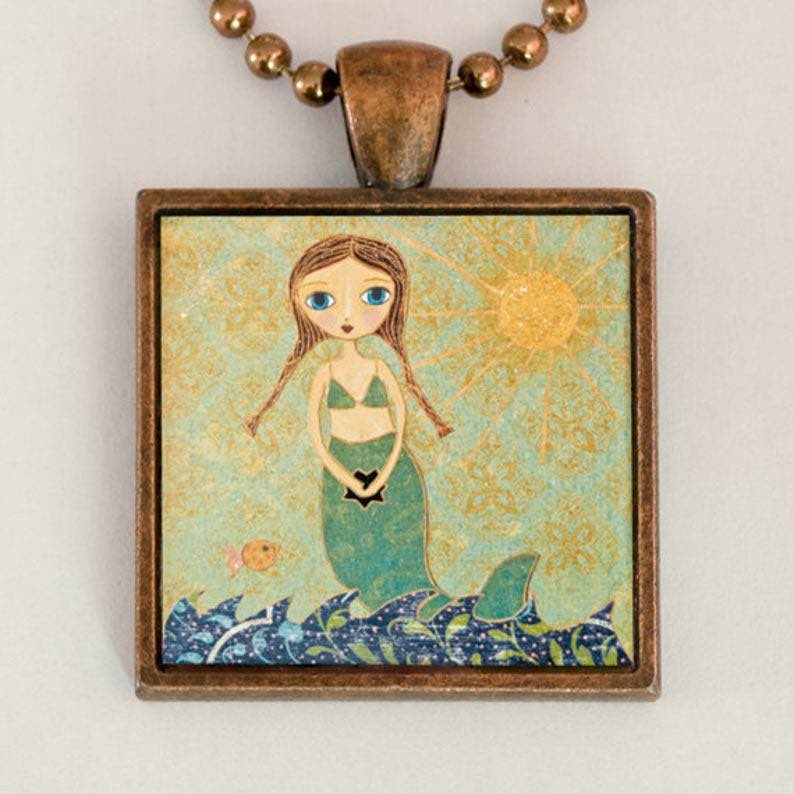 Cute. Simple. Straightforward.
Great Mermaid Necklaces
Thanks for checking out my lisgt of great mermaid necklaces. If you like this article, please share it onn your social. Thanks!
Written by Renee