Mermaid Jewelry Boxes ~ because you need a place to store all that great mermaid jewelry
Sometimes buying jewelry gets a little out of hand. So for that, you need to have a place to store and organize all of your rings and necklaces and so forth. So why not make your jewelry box a great one — a mermaid jewelry box! There are a whole lot of them out there.

Ocean Blue Mermaid Jewelry Box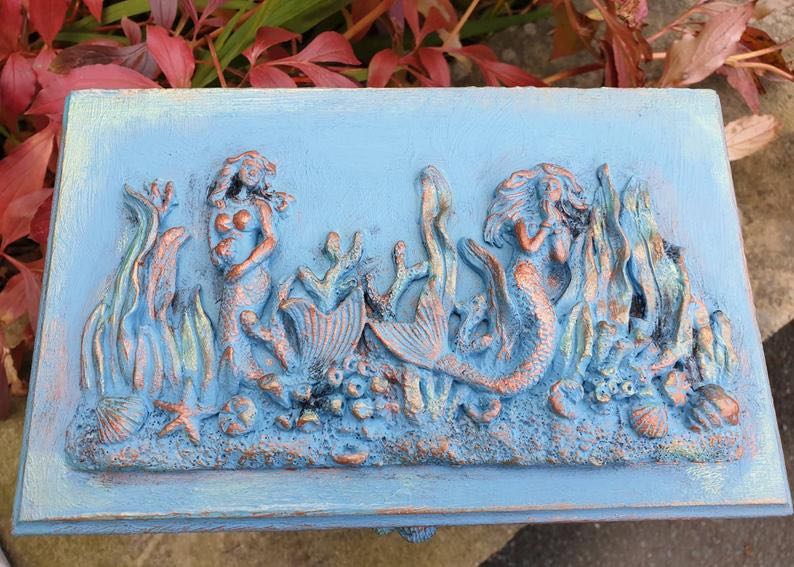 Here's a great one to start off with: Check out the great blue and bronze coloring which adds a sculpted feel atop a wooden box. And if you look carefully, you'll see lots of interesting details in both the sculpting and the painting. You can tell that it is hand-painted. And it's wonderful!
See all of our Mermaids Pages:
Mermaid Necklaces • Mermaid Clothing • Mermaid Earrings • Mermaid Bracelets • Mermaid Jewelry Boxes • Mermaid Art • Mermaid Rings • All Things Mermaid

Mermaid Musical Jewelry Box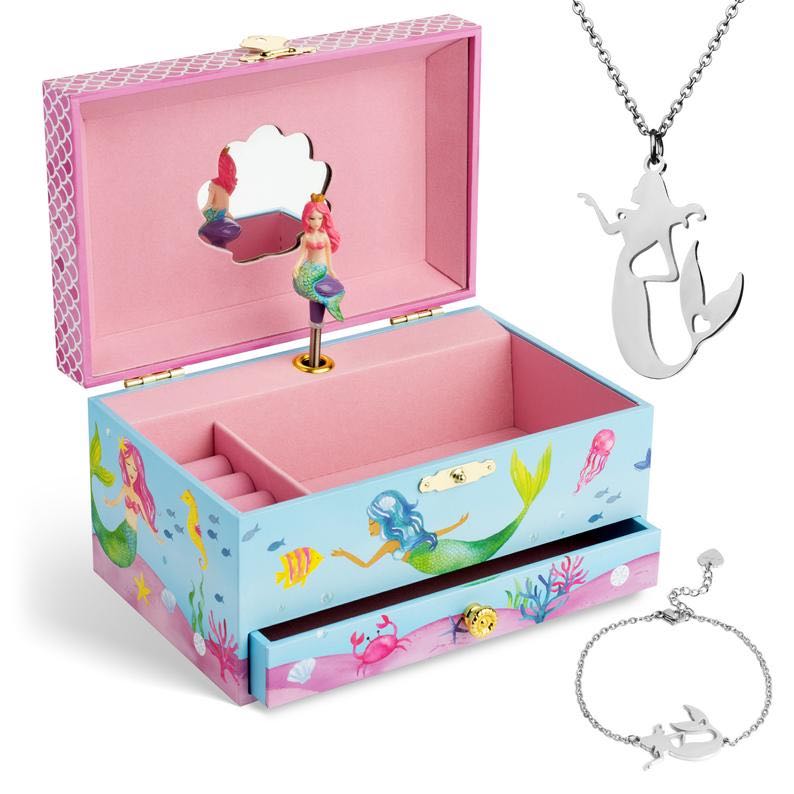 Who doesn't like a music box? No one that I can think of, that's for sure. And I love that this music box has been hand-modified to reflect a mermaid theme. The lovely pastel stenciling on the front is really beautiful, and then, of course, it makes music when you open it. What could be better?

Stained Glass Mermaid Jewelry Box
I'm a big fan of glass, and I love how this box uses a stained glass top. It would be a beautiful place to store your jewelry, even without the mermaid, but it does have a mermaid. And that makes it complete.

Dancing Mermaid Jewelry Box / Mermaid Trinket Box
Another wonderful illustration (which is available in other forms such as prints, etc.) mounted atop a wooden jewelry box.

Disney Princess Ariel Pearl Jewelry Box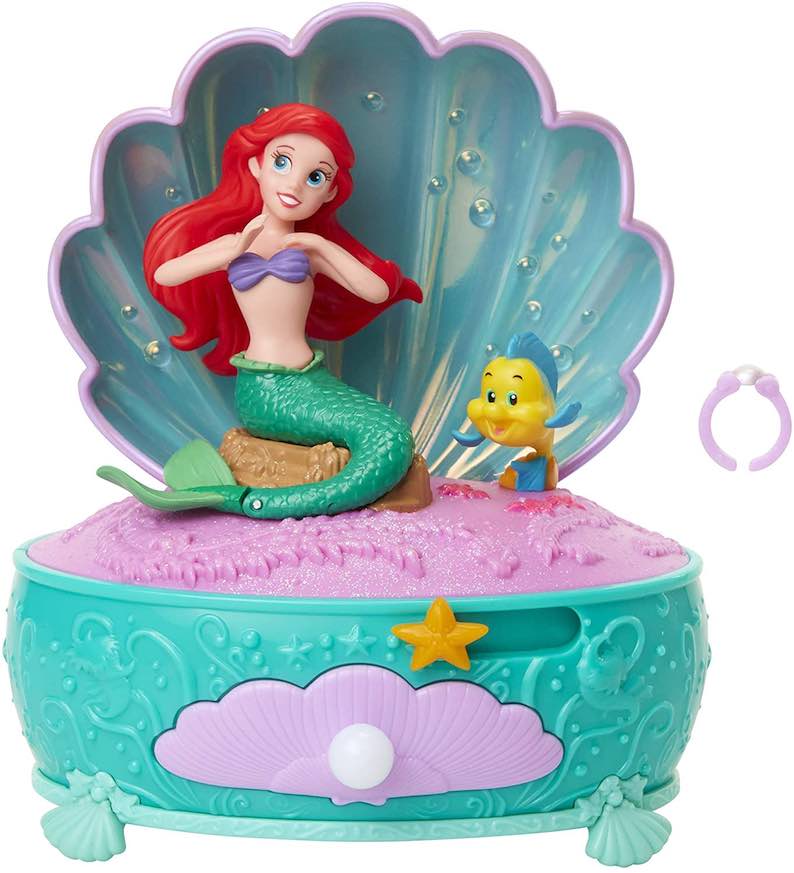 For a lot of folks in their 20s and 30s there is really only one mermaid (and in case you're not one of those folks in their 20s or 30s, I'm referring to Disney's Ariel). So we can't make a list of mermaid jewelry boxes without including at least one featuring this red-headed princess!

Light Pink Mermaid Jewelry Box
This is a perfect little storage and carrier for your jewlery. It's great that the top is see-through to the space which serves as an earring holder. And atop that? A sparkly pink mermaid.

Mermaid Intarsia Jewelry/Keepsake Box
I love that this box isn't really a box — as in it is not box-shaped with square corners and all. Instead, the box hasn't taken it's shape from the shape of the mermaid atop it. Wonderful carving from mahogany, and that distinct shape make for one great jewelry box.

Sleeping Mermaid – Fantasy – Tile Keepsake Box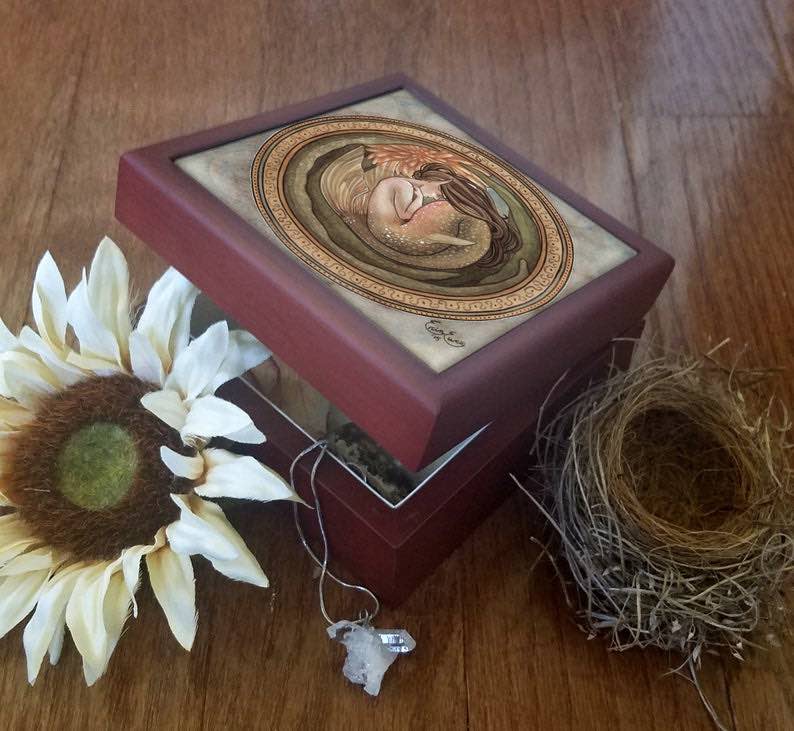 The print on this box is just so perfect. The style of the painting has an interesting combination of a very old-fashioned feel in the color choices, and yet looks completely contemporary.

Sirens of The Sea Mermaid Jewelry Trinket Box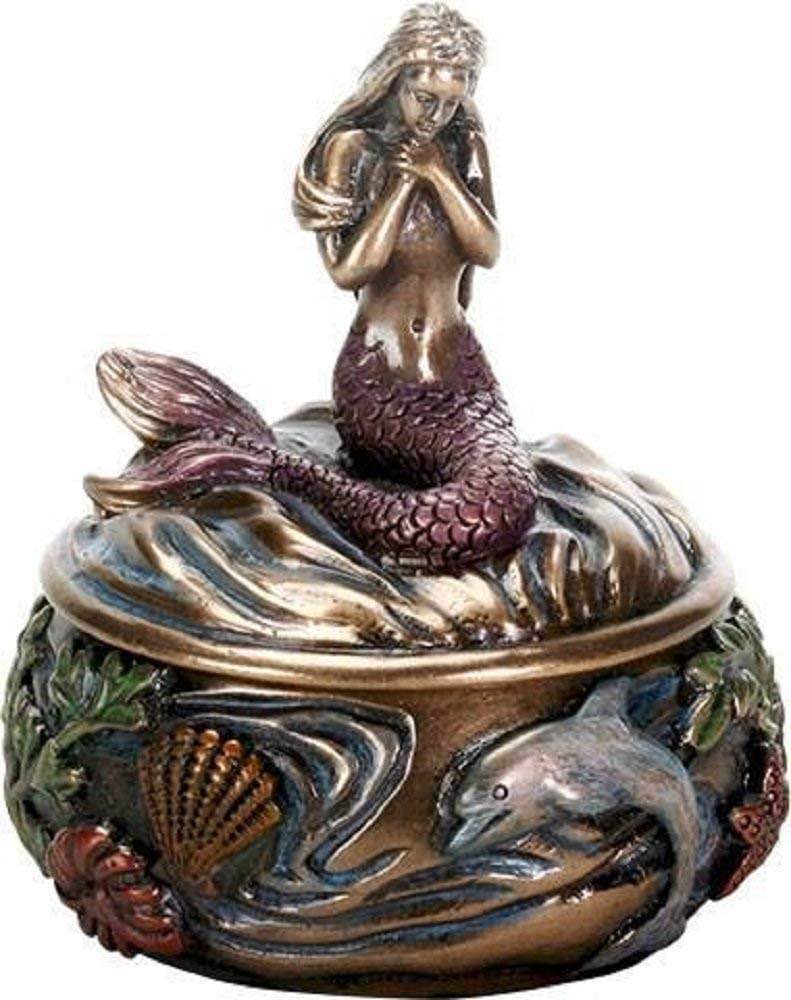 I love the pensive expression on the face of this mermaid trinket box. Here she is, above the waves, staring down into her home. We all know from the story that she longs to escape, and yet it is her home.

Seahorse Mixed Media Trinket Box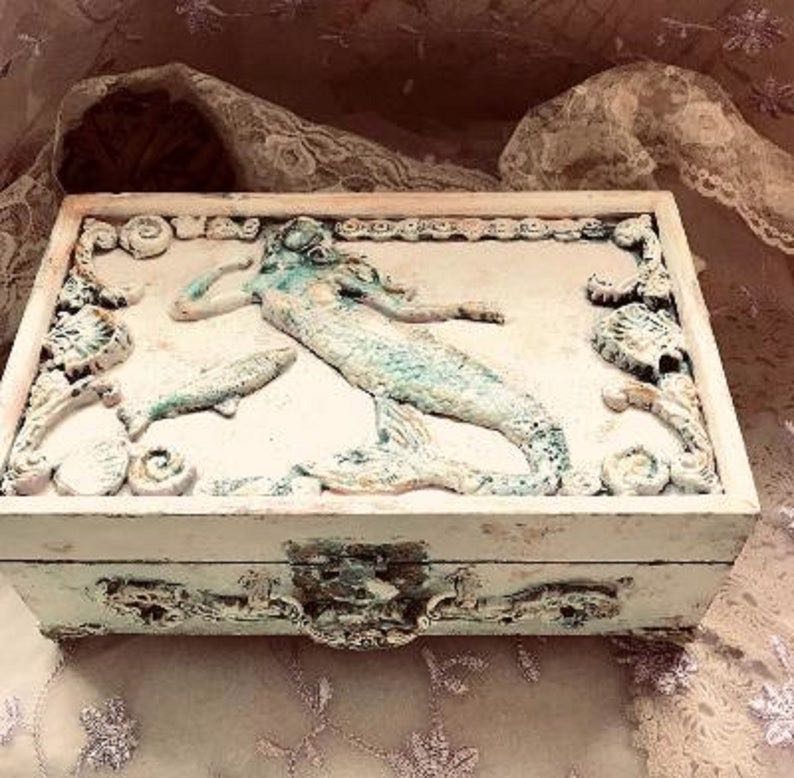 Wonderful, shabby chic painting of a mermaid atop this box. I really like how this one is intentionally distressed — and check out the hand-sculpted clay pieces which make up most of the art. Wonderful.

Mermaid Secrets Jewelry Box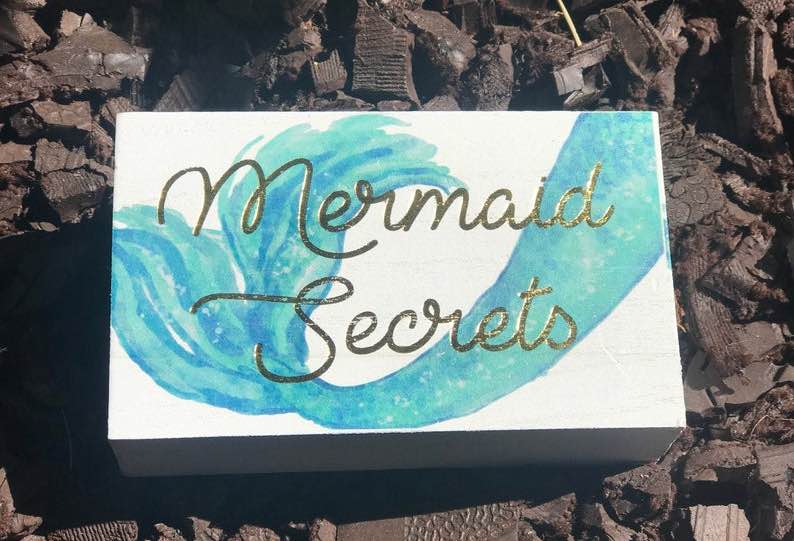 I know that this one is pretty simple, but there's something about the simplicity of it that I find really striking. The soft pastel watercolor of a mermaid's tail is wonderful. And there's something about the thought of "mermaid secrets" — like that should be the title of a series of children's books. Any writers out there, feel free to use that one.

Mermaid Retro Decorative Glass Jewelry Case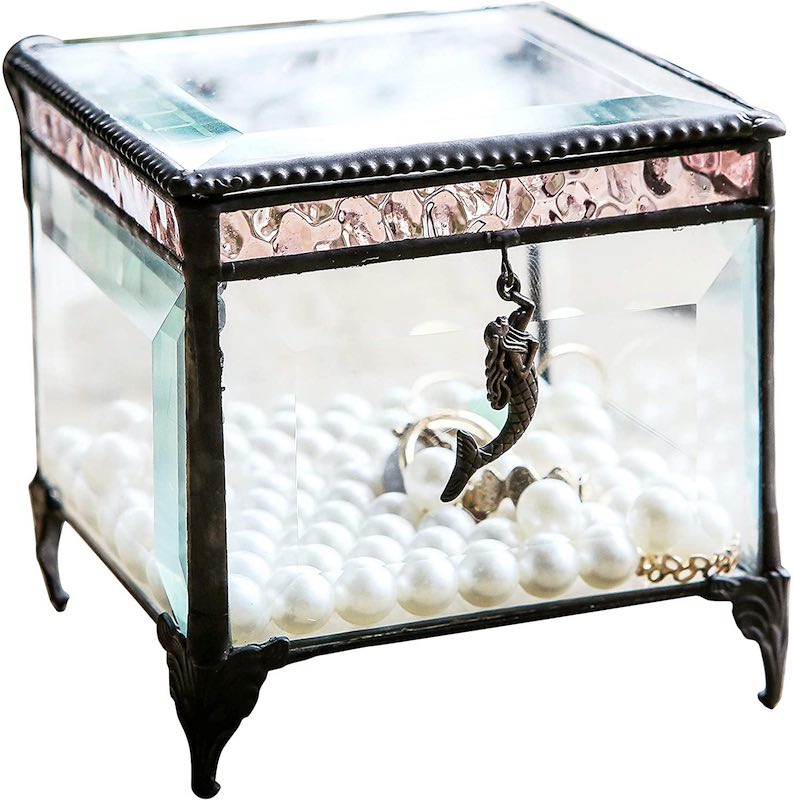 I think that glass jewelry boxes are a lot of fun. They look really neat and they also enable you to have a look at what jewelry you have in the box without sifting through the box. So take one of those neat glass jewelry boxes and add a mermaid… now you've got something.

Floss & Rock Small Musical Jewelry Box – Mermaid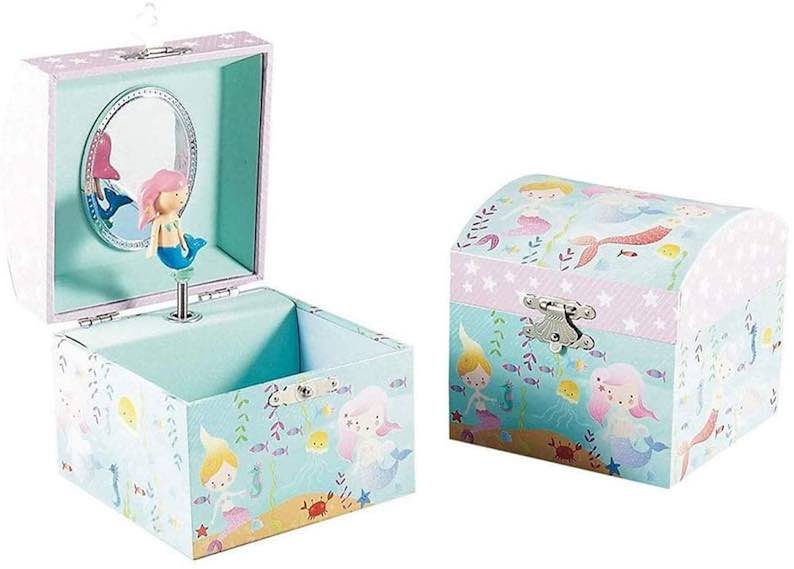 Just look at the painting which adorns the outside of this musical jewelry box. What a wonderful illustration. And so full of life. Then add in that when you open it up you've got a music box with a small spiraling mermaid and this makes for one wonderful place to store your jewelry.

Limited edition Hand painted Deluxe Little Mermaid "Ariel" Engraved Wooden box
You can't go wrong with an Ariel illustration, now can you?

Mermaid Beach Box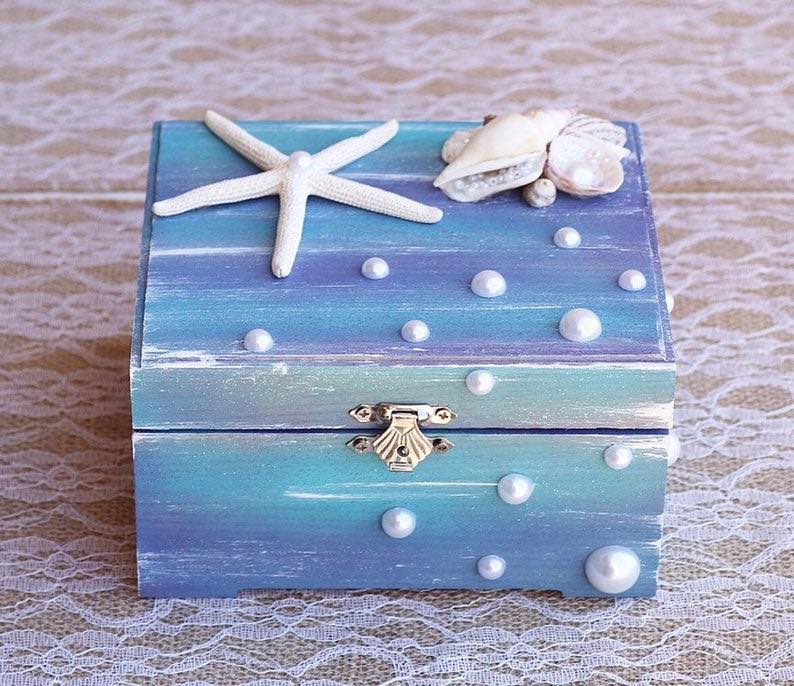 The colors on this one really draw me in. Those soft, hand-painted colors really look like they belong on the beach. And just in case you had any doubt there, we've got wonderful shells too!

Engraved Mermaids Scrimshaw Bone Box Antique Reproduction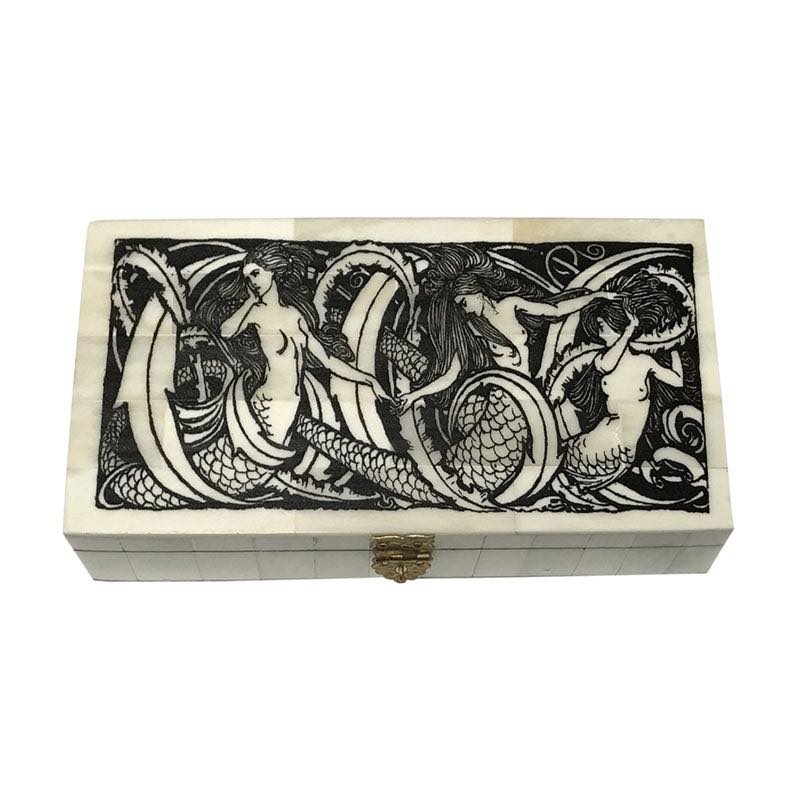 What a wonderful engraving this one is. It's an antique bone reproduction. I love how the illustration definitely has a very classic look to it — crisp black lines against the off-white box… simply beautiful. It's the sort of thing that you would expect to see in a museum, in my opinion.

Art Nouveau Bronze Metal Colored Mermaid on Treasure Chest Knick-Knack Box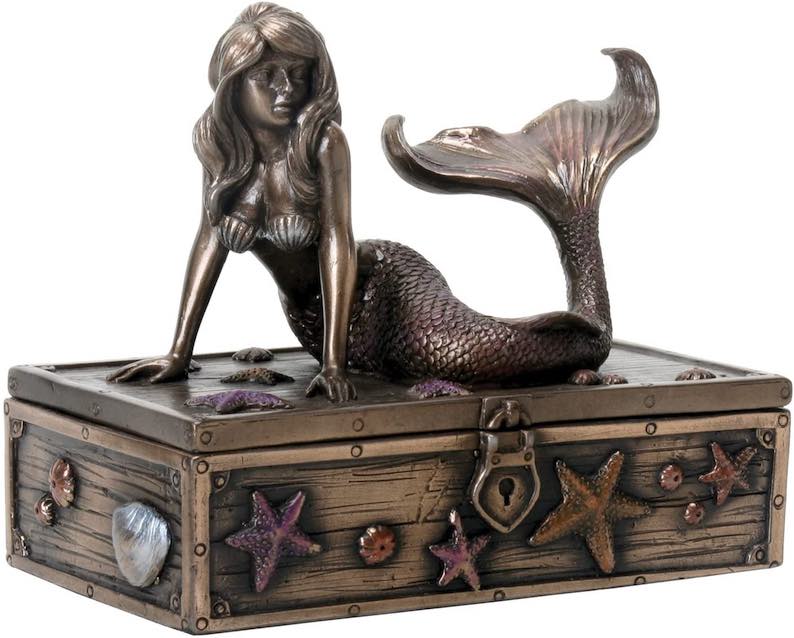 I like that the mermaid in this one seems to be guarding the jewelry in this box. There is a definite "hands off" feel to her expression and posture here. So if you are in a situation where someone keeps "borrowing" all of your best jewelry… well… here ya go.

Mermaid Keepsake Box
A combination of small-scale miniatures is used to bring to life this scene of a mermaid with the the sunken treasures that she has gathered from the sea floor. Perfect for holding your treasures on the land.

Cute Mermaid Jewelry Box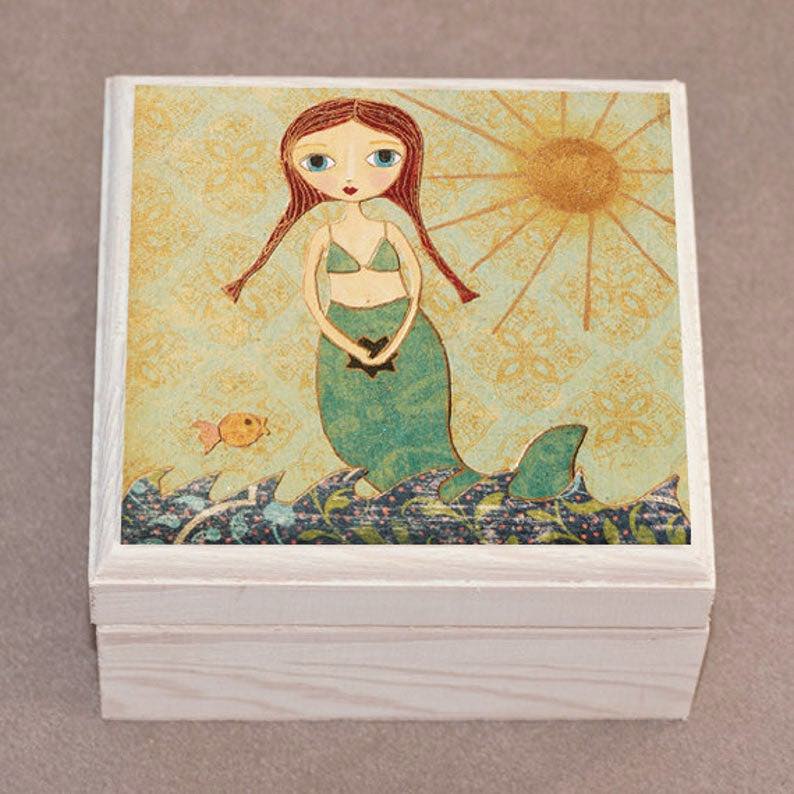 The print on this one really catches my eye. It's a simple scene, but I just love the style of it. This is a print of a painting mounted on a simple wooden box. And luckily, this artist has a variety of products which display this particular painting — so you could get a whole set of matching treasures!

Hand Painted Mermaid Box
This artist has a whole collection of hand-painted boxes with all sorts of different designs (most being ocean-themed). This one of a contemplative mermaid is one of my favorites.

Personalised WOODEN Ballerina MERMAID Musical Jewelry Box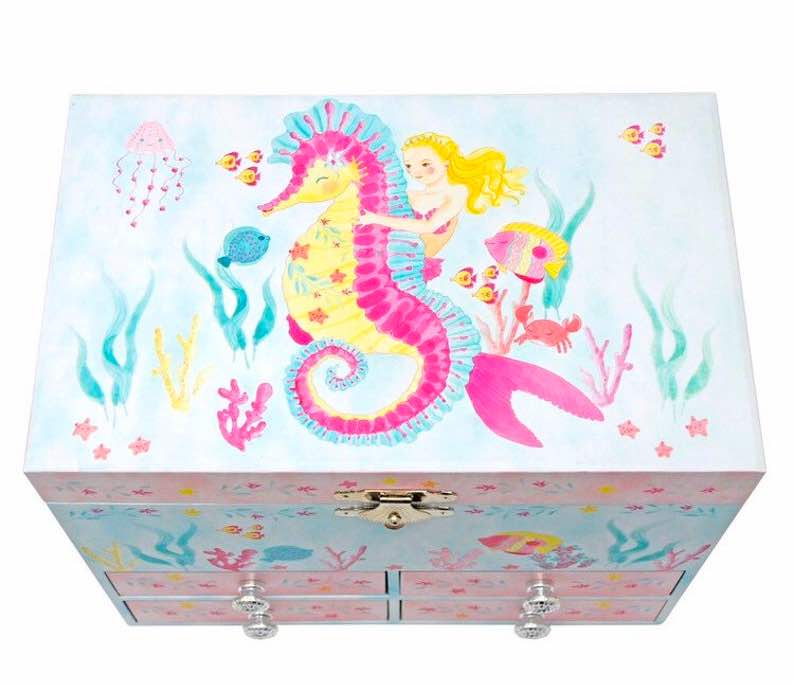 Check out this cute little music box, with a cute little mermaid illustration, perfect for holding your cute little mermaid jewelry and treasures.

Resin Mermaid Trinket box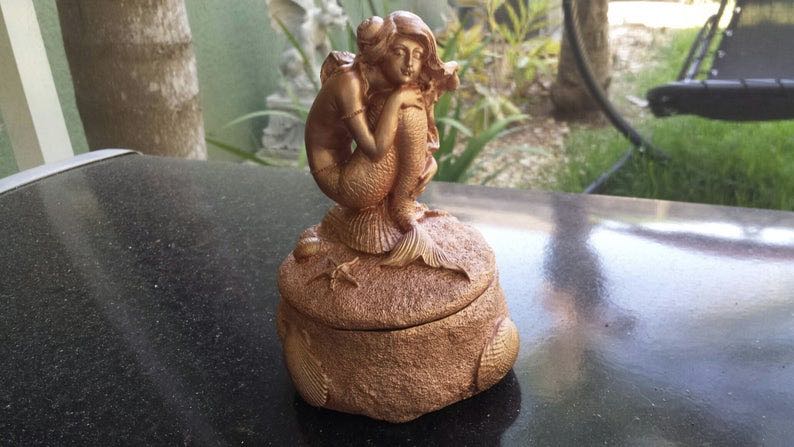 Here's a wonderful little resin sculpture of a mermaid to top this tiny round trinket box. I love the rueful expression on this mermaid's face. I wonder what she's thinking?

Mermaid with Sea Shell Jewelry Dish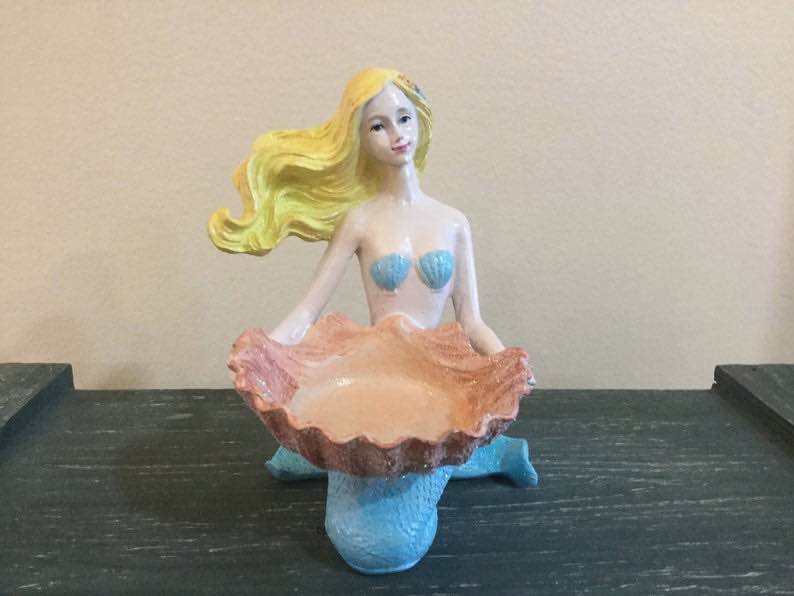 And if you're more the type for put your jewelry in a dish rather than a box, here is a wonderful one.

Little Mermaid Engraved Wooden Box / Mermaid Trinket Box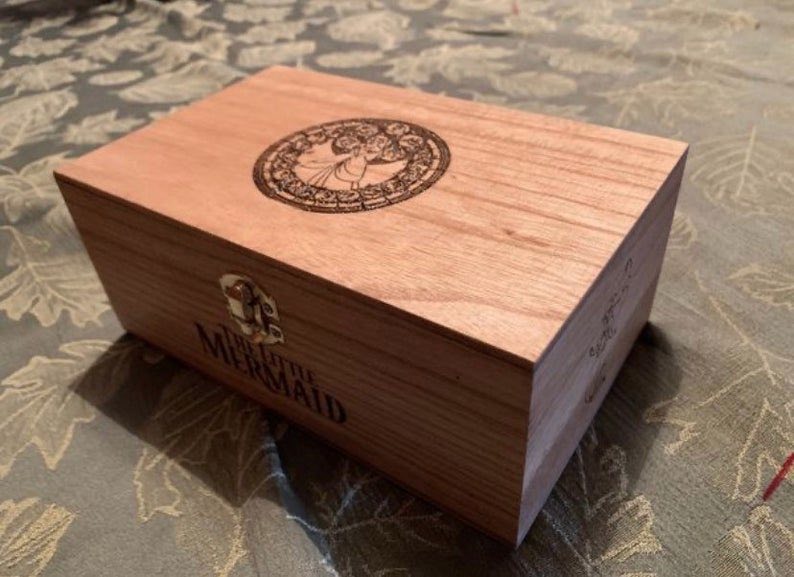 There's something appealing about engraving on a wooden box. And in this case, the engraving is mermaid themed!

Mermaid Metallic Blue and Gold Stash Jewelry Box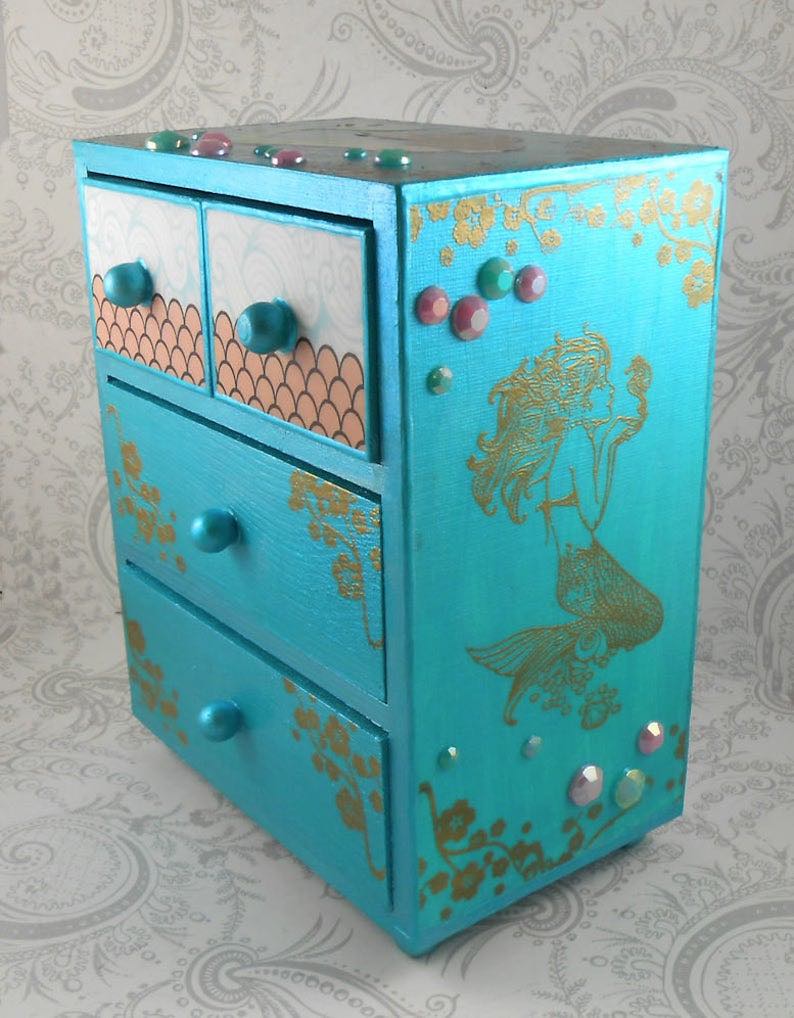 The colors on this little box are just perfect, in my opinion. I'm a big fan of repurposed items used in art and I love how this little jewelry box has been painted. Not just the metallic blue, but the gold stenciled artwork is just wonderful. Just wonderful.

Hand Painted Mermaid Silhouette Jewelry Box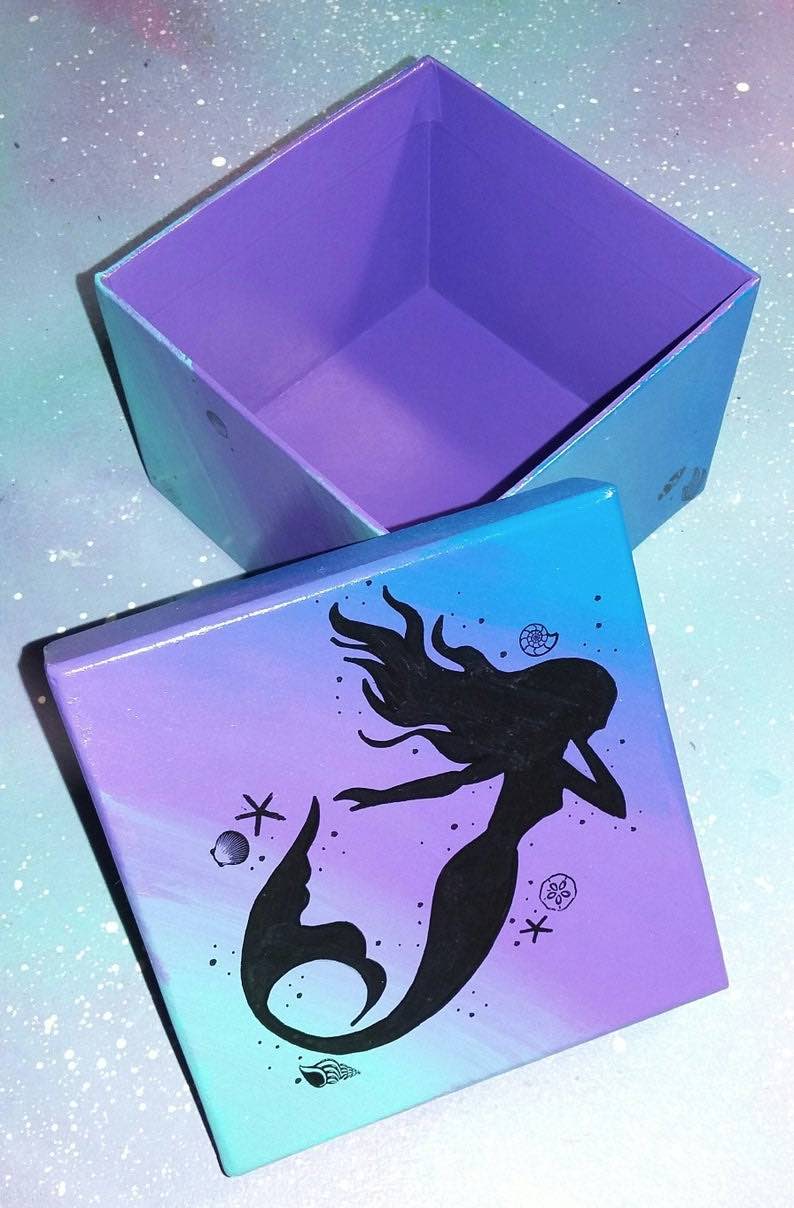 Just a simple little box, but hand-painted in a wonderful way. I love the purples, teals and blues behind the mermaid sihouette.

Mermaid Treasures Trinket Box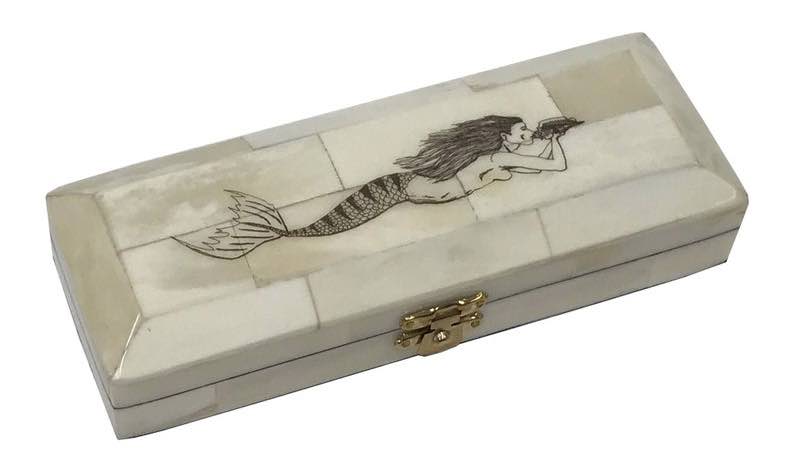 This is a classy little box here, perfect for storing jewelry. This simple, elegant and classic line-art illustration of the mermaid works really well against the ox bone box.

Ocean Blue Mermaid Girl's Jewelry Box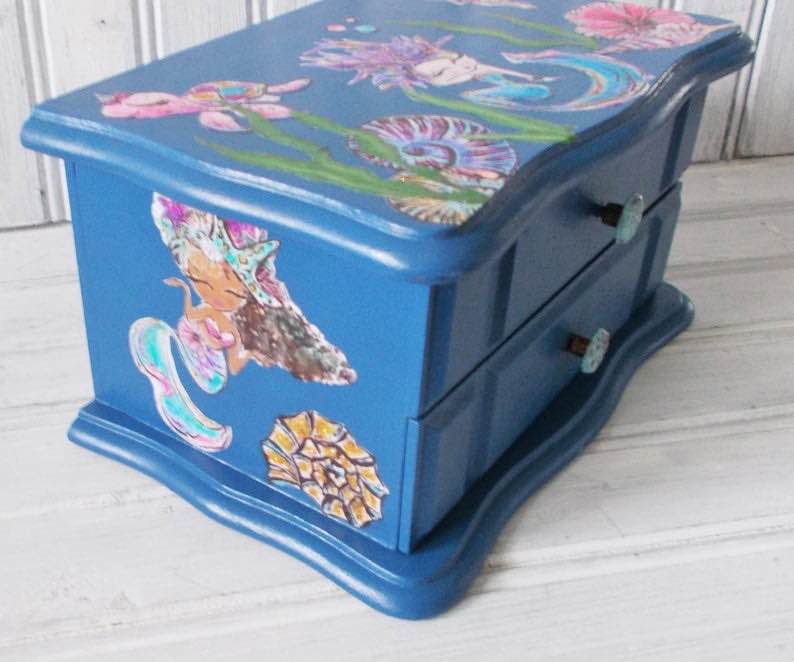 I really adore the cute little stenciling on this box.

Mermaid in Purple Patina Jewelry Box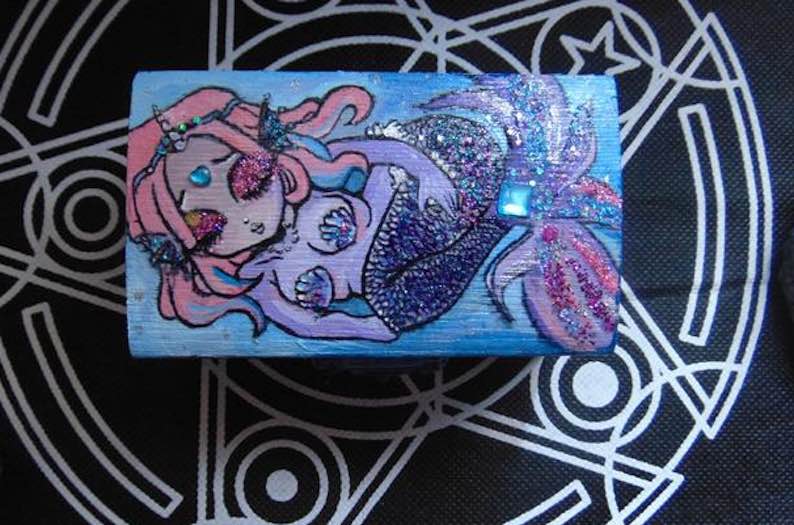 Sand dollars, mermaids, shells and coral — now you've got the makings of a great keepsake there.

Personalized African American Little Mermaid Musical Ballerina Jewelry Box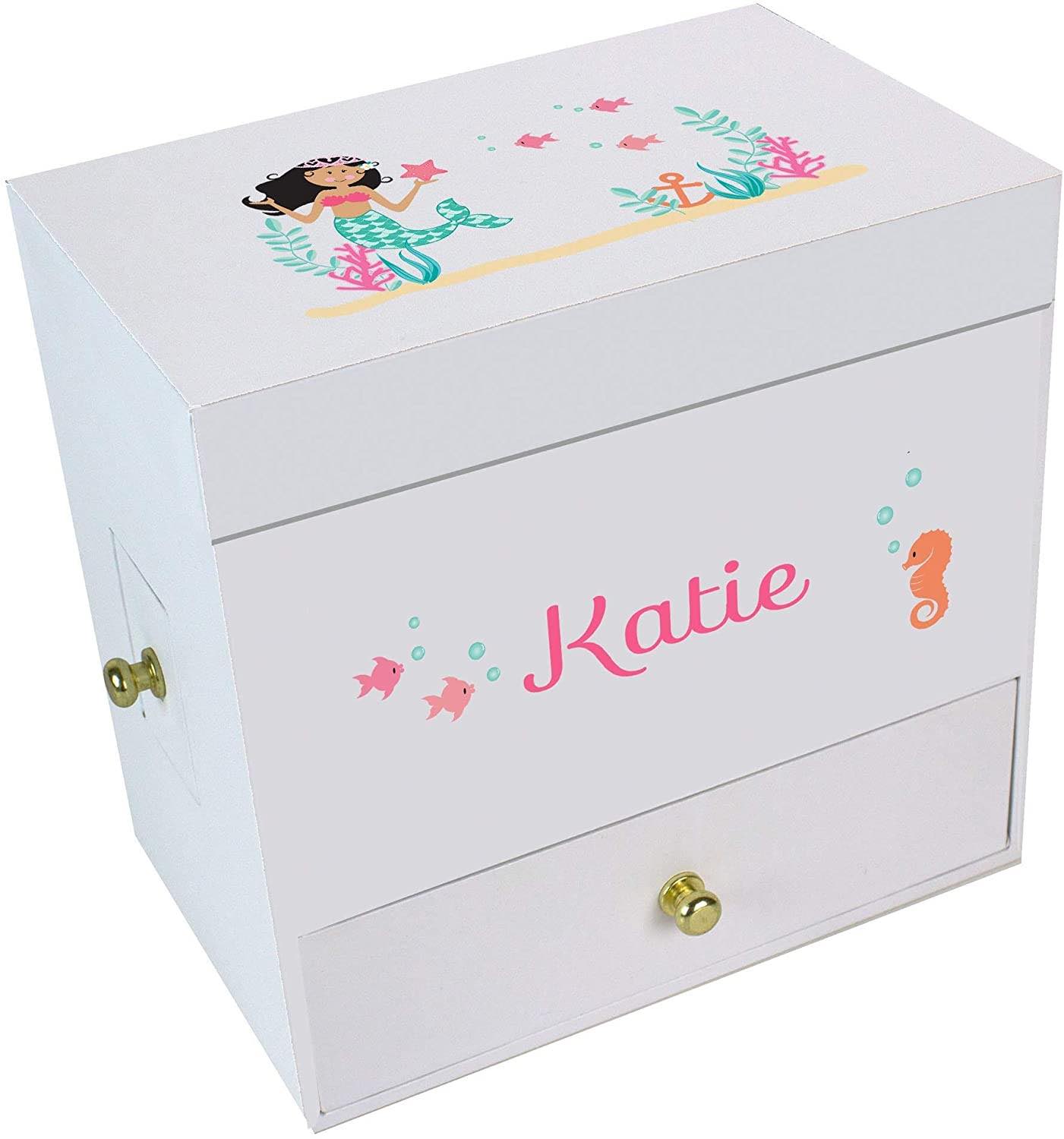 What a wonderful little illustration on the top of this African American Little Mermaid box. And it is also a music box. Aaaaand it is also personalized. I think this one would make a beautiful little gift for some beautiful little girl.

Carved Wooden Mermaid Box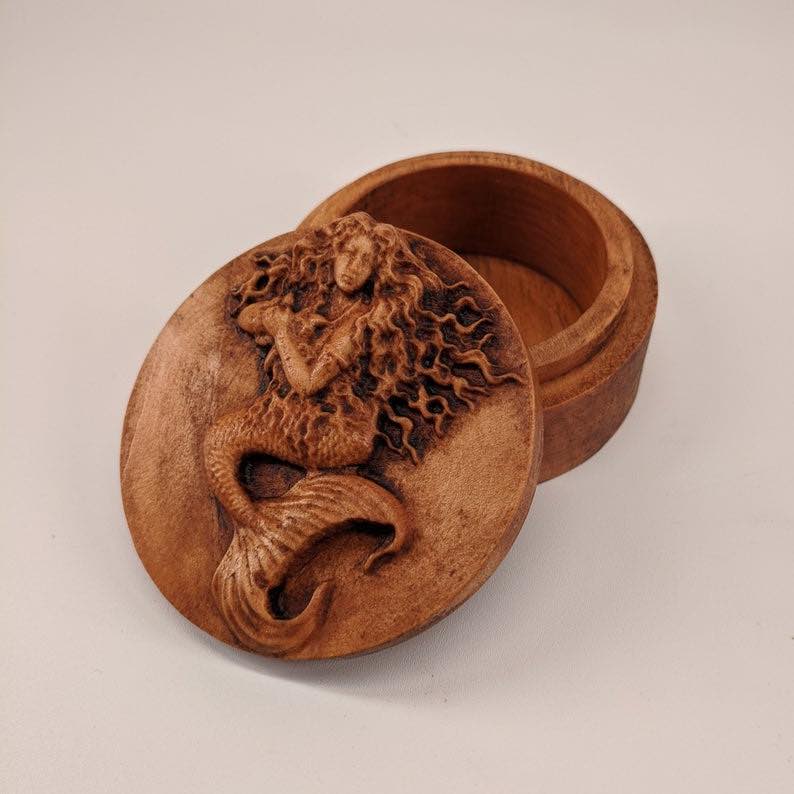 I always find engraving pretty amazing. That a person can carve any sort of recognizable shape out of a piece of wood is something that I find fascinating, and if they can make that shape actually beautiful, as has been done here…

Upcycled Vintage Girl's Mermaid Jewelry Box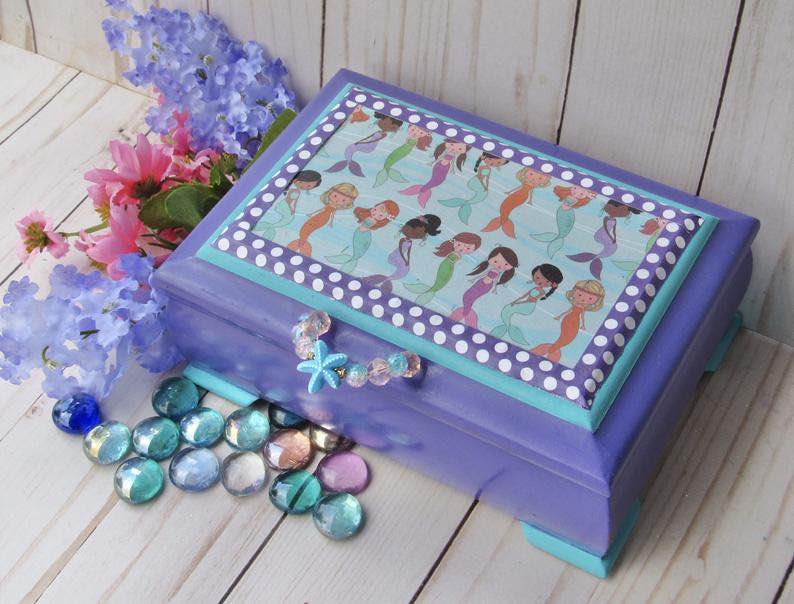 I love upcycled products, I just feel that upcycling is an all-around great thing to do. And in this case, it is also beautiful. First off, the color choices of purples and teals are really eye-catching. And the designs themselves are wonderful representations of mermaids and oceans.

Mermaid Dreams Trinket Box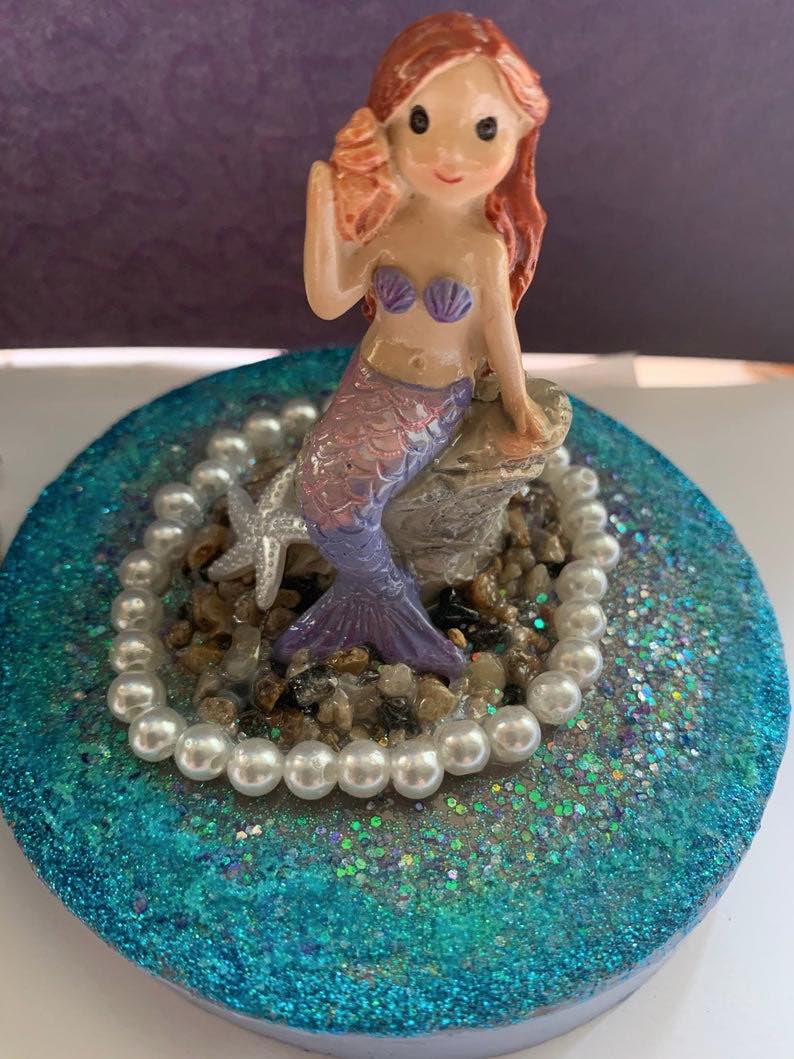 Hi!

Personalized Jewelry Box for Girl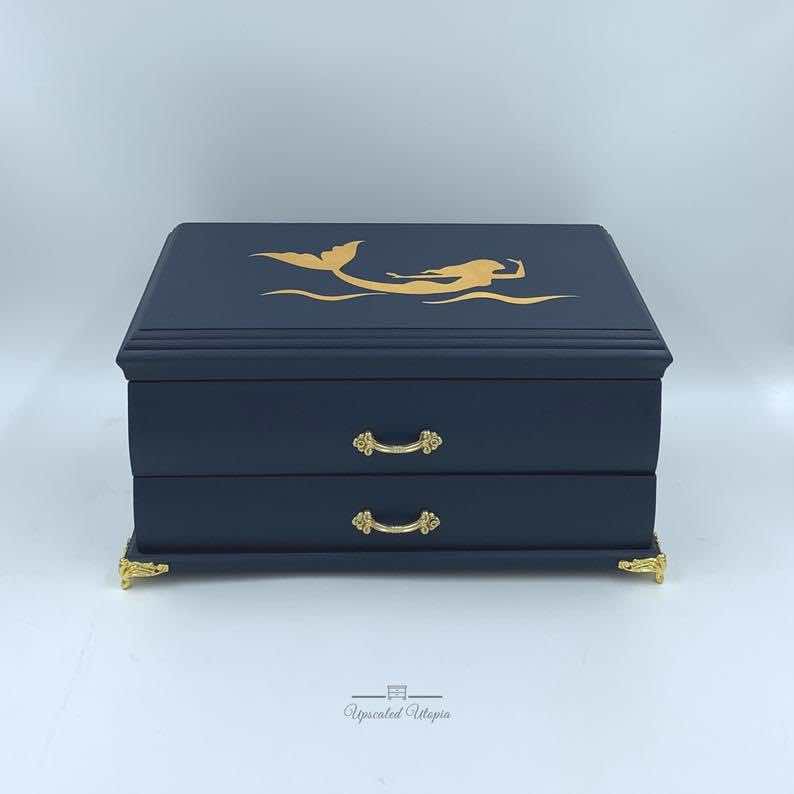 Mermaids and mermaid tails in a great color scheme and personalized to boot!

Hand Painted Wooden Mermaid Trinket Box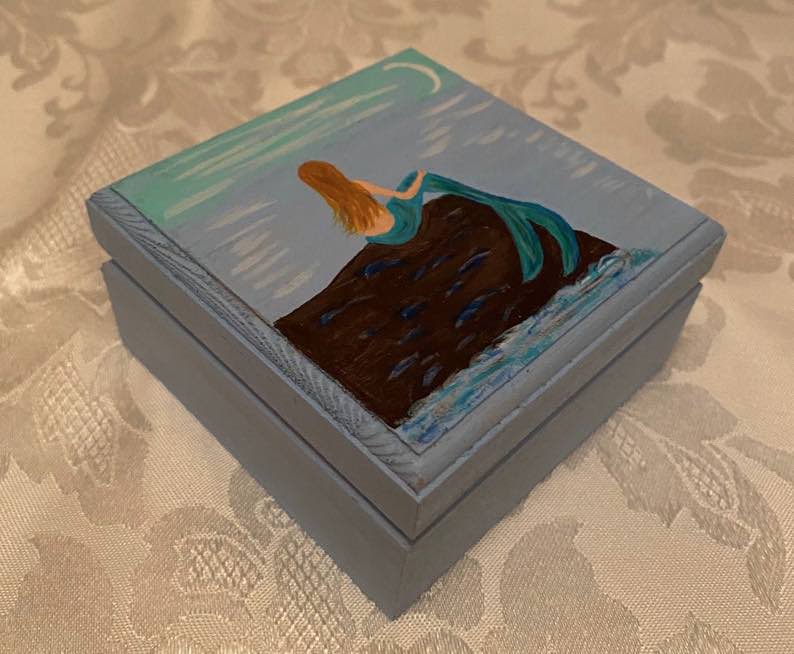 What a wonderful illustration on the face of this wooden box. The mermaid gazes longingly out at the rising moon. It's wonderful. And it's hand-painted as well.

Wood and Tile Mermaid Jewelry Box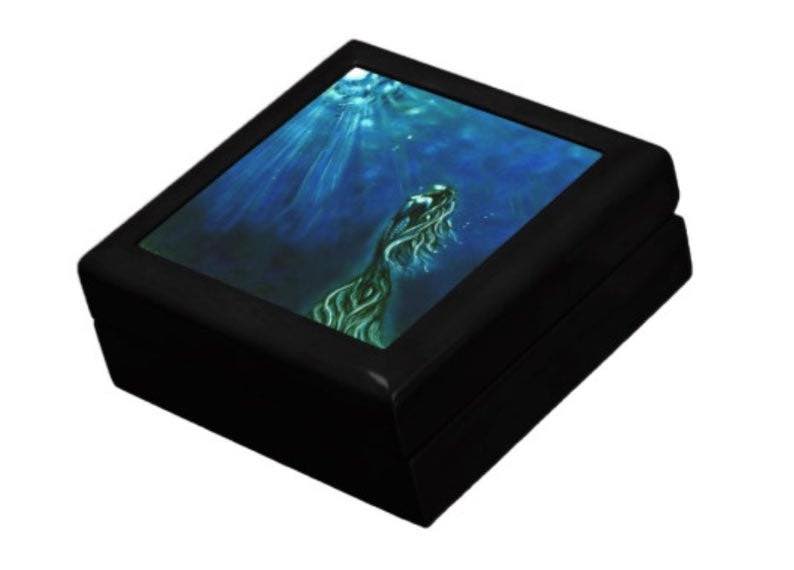 First off, the box itself if very beautiful on this one, a laquered mahogany which is really lovely. And then the mermaid print which adorns the face is a print of a simply beautiful painting showing a mermaid gazing up through the water at the sunshine breaking the surface. In every way, this jewelry box is a real stunner.

Handpainted Mermaid Keepsake Box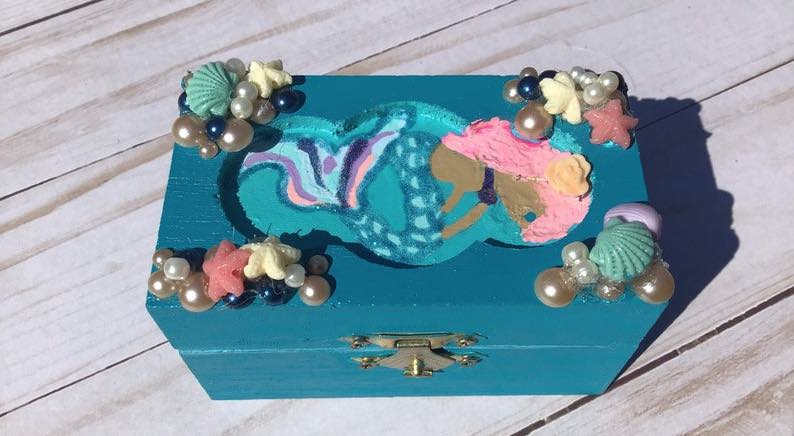 Hand painted and decorated with shells and pearls.

Silver Toned Large Mermaid Pendant Oval Trinket Jewelry Box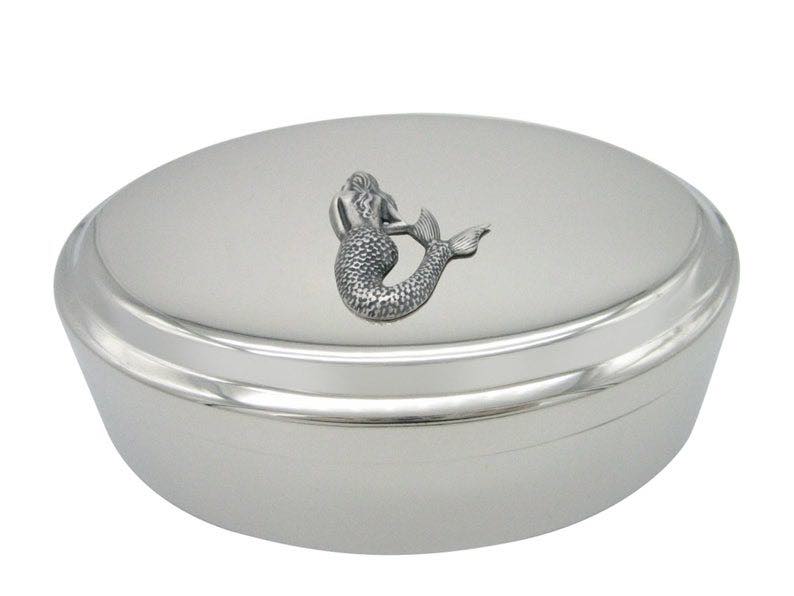 Here's one that both unique and beautiful. While the standard for making jewelry boxes is wood, this is more of a tin with a metalic finish…. and one little shiny mermaid to complete the look.

Pink Mermaid Gift Box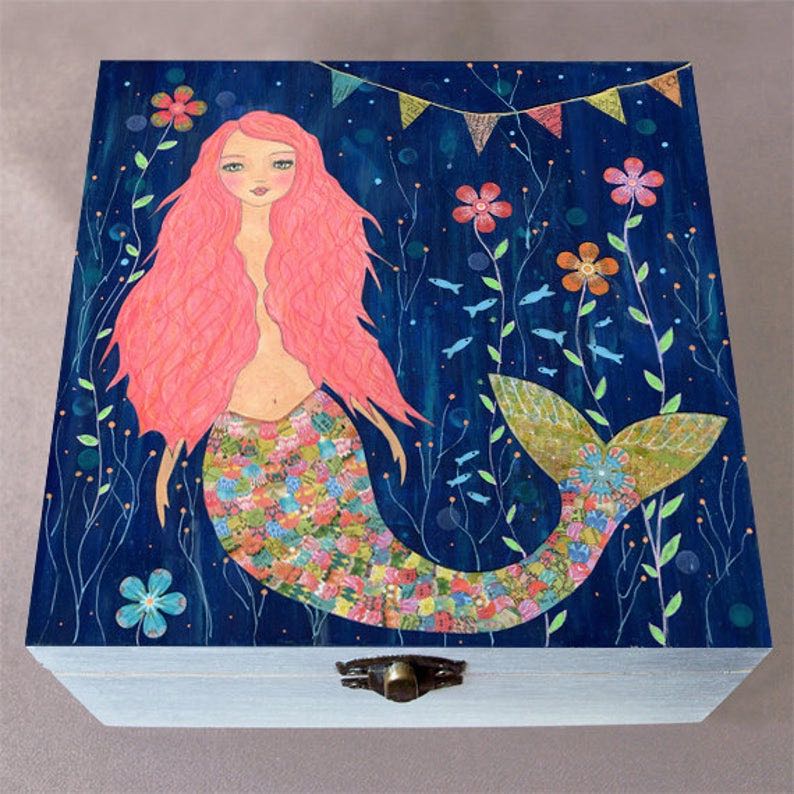 The style of this print may look somewhat familiar. You see, I've already featured a few jewelry boxes with illustrations from this same artist. I really adore the look and style of these mermaid paintings, so I keep recommending them again and again and again and…

Hand-Painted Wooden Mermaid Jewelry Box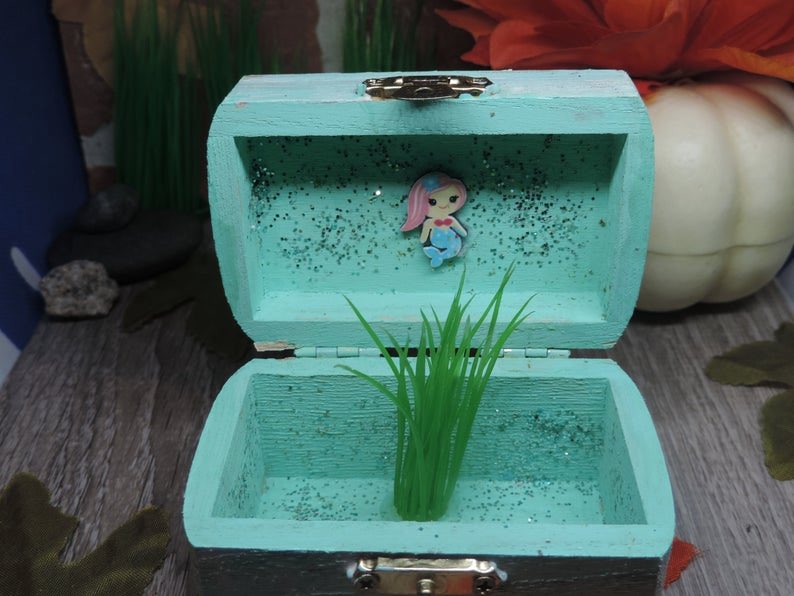 Don't you just feel like you're underwater with this one? The teal, the sparkles, the seeweed… I can just feel the currents whirling around that cute little mermaid.

Antique Bronze Mermaid Adella Embellished Trinket and Jewelry Box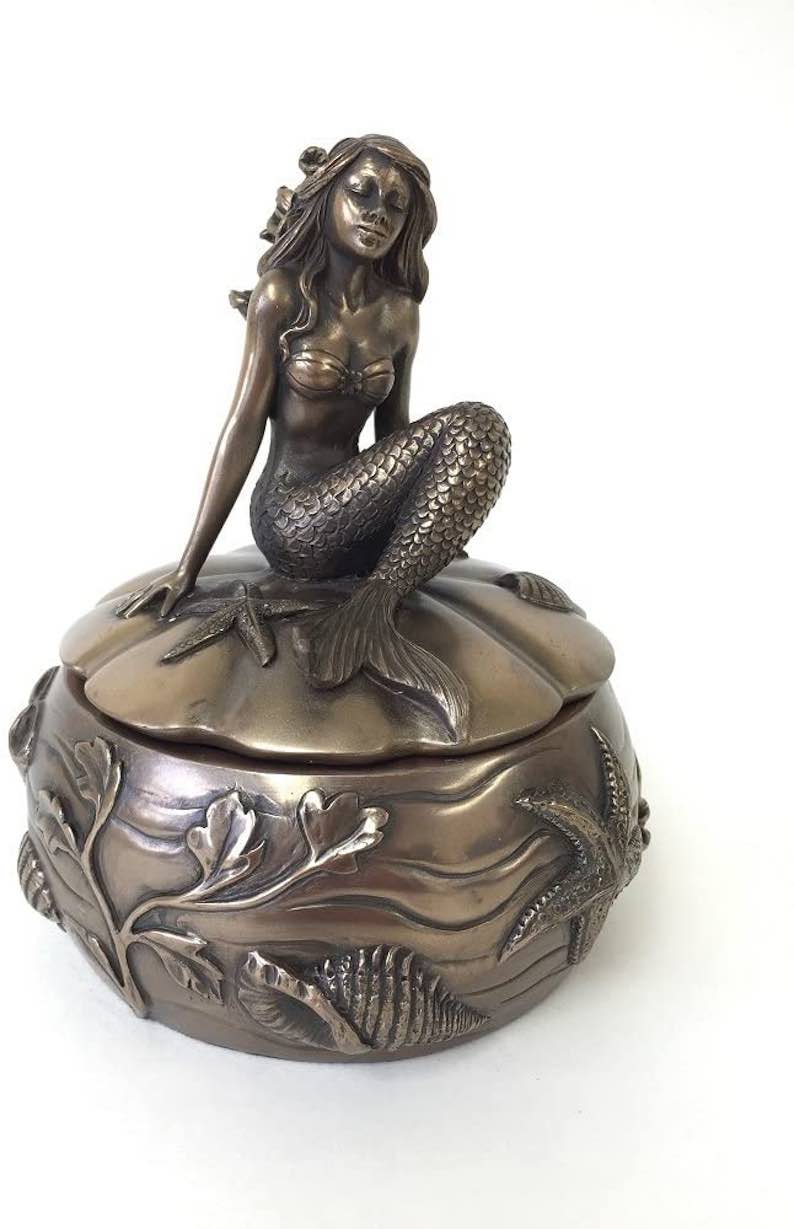 The great thing about this series of mermaid jewelry boxes is the level of detail in all of the engraving work. You can do a lot with bronze, as you can see here. This box is wonderful, and I love the expression of serenity on this mermaid's face.

Ceramic Mermaid Jewelry Box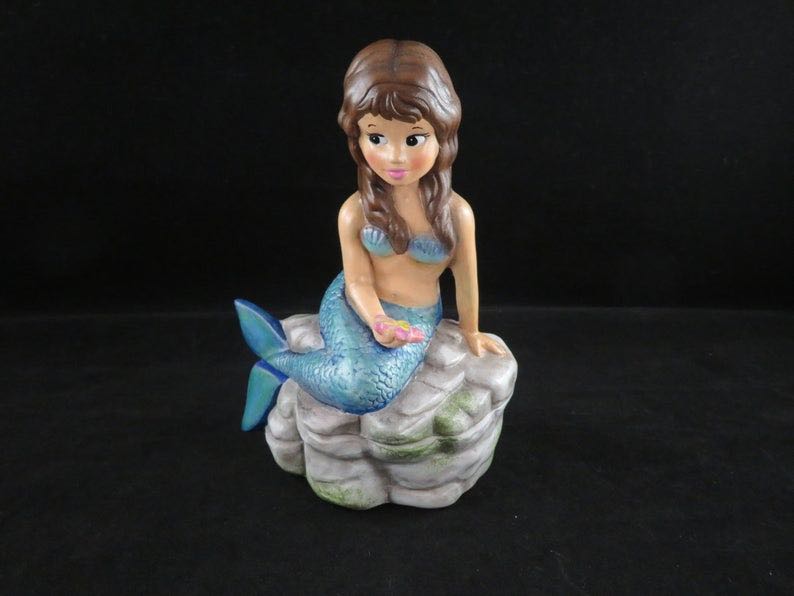 Hand-painted ceramics have become kind of rare these days, so that makes this little hand-painted ceramic mermaid jewelry box all the more special. Check out all of the little details that have been painted on here. It's wonderful.

Gypsum Polymer Mermaid Jewelry Box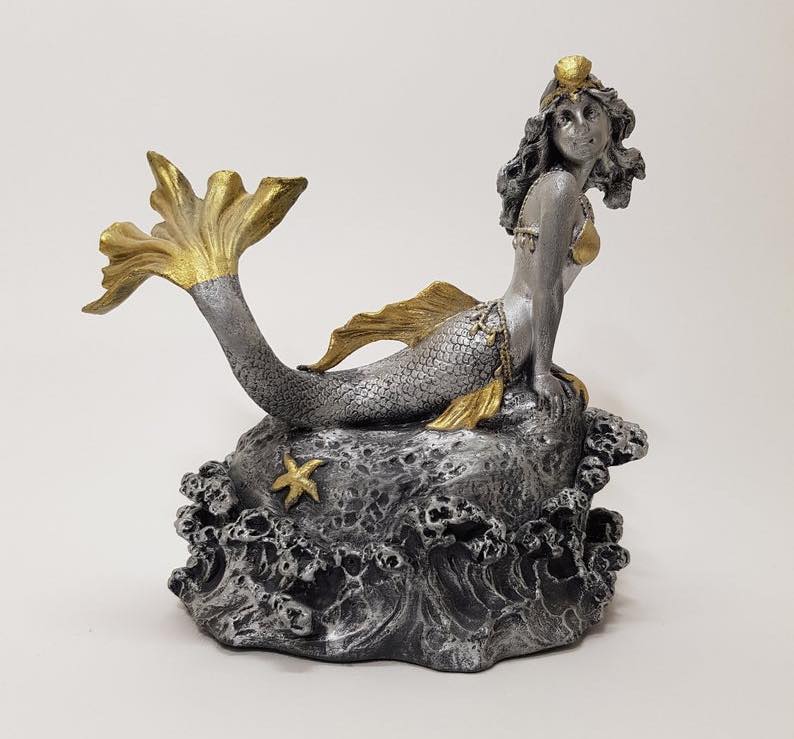 Here's another box that's quite unique. Carved from gypsum, check out all of the details included in this mermaid sculpture.

Wooden Mermaid Jewelry Box with Turtles and Shells
So you say that you want your jewelry box to be fun? You got it! The bright colors and general fun motif make this perfect for a little girl's first jewelry box.

Mermaid Treasure Chest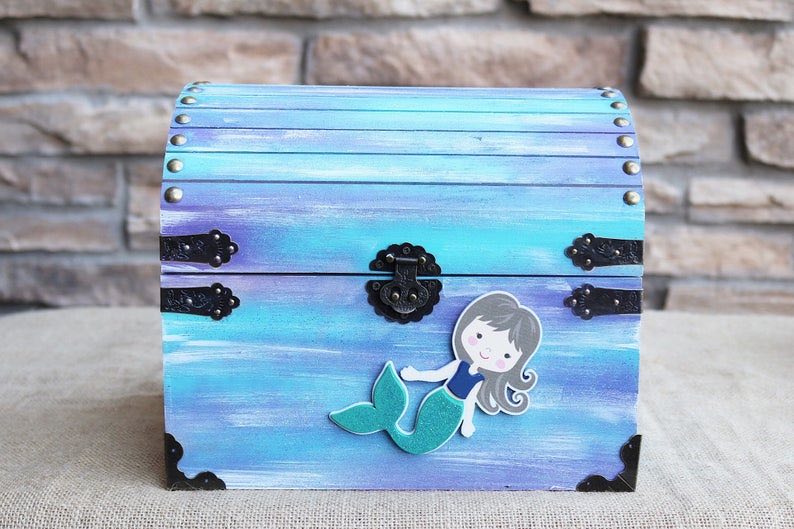 The blending of soft colors on this "treasure chest" really works for me.

Pretty Pink Princess Sparkly Mermaid Tail Jewelry Box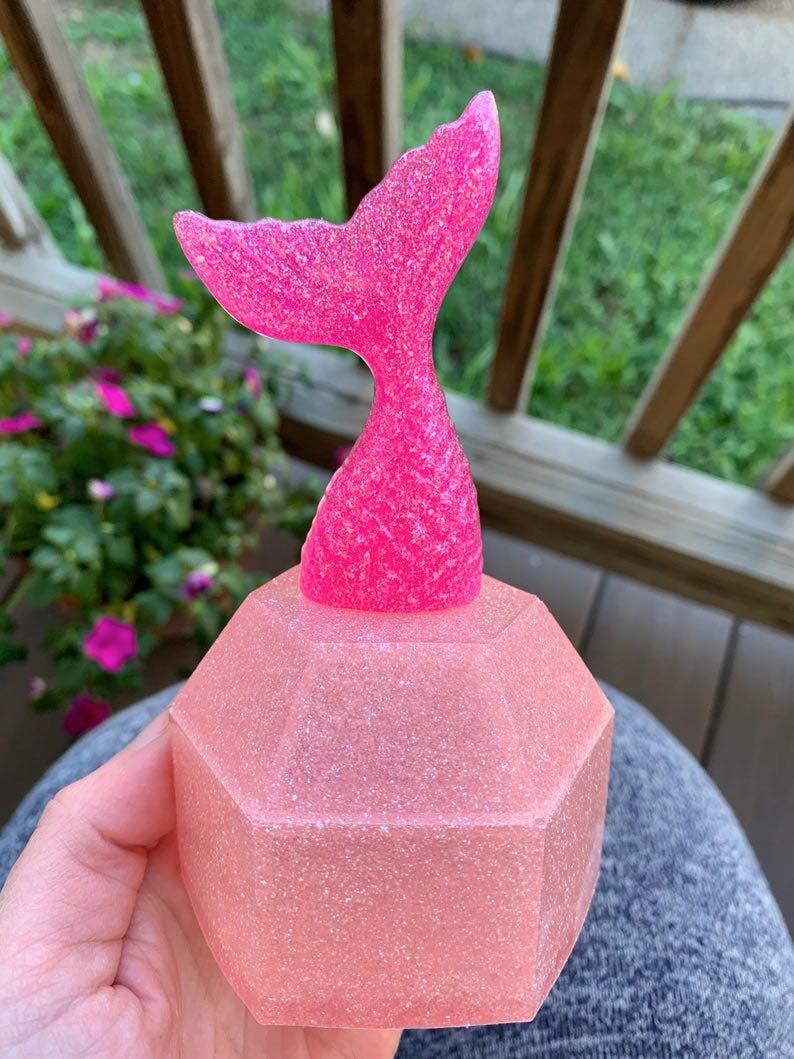 Sparkly!
(and that's all you really need to know)
SPARKLY!

Rectangular Box Wood Burned with a Mermaid / Mermaid Trinket Box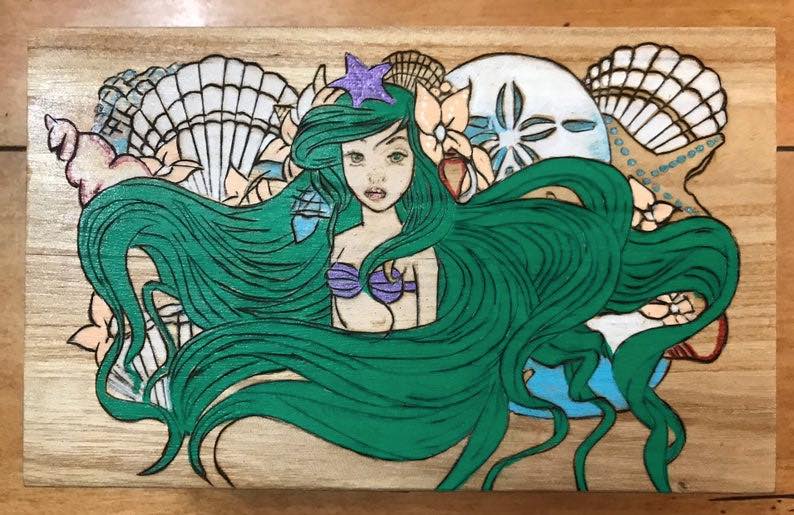 Definitely a unique (and wonderful!) use of woodburning here. I love all of the intricate details of this illustration. The green flowing hair is perfect and the backdrop of sand dollars, shells and starfish really makes this one great.

Little Mermaid Pink Hair Mini Box Chest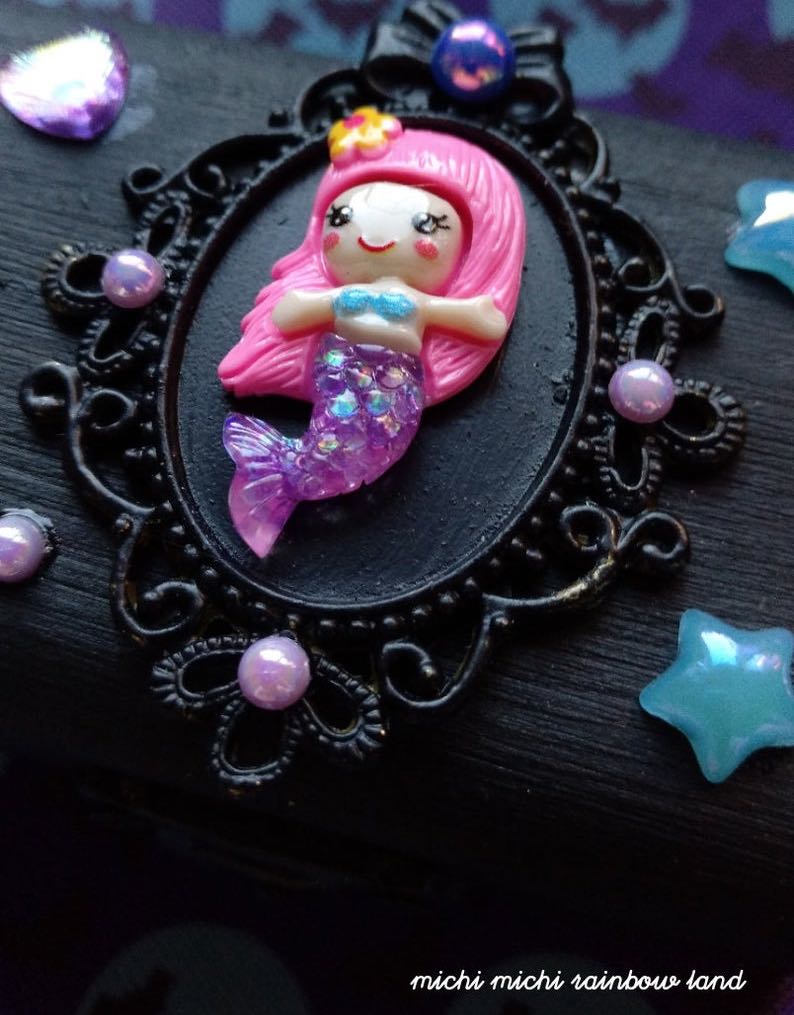 Cute little pink-haired meraid atop a finished wood box. Could this be any cuter?

Mermaids Dream Keepsake Box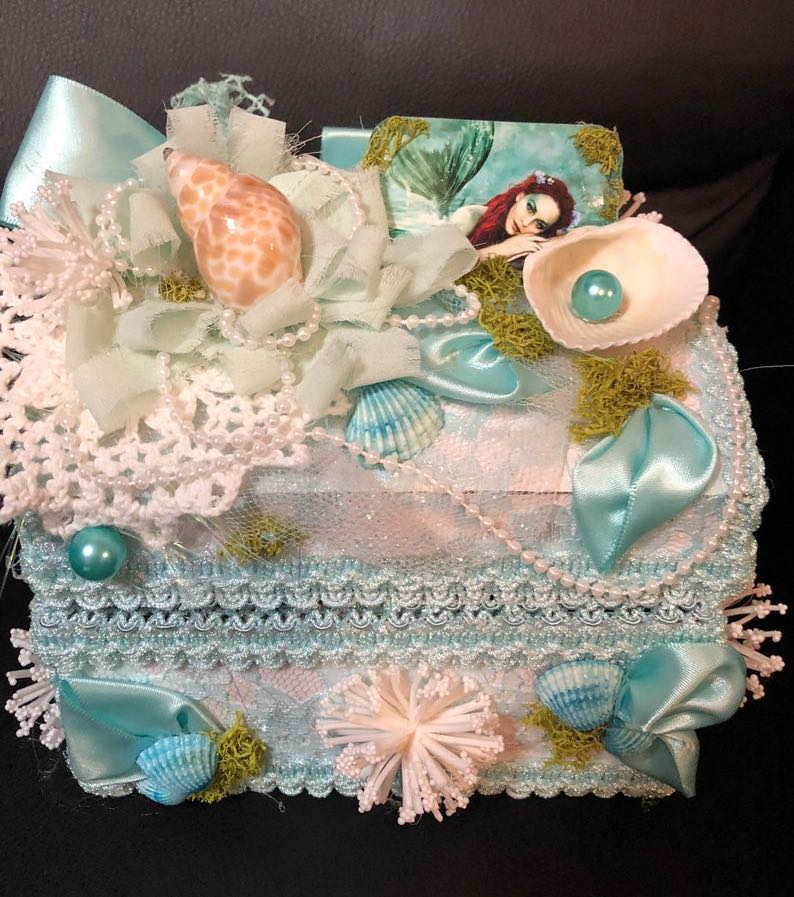 What do mermaids dream about? The title of this one really fits the vision that it projects. All of those details. All of those variants of soft colors. The lace, the shells… it really is a mermaid's dream.

Woman & Sea: Painted Mermaid Jewelry Box
I love the print that is used on this box. Actually, I love pretty much all of the prints created by artis Eva Campbell, and I think it's fantastic that this one has been put on a jewelry box. If you like this painting style, then definitely check out the other prints in her shop, which, in my opinion are all very beautiful.

Hand-Painted Small Wooden Mermaid Jewelry Box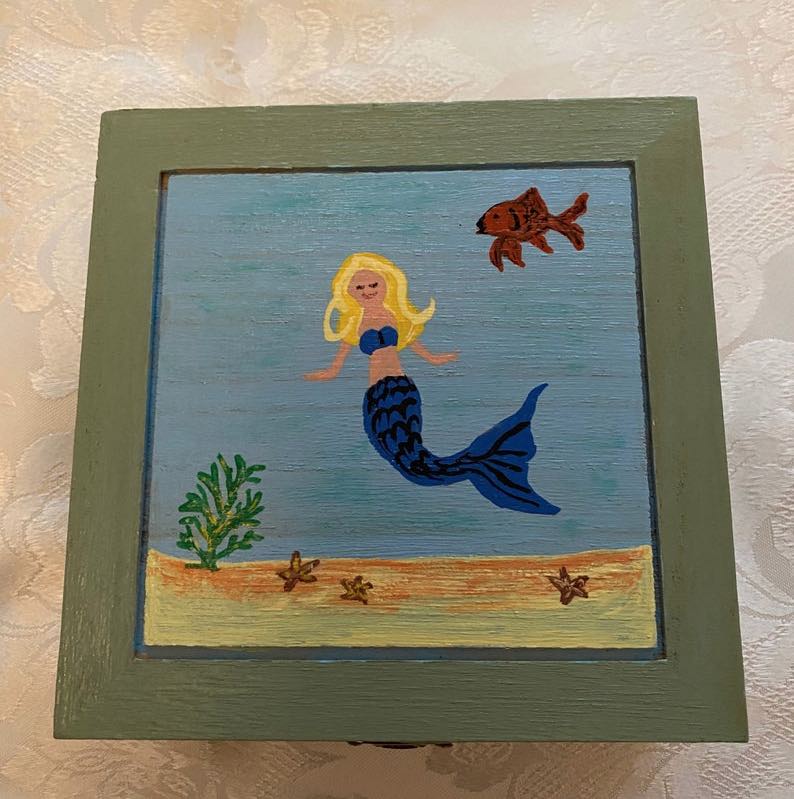 This little hand-painted scene just makes me smile. Such a friendly little moment in the life of a friendly mermaid.

Oil Slick Mermaid Box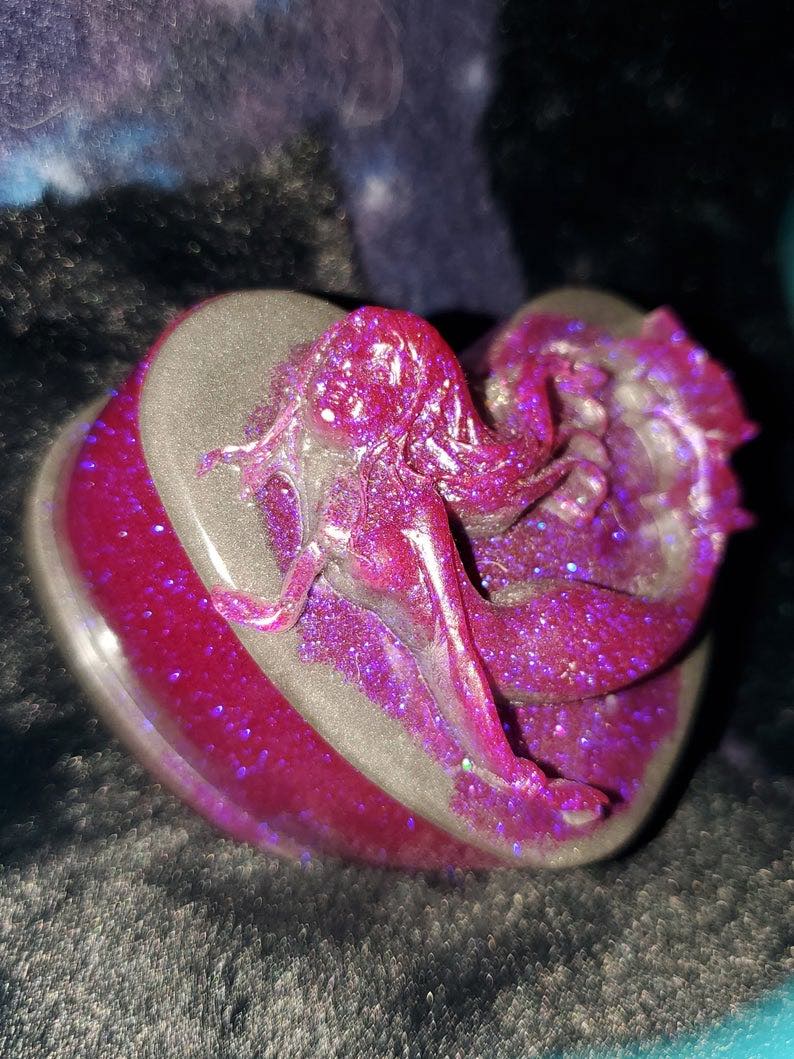 Nice little heart-shaped box for this one and topped with a really, really sparkly pink mermaid sculpture.

In the Mermaid Lagoon | Peter Pan Disney Inspired Jewelry Box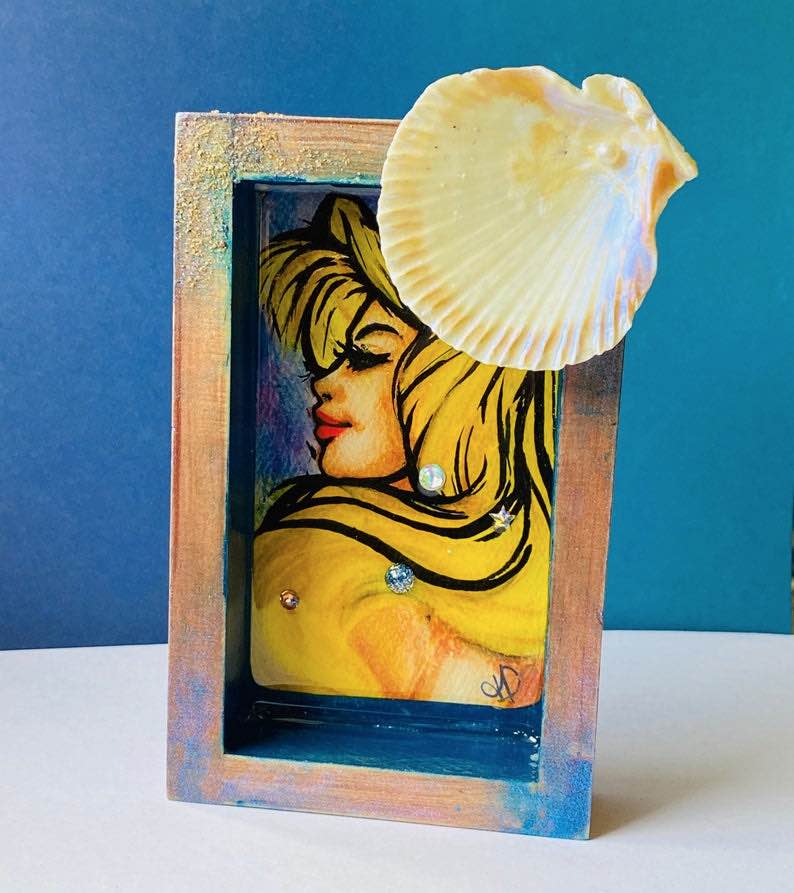 The thing that I find really interesting about this one is that it's a tray rather than a box. It's a really wonderul little painting there, and it's on the bottom of the inside of the box rather than bein on a lid. Kinda cool, I think.

Let's Be Mermaid Charmed Jewelry Box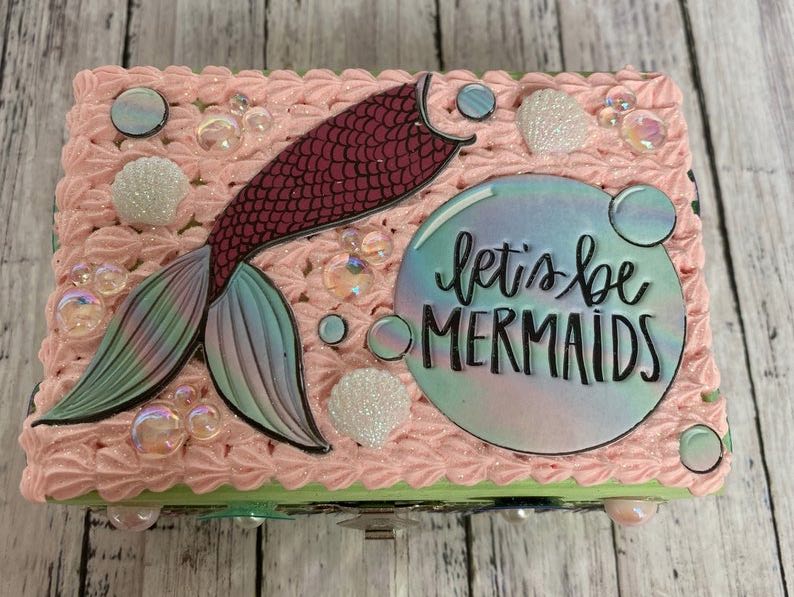 Could you have a friendlier message than that on your box? "Let's be mermaids." Yes, let's.

Hello Beautiful Mermaid Wish Box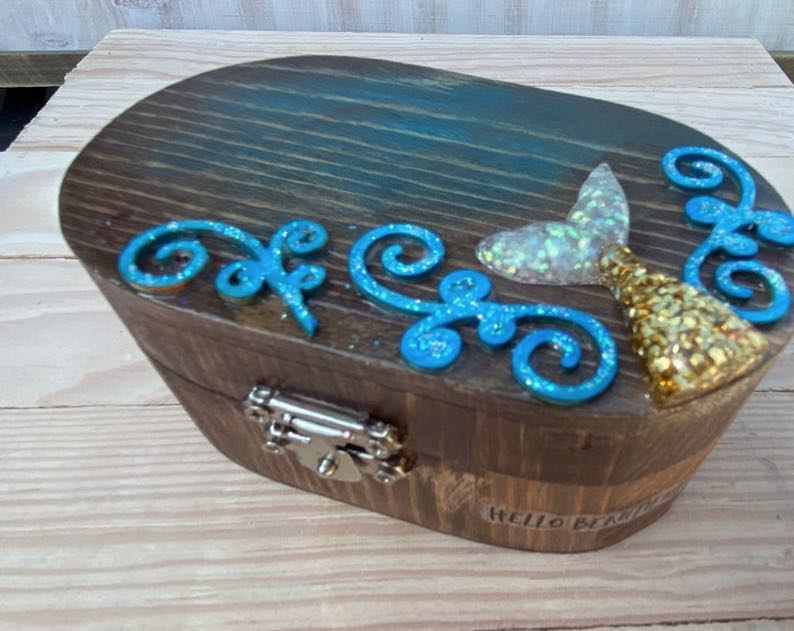 The simple, straightforward feel of this one works really well. Just a mermaid tail and a few blue spalshes. It works!

Little Girl Birthday Mermaid Unicorn Storage Gift Box
You know, I've seen a lot of beach-themed artwork in my day, but I'm pretty darned sure that this is the first time I've seen a mermaid unicorn. What a cute little design!

Little Mermaid Ring Box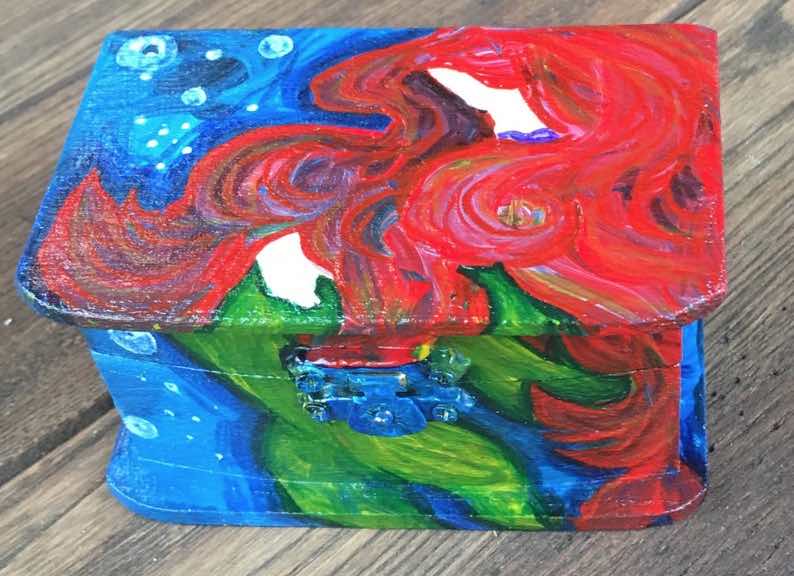 What a beautiful abstract painting we've got here. I love the flowing hair here and I love that the painting encompasses the entire box, not just the lid but the whole box.

Mermaid Themed Purple Jewelry Box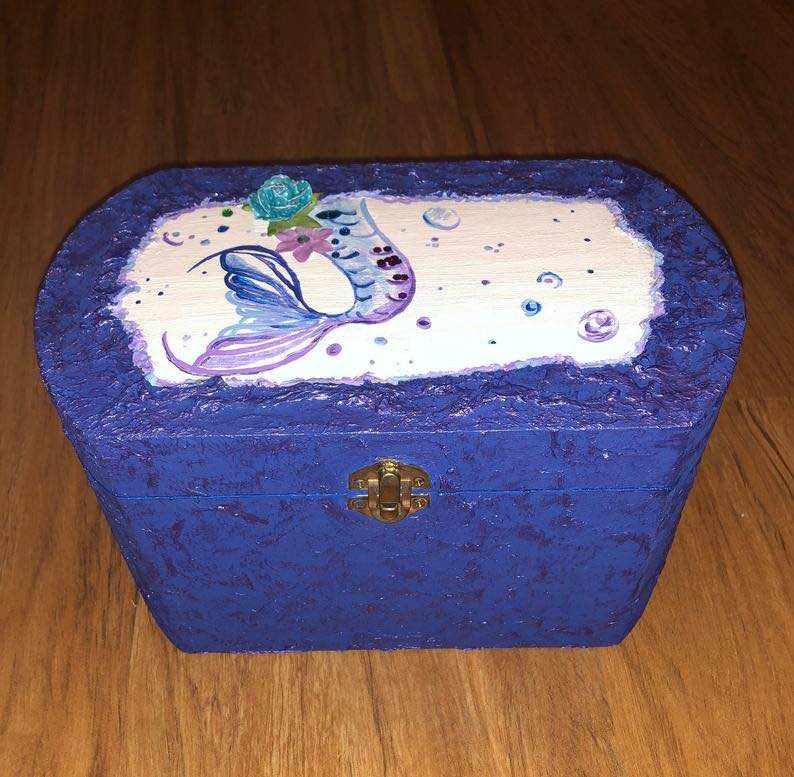 What a wonderful little handmade box this is. I'm really fond of the colors (I'm a purple fan, just so you know). And I think that the painting on the top is very unique — it's just the mermaid's tail, as the rest of her floats out out of view.

Hand-Painted Oval Mermaid Jewelry and Trinket Box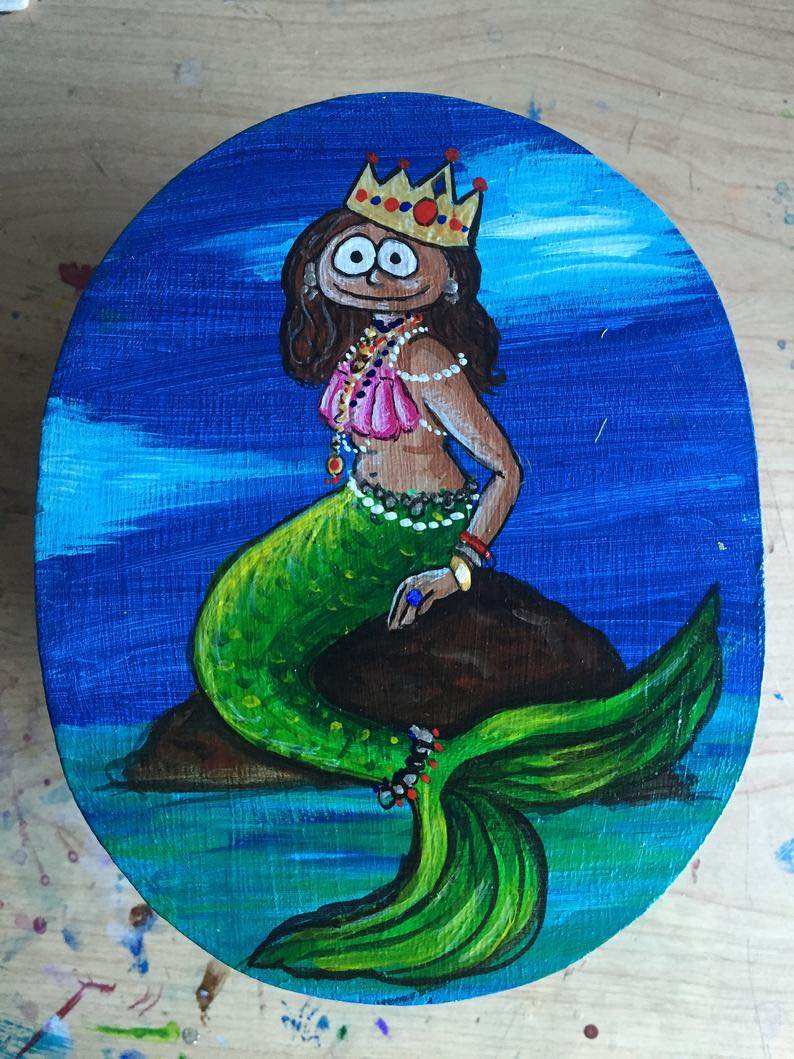 I have to admit that this one really made me smile. How great are those big wide eyes and that huge grin on this mermaid's face? Yes!

Upcycled Girl's Mermaid Jewelry Box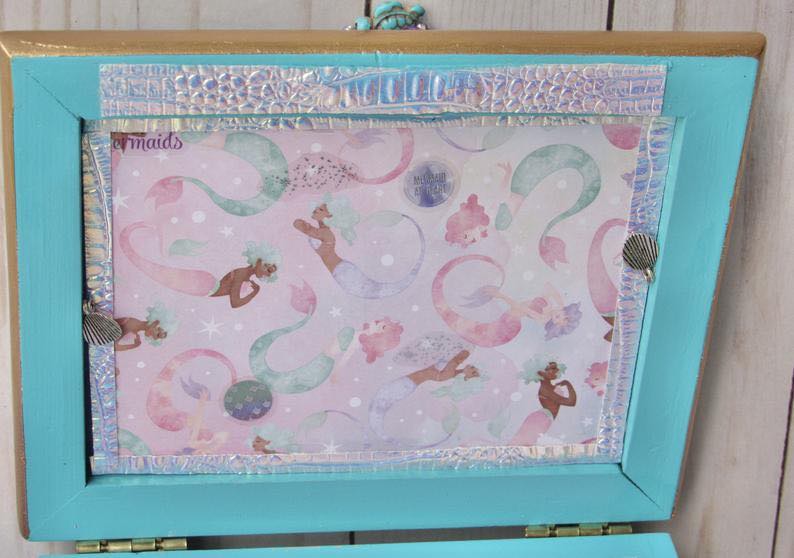 As I've said before, I am a big fan of upcycled products. I think that taking something that might have been trashed and turning into something beautiful is really neat. I like the soft colors on the illustration of multiple mermaids frolicking beneath the waves. And the teal background really makes it great

Antiqued Bronze Mermaid Trinket Box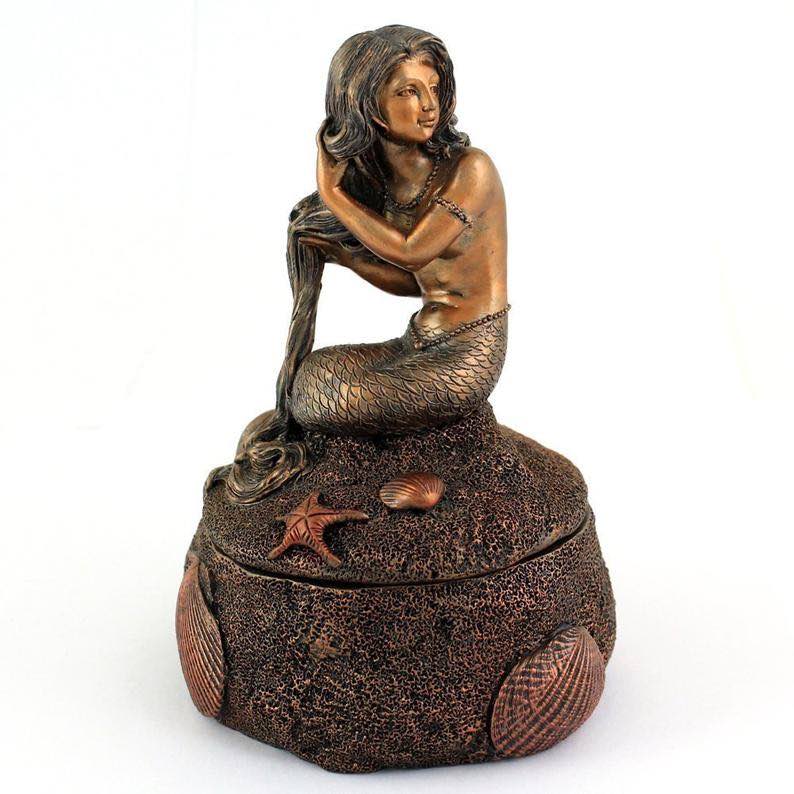 What a wonderful sculpture this is of the mermaid on the rock, wringing out her hair. I love all of the little details in the bronze work here.

Ocean-Themed Mermaid Jewelry Box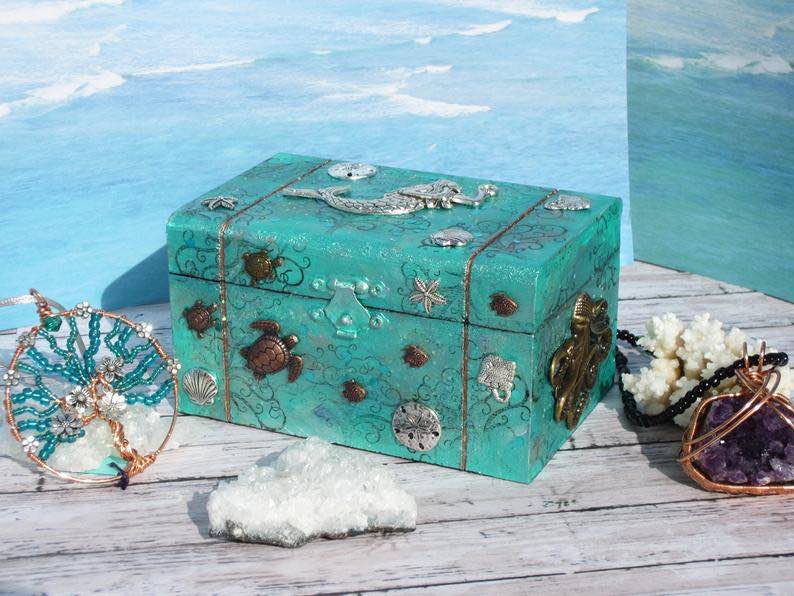 I really enjoy the fact that this jewelry box features not only the mermaid, but also several other sea creatures such as sea turtles, starfish and sand dollars. And the gentle swirls atop the teal make you really feel nautical.

Personalized Mermaid Earring Stand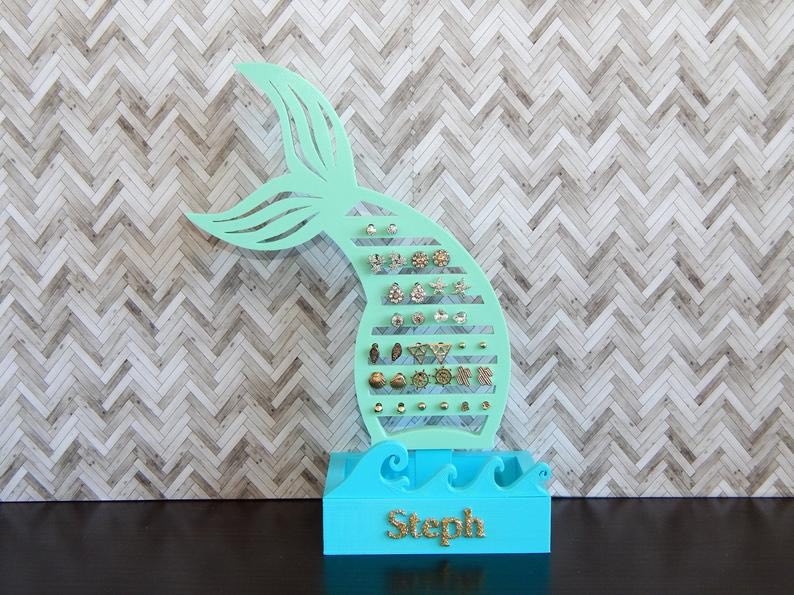 So, not technically a jewelry box, but I love the originality of this piece. I like earring stands because they keep all of your earrings in an easy display rather than jumbled in together. And the fact that this one is a mermaid's tail is wonderful.

Mermaid Musical Jewelry Box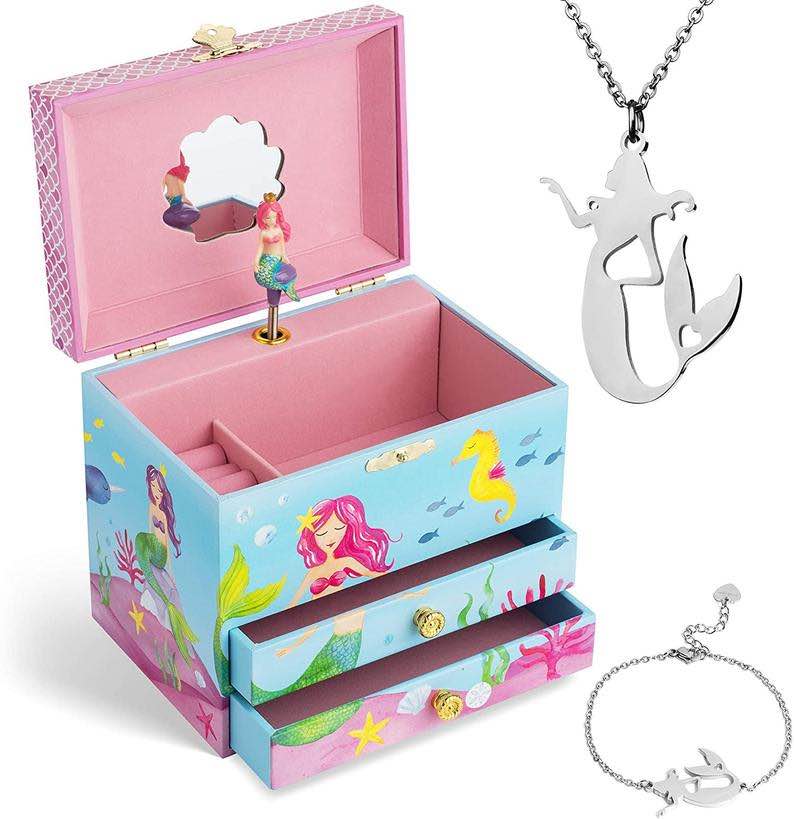 You can't go wrong with mermaids. You can't go wrong with music boxes. Put the two together and you are golden!

Mermaid Inspired Jewelry Box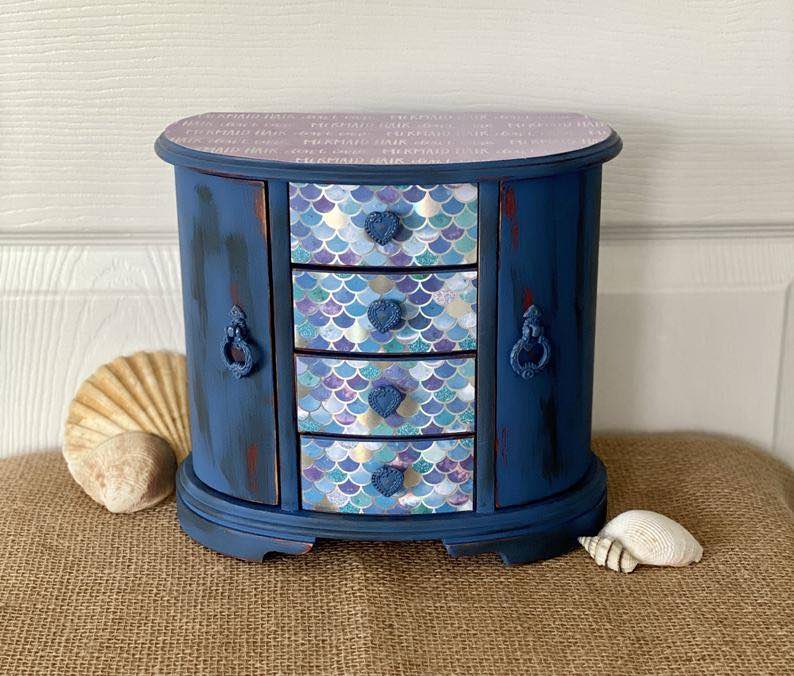 What fantastic little scale patterns on this mermaid "inspired" box. And the distressed look of the blue on the wood is great.

Little Girl's Mermaid Jewelry Box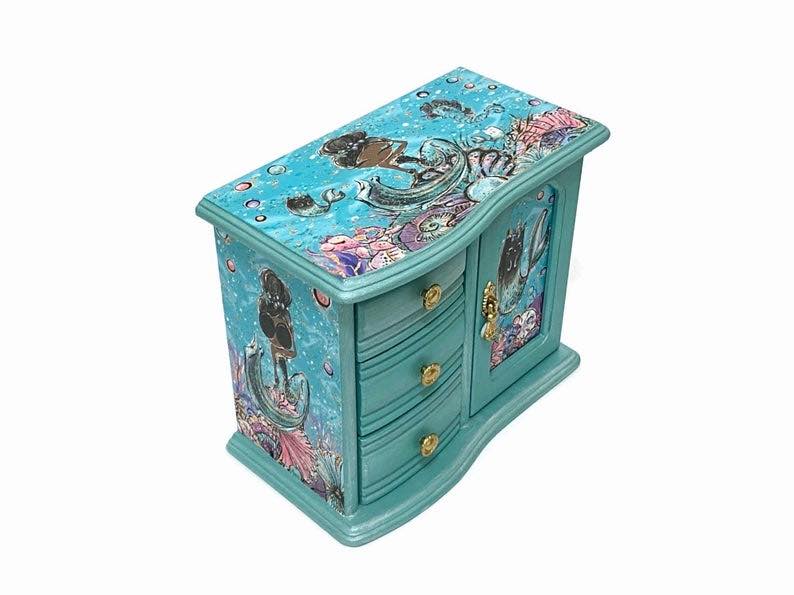 I love the designs on this hand-painted jewelry box. There's a lot of fantastic detail painted atop a wonderful teal color — and since teal is basically the official color of seaside decor, this one would fit in with the decor of any girl's room in a beach house

Mermaid Cave Illustrated Trinket Jewelry Box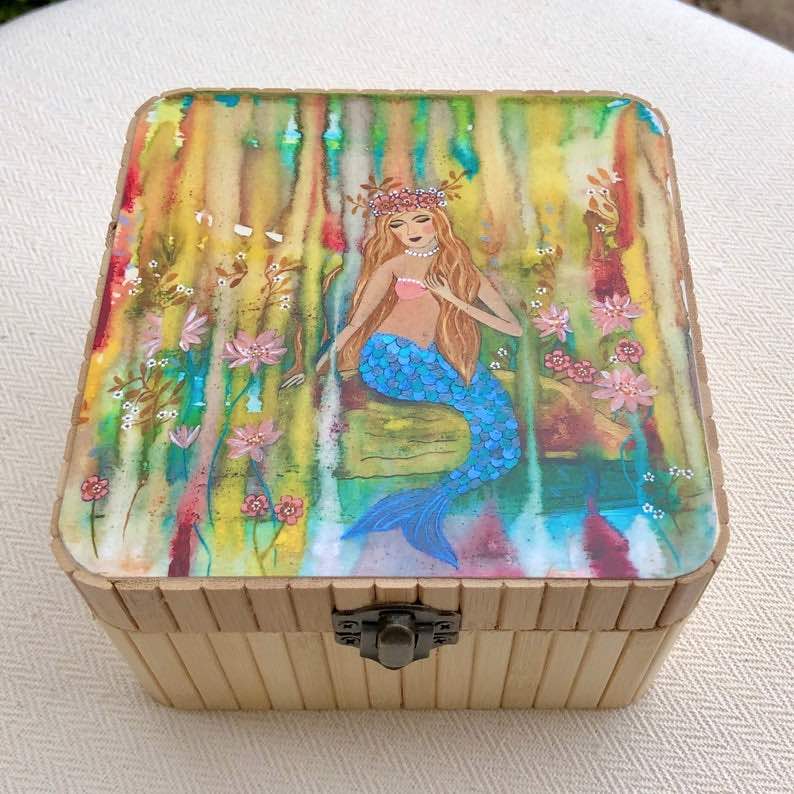 Wonderful colors and wonderful design on this one. I think that this particular illustration is really appealing: you've got a background that looks like watercolor with the foreground mermaid in a very nice illustration style. Add this atop a lightweight wooden panel box and you've got a great place to store that jewelry.

Little Mermaid Jewelry Armoire Chest Box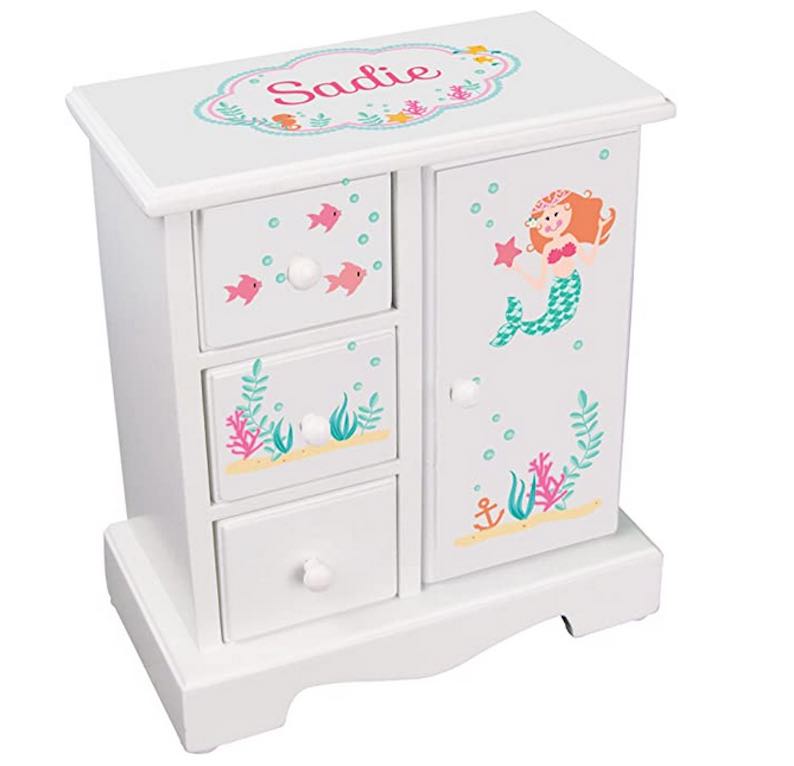 Mermaids shouldn't all be serious, sometimes they should just be fun! And that's what I think of this particular armoire: fun! I love the colors and the whimsical little mermaid and the whimsical little fishes. Once again: fun!

Mermaid Nerida Resting On Sunken Treasure Jewelry Box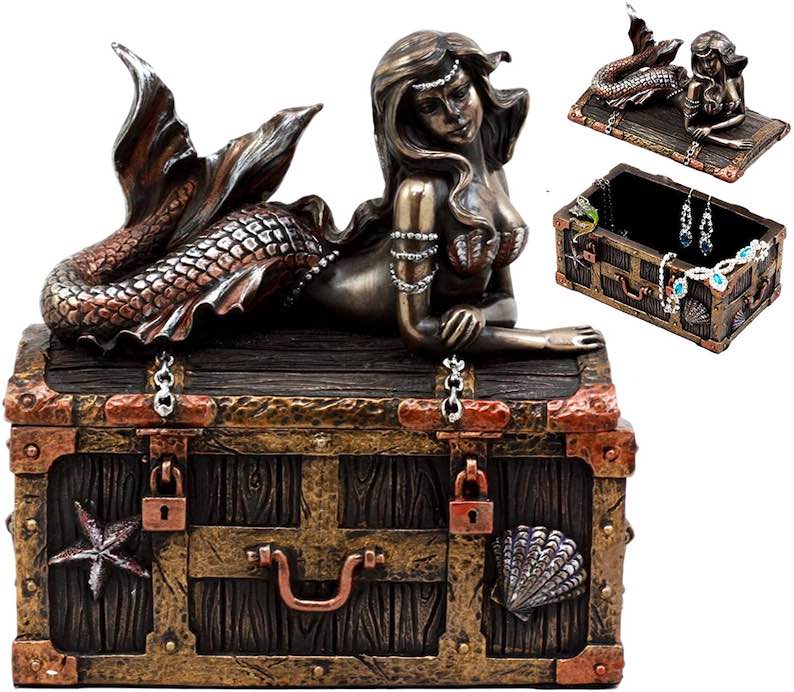 Resting on a pirate's chest of sunken treasure. Wonderful idea for a jewelry box. I think it's great!

Mermaid Riding Seahorse Trinket Box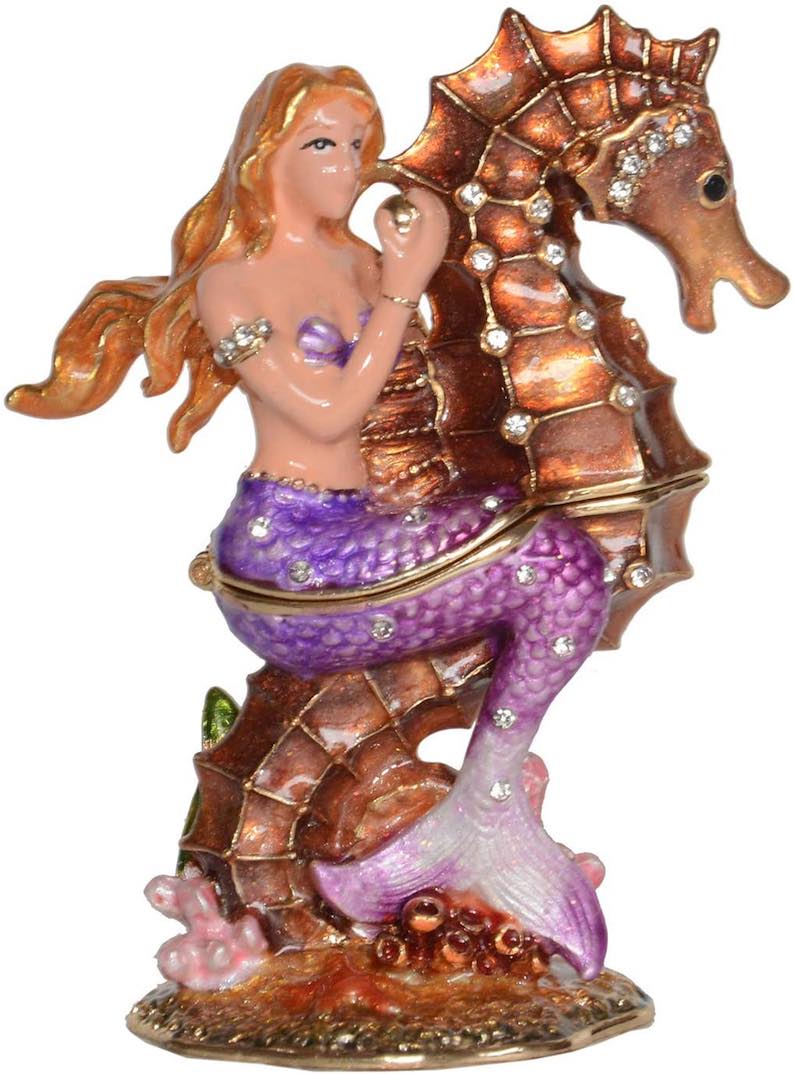 I believe that if I were a mermaid, then riding a seahorse would definitely be a regular item on my to-do list.

Mermaid Trinket Dish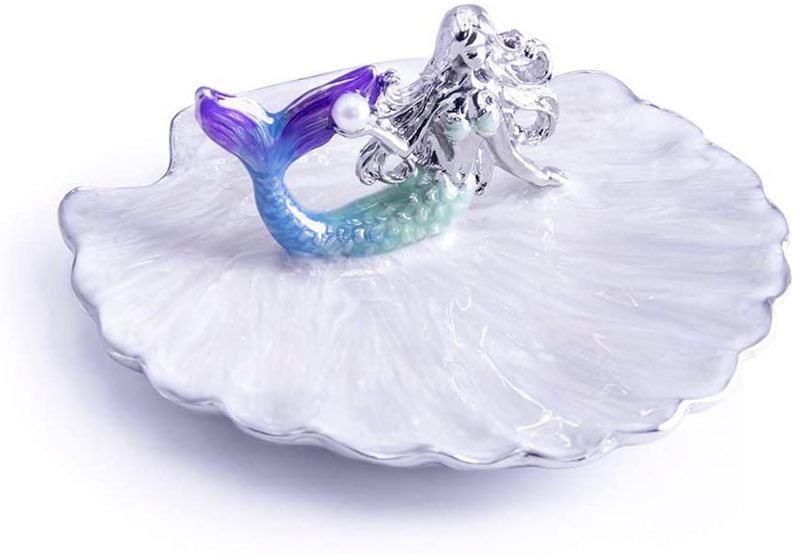 Okay, so not technically a mermaid jewelry box, it is a place for storing jewelry and it does feature a mermaid (and it is artistic enough to be on this list).

Mermaid Tail Jewelry Holder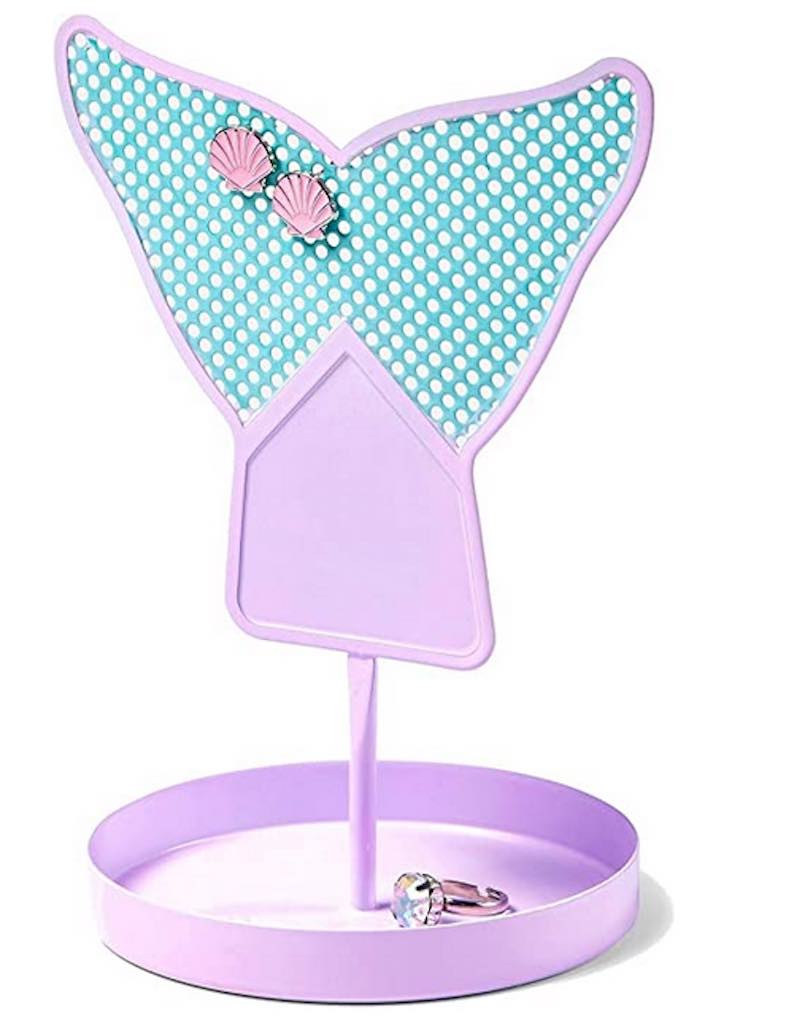 I'm a fan of storing earrings upright like this. It just makes them easier to see. And I love how this jewelry holder has added a dish area at the bottom for rings. Oh, and it's mermaid themed, so you can't beat that.

Mermaid and Conch Trinket Box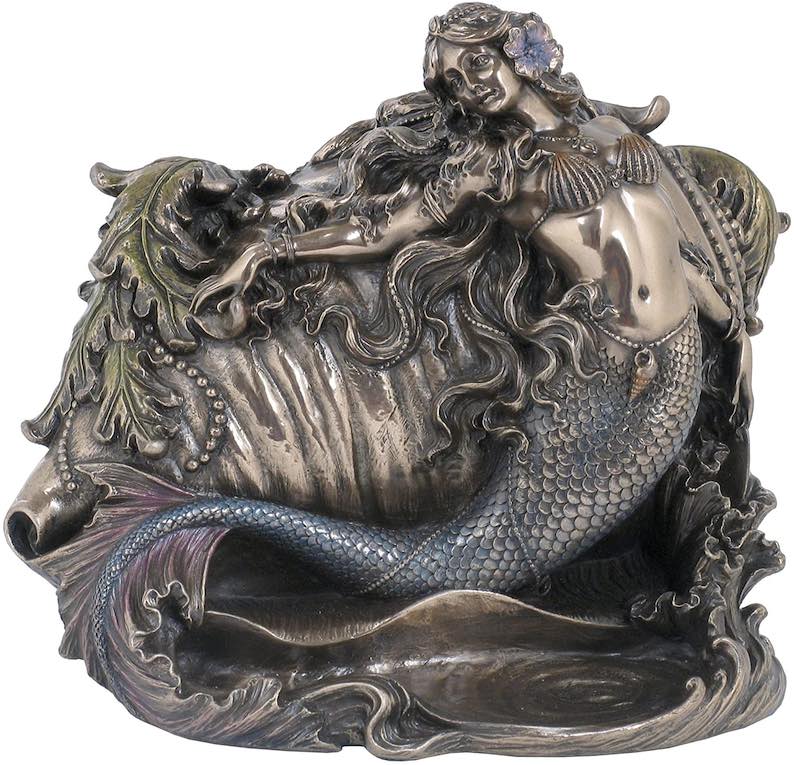 There's a classical eligance to this mermaid and conch trinket box. I love this little scultpure of the mermaid, swimming about with her conch. Lovely details!
Mermaid Jewelry Boxes
Thanks for checking out this list of mermaid jewelry boxes. If you liked it, please share it on your social. Thanks!
Written by Renee