Mermaid Bracelets & Anklets ~ on the wrist or on the ankle, mermaids look great
Make a mer-statement by wrapping a mermaid around your wrist! There's certainly a great assortment of jewelry out there featuring a mermaid theme, and we've been on something of a quest to find all of the best.

Today we're looking at bracelets — and we found a great assortment of mermaid bracelets and mermaid anklets. Check 'em out!

Antiqued Sterling Silver Mermaid Bracelet
I'm a fan of the "antiqued" look. And I'm a fan of mermaids (obviously). So this one works really well for me. I think it's really great that there are multiple mermaids all in a row, kind of giving the effect of a school of mermaids swimming around your wrist.
See all of our Mermaids Pages:
Mermaid Necklaces • Mermaid Clothing • Mermaid Earrings • Mermaid Bracelets • Mermaid Jewelry Boxes • Mermaid Art • Mermaid Rings • All Things Mermaid

Mermaid Wish Bracelet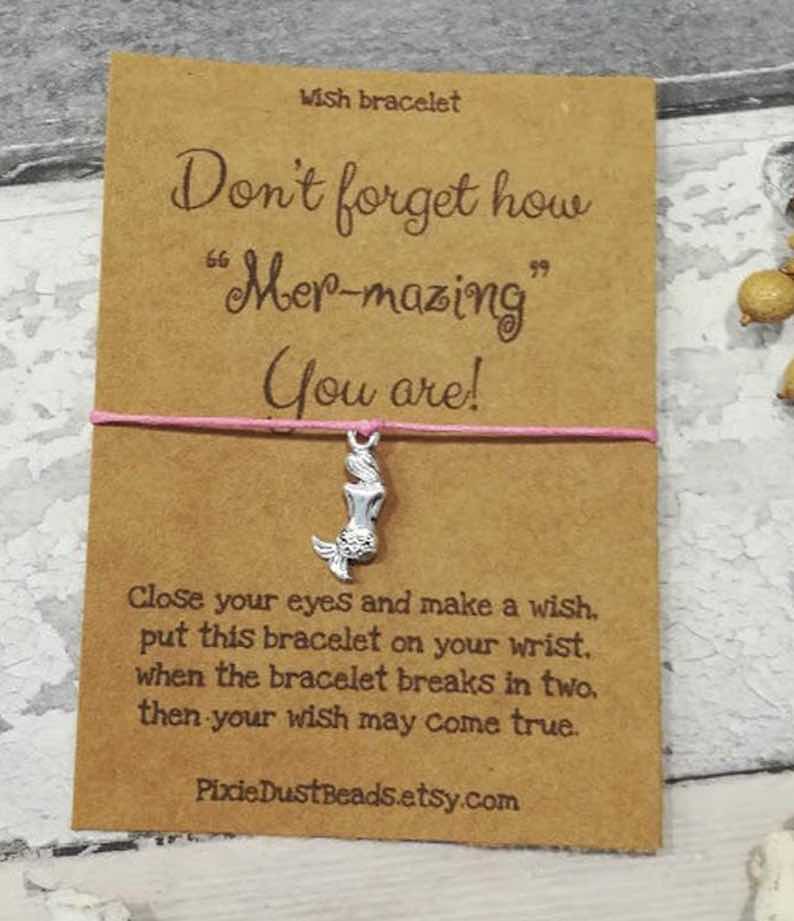 "Close youre eyes and make a wish,
put this bracelet on your wrist.
When the bracelet breaks in two
then your wish may come true."
Or so I'm told.

Blue Beaded Leather Mermaid Bracelet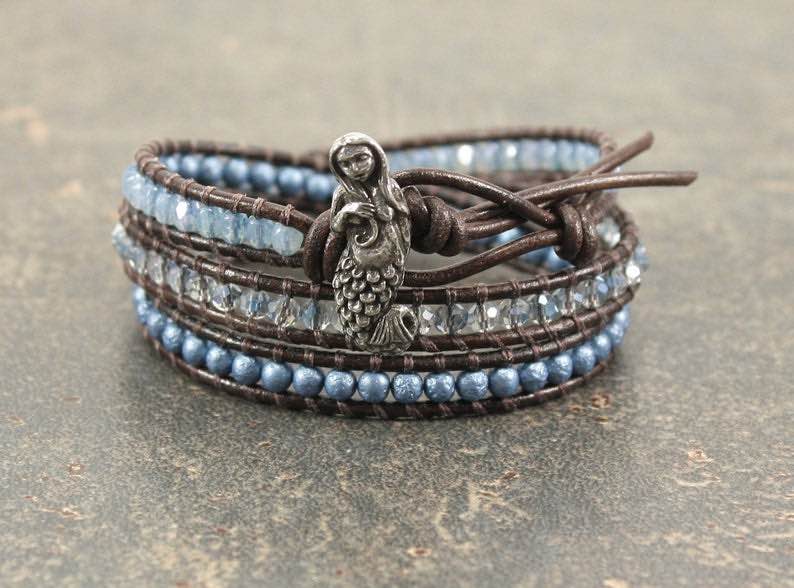 I have to say that this one is probably my favorite of the bracelets on this page. First, let's start with the mermaid herself: I love this representation of the mermaid, with the wonderful detail and how her head is slightly bowed in contemplation. Then the band part of the bracelet: look at the care taken here as the leather is wrapped with some beads and stones. I think that this one is just wonderful.

Personalized Girl's Mermaid Charm Bracelet
What a fun look to this one! Here they've taken several simple elements — common letter beads, flowers, faux pearls and a popular mermaid charm — and brought them all together to make something that is much more than the sum of its parts. Aaaaand it's personalized! Can't beat that!

Mermaid Bracelet with Stainless Steel Charm and Adjustable Hemp Band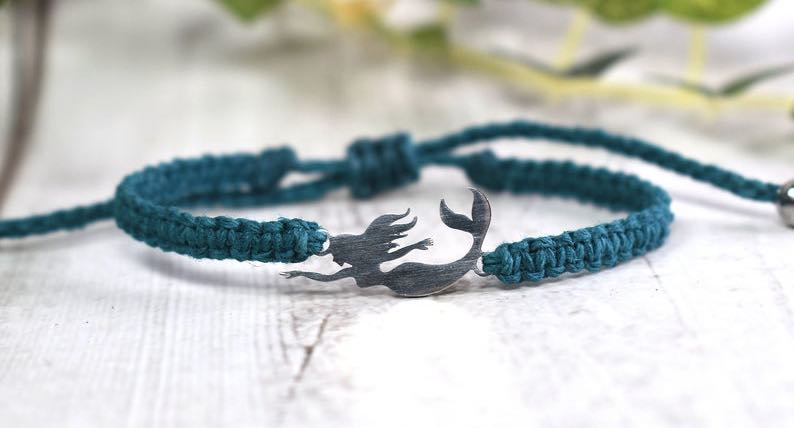 The hemp bracelet part of this one is really well done (I really like the braiding pattern and the color choice is perfect for something beach-themed). Then use that hemp bracelet to tie on a swimming mermaid. Perfect.

Silver Shark and Mermaid Bracelet
And the shark and the mermaid just swim by one another, each leaving the other to their own business.

Personalized Kids Mermaid Bracelet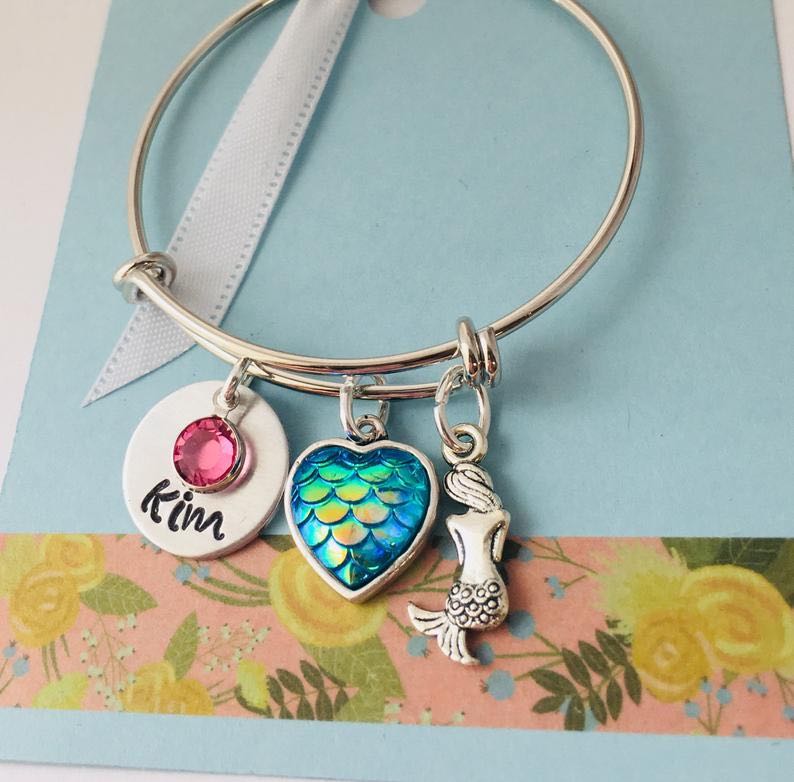 Personalize your mermaid bracelet, kid.

Mermaid Bracelet With Blue Glass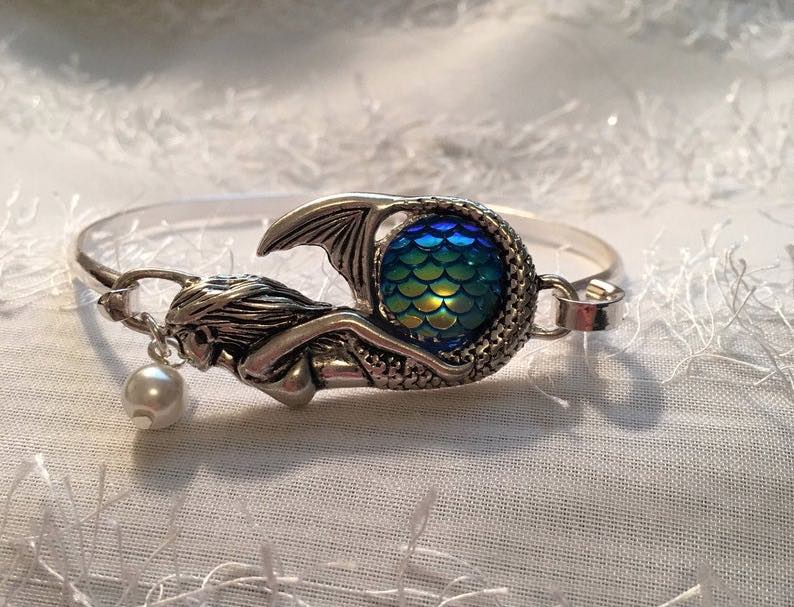 Isn't this a wonderful piece? The sculpting of the mermaid is perfect, and I absolutely love the way that the blue glass sphere is integrated into the work. I can really feel the sea on this one.

Bronze Mermaid Bracelet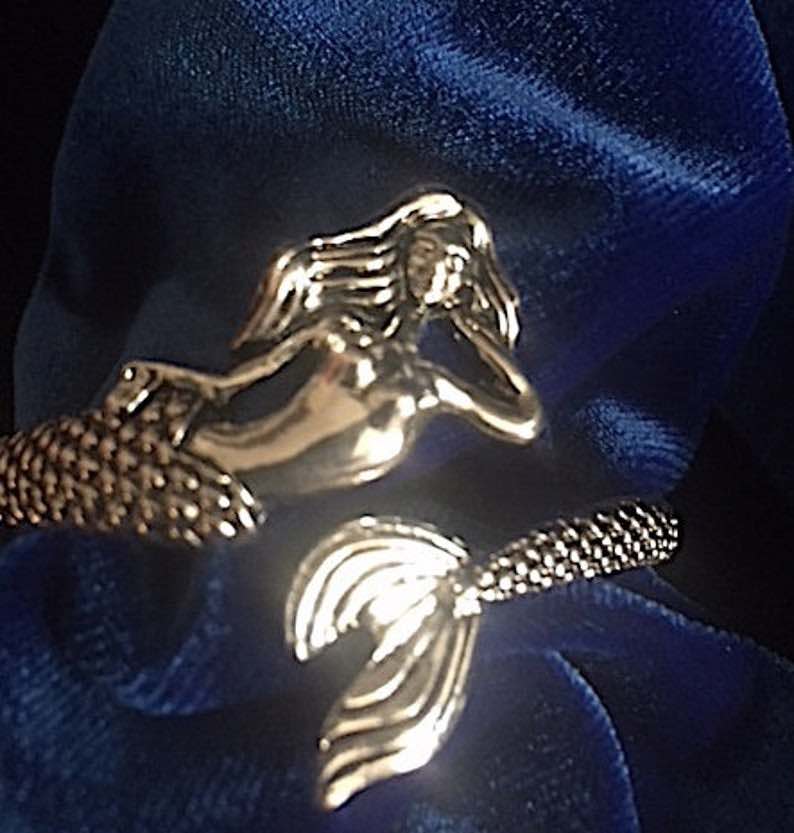 From head to tail this bronze mermaid wraps round your wrist in this bronze mermaid bracelet.

Mermaid Charm Bracelet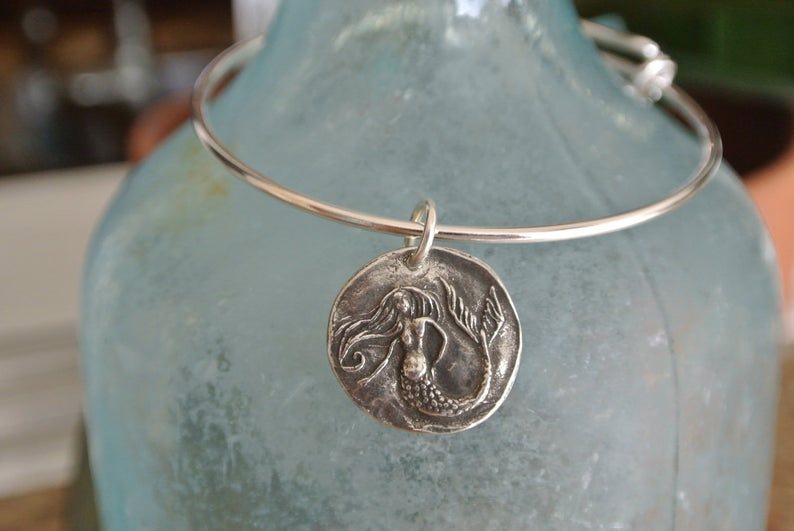 What a pretty design on this little wax seal charm bracelet. The engraving of the mermaid is a unique pose in mermaid-dom, and I really like the rough-hewn look to this piece. It almost has the look of an ancient coin (maybe it's a quarter in Atlantis money?).

Adjustable Macrame Girl's Mermaid Bracelet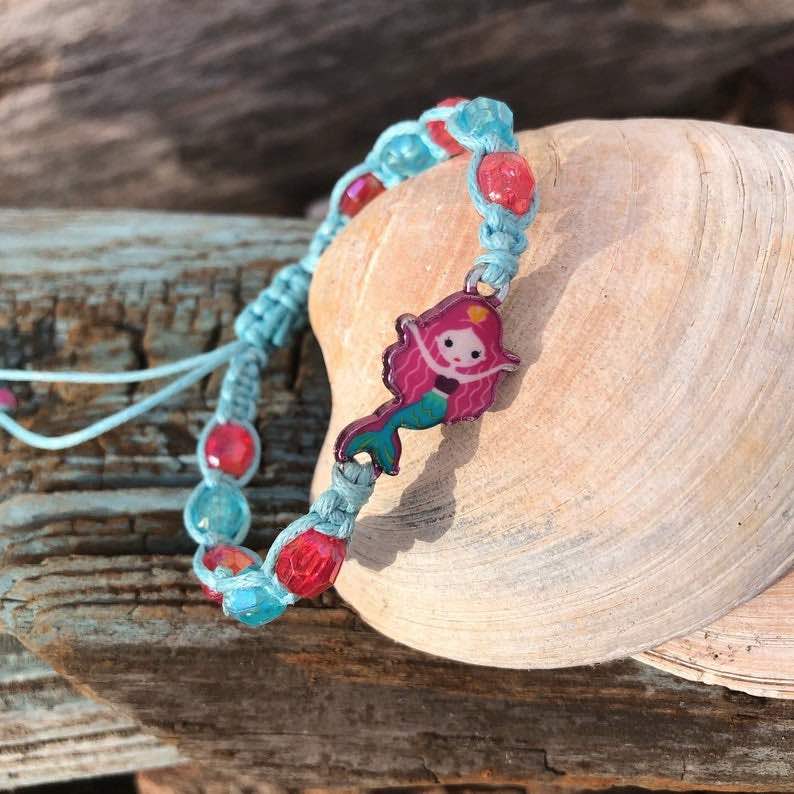 Perfect color combo on this adjustable macrame girl's mermaid bracelet. I could see a bunch of these being used as party favors at a mermaid-themed birthday party.

Mermaid Wax Seal Cuff Bangle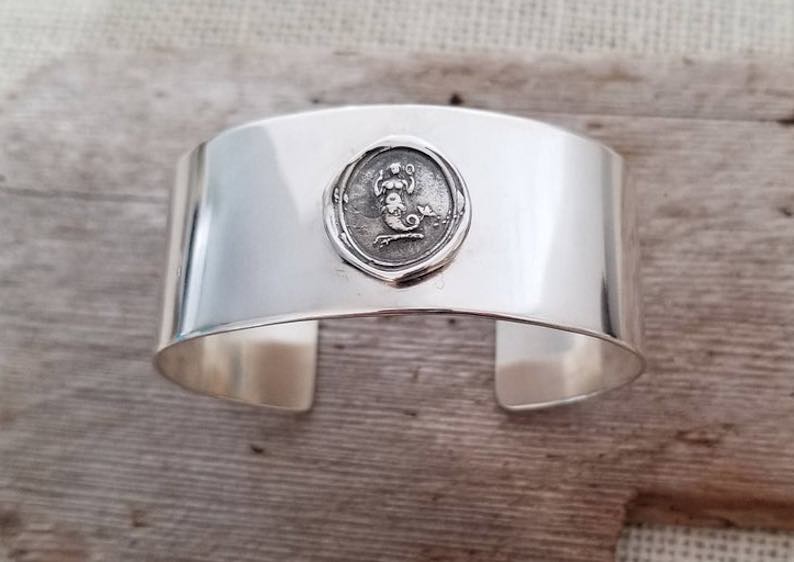 As I mentioned earlier, I'm a fan of the rough look that you get with wax seal impressions. And having this one smack dab in the middle of an otherwise smooth bangle is wonderful.

Silver on Silver Mermaid Bracelet
A common motif in mermaid art is the mermaid swimming with her pearl. For this silver on silver mermaid bracelet I really love the sculpting work that has gone on here. I mean, just look at that wonderful detail to her flowing hair and see how perfect those scales on her tail look. And the expression on her face is just perfect.

Cuff Mermaid Bracelet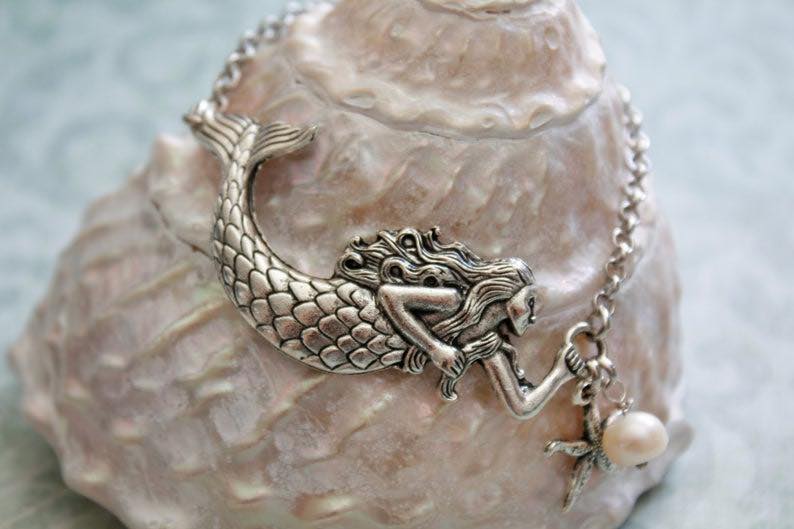 And round and round the wrist she swims…

Macrame Mermaid Tail Bracelet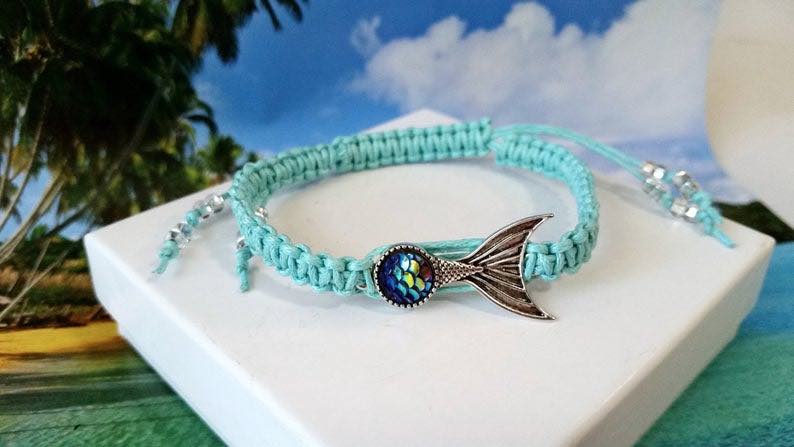 There is some great mermaid tail jewelry out there. I think it's wonderful how this macrame mermaid tail bracelet has integrated one of those with some soft teal macrame. Nice.

Mermaid Bracelet With Aqua Sea Glass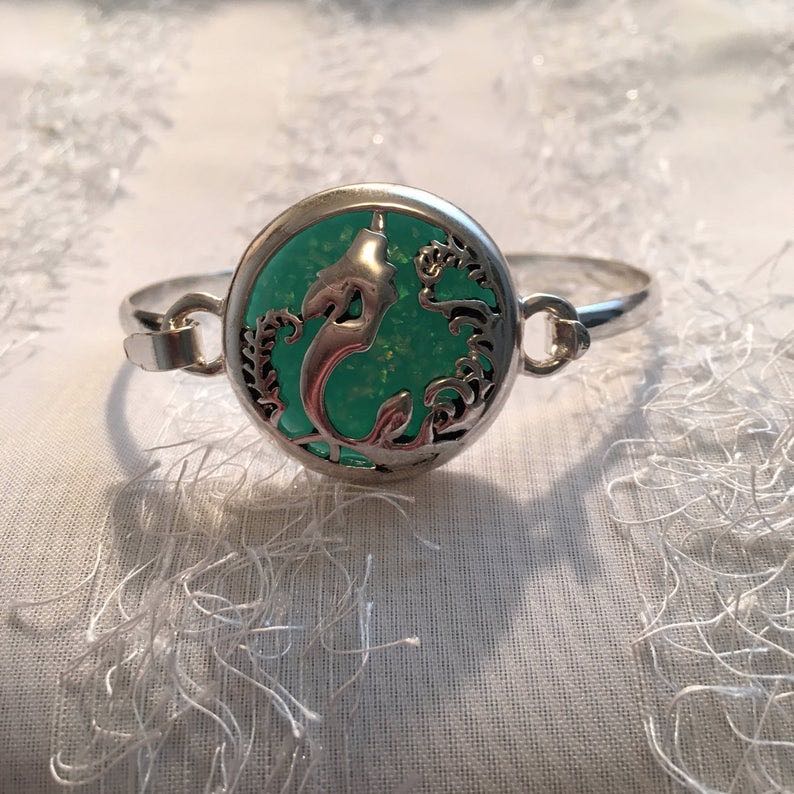 Here's a rather unique looking cameo piece that has been mounted onto a bracelet. I really like the look of this abstract mermaid and waves so delicately woven atop a really pretty green stone.

Silver Mermaid Skeleton Bracelet
Sometimes, you need to not take things so seriously. I think that's what this silver mermaid skeleton bracelet is all about. Just chill.

Girls Mermaid Purple Bracelet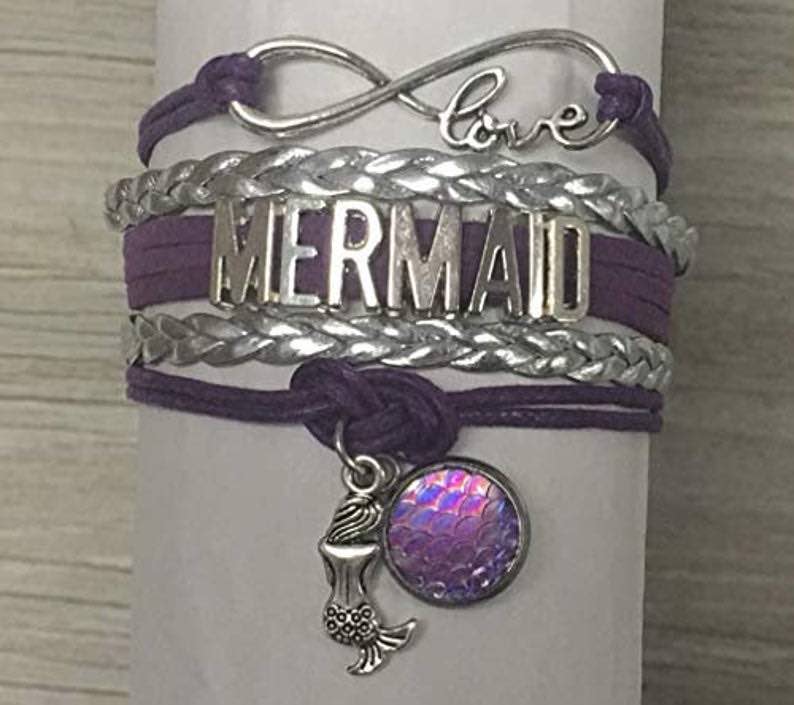 I'm a fan of purple. I'm a fan of mermaids. Put 'em together and what do you get? Why, a girls mermaid purple bracelet.

Personalized Mermaid Birthstone Bracelet
It's always fun when you can make a piece of jewelry truly your own, which is something you can do by combining a mermaid with a personalized charm and your very own birthstone

Mermaid & Starfish Bracelet
Mermaids and starfish just naturally go together. So having them on opposite ends of a band so as to form a bracelet really works for me.

Always Be A Mermaid Bracelet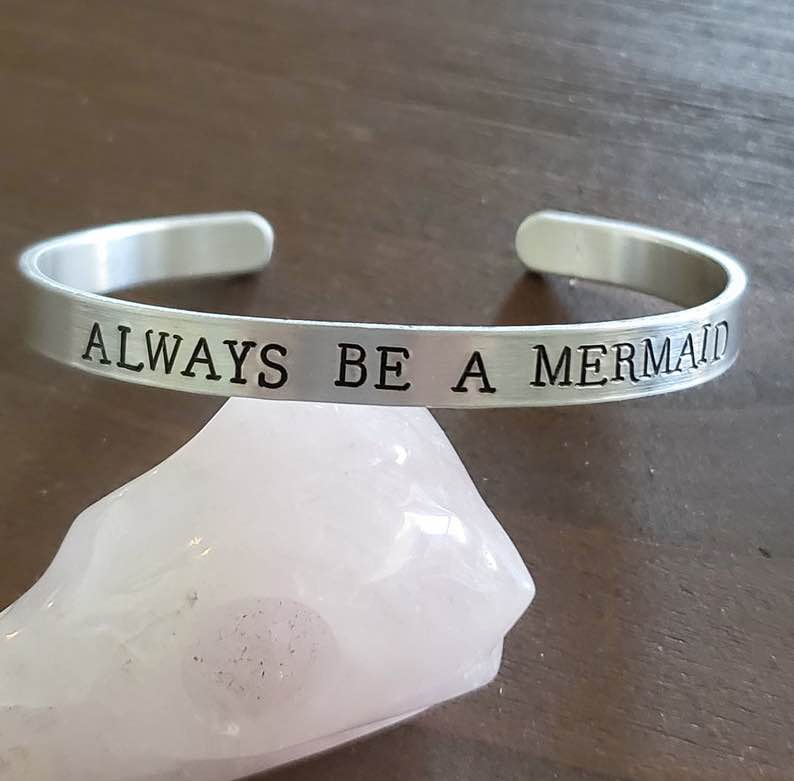 A very simple design with a very great piece of advice: always be a mermaid. Always.

Mermaids Do It Better Cuff Bracelet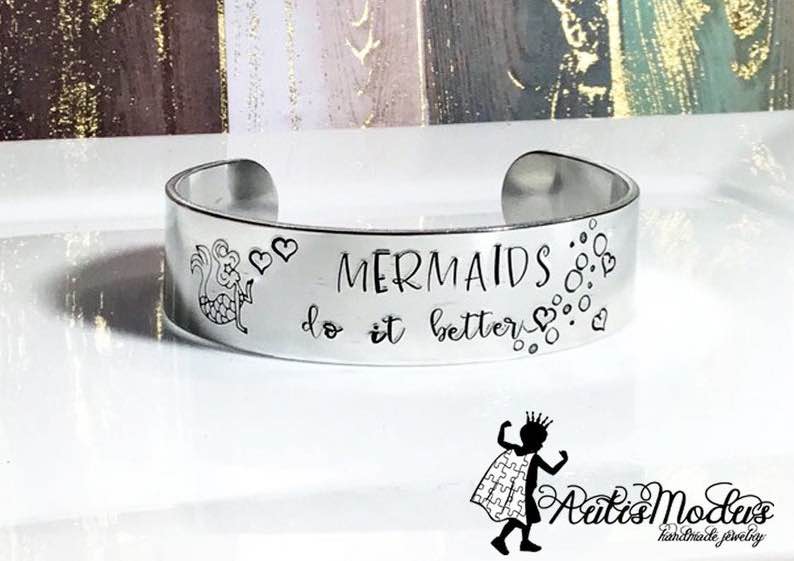 I really like the drawing of the mermaid and the floating hearts that accompany this "Mermaids Do It Better" Cuff Bracelet.

Blue Fire Opal Conch Mermaid Bracelet
Mermaid. Conch. Pearl. Wonderful.

Mermaid Wave Bracelet Made Of Sterling Silver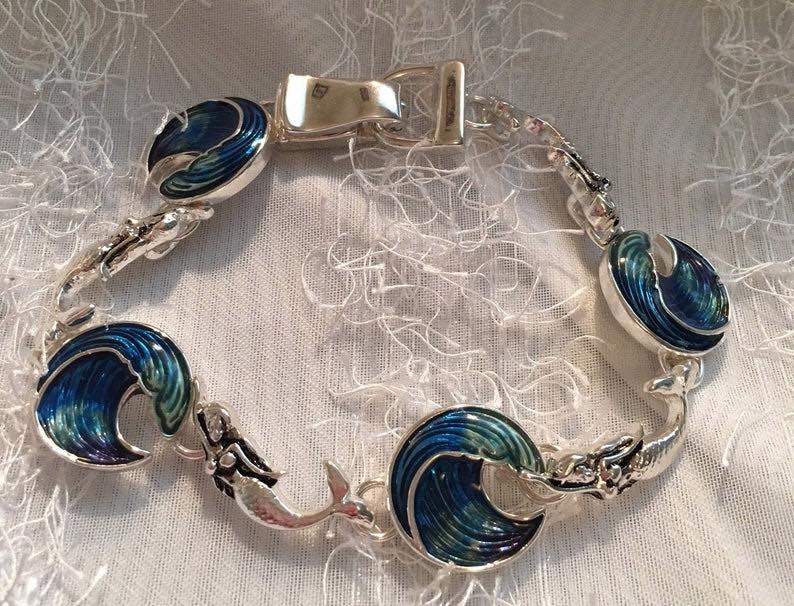 I think that these little waves are really neat. Just look at them! 3D curls, and the colors are great. And how cool is it to see the mermaids swimming between the waves? Very cool.

Mermaid at Heart Bracelet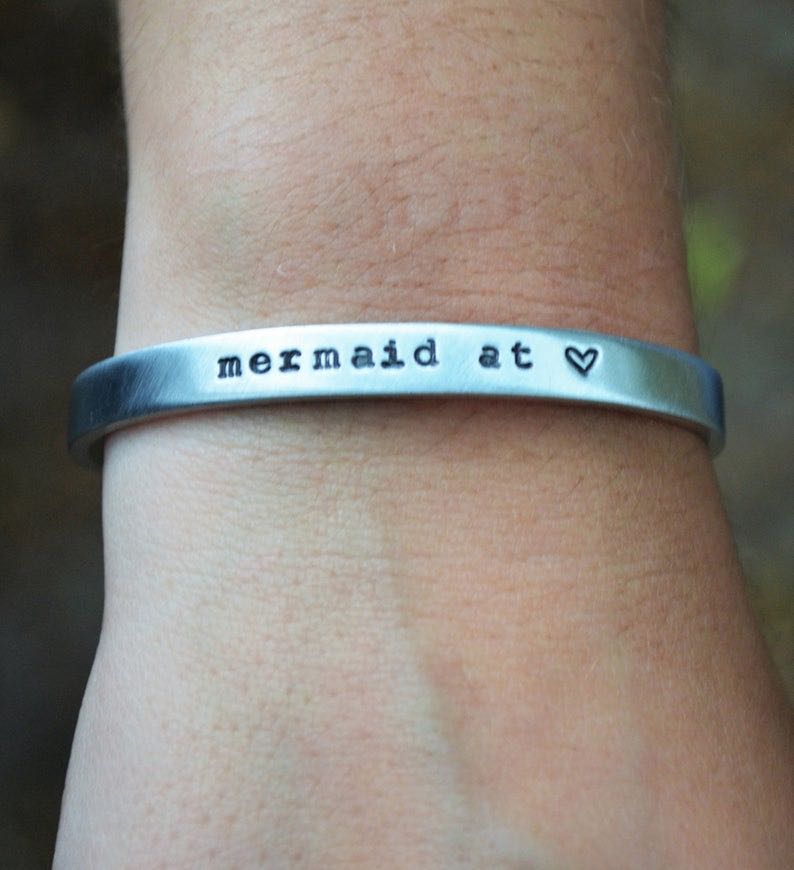 Mermaid at Heart. Yes indeed.

Mermaid White Opal Beaded Bracelet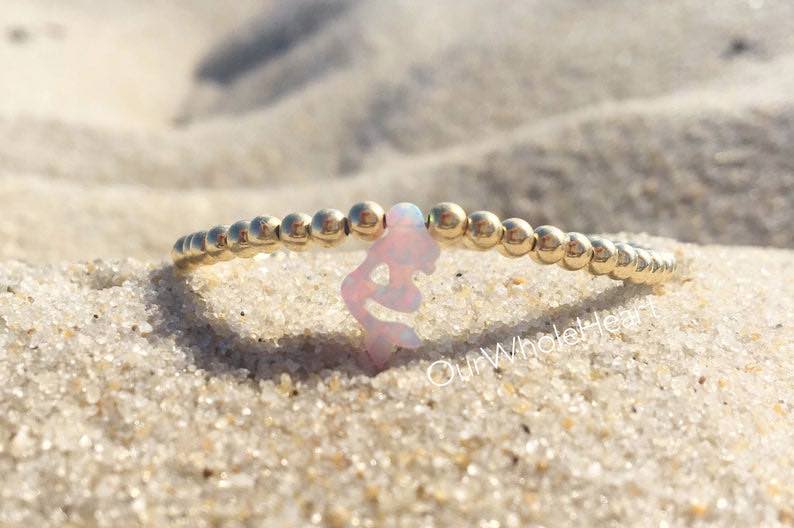 I'm intriged by this mermaid carved out of white opal. What a wonderful look. And then mounted on a string of golden beads to form a bracelet.

Antiqued Gold Cuff Mermaid Cameo Bracelet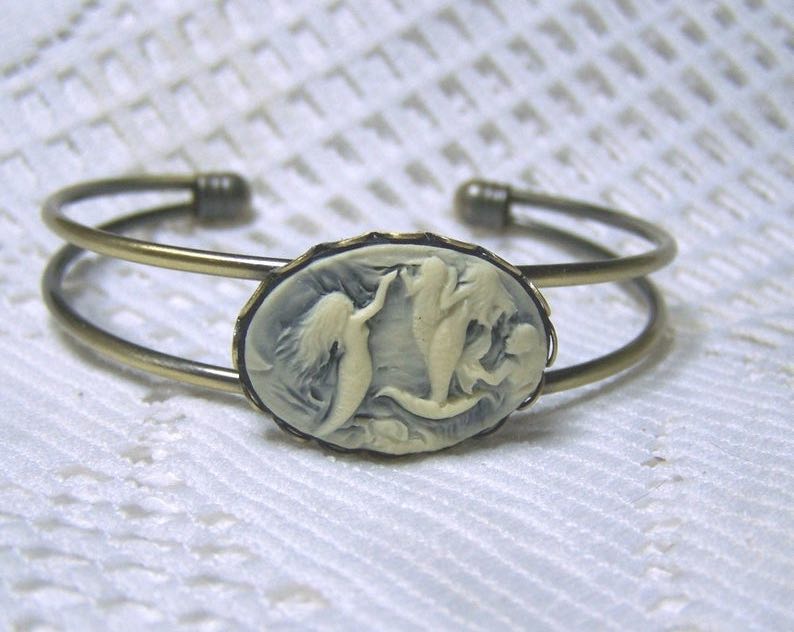 This kind of looks like something that you would find in a box of your great-grandmother's jewelry, doesn't it? And I mean that in a good way. The delicate cameo sets a wonderful scene of mermaids rising to the surface, and then it's mounted on a gold cuff. I simply love the look of this one.

Mermaid At Heart Bracelet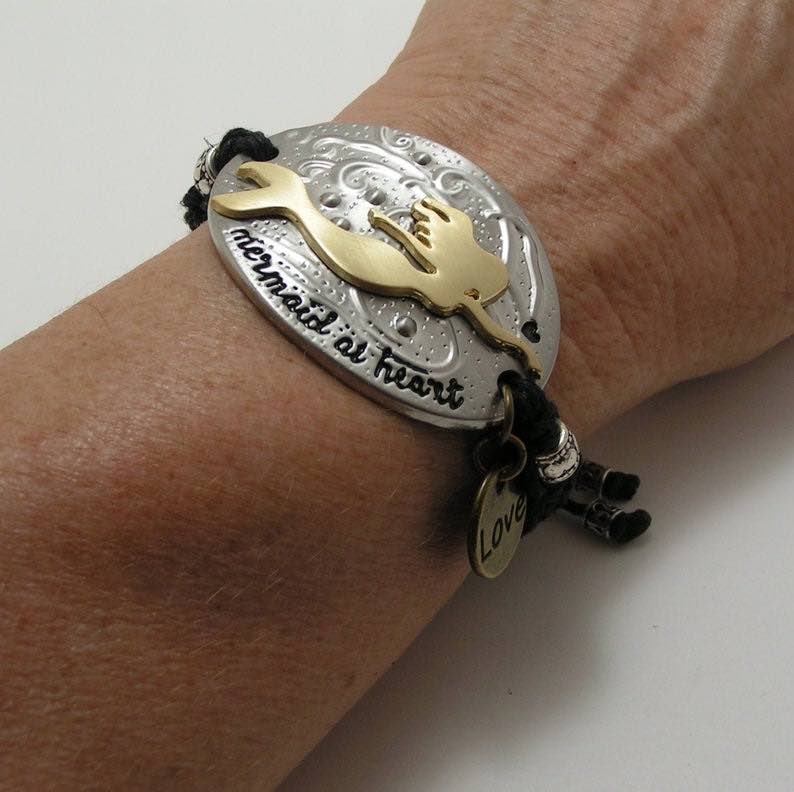 And if you are into boldly making a statement, this "mermaid at heart" bracelet does just that.

Really A Mermaid Bracelet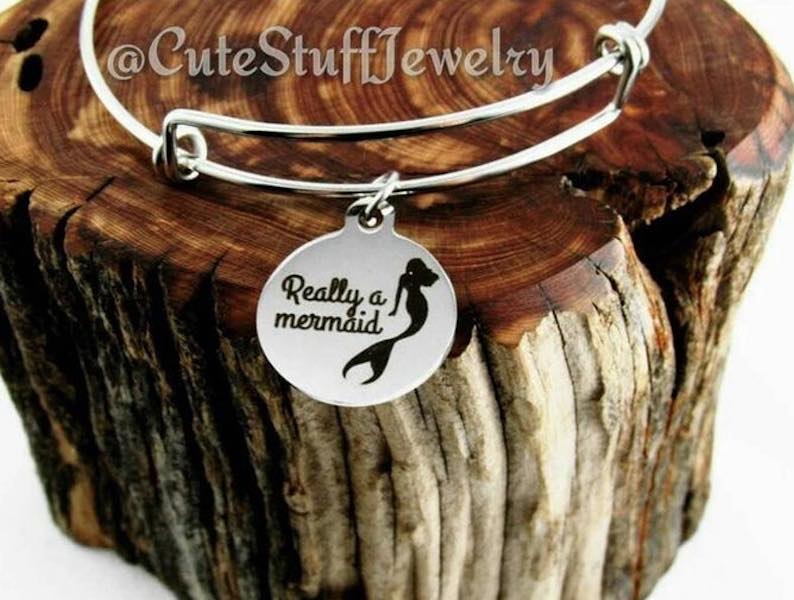 I was really drawn to the soft and flowing illustration of a mermaid in silhouette on this one. Wonderful.

Mermaid Focal Black Leather Bracelet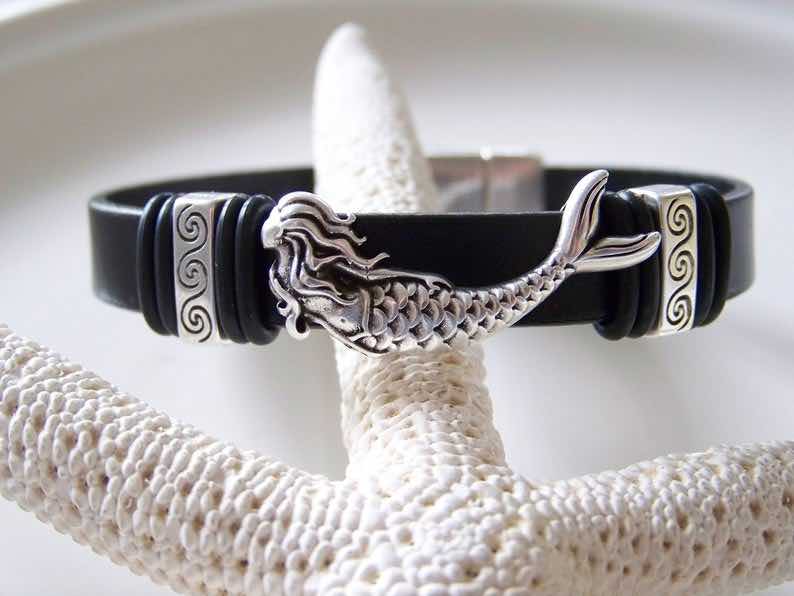 Black leather bracelets are kind of cool in and of themselves, but add a mermaid and you're golden. Not only do I really like the design of the mermaid on this one, the little swirls in relief just make this one pop for me.

Beaded Leather Mermaid Bracelet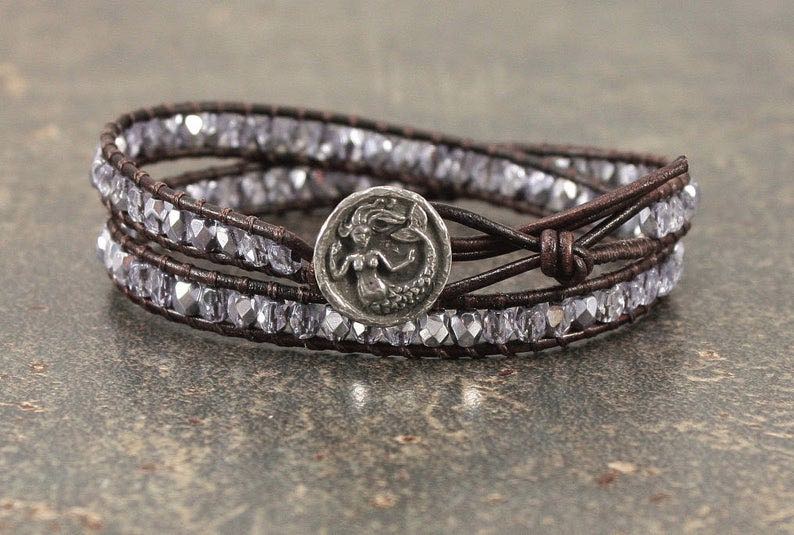 Great leather bracelet combined with a wonderful wax seal mermaid.

Mermaid Tail Spoon Bracelet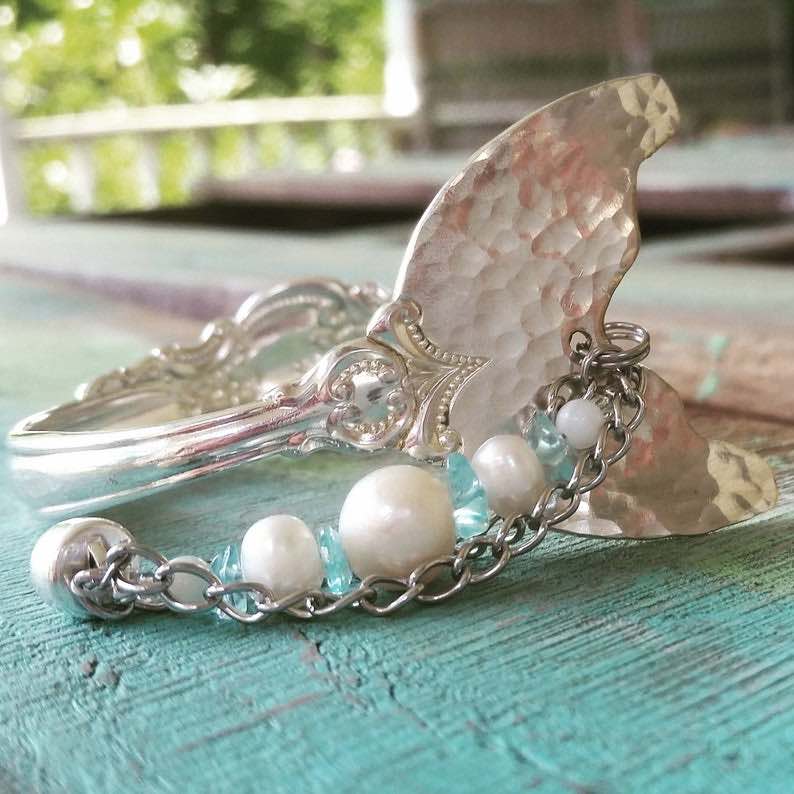 Spoon bracelets (and other spoon jewelry) are pretty neat in my opinion. I think it's just wonderful the detail that has gone into this mermaid tail spoon bracelet. Plus a little string of beads!

Mermaid Tail Wrapped Cuff Bracelet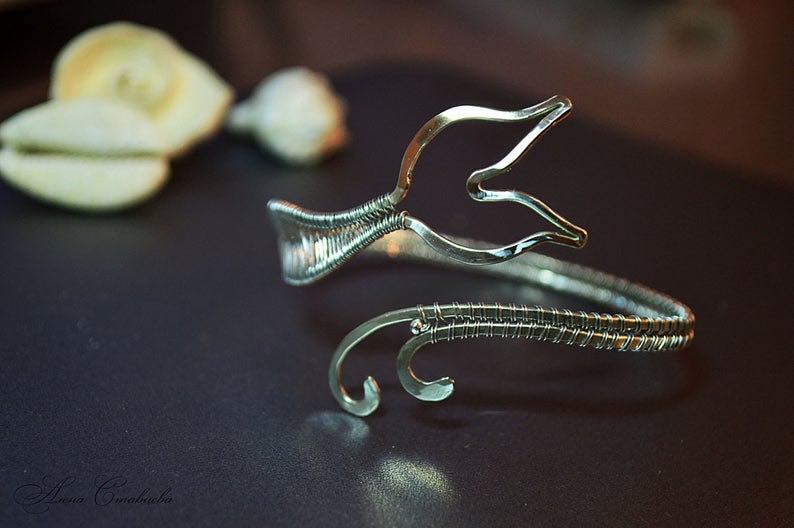 This mermaid tail wrapped cuff bracelet is both really unique and really beautiful. I love the flow of it and the intricate little wrappings add a terrific bit of detail to the piece.

Sweet Romance Mermaid Bracelet
For some this sweet romance mermaid bracelet may seem… a bit much. But just look at all of the wonderful detail that has gone into this one. Not just the wonderful sculpting of the mermaid herself (and her pearl, of course) but also look at the mounting of multiple pearls and stones so intricately worked together.

Green Wraparound Mermaid Tail Bracelet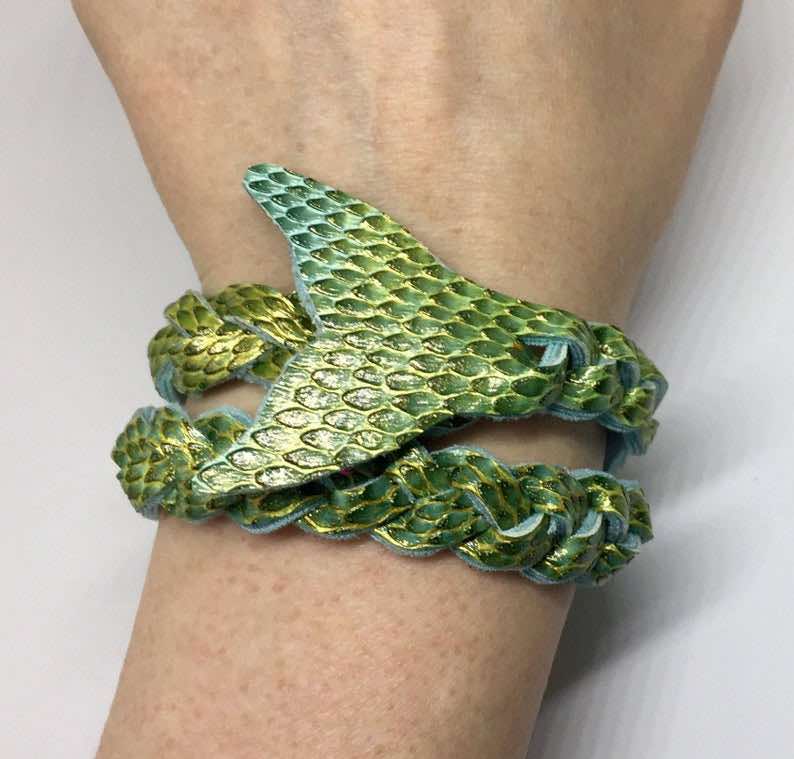 The mermaid's tail wrapped around your wrist as though it will never let go.

"I'm done adulting, let's be Mermaids" Bracelet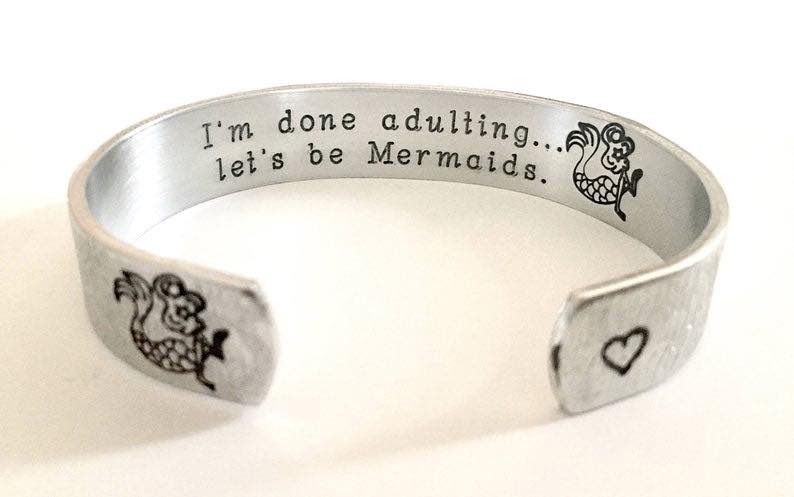 "I'm done adulting… let's be mermaids." Ah, what a sentiment. If only we could do that. I know that I'd trade my day job for a set of fins any day.

Mermaid's Tail Anklet
Wonderful combination of a tiny mermaid tail charm and some little sterling silver waves. Perfect for a day at the beach.

Mermaid Anklet With Aqua Sea Glass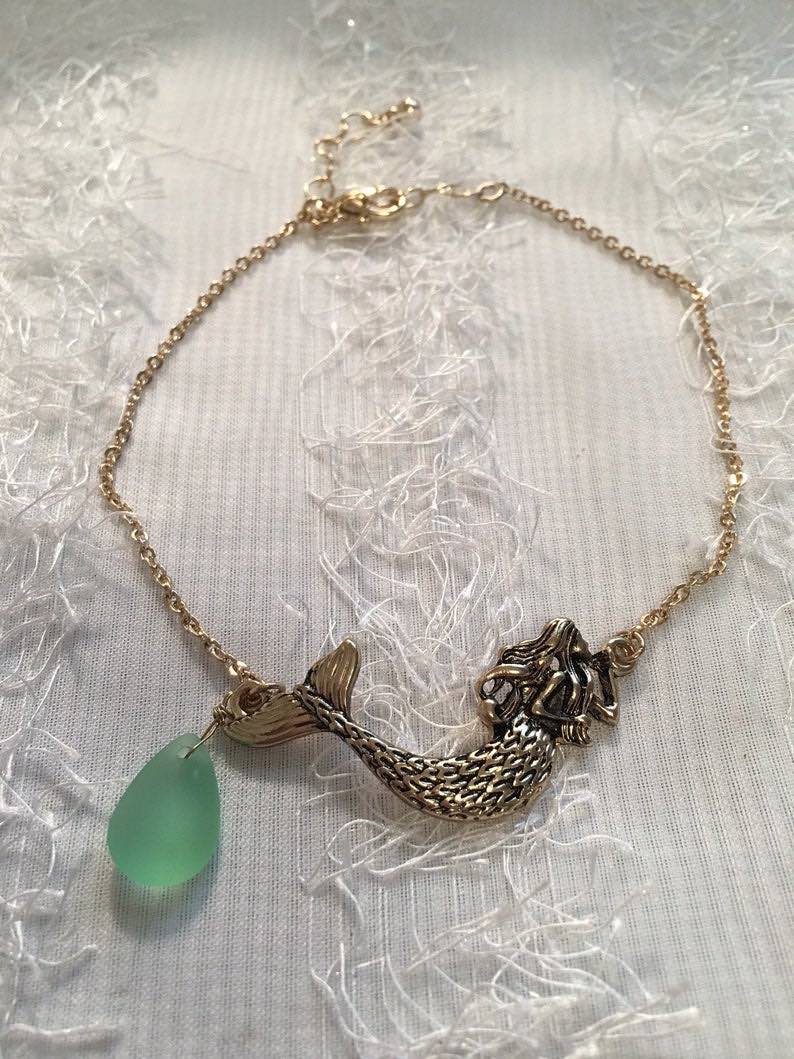 Mermaids and sea glass make a great combo. And sporting them on your ankle? Yep. That works for me.

Sterling Silver and Crystal Mermaid Anklet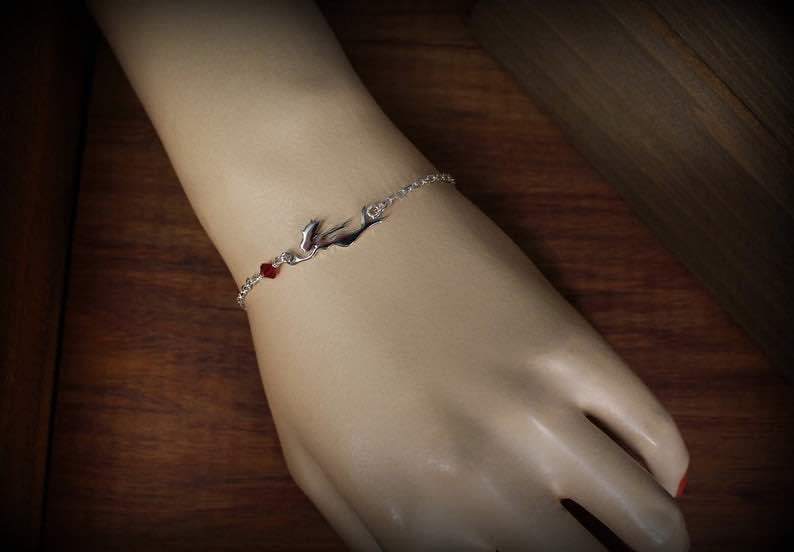 The mermaid and her pearl made into an anklet.

Mermaid Charm Anklet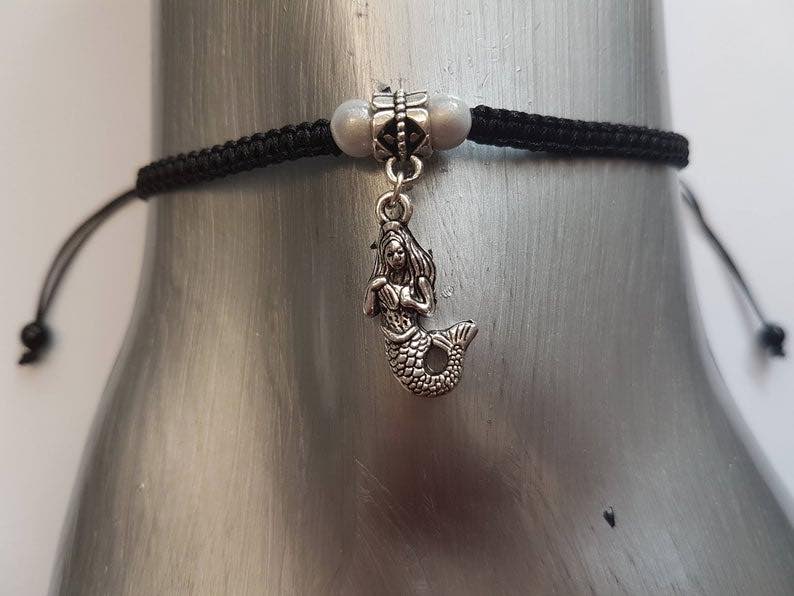 I like this simplicity of this mermaid charm anklet. It just dangles that little mermaid charm (which depicts her with her harp) from a macrame hemp band — the type of anklet that can survive a day in the surf and still look great.

Sterling Silver Beaded Ankle Bracelet with Mermaid Charm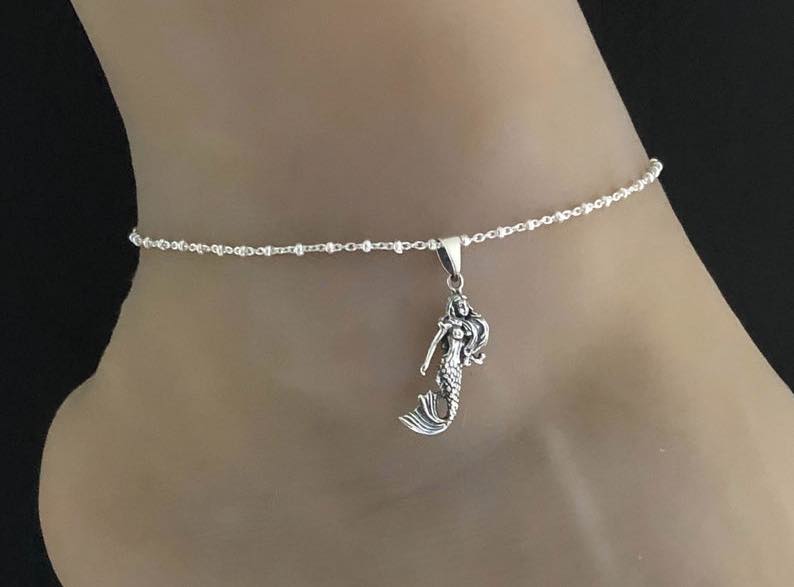 The sterling silver beaded band of this one is a wonderful way of hanging the mermaid charm. I can just see this one glittering in the sun as you catch some rays at the beach.

Mermaid Cord Anklet
More purple and more mermaids. This one gets my upvote.

Sunstone Mermaid Fin Tail Anklet
I was really drawn in to this sunstone carved in the shape of a mermaid tail. And hanging it from a golden colored chain really works for me.

Mermaid Anklet, Black Waxed Cord Anklet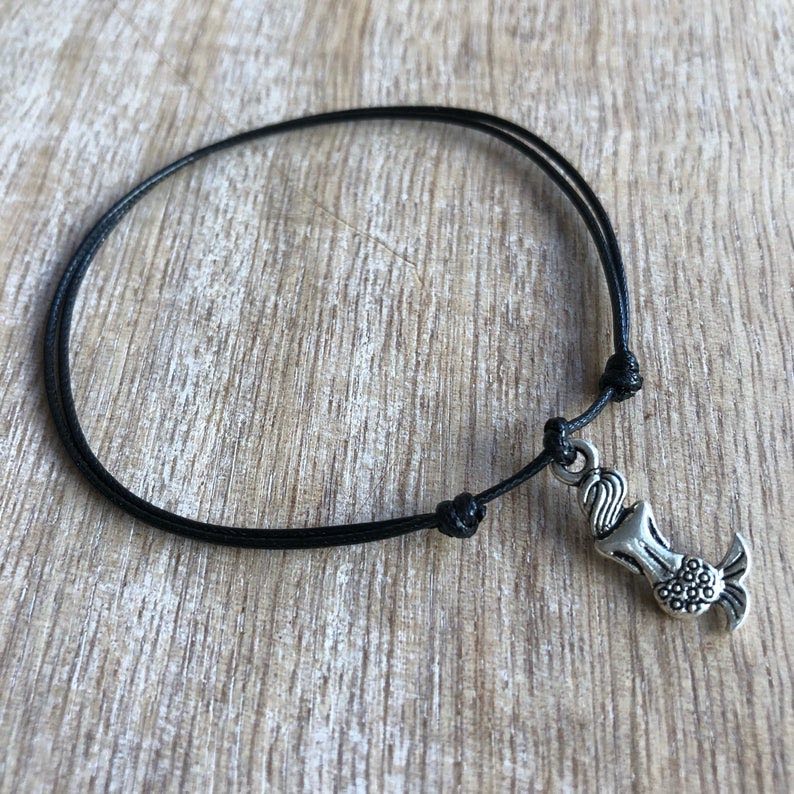 The black waxed cord is one that will stick with you if you want to be diving into the surf. So then add a mermaid to it and you're set.

Silver Mermaid Bracelet
A simple silver chain and a simple mermaid charm make this one work. Simple.

Braided Adjustable Mermaid Anklet
I really like the choice of colors used in this braided adjustable mermaid anklet. Such a cheery and optimistic choice here. Just add mermaid!
Mermaid Bracelets and Anklets
Thanks for checking out my list of mermaid bracelets. If you liked it, please share on your social. Thanks!
Written by Renee