Octopus Art ~ Eight Legs of Beauty in Ocean Artwork
It's another Beach Art and Decor Day here at Seashell Madness! This is part of a series where I show and tell some great home decor ideas to give your home that beach look — no matter where you live.

Today's theme is cool Octopus Art!
I'm pretty excited about sharing this one with you. Why? Because I love octopus paintings and there is some amazing artwork out there featuring our 8-legged friends. Don't believe me? I'll prove it to you.
Here are 47 great ideas for Octopus Artwork for your home!

Aluminum Can Octopus Mosaic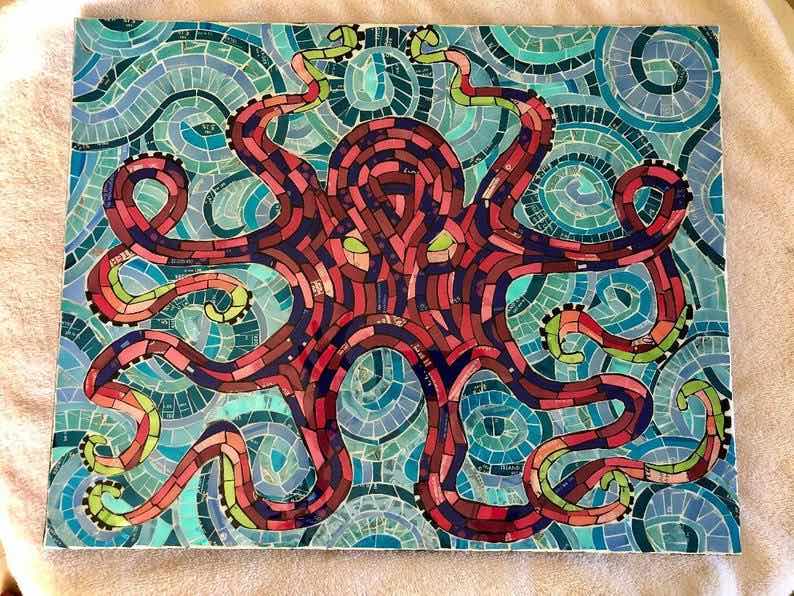 Let's kick off this list of great octopus artwork with a piece of … really cool octopus artwork!
This Aluminum Can Octopus Mosaic is certainly one of the best things that I've seen lately. I'm a big fan of mosaics in general, as I love the idea of taking small pieces and assembling them in a way that creates something completely different. It's like there is an additional skillset there — you need to be able to artistically envision something, but additionally you need to figure out how to break it down into little pieces. I love mosaics. And this mosaic is terrific!
The swirls in the ocean. The tentacles. The glowering expression on its face. I would love this mosaic no matter what it was made from, but knowing that it has been made from recycled aluminum cans? Instead of going into a landfill, these cans have been used as art material. That is tremendously exciting to me (and something that I hope I see more of in the future)!
And again: really great octopus!
See all of our Sealife Art Pages:
Dolphin Art • Sea Turtle Art • Octopus Art • Crab Art • Seahorse Art • Starfish Art •

Octopus with Books" 8×10 art print
Artist Rebecca Flaum does a lot of these quirky — not really comedic, just a little quirky — paintings like "Octopus with Books", and I think that they are all terrific. She calls this her "Incongruities" series. I love that the octopus also has a steaming cup of coffee beside her as she reads.
Oh, and by the way, this is also a wonderful example of what can be achieved digitally these days. The textures and paint-like feel of this work is something that wouldn't have been possible digitally a few years ago, but now talented artists like Rebecca are making amazing works like this one, all inside of a computer.
If you like "Octopus with Books" as much as I do, then you should definitely check out the whole series. There are some really great quirky works in that collection.

Wooden Kraken Nautical Wall Art
There are a few things that I like about this Wooden Kraken Nautical Wall Art, but probably my favorite thing is the layered effect. The background, the waves, the octopus and the frame are all on different levels, giving this piece that great 3 dimensional feel. And each of those layers is a really great work of woodworked art in and of itself, then they are assembled into this great piece.
Plus, that is one great kraken!

Octopus Beach Wall Art
This wonderful octopus is made from upcycled driftwood (upcycling is such a great idea!) by artisans on the tropical island of Bali. I really like the design of the tentacles on this one — flowing freely in swirly little strands.
Then the soft colors and wonderful patterns on the body of this octopus are terrific. Then there's the expression on the octopus' face: that expression strikes me as one of curiosity, as if she is checking me out.

Octopus Art Print
The artist Faina Lorah describes this octopus as "charming," and I could not agree more. I love the soft lines on this one and there is something about it that feels very classic — like the kind of painting you would see in a mansion from a movie which was made in the 1940s (if that movie millionaire had a fondness for octopus paintings).
Or maybe that's just me. Anyway, it's great and the stylized floral border really makes this cool Octopus Art Print

Metal Artwork Octopus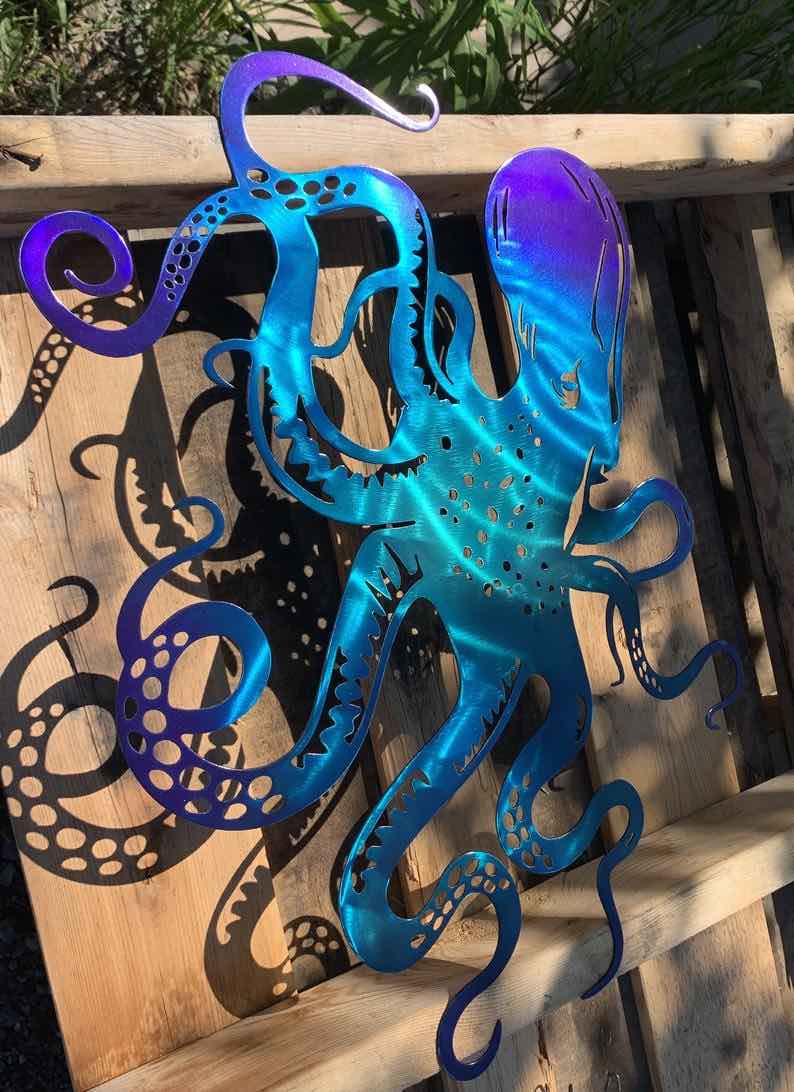 There is some pretty impressive artwork being made with metal these days, I think that the whole laser carving has opened up a golden age of metalworking which brings us things like this Metal Artwork Octopus. The general design of the octopus works really well when done in metal like this.
This guy looks fierce! Hang this by the pool to keep everybody in line.

Funny Bathroom Octopus Print
Okay, so maybe this Funny Bathroom Octopus Print is not for everyone, but it really made me laugh. And it's the small details — it's not a cartoon version of an octopus with its head in the toilet, it is instead rendered in a 19th century style, including having a 19th century pull-handle toilet. And the fact that most of the illustration is black and white while our octopus friend is in orange… that really adds to the effect.
I think this is great.

"Swimming Octopus" Contemporary Wall Art
One of the things that artist Laura Thomson consistently puts into her sealife paintings is an amazing use of color (she has some other great octopus paintings, by the way). Her works just jump off of the page (and then pull you right in) due to this amazing use of colors. Many painters will render an ocean in greens and blues, but not like these greens and blues. And the bubblegum palette of the octopus — fantastic!
I'm also a fan of the way this octopus is rendered — you can feel the motion of this cephalopod gliding through the deep of the ocean.

"Light Reading" Print of Original Watercolor Painting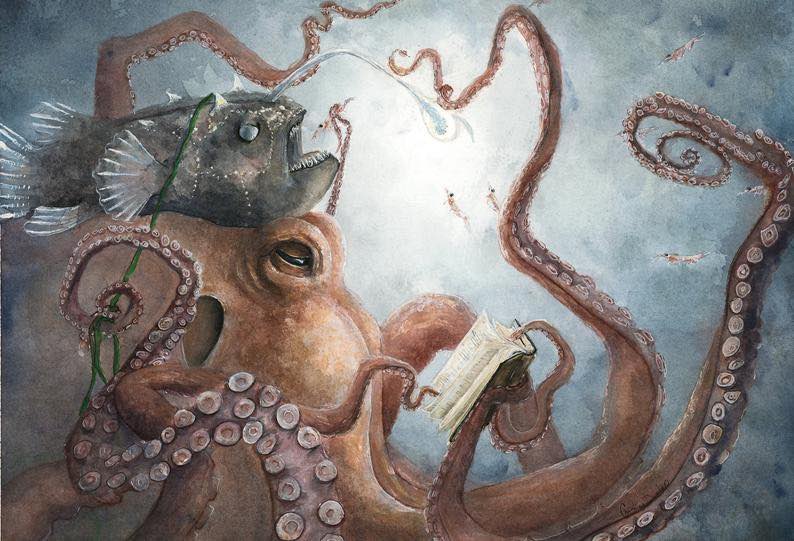 Artist Christine Dunlap has a really wonderful take on the undersea world. She has several great works with the same sort of style and feel as "Light Reading" and they are all just this good and this much fun.
How clever is it that the octopus has found a great light source right there in her deep ocean environment. And the little shrimp attracted to the light source like moths to a porch light. Fantastic!
"Light Reading" is one of those works in which you discover more and more each time that you look at it. And the concentration on the face of this octopus as she takes in the printed word is wonderful. Wonderful I tell you!

Octopus Metal Garden Art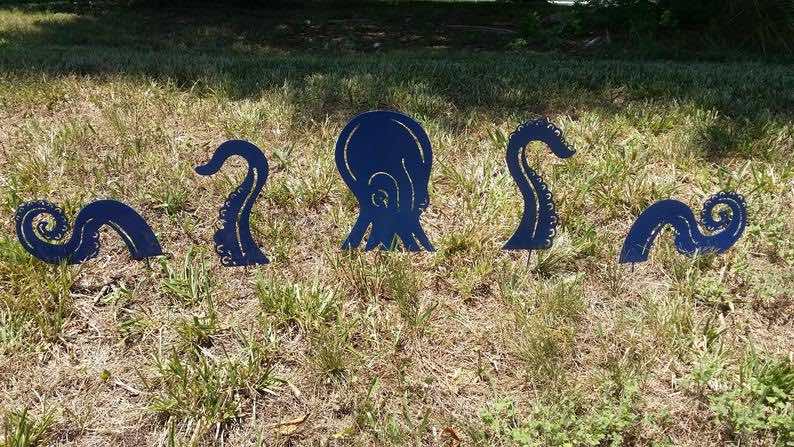 Will this scare the gophers away? I don't know, but I do know that this Octopus Metal Garden Art looks really great.

Custom Metal Octopus Wall Hanging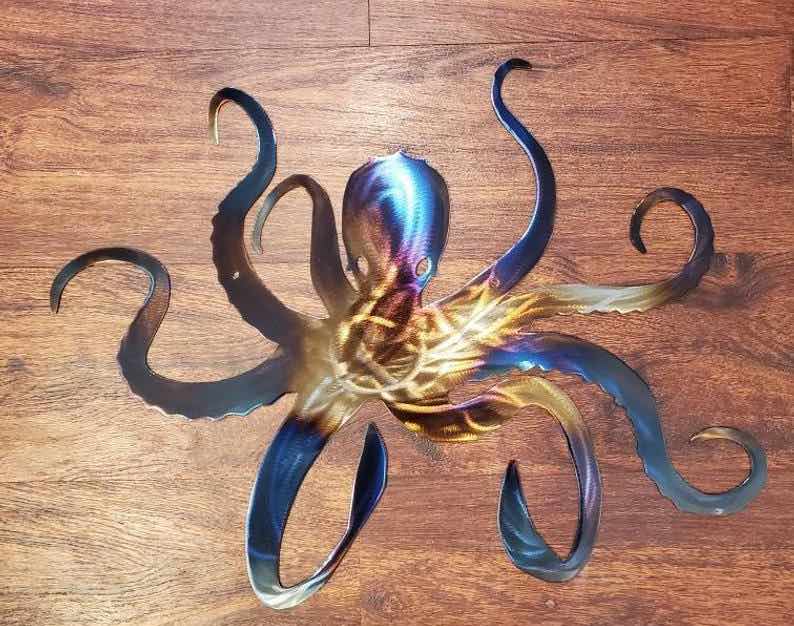 This is one wild octopus here. Rendered in steel, that inner flaming area is not something that happened with light bouncing into a camera lens, instead that is the fine detail that is actually present in this Octopus Metal Garden Art.

Kraken Wall Art Triptych
I really enjoy when art is presented as a triptych: it seems to bring in so much more than just the additional space. There is a grand feel to a triptych, and this Kraken Wall Art Triptych is a great example. I love how the artist, Emily Wood, has used the space to allow this octopus to really stretch out.
And the line work that makes up this work is really something. Notice how the art is actually comprised of several small lines which flow in different directions to create not only the outline, but the flow of this wonderful creature.
What a great kraken.

Octopus Tentacles Carved in Wood
There is something very serene about these Octopus Tentacles Carved in Wood by Chad Thorne. Don't you agree?
For me, it feels like I'm floating freely underwater in a calm ocean, and then I see this octopus gently slide past me — it means me no harm and I mean it no harm, we just calmly co-exist.
And the extra dimensionality of the engraving on this one really adds to the effect for me.

Metal Octopus with Patina Finish Wall Art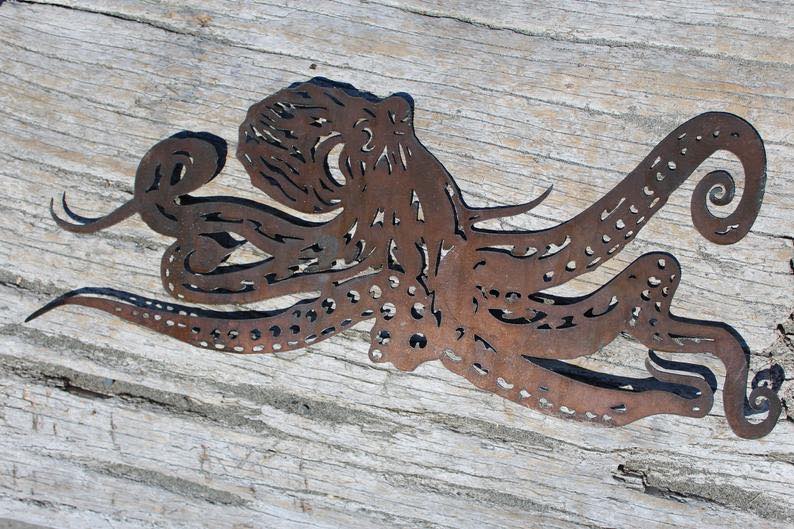 It is always interesting and wonderful when metal art is allowed to develop a patina (no, it's not just rusty, it's so much more than that!). Having that extra bit of detail, like in this Metal Octopus with Patina Finish Wall Art, really adds depth to the pieces. And the way that this octopus is depicted running along the ocean floor makes for a really unique representation.

Colorful Hippie Octopus Bumper Sticker
I don't usually feature bumper stickers in these art reviews, but, come on, you've got to admit to the greatness of this Colorful Hippie Octopus Bumper Sticker. I love the bright colors and intricate patterns on this little boho guy. What a great collection of colorful motifs on this whimsical octopus art.
Can't you just see this plastered on the rear window of a VW campervan that's parked at the beach? I sure can.

Giant Octopus Shipwreck 13×19 Fine Art Print
The fact that this Giant Octopus Shipwreck has been rendered in black and white really grabs me. Black and white just really pulls you into the scene: sometimes colors can actually distract from the scene, but when you avoid the colors, it's just the image. Very brave.
Now, the Kraken devouring a ship is a common theme in octopus art, but I tell you, it never gets old. It is a theme which has been in use for hundreds of years, yet we still get real originals like this one.

Minoan Terracotta Jar with Octopus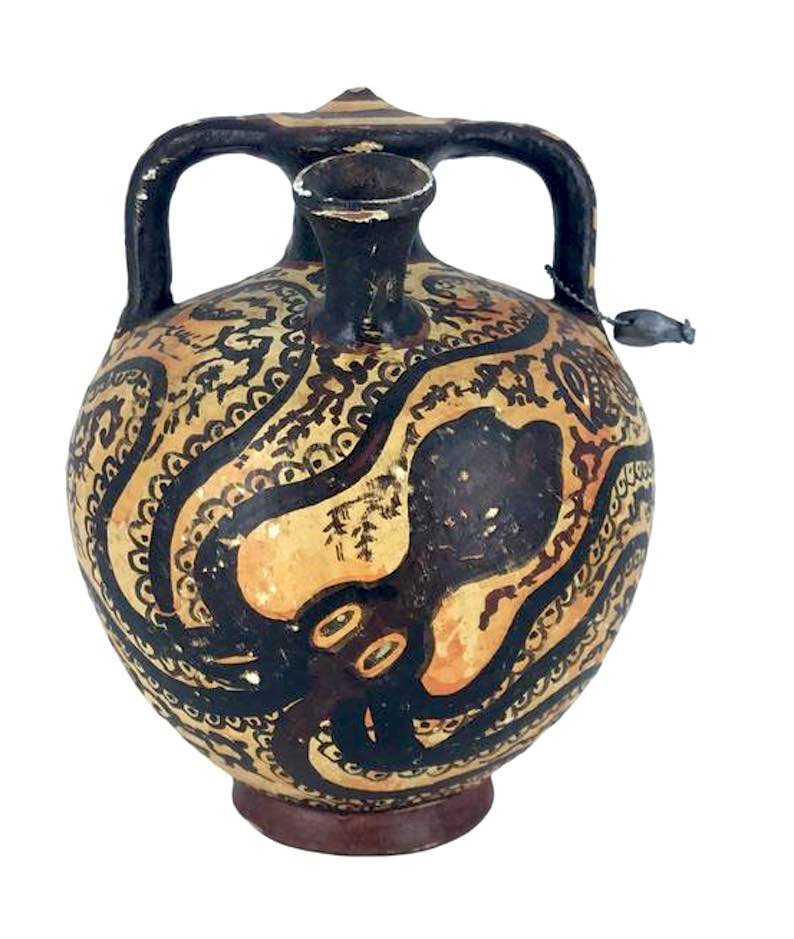 Whenever we head to the Getty Villa museum I always head straight toward the ancient Greek and Roman terracottas. I find them fascinating, so when I see someone carrying on that grand tradition, as with this Minoan Terracotta Jar with Octopus, I always take note. This jar is a replica of an ancient Greek work, and I think it has been wonderfully done.

Abstract Octopus Line Art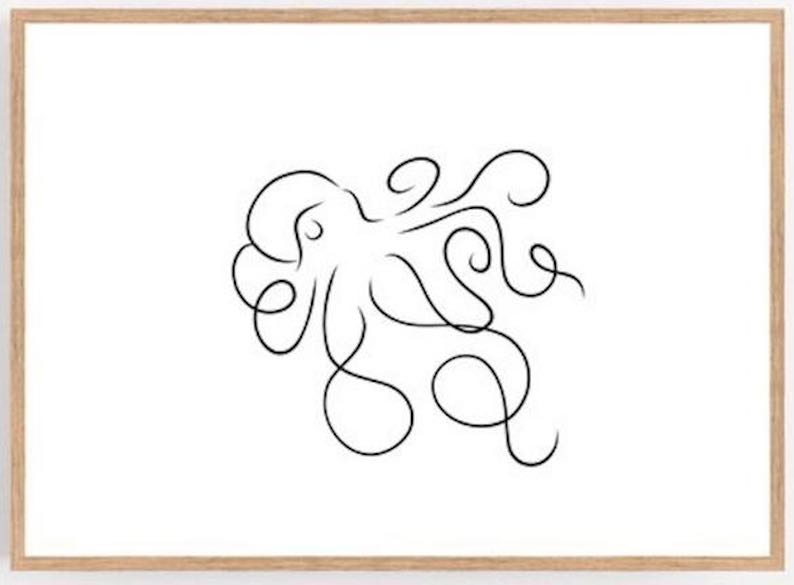 Sometimes you're just in a minimalist mood, you know? I really love what artist Regina Pauly has done with just a few squiggly lines on this Abstract Octopus Line Art. I'm a fan of abstracts anyway — I love the way that what is seen really depends upon the individual. And this is no exception.
This line art is almost hypnotic in its simplicity. Love it!

"Davy Jones Locker" Watercolor Print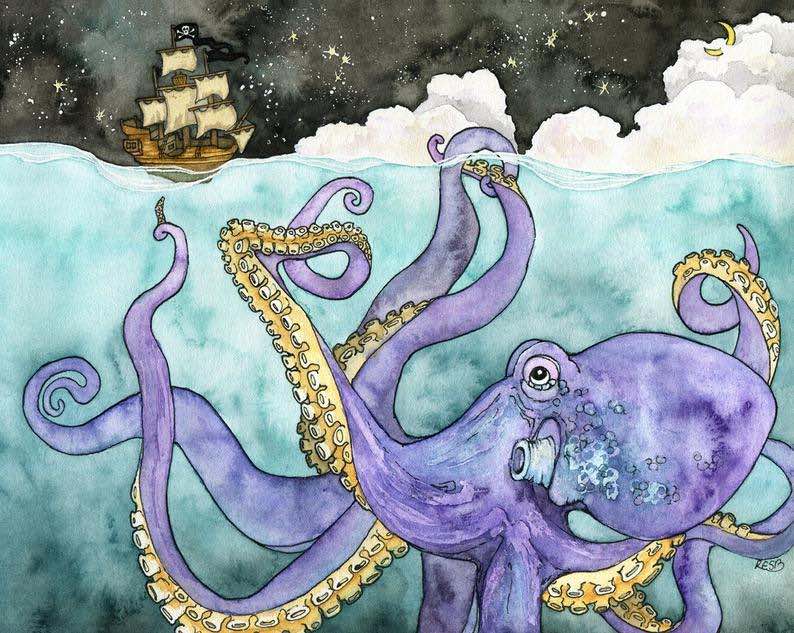 I'm a fan of watercolors in general — check out any of the many art reviews on Seashell Madness and witness my gushing over watercolors —and I'm especially a fan when watercolors are used so skillfully as in "Davy Jones Locker" by artist Rachel Byler.
I love the textures that she has given to this giant kraken. Just look at the different shades of purple that have been achieved by the expert use of watercolors in a wonderful way.
And the look on this octopus' face is priceless. Those poor sailors have no idea.

Large Street Graffitti Octopus Canvas Print Wall Art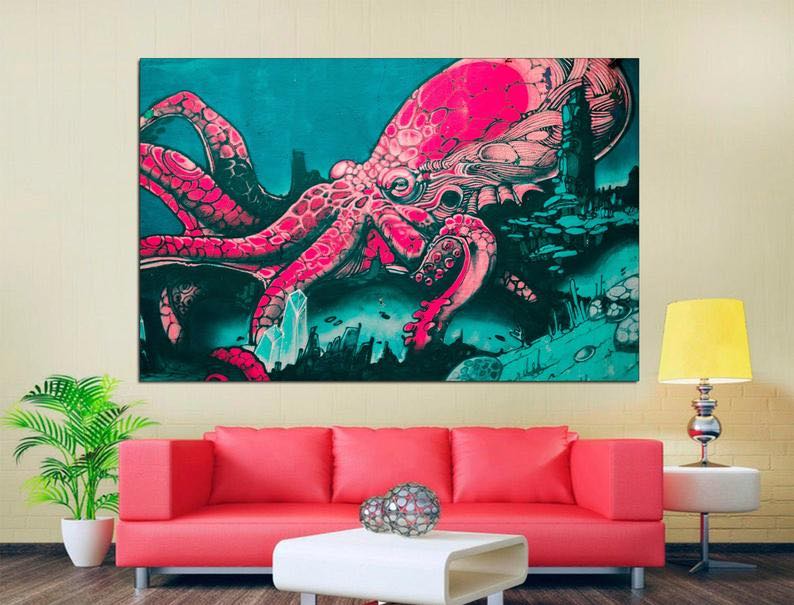 If you want to make a statement with your octopus art, then it helps to make it really big octopus art. I mean big. Like cover the whole wall big. That will grab you!
And in the case of this Street Graffiti Octopus, you've also got these wonderful colors that really make this cephalopod pop! I'll bet that with your living room window open, people would notice this octopus from blocks away.

Wild Octopus I – Metal Wall Art Print
What an amazing octopus that Carolee Vitalettio has painted here. I love the perspective of this painting. It's almost frightening how those suckers are coming at you large and dangerous.
Not only is Wild Octopus I an amazing painting, it is a print on aluminum, which really makes this scary guy shine!

Cool Octopus Art Print on Reclaimed, Stackable Wood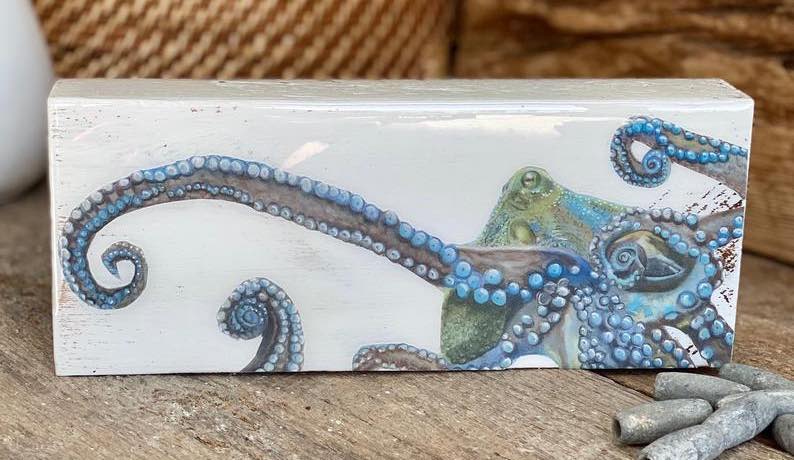 I'm a fan of artists using reclaimed wood in their pieces — it just seems like a great thing to do by keeping that wood out of the landfill and also making it useful as a piece of something beautiful.
This Octopus Art Print has been made on stackable wood blocks, so get a few of them and stack away!

Octopus Cutting Board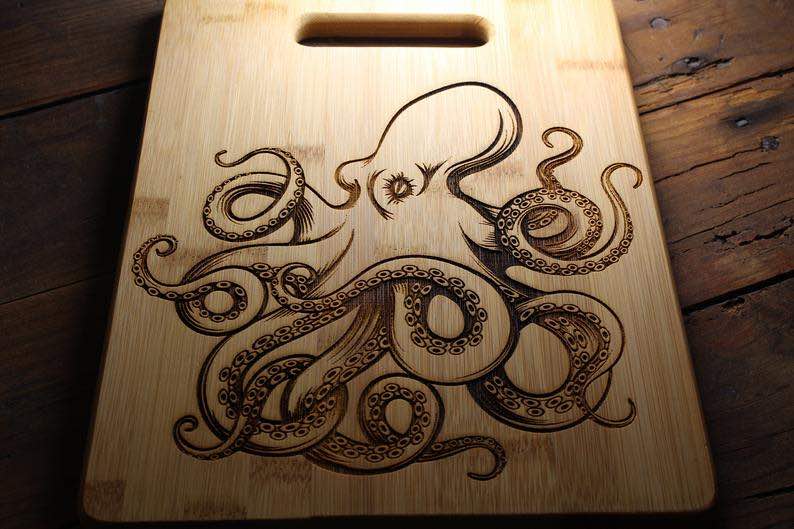 An octopus on your cutting board? Why not. Beats having a blank board staring at you for sure. And if you are going to have some art on your carving board, then this Octopus Cutting Board is just the thing.
I love the curlicues of the tentacles here — this would be a great interpretation of an octopus even as a line drawing, but in addition there is some really wonderful hand-engraving going here. Check out the detail on the flowing tentacles — terrific!
And how neat it is to have such a beautiful handmade piece of art to accompany you as you chop veggies.

Stained Glass Blue Octopus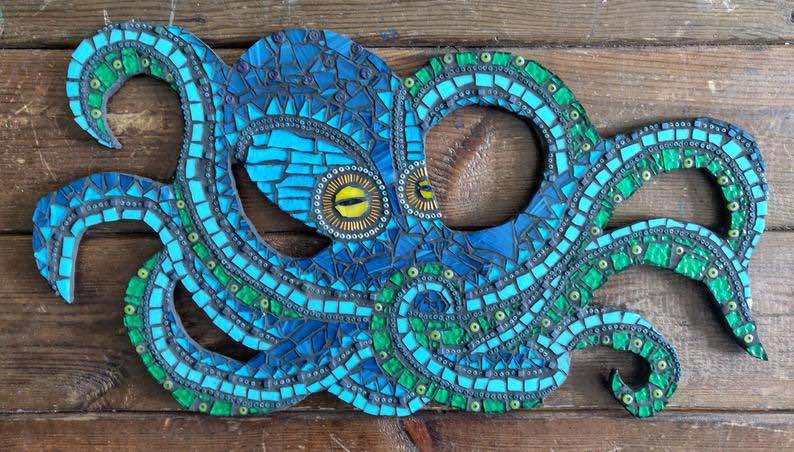 What a magnificent mosaic we have here with this Stained Glass Blue Octopus. I know that I've mentioned this before, but I am always impressed when an artist takes small bits and arranges them into bigger pictures. And this one is so well done!
Such wonderful color usage to these bits of stained glass and beads — the way that the blues and the teals are interwoven is just spectacular! You really cannot beat that color combo. This octopus is definitely on my favorites list!

TENTACLES 2 Minimal Octopus Art Print
Here in TENTACLES 2 we have a splendid example of pop art. The crisp lines and use of only two colors really make this one work as it really calls attention to the subjects of the painting — the contrast in the colors reflects their contrasting situations. The way that the tentacles below water are bright orange while above water they are ominous shadows just blows me away.

"Kraken Kills" Watercolor Painting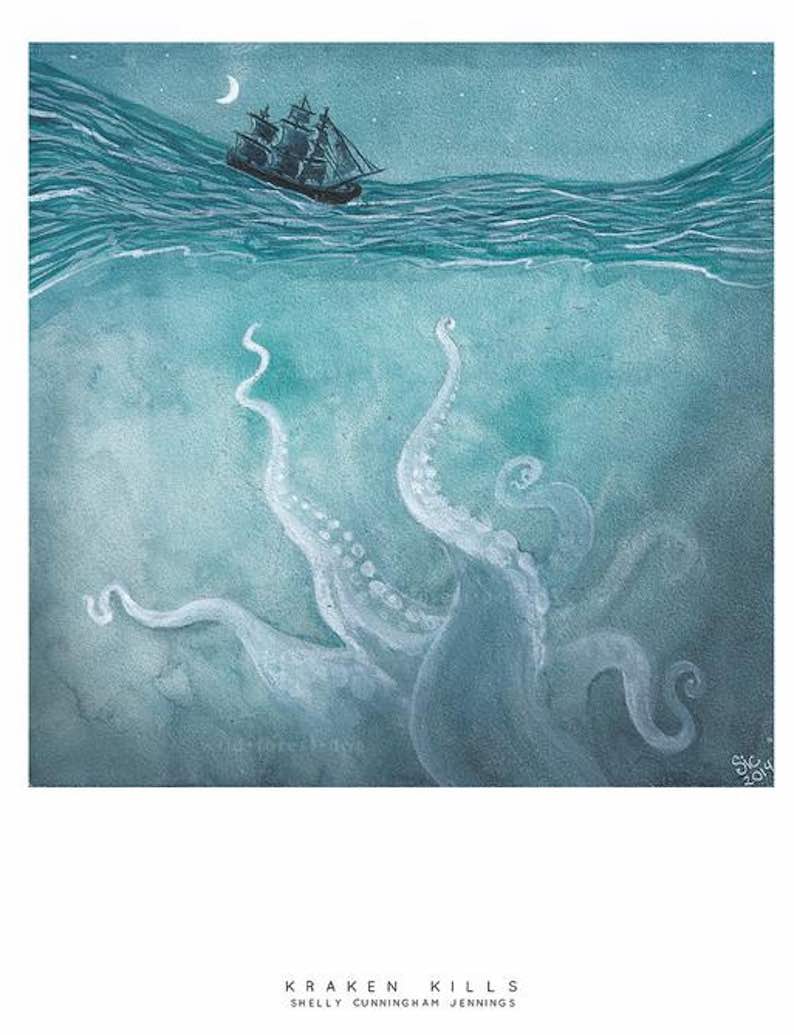 I love the way that Shelly Cunningham Jennings has used watercolors to depict the hazy underwater world in "Kraken Kills." It's an absolutely wonderful effect, and one that not all painters can pull off.
While the ship sails blissfully unaware beneath the moonlight sky, the Kraken glides through the depths toward them. The subtlety of those depths… amazing!

Octopus Art Faux Gold Foil Print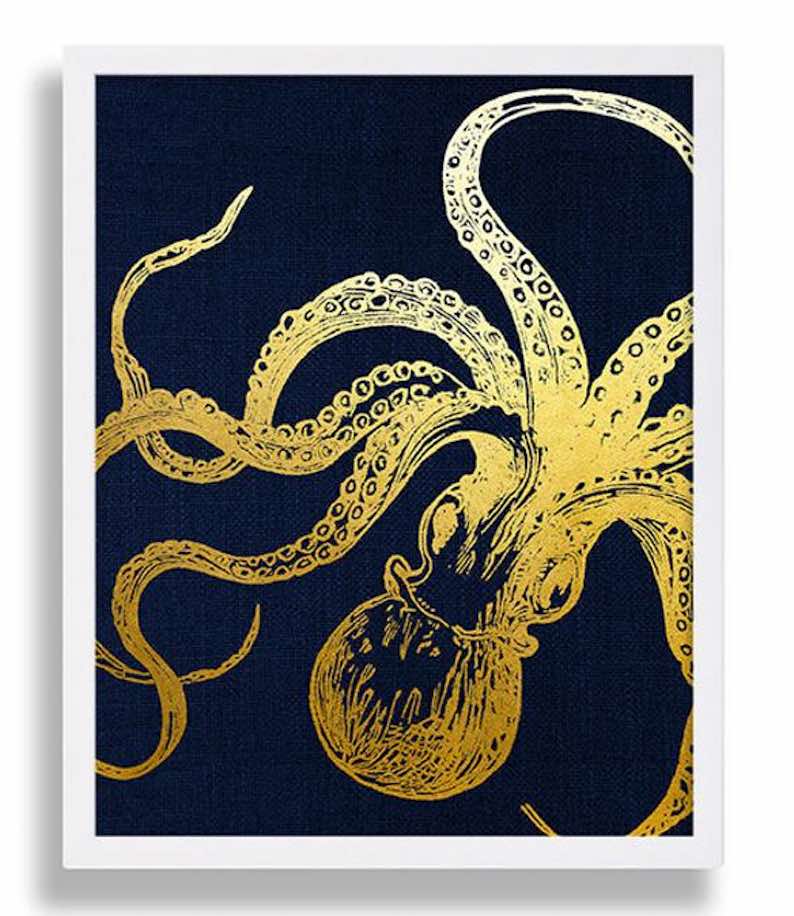 Not real gold foil, but wonderfully skilled use of paints on this Octopus Art Faux Gold Foil Print by Jenn Kolinski. The feel of this one is tremendous — rendering the octopus in silhouette in gold against that deep blue background gives this one a real emotional hit.

Tattooed Octopus & Mermaid Nautical Art Print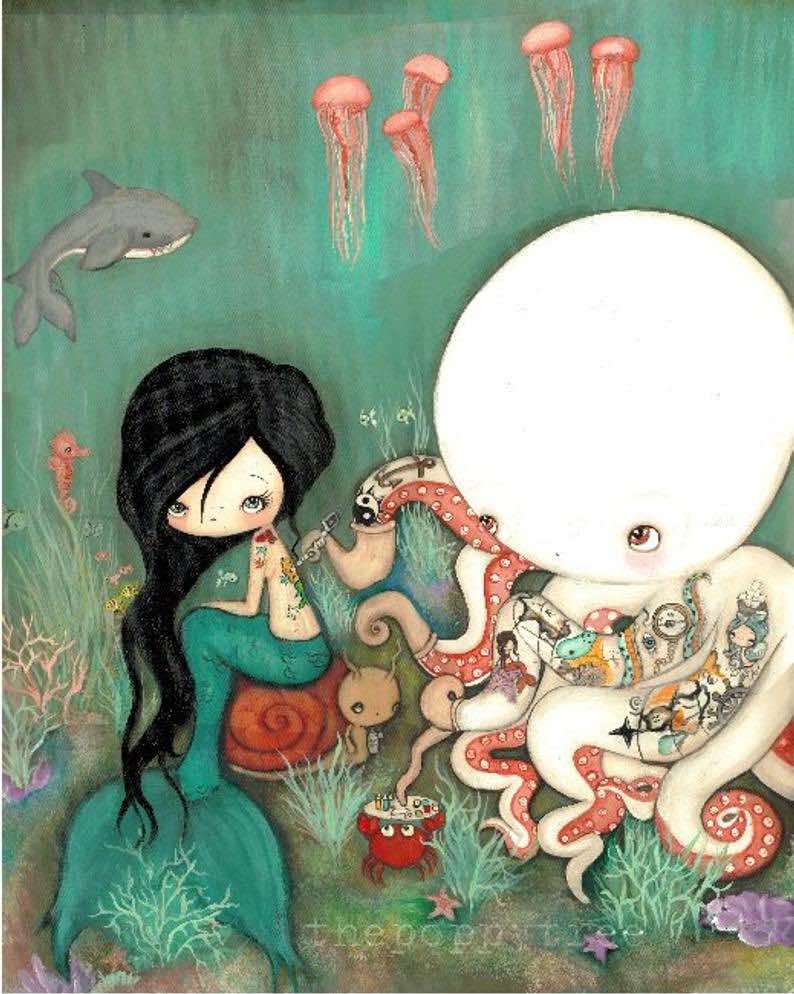 Beautiful and wonderfully inventive, this Tattooed Octopus & Mermaid Nautical Art Print really works for me. Aside from the fact that the idea of an octopus tattoo artist (I wonder if he tattoos his own arms?) is so original, the use of color here is really terrific. We have a great collection of soft colors which have been used in such an inventive combination that they really pop while still being soft.
And I spent a fair amount of time simply staring at the tatts — I'm willing to bet that Kelly Ann has a story behind every one of those tattoos, and I find myself imagining what those stories might be.
The whole effect of this painting is just wonderful. Wonderful!

"Bento The Octopus" Art Print on Wood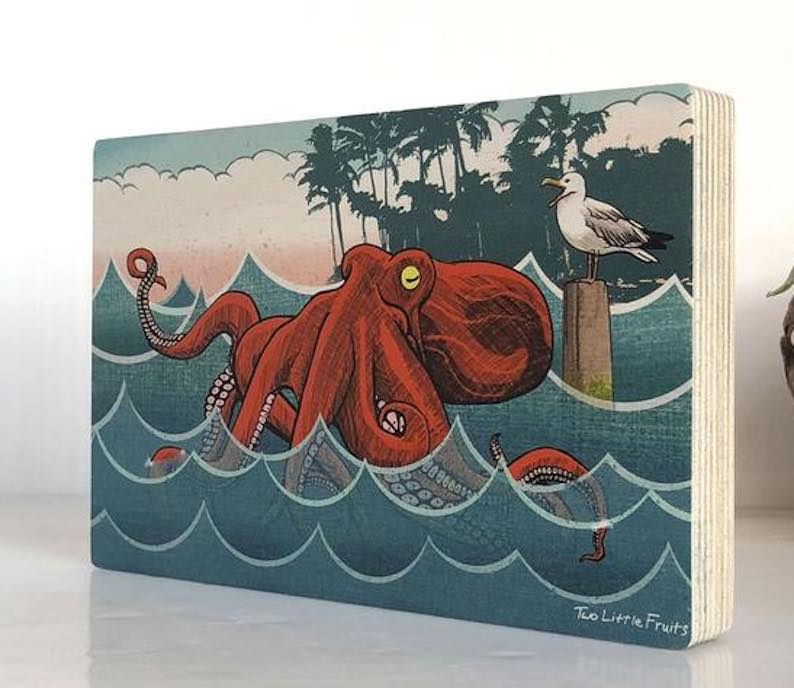 There's something really enjoyable about the way that "Bento The Octopus" seems to be floating on the surface of the waves (catching some rays perhaps?). This is a truly delightful little painting.
And an interesting detail here: the painting has been mounted on birch block — which means that it doesn't have to go on a wall, it could sit pleasantly on your counter or nightstand or your desk at work. Unique!

Octopus Self Help Wall Art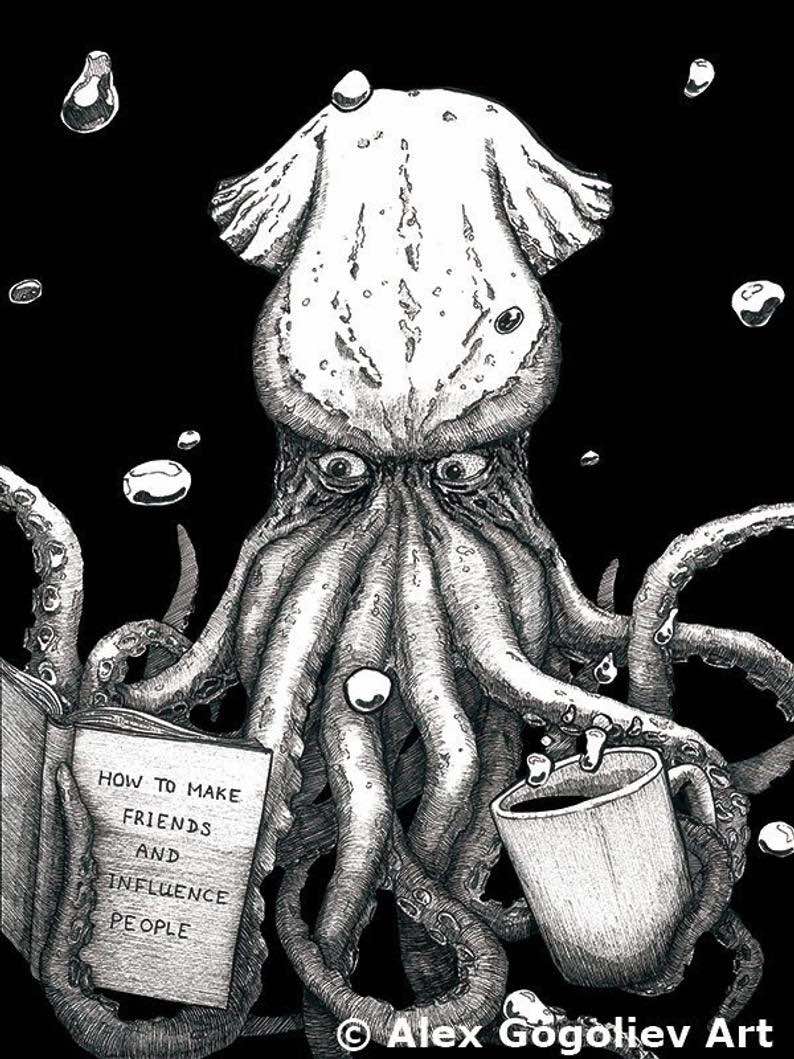 It's always fun when an artist adds a bit of humor to their work, as Alex Gogoliev has done here with this Octopus Self Help Wall Art. The stern concentration — obviously this octopus has some social issues — is readily apparent in the portrayal of this particular cephalopod. And the fact that it is somehow sipping coffee as it does so is just perfect!
And the stark contrast of those deep rich blacks is just wonderful and emphasizes the fact that this octopus is alone in the deep.
Looking at this I am inclined to agree with the artist's opinion that this would make a good gift for those introverted coffee lovers in your life!

Tea with Octopus – Fine Art Rabbit Print
And who wouldn't want to have tea with an octopus? This delightful little scene by Nakisha VanderHoeven has a definite Alice in Wonderland feel to it. And I think it's great that it has been skillfully painted in a classic children's book illustration style. That is absolutely the perfect way to go with this subject.
Nakisha has a whole series of great paintings depicting the white rabbit having tea with various folks: Tea with Octopus – Fine Art Rabbit Print is definitely my favorite of the bunch.

Steampunk Kraken Ceramic Tile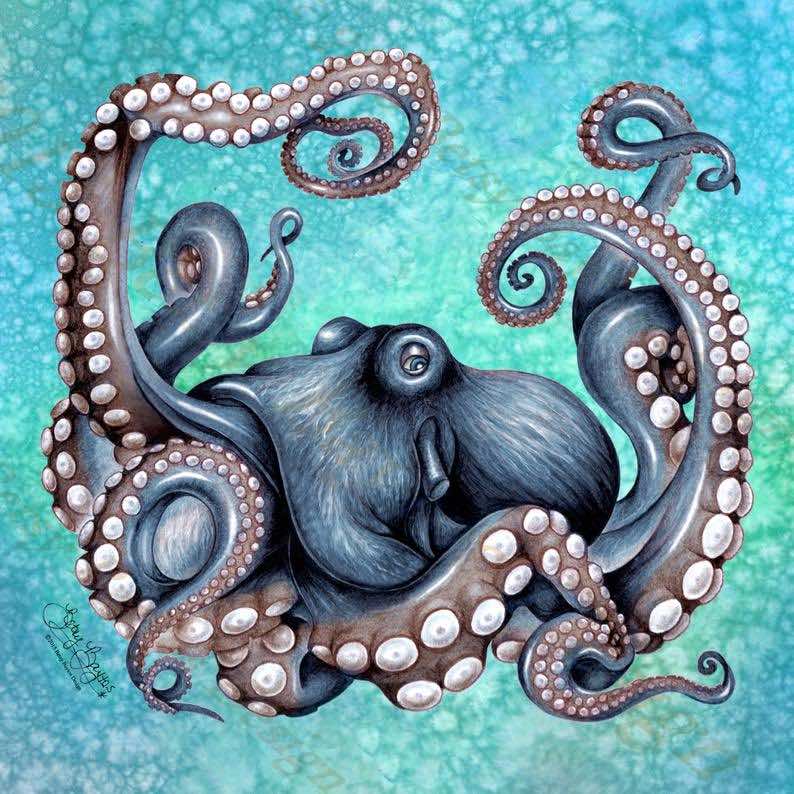 A great painting on tile can do some really amazing things with your home decor — either displayed by itself or as part of a collection of tiles on a surface. And the colors on this Steampunk Kraken Ceramic Tile by Betsy Baytos are just stunning. Just look at the deep and shadowy blues and greys that make of the octopus' body. I can see why she's called it steampunk, as there is an almost leathery look to that skin.
Truly amazing work here.

The Mermaid & the Octopus, Watercolor Art Print
Every mermaid deserves a little downtime. So I really love the way that this mermaid has chosen to catch up on her reading in The Mermaid & the Octopus, Watercolor Art Print. I imagine that the book that she is reading is a great beach read left behind by some sunbathers.
Although I suppose that she could just as well be brushing up on her theoretical physics. Whatever floats her boat… or submarine… or whatever.
And one really great detail that I love: her tail seems to be gently floating in the ocean current. Wonderful!

Octopus Tentacles Extra Large Removable Vinyl Wall Decor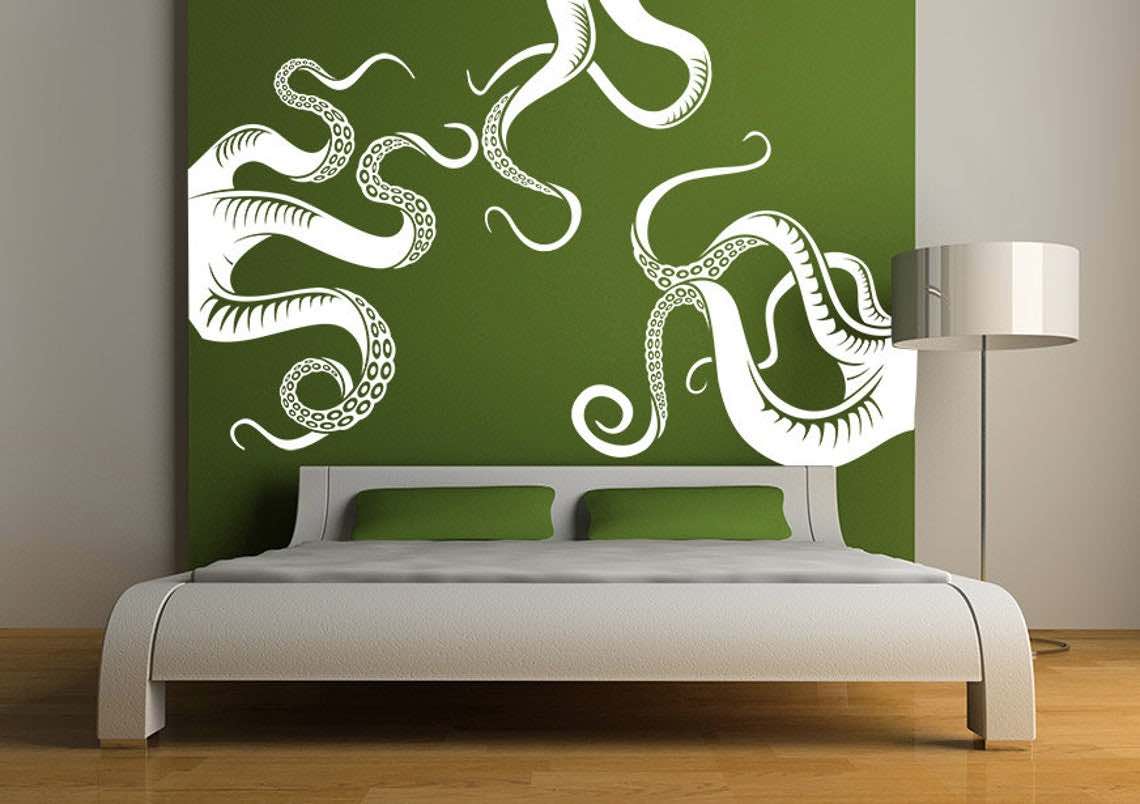 Are these tentacles fleeing from your couch or are they converging upon it? I'm not sure, but I think that the effect of these Octopus Tentacles Extra Large Removable Vinyl Wall Decor is really spectacular. Sporting giant tentacles on your wall most definitely makes a statement.
It's the octopus aesthetic!

Octopus Blacklight Painting
For some reason, there's not a lot of blacklight painting around these days. I know that it was really, really popular in the 1970s, so you would think that with the 70s-esque-ness of the boho movement that there would be more blacklight around. But there's not.
Which is a shame when you see some of the magnificent works that can be produced, like this Octopus Blacklight Painting by Kimberly Leahey. Here she has uses the blacklight effect to its fullest — the glow, the glow! You can see the glowing tentacles, while the murky purple of the deep, deep water fades off from a distant glow.

"Mobilis in Mobile" Octopus painting art print
"Free in a free world," is apparently the translation of Captain Nemo's motto. It is also the title of this wonderful painting "Mobilis in Mobile" by Edna Batounis. And it is a fitting title, as under the sea is about as free as you can still get on this planet.
I love the feel of flow depicted in this painting — the way that the crisp curved lines interact with the watercolor blues is truly fascinating. And the fact that the color palette is only blue and orange, but with the shading achieved by that watercolor technique, is truly awesome.

Bright Octopus
One day while checking out some of my favorite artists on Etsy, this watercolor painting of an octopus just jumped right out of the page at me. I simply stared at it for several minutes — it had grabbed me! This is a really cool octopus art painting. This particular octopus painting is called Bright Octopus and it is by one of my favorite watercolor artists working on Etsy, Slaveika Aladjova (who also signs each print).
Bright Octopus combines two of the things that really do it for me: first, I love images where the colors really reach out and grab you — and that's exactly what happens here! Secondly, I am a huge fan of watercolor. The choice of these bright, bold colors and watercolor paints — and I love that the look when an artist lets the watercolors drip and run away like the colors are trying to escape — is just perfect for me.

Octopus in the Deep Blue Sea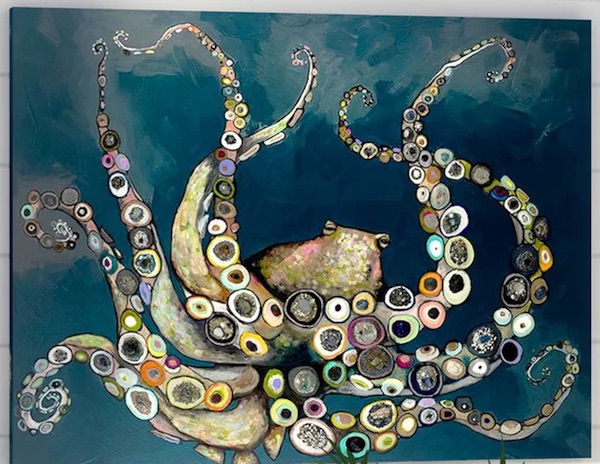 This octopus painting, Octopus in the Deep Blue Sea by Eli Halpin and available from Beachcrest Home, is probably my favorite of all of the octopus paintings on this list.
Really! I mean, just look at it!
I'm mesmerized by the color palette in use here and by the stylized look of the suckers. Each one is different and each one of them is extraordinarily cool. The different colors and textures to each individual sucker make me feel like each one of them is almost like its own individual portrait. I spent quite a lot of time checking out each one in detail.
No two ways about it, I simply love this one.

Octopus II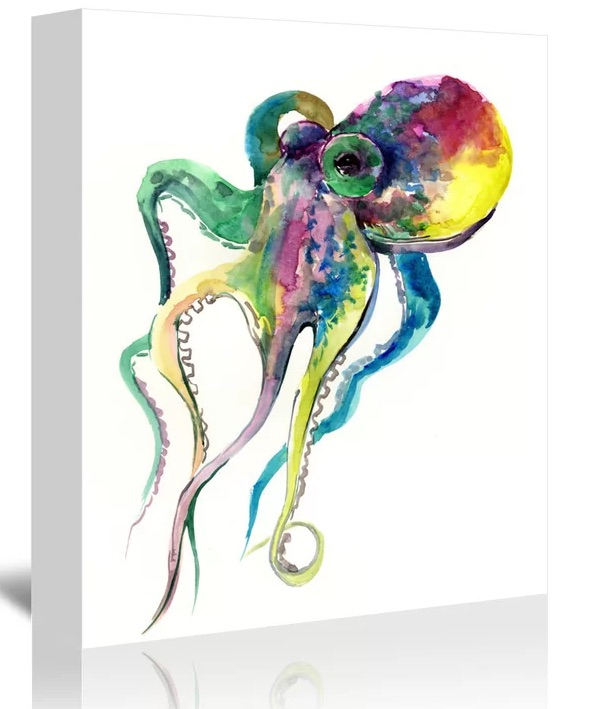 Another bright watercolor painting (I know, I know, I'm a sucker for them), this fella, simply named Octopus II by artist Suren Nersisyan is available from East Urban Home.
This piece of colorful octopus art is another one that leapt off the screen for me. I especially like the way that the reds, yellow and greens melt together on the head, which is a fantastic use of the watercolor technique.
I always find it appealing — heck, just plain neat — when artists stick with an almost sketch-like feel to their paintings. It's like you can see the steps which went into the painting.

Octopus
There's something about this piece of octopus artwork that is almost hypnotic, isn't there?
In this gorgeous teal octopus painting, Octopus, by Edward Selkirk and available from East Urban Home, you can almost feel the tentacles slowly swishing through the water. I think it's the use of the soft lines created via watercolors, combined with the gentle twists of the tentacles that give this painting a feeling of fluidity.
Like I said, it's veeeeeery hyyyyyyypnotiiiiiiizing.
The fact that the artist has stuck to a strictly marine color palette of greens and blues also makes this guy eye catching.

Octopus and Starfish
Octopus and Starfish is another of those great octopus paintings by the artist Eli Halpin and it's available from Wrought Studio.
What I love about this one is the human look to the eyes. You would swear that this octopus is examining you, puzzling over you as it floats gently beneath the waves. And I love that.
I'm also a big fan of paintings where the main subject is not directly in the middle of the frame. I think that the framing of this guy — down in the lower left while starfish gently float by in the empty ocean to the right — is mesmerizing.

Tenacious Tentacles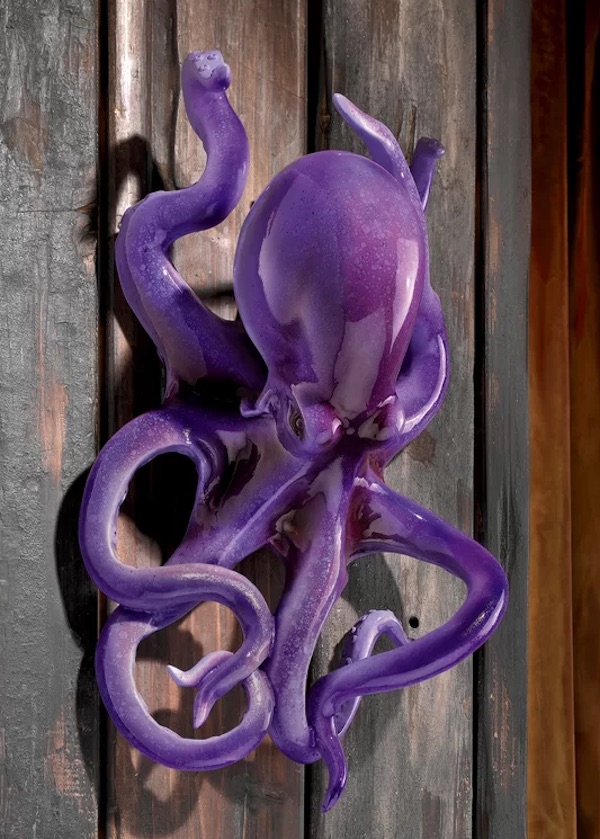 Aside from the awesome name, Tenacious Tentacles from Design Tuscano is a really cool work of art and great example of the octopus aesthetic. If you've got one of these guys hanging from your fence, people will definitely stop and take notice.
This octopus is a resin sculpture that has been hand-painted purple — and by the way, I love purple — and that hand-painted nature gives an interesting look to this colorful octopus artwork.
Also, it's made for the outdoors. So this would compliment any other beach art that you may have inside your home… a purple octopus outside!

Psychedelic Octopus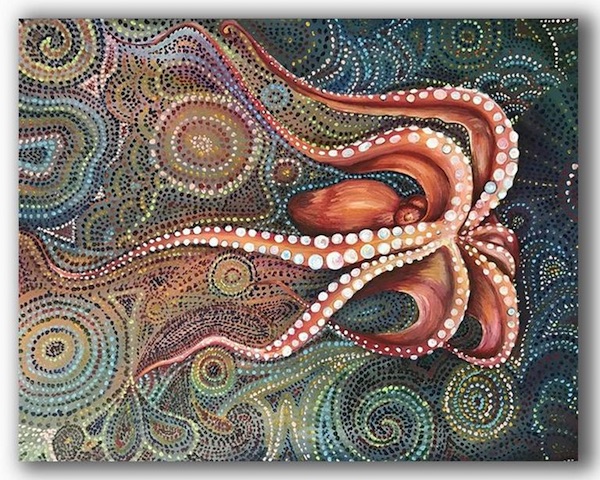 Now, the interesting thing about Psychedelic Octopus (by Laura Thomson and available on Etsy) is that the octopus itself is not actually psychedelic. It's the surroundings that are psychedelic.
Wooooooooah.
I really like the feel of this one. With the flowing nature of the pose and the gentle curves to the tentacles, she's really caught the essence of gliding through the ocean. It's like you can actually feel the motion of the water.
And the water itself, with its swirls of color, looks almost as if it had been made out of tiles. Like it is actually a tile mosaic inset into the floor of some seaside villa. Definitely a work of colorful octopus art painting.
Or maybe it's just hippie? I don't know. Either way I think it's a fantastic painting!
Also, this is one that the artist personally prints, frames and sends it to you. Which is also cool.

Blue Octopus Ocean
There's something almost mystical-feeling about Blue Octopus Ocean from Daydream HQ and available on Etsy.
While the color scheme of blues and teals is definitely beachy, the patterns upon the octopus remind me of something Tibetan. Like a muted-color version of the Buddhist prayer flags. Something like that.
You can almost feel this creature radiating a calming, meditative expression.
I really like this one. Great octopus artwork.
Plus, I've always felt that art printed on wooden slats goes perfectly with any beach-themed decor. Just those wooden slats bring up images of spartan fencing around a secluded beach house, with drifts of sand gently piling against it.
And an octopus too…

Poisonous Bubblegum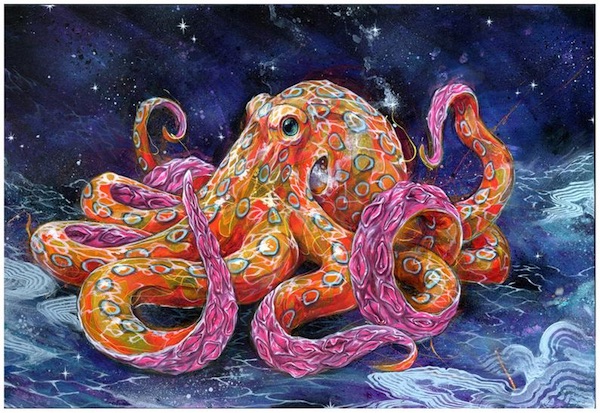 Am I the only one who thinks of David Bowie's Starman when looking at Poisonous Bubblegum (from Black Ink Art and available on Etsy)?
Probably.
Still, you have to admit that this is a way cool octopus painting. And a way cool piece of octopus artwork.
First there's the rendering of the octopus. I love the colors and the use of light — the feel is of light reflected off of ripply water. And the choice of colors is spot-on perfect and eye-popping — and definitely unique among octopus paintings.
Then take that fantastic octopus and place it in what appears to be outer space. You've got a classic.

It's My Party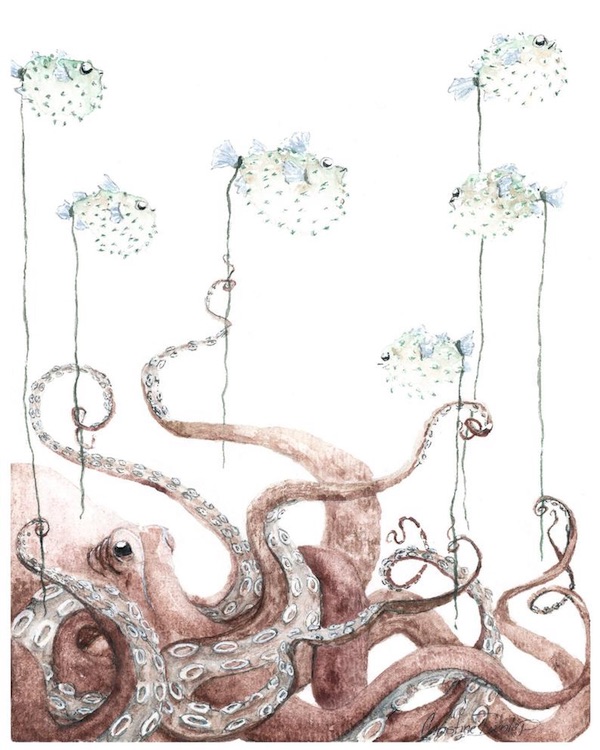 I love the subtle whimsy of It's My Party from Painted Fern Studio
I was first drawn to the subtle watercolor look of the octopus in this painting (as I've mentioned, I love watercolors. And the shading of this is phenomenal).
It was only after looking at it for a bit that I realized that the octopus was holding puffer fish by strings like balloons!
Then when I saw that the title was It's My Party, I laughed out loud.
This one was definitely unique among the many pieces of octopus art that I've checked out in my time. I can't say enough about how much enjoyment this little scene of whimsical octopus art gave me.

Octogalaxy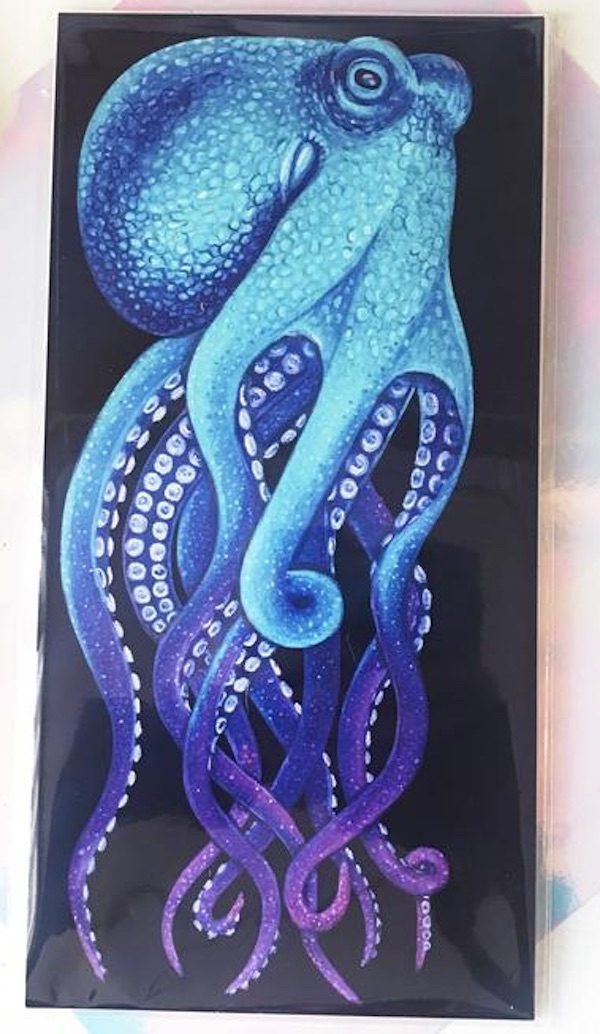 This one is great as well. It's Octogalaxy from Chelzart Studios.
Here's another octopus painting where I feel like the colors are just perfect. And what a fantastic use of light! Can anyone say luminescent?
I find myself really drawn to the subtle gradation from purples — reminiscent of the depths of the ocean — to the light, almost neon blues conveying the light of the surface above… I just think a painting couldn't get any better than that.
There's also something about the expression on the face of this octopus. I realize, of course, that an octopus doesn't really have an expressive face, but the look in this creature's eye is almost one of wisdom. And tranquility.
I love it.

Great Octopus Artwork
Thanks for checking out my list of great octopus art. If you liked it, please share it on your social. Thanks!
Written by Renee