Sea Turtle Paintings ~ great sea turtle artwork for your home decor
There's just something very alluring about sea turtles, isn't there? The way that they are so graceful as they glide through the sea (even though on land they are quite clumsy and bulky, in the sea they are beautiful). So I'm a big fan of sea turtle paintings and other sea turtle artwork.
I'm also a fan of sea turtles because I have experienced their beauty in person during visits to the Hawaiian island of Kauai. To see video of them is one thing, but to see them in person in the water is something that everyone should try to experience at least once in their lifetime!
So without further ado, here are a few of my favorite pieces of artwork centered around sea turtles:

Metal Sea Turtle Sign Art
I find it really amazing what you can do with metal these days. This Metal Sea Turtle is cut out of steel and is absolutely gorgeous. Brian, the artist who creates these wonderful flat sculptures intentionally delivers this piece in traditional steel, so that you can either paint it yourself or leave it exposed to the elements for a natural rusty patina (which would look very cool, indeed).
See all of our Sealife Art Pages:
Dolphin Art • Sea Turtle Art • Octopus Art • Crab Art • Seahorse Art • Starfish Art •

Resin Sea Turtle Wall Decor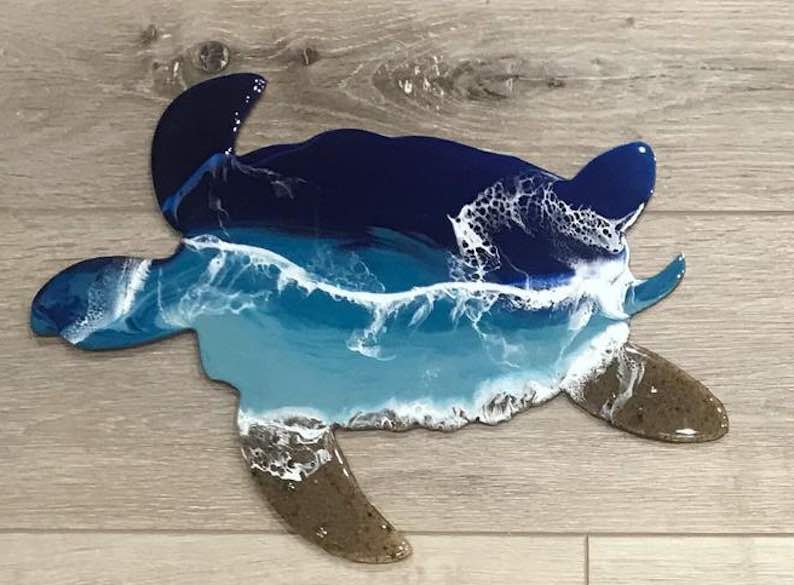 If you've looked around the Seashell Madness site a bit, you have no doubt noticed that I'm a big, big fan of resin art oceans. When someone does it right, the fluidity of the resin makes for such incredibly awesome seascapes. Here, artist Whitney has done a great job of the crashing waves on this one. And, the entire piece is in the shape of a sea turtle. Fantastic!

Sea Turtles and Fish Petal Marble Mosaics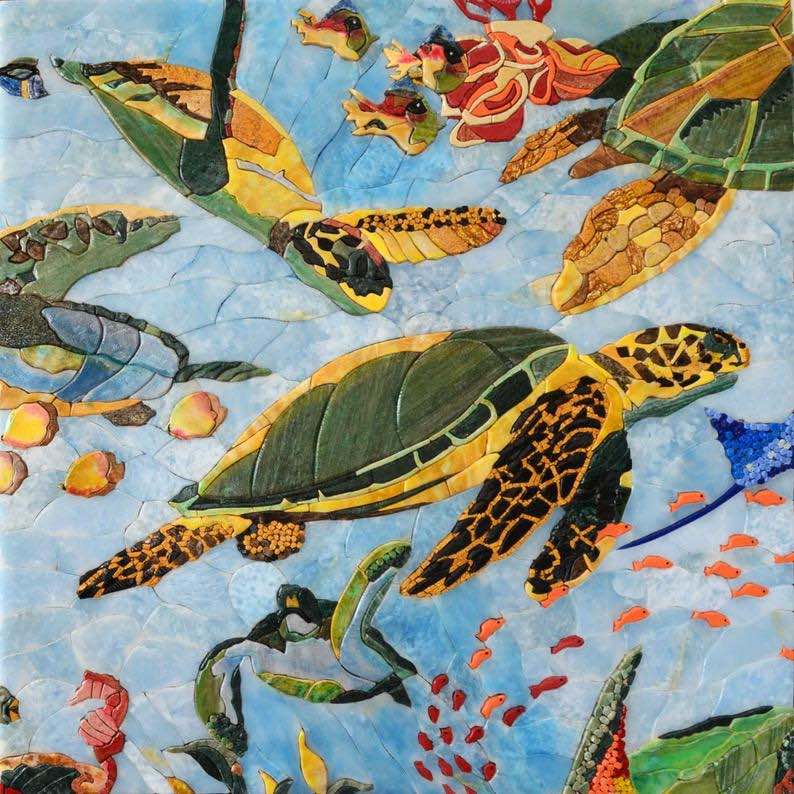 Wow! Just look at the detail on this Sea Turtles Marble Mosaic — the tiny little patterns, the subtle color changes, the multitude of fish swimming by. Amazing! Mosaic tile artwork is a form that goes back thousands of years, and even to this day it is a form which is difficult to really master. And here it has definitely been mastered. Chady and his team are internationally renowned for their amazing tile mosaics, and looking at this piece it is very easy to see just how well-deserved that reputation is.

Baby Sea Turtle Wall Art
I love it when a painting really sets a scene and evokes an emotion. For this portrait of a baby sea turtle heading out to sea, Shanthi Thiruppathi has really managed to do both for me. I can just feel this little turtle's longing and excitement as it makes its way to the ocean for the very first time. An amazing moment captured with consumate skill.

Psychedelic Sea Turtle – Wall Art
Artist Laura Thompson is a painter of many extraordinary sealife works. I really like the representation of this turtle. What a great expression on her face as she swims toward us. And as she swims, it is through a sea of psychedelic swirls. How wonderfully imaginative that is to come up with this Psychedelic Sea Turtle. Trippy!

Blue Sea Turtle Watercolor Painting Print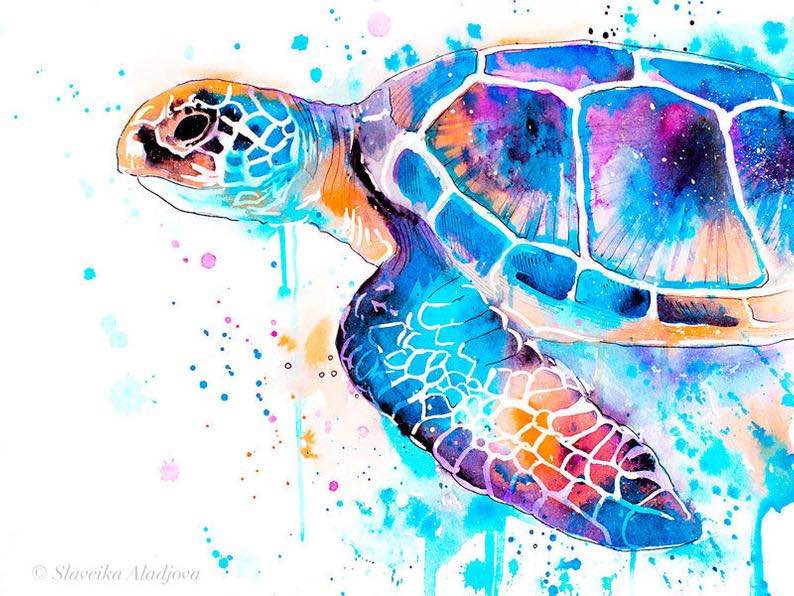 Slaveika Aladjova has a wonderfully distinctive style to her work (she has a whole series of sealife and wildlife watercolors in this style). I love how she makes these soft watercolors glow. All of her works are absolutely radiant. The color combinations used on this Blue Sea Turtle are truly amazing. And I'm a big fan of how she allows the watercolors to flow where they will. For me that is a truly wonderful use of the medium.

Sea Turtle Surfboard Style Wall Art

If you find yourself on the Hawaiian island of Kauai, you will find that you have the opportunity to both surf and swim with the sea turtles. So this Sea Turtle Surfboard by artist Beth (aka Dipsy Doodlebug) seems to me to be a fitting homage to those days in Kauai. And — no suprise here — the artist and this wonderful work of art both do indeed hail from that particular Hawaiian island.

Sea Turtle Watercolor Painting Print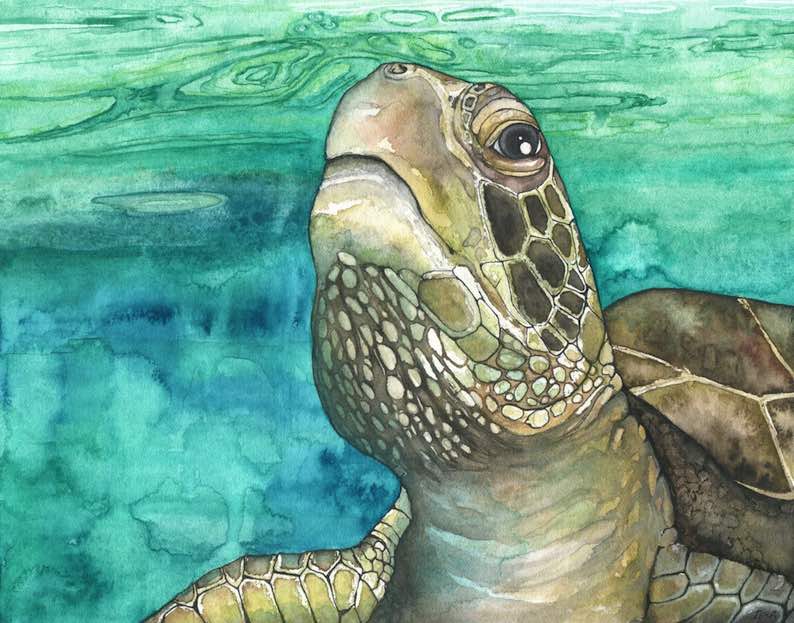 How great is this closeup view? I love it! Artist Rachel Byler has a whole lot of really wonderful sea-themed watercolor paintings which I highly recommend that you check out. This particular Sea Turtle Watercolor really, really caught my eye. It's the fact that it is in closeup and that this turtle is definitely checking you out with a skeptical eye.

Sea Glass & Epoxy Sea Turtle
As you can tell by the multiple posts I've written on the subject, I am a big fan of sea glass. Such a beautiful medium, and so much that can be done with it. Artist Carissa Natalewicz has a whole collection of amazing works of art like this Sea Turtle Sea Glass & Epoxy Sea Turtle. She has this delightful way of sculpting with sea glass. I really like how this turtle has been captured in the epoxy resin to give the feel of floating through a crystal-clear sea.

Sea Turtle Wooden Wall Art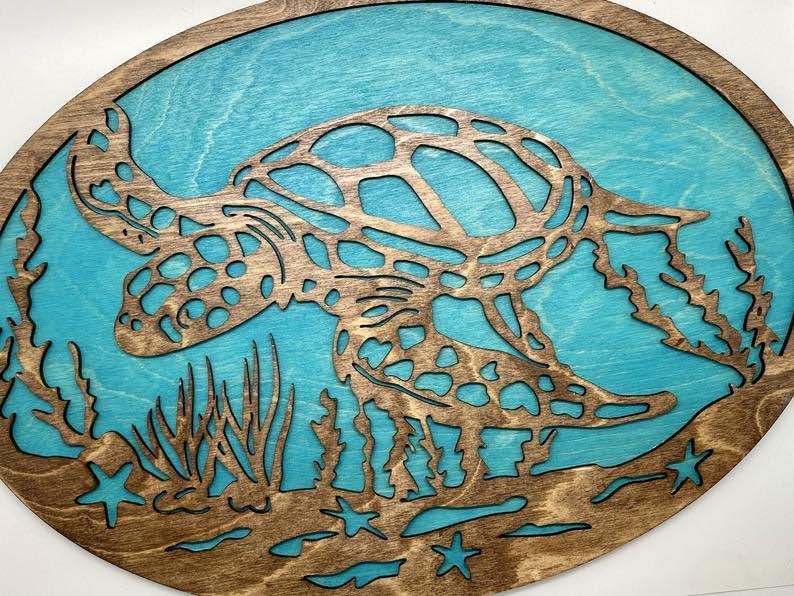 Remember that wonderful sea turtle surfboard we looked at a moment ago? Well the same artist has created this amazing little piece of Sea Turtle Wooden Wall Art, inspired by what she says have been "hundreds" of experiences swimming with the sea turtles of Kauai. I love the feel of this piece — the way that this golden turtle swims against the rippling blue background is just terrific.

Sea Turtle Suncatcher
I really enjoy the 3 dimensional feel that Nancy Smith brings to her ocean-inspired resin works. For example, just look how the little twigs of seaweed escape the frame in this Sea Turtle Suncatcher. And the shells which make up the reef are a delightful detail.

Sea Turtle Hatchlings Art Print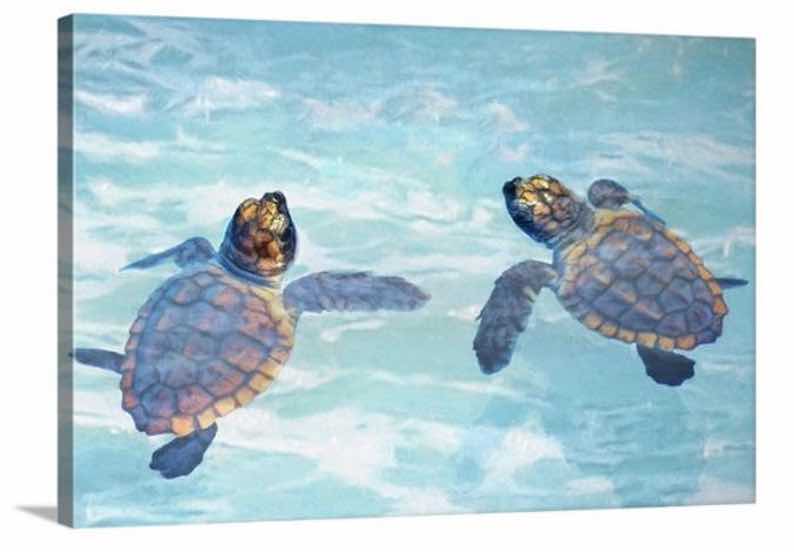 Melinda Bradshaw has a truly original and unique style. A lifetime photographer she draws upon a few decades of original photos, plays around with about a million Photoshop layers and produces some truly wonderful pieces, like this Sea Turtle Hatchlings print.

Watercolor Sea Turtle Art Print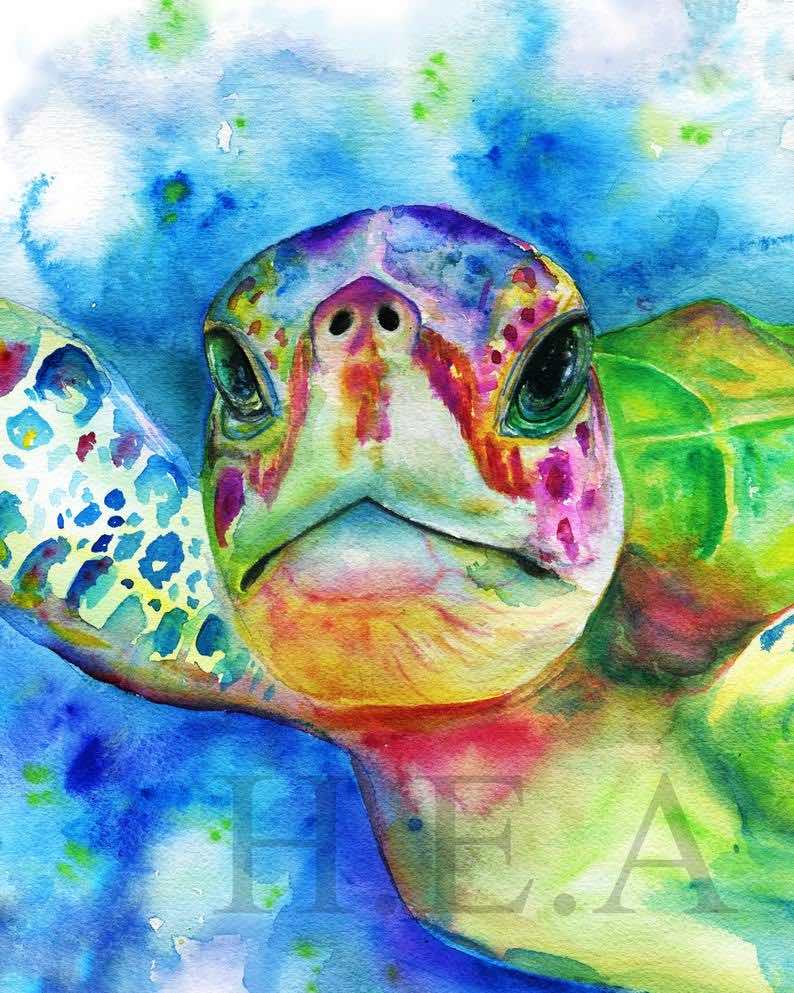 This Watercolor Sea Turtle brings a smile to my face every time that I look at it. I'm not sure why really. I suppose that it has something to do with the wonderful expression and perfect eye contact that artist Annica has bestowed upon this little turtle. And I absolutely love how vibrant the colors are in this sea turtle painting! Wonderful!

Driftwood Turtle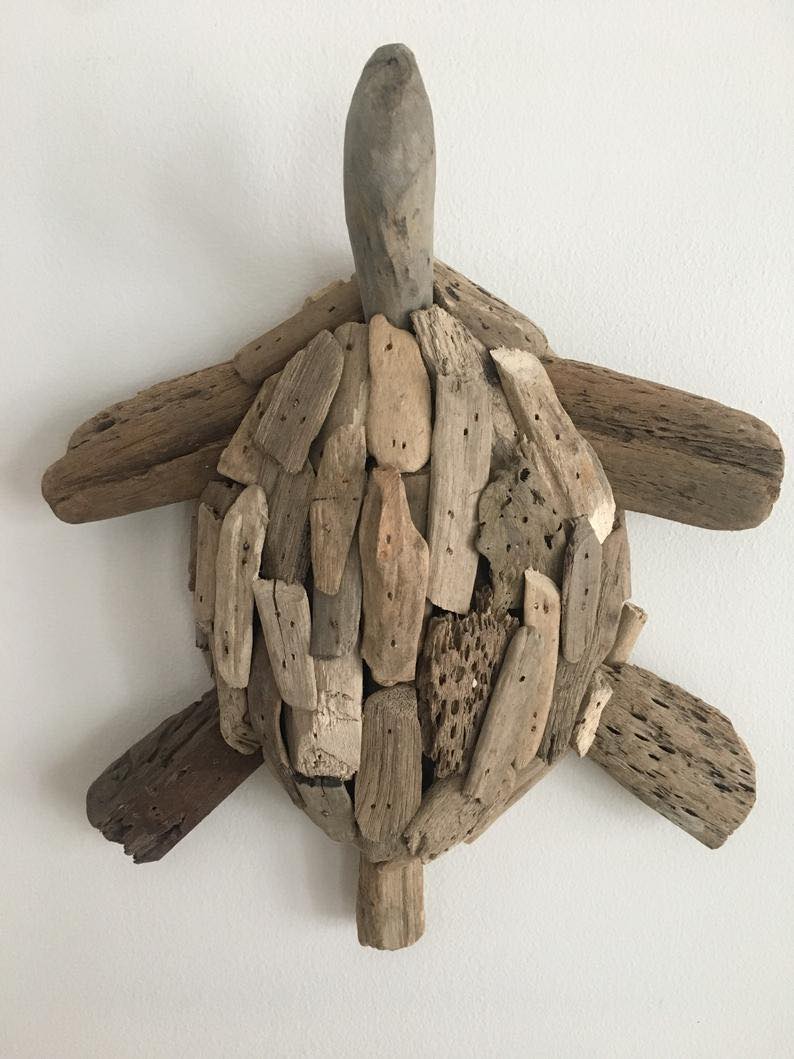 As a frequent beachcomber I am naturally also a collector of driftwood. I think that it is really neat the way that the ocean shapes and sculpts twigs, logs and branches as they are tossed about by the waves. So I also think that it is really great when someone takes some of that terrific driftwood and uses it to create a piece of art. This Driftwood Turtle by Cindy Brown is just the ticket for me!

Hawaiian Green Sea Turtle Fine Art Print
Shane Myers is a Hawaii-based photographer who takes some truly exceptional photos. Take this Hawaiian Green Sea Turtle for instance. How amazing is it that Shane has captured so much detail here. You can quite clearly read this turtle's expression — not to mention being able to see the wonderful mosaic patterns on its flippers! — and I love how even with that crystal clear an image, you can still see the motion of the water!

esin and Sand Sea Turtle Artwork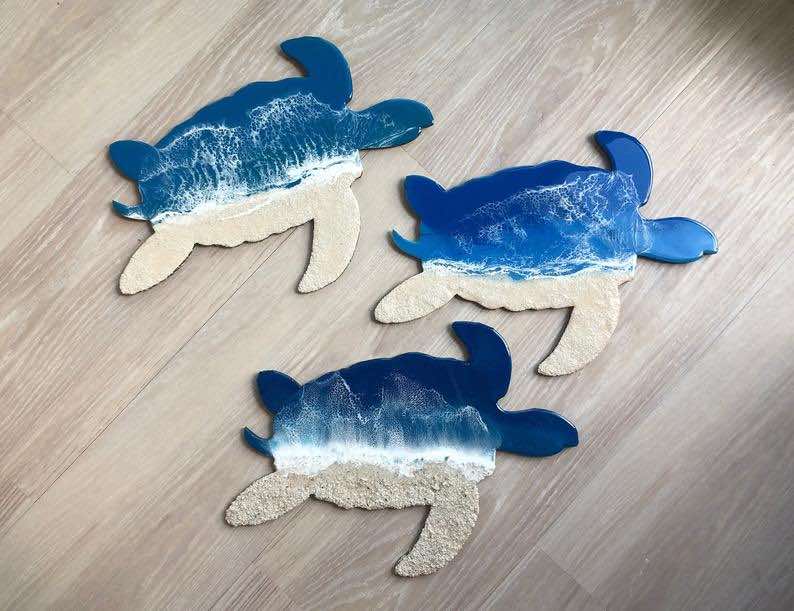 Another wonderful example of resin oceans in the shape of sea turtles. These examples, from artist Kim Marr, really get across the feel of the ocean waves as the surf breaks, and the use of sand here is really great. And I love that it has all been captured in the outline of a swimming sea turtle.

Sea Turtle Painting: "Adventurer" Hawaiian Honu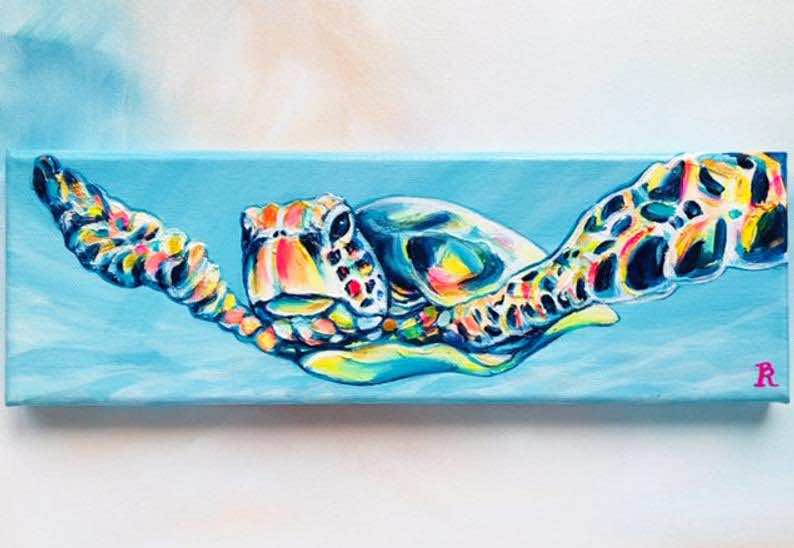 This one is not a print, it is the actual original acrylic sea turtle painting of "Adventurer" by Brooke Rosas (since there's only one, you should hurry and get it before someone else does!). I'm a fan of how Brooke has so perfectly used the space here — it's a distinctively proportioned canvas, and it is exactly the perfectly proportioned canvas for this perspective of a sea turtle. I just think this is a brilliant use of the space. And the distinctive use of the colors in well-defined patterns is beautiful.

Sea Turtle Nautical Nursery Print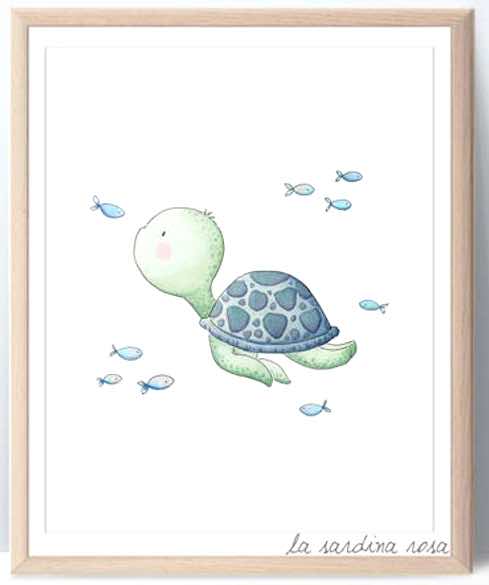 Could you get any cuter artwork for a nursery than this Sea Turtle Nautical Nursery Print? I don't think so. I think that artist La Sardina Rosa has a pretty good claim to some of the cutest nursery art out there. I love the curiosity displayed by this young turtle as she checks out a tiny little friend swimming by.

Blue Sea Turtle Original Watercolor Art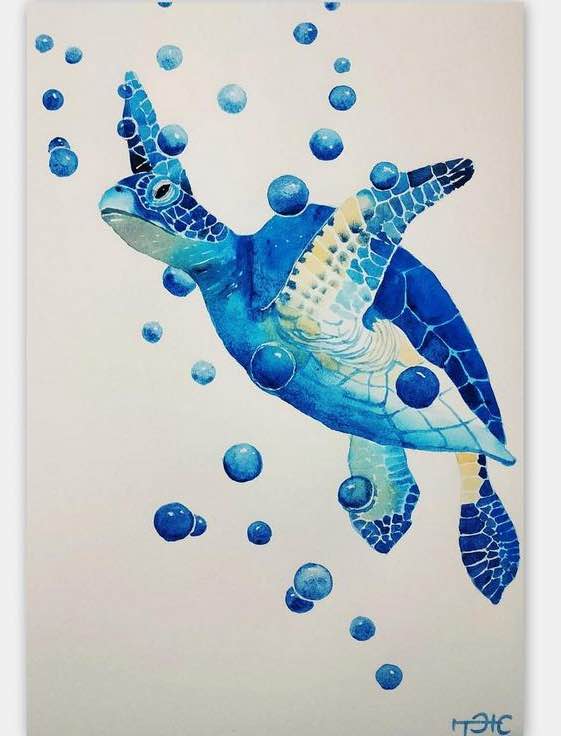 What wonderufully crisp lines on this Blue Sea Turtle by Tatyana Zhurakhovskaya. I think that most people would agree that a blue and white palette is pretty much the official color scheme of coastal decore, so I really like the choice of making this turtle all blue. What a great addition this would make to any beach house-themed decorating scheme…. And those bubbles! Great!

Sea Turtle Triptych Art Prints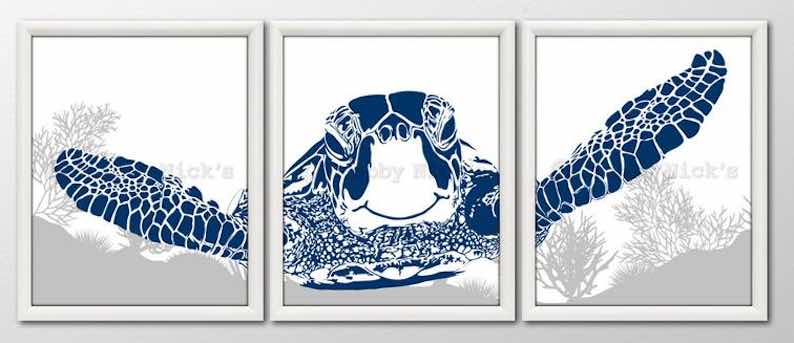 I just love me a good triptych, don't you? There's something really great about spreading a work of art out over several different canvases. This Sea Turtle Triptych by Nick Dolinar is terrific and I just simply cannot get over how wonderful that turtle's gigantic smile is, dead-center of the center panel. Makes me smile!

Aluminum Sea Turtle 2D Sculpture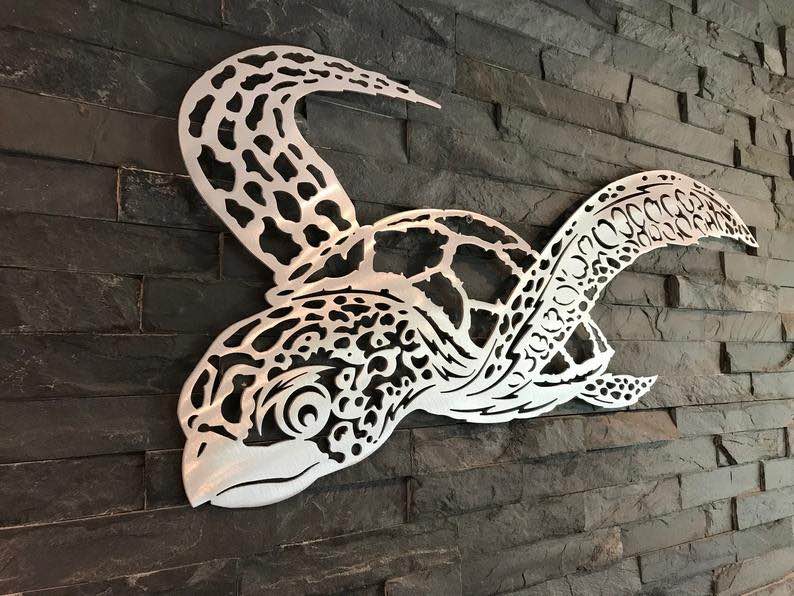 What a wonderful piece of metal art is this Aluminum Sea Turtle by Denis Frain. It's fantastic how he has captured the flow of this sea turtle in motion. You can almost feel it rushing through the currents. And since this design is made from aluminum you can mount it indoors or out without worry of it rusting away. How terrific is that?

"Baby Sea Turtles and Mom" Original Acrylic Painting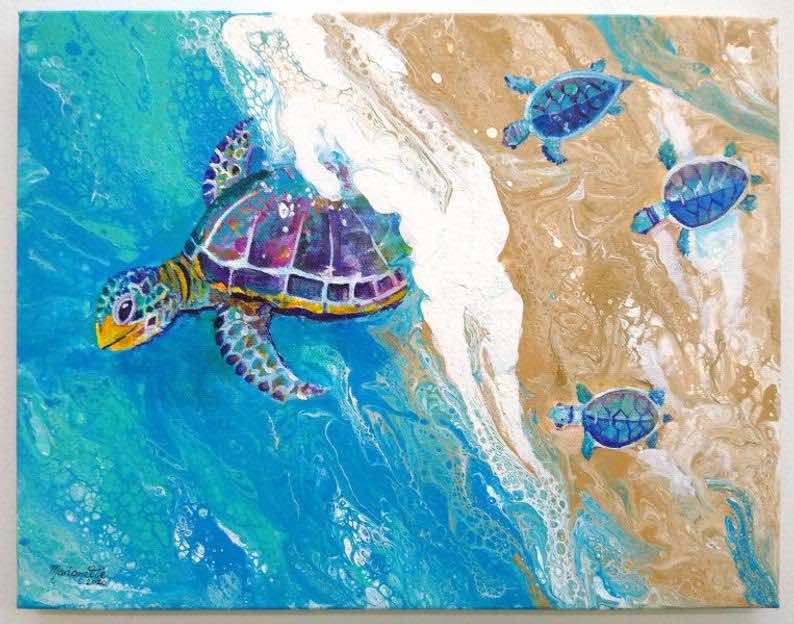 What wonderful colors at work here in this original acrylic Baby Sea Turtles and Mom painting by Marionette Taboniar. Like a lot of Kauai-based artists, Marionette has some great works featuring sea turtles (since Kauai is about the only place in the world that you can easily swim with these guys). I absolutely love the expression on the mother turtle's face and seeing her babies coming to the sea behind her is simply priceless.

28″ Acrylic Sea Turtle Wall Art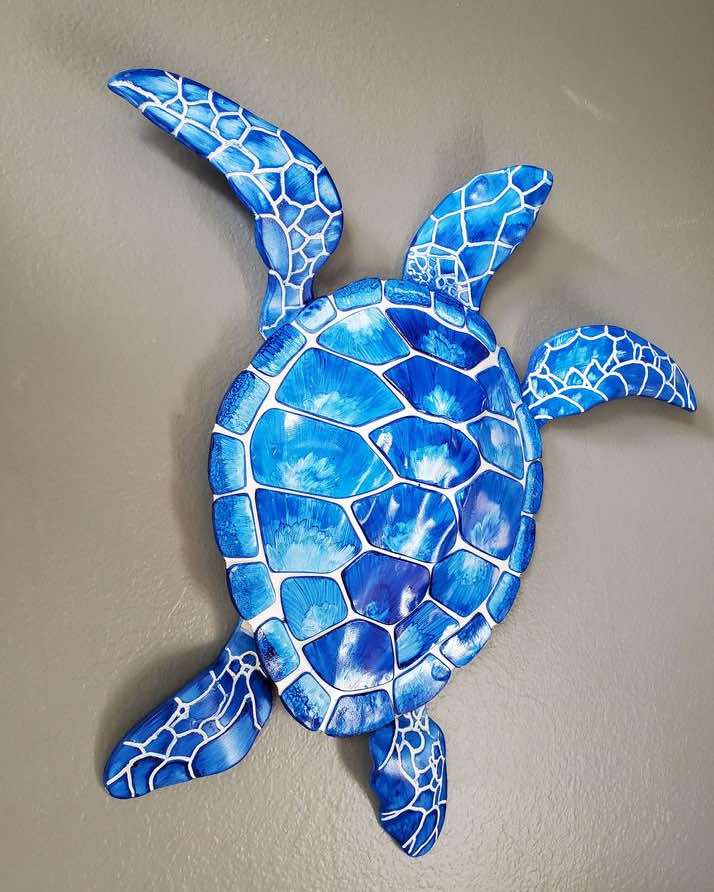 I am a huge fan of the way that the colors really pop off the shell of this Acrylic Sea Turtle sculpture. Just look at those different patterns which artist Anita Orozco has pulled together in mosaic-like fashion. Truly beautiful sea turtle artwork. And at 28″ long, it's a pretty big piece of art as well.

Sea Turtle Print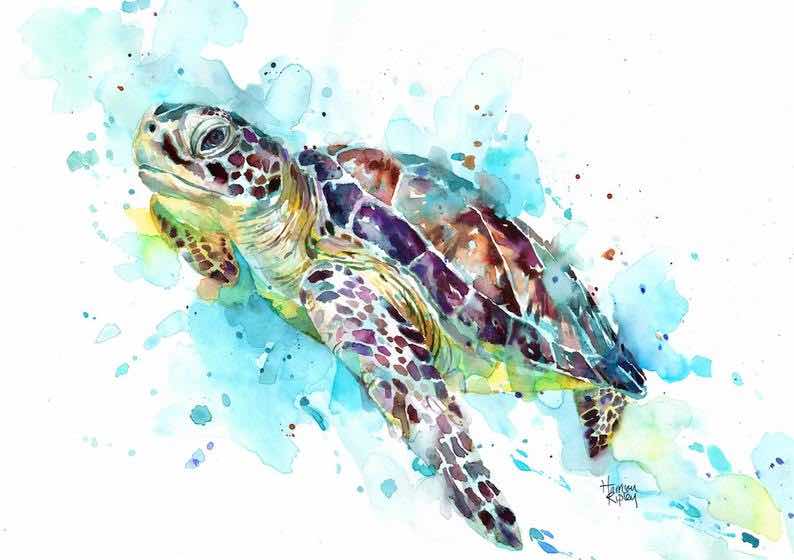 I love the great combination of crisp lines and rogue watercolors in this Sea Turtle by Harrison Ripley. The colors are terrific. And I love how the soft blue watercolors give the definite feel of gliding through the ocean. Terrific sea turtle artwork!

Sea Turtle Art Canvas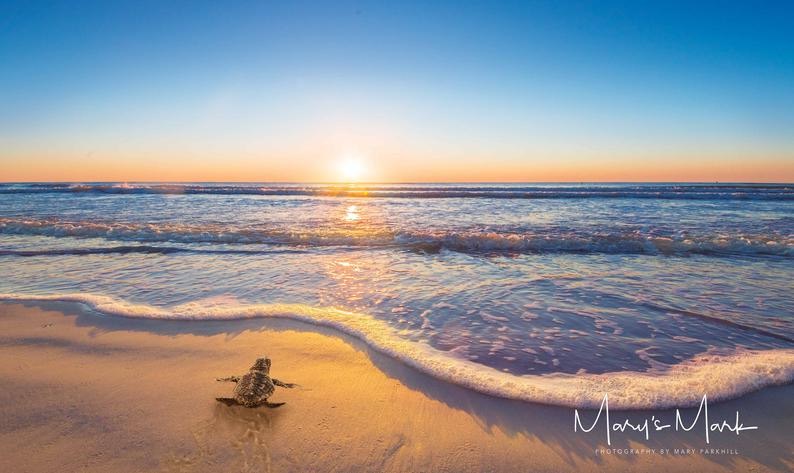 Photographer Mary Parkhill has several tremendous photos in her collection. I really love the framing of this Sea Turtle print. There's the vastness of the ocean. And there's the little baby sea turtle determinately making her way to the waves. And right at sunset. Beautiful.

Beachy Blue Sea Turtle Art Print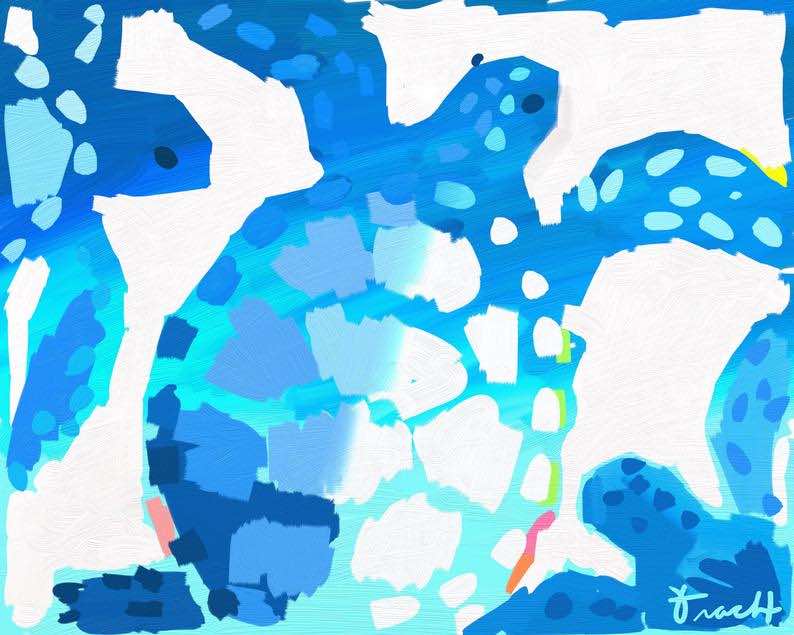 What really caught my eye with this Beachy Blue Sea Turtle by artist Kelly Tracht was the way that such sharp, crisp lines could produce such a beautifully soft effect. It seems kind of counter-intuitive to me. But it really caught my eye and I couldn't look away. Wonderful!

Baby Sea Turtle Ceramic Art Tiles

It's basically a play in 3 acts, rendered in ceramics (and I love it!). The first tile shows the baby turtles breaking free from their shells, then it is the struggle to reach the sea, and then the triumphant body surfing as the tiny siblings claim victory at the ocean. And each of these tiles has been hand-sculpted from clay by sculptor John Beasley and then fired to produce these wonderful ceramics.

"Intershellar" Sea Turtle Art Print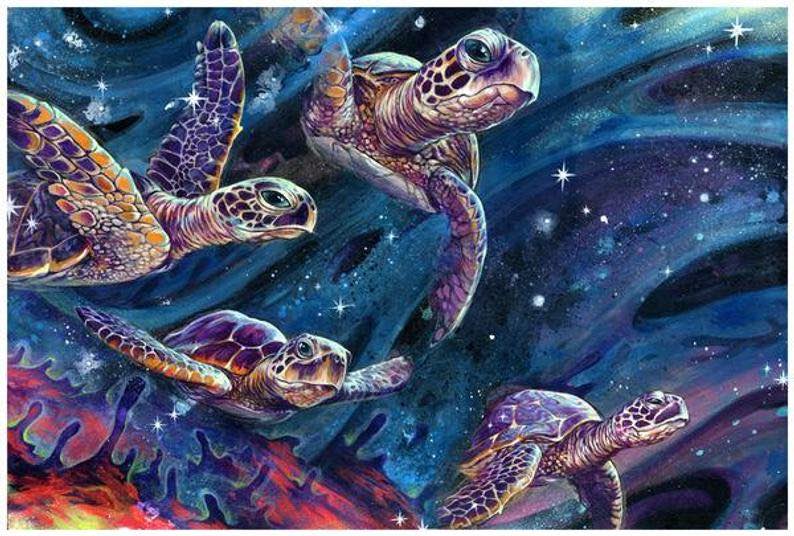 Painter Jon Swartz has a pretty distinctive style, and it's a style that I think is really great. How fantastic is it that these colorful sea turtles are swimming around in the vastness of the Cosmos? Jon has a series of paintings that show ocean life gliding through the stars, and I think that they are all great! "Intershellar" indeed!

"Under The Sea" Rustic Sea Turtle Wall Art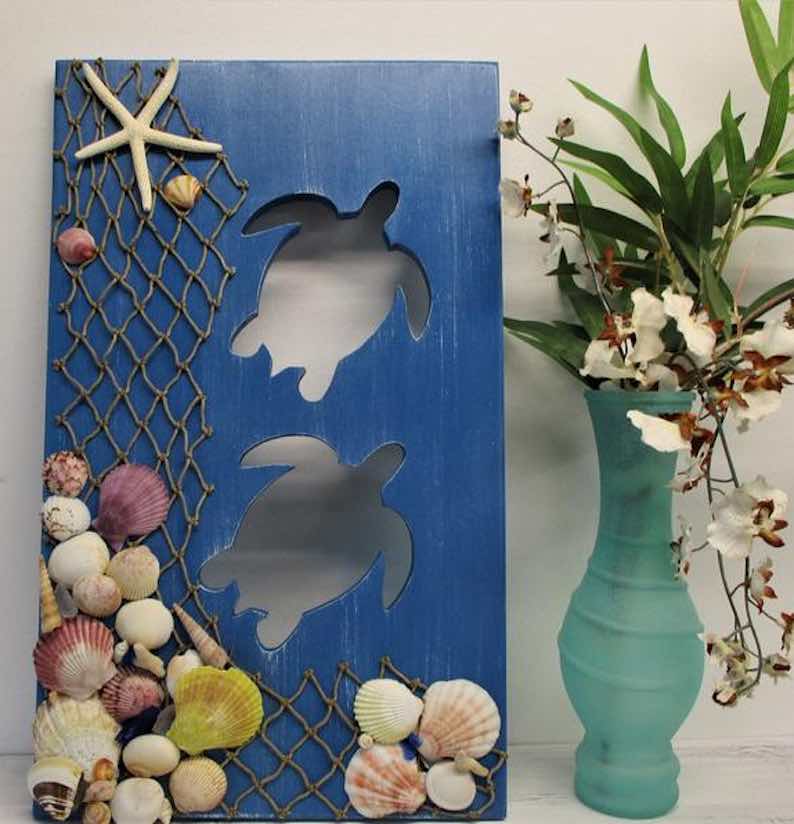 What a wonderfully imaginative use of mixed media here. The sea turtle cutouts of Under the Sea on the blue board are delightful in and of themselves, but then add to that the use of the net and seashells and you see that Theresa has created something really special with this particular piece of sea turtle artwork.

Sea Turtle Wall Decal Vinyl Stickers
Go Big or Go Home, am I right? I can't think of a way to make more of a statement than to cover your entire wall with a sea turtle. And it's coming right at you!

Sea Turtle Mosaic
Let's start off with one that I think is really neat. This Sea Turtle Mosaic is a mixed-media piece. Artist Stephanie has created the actual turtle part of this turtle mosaic with cut pieces of felt which have been mounted atop the background — which is what gives this guy a 3 dimensional feel.
That's neat enough in and of itself, but what I really love is the way that she has created the clear water ripples. Fantastic!

Kauai Turtle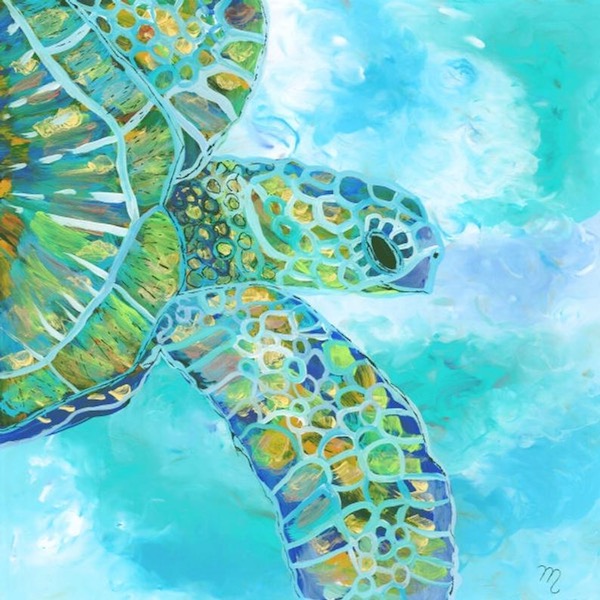 My oldest daughter is a surfer in Kauai, and she says that when you're out there in the surf the sea turtles will swim up to check you out (and they always look at you with one eye). They are not at all shy. Instead, they are very friendly toward people.
So when I see that there is a painting out there featuring a Kauai sea turtle painted by a Kauai-based artist, you've already got my attention. But then add to it that it's this Kauai sea turtle… well that's fantastic! I love the soft lines that artist Marionette Taboniar has used to show the patterns on this guy. The colors are so calm and meditative.
I love it!

Seaglass Sea Turtle
Remember how I said that the sea turtles will swim up to you and check you out with one eye? Yeah, like this. This Seaglass Sea Turtle has got that one just right!
This print from a watercolor by artist Patti Schermerhorn really works for me! I love how she's captured the "parrot head" of these guys, the bright colors simply jump right out of the painting and that expression on this turtle's face… priceless! There's so much there!

Turtle in Seagrass II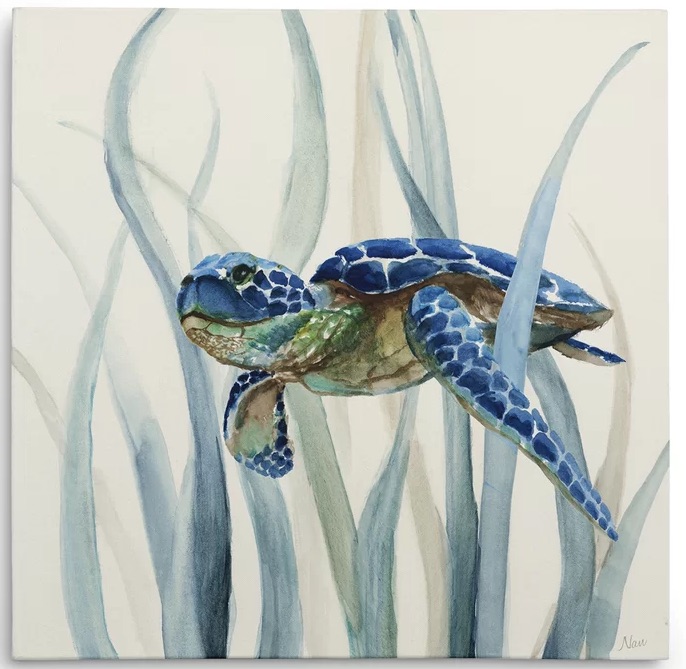 I couldn't find Turtle in Seagrass I, but if it is even half as good as its sequel Turtle in Seagrass II then I'm sure that I would love it. I love how the soft colors and soft lines of this piece really contribute to that feeling of floating.
Can't you feel that? Floating…. Floating…. Floating…
Gently floating through the sea grass, this painting made me feel relaxed right from the first moment I set eyes on it.

Face to Face Surfboard

I love this one! Love it! I mean, isn't it great how artist Stephanie Kiker has depicted this sea turtle looking right at you with a smile on its face?
I think it's great. And the fact that it's on a mini-surfboard just really makes it for me. The original has been done with colored pencil (and I am amazed at the detail in this drawing) then printed on this little surfboard.

Party Wave Turtle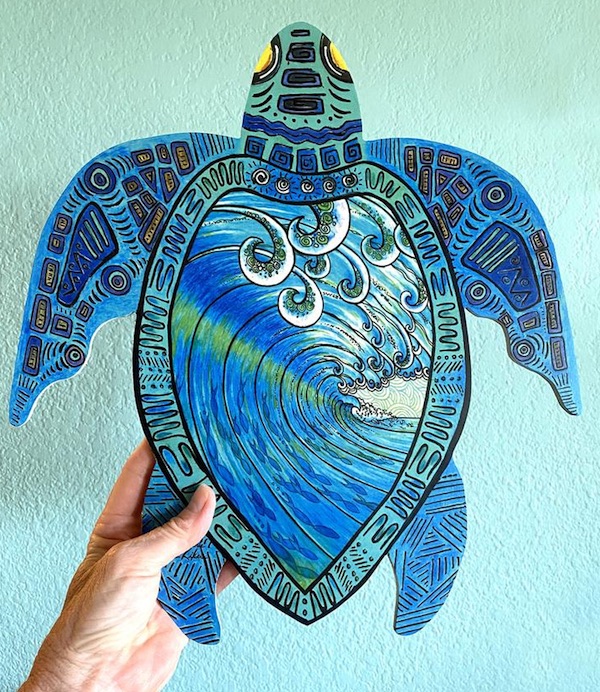 I couldn't resist putting another one from artist Stephanie Kiker because she just has so many fantastic turtles to choose from!
Take this one. I love the ocean print design on this one — the colors are beautiful and then the wave design and the glyphs. I love it!
And then it's all done atop an actual turtle-shaped cutout. This guy is perfect for me!

Sea Turtle Reptile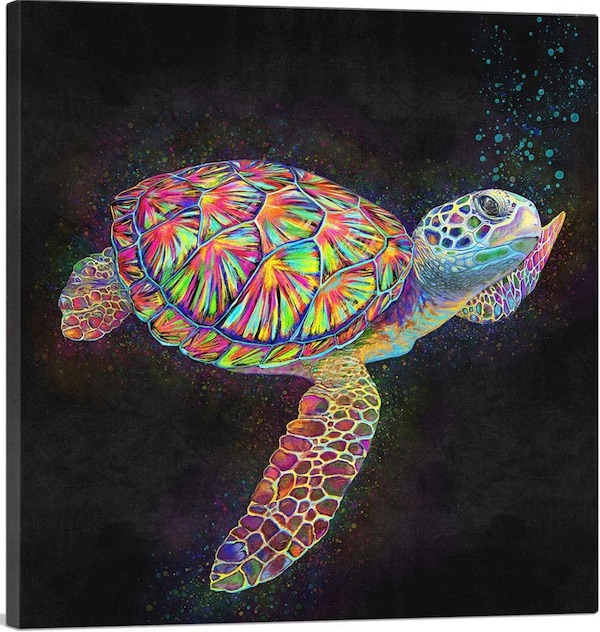 Are turtles really aliens from another world?
Hmm. The look of this Sea Turtle Reptile print sure gives that impression. This turtle, with his intelligent eyes, looks to me like a colorful alien.
Also I like how, unlike with most underwater paintings, this is a night scene. This visitor from another planet just glides through the night water… glowing.

Baby Sea Turtle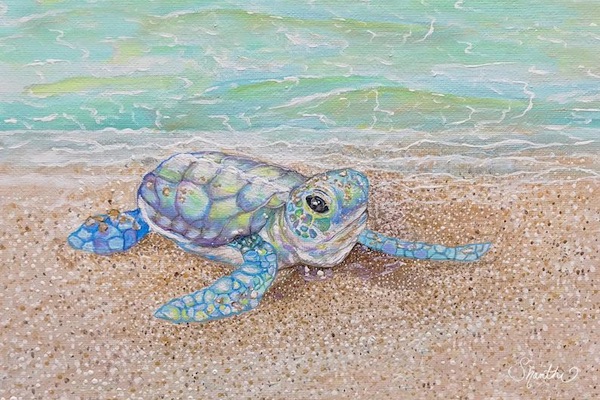 How cute is this little turtle? I love this painting by artist Shanthi Thiruppathi depicting a scene where a newly hatched baby turtle is finding its way along the beach to the ocean.
The soft pastel colors are simply amazing and those colors along with the fact that the subject of the painting is a baby turtle makes me feel that this would be the perfect addition to a baby's room.
Of course, it would also work really well in my bathroom. Hmmm….

Wadou Turtle
I'm a big fan of watercolors and I love the way that watercolors have been used on this portrait of a Wadou Turtle. You would swear that this turtle is wet. It's so shiny. And I love how the artist has let the watercolors drip off of the turtle's body, adding to the feel that this turtle just came ashore.
And I always like paintings on wood. Something about that…

Turtle Shadow Box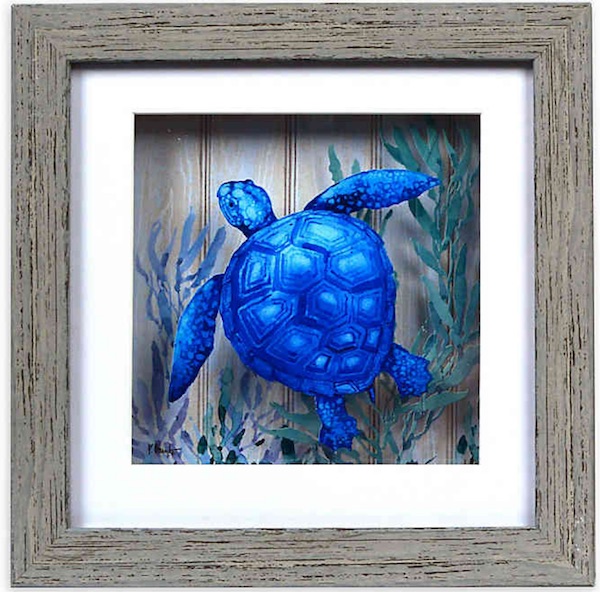 Made from layers of glass, this Turtle Shadow Box gives a real 3D feel to the subject. I love it. Those bright blues just jump out at you, don't they?

Sea Turtles in Northern Lights
I am a big fan of purple. I mean a really big fan of purple, so this portrait of Sea Turtles in Northern Lights just really jumped out at me! I love the use of color here. Artist Lucy Loo Wales has just soaked this acrylic in color and it is fantastic!
And the more you look at it the more details that you notice. It's great that there are multiple turtles floating around and the jellyfish are awesome!
And I envy these turtles: I've always wanted to see the Northern Lights, but haven't had the opportunity (yet).

Ocean Sea Turtles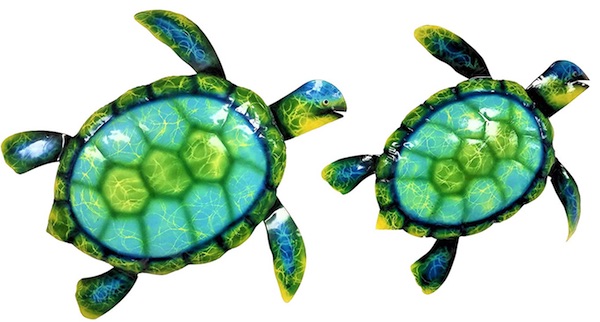 These Ocean Sea Turtles are hand-chiseled from metal. I find that simply amazing. And that gives these little fellows a fantastic 3D aspect!
The colors of the patterns on the shells are just perfect and oh-so shiny!
Oh, and how about those happy expressions on their faces. Makes me smile!

Assorted Sea Turtles
Anything hand-painted gets my attention. And these assorted Sea Turtles definitely get my attention. There are a whole collection of these guys and since they are hand-painted each one is different.
They're very lifelike, aren't they?
Sea Turtle Paintings & Artwork
So there you have it. A list of some of my favorite works or art featuring the sea turtle. I hope you liked checking these out, and maybe you followed some links to see more from these great artists. If you liked it, please share it on your social.
Written by Renee