50 Best Beach Painters on Etsy [Winter 2020]
As someone who is kind of obsessed with beach and ocean-themed art, I've looked at a whole lot of beach paintings in my time.

On Etsy alone there are a mind-boggling number of painters with beach themes, so today I want to share with you those folks who I feel are the 50 Best Beach Painters.
Here we go:

Tiffany Rivers
There are some pretty spectacular ocean-themed paintings in the catalog of Tiffany Rivers (she's one of my favorite coastal painters), including "Impressionistic Wave." I love this acrylic on canvas and how she has zeroed in for a closeup of the barrel wave — and the way that she's painted the foamy crest of the wave almost makes me feel the water splashing on my face.
See all of our Beach Artist Pages:
Best Beach Painters • Best Resin Artists with a Beach Theme • Best Seashell Artists • Best Driftwood Artists • Best Beach Jewelry Designers •

Olivia Gonzalez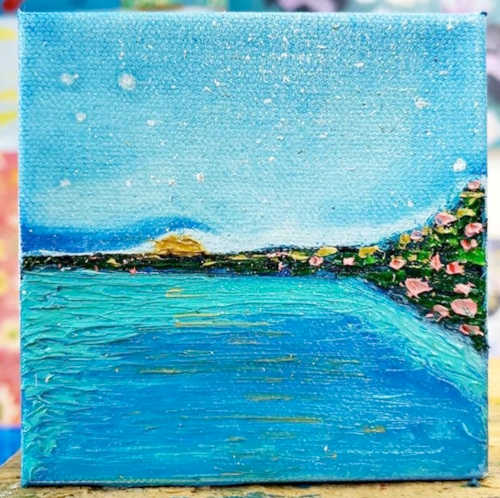 I love what artist Olivia Gonzalez does here with her "Little Beaches" series of beach scene paintings. As the name implies the series is small (4″ x 4″) oil paintings of beaches. "Twilight Beach" is my favorite of the bunch, as it shows the setting sun with a flowery hillside nearby. Says Olivia of her inspiration as a painter, "I remember drawing and finger painting as a child, writing mini novels and poetry as a young adult and always having a stack of used sketch books stashed in misc. cabinets and drawers with the pages filled with ideas, thoughts and dreams."

Justin Strom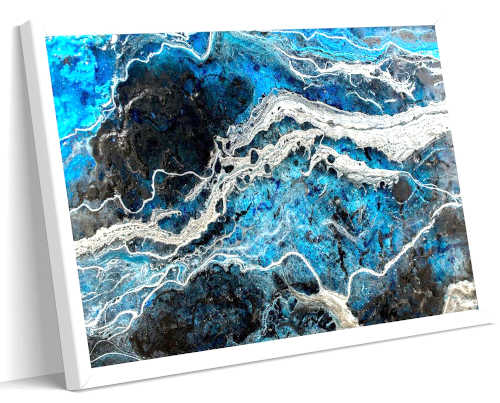 While I'm sure that this "Abstract Ocean and Beach" by Justin Strom wasn't inspired by our local beach, it really brings up that feeling for me (in an abstract beach painting kind of way). Along our shoreline, just near the Seal Sanctuary, large black rock formations shoot out of the water and at high tide the ocean waves slam against the cliffs of the shoreline. This painting feels like looking down from the bluffs overlooking that beach, with the churning ocean and the jutting rocks.

Hannah Louise Singleton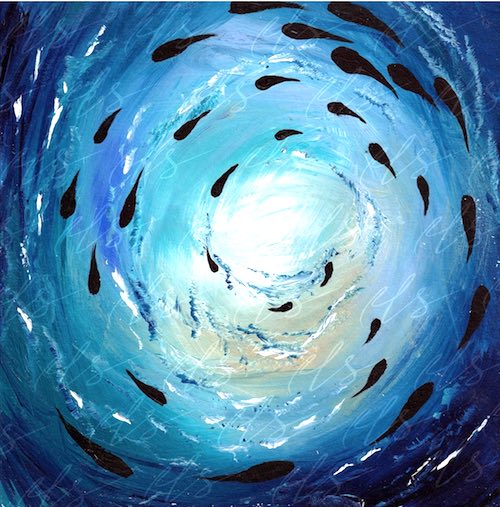 I always like art that is presented from a different perspective than you usually see. Like "Sea Fish Shoal" by Hannah Louise Singleton which shows a circling group of fish depicted from beneath, looking up at the sun. It's a perspective that usually only comes to scuba divers, but here we get to see it too! Says Singleton, "I like to create a sense of character throughout my work portraying the ever-changing current of the tide and the sea creatures that inhabit them."

Karina Mirzoeva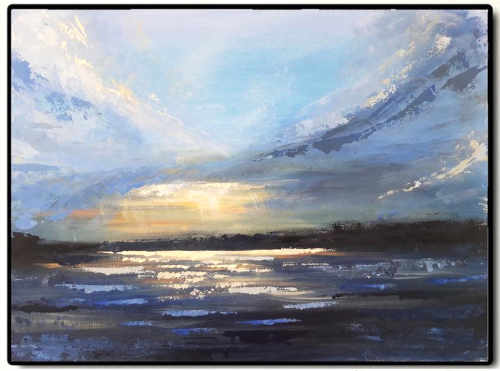 I really like the moodiness in the abstracts by painter Karina Mirzoeva. She has an entire line of ocean-inspired paintings. Most of which are larger format and good for display in large rooms. I particularly like the look of "Sunset on the Ocean," and the darker blues of the coming night. Definitely one of the more striking beach scene paintings out there, as well as one of my favorite abstract beach paintings out there.

Beth Johnson
Artist Beth Johnson or Flourishx Studios mostly specializes in photography — and she has some wonderful photo prints of East Coast beaches from her base in a small coastal town in Delaware. But she also has a few amazing acrylic abstract paintings, like this Crashing Wave. I love how rugged this wave looks!

Blair Iris
There's an interesting look that comes with using alcohol ink, as has been used by artist Blair Iris on this abstract painting "Silver Beach." The look is similar to watercolors (which I love) but there's also some other something there. Says Blair, "I create intuitively with each medium I use and believe that creation should never feel limited but instead limitless."

Sue Mazoochi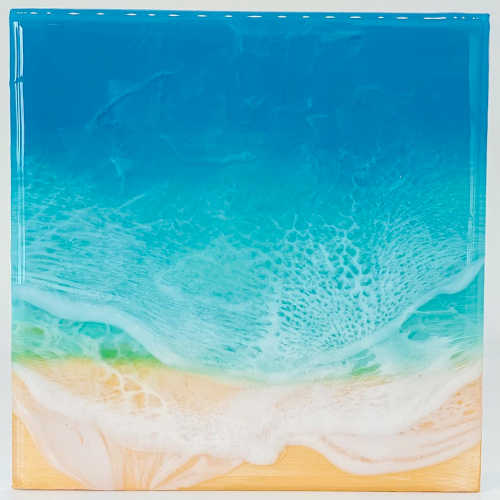 I'm a fan of resin art depictions of the ocean (I've got a whole other page of resin artists here) and Washing Waves by Sue Mazoochi is a really great one. I love how she's mixed acrylic paint and resin to create the effect of that thing that waves do after they crash but then come frothing up onto the shore (I'm sure there's a word for that, but I can't think of it right now.)

(There's so much great ocean-themed resin art out there that I did a list of the Top 50 Resin Artists with a Beach Theme)
Randi Schneweiss
While artist Randi specializes in pet portraits, a glimpse at her store page shows a painter who is comfortable working in all sorts of styles. I really like the look of this oil painting, "The Umbrellas." I love the way that the colors just leap off of the beach in this scene of the tide creeping up on a pair of beach umbrellas. What a wonderful beach scene.

Alex and Sarah Kaminsky
Now "Corridor" by Alex and Sarah Kaminsky is truly unique in this particular set. Not created by brushes or rollers, but by something else. You see, Alex is a software programmer and he started experimenting with the concept of "hand-crafted algorithms." I almost didn't include this on the list since it is not technically a painting and Alex and Sarah are not technically painters, but the results are pretty stunning, so…. here ya go.

Dolores Robak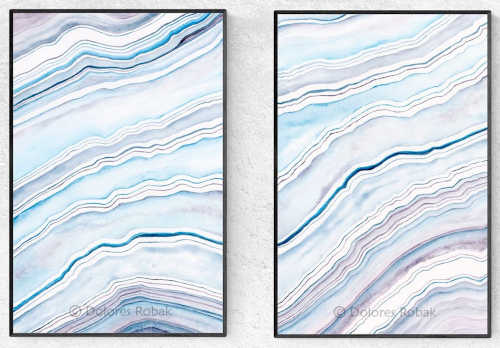 Dolores Robak is another of those coastal painters who works in all sorts of styles (her watercolor paintings of horses and cats are really great!). So when she turns her brushes toward something abstract, like she has here with "Blue Abstract Coast" the results are pretty compelling and what we end up with is one of the most fantastic abstract beach paintings. I love the feel of the waves rippling toward the shoreline.

Ashley Hillman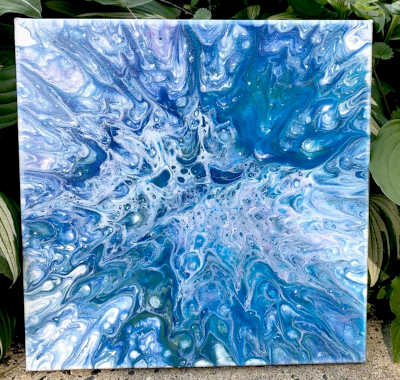 When artist Ashley Hillman turns her brushes to the abstract, you get something bold (really, check out all of her abstracts and tell me if even one of them is less-than bold!). I love the look of this acrylic "Fluid Spin," which evokes the feel of a day out surfing (and wiping out).

Kate Shore
Says artist Kate Shore, "I always feel better by the water." And that feeling really comes across in her abstracts of shorelines, like this one entitled "Heat Wave." About this particular painting, she says, "As this painting evolved, it reminded me of running across the hot sand at the beach, then the cooling relief of jumping in to the ocean on a hot summer day."

Suzanne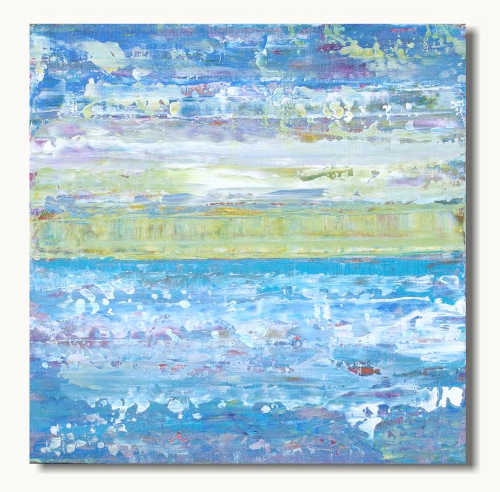 There are many abstracts in the catalog of ocean painter Suzanne, including this seascape "Ocean Vibes." I was really drawn into this one, as I could just feel those waves crashing ashore in the foreground. Says Suzanne, "As far back as I can remember I have been in love with abstract art. There's just something about it that pulls me in and keeps me transfixed."

Rain Townsend
The thing that I really like about this acrylic painting, "Calm Waters" by Rain Townsend is that the waters are, well, calm. While I do enjoy painters who like to show the action and the violence of the sea, there is something calming and meditative about being on a shore and staring out at an ocean. And that is conveyed perfectly in this painting.

Kirsten Reed
>"I try to feel through my pieces as I paint them, creating an emotive scene or snapshot that stirs a soul," says artist Kirsten Reed. And she has certainly done that with this work entitled "Salty and Sweet" which is an acrylic created with a palette knife. I love the feel of the water on this one, and the way that she has let the acrylics run into the foreground just adds to the feeling of the approaching tide.

Lis Scott
There is a lot of fluid motion to this "Abstract Coastal Landscape" by Lis Scott. It's interesting how she has painted this one "sideways" — okay, so maybe "sideways" isn't really the right word, but most abstracts of coastlines feature the beach in the foreground, making this one unique. I love how the teals of the ocean flow toward the tans of the beach. Says Scott, "The way I paint is very spontaneous and instinctual. It involves a lot of movement and passion. I use my hands as well as a brush to create the flow that I want on a piece."

Sulamita Levine
I love the frothiness of the churning surf in this "Ocean Wave Abstract" painting by Sulamita Levine. You can almost feel those waves crashing toward you. And I love the way that the painter has mixed the acrylic blues and metallic golds to evoke the feeling of the sun shining through. This is how the great abstract ocean painters do it.

A. A. Steiner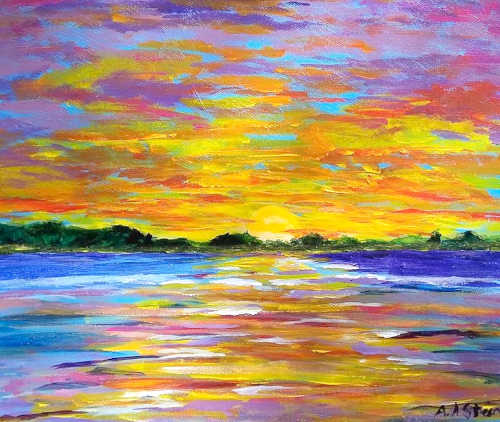 Color! I really love the use of Color (with a capital "C") used by artist A. A. Steiner on this abstract entitled "Setting Sun." She says of the painter's inspiration behind this acrylic: "My mother lived in Bradenton, Florida for a number of years and we spent one evening together at a lovely restaurant on the water. Watching the sun set while enjoying a fabulous dinner and sipping our wine is a memory I will always cherish."

Lada Kholosho
If you've gone through a few pages of Seashell Madness, you may have seen me comment more than a few times about how much I love purple. Love it! So when I saw the silhouettes of palm trees against a purple sky in Lada Kholosho's "Tropical Landscape" I was immediately hooked. The purples and blues of this one? Just stunning!

Julia Apostolova
I love how artist Julia Apostolava has used watercolors in this abstract entitled "Iceland from Above." I'm a big fan of watercolors and one of the reasons for that is the way that watercolors can be made to melt together. In this one she has used that melting to convey ocean, beaches and deltas. I also love how the painting mostly represents beach, with the ocean taking up a smaller portion of the painting, which seems to suggest low tide.

Camilo Mattis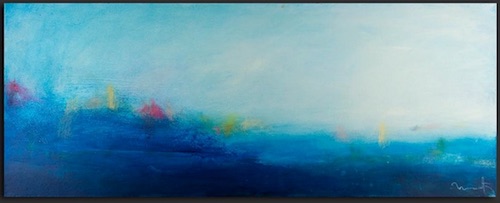 Artist Camilo Mattis has quite a few very appealing abstract seascape paintings. I really like this "Blue Landscape." First I love how wide it is. It's like when they make movies that are really, really widescreen so that they can show epic landscapes. That's what's happening here with this acrylic seascape. Also, where we live we experiences a lot of foggy days, and this painting gives me that feel of staring out at the beach on a foggy morning, where a few determined beachgoers have set up their umbrellas, optimistic that they will eventually see the sunshine.
(Any one of these paintings would definitely give a beach vibe to your decor)

Tim Woods
"I love thinking and silence. I love looking at trees, flowers, beach, wave, clouds, etc and thinking how beautiful nature is. Then I will have the impulse to paint it," says artist Tim Woods. This artist has several great abstract paintings of waves, including this one, "Rolling Wave" which features a soothing blue coastal break from a terrific coastal painter.

Adena Noble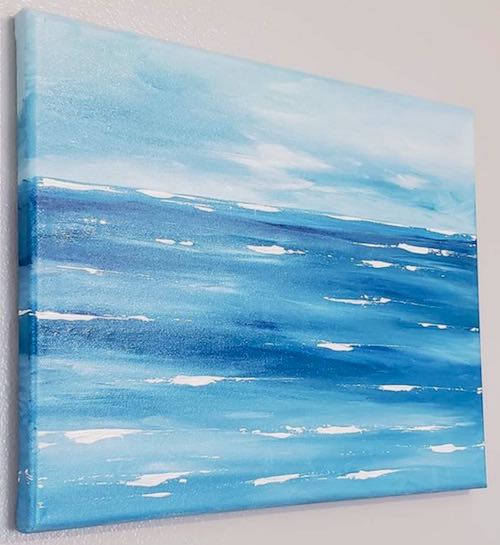 There is something amazingly relaxing and peaceful about this "Blue Ocean Abstract" by Adena Nobel. I love how it is painted entirely in blue — the blues of the ocean meet the blues of the sky in a way that just puts me in a meditative frame of mind.

Kate Shephard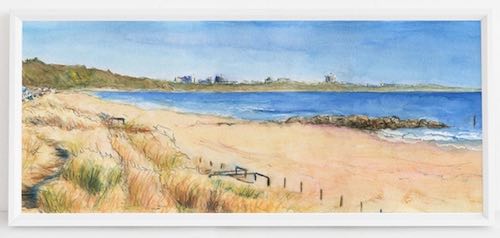 I've mentioned before how much I love watercolors (or in this case, since artist Kate Shephard is UK-based I should say watercolours). I love the softness that can be conveyed with watercolor — excuse me, watercolour. Although I've never been to Sandbanks Beach in Poole, this painting makes me feel like it's a place I would like to visit. Says Shephard, "I feel especially inspired by the colours of the ocean and the constant tumbling of waves as well as the beach, sunsets by the sea and surfing as I see a lot of it in the harbour near where I live."

Lisa Nohren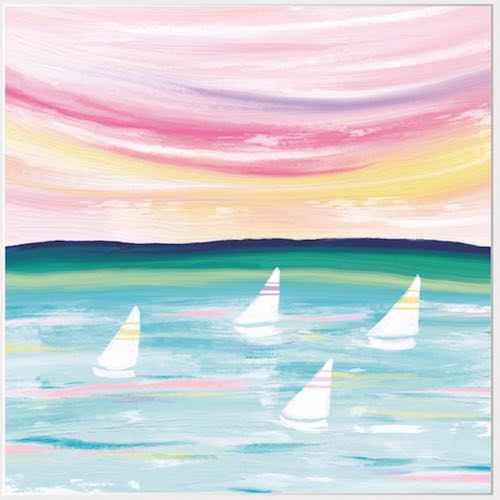 I love the soft pink sky and soft teal ocean of "Colorful Beach Sailboats" by Lisa Nohren. The sailboats gliding along through these soft colors brings a calming feeling. Also, Nohren offers this, and many of her other works, as digital downloads, so you can print out this beautiful scene yourself.S

Faith Jordan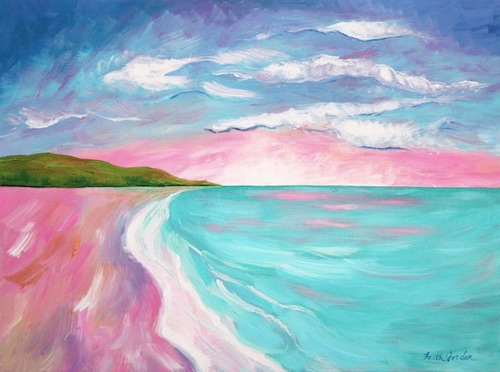 "Occasionally when I'm feeling really brave, I just start painting without any pre-thought or plan. Then what I end up with is a surprise even to me!" says artist Faith Jordan. I don't know if she was surprised with the creation of "Pink Dawn," but I know that it sure blew me away! I'm a fan of Faith Jordan, as she is a fearless painter — fearless with her use of color and fearless in the way that she seems to infuse a sense of optimism into everything that she paints. And this abstract beach scene is one of those paintings that I could sit and stare at for hours. It's lovely.

Agostino Veroni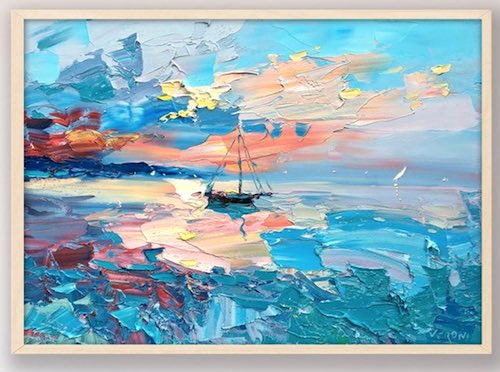 "Nature is the protagonist of my paintings," says artist Agostino Veroni. A prolific painter of landscapes and seascapes, Veroni makes great use of the palette knife with works such as the abstract "Sailing Sunset" (as he does on so many of his beach scene paintings) He is also an artist who is not afraid to make bold color choices. I love the brightness of the blues of the ocean contrast with the yellow sun peeking through.

Dakota Daetwiler
I would never have guessed that Dakota Daetwiler is self-taught as an artist. Especially when she has paintings like "Centerville Sunset" which at first glance look photorealistic. She has several painting that have beach or ocean themes and I love the way that she paints rolling water. The way that the light passes through the crashing waves in this one just takes my breath away. She says, "I am inspired by anything bright, vibrant, colorful, peaceful, and beautiful." And that certainly comes through in her work. (by the way, she also has an incredible mermaid painting that I am absolutely in love with).

Melissa Osburg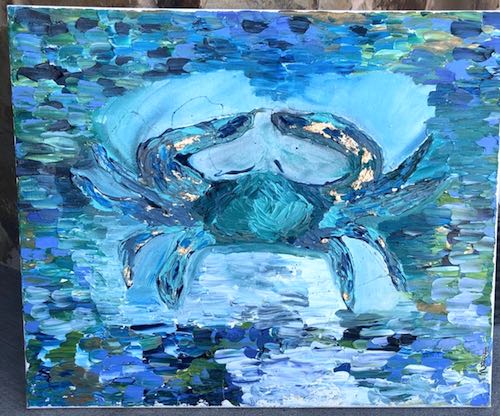 Melissa Osburg is one painter who believes in using art to overcome the chaos and anxiety of life. She says, "I have loved abstract paintings for quite sometime. The peace it brings to my soul as I paint inspires me to express what I am feeling." That feeling of peacefulness certainly comes through in this abstract "Beachy Blue Crab." I love the… I don't know… blueness of it. I find that very calming. And think it is great how the crab seems to project an aura of calm.

Lisa Elley
San Franscisco-based artist Lisa Elley has quite a few wonderful paintings of the coasts of Northern California. I really like this abstract "California Gifts" which she painted on the beach in Carmel. It always adds another interesting layer when an artist uses a palette knife, especially with oils. The bumps and ridges evoke feelings in and of themselves. Says Elley, "When I go for an evening walk I'm often looking up at the dappled light filtering through the tree canopy, contemplating how to capture the form with my knives."

Alina Jelvez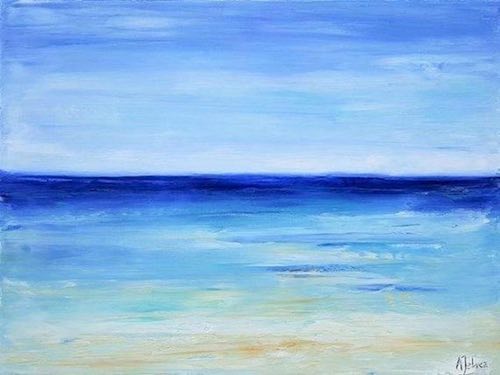 Artist Alina Jelvez has quite a few ocean-inspired paintings. Many of her oil paintings — including the abstract "Seascape" — feature beautiful abstract depictions of coastlines and beaches. I love the soothing feeling of this one as the waves come rolling in gently, with a soft break along the shoreline.

April Moffatt
"I am obsessed by light; how it falls, where it lays, what it illuminates," says artist April Moffat. That obsession is very obvious in works like "Coastal Sea Grass." You can just feel the light beaming through this depiction of coastal marshlands on Sullivan Island in South Carolina. The way the sunlight bounces off of the water and sky is mesmerizing. Isn't it?

Claire McCall
There is something about the texture of a palette knife and oil paints. As artist Claire McCall says, "With a brush in hand, I was often tempted to agonise over the detail. I actually love the loss of control that the knife provides and the application of oil paint with its buttery texture." And I love the effect that knife brings to a canvas. The way that the kids in the breaking surf have been portrayed in "At the Backbeach" is just amazing.

Paul Downs
I'm a fan of sea turtles (I love how a creature which is so bulky and awkward on land can be move so fluidly and beautifully through the water). So it should come as no surprise that I was immediately drawn to "At Sea" by artist Paul Downs. Many of Downs' paintings focus on sea life, and he is one of those ocean painters who has an amazing ability to convey a sense of personality to each member of the sealife community. Here he has managed to perfectly convey the elegance of the swimming turtle, and I love how the soft lines make me feel a sense of gliding through the water.

Cheryl Liston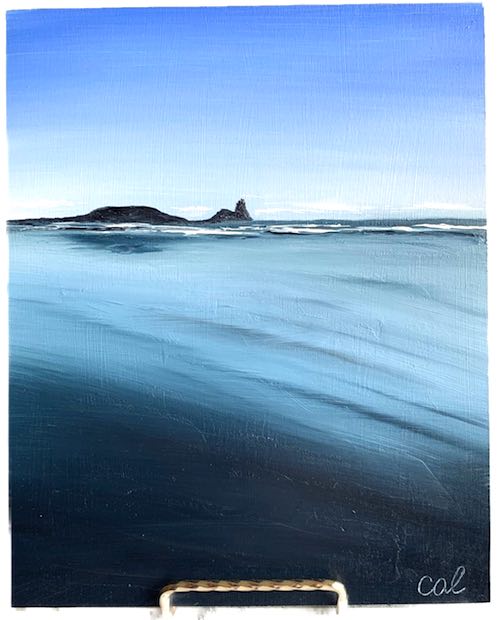 Though I love a good abstract painting, I also love that little thrill when you take a close look at something that you had initially thought was a photo, but then you discover that it is actually a painting. There's a giddy thrill to that moment. This painting of "Worms Head, Rhossili Bay," a seascape of a particularly beautiful stretch of the Welsh coastline by artist Cheryl Liston evokes that sort of giddiness. Says Liston, "I love the colours of the ocean, the ever changing sky and the openness of the coastline."

Carol Fazio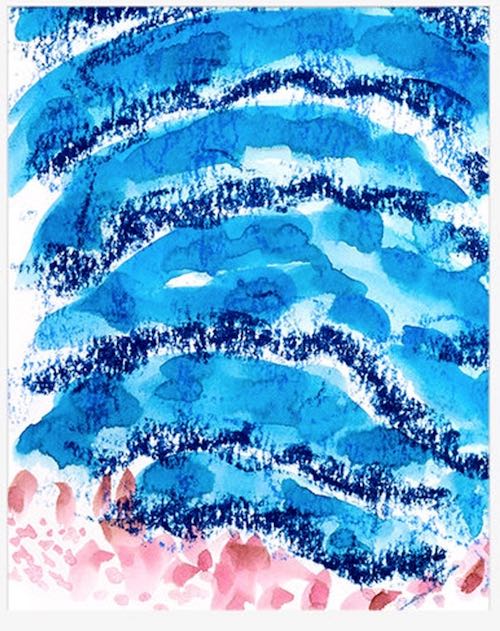 I love the bold colors of the abstract beach painting "Seventh Street Beach, Ocean City" by Carol Fazio. And the way that the watercolors melt together to form the incoming waves just really pulls me in. About this inspiration for this painting, Fazio says, "My childhood vacations almost always took place on a little island called Ocean City in New Jersey. From looking for shells in the very early morning to Kohr Bros frozen custard on the boardwalk, it holds a special place in my heart and memory."

Robin Ingles
Oftentimes watercolors are used to convey soft and muted colors. Sometimes, like in "Tropical Art Palm" by Robin Ingles watercolors become vibrant. Ingles has painted many ocean-inspired works and beach scenes, most of which use bright, bold colors. I love how in this painting those bright colors have been used to convey a beautiful sunset scene of a palm tree on the beach. Fantastic!

Kelly Tracht
Artist Kelly Tracht grew up along the gulf coast of Florida, which obviously inspired her use of the coastline, sea creatures and sea birds in most of her paintings. Her trademark use of very bright colors, as can be seen in paintings like "Yellow Coconut Palm Tree" bring a sense of joy to her work. I love how this particular abstract really evokes the beach lifestyle with the use of only a few bright colors.

Emily Wood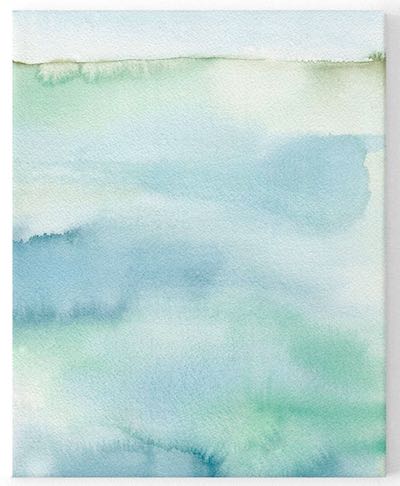 "I try to evoke the feeling that the beach and ocean still gives me – a sense of relaxation, calmness, happiness, and simplicity – in all of my art," says Emily Wood. Wood is a prolific painter who has a large collection of ocean-inpired art, from oceans to sea creatures. When she turns her brush to abstracts, like this "Seascape" she manages to bring an amazing depth using just a few shades of watercolors for this ocean painting.

Shelly Cox
When describing works like this "Abstract Seascape," artist Shelly Cox says, "This is a soft abstract with details of the ocean? The sky? The desert? What do you see? That's the joy of abstracts, they can be anything!" I certainly agree — the great thing about abstracts is seeing what you want to see (and I love finding another fan of abstract beach paintings!). When I see this particular painting I see a beautiful sunset over the water. And I love it.

Slaveika Aladjova
Slaveika Aladjova is a prolific watercolor artist who specializes in very bright abstracts of animals and sea creatures. I love the vibrancy to her work, which is plainly evident in a work like "Octopus Tentacle." I also love how she is the kind of painter who allows the watercolors to kind of go wherever they want to go — those splotches and runs add another layer of character to paintings which are already full of character.

Cecile Rancourt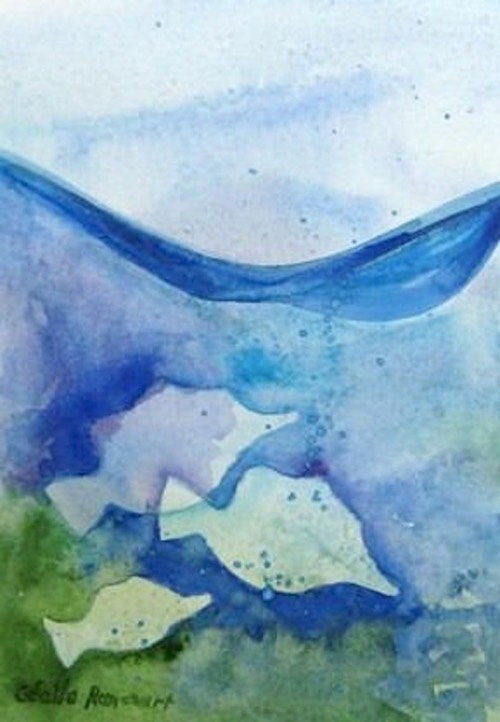 Cecile Rancourt is an artist who paints in many different styles, and produces wonderful works in all of them. A cancer survivor who took up painting as therapy over a decade ago, Rancourt says, "When I paint I feel energy. I get my inspirations from everything around me." She has many ocean-themed works, and when she turns her brushes toward the abstract, like in this watercolor "Abstract Fish," the results are pretty amazing.

Julia Bars
Artist Julia Bars creates many large abstract paintings with an ocean theme, such as this "Seascape, Ocean, Beach" abstract. I love the colors on this one and how you can see through the waves as they break on the reefs offshore.

David Morris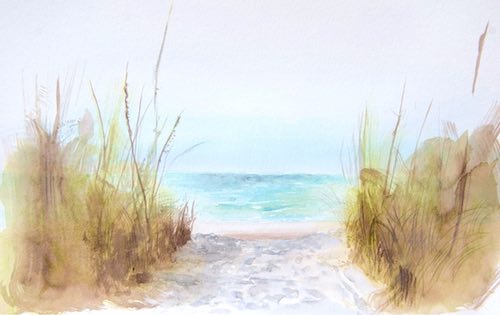 I love the soft watercolors used in the works of artist David Morris. He has many ocean-themed works (he has some amazing closeup watercolors of sea creatures!). This one, "Beach 2" really makes me feel at peace. I love how he's depicted this sandy path to the ocean. The soft lines are both beautiful and relaxing.

wella Mahoney
"Nature and animals are my main subjects of focus. Yes, I am one of those people that have to smell that flower, pull over to watch the sun set, and will ask to pet your dog or cat," say artist Dwella Mahoney. That love of nature definitely comes through when her attention turns to ocean themes, such as in this "Seascape." Mahoney offers this particular watercolor image, which depicts a gently rolling wave, as a digital download. So you could have this beauty hanging on your wall today!

Divisha Mehta
I always like when an artist whose work is not primarily abstracts, turns their talents toward abstracts. That's the case with artist Divisha Mehta, who has a very deep catalog of works in many styles. This print of her watercolor "Ocean Waves" is beautiful in its simplicity. The gentle blues and teals of this work are soothing and wonderful.

Rachel Ann Dine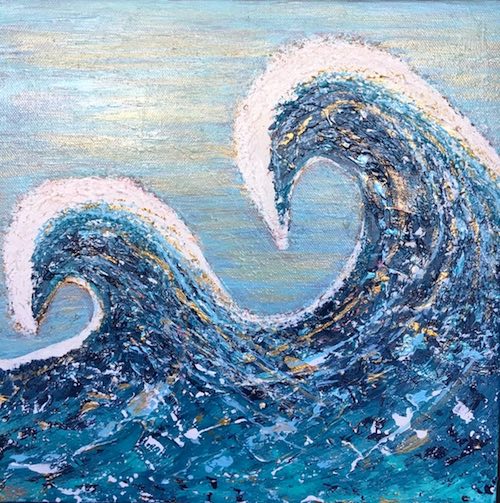 "While I love a beautiful birch tree or forest from time to time, for me, the beach is where it's at," says artist Rachel Anne Dine. As someone who has lived both in the beautiful Rocky Mountains and in a small beach town, I can definitely relate. I love the shape and texture of this "Abstract Beach" painting. Using both acrylics and oils, Dine has made this wave come alive!

Chelz Franzer
I first became familiar with artist Chelz Franzer when I stumbled upon a painting she had done called "Octogalaxy" which featured a brilliantly luminescent octopus heading toward the surface. I was hooked on her art after that. I love her take on California's Laguna Beach with her acrylic work "Laguna Beach Paradise," which features a classic VW bus parked in the hills overlooking this iconic beach. On her painting inspiration, Franzer says, "I wanted to start creating through my eyes, my perspective which consists of bright, fun colors that you can't help but make you feel warm and fuzzy inside. Living & creating colorfully is who I am."

Shellie Mitchell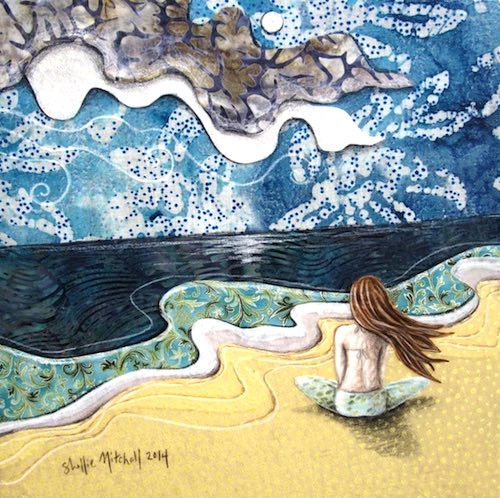 "Through my work, I hope to make a connection with the viewer as each piece tells its own story," says artist Shellie Mitchell. And in my opinion she definitely accomplishes it — all of her art conveys an amazing story. Take "Summer Meditate," for instance. I look at this woman on the beach and I wonder what is going through her head as she contemplates the ocean. And here's a mind-blowing detail that you may not have noticed in Mitchell's work: they aren't paintings! She achieves the incredible effect of a deep and beautiful painting using fabrics! Let's meditate on that!

Best Beach Paintings from the Best Beach Painters
Thanks for reading through what I think at the Best Beach Painters on Etsy. If you liked this article, please share it on your social. Thanks!
Written by Renee