Driftwood Art: The 30 Best Artists on Etsy
Picking up funky and beautiful driftwood from the beach can be a whole lot of fun. Even more fun is when you can bring it home and make something cool out of it!

A look through Etsy makes it clear that I'm not alone in thinking this. So, here are 30 folks who I think are making the best driftwood art on Etsy:

Jennifer Vosteen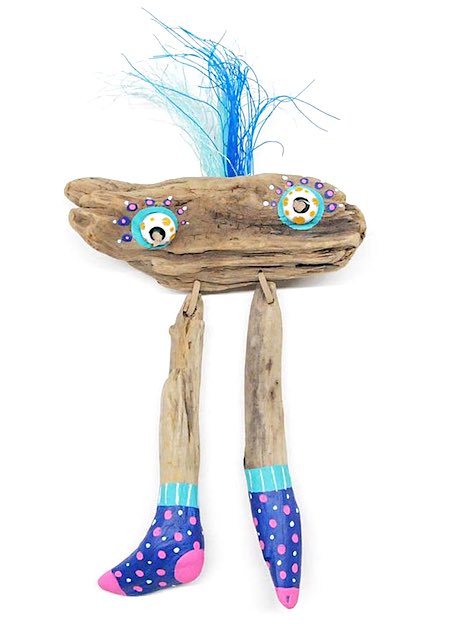 So let's jump right into it with something really cute! Many people look at driftwood and see shapes — animals, people, cars — Jennifer Vosteen sees cute little monsters. I love the colors that she chooses for these guys, like the purple socks on this Driftwood Art Monster.

See all of our Beach Artist Pages:
Best Beach Painters • Best Resin Artists with a Beach Theme • Best Seashell Artists • Best Driftwood Artists • Best Beach Jewelry Designers •
Magicicadas
There's a whole lot that I think is great about this Driftwood Crocodile and Bird Candle Holder by the art-duo Magicicadas. First, look at that detail. It's not just a crocodile and a bird, it's a whole scene. And speaking of the scene, if you visit Magicicadas' page on Etsy, you will find a short story about this work of driftwood art. You'll also find short stories telling the tales of all of the other driftwood pieces on the page. I had to read them all! …. Personally, I'll be monitoring the Magicicadas page, waiting for the day when those stories and art are published as a book!

Emma Stevens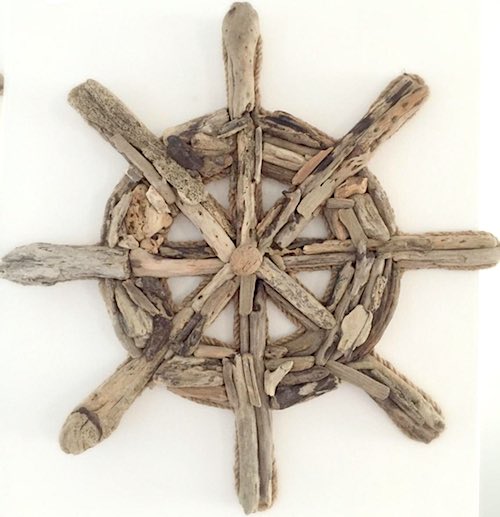 Ahoy! And wouldn't you agree that this Driftwood Ships Wheel by artist Emma Stevens is just the perfect use of driftwood? Driftwood seems to just naturally invite nautical themes, and on top of that, this work has been created completely with unaltered driftwood pieces. Which is something that I always like.

Christine
"I absolutely love creating each wreath by hand as they are from my heart and imagination. When in my workshop, my creativity takes over because I am in my happy place!" says artist Christine. And the fact that she's in her happy place really shows. She specializes in wreaths, all of which are amazing, and I really like the way that she's pulled together all of these natural pieces of driftwood for this Nautical Wedding Wreath. Here comes the bride!

Amanda Hemsworth
Artist Amanda Hemsworth says that with her art she's "finally found a use for all the treasures I pick up on the beach!" I know that feeling. Pick up enough fantastic treasures on the beach and you are just compelled to start making art with it. And Amanda's work, like this Wading Bird, is fantastic.

Jill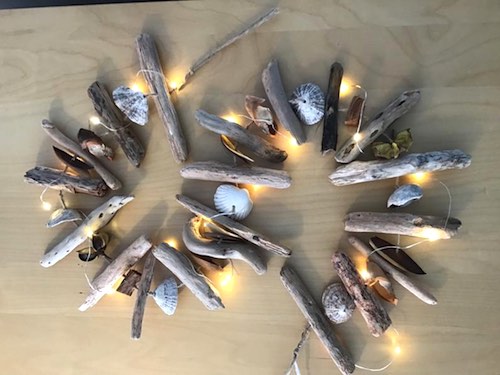 I love garlands made from driftwood. Just love them. And since I run a site called Seashell Madness I obviously love shells. So a work like this Driftwood and Seashell Garland by Jill? It's perfect for me. And listen to Jill's great thoughts on driftwood, she says, "Every piece of driftwood and flotsam has its own story to tell and I always wonder what their origins were, are they native to our shores or from more exotic climes?"

Garfield
Driftwood is such a perfect medium for abstract art. We have this tendency to see shapes in the tangles and curves. And that's why it's great that the artist Garfield creates works like this Abstract Sculpture. He says, "Every piece of driftwood has a story that began long before I brought it to my studio."

Brad Holzhauer
Some driftwood artists get elaborate with what they do, and some stick to a more minimalist approach that simply shows off the driftwood's natural shape. Artist Brad Holzhauer has found a way to both stick with something minimalist and yet add some interesting features, as is demonstrated by his series of Driftwood Air Plant Holders.

Naomi and Steve Mailloux
When we're talking driftwood artists, Naomi and Steve Mailloux of Drifting Concepts are in the big leagues, having been featured in several high-profile magazines and even sold at Anthropologie. When I look through their vast collection of work, I am constantly drawn to their Driftwood Candelabras. There's something almost hypnotic in the tangled design of these things. They're simply beautiful!

Tracy Schnuit
I'm sure that as soon as artist Tracy Schnuit picked up this piece of wood she saw this Driftwood Fish staring back at her. That's the way it is with driftwood, and sometimes all it takes to complete the vision for someone else is a little button eye.

Nickie
There are times when a piece of driftwood says all that needs to be said. Such is the case with this Wavy Sycamore which has been artfully mounted by artist Nickie. It's one of those pieces of wood that you could just sit and stare at, and stare at, and stare at…

Eugenia
Could anything be cuter than this tiny Wooden Fisherman Hut? Artist Eugenia has created a whole series of these tiny structures from driftwood. And the story behind them is great. She says, "In my driftwood art I can express the beauty and atmosphere of the seaside city and its outskirts, along which it is steep to walk, when the season of tourists passes and the coast is wild."

Nick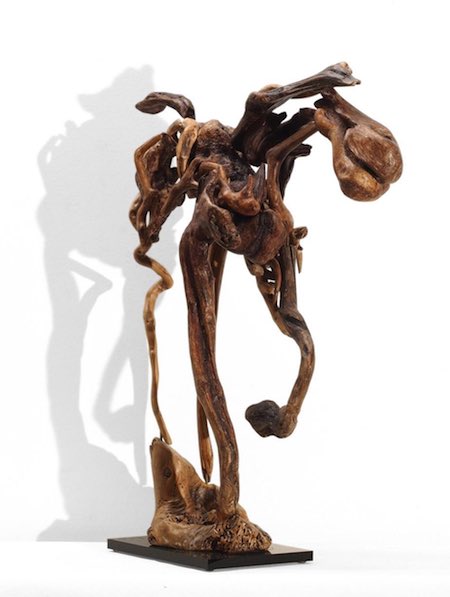 Oh wow! I am always amazed when an artist is able to look at multiple pieces of driftwood and envision piecing them together to create something else. For Jolly Jumper, artist Nick has used 26 pieces of natural driftwood, and every bend and curve was created by nature as Nick doesn't cut any pieces — he uses the driftwood as he found it. Amazing!

Cindy English Gillis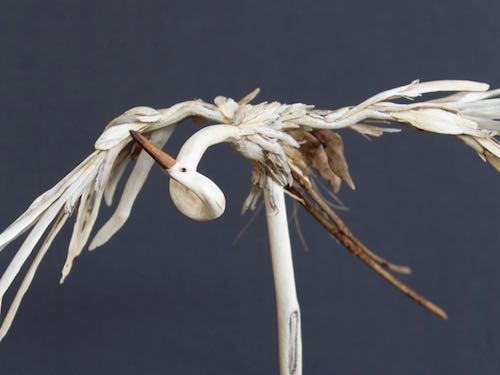 And speaking of amazing, check out this Great Egret Flying Above the Trees by Cindy English Gillis. We have great egrets in our area and I'm always fascinated by the weird ways that they twist and turn those ridiculously long necks. And I love how Cindy has gotten that across with a piece of driftwood! And the amazing detail of all of the feathers of the wings… just breathtaking!

Jordan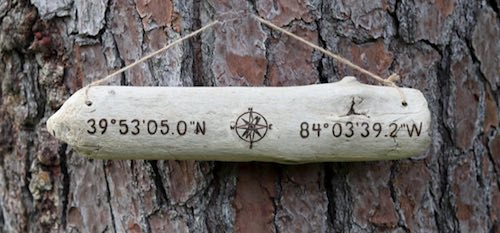 Pyrography artist Jordan burns all kinds of things into pieces of driftwood that she has collected in the bayous of Louisiana. I think it's fantastic that all of her signs are done by hand, no laser tools or any of that, and that it's driftwood that she's picked up herself. Way to go!

Ela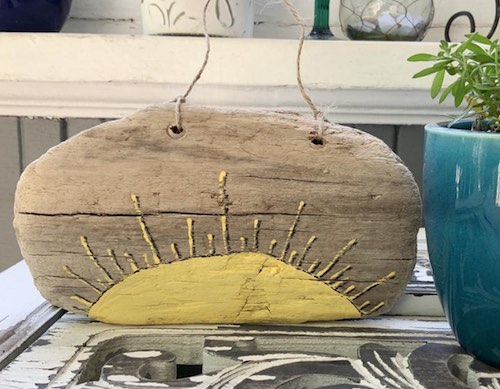 Artist Ela creates some great little things from random pieces of driftwood. Take, for instance, this Sun Driftwood wall hanging. I love that she's taken a piece of driftwood that other artists might pass over for a lack of character, and given it character with a nice little hand-painted sun. I think that little touches like that are great.

Cherie Herne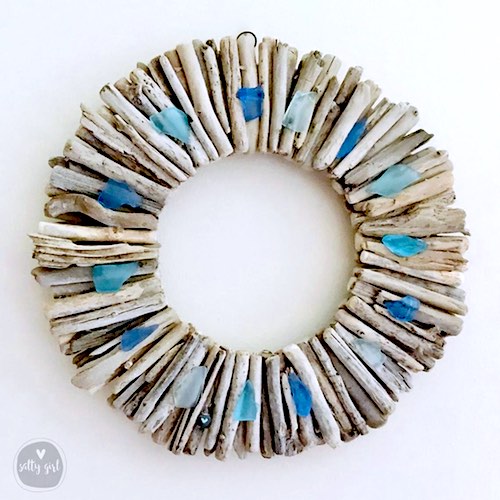 I'm a big fan of beach-inspired wreaths. And Cherie Herne makes some good ones! Like, say, this Driftwood Wreath with Turquoise and Cobalt Blue Sea Glass. Also, I know just how difficult it can be to create something that uses this many pieces of driftwood of basically the same size. It can be hard to find 'em! Luckily, Cherie has.

Susie
Every beach house can use a wind chime (so can every house that's not a beach house, but wishes that it could be!). And I really like this Driftwood Wind Chime created by Susie. The design, with it's cascading shape, really draws my eye to it. And of top of that, the actual chime parts are also hand made! Music to my ears!

Teri Shinerock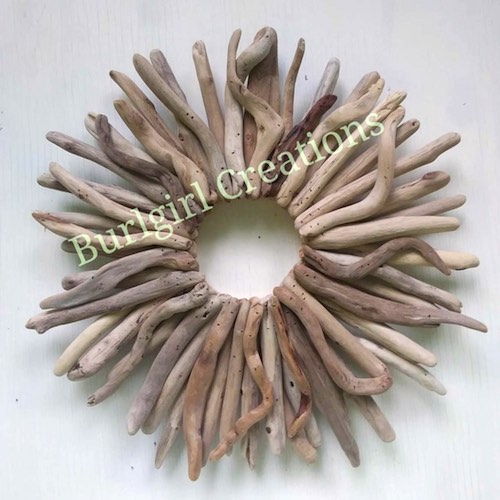 As you may be able to tell, I am a bit obsessed with wreaths. And this Natural Driftwood Wreath by Teri Shinerock is, in my opinion, definitely obsession-worthy. The fact that Teri has gone with driftwood pieces with interesting little bends to them just really makes this one for me. The medussa-y feel to it is just great!

Danielle Toupin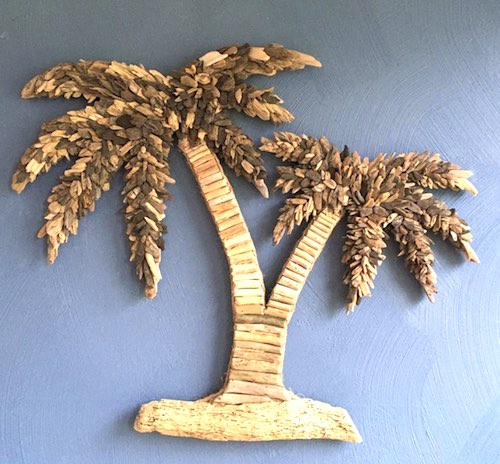 At first, I almost passed this Driftwood Palm Tree by because I thought that it wasn't driftwood. But then I looked at it closely. Not only has artist Danielle Toupin used driftwood, she's used a whole lot of it — a whole lot of tiny little pieces of driftwood have gone into the making of this little palm tree. And the effect is fabulous!

Caroline
Hawaii-based artist Caroline has created these little pieces that I think are just fantastic! She is a photographer and she takes some pretty awesome Polaroids of the surfers and waves on the beaches of O'ahu. That's cool enough in and of itself — as her photos are fantastic and Polaroids are an interesting medium — but then she takes them and mounts those fantastic photos in a triptych style on a piece of driftwood. I found myself checking out the entire series! I don't think she has a name for the series (though I think she should) but I really liked In the Barrel and all of the other pieces like it. Perfect for a beach-themed room!

Michael
I'm really drawn to this little sculpture of driftwood From the Shores of Lake Champlain. It's really wonderful the way that artist Michael has allowed the tangles to remain tangled. Great!

Neil Hampson
I have this thing for sea turtles. Maybe it's because I have video of my daughters swimming around with them. I don't know. But there is something really appealing about them. So I was really drawn toward this driftwood sculpture of a Baby Sea Turtle by Neil Hampson. This sort of style, where tiny pieces of driftwood are fit together to form a sort of 3D mosaic. And that it's a sea turtle? Even better.

Kim and Tom
As has been noted on other pages of this site, I'm kind of a sucker for heart-shaped art. I guess that I'm a romantic. So, this Driftwood Heart by Kim and Tom really touched me.

John
Sometimes the best thing for a piece of driftwood is to simply mount it so that others can interpret it their own way, just as you did when you picked it up off the beach. That's what John does with the interesting pieces that he finds. Like in this Mounted Driftwood Art.

Jon Piper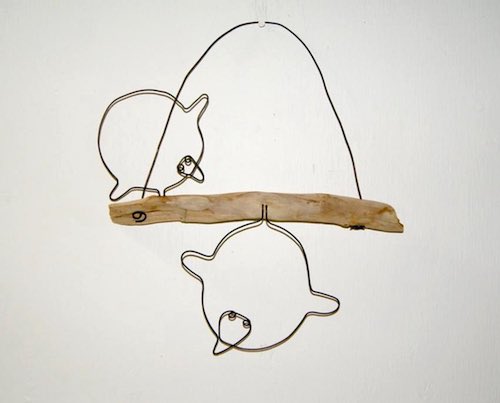 Although I suppose that technically the driftwood is simply used as the base for the art, I really, really like this series of wire art, like this Whimsical Upside Down Bird, that artist Jon Piper creates. He has several in the series. Each one is different, and each one tells a different little story.

Wendy Austin
"I let the sea choose my materials and try not to alter them in any way as each piece of driftwood is totally unique", says artist Wendy Austin. I always love it when a driftwood artist takes that sort of an approach and uses the driftwood as it was found, but finding its place within a larger puzzle. And Wendy's creation of this Driftwood Nautilus is really striking. It really conveys a sense of swimming through the water, doesn't it?

Amy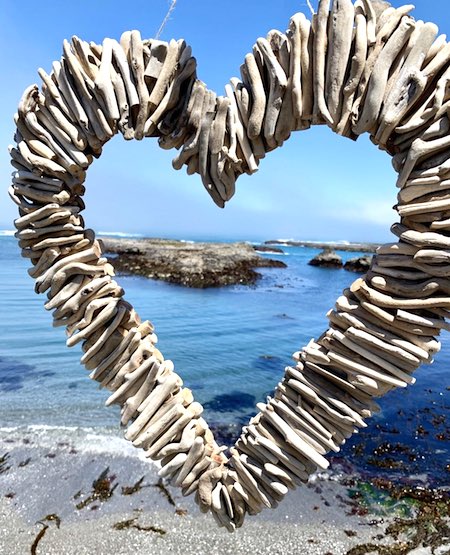 Another heart slipped its way into the list? How did that happen? Oh yeah, it's because this Driftwood Heart Hanging Wreath created by Amy is pretty amazing! I love that it's in a wreath-like outline. The possibilities of where to mount it and what you would let shine through that opening are pretty much endless.

Linda Suster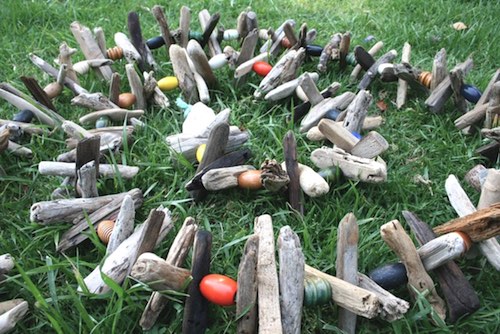 I feel that garlands are an excellent use of driftwood. Small pieces of driftwood just lend themselves to works like this Driftwood and Wooden Bead Garland by Linda Suster. And the great thing about a garland is that there are a whole lot of different ways that a garland can be displayed. You can string them out, or coil them or pile them, or do whatever you want with them and whatever you do with them creates a different feel. Personally, I envision this garland draping between the chairs of a beach wedding.

Debbie Dellatore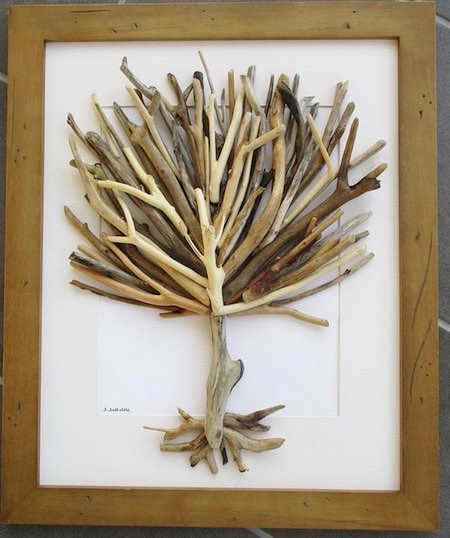 Artist Debbie Dellatore creates some really unique and beautiful things out of driftwood (her driftwood angels are tremendous!). I love that she really focuses on the 3 dimensional possibilities of driftwood in her art. She says, "I do not use shadow boxes, glass, nor plexiglass in my driftwood art as I believe they will distract from, and obscure the 3-dimensional aspect of the art. The various shadows that are created by changing light patterns on the tree branches throughout the day add texture and life to the piece." With this Driftwood Tree of Life you can really see that at work — the tree feels so completely like a full tree. I love it!

The Best Driftwood Artists on Etsy
Thanks for checking out our guide to the top driftwood artists out there. If you liked it, please share it on your social!
Written by Renee