50 Best Resin Artists with a Beach Theme (Ocean Resin Art) [Winter 2020]
There's something about the fluidity of working with resin that lends itself well to beach-themed art. Resin just screams "OCEAN!"
Today I want to share with you what I consider the 50 Best Resin Artists with a beach theme on Etsy (in no particular order, because I love them all!).
If you're into Ocean Resin Art, read on…

Sherri Ortega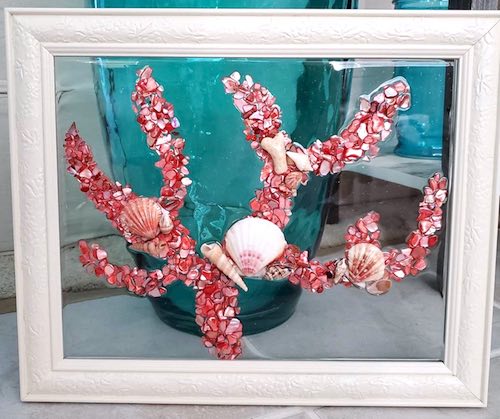 One of my favorite artists both in the realms of resin and seashells is Sherri Ortega. She's done some amazing things combining those materials. For instance, just look at what she's done with Resin & Crushed Shells Red Coral (seashells in resin). I love it! She says about her early days in art, "I started painting furniture and any decor I could add color or shells to! I pulled out boxes of shells my mom had collected over the years and added some of my own. Before I knew it I was making a lot of different things."
See all of our Beach Artist Pages:
Best Beach Painters • Best Resin Artists with a Beach Theme • Best Seashell Artists • Best Driftwood Artists • Best Beach Jewelry Designers •

Carissa Natalewicz
I love the detail of works like Ocean and Beach by Carissa Natalewicz. The way she uses the resin to create waves rolling toward the shoreline is just amazing to me. Like a lot of artists on Etsy, Carissa's journey into art (including beach resin art) began with a wedding. "I began making wedding-related gifts in 2016 for my sister's engagement," she says, "The joy that I felt when creating them inspired me to open up my Etsy shop." And I, for one am glad that she did.

Sue Tukums
Oh my! Just look at that mermaid, would you? Like many other resin artists, Sue Tukums often incorporates broken glass into her art. I love the detail that this technique brings to works like Sea Glass Mermaid — her tail is made of crushed glass of different colors and the effect is lovely. The mermaid is first hand-painted, then the glass is applied, which is then covered in resin. Says Sue, "I've always loved to paint, but the first time I threw glass on top of a canvas, I was hooked!" And that enthusiasm for her medium really shows.

(By the way, I have a whole list of Mermaid Art right HERE)
Julie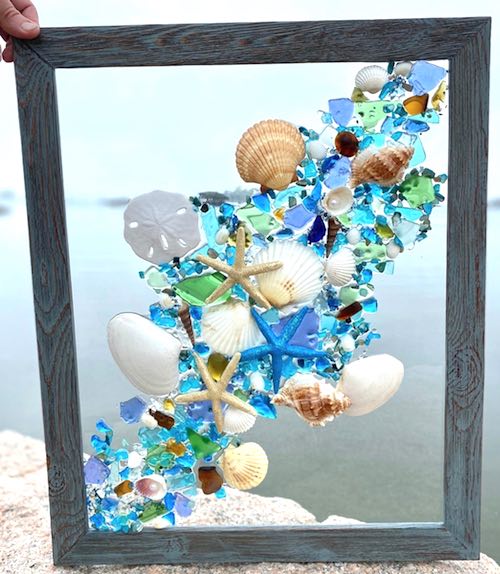 I love this style of resin work, sort of a 3 dimensional collage with shells and beach glass, which characterizes Julie's work. This piece almost looks like a handful of ocean items has been thrown and captured midair. Says Julie of her seashells in resin, "I've always collected shells on the Cape with my mom, it is one of my favorite memories ever since I was a little girl. Putting special shells and beach glass into frames is a great way to keep memories alive."

Stefanie Deringer
Artist Stefanie Deringer creates resin murals like this Beach Glass Lighthouse using shells and beach glass from the beaches on Fire Island and Montauk in New York. I love how she also uses the resin to encase and preserve organic materials like seaweed and grass. She'll even customize a piece for you and let you choose the color of the ocean.

Andy Stevens
Andy Stevens is an artist who creates great mixed media pieces with resin. If you look at the details of Seahorse and Mermaids you'll see that there is a lot of material there, all combined to make something great!

Cathy Michael
Another artist who brings a mixed media feel to resin art, Cathy Michael creates many pieces of art in this medium. In addition to her beach-themed works, she also makes some really beautiful resin sunflowers and roses that you should check out. For her beach works, she often incorporates items which she has found herself on the beaches of New Jersey. She says,"I enjoy beachcombing and hunting for shells, sea glass and driftwood, then turning them into a beautiful works of art! My creations reflect my passions."

Kim and Robin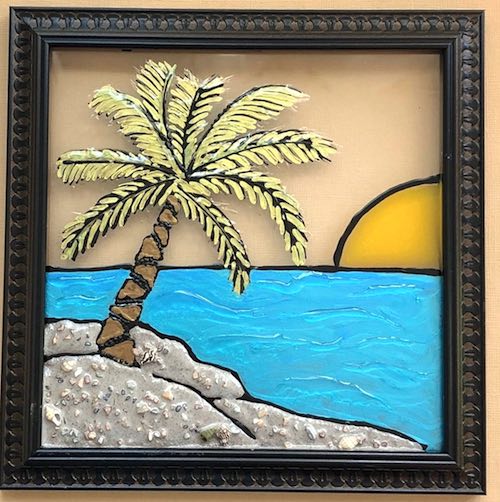 Kim and Robin are two sisters who create their artwork together under the name Kimbin. Together they create a whole lot of pretty impressive pieces of art, such as this Glass Ocean mural. I love this sort of combination of hand-painting and resin. Just look at the way this piece combines the painted technique for the palm tree while encasing seashells in resin for the beach. The sisters say, "The water has always been our joy and inspiration! We love all things coastal!"

Janet Martin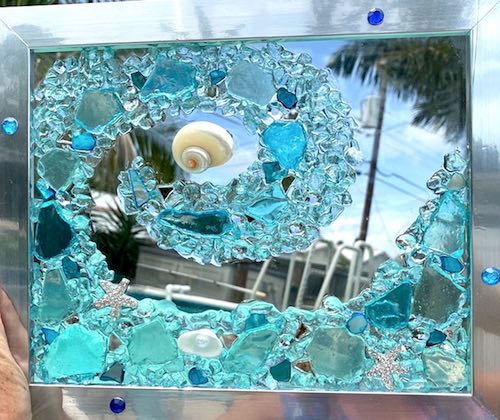 Janet Martin is an artist who really has perfected the art of the wave, as can be seen with this Sea Glass Wave Mosaic. I love this sort of thing where the effect is almost like a stained-glass window, and I love how this wave is see-through and the way that it wraps around a lone shell.

Maria Risen
I suppose that it's because I'm on the West Coast that pieces like this Resin Waves Beach appeal to me so much. With mountain ranges covering large parts of the coast it is pretty common for there to be bluffs above beaches — giving a perspective like the above. Artist Maria Risen is excellent at getting the breaking waves just right and she uses this motif expertly on a wide range of surfaces and shapes for this beach resin painting and other ocean resin art. "What began as a passionate hobby for me soon turned into something more," she says. And that obsession shows in the consistent quality of her work.

Beth Sautner
Artist Beth Sautner's workspace in Ormond By the Sea, FL comes complete with an ocean view, so it's no surprise that she is inspired to create works of art with a beach theme. In addition to her wonderful resin work, like this Bamboo Lazy Susan Ocean, she also makes some really fantastic hand-painted glasses with a beach theme. "I am putting my good beach vibes into every item you receive! Do you hear a Beach Boys song in the background?"

Kara Ivey
Blue Resin Ocean Heart by Kara Ivey
While resin artist Kara Ivey creates a whole lot of unique items with an oceany resin on them (such as coasters, keychains and earrings) my favorite of all of this ocean resin art has to be this amazing Blue Resin Ocean Heart. I love heart-shaped art to begin with, then add in the beautiful ocean resin, but to top it off: I absolutely love the black beach. It brings to mind memories of Maui!

(If you're a fan of heart-shaped art there's more on my list of the 50 BEST SEASHELL ART CREATORS)
Anna Paschenko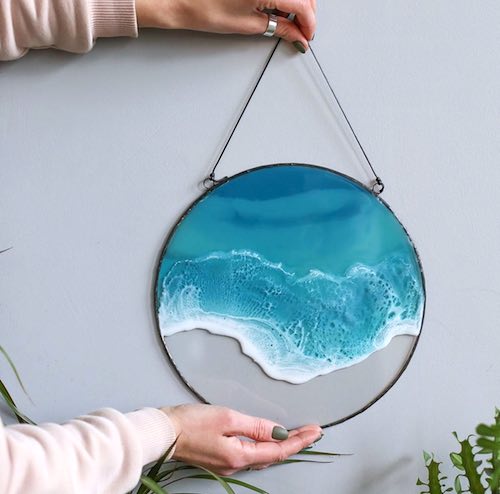 While Anna Paschenko's main artwork is her trademark line of handmade glass geometric terrariums (seriously, you should check those things out, they're beautiful!) she also makes some pretty stunning beach resin art pieces. Using the same lead-free soldering techniques used to create her terrariums, she also creates the frames for her resin work such as this Sea & Ocean Round Panel.

Emily King
"The ocean is very close to my heart so I started creating ocean inspired resin art. I love the process and how every piece is unique just as the waves from the sea," says artist Emily King. She's an artist who has made from resin pretty much everything that you can make from resin (including some amazing necklaces created by covering pressed flowers with resin) but some of my favorites have to be these Ocean Inspired Earrings. Personally, I think these beach resin art earrings would be perfect for the bride at a beach wedding, don't you?

Donna Nardi
"Most days you can find me with glue on my hands and glitter in my hair. I love it!" says artist Donna Nardi. She has perfected the art of the suncatcher, as can be seen with this work Turquoise Octopus Sun Catcher. Not only does this piece feature a wonderful resin Octopus, but the octopus has also been encased with a collection of shells from San Diego beaches.

Christie Minalga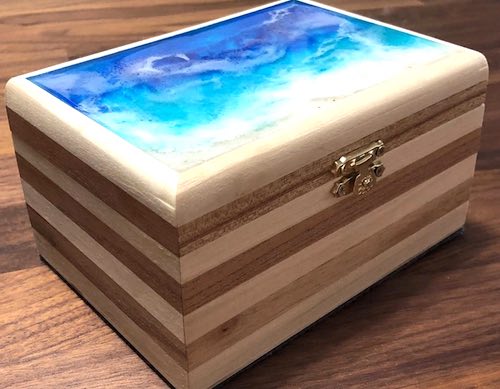 "Resin art has allowed me to let go of such tight control of my work and let the colors flow and come to life in a more organic way," says artist Christie Minalga. What I especially like about her work is that she applies the beach resin theme to a wide variety of things that you wouldn't ordinarily think to include it on. Like the bottoms of jewelry drawer trays or the backing board of a curio cabinet or, as in the photo above, the top of an Ocean Jewelry Box. I fell in love with this one the moment I saw it.

Eleonora
One of the great things about resin art is that it has dimensionality. And depending on the artist, that can be taken pretty far. And artist Eleaonora has done some amazing things with resin for this 3D Mermaid Swim. I love how the ripples have been created in the water using resin, meanwhile the mermaid's tail comes out of the water. Beautiful! Says Eleonora,"While creating beach scenes, I mentally dive into the cool and fresh water in the middle of hot summer." Just like this mermaid.

Kelsey Brauer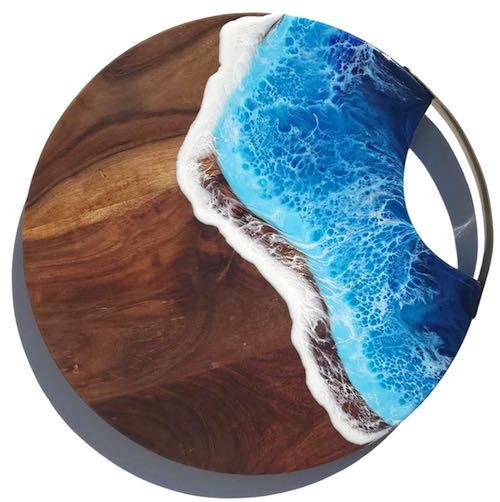 Artist Kelsey Brauer has perfected a wonderful style of ocean resin art which she applies to all sorts of projects, like this Resin Ocean Serving Board. I really like how she often features a layer of clear resin below the blue resin. Whereas many ocean resin pieces evoke the feel of a crashing wave, her pieces have the feel of the ocean retreating after the wave has crashed, leaving behind that shallow layer of water that's so perfect for skimboarding

Carol McCabe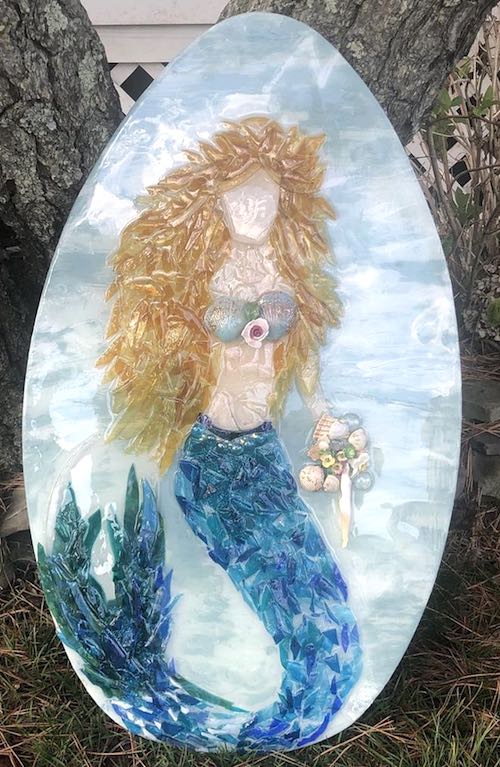 I'm always stunned by the amount of amazing artistic talent working on Etsy, and then I see something truly amazing, like this Mermaid on Vintage Skim Board by Carol McCabe. I mean, just look at the incredible detail of this work: glass, resin and seashells have all been brought together atop a skim board to create something really beautiful. And using repurposed materials to boot! Says McCabe, "All of my wall artwork is done in the spirit of repurposing and saving beautiful vintage discards and creating fabulous modern art for today."

Angela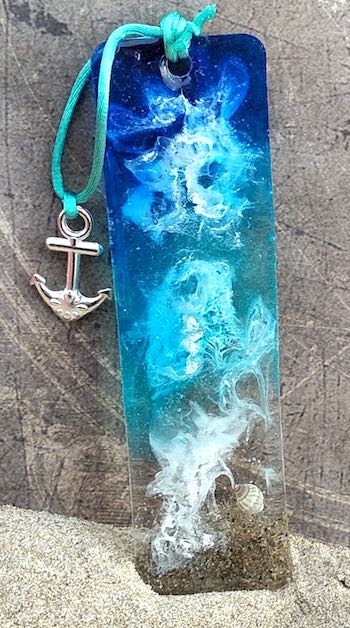 "From my childhood I began to collect small marine treasures that the waves brought to the seashore," says artist Angela. She uses those small treasures (gathered from the shores of the Mediterranean fishing village that she calls home) in the formation of a wide range of beach-themed projects. I love the originality of this Beach Bookworm Bookmark which showcases a tiny shell in a resin ocean.

Jamie Marcellus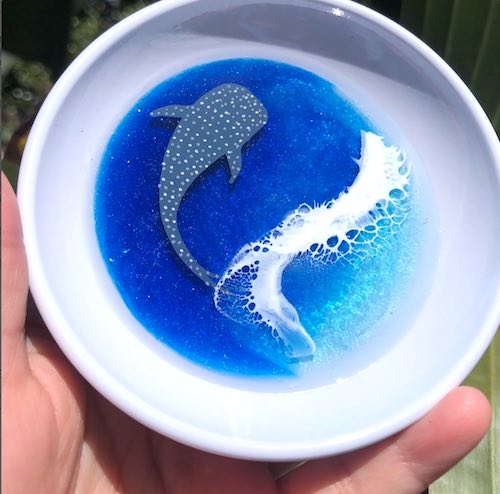 Knowing that Long Beach, California has a world-class aquarium, it seems perfectly natural to me that a Long Beach-based artist like Jamie Marcellus would create art objects like this fantastic Whale Shark Trinket Dish. I don't know if they have whale sharks at the Long Beach Aquarium, but I love how this particular whale shark swims along the bottom of this dish. Says Marcellus, "The astounding beauty of the natural world never ceases to amaze me and I am here to share some treasures."

Vicky Smith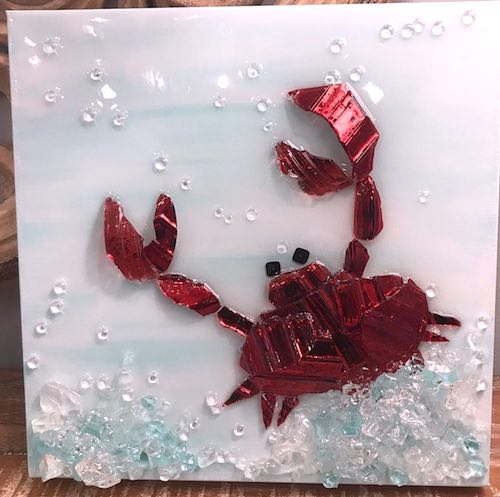 You may have seen Stepping It Sideways by Vicky Smith on another page of this site devoted to crab-themed artwork. I love this one so much that I'm featuring it and Vicky again! The way that she has used broken glass here is something that I find truly amazing. The repurposed glass not only makes up the crab's body, but also the swirling water that surrounds it. And the resin coating not only prevents the glass from cutting someone, the resin is also used to great effect to create those wonderful bubbles. I love this one! Says Smith, "I am most inspired when I am exploring different techniques and mediums; creating something new out of something old"

(I've got more Crab Art too!)
Renee Randall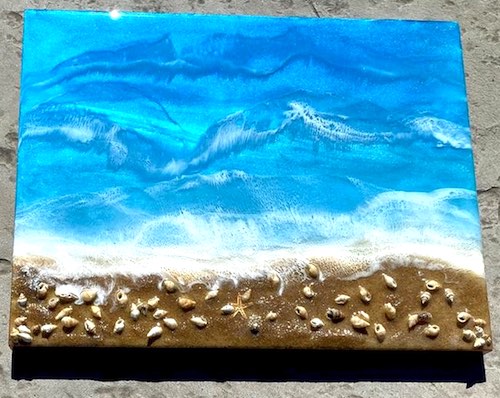 I think that the nature of resin makes it especially great for mixed media projects. And I love when the media that's mixed in is shells! (I do run a website called Seashell Madness after all) With Seashells on the Seashore, Renee Randall has not only created some really fantastic waves, she's also shown those waves washing shells up onto the beach. Wonderful!

Tegan Randall
"As a dive instructor and resort manager I chase the ocean, beaches and views around the globe," says artist Tegan Randall. With a background like that, it makes perfect sense that she would create art with a beach theme. I love the artistry of Three Surfboards, wherein the artist has created crashing wave scenes on some beautifully grained wood pieces which have been cut out in surfboard shapes.

Kirsty Penny
Not only do I love the beautiful abstract art of Ocean Drive, Blue Coasters, but I also love the amazing attention to detail that you can see that artist Kirsty Penny has put into their construction. These coasters are not just the artwork, but they are also carefully trimmed in gold and backed with cork. A perfect addition to any beach-themed room!

Kathy Kuchta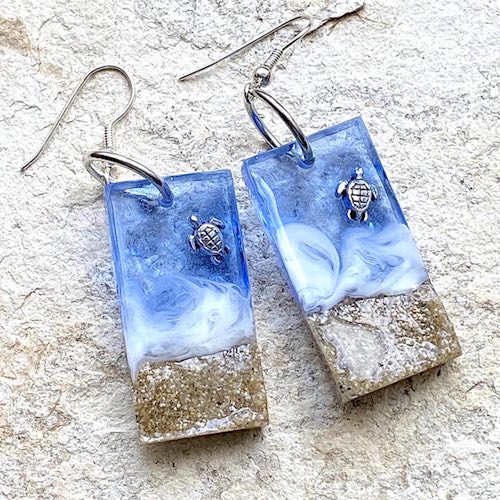 Artist Kathy Kuchta creates some pretty amazing things with glass and resin (check out the wave sculptures on her page, they are terrific!) and I love how each piece seems pretty unique to her. For instance, this set of Sandy Beach & Sea Turtles earrings is both wonderful and unique (and uses real sand!). Says Kuchta, "I have been obsessed with glass for decades and many of my pieces have been displayed in collections around the world."

Lisa
Artist Lisa creates several interesting sculptures using resin. I have absolutely no idea how in the world she achieves the splashing effect that she achieves in pieces like Ocean Splash Bowl, but I think that it is absolutely amazing.

Karim Castillo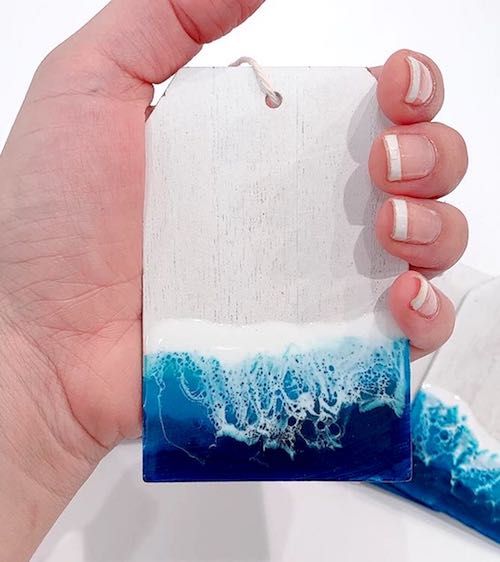 Artist Karim Castillo creates some pretty unique items in several different media and styles (I particularly like her mermaid pillows!). I love the originality involved in these Beach Scape Gift Tags. She's got the ocean feel of the resin just right, and who wouldn't love to receive a gift wherein the tag is just as worth saving as the gift?

Dixie Lee
"Growing up on the Gulf Coast (Pensacola), I am a beach girl through and though. I love all things beachy and salty and that tends to show in what I create!" says artist Dixie Lee. I'm a big fan of dolphins (I get really excited when I see them swimming closeby at our local beach) and I, of course, am a big fan of seashells. So I love how she's created this Baby Dolphin using not only a beach-themed resin pattern, but how she has also used crushed shells to form the outline of the dolphin's underside.

Annette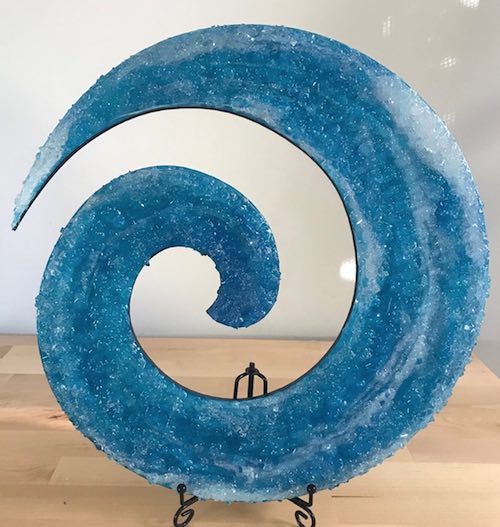 "I live on the Gold Coast Australia. I love creating unique art pieces mainly inspired by the ocean," says artist Annette. I've never been to the Gold Coast, but I hear it's pretty great and that it would naturally be a huge inspiration of any beach artist. I am absolutely in love with this Resin Wave Sculpture that she has created. The crisp curl of it combined with the bubbling details… incredible!

Kari Brautigan
If you've ever been lucky enough to see a bioluminescent beach (I have been that lucky, luckily), you know what an amazing site it is. So I love that artist Kari Brautigan has chosen to do a few resin paintings on that theme. The way that she has used the gentle glow to contrast the darkened beach is a really unique use of this technique. And I love how the night sky is full of stars over the ocean. Says Brautigan, "My inspiration often comes from experiences, places, the beauty in nature or things in my life that are joyful but also sometimes from heartache." That combination of joy and heartache definitely comes across in Blues In The Night 2.

Sarah Kay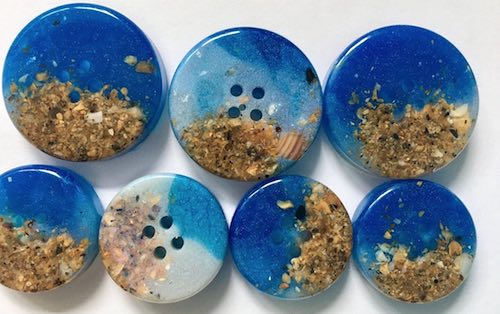 I always love when someone creates something unique. And artist Sarah Kay has definitely done that with these Shetland Island Beach Sand Buttons. Actually, she has a whole collection of rather unique resin artworks, and these resin buttons depict tiny beaches made from sand gathered at the same small beach featured in the Scottish TV series Shetland.

Linda Wright
I really like these sorts of beach-themed suncatchers using sea glass and beach glass embedded in resin. And artist Linda Wright makes some really spectacular looking suncatchers, like this Serpentine Starfish. I am really drawn to the way this piece curves up and around in a wave-like pattern and features shells and starfish.

Wilma Michel
I think that I've already mentioned that I like when artists do something unique. Well, artist Wilma Michel does a whole lot of unique things with her resin sculptures. For Fish in a Wave on Driftwood she has created an amazing 3 dimensional work out of resin. The way that this wave comes crashing over the driftwood is just spectacular.

Kelly Daszynski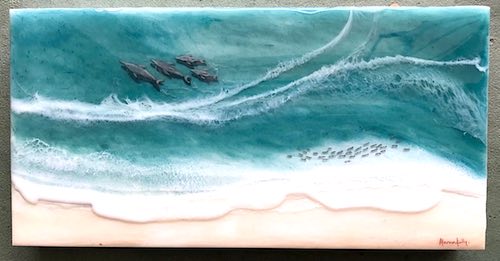 First off, I really like the tagline artist Kelly Dszynski uses for her store: "Welcome to Sky30, an art studio where I create with wood, water, pigment & joy." And beyond that, the art is great too! Take for instance this resin ocean painting called Dolphin Tides, which adds a twist to the resin beach scene in the form of a pod of dolphins swimming away through the waves.

Marjorie Samero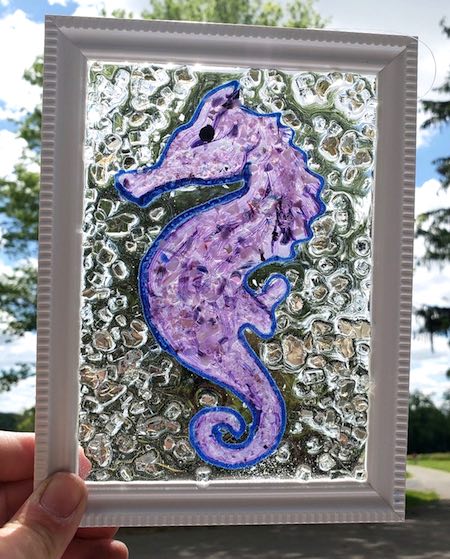 In addition to her trademark (and really remarkable) stepping stones, artist Marjorie Samero also has some tremendous resin art pieces. For instance, check out this Purple Seahorse Suncatcher (and did I mention that I love purple?). It's also great that she creates these suncatchers using repurposed glass — from the glass that she uses to create those remarkable stepping stones I mentioned earlier. It's a win/win!

Amy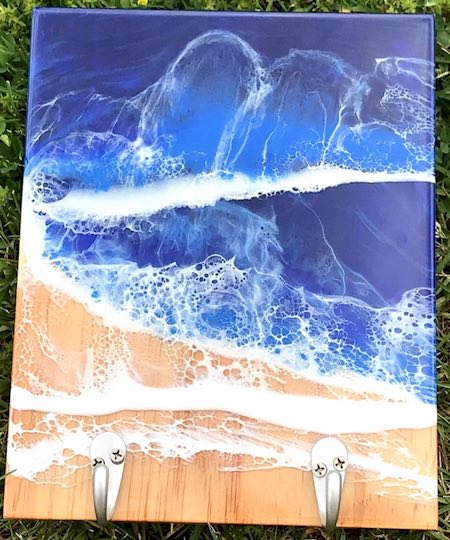 Beach Wave Coat Hook takes an everyday, functional item and turns it into a work of art. And there are many such example in artist Amy's catalog, where she uses beautiful resin ocean designs to spice up the ordinary. Be sure to check out her ocean-themed wine caddies!

Anton Matejek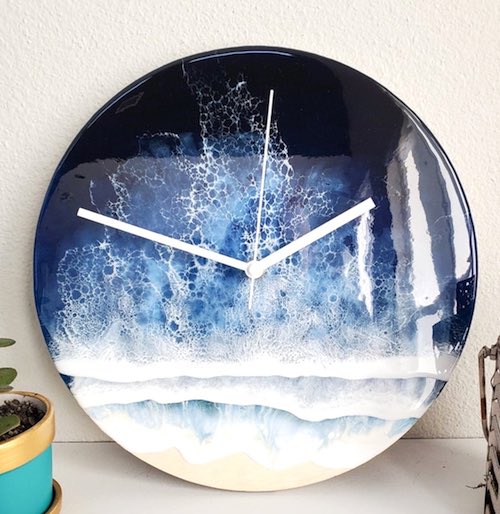 "There is just something about the reveal of an ink petri dish or the glossy finish of a poured resin ocean scape or abstract creation," says artist Anton Matejek. I agree, and I love the great detail he brings to creations like this Ocean Wave Clock. For instance you can tell from his catalogue of work, that he takes the time to get the colors just right. I love this particular clock, where the blues go from the light blue near the shore to the dark blue of the deep sea. And choosing to use a clock with white hands really fits this design perfectly.

Kerry Thompson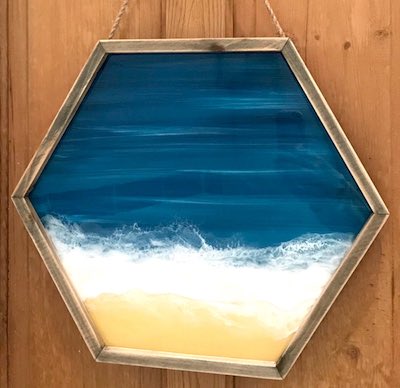 Artist Kerry Thompson creates some really wonderful ocean-themed resin pieces. I especially like the portals that she creates, like the above Beach Portal. It's perfectly executed and perfectly named. Can't you just feel yourself looking out a boat's portal as you look at this piece? I know I can.

Sheryl Toth
It's fantastic when an artist uses resin technique to add dimension to an acrylic work, as artist Sheryl Toth has done with Pelican, Real Sand and Seashells in resin. In this and other pieces like it, she paints the backdrop, adds handmade and hand painted pelicans, mixes in real sand and seashells and pulls it all together with resin. The result is an amazing little 3D piece of beach art.

Tor Johansson
>"We take inspiration from the beauty that is all around us; a gorgeous blue sky with wispy clouds drifting by, or a luscious green field sprinkled with wild flowers, or the fiery glow of sunset," says artist Tor Johanson. And I, for one, am glad that he finds that inspiration. Johanson makes some pretty unique and amazing jewelry, including several stunning wood and resin designs like The Deep Blue Ocean ring. I love the suggestion of a rugged seafloor (carved out of wood) which is then covered by a dense, smooth ocean.

Elena Zernova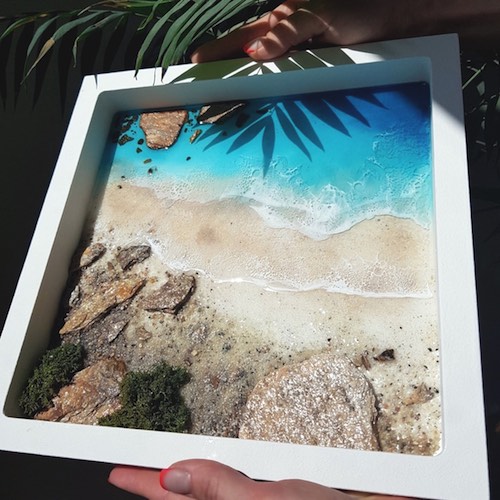 Resin art allows for the creation of 3 dimensional art in a way that no other medium can. Artist Elena Zernova creates several such pieces, like this 3D Seascape using resin, stones and sand within a wooden shadowbox. The coastal scene this creates is truly something special.

Elise Byron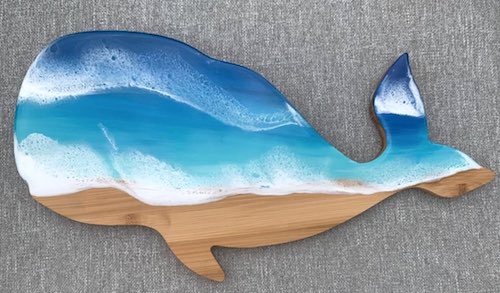 How cute is this whimsical Wooden Whale by artist Elise Byron? Too cute, that's how cute. Byron has several pieces of resin ocean art wherein she blends the beauty of a fantastic acrylic and resin piece of art and marries that with a fun elements such as a mermaid tail, unicorns or glitter. How can you beat that?

Julia Kovalenko
"In all my works I draw a piece of the sea!" says artist Julia Kovalenko. And indeed she does. She creates all sorts of useful items which have been customized with beautiful ocean themes. Take for instance this Marine Ring Holder. The way that she has used the different shades of blue here is just beautiful, giving this piece the feel of looking up at the sun from under the waves, sort of a dolphin's-eye view of things.

Debbie Rathbun
Artist Debbie Rathbun does a lot of creative things with resin, from ornaments to flameless candles to mirrors. For instance for this Starfish and Shells Beach Mirror, she has used resin's natural ability to pull mixed media together and created a wonderful coastline out of a heartshaped mirror. What a great scene to be reminded of the ocean as you're getting ready for the day.

Sylvie Caron
Artist Sylvie Caron not only has a wonderful eye for the ocean patterns that can be created using resin, she also does an amazing job of shaping it as well. I mean, how in the world did she create this Mermaid Silhouette? Resin flows all over the place, doesn't it? Yet Caron manages to control this seemingly uncontrollable substance and creates something beautiful.

Anita
As a seashell collector and seashell artist myself, I always think that it's great when an artist uses seashells that they've found themselves. Which is what Naples, Florida-based artist Anita does. She and her husband go on regular beachcombing excursions to find the items for her artwork. She also uses reclaimed barnwood for the frames (which I also think is great) and she pulls it all together to create works like this Shells and Starfish suncatcher which features sea glass and seashells in resin.

Ree Martin
"As a little girl my dad took me fishing every weekend in Boston Harbor, then we would pick an island to clean the fish on. We always found time to explore the ancient islands looking for arrow heads or shells and yes sea glass," says artist Ree Martin. Now as a grownup, she combs those same shores for shells and glass. And she makes wonderful pieces of beach art, like this amazing Curling Wave with Starfish, which wraps beach glass seashells and sand into resin. The results are always fantastic.

Whitney
"The beach and ocean played a huge role in my childhood and still does to this day," says artist Whitney. And the proof is her great line of ocean-inspired resin works like this fun Nantucket Crab. All of her resin beach scenes feature a nice balance of the "beach" and the "ocean."

Oksana
Artist Oksana does some pretty cool and amazing things with her ocean resin art. Things like this abstract Ocean, which not only features subtle waves among the blues, but it also has bubbles! Yeah!
MORE Ocean Resin Art
Okay, so those were my Top 50 Resin Artists with a Beach theme! But even with this long of a list, there is still plenty more great ocean resin art out there. So if you're interested, here are some more great pieces of resin art!

"Beyond The Sea" Ocean Resin Art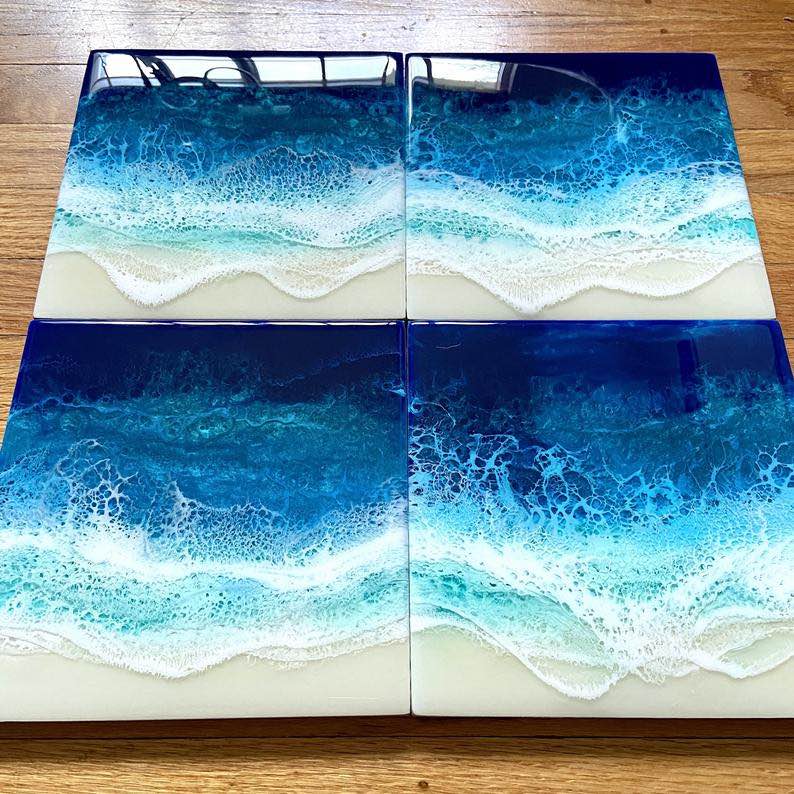 "Shallow Shores" Ocean Resin Art

"Sunset Ocean" Resin Art Beach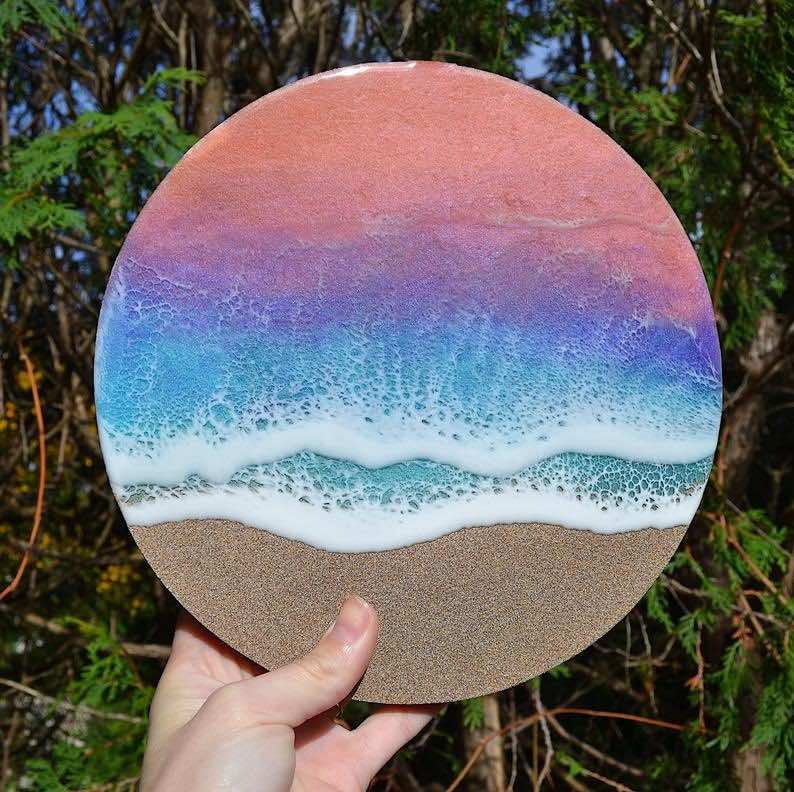 Black Beach" Resin Art Coasters

"Resin Art Ocean with Sea Turtle"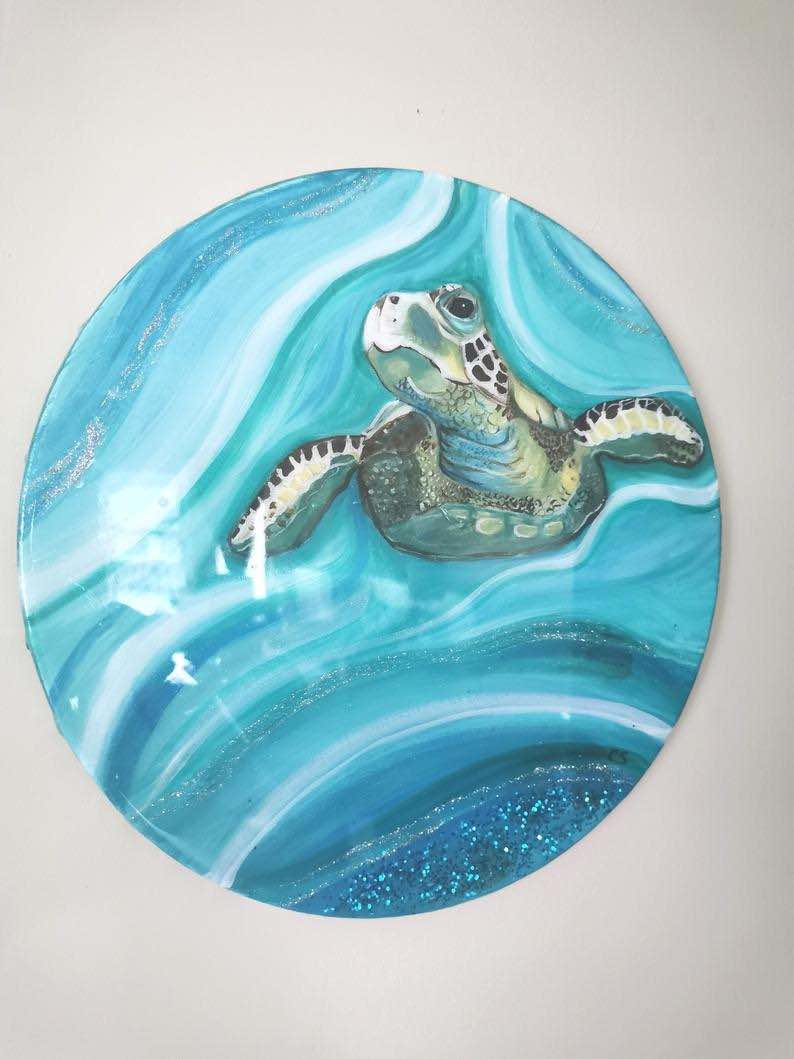 "Ocean" Resin Art
"Ocean Shoreline"
"Fluid Seascape"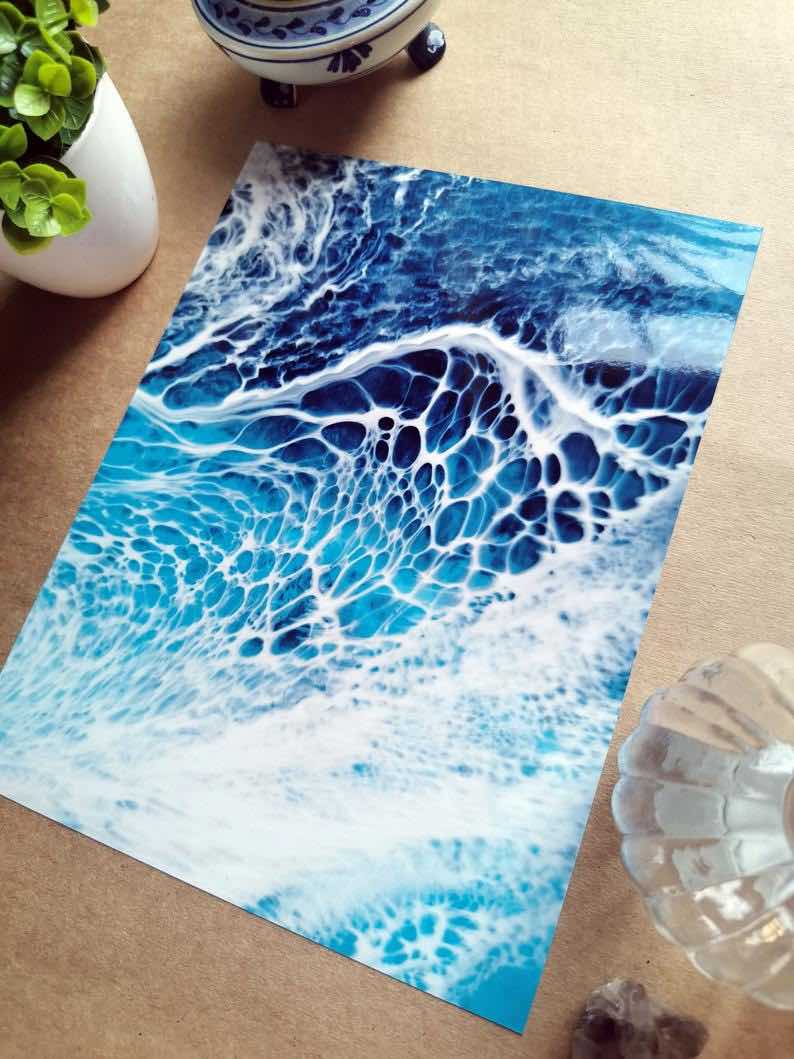 "The Resin Ocean" – Ocean Resin Art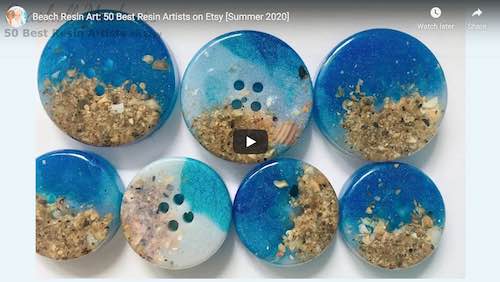 Top 50 Resin Artists with a Beach Theme
Thanks for checking out this list. If you liked it, please share it on your social!
Written by Renee