50 Best Seashell Artists on Etsy [Winter 2020]
Finding pretty shells on a beach feels pretty amazing. Even more amazing? Using those shells as the basis for great art!

Today, I'll show you who I feel are the 50 Best Seashell Artists on Etsy (and I'll show you some of their sea shell art!)

Brenda Casaravilla
Seashell artist Brenda Casravilla specializes in using shells gathered on Sanibel Island in Florida to create the cutest little animals! Take Seashell Frogs Sitting on a Bench, for instance. I just love all of the little details there. Lots of things to take in! Wonderful! And she also makes cute little dogs and cute little owls and cute little…
See all of our Beach Artist Pages:
Best Beach Painters • Best Resin Artists with a Beach Theme • Best Seashell Artists • Best Driftwood Artists • Best Beach Jewelry Designers •

Michele Geiger
It's a sea creature made out of sea creatures! Artist Michele Geiger takes shells and makes a variety of creatures from mermaids to seahorse to this Seashell Octopus.

Kathy Raino-Gampo
I'm a fan of seashell wreaths. I think that nothing says "welcome to the beach" quite like a seashell wreath. And I really like the minimalism and simplicity of this one, an Oyster Shell Wreath by Kathy Raino-Gampo. The simple white ring of shells works really well, I think.

(Seashell wreathes really help if you're looking for home decor that really sets a beach vibe)
Cheryl
I would never have thought of making gnomes out of seashells. But Cheryl has! And she's created a whole series of these little guys, each with a unique story to tell. Take, for instance, this Seashell Beach Gnome Bride and Groom! She makes lots of other cool things with shells — I featured a really neat seahorse of hers on another page of this site — but I am consistently drawn to the little gnomes.

Linsay Schauwecke
I'm a big fan of flowers made from seashells. And this one is just… Wow! I am mesmerized by Pink Rose Cup Flower by Linsay Schauwecker. Just mesmerized. There's something almost hypnotic about it, isn't there? First off, we don't have shells of that color on our local beach, so that blows me a away. But the way that Linsay has put them together is just perfect. This is a wonderful piece of sea shell art, isn't it?

Dolores Marchand
I love me a good seashell frame. And this Seashell Frame by Dolores Marchand is a good seashell frame. At first I thought that she had mixed some beads in there, but as I looked closer I saw that those are actually tiny shells — a whole bunch of them. Oh, and she includes the print as well!

Maria Lampton
>I really like seashell artist Maria Lampton's style. She uses a mixture of whole shells and crushed shells (which she gathered herself on beaches in Florida and the Caribbean) to achieve some really cool looks. Like in this Seashell Dolphin. I love how she's used different shells for different effects. The tail, the fins and the snout are all filled in with a a solid blanket of shells, the body is outlined with whole shells and filled with crushed shells. The whole thing is brought together with trememdously good effect. I think this is a really neat way to make seashell art!

Laura Tucker
Seashell Clip by Laura Tucker
I always enjoy it when someone makes something that is both beautiful and functional. And that's definitely the case with this Seashell Clip by Laura Tucker. I'm picturing this as being great to use in some way during a beach wedding. Maybe as a way to keep programs from blowing away? Something for that beach wedding anyway. Don't you think?

Jag
I'm simply in love with this Combination of Nature and Shells by seashell artist Jag. She has several works like this one building on the Tree of Life theme. I love how the shells sprout out from the green branches in all sorts of interesting ways. And I love the "mixed media" approach of tying all of those shells together and highlighting them with paints. Being fairly new to Etsy she doesn't have a whole lot of sales yet, but trust me when I say that her whole line is fabulous!

Claudine Pierce
Lots of shells to love on this Seashell Encrusted Photo Frame by Claudine Pierce. The symmetry on this one really works. This piece just feels right with each side mirroring the other. And there are some tremendous-looking shells on this one.

Corey Carter
Wow! Just look at that crab, will ya? I am amazed at just the sheer number of seashells that go into this Maryland Blue Crab by Corey Carter. A ton of them (collected by the artist and her young daughter on their beach-going excursions). Corey makes a lot of wonderful-looking shell art, from mermaids to Christmas trees, but she says that these Maryland Blue Crab pieces are her most popular. I believe it!

Jess Faro
Seashell artist Jess Faro makes a lot of very interesting ornaments and collages, like this Seashell Collage, out of shells hand-picked by herself or members of her family. I'm particularly drawn to her collages. It's actually a lot harder than it looks to get a great seashell collage. You can't just throw a bunch of shells together, there has to be a certain something else going on. Says Jess, "Every shell selected has its own feel, and its own character, and the natural ebb and flow that they create, together, is the wave that guides my hand." And that's the attitude that makes for a great seashell collage.

Lyubka Hristova
Lyubka Hristova is an artist who creates a lot of very nice things other than seashell art. For instance, she uses ocean-smoothed rocks to make some really great flowers, and often combines shells with a background painting. I love the colors she has used for this Vase of Flowers, and her choice of shells — all gathered from the Mediterranean coast of Spain — is perfect (including lots of tiny Spanish snail shells).

Alana Acker
Like a lot of seashell artists, Alana first became interested in seashell art because of a beach wedding — her own. (her Etsy shop has some great photos of those decorations for her wedding) After the wedding, she decided to turn her passion toward creating these items for the weddings of others. She has several items that would work really well with a beach-themed wedding. I really like the simple beauty of this Coastal Wedding Garland myself.

Bonnie
The first thing that you'll notice when you visit Bonnie's shop is the dolls. She makes a wide selection of dolls (and if you're a doll collector, I highly recommend checking them out). But she also creates some really great shell art, like this Seashell & Wood Initial S. What a great assortment of shells from the Gulf of Mexico, and how expertly they are arranged.

Seanna
I love the shades chosen by artist Seanna for this Sea Shell Picture Frame. All of the colors are soft, all complimenting each other in a wonderful way. Says Seanna, "It is my passion to find seashells to tell their story of the sea through my designs. Whether it is their radiant color, captivating shape or pattern; all are characteristics created by the tides"

Kristina
I'm a sucker for heart-shaped art. I'm a romantic that way, I guess. So Three Seashell Hearts by Kristina is right up my alley. I love how the hearts get increasingly larger and I love the selection of shells that she uses in this piece. Kristin is also the sort of artist who creates in a wide variety of styles. I particularly like her sea glass angels. But the three hearts is the best for me.

Liliya
Artist Liliya not only works with seashells, she also creates some fabulous paintings. To be honest I was torn as to whether I should feature her here on the seashell artists' page or if I should feature her on my beach painters page. This page won out, mainly because of this Ocean Heart. Not only is the heart beautifully created with just the perfect shells, I love how it sits atop an abstract ocean painting.

Janice Plihal
Janice Plihal is an artist who has worked in many different media in many different parts of the country. From garments to repurposed antiques to shell art, she has produced a very large body of work. Including a line of jewelry boxes using hand-picked seashells. Each box is unique and each is beautiful. Just look at the Shell Treasure Box to see what I mean. I love how much has gone into the details of this work. It's absolutely beautiful.

Colleen Ymbras-Pulitano
I've always liked designs that use seashells to create flowers. And I love when someone does it as well as Colleen Ymbras-Pulitano does with this Seashell Flower (and several other flower creations in her store!). She says, "I've always loved beach combing and shell collecting. I try to find fun and creative ways to use the broken left behind shells and shell pieces to create unique fun nautical beachy decor."
Stephanie Figuerado
Artist Stephanie Figuerado creates a whole lot of wonderful art with a nautical theme. She also often incorporates repurposed materials into her art using items that she's found on beach excursions in MA & RI. I love these little Baby Oyster Shell Daisies. As I've mentioned before I like seashell flowers, and something about these little daisies seems just perfect to me. And I also like that it's mounted on a piece of antique, reclaimed trim board. And Stephanie has a lot more great art like this!

Ulla Bischoff
Ulla Bischoff is an artist who is great at using a few shells and a few strokes of a pen to create a wonderful story. Like she has here with these Hot Air Balloons.

Two Pleasant Girls
Apparently there's a whole lot that can be created using oyster shells. If you look through the shop of Two Pleasant Girls you'll see a an amazing array of different pieces of art created with these shells. And all of them just as beautiful as this Oyster Palm Tree.

Kelly Nicholson
Artist Kelly Nicholson creates a lot of wonderful beach-themed jewelry. Personally, I really like her works incorporating seashells like this Art Deco Seashell Necklace. Wonderful choices of shells here.

Jessica
Artist Jessica is an avid beachcomber. So avid, in fact, that she found that she was bringing home way too many shells and driftwood pieces. Which is what started her out on her journey of seashell art. I'm glad she did. Jessica has a great eye for which pieces fit together well, like in this Brown Sea Glass Door Hanger.

Susan
Susan is a seashell artist working in NSW Australia, where she uses all locally-collected seashells in her work. Now, most of the shell art that I am used to comes from either the East or West Coasts of the US, so the differences in those Australian shells really caught my eye. I love the colors!

Peggie Herrin
Artist Peggie Herrin creates a lot of art using found and repurposed materials (for instance, she does some great things with wine bottles and mason jars). And her seashell-themed work is great. Pieces like this Seashell Butterfly really caught my eye.

Linda McCane
Artist Linda McCane has a really wide array of seashell and beach-themed art made from materials that she has collected on the beaches of her home island of Kauai. She says, "I have been combing Hawaii's beaches since moving to the islands 30 years ago. I have lived on Kauai for 25 of those years and discovered the most awesome beaches for picking shells, sea glass and rocks." One of the unique things that she has created (I had never seen this before) is a series of refrigerator magnets using driftwood and seashells. Who doesn't need a fridge magnet? So why not a cool one like this?

Lonnie Coleman
All of the wonderful objects created by artist Lonnie Coleman have been made from materials gathered by herself on beachcombing expeditions on the beaches of Kauai. Including works like these Kauai Kahelelani Shell Earrings. Lonnie says, "he Kahelelani Shells are only found in a small region of the Pacific. Most of them wash up on Niihau, we do get some on only a few beaches here on Kauai. They are a very special shell in that they are the ONLY shell in the world that is classified as a gem, and can be insured as one. At one time they were actually worth more per ounce than gold!"

Natalie
Natalie and her daughter Journey became hooked on the beachcombing lifestyle after moving to Florida. And that affinity for finding things on the beach turned into their love of creating shell art. She says, "Each beach walk we take gives us a new adventure, and we hope that we can give you a little bit of our own beach fun in the pieces that you bring home." I particularly like these Seashell Decorative Bottles which I'm sure could find some use in a beach-themed wedding.
Maria Byerley
I love seashell flowers. I've seen a lot of seashell flower artwork. But when I saw the work of Maria Byerly I let out an excited "Oh my!" She has a whole series of these (many of which are set against abstract painted backgrounds) and they are all really terrific. There are so many things that I love about works like Shell Flowers. First off, it's fascinating to me the way that she has used broken and distinctly shaped shells to create the petals and leaves. I also love how 3 dimensional these works are. It's like those flowers are reaching out toward the sun. Absolutely beautiful!

Sydney
Growing up in Santa Barbara, CA artist Sydney has spent a whole lot of time on beaches. And during that time she has collected a whole lot of shells which she uses to create a whole lot of great artwork. Like this Seashell Heart. Says Sydney about shells "They tell their own story, the story of the Ocean and Nature."

Lizzie
"I love shelling and beachcombing – so much so that I usually get a neck ache by the time I leave from looking down at the sand for hours at a time!" says artist Lizzie who combs the beaches of Long Island, NY. She then uses her finds to create some really great pieces of art, like these Flowers in Little Whelk Shell Cups.

Toni Valdes
Seashell artist Toni Valdes grew up in Florida and her natural love of beachcombing (on both the East and West coasts of the state) led her to creating wonderful frames and shadow boxes with her finds. Works like this Seashell Shadow Box show an artist with a great eye, as just the right hand-picked shells have been used here.

Aubrey Vailoces
Maui-based artist Aubrey Vailoces creates a lot of wonderful beach-themed jewelry from her beachcombing finds. The Seashell Leather Anklette is just one of the many different jewelry designs she has created. Says Aubrey, "I love creating jewelry inspired by the Hawaiian vibe and love, the Aloha. I spend most of my free time at the beach with my daughters collecting drift wood and sea shells/sea glass. In fact, a lot of my art is actually made out of the wood and shells that my daughters pick up along our walks."

Megan
Artist Megan creates shell art using shells that she has personally collected on beachcombing excursions to Sanibel Island and Fort Meyers Beach in the Florida Gulf. While she only has a few items in her relatively new shop, they are good ones! I really like the eye she has for arranging these special shells, as she has in this Shell Mirror.

Bianca Douce
I love when shell artists take their hand-gathered shells and turn them into cute little figures. Like the way Bianca Douce has done with this Seashell Turtle. I love this little guy. And Bianca has a whole series of this type, including owls and even a frog on a motorcycle. I love it!

Sherri Ortega
Sherri Ortega is one of my favorite beach-themed artists on Etsy. I love how she works with different materials like shells, broken glass and resin. She creates some great pieces of art. Like this Abalone Dolphin which has been made with crushed abalone shells of varying shades of gray that have been beautifully arranged and set in clear resin. And Sherri has created quite a few works, and all just as interesting and beautiful as this!

ue Wolff Vigliotti
There are a fair amount of seashell-covered picture frames out there, but it really does take a good eye to make it work. Artist Sue has a great eye. She specializes in fantastic frames like Ariel's Sunrise (by the way, I think it's fantastic the way that she names each of her pieces) which she creates using Florida shells which she has gathered herself.

Parvan Marusya
From the Mediterranean in Spain Parvan Marusya creates a wide variety of beach-themed art. From earrings to angels to some really great mixed media works incorporating drawings and seashells, I am a big fan of Parvan's work. Work like the Naughty Squirrel seems just perfect to me!
Sheryl
I am a big fan of a good shell wreath. And since artist Sheryl makes great shell wreaths I am a huge fan of Sheryl's. For instance on Shell Flowers and Stars she has used shells to create flower petals (which is something that I always love) and starfish made from cockle shells, then lit the whole thing up! I love it!

Hawaii Bob
I always like something unique. And Hawaii Bob's line of handmade nightlights fits that bill. Each one is different, like this Sanibel Island Sand Dollar Night Light, as each one uses a different assortment of shells. What a great addition to a kids' room this would be!

Carol Bell
I've mentioned how much I like flowers made out of shells. Well, seashell artist Carol Bell has really taken that to the next level. For works like Seashell Flower Sphere she takes natural yellow/lemon Florida Jingle Shells that she has personally collected on Florida beaches, then she makes those into beautiful roses, then she takes more than a dozen of those roses and brings them together to create a beautiful sphere. Unbelievably beautiful, wouldn't you agree?

Hanora Cronin
"Nature is so wonderful, there's nothing more invigorating than having a walk through an enchanting forest or having a stroll on a beautiful beach. Breathe in the fresh air, relax and enjoy!" says artist Hanora Cronin. I really enjoy looking through the many, many handmade items in Hanora's shop. A great deal of it is beautiful botanical jewelry, like a terrarium necklace or ones made of tiny rose petals. And she also features several beach-themed pieces like this Seashell Glass Vial Necklace with its collection of tiny, beautiful shells. I picture a set of these being worn by the bridesmaids at a beach-themed wedding.

Viktoriia Sokur
There are a lot of artists on Etsy who specialize in wreath design. One of my favorites has to be Viktoriia Sokur. Every one of her designs is unique and every one of them is so artfully designed. Like, for instance, this Easter Wreath which incorporates several natural items from shells to feathers to nuts and brings them all together with a simple wrapping of rope. I think that her wreaths are just beautiful.

Connie Craven
Connie Craven is another artist whose main work is in another medium — in this case, she makes fabulous beadwork — and when she turns her eye to shell art she makes some pretty amazing things. Take this Wedding Bouquet for instance. I love how artfully she has brought it all together with all of these different shells and the bunting and the ribbon. What bride wouldn't want a bouquet like this one? (you might skip the bouquet toss though)

Sue Green
Artist Sue Green creates a wonderful array of small beach-themed, hand-made items that make great party favors and table decorations. Each is a one-of-a-kind creation made from materials gathered during Sue's 30 years of beachcombing — from sand to sea glass to shells. I can just picture items like this set of Beach Bottle Wedding Party Favors adorning the tables at the Reception of a beach wedding.

Laura Otto
If you find the right shells and you have a creative enough eye, you can make some pretty amazing works of art simply by mounting shells in a shadowbox. Take for instance, this American Crown Conch Shadowbox by Laura Otto. She has found just the right shells for this piece and put them in just the right order for a beautiful display. And in her shop she accomplishes this feat over and over again

Candy Galekovic
I love to browse through little beach-themed boutique shops. I just love the way that they feature local artists and local shells. And of course I love beach-themed decor. Artist Candy Galekovic is the proprietor of one such boutique and it is full of fantastic beach finds. Luckily, Candy also has an Etsy store so that you can find her artwork if you don't happen to live near her store. Items like this Ring Bearer Holder with Shells have been designed by Candy with the beach wedding in mind.

Cathy Hamilton
Artist Cathy creates all sorts of wonderful things with natural seashells. From seahorses to jellyfish to Christmas trees, she has made them all and made them beautifully. But probably her trademark is creating amazing Seashell Pelicans. You can certainly see why. These birds are amazing. Handmade and amazing!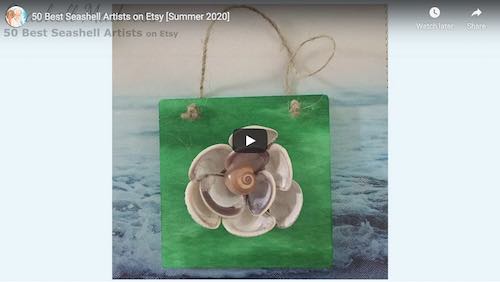 Top Seashell Artists on Etsy
Thanks for reading our guide to the best seashell artists on Etsy. If you liked this article, please sharfe it on your social. Thanks!
Written by Renee