Coastal Bathroom Decor ~ 50 suggestions for your beach house bath decor
If you've ever redecorated a bathroom you know that there are actually a whole lot of challenges for such a little room. If you're considering that remodel in a coastal theme (or just want to add more beachiness to your current bathroom), here are a few suggestions:

Mother and Daughters Mermaid print
The addition of mermaids always brings a beach feel to any decor. And I'm leading off with a great piece that I think would work really well as part of bathroom decor. Artist Nancy Quiaoit has a complete series of really beautiful mermaid original paintings — mermaids are kind of her specialty, so she has a lot of really great ones — and I really like this one of a mermaid and her little mer-kids.

Handcrafted Beach Shelves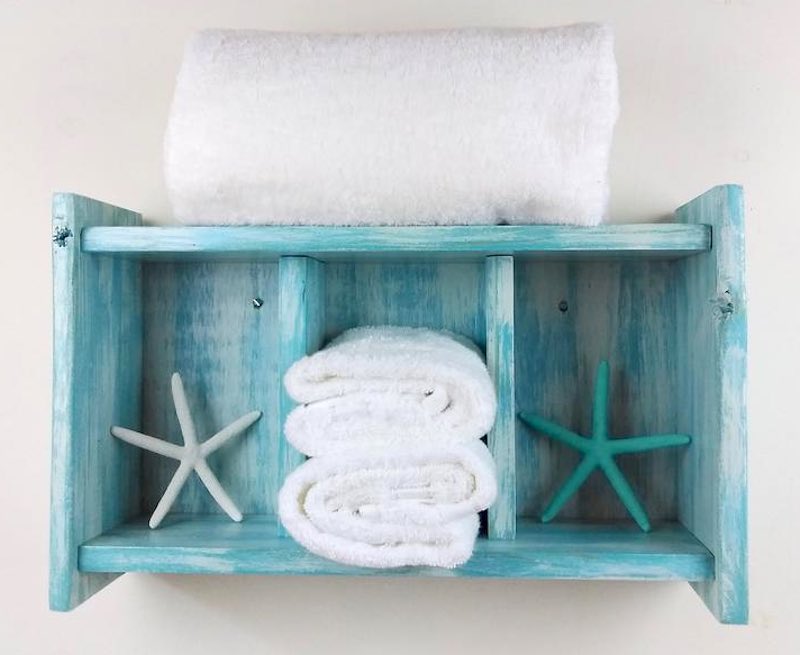 Every bathroom needs some shelves, and if you are going for that coastal bathroom look for yours, then this set of Handcrafted Beach Shelves may be just the way to go. Teals and whites are a great combo for a beach house sort of feel, and it's great how those colors have been used on these shelves. These shelves are also made from reclaimed wood, which gives them an extra special feel. I love when artists use reclaimed materials — as Ben and Rose have done with this one —not only is it something good to do for the planet, but artistically the tiny little differences and imperfections make each piece look unique.

Girls in Vintage Swimsuits Beach Bathroom Print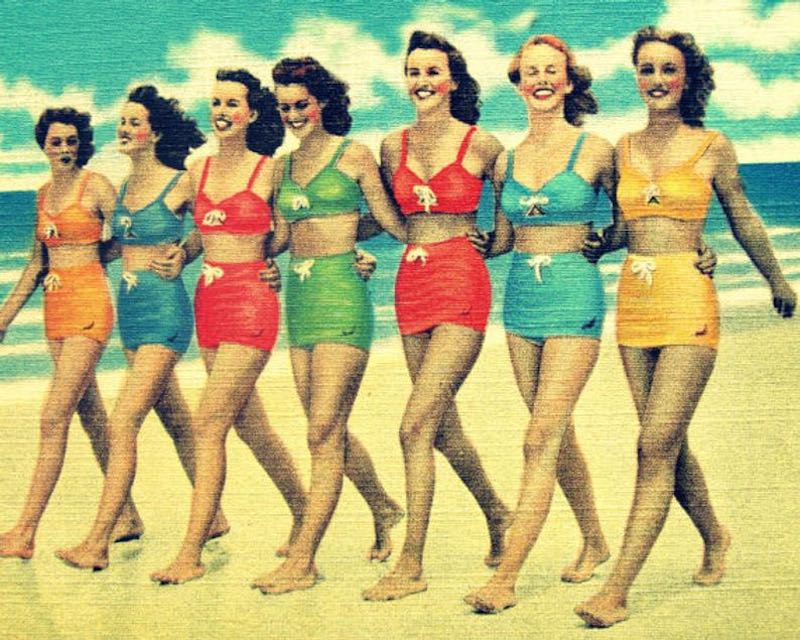 There is something about old vintage beach prints that I love. For one thing there are always smiles. Always. And there's something about the long-lost art of cheesy staging that's appealing — contrast a photo like this with the sort of beach-themed photos that you'll see in fashion magazines today. I'm not making a value judgement here or anything (there are a lot of really cool modern beach images!) it's just that the difference between the way that a beach scene is presented today and the way that a beach scene was presented in the 1940s is noticeably different. And there's just something fun in looking at these old prints.

Mermaid Shower Curtain Hooks Rings
Yes, we're going to see a lot of mermaids on this list. Because I can think of few things which scream "beach decor" quite like a mermaid. And this… come on, how cool is this? Your shower curtains need rings anyway, but why pick plain, boring plastic ones? Not when you can have little silver mermaids dangling from the shower curtain rod. They're also made from stainless steel, in case you were worried about the rust potential of metal shower curtain rings.

"Relax Soak Unwind" Blue Bathroom Canvas Print
I love the color of these prints. Blue and White color combos are always perfect for beach house decor. In fact, you'd be hard-pressed to find any beach houses that don't go with either a blue/white or a teal/white color scheme. So if you are looking to make your house more beach-like, this color combo is the way to go. But more than that, I love how the whites of the seashells seem to melt outward into the dark blue backgrounds. You'll see other variations of the phrase "Relax, Soak, Unwind" (which, after all is perfect for your beach aesthetic) but this representation of it is easily my favorite.

Avanti Linens By The Sea Hand Towel
Say you've got the right color scheme for your coastal bathroom. Great, but you can't stop there. The hand towels that you have hanging in that bath can make or break the look that you're going for. These embroidered shells on white towels will definitely work with that beach decor. They're also 100% cotton, which makes them oh so soft and puffy.

Ocean Bath Mat
One often overlooked item in the decorating scheme is the bathmat. But it shouldn't be overlooked because it is one of the most noticeable items in the room! Again, it's great here to go with a color scheme of pastel blues and whites. After you've showered off all the sand from your beach day, it's great to step out of that shower onto a mat which reminds you of the beach!

Mason Jar Bathroom Set
It's actually amazing some of the things that good artists can do with standard mason jars. For instance, artist Brittanie Collier has a complete line of custom-made jar artworks in all sorts of styles (she has some that make for great wedding centerpieces). Here she has used mason jars to create a very attractive bathroom set. And the teal colors with seashell accents make this perfect for your beach decor.

Floral and Beach Set of 4 Bathroom Art Prints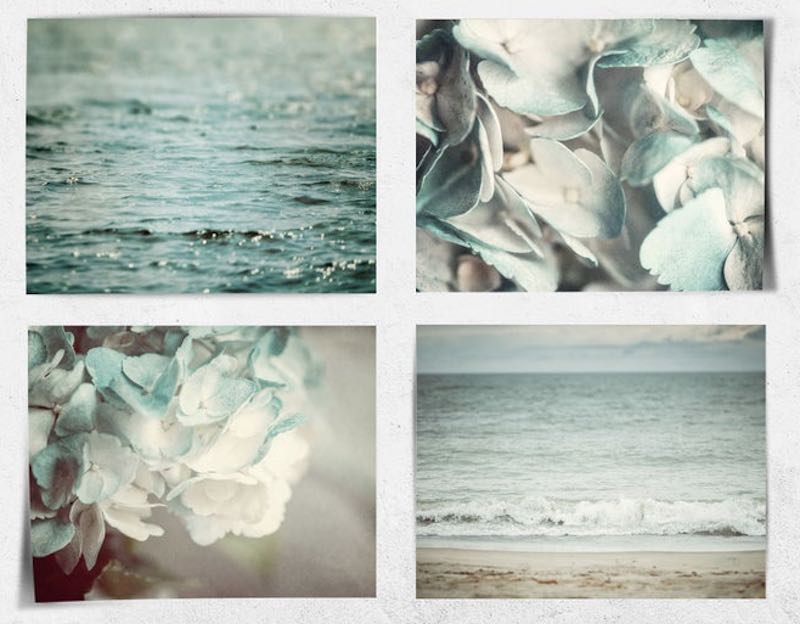 More than just the fact that there are oceans in these Floral and Beach Prints, it's the color scheme that makes this really work for coastal decor of a bathroom. There's an overall teal feel to these prints that definitely screams out "beach house!"

Beach Stones Decorative Drilled Sandstones
To really get the beach look across, having a few beach stones lying around -— maybe in a shell-shaped dish on your vanity? — can really help set that feel.

Small Tropical Fish Wooden Wall Decor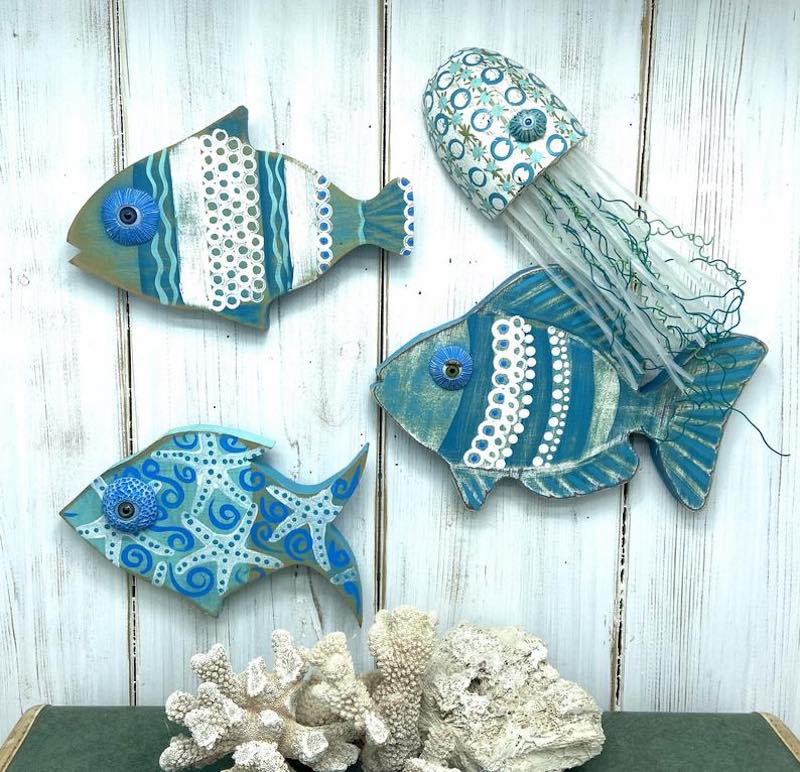 Artist Jill Hall has created a whole lot of really unique pieces of art which would fit in with a coastal decor theme (I talk about her folk art crab on another page of this site). I really love these wooden Tropical Fish. Of course the color scheme of them is perfect for that beach bathroom, but just look at these little guys! I love the whimsy in this design — little fishes with interesting little patterns on them — it just makes me smile. And the little clay barnacle eyes really are the perfect detail to bring it all together.

Rope Towel Ring
The decision of what to use for hanging those amazing beach-themed towels is something that needs some consideration. I really love this Rope Towel Ring. It has been handmade using a hunk of rope and a boat cleat. So, it most definitely fits in with other beach-oriented decorations — and would work great for beach towels!

Mermaid in Tub Print
As we know, the mermaid is a perfect symbol of beachness for your beach house. And in this article we're talking about bathrooms. So, really, what could be more perfect than a print of a Mermaid in Tub? This is another great painting by the artist Nancy Quiaoit, who kind of specializes in mermaids. I love the look of this one, with the fun thought that the mermaid can't get away from water no matter how much she tries.

Wood Beach Ball Shelf Sitters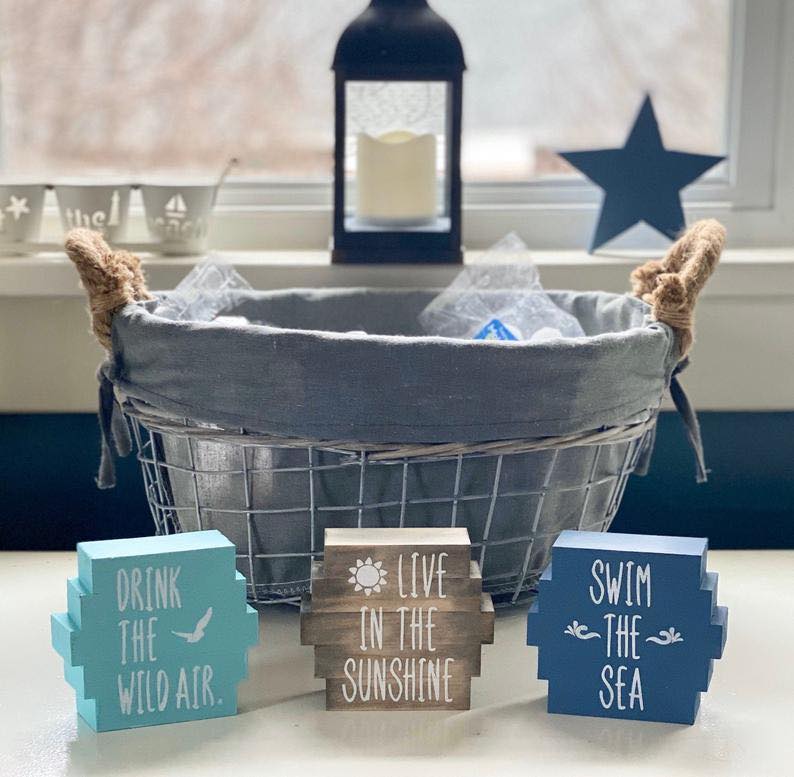 You may have trouble seeing these abstract wooden shelf sitters as beach balls (I know I do) but you've really got to love the look of them. And not only do they have a great color scheme for a coastal bathroom, but they are also adorned with a great beach quote from Emerson "Live in the sunshine, swim the sea, drink the wild air."

Mermaid Light Pull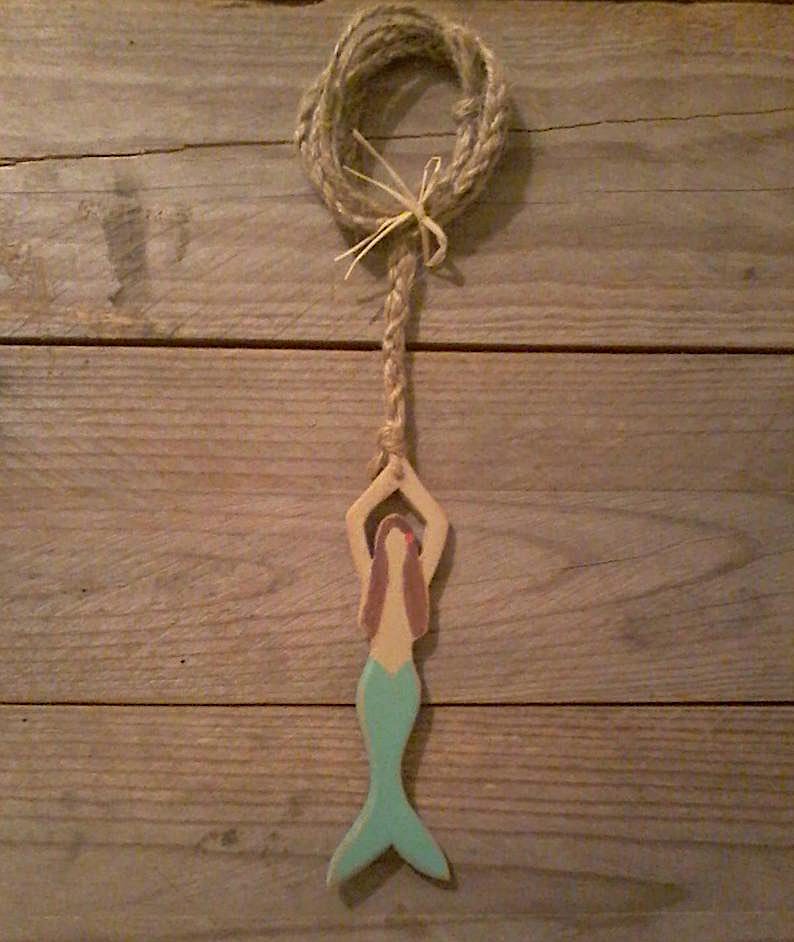 More mermaids! And if you have a bathroom which has a light with a pull-chord, she's the perfect item to dangle from that chord to give the perfect beach feel.

Abstract Watercolor Bath Mat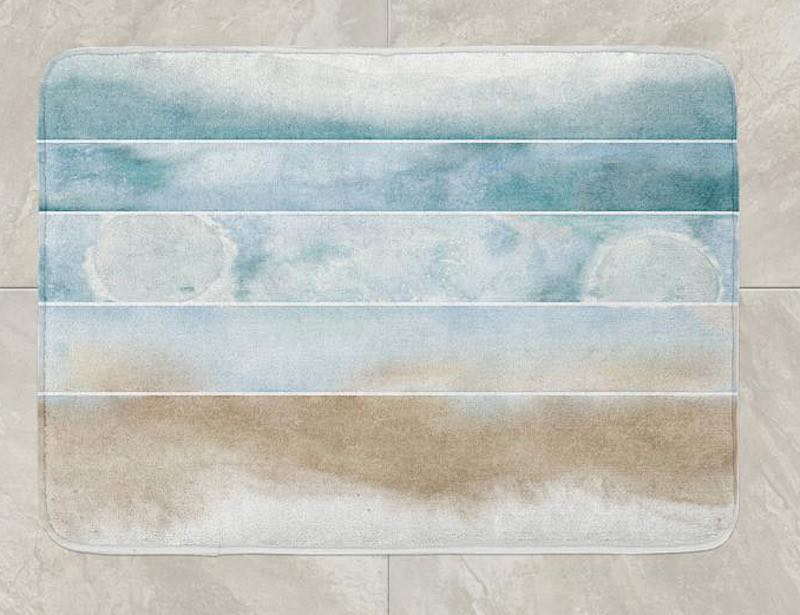 I'm a fan of abstract paintings of oceans and beaches. There's just something about the nature of abstract painting that really lends itself to images which are suggestive of beaches. And a perfect place to display such a piece of art in the bathroom would be with an Abstract Watercolor Bath Mat. I think that I would enjoy this simply as a painting on a wall, but adding it to something as useful as a bath mat strikes me as perfect.

Navy Blue Curtains Anchor Curtain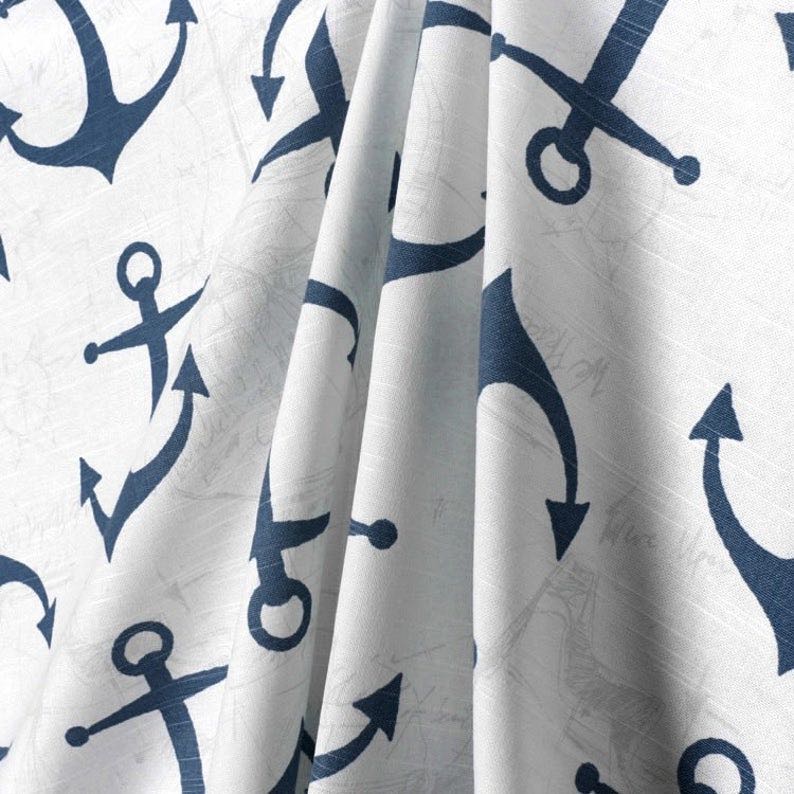 Blue boat anchors on a white background. What could possibly be more nautical than that?

Japanese Jade Fishing Float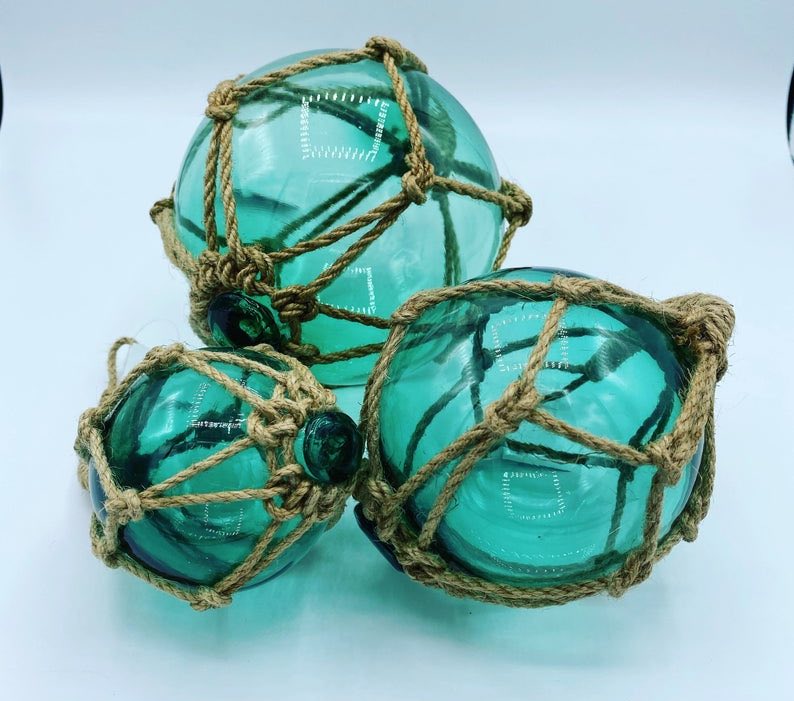 I've always loved the look of fishing floats, even before I knew what they were (if you don't know, once upon a time, fishermen would attach these balls to their fishing nets in order to keep the lines afloat). The fact that they are of a nautical theme, combined with their teal color makes them the perfect accent for a beach-themed room. And when strung out, the glass catches the light in an amazing and attractive way!

Decorative Giant Shell Dish
A giant clam shell makes an excellent container dish. When we're talking about the bathroom, I think that this wonderful piece would make an excellent soap dish.

Distressed Blue Wood Mirror
Every bathroom needs a mirror (and some need more than one!). I love the look of this one. The hand-distressed look is one that goes really well with beach decor, in fact you may want to consider something like this hand-distressed teal as an overall look for their beach house interior design. It definitely works for the bathroom.

Pirate & Mermaid Bathroom Sign
If you're one for a little humor in you interior design, have I got the perfect thing for you. I think that this bathroom sign featuring a pirate and a mermaid is just the right thing! Also it's available in a few different colors, but I think that you'll agree that the teal works really well for a beach house.

Wooden Sea Turtle Wall Art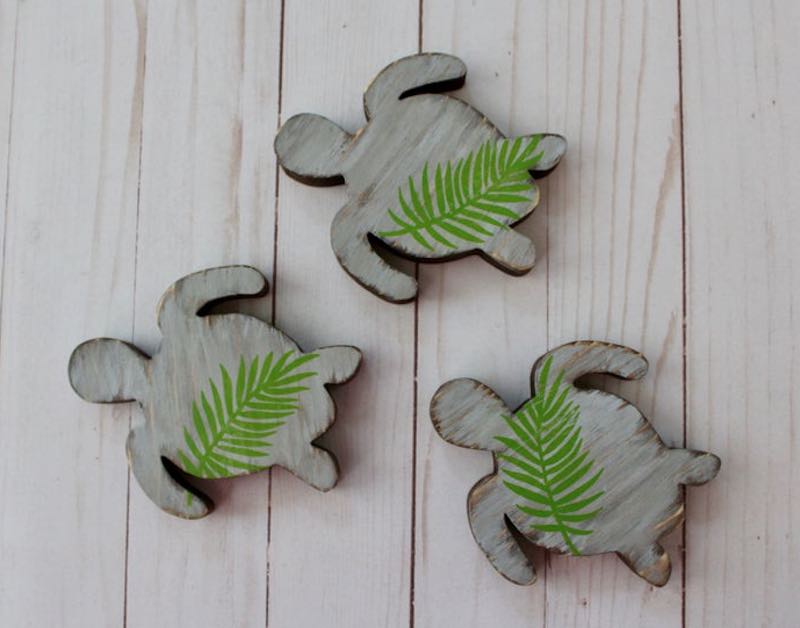 Artist Kathy creates a lot of art that would work in a home with beach-themed decor. I'm fond of these little wooden sea turtles which I think would work perfectly in a coastal bathroom.

Whale Wall Hanger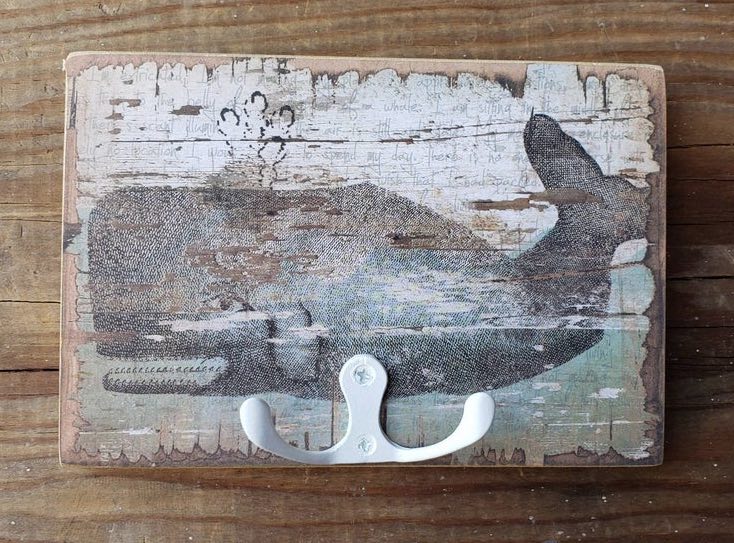 Here's one whale of a wall hanger! You can never have too many hooks in your bathroom (gotta hang things from robes to swim trunks!) and going with this distressed print of a whale will really set the beach theme.

Beach House Sign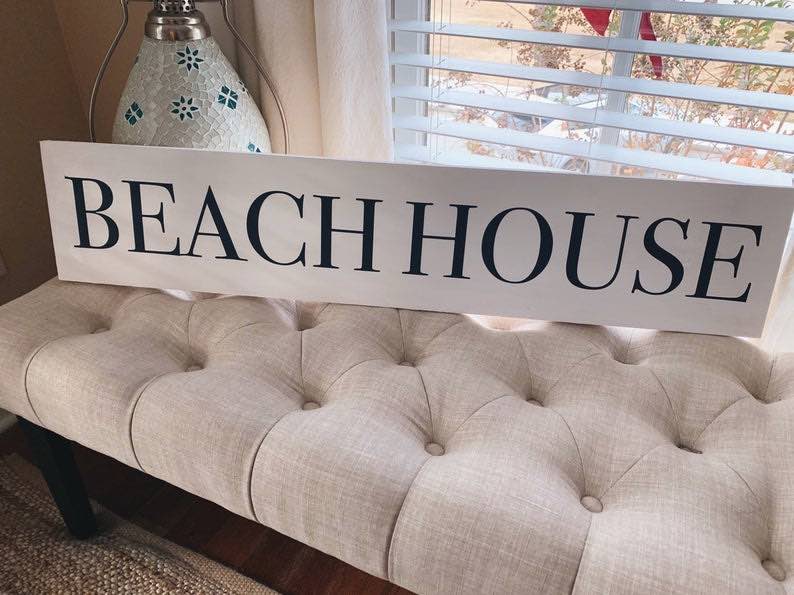 If you're gonna have a beach house, then hey, why not announce that it's a beach house? I love this great big sign and I love that artist Ashley hand-makes all of her signs and customizes them to what you want (should you want something more than Beach House).

Blue Seashell Art Can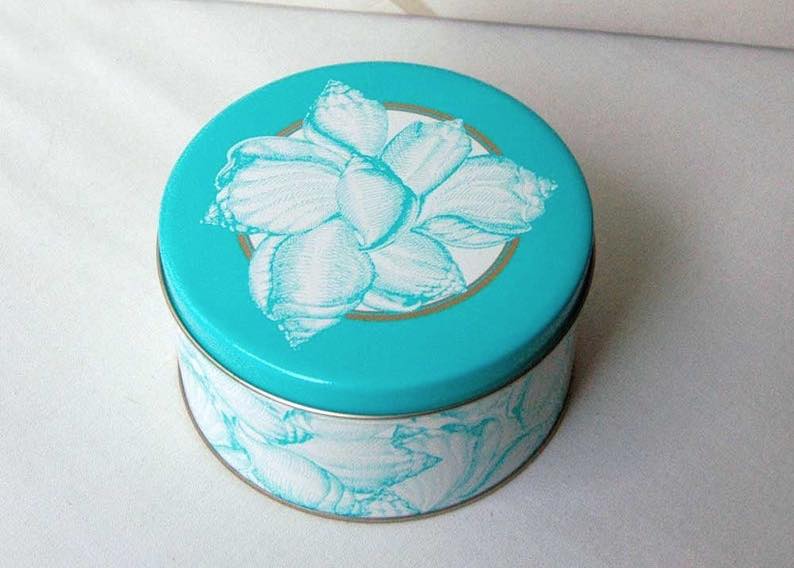 Aside from the fact that the color scheme is perfect for a seaside bathroom and aside from the fact that the shell collection artwork is perfect for a seaside bathroom there is something more that is interesting about this Blue Seashell Art Can. It's vintage! One thing that a lot of people don't realize is that Etsy features a lot of vintage items in addition to the original hand-crafted fare that they are known for. Popular items for fans of vintage who are working on their beach decor are tins made to hold products from the Ben Rickert company. Like this one from the 1970s which was designed to hold soap. Which sounds like an excellent use for it today!

"Wash Your Palms" Beach House Sign
A good pun goes a long way. And this particular pun would work really well in that coastal bathroom.

Wave Towel Rack
Here's another option in towel racks (towel racks are important, so you need lots of options!). I love the simplicity of the wave motif on this particular rack, along with its multiple hooks so you can accommodate your guests' swimwear.

Chunky Manila Rope Hand Towel Holders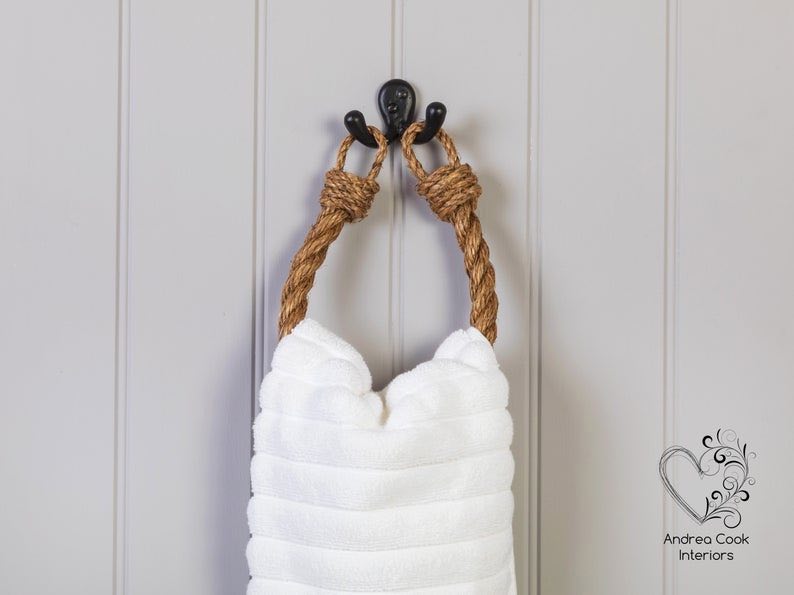 Ropes have been associated with boats since probably the beginning of boats (when was the beginning of boats anyway? I'll have to look that up). And I'm amazed at how many artists have used ropes in so many different ways for decor. There's something very appealing to me about the way that this rope is looped around a hook. Love it.

Beach House Shelf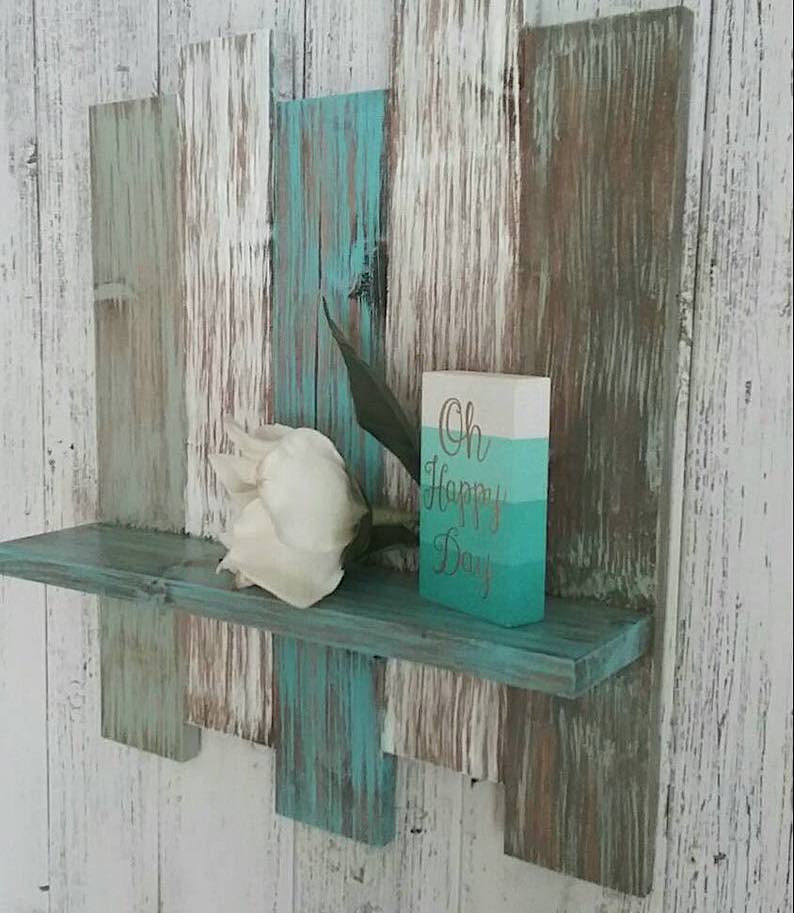 You can never have too many shelves. There's always something that needs to be put up there. And if we're talking about coastal bathrooms, I think that a shelving unit like this one would be absolutely perfect. Once again we have the distressed wood theme, which works really well in coastal decor. Then we have the teals and the whites. Perfect for the bathroom.

Teal Coral Print Set
If your bathroom is large enough for a few pieces of art, then you definitely want those pieces of art to fit in with your beach house theme. These minimalist line art prints are absolutely perfect! Not only is each piece of coral great, the soft teal of the background works amazingly well. And then the fact that they are a set of four really pulls the whole thing together.

Shell Frame Mirror
You can't get much more beachy than a seashell mirror. Artist Lily uses materials picked up on her beachcombing expeditions on her native island of Mallorca to create beautiful works like this one. I'm not sure exactly how many Mallorcan shells have gone into this work, but I know it is a lot and I know that they look great!

Seashell Curtain Tiebacks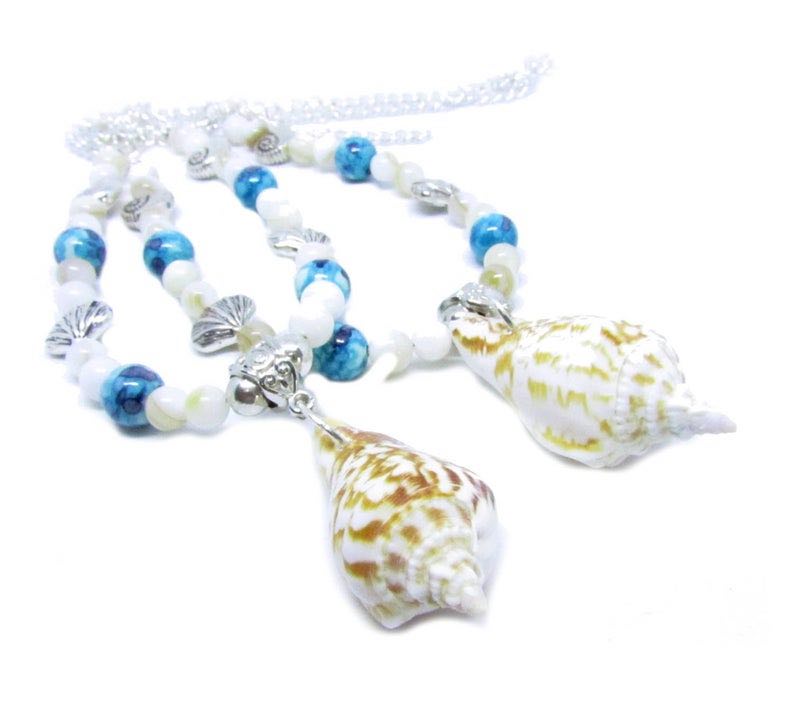 If you want to let that beach sunshine in you've gotta leave those curtains open! And what better way to tie those curtains open than with these Seashell Curtain Tiebacks.

Pair of Fantasy Mermaids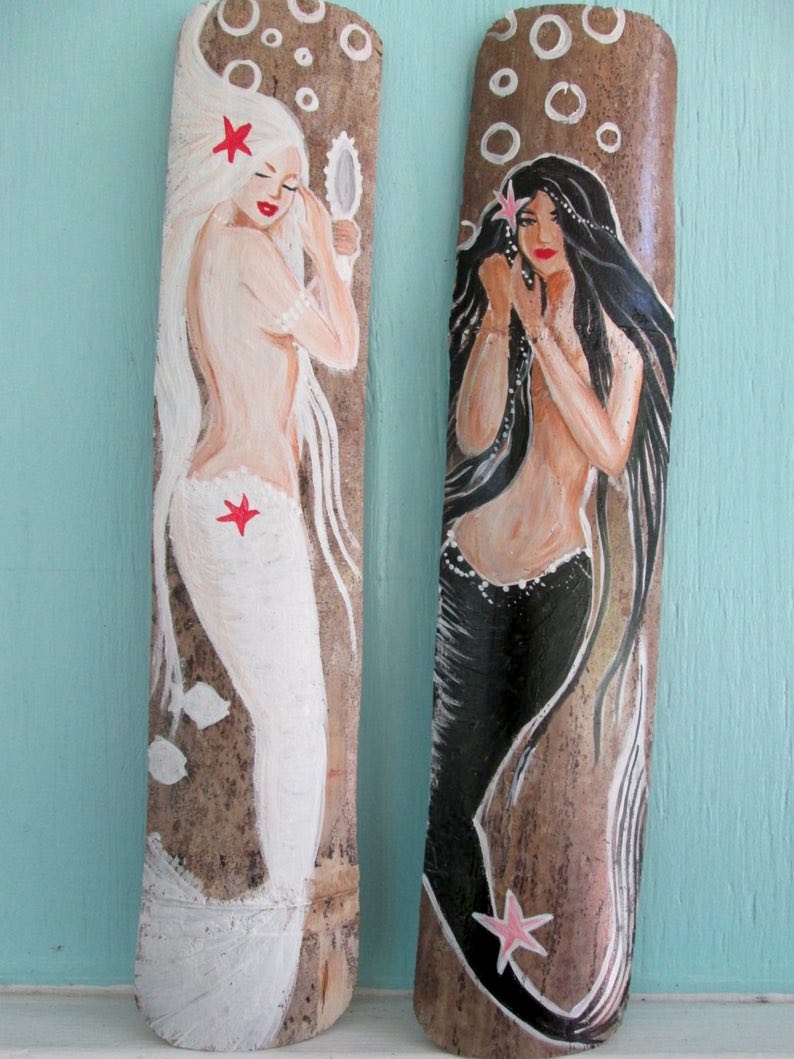 ach one of these mermaids is just beautiful and the fact that they come as a set is amazing! The fact that they've been hand-painted on driftwood also adds another dimension and makes them perfect for your beach decor. And actually, artist Elke Fontillo has an entire collection of hand-painted mermaids, including custom-order mermaids, any of which would make a perfect addition to your coastal bathroom decor.

Beach House Entryway Coat Hook
Hang up those sandy sweaters before you come into the beach house. I love the blue and white stripe motif that's going here. Definitely sets a beach vibe!

Lake Erie Beach Glass Turtle Soap Dish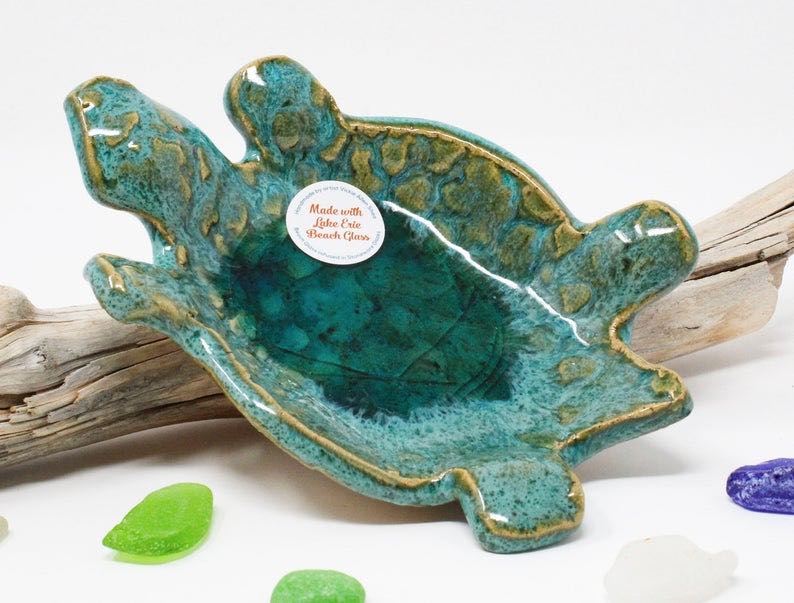 I know that when we talk about beaches, many of us envision ocean beaches. But let's not forget that the Great Lakes of North America also have some amazing beaches as well. And I love these hand-made ceramic turtles. They even come embedded with beach glass collected along the shores of Lake Erie.

Mermaid Hanging Tile Art
Yet another great mermaid! And this one is on tile. Obviously, tile is the perfect medium for bathroom art as it is resistant to moisture. The artist suggests that this particular piece of tile work would be perfect for a backsplash. I totally agree!

Rustic Wooden Bathroom Shelves
Here's another shelving unit featuring a great "distressed" look to it. This one has 3 separate shelves and I am fascinated by the way that the shelves are offset, which really opens up a whole lot of possibilities when it comes to the issue of what sorts of things that you could put on these shelves.

Beach Bathroom Hand Towel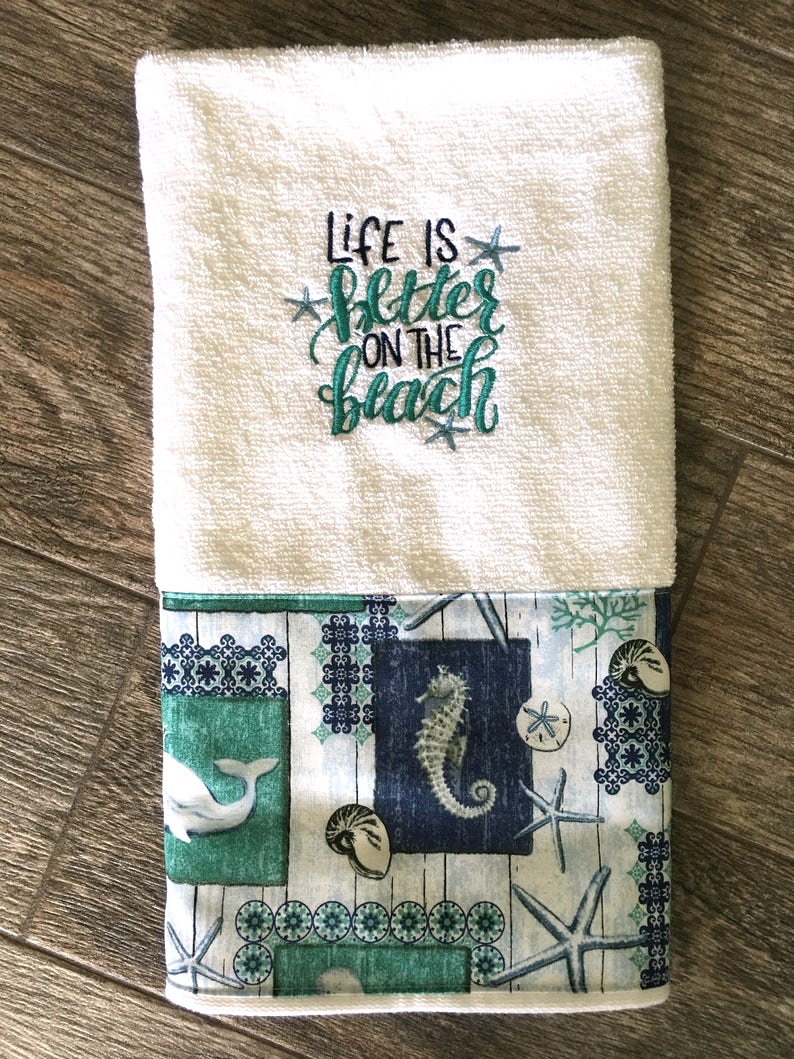 Let's face it: your choice of hand towels can make or break the look that you're going for. And if you are going for that beach look, then here's one that I would suggest for you. It features not only seashorses and starfish (and whales) but also has custom beach-themed embroidery.

Vintage Black & White Coastal Wall Art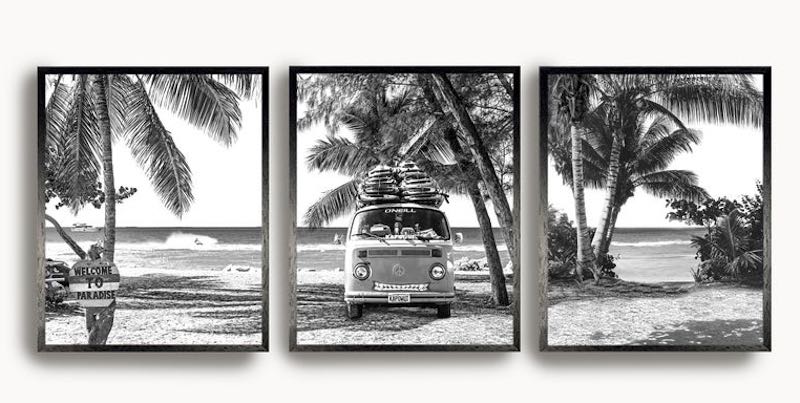 If there's an official vehicle of the beach aesthetic it would have to be the classic VW bus! There's just something about it which screams "wild and free!" and you really feel as though these vehicles belong on the beach. I also think that the use of black and white gives this triptych just the right feel here.

Seashore Clawfoot Tub Art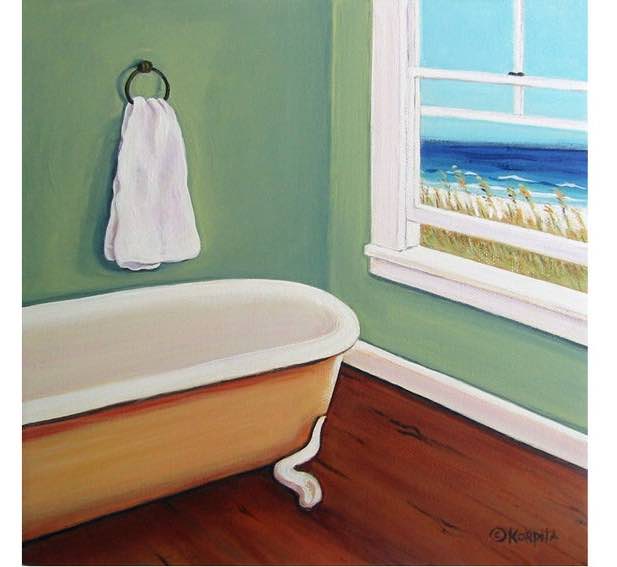 Okay, so you've got a seaside bathroom. You need art to decorate that seaside bathroom. How about some art depicting a seaside bathroom?

Hamptons Style Faux Coral Sculpture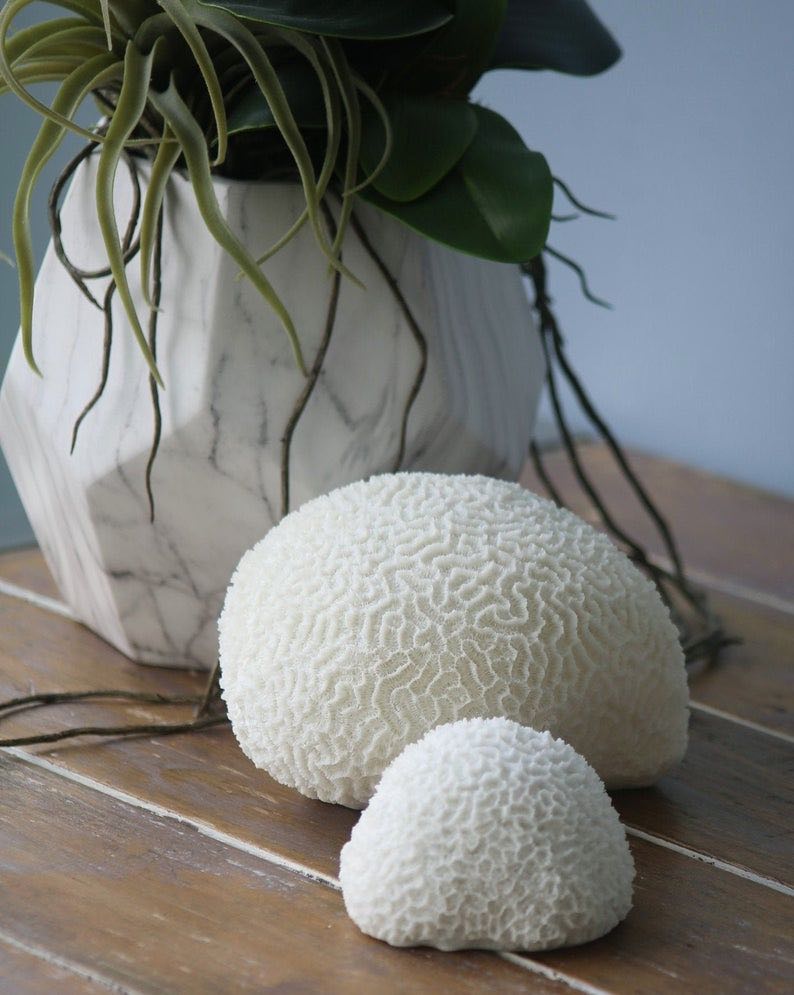 If you want to give an oceanic feel to any room, simply add a piece of brain coral. Instant beach house! This one is actually a sculpture of the real thing, but the effect is just as instant!

Mason Jar Wall Sconce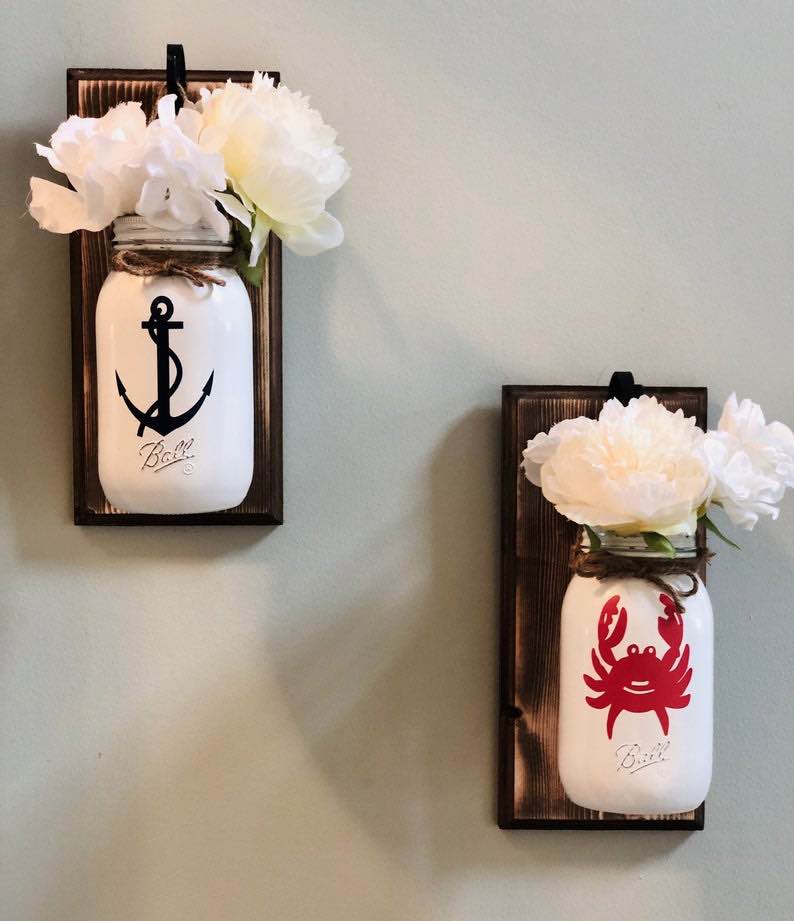 I'm constantly amazed at the varied uses that different artists can find for the common mason jar. Here, artist Brenda has handcrafted the perfect wall sconces to accompany your beach decor.

5 Pcs Beach Seashells Ensemble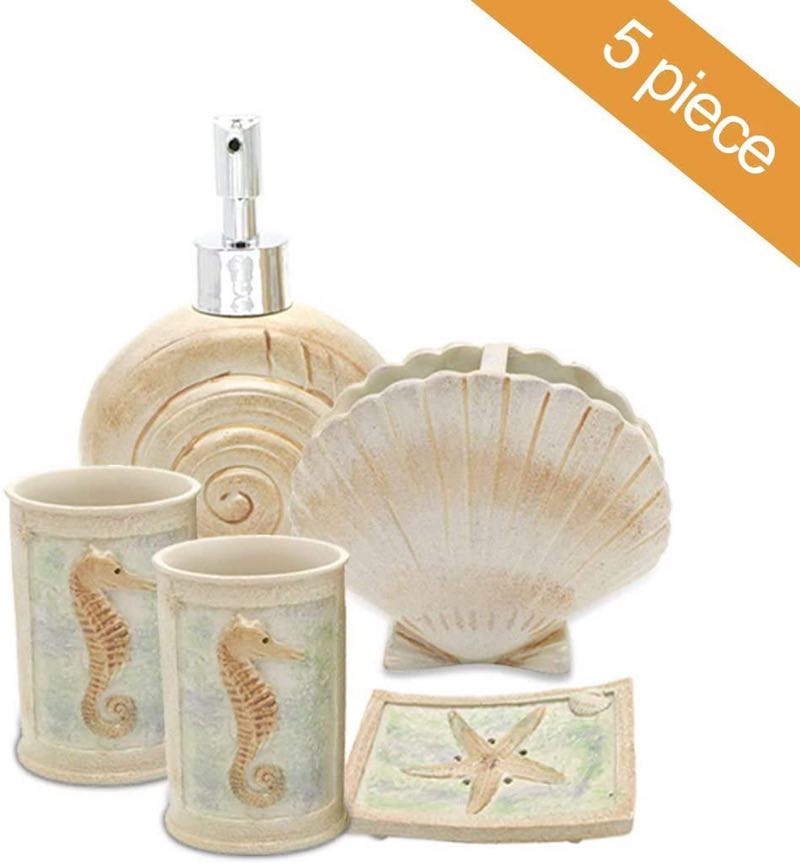 I think the matching patterns on this bath set work perfectly. It's great how it's not just a repetition of the same design pattern, but rather each piece is complementary. I especially like the shell-shaped soap dispenser!

Decorative Tile Stickers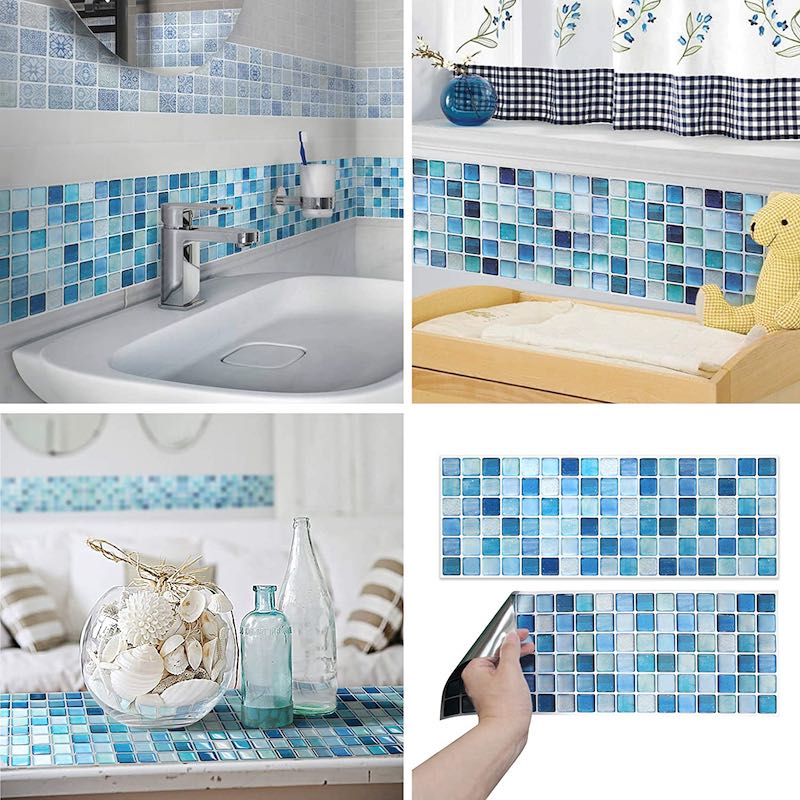 Blue, teal and white mosaic tile work perfectly in a coastal-inspired bathroom. It's just the perfect fit. But what if that beautiful tile job is a little out of your price range? These decorative stickers are the perfect solution to bring that oceany looking tile to your bath without the cost.

Sandy Beach Starfish, Seagull & Seashells Coat Hook
>I know that I've offered a lot of coat hook solutions in this list, but I think it's an important part of a beach house bathroom. Not only do you have the usual bath towels and robes that every bath has, you also seem to end up with a lot of swimwear and beach towels that need a place to dry out. I really like this one featuring a mosaic made from beach materials.

Decorative Oval Trash Can Wastebasket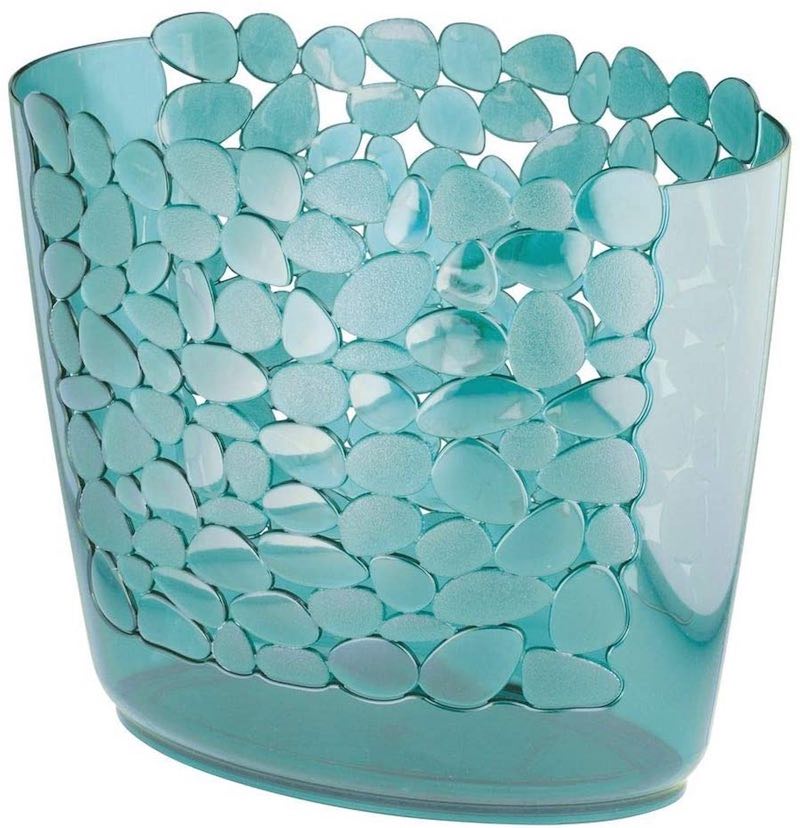 You thought that I was going to forget about a trash can for our beach house bathroom, didn't you? Well I didn't. And I love the look of this particular little trashcan. The teal color is spot on for decorating a coastal bathroom, and the fact that it is comprised of those individual rough ovals is reminiscent of sea glass and its smoothly unique shapes.

Seaglass Toothbrush Holder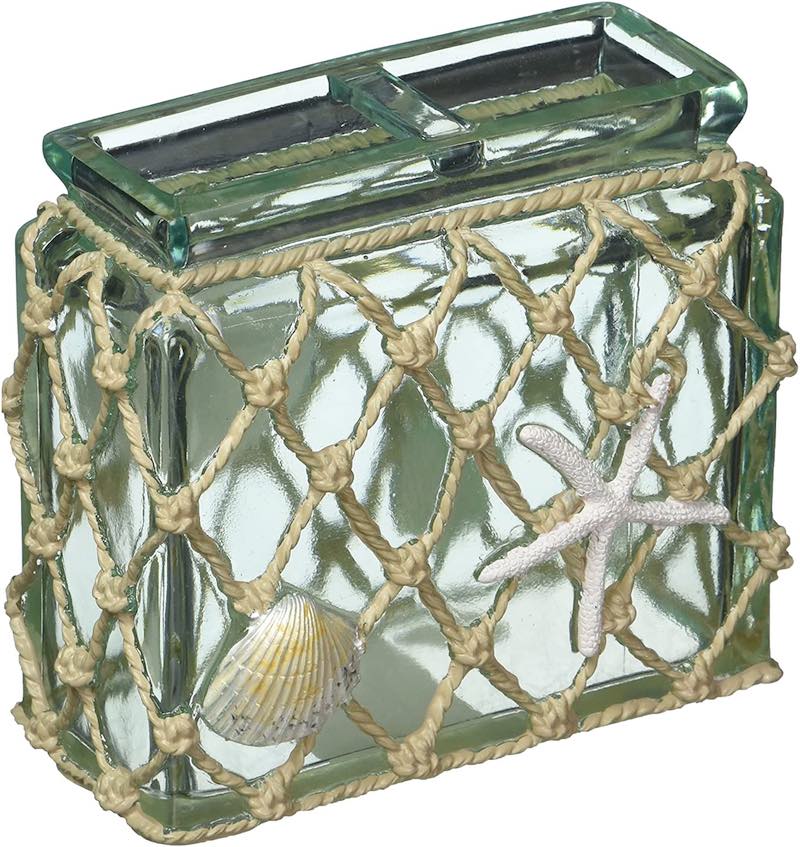 Do you ever find it a challenge deciding what sort of container to use to store your toothbrush? If so then look no further as the nautical theme on this one is perfect for the beach house look you're going for.

Torched Wood & Rope Towel Ring
I know that I've featured a few rope towel holders here, but it's because each one is unique. Which, by the way, really surprises me how many different looks different artists can get out of a loop of rope. I love that this one has mounted the rope hook on a board which features a wonderful distressed wood look.

Beach Starfish Scallop Print Memory Foam Bath Rug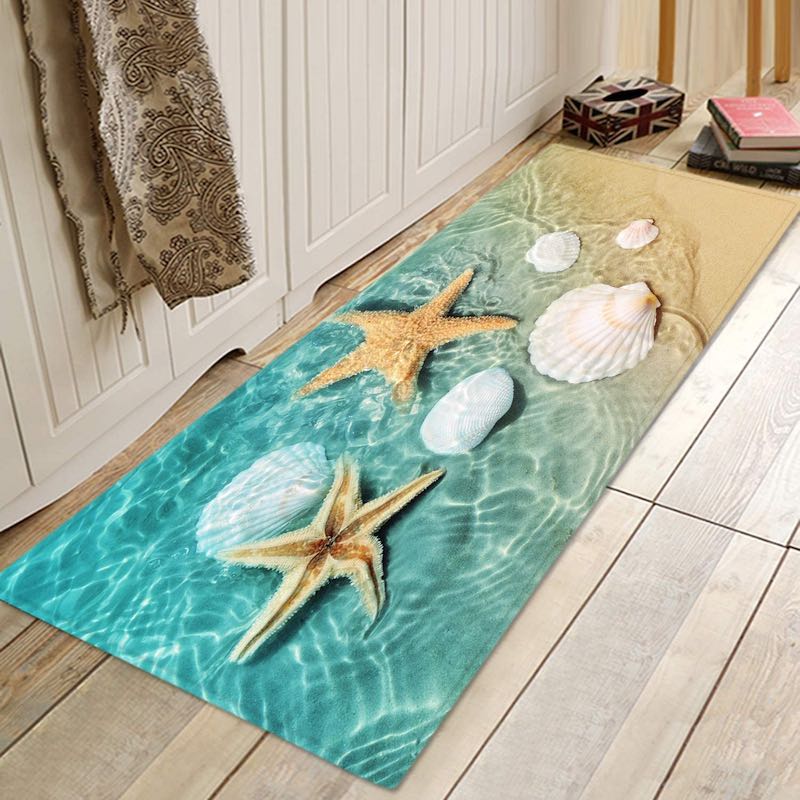 It's amazing what sorts of things can be printed upon these days. I see something like this memory foam bath rug with its detailed shell and starfish art print and I'm just amazed. The ripples on the water look so real that it almost looks like the floor is wet.

Shark Toilet Paper Holder
So…. Here we are. I don't think there's really anything to say here. Either you think that this shark toilet paper holder is the coolest thing in the world, or you don't. It's pretty simple.
Coastal Bathroom Decor
Thanks for checking out our guide to Coastal bathroom decor. If you liked it, please share on your social. Thanks!
Written by Renee