Beach House Chairs ~ for a great place to sit while staring out at the ocean
The right chair can make a huge difference in your life, wouldn't you agree? It needs to be functional because we are hoping to get some use out of it. But it also needs to look great because, well, we want all of our furniture to look great.

And if you're going with a coastal theme for your living room decor, that means that chair also needs to look good in a place near the ocean.

So today I'm opening up my bookmarks and showing you some of my favorite Beach House Chairs.
See all of our Beach House Living Room Decorating Ideas:
Beach House Lighting • Beach House Sofas • Beach House Chairs • Beach House Coffee Tables • Beach House End Tables • Beach House Fireplaces • Beach House Pillows • Beach House Rugs

Down-Filled Oversized Living Room Accent Armchair
If it's comfort that you're looking for, then you really can't go wrong with a nice, big, oversized option. This chair is wonderfully large and comfortable. And the cushions are down-filled, so you know it's nice and comfy. And the modern low profile makes it fit in with a modern coastal designed room. You'll probably want to go with the white if you're going coastal, but this one is also available in a whole lot of other colors.

Noemi Minimalistic Accent Chair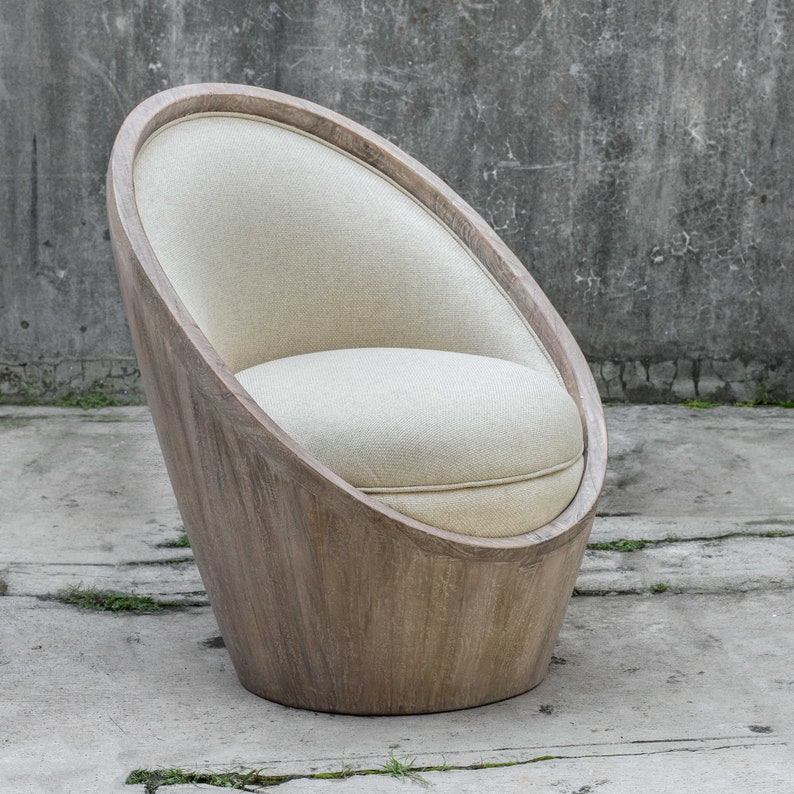 I absolutely love the design of this handmade chair. What a wonderfully unique style to it. I love the angled oval shape — you can really disappear into this one! The wood is a beautiful mahogany that has been finished in a light gray wash and the detail of the inside padding lets you know that this is one quality item.

Stylist Accent Chair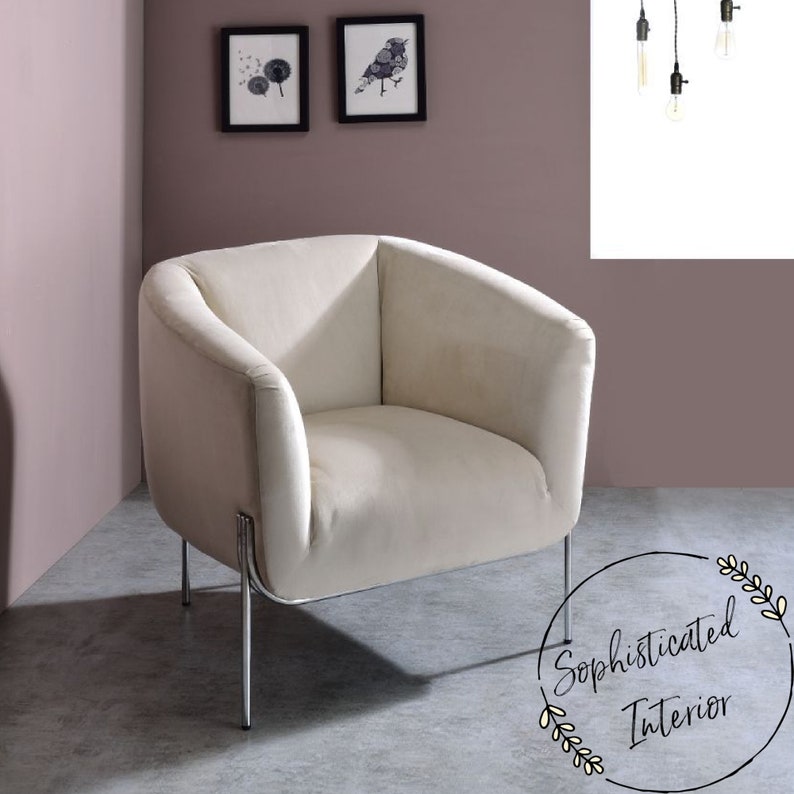 When it comes to modern design, we tend to look for clean lines and crisp edges. This wonderful accent chair has those, but it also incorporates a beautifully curved back piece. I simply love the lines of this one. It features a deep set design that you can really sink into. And I love the legs, which seem to delicately cradle the main body of the chair. Wonderful.

Cecilia Swivel Chair with Loose Cover
One thing that I like about this is that it is a swivel chair which really doesn't look like a swivel chair. It looks like a deep-set, padded and comfy chair. The fact that it swivels is just a nice bonus. And the design, with the gently curved back and slightly flared arms is somehow evocative of a seashell — making it perfect for any beach house decor!

Brenner Swivel Armchair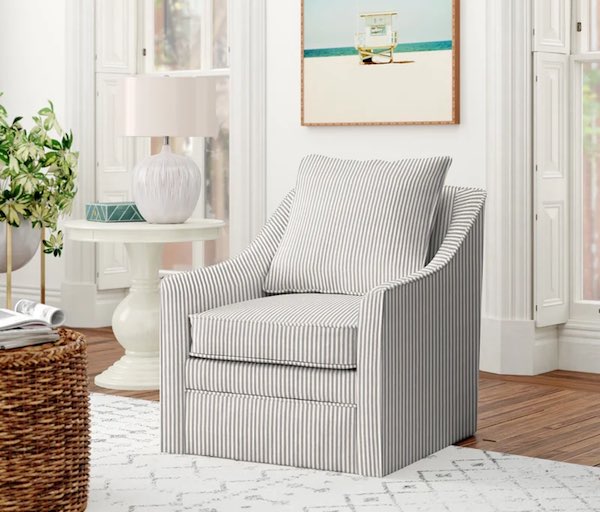 Although this chair comes in a lot of different color options, you'll definitely want to go with the classic striped pattern — a pattern which has been featured in coastal decor design long before it was ever labeled as such. I love the classic look of this one — I can picture Cary Grant relaxing in this one at his Malibu beach house. Can't you?

Lovie Armchair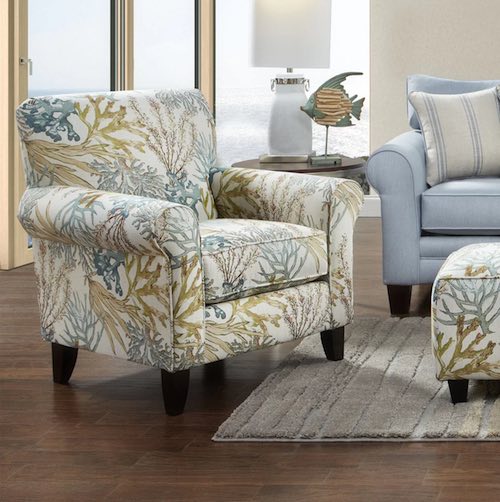 Bring the reef into your living room with this one. No need to question whether this fits in with a coastal design scheme. I mean, what else would it be?

"Under The Sea" Slipper Chair
They refer to this one as the "sea slipper," and for reasons that should be pretty obvious in looking at it. I really like the pattern at work on the fabric here: seashells and coral are kind of my thing. Even ignoring the fabric pattern for the moment, I think that if you are going with an armless chair, this design is fantastic. I love that it has a thickly padded seat and big sturdy solid wood legs.

Upholstered Linen Accent Arm Chair
What a wonderful accent chair for a coastal home. This feels right as the sort of chair that you would place next to that scenic window to take in the ocean view (or whatever view your windows happen to afford). I like that it has nice, sturdy wooden legs, but I tell you what I like the best: the paneled look of the upholstered back. Very contemporary.

Kendal Dark Teal Fabric Accent Chair
I love the teal color of this one. Since the coastal color palette is often blues and teals against whites, this chair fits right in. It's wonderfully big and sturdy. Maybe not the chair that you would sit in every day, but definitely one that you want on hand to round out the room with something that really fits.

Angled Accent Chair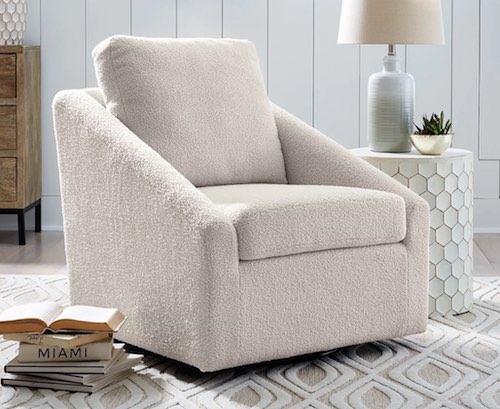 How cool are the arms of this chair? I love that sloped look, which would fit in great with any modern styled decor. Plus, this chair swivels.

Contemporary Linen Accent Chair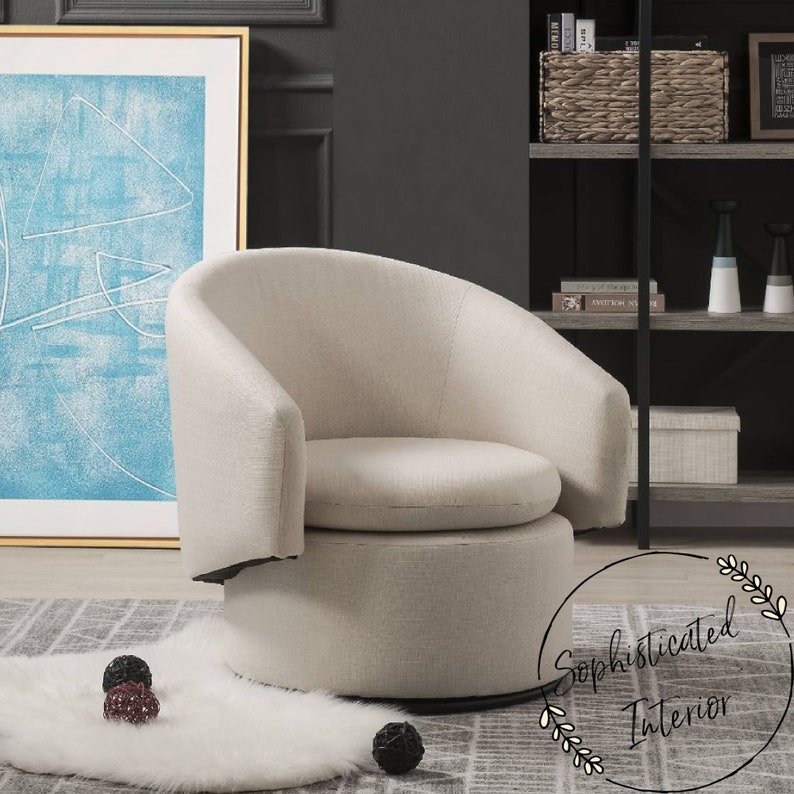 What a beautiful and unique look to this chair. I am in awe of the way that the curved back is not so much attached to the main seating section, but it's more like it is hugging the main part of the chair. The design is very futuristic-looking. You can almost imagine that when Captain Kirk returns to Earth on his shore leave, this is the comfy chair that awaits him at his beach house.

Luxurious Accent Chair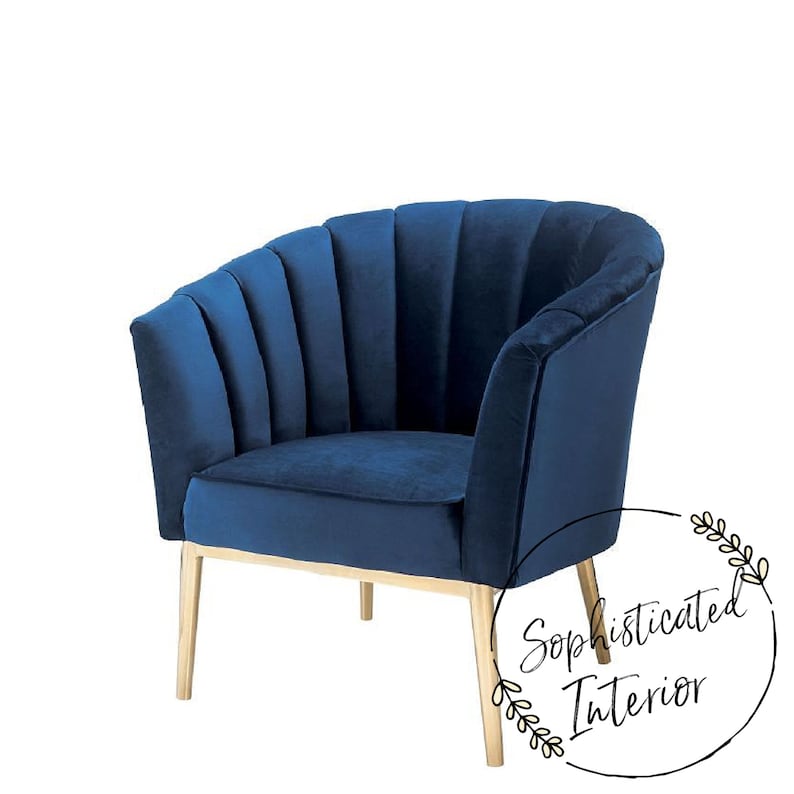 Here's a chair that almost screams "royalty." It has a classic ribbed clam shape common to European palaces, with a lot of comfy cushioning to it. The soft velvet fabric is very soft to the touch and it rests on two sturdy wooden legs. This is the sort of chair that you can just wrap up in. It comes in two color choices, but since we're going for the coastal decor look here, I think that we'll avoid the pink and go with the blue.

Brentwood Retro Cane Back White Accent Chair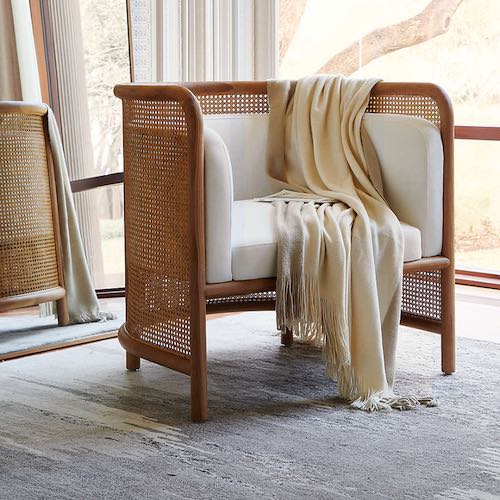 There are a lot of cane back chairs out there, but I've not seen any that look quite as cool as this one. I love the wraparound design. And the best little detail? I absolutely love that the cushion does not come up to the top of the back — we get to see a few inches of the cane pattern poking through, which I think is just wonderful.

Tudor Armchair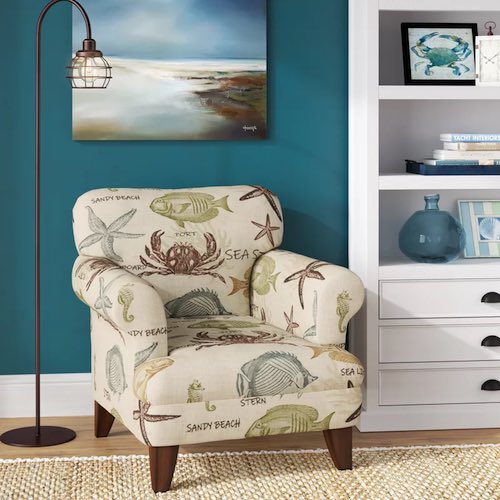 Here's a coastal twist on a classic design. The big, comfy Tudor armchair takes on a completely different life when covered in crabs and starfish.

Omni Coastal Brown/Black/White Accent Chair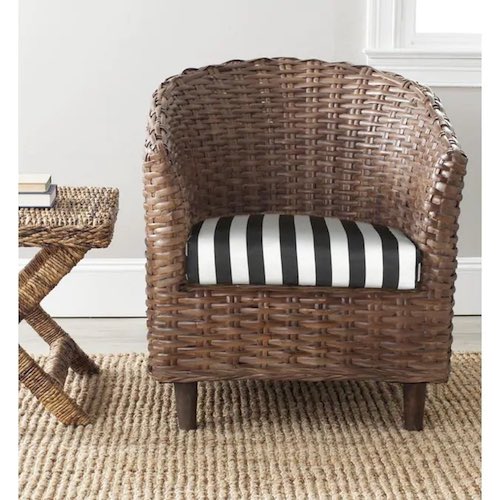 The great thing about wicker and rattan is that well-made furniture of this type can be used either indoors or out. Maybe that's why rattan is so popular with coastal decor: the same style could be used for the living room and/or a spare chair in the bedroom and/or a chair for the patio.

Natural Rattan Wicker Colonial Style Lounge Chair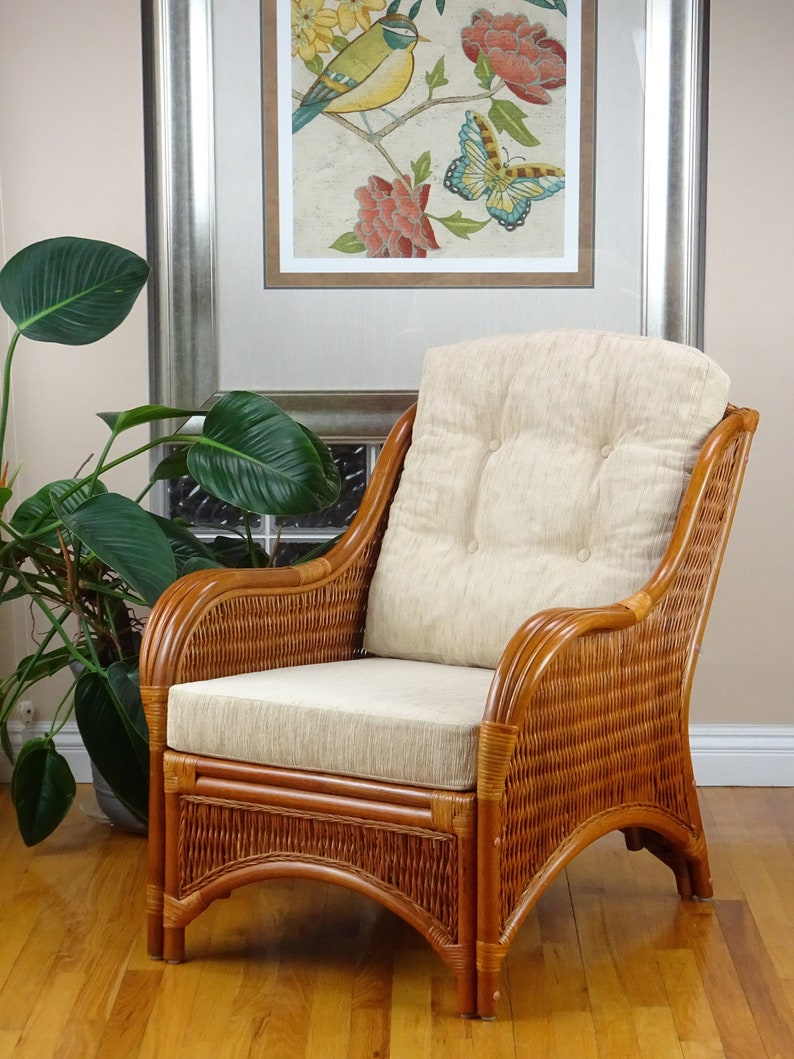 Ignoring for a moment the political ramifications of the word "colonial," furniture in the colonial style has a really wonderful look. The simple elegance of this rattan chair will work in any room of your beach house. I really like the way that this design gently flows: starting at the floor it rises up and gently curves into the arms which then gently curve up into the back which gently wraps around and then cascades back down to the floor again. What a wonderful design.

Java Lounge Rattan Swivel Rocking Chair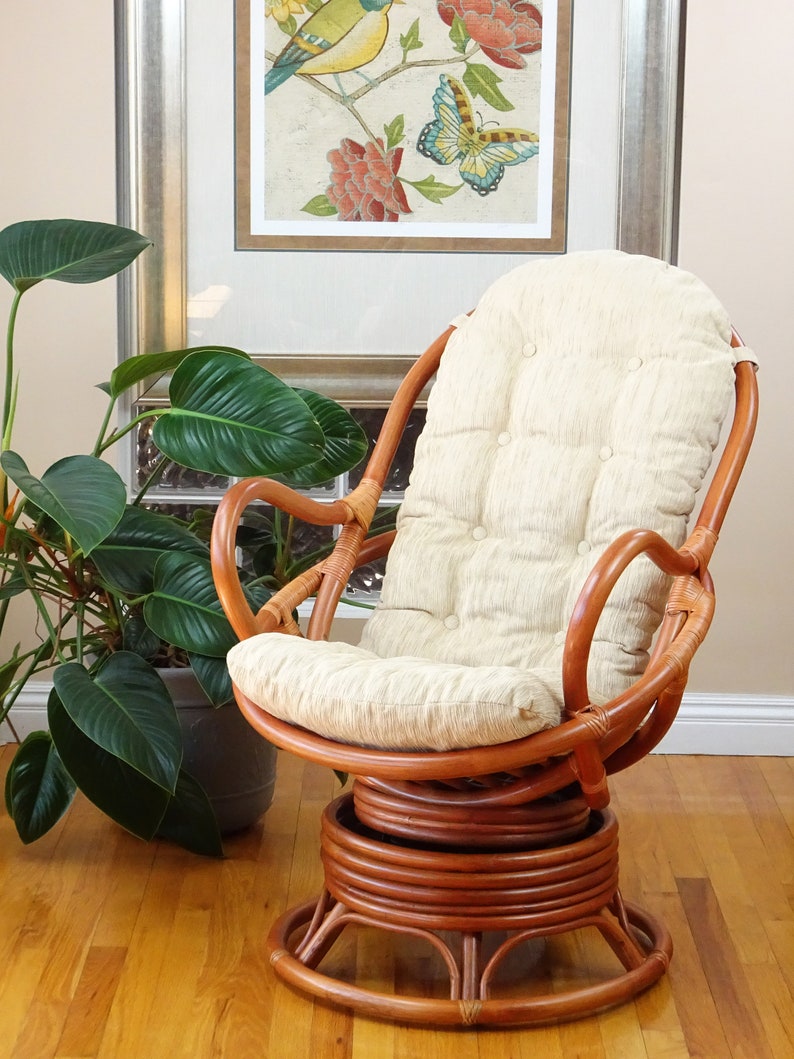 This handmade chair practically screams "relaxation." Wait, I guess you wouldn't really scream relaxation, would you? That wouldn't be too relaxing. Well, whatever the relaxed version of a scream is, this chair is that. I especially like the hooped design of the base, like the chair is stacked on a loose coil of rope. Love it!

Malibu Lounge Armchair in Whitewash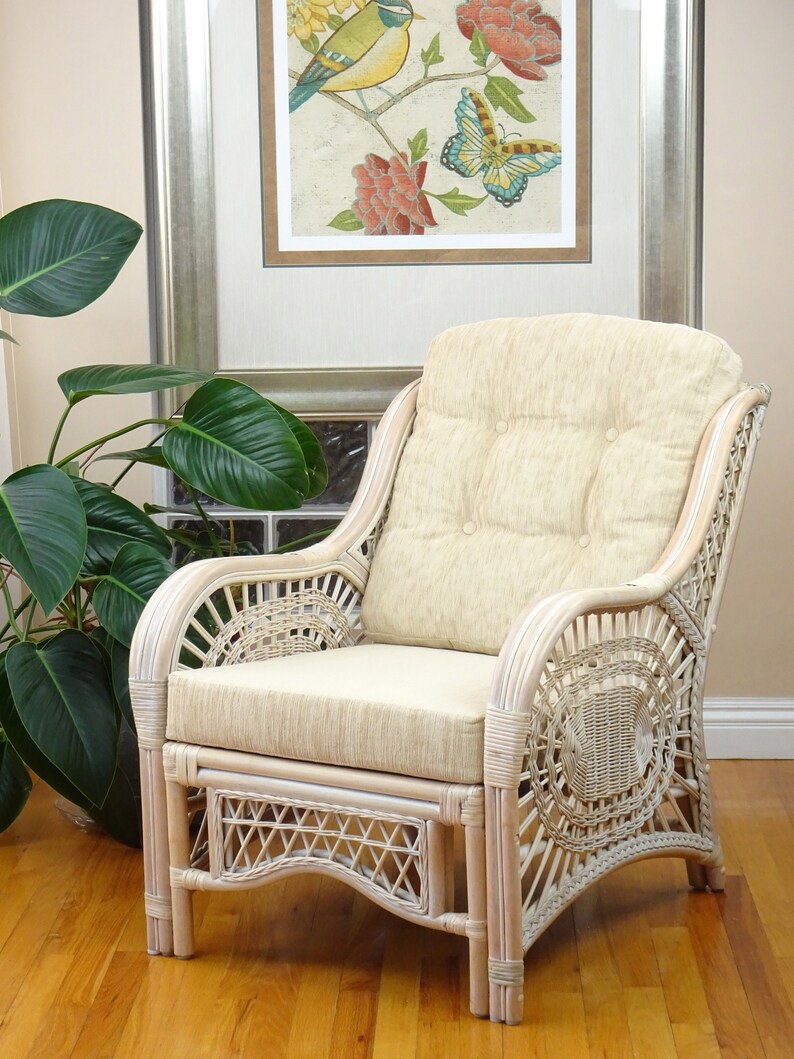 Quite often when you're going with a coastal look to your decor, you want to feature a lot of white. That's where this chair comes in. Not only is it a wonderfully relaxed and beautiful rattan design, the white color will fit perfectly into any beach house decor.

Papasan Natural Rattan Wicker Swivel Round Chair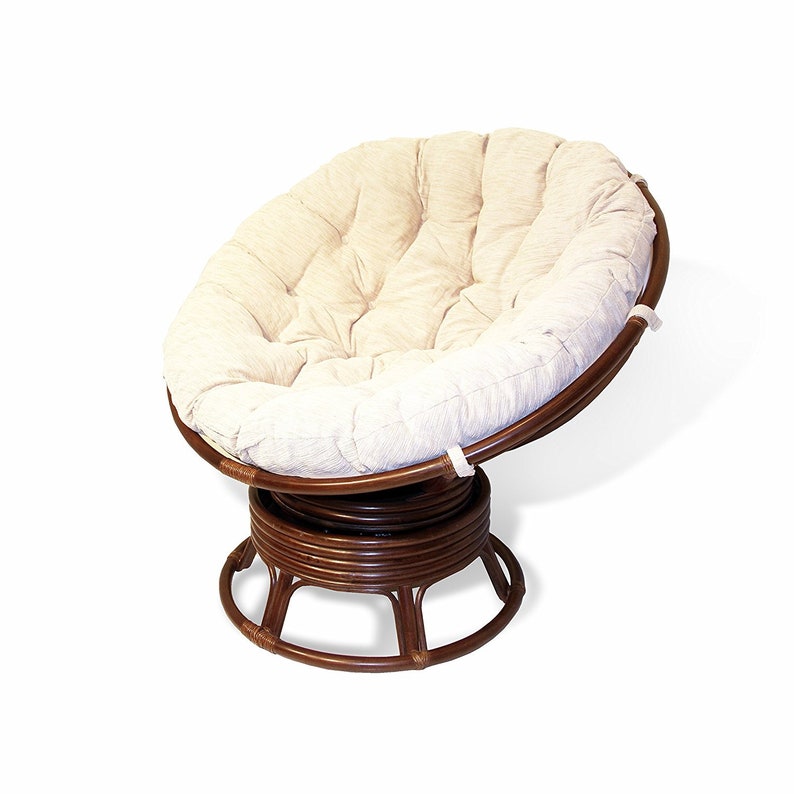 It's like resting inside a big, padded seashell. I love it. This is the sort of chair that you can really curl up in. Say you didn't finish your beach read at the beach, well, this is the place to curl up and finish off that book.

White Color Natural Rattan Wicker Chair and Ottoman
If you like a good ottoman with your chair, then you definitely want an ottoman that matches the chair. Here we've got a wonderfully styled white rattan chair (I love the gentle curves and the interior relief patterns reminiscent of a cathedral) and here you can pair it with a lovely matching ottoman.
Beach House Chairs
Thanks for checking out my list of chair recommendations for coastal beach house decor. If you liked this article, please share it on your social. Thanks!
Written by Renee