Beach House Sofas ~ your coastal decor's cool center
When we're talking about living rooms, usually the first thing that is noticable is the sofa. After all, it does usually take up the most space in the room. So, you've got to make sure that you've really got a good one.

And if we're talking about coastal living rooms then it is completely natural that the first thing that we'll be taking a look at is finding the best Beach House Sofa.
See all of our Beach House Living Room Decorating Ideas:
Beach House Lighting • Beach House Sofas • Beach House Chairs • Beach House Coffee Tables • Beach House End Tables • Beach House Fireplaces • Beach House Pillows • Beach House Rugs

Reversible Sleeper Sectional Sofa Couch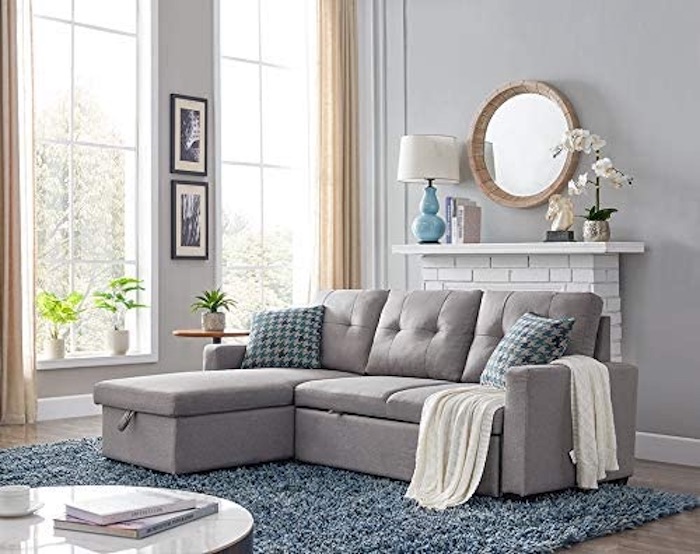 If you have a beach house, then there's a better-than-average chance that you will be having a lot of visitors. If that's the case, then you really should be thinking about getting a sleeper sofa. This one is one my favorites out there for a few reasons. First, and to my mind most important, I really like the way it looks as a sofa. After all, it will spend most of its existence as a sofa, so it should look good. But when it is called upon to serve as a guest bed, you want that to be sturdy and comfortable. This one features a sturdy eucalyptus frame and S-shaped spring support for even support during sleeper mode.

Down-Filled Oversized Loveseat with Hardwood Frame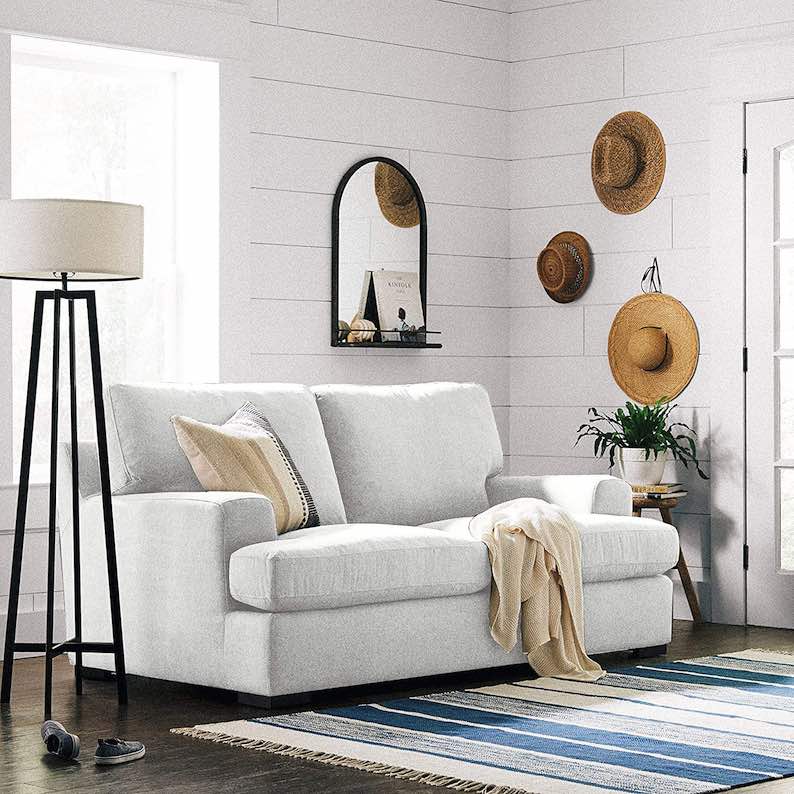 If you are a fan of soft and fluffy couches that fit with a coastal decor theme, then here's one that I think fits the bill. I'm a big fan of the nice clean lines on this one, added to the fact that the nice clean lines are also accompanied by a very fluffy back solution.

3 Piece Sectional Sofa, 100"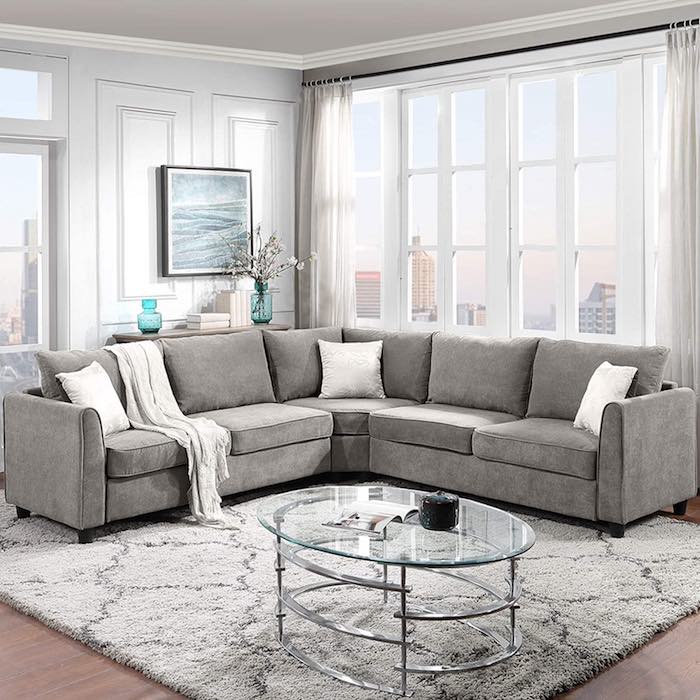 While the predominate colors in coastal decor tend to be white and blues, a nice gray can also work really well. I like this one as it not only has a few things that I like: nice, clean lines (a theme you'll probably hear a lot in this article) and also comfy, overstuffed back cushions. Its also sectional, giving you more options of how to fit it into your space.

Sectional Sleeper Sofa w/ Right Corner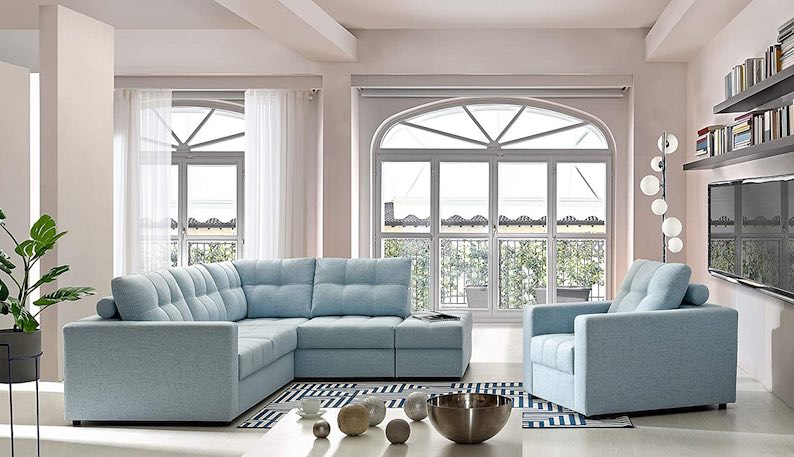 Even without the sleeper component, I would still be really excited about the design of this sectional. I love this combo of sharp edges combined with overstuffed back cushions. I also think that the color and fabric choices are just right for a coastal-themed living room. And it's sectional, giving you more layout options for your room. Aaaaand it is also a sleeper — which you really need in a coastal area because you will get a lot of visitors!

L-Shaped Sectional Sofa Set with Chaise Lounge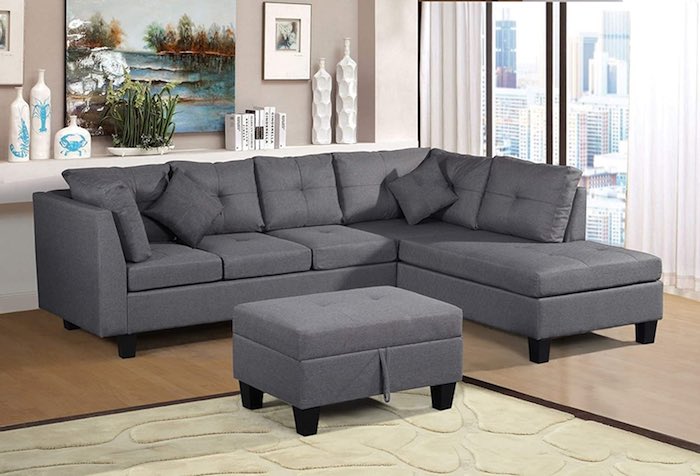 What really struck me about this one is the L-shaped chaise lounge that is part of this sectional. Yes, I love the lines on this one, and yes, I think that the color adds a very nice contrast for a beach-colored room, but mainly it is the use of that chaise. I love how it protrudes out there off the side, armless, for a true chaise experience.

79" Rolled Arms Sofa Bed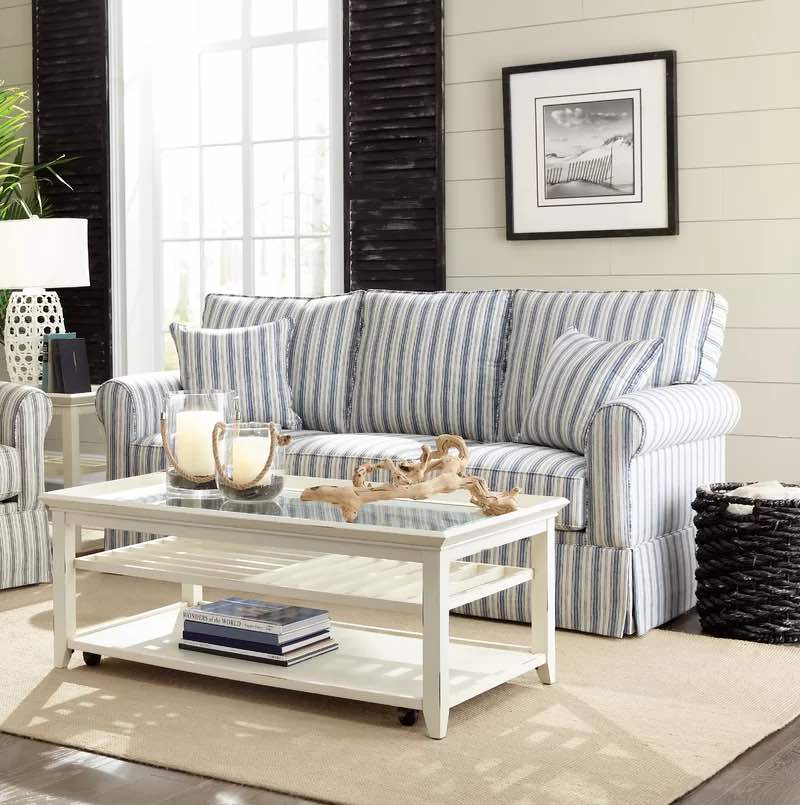 If you are going for a classic beach house theme with your decor, this is the sofa that I would suggest. A classic round-armed design makes it oh-so-comfy to sit and stare out the window at the waves coming and going. And the soft blue-gray stripes atop white has been a beach-house color choice for a very long time.

Curved-Arm Sofa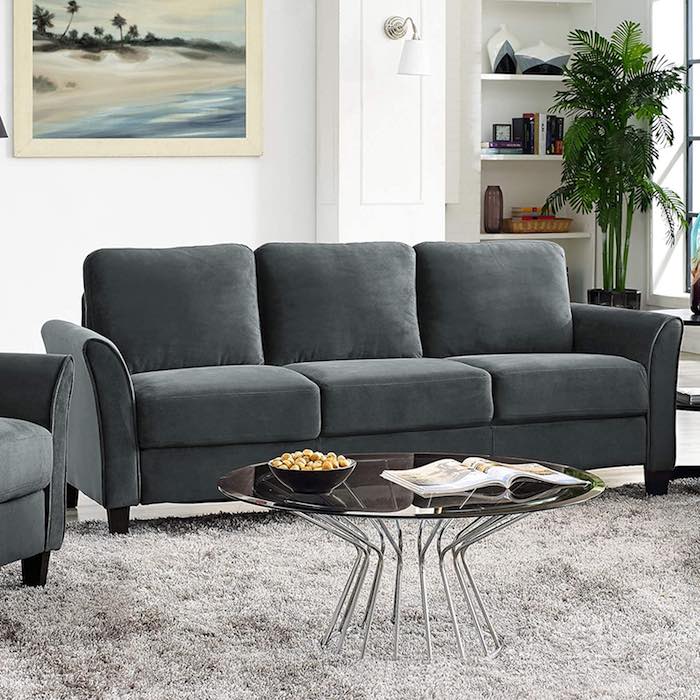 Here's one for those of you who like to have big, comfy cushions, which, to be honest, a lot of modern designs don't have. This sofa is also heavy duty, with a rated seating capacity of 790lbs. (it also has a sturdy wood frame). But I think that what I like best about this sofa is the arms. I love arms that have that bit of an outward flaring.

89" Rolled Arm Sofa Bed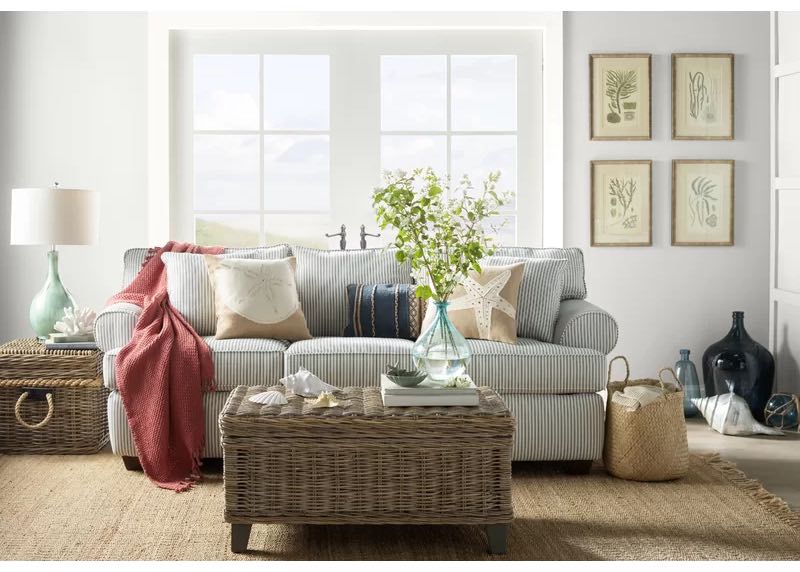 Here's another for the fans of classic beach house decor. I find myself picturing this one in a cozy little beach cabin in Nantucket. The big round arms are not only stylish, they are pretty much a must if someone in your household is fond of nice little naps on the couch — in which case you need those rolled arms. While this one is available in a variety or colors, I personally think that you can't go wrong with the classic blue pinstripes.

Labyrinth Sky Blue Sofa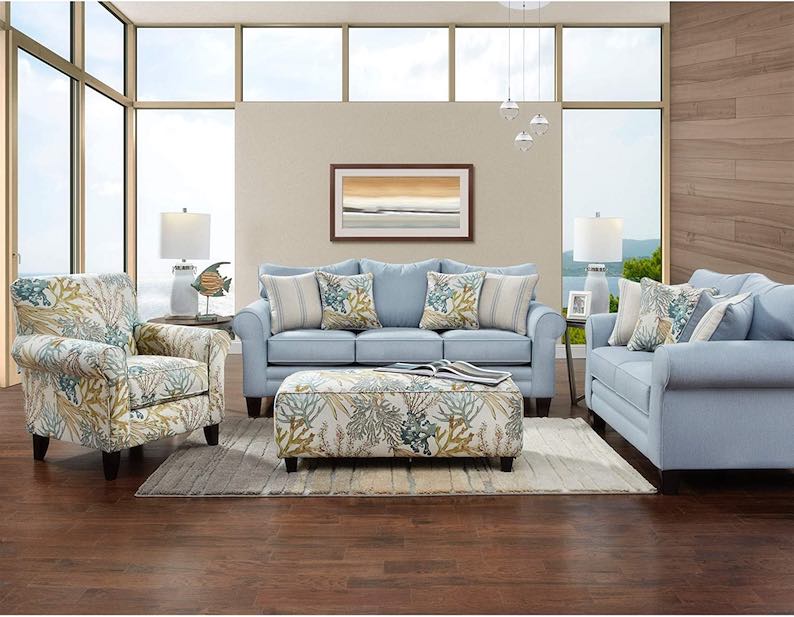 When you are determining a color scheme for a living room based on a coastal-theme, you will likely find yourself gravitating to a lot of blues. I am in love with the sky blue color of this sofa! I also like that it has understated rolled arms and very comfy back cushions.

Lyssa Sectional Sofa w/Ottoman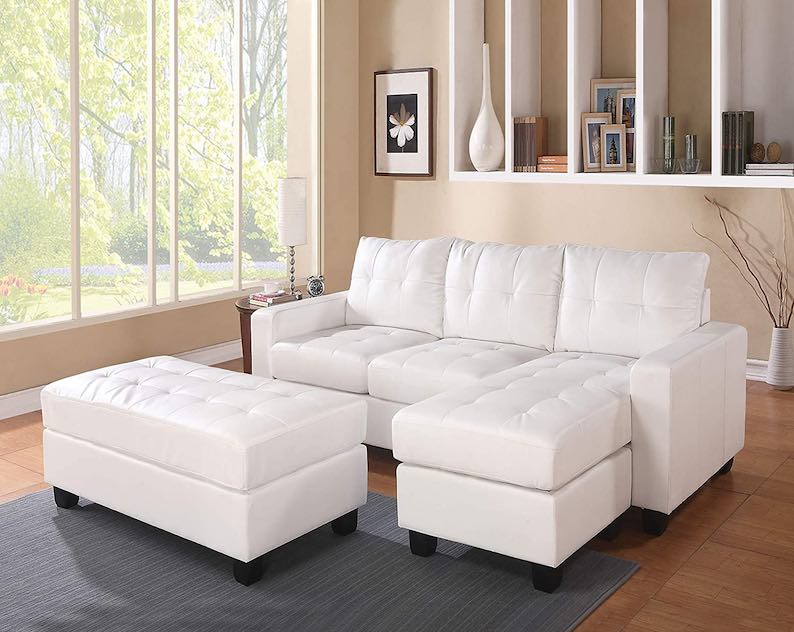 Here is a modern adaptation, with very crisp clean lines, of the leather sofa. For those who like leather, but are not fond of the gigantic, overstuffed nature of many leather sofas, this one should be just right. I love the stylish design of this one (and the included ottoman is perfect!). And if your decor features a lot of white (which it probably does) then white leather can definitely be easier to keep white than fabric.

Abhimanyu 112" Sectional with Ottoman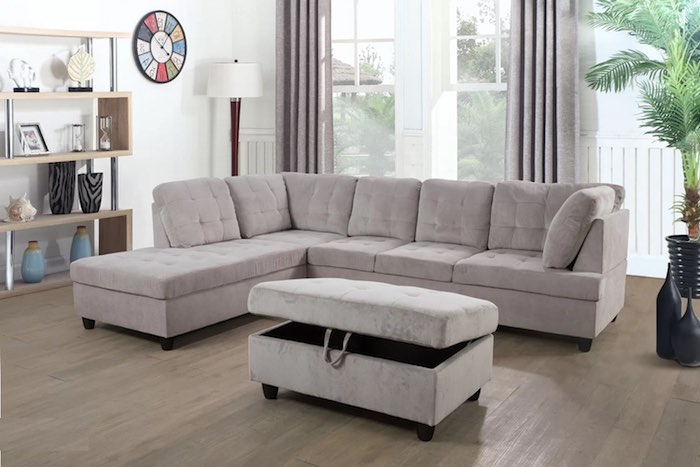 Sectionals always offer you more design options for your coastal decor plans, so I am definitely a fan of sectionals if you have a big enough space. I'm really fond of this one, as I'm a fan of sectionals with a chaise option. Plus it has a very nice ottoman.

Convertible Sectional Sofa Couch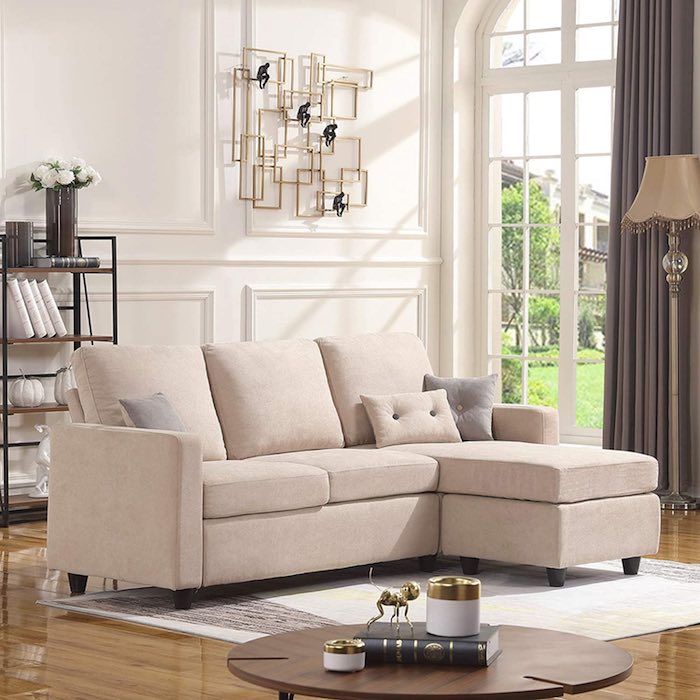 If you have a smaller space, but still want a lot of options, then this convertible sofa is just the ticket. The clever design features one large cushion and a reversible section — allowing you to create a chaise on either the right of the left, or you could go arrange it to be a standard sofa and an ottoman. I think it's great to have that much flexibility in a small unit.

Alexa Rattan Wicker Living Room Set
For many furnishings in a coastal design, wicker can be the way to go. Wicker works well not only in coastal living rooms, but also in every other room as well as the patio furniture. Here's a nice living room set. I love not only the color theme here (the white sets off wonderfully against the rich wood color of the wicker) but I also really like the design of the tall, stuffed back cushions.

Modern Luxor Reclining Sofa with Power Headrests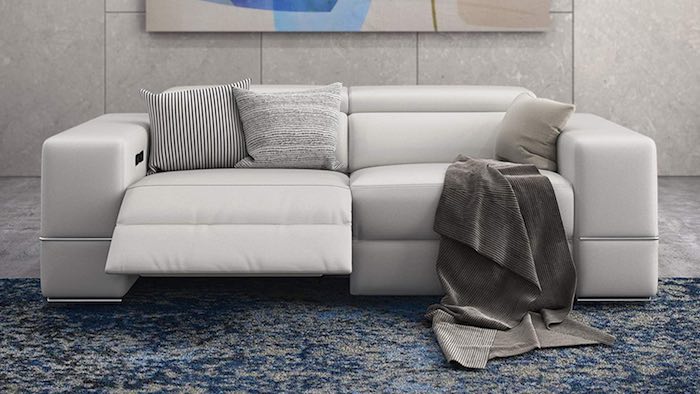 This is not your father's recliner! If you are a fan of the functionality of a recliner but not thrilled with the usual design of most recliners, here is a perfect solution. I love the sleek, low-backed design of this one. It has wonderful lines. And although the leather is available in different colors, I think that the white makes for the perfect addition to your beach house decor style.

Alayyan Bulkea 71" Right Hand Facing Sectional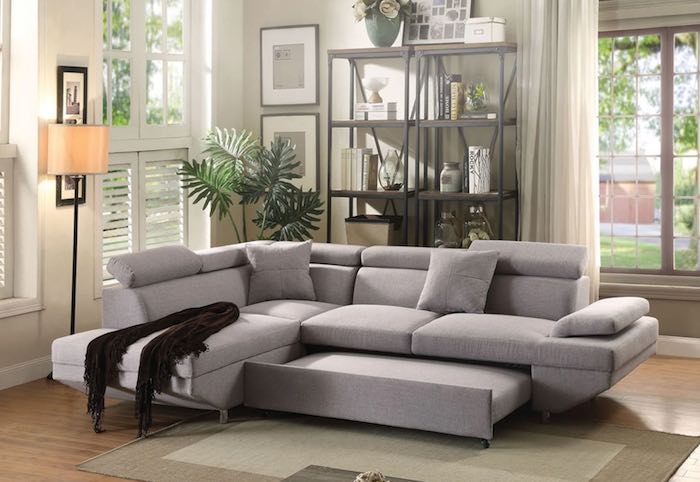 If your personality is a little more daring, then I have just the right sofa for you. I love — I mean absolutely love the look of this one. It has all of the modern crisp, clean lines, which is great, but the addition of angles really pushes this one to the next level. It's also a sectional, which gives you even more arrangement choices.

Reversible Sectional Sofa Couch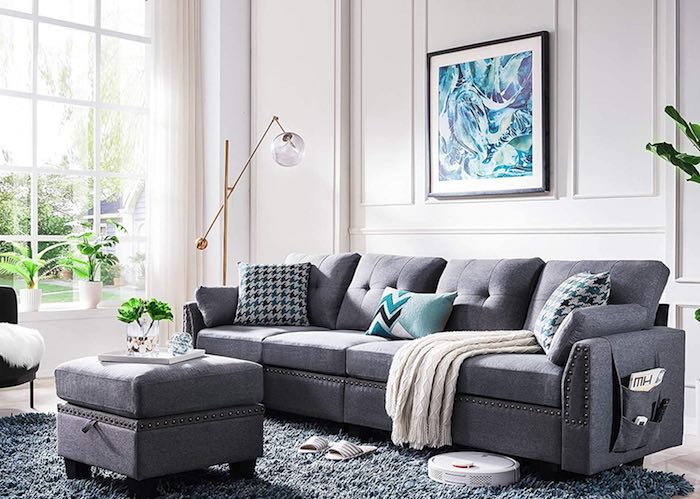 A reversible sofa is always a great option if you are not quite sure how you want the sofa to fit into your space, or if you are the type who likes to mix things up on a regular basis. The L-shape can go to either side, so that you can place a chaise element wherever you would like. And not only does the ottoman have storage space, this sofa also features a side pouch for storage. Also, the studded outline really is a real eye-catcher.

Dawson Living Room Sofa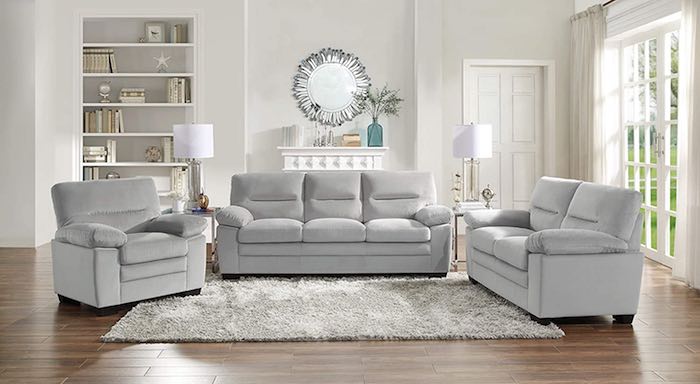 I'm a fan of the sort of arms which are featured on this sofa. They have a very clean-lined design, but solve a problem that some people don't like with clean lines: namely, that clean lines also bring sharp corners. This design has arms which are pillowed for comfort. Very clever.

Adwit 77.5" Wide Linen Reversible Corner Sectional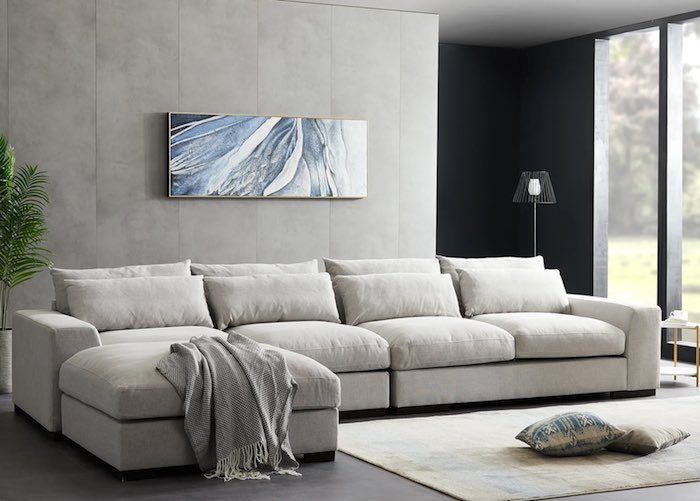 If you have the room for it, I know that I am a big fan of big, wide cushions. That's what you're getting here — cushions so big and wide that you can really stretch out on them. And how about that big, wide ottoman to go with it?

Atlanta Bean Bag Sectional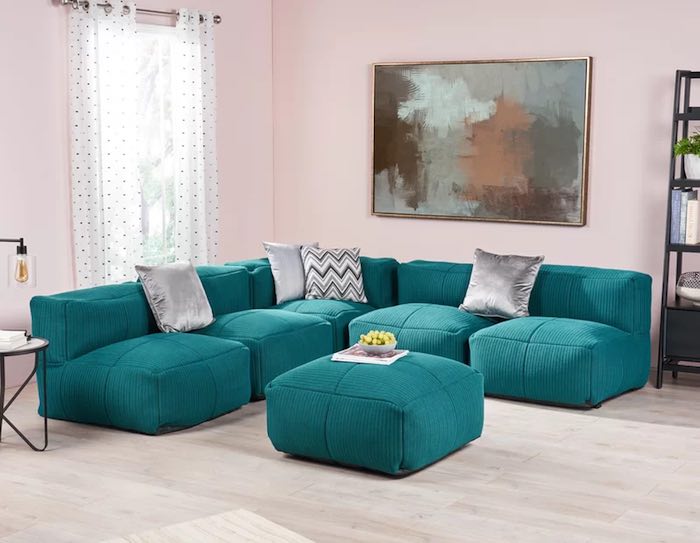 If your coastal living room decor is also aiming to be super casual, then I would suggest some wonderful bean bag furniture. You really can't get more comfy than bean bags, and they've come a long way since the early hippie days!

Modern Velvet Sofa Set
If you are a fan of handmade furniture, here is a wonderful, wonderful addition to your decor. I love how deep this whole set is — you can definitely sink right into this and feel lost in your own little world of fineness. This one also features very sturdy construction with heavy wooden legs and wonderful nailhead trim. This one is, in my opinion, just absolutely beautiful. And I really love the design of the ottoman. Beautiful!

Atira 83" Symmetrical Sectional with Ottoman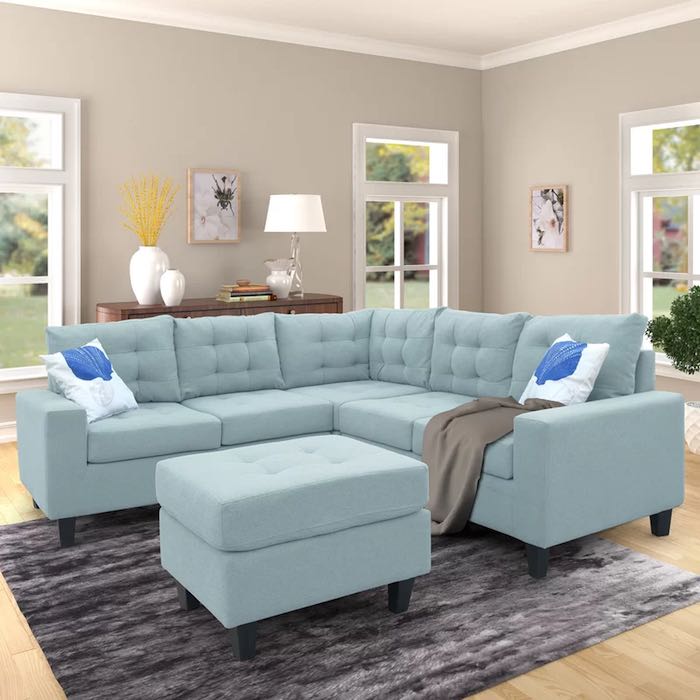 The great thing about this one is that unlike a lot of modern designs, it sits fairly high up. Which is perfect if you are not a fan of the way that many modern designs are set low to the ground. And the powder blue color is perfect for that beach house.

Novogratz Brittany Sofa Futon
I would have to say that this particular sofa just may be the coolest one in this collection. It goes with a futon theme with a very thin profile and a slanted back piece. I love the angled look of the legs here. And the multiple ribbed pattern of the back cushions is absolutely wonderful. This one just looks beautiful. Now, often a concern with futon-styled sofas is that they are not overly sturdy — but this one is rated at a 600lb. limit. That's sturdy enough for a real-world sofa solution.

Restar Modern Large Velvet Sectional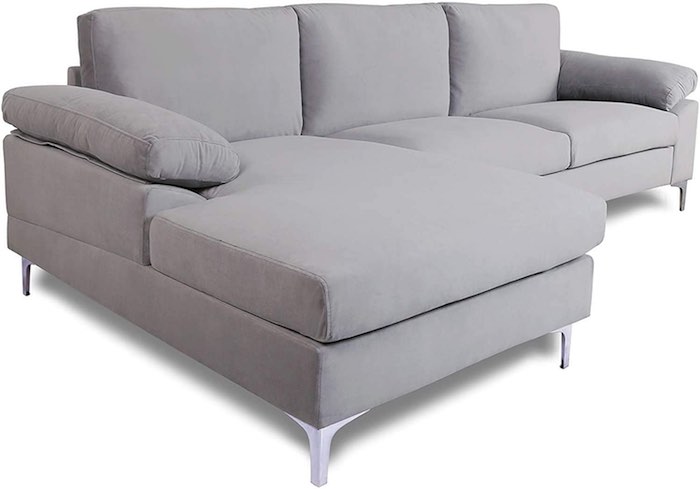 Not just a sectional with a reversibly chaise option, but a sectional with big reversible chaise option. I'm a fan of this one: I love the combination of a low profile, thin design and padded arms. If in addition to "coastal" you are also going for "minimalist," then this one is definitely for you.

Upholstered Modern Sectional Sofa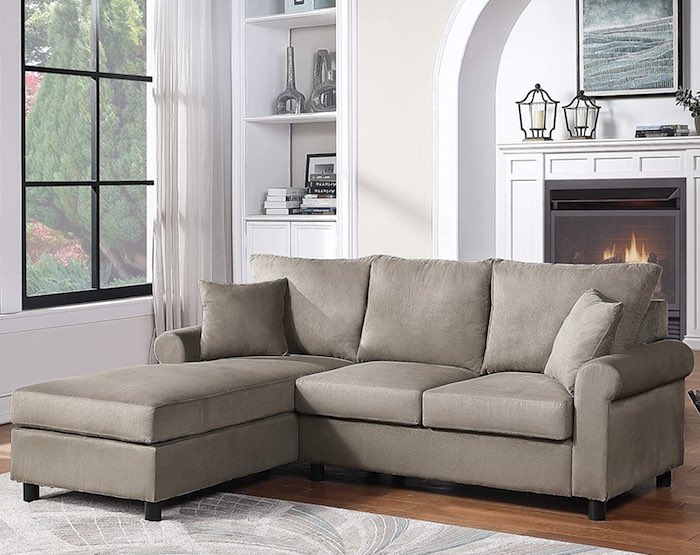 Here's another one if you are looking for spread out while still retaining a smaller footprint. With a sturdy wood frame, this little sofa is sectional and features a really great extended ottoman into its design.

54'' Small Loveseat with Linen Fabric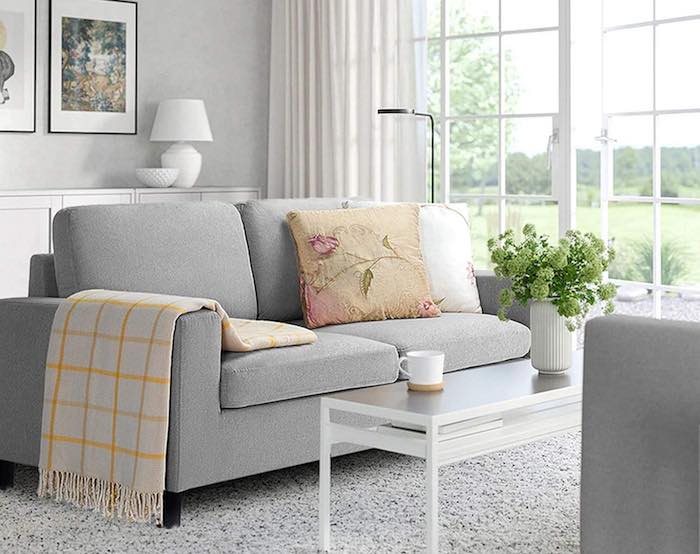 A love seat is always a great option when you have limited space (or if you and a loved one are fond of cuddling up together on the couch — that's how it got its name, after all). I love the lines of this love seat — the way that the back support and the arms meet is, I think, just perfect. And the big comfy back cushions are pretty much a must if you intend to spend much time on a a love seat. This one would absolutely fit really well into that small corner of any beach house (or other house which is longing to be a beach house).

86.6" Convertible Sectional Sofa
A sofa bed can be a great option if you tend to have a lot of out-of-town guests. I'm really fond of this one for a few reasons. First, the extra-wide ottomans I find to be really attractive, even when the unit is functioning as a sofa rather than a sleeper. Also, this one has lots of storage space! Which again, if you have a lot of out-of-town visitors, is a really great feature, as it gives your guests a place of their own to store their things.

Reversible Sectional Sofa Couch
This particular sectional has several different features that I like. First off, have a look at those cushions. There's just something very warm and inviting about big, deep, comfy bottom cushions. Seriously, that really thrills me, since often the best-looking sofas have much thinner cushions. This one, however, pulls off the trick of having really deep cushions and it still looks good! I like the chaise option of the sectional, and the minimal rolled arms are perfect. Also, the fabric is suede, which is one of my favorites.

Cotton-Linen Surface Couch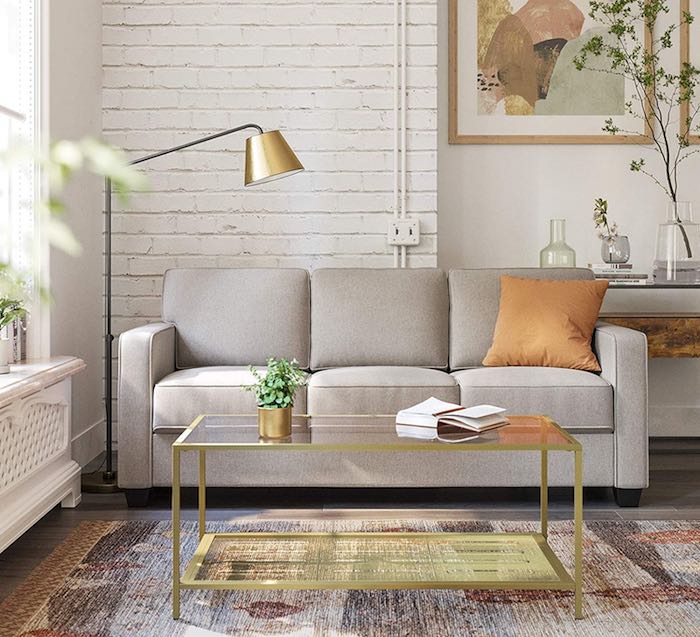 I really like the combination of crisp lines and gentle curves with this sofa. It has a low profile, which looks really good with any modern decor. I especially like the height of the arms in relation to the cushions. To me, that is just the right place to put the arms. This clean design would look great in any coastal living room.

Copenhagen Reclining Sectional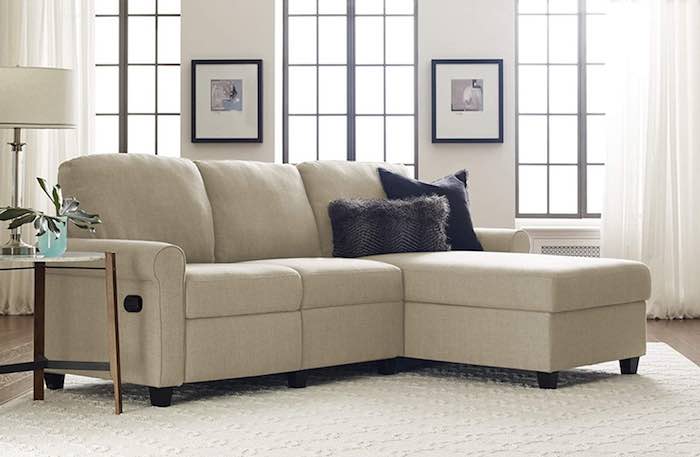 What do I like about this sofa? If you've read this far you can probably guess: I love the big, fluffy back cushions on this one. These are the type of back cushions that you can really sink right into. True comfort there! It also features a chaise and ottoman on the left, aaaaand, in case it is not obvious from the photo, the right side relines! So, combine that reclining with those big, fluffy back cushions and I think this is an excellent spot for a nap.

Convertible Sectional Sofa Couch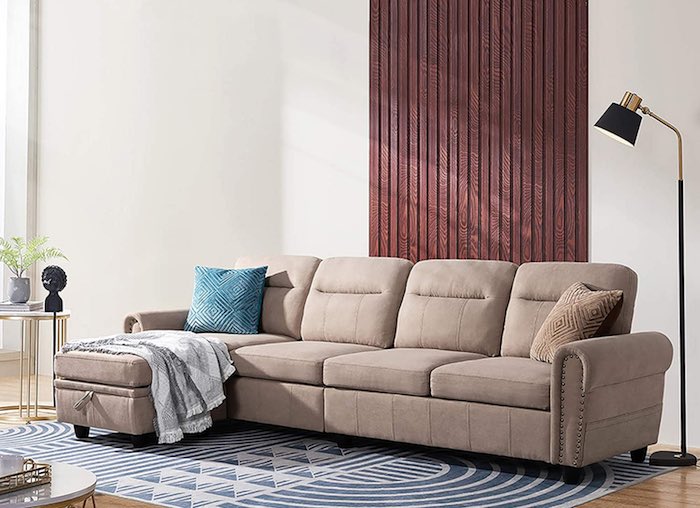 I love the design of the back pieces on this particular sectional. The gentle backward slant combined with a clean, firm design makes this one good to relax and stretch your back on. I'm also a fan of the arms on this one: the gentle upward loops are both beautiful and functional (I love that they also have built-in storage pouches!) and the nailhead studs, which are featured on the arms only, really set this one apart.

Zahra Fabric Sectional Couch with Storage Ottoman
The light gray color of this one works really well for me. That soft color gives almost the feel of a light blue and would work really well with any coastal area with a blue and white or a teal and white theme. I like the clean lines of the arms and seat of this one combined with the puffy, relaxed feel of the back pieces. Plus it is sectional, giving you lots of design options. And the ottoman has quite a bit of storage area to it. I like this one!
Beach House Sofas
Thanks for checking out my little article on beach house sofas. If you enjoyed it, please share on your social. Thanks!
Written by Renee