Beach House End Tables ~ for the best place to display your beach art & photos
The great thing about end tables is that you can put them to work in several different capacities depending upon what your decorating needs are at the moment.

Need a place to display some beach art — say, an abstract sculpture? Or maybe you have a bunch of picture frames full of shots of the family enjoying the beach? Or maybe you need a place to serve drinks to guests?

As I said: very versatile. So read on as I show you a really nice collection of great Beach House End Tables.
See all of our Beach House Living Room Decorating Ideas:
Beach House Lighting • Beach House Sofas • Beach House Chairs • Beach House Coffee Tables • Beach House End Tables • Beach House Fireplaces • Beach House Pillows • Beach House Rugs

Rustic Luxe Large Wooden Sofa Table
Since coastal style tends to be a little more on the relaxed side, accent pieces such as end tables often work well if they are in a rustic style. Take this table, for instance, which would work really well in a decor scheme dominated by soft blue and white colors. I also like that this has a thin but wide profile, making it almost shelf-like.

Samantha Vintage Gray 2-Drawer Console Table
There's a lot to be said for going with a simple, classic look — especially with an item like an end table which you really don't want overpowering the main features of the room. The legs on this table reveal a classic spindled lathe work style, with two drawers for storage.

Oxford Console Table
Bright white and crisp lines make this one a good choice for a side table in a coastal-themed room. I really like the delicate look of this one — very thin lines make this an excellent choice for a table whose main function is to display artwork, photos or other items that you would like to call attention to.

Driftwood Console Table with Glass Top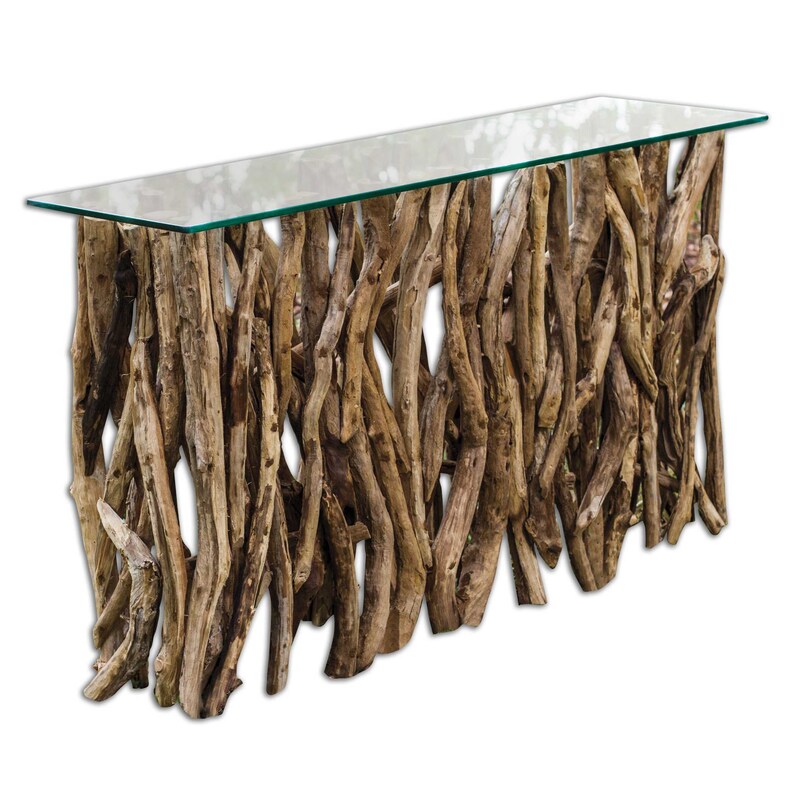 What an amazingly creative use of driftwood! (and I've studied a lot of very creative uses of driftwood. You see, finding amazing pieces of driftwood along a shoreline is exciting enough, but putting them to use in art and furniture requires a certain talent — it's a bit like creating a mosaic, where different pieces have to fit together to make a whole. And displaying a piece of furniture like this one will leave no doubt that your decor is coastal. No doubt whatsoever.

Rustic Wood Farmhouse Entryway Accent Table
Modern and sleek design with this one. I am an especially big fan of the design on the bottom shelf. The slat work is wonderfully reminiscent of a beachside boardwalk and the gentle gray wash to the color would work perfectly in a room with a relaxed sort of feel.

Sadie Long Teal Console Table
Teal is a popular color to use when going with a coastal theme to your decor, and I love how this piece uses a light coat of dark teal to leave patches of wood grain visible. This table is wide and thin, making it perfect for use as a display stand, and if you are displaying antiques in your room, I would suggest that this table with its antique-styled drawer pull handles would work wonderfully.

White Luxe Combo Console Table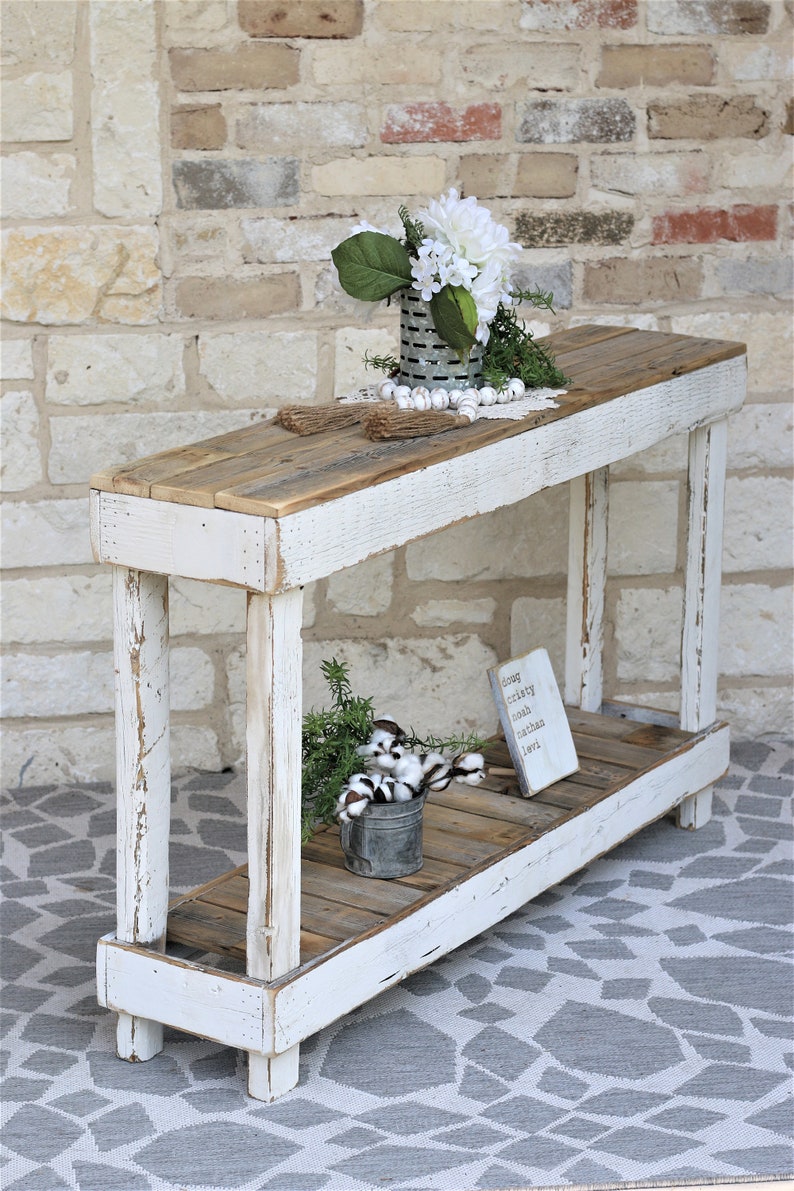 I'm a fan of using reclaimed wood in art and furniture. To give wood a second chance at life instead of chucking it in the landfill gives any piece created with reclaimed wood its own special character. The designers of this table specialize in reclaimed wood projects and have several that would work really well in a coastal room. Like this narrow profile end table. The character of this one is immediately obvious and speaks volumes.

Small Turquoise Entry Console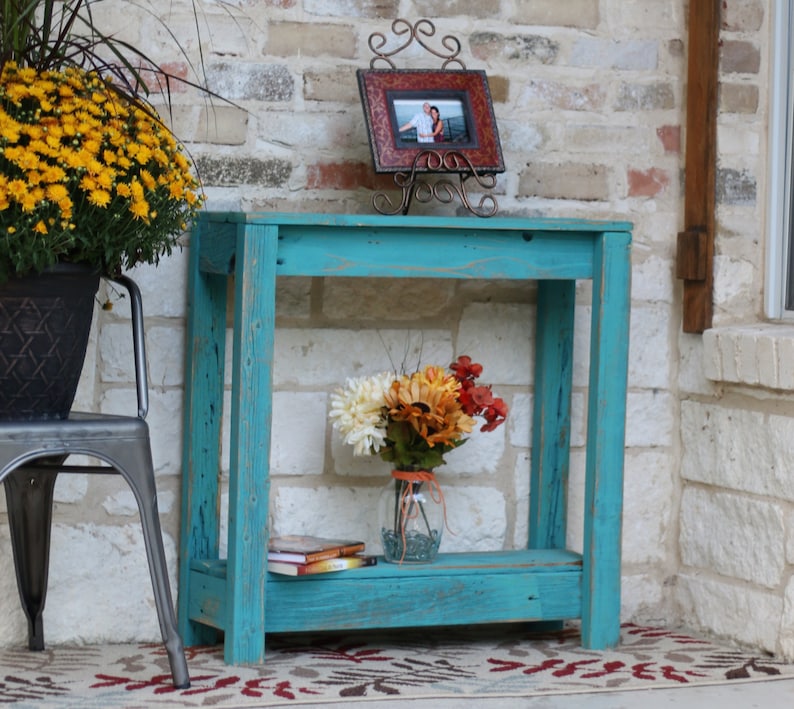 The entryway of a house is an often overlooked little section. But it is an opportunity to let visitors know right off the bat what sort of style to expect in the rest of the home. Since we're talking about a coastal decor theme here, this wonderful little teal table (made from reclaimed wood) would make an awesome first impression in the entryway.

Reclaimed Wood Console Table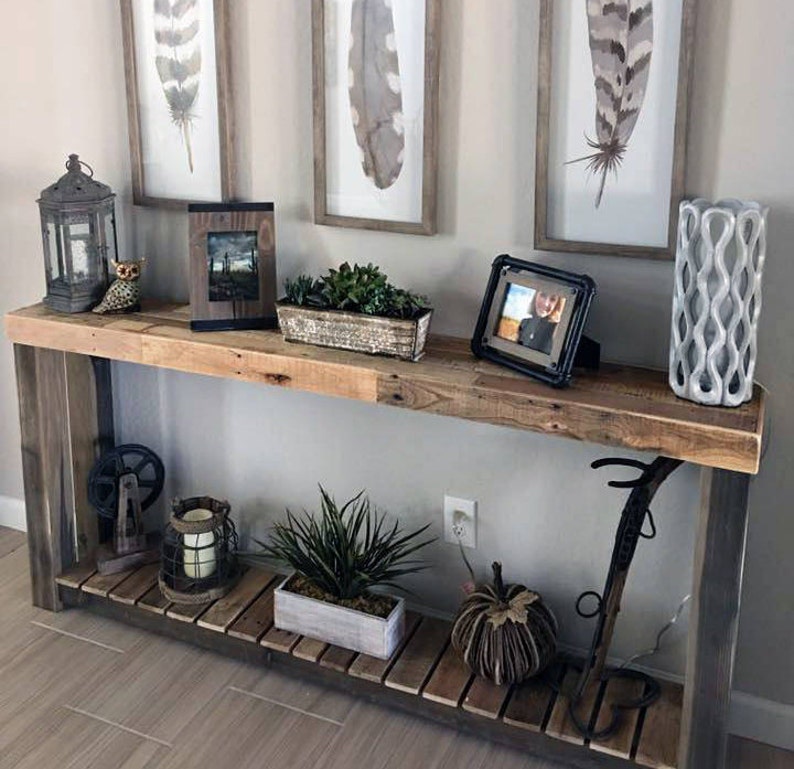 For some decor you want big and heavy and for some decor you want thin and light. And sometimes you really want to have a bit of both. I love how this side table has a long thin profile, yet the tabletop itself gives a feel of substance.

Herman Whitewash Wicker Basket Storage Unit
Here is a design style that I've found very useful over the years: instead of drawers, you have a unit which is basically cubbies for baskets. This is great for the sort of items that you would like to take out and transport somewhere together — like, say, all of your beach stuff. And the way this unit combines a subtle white wash works really well at framing the wicker baskets.

White Combo End Table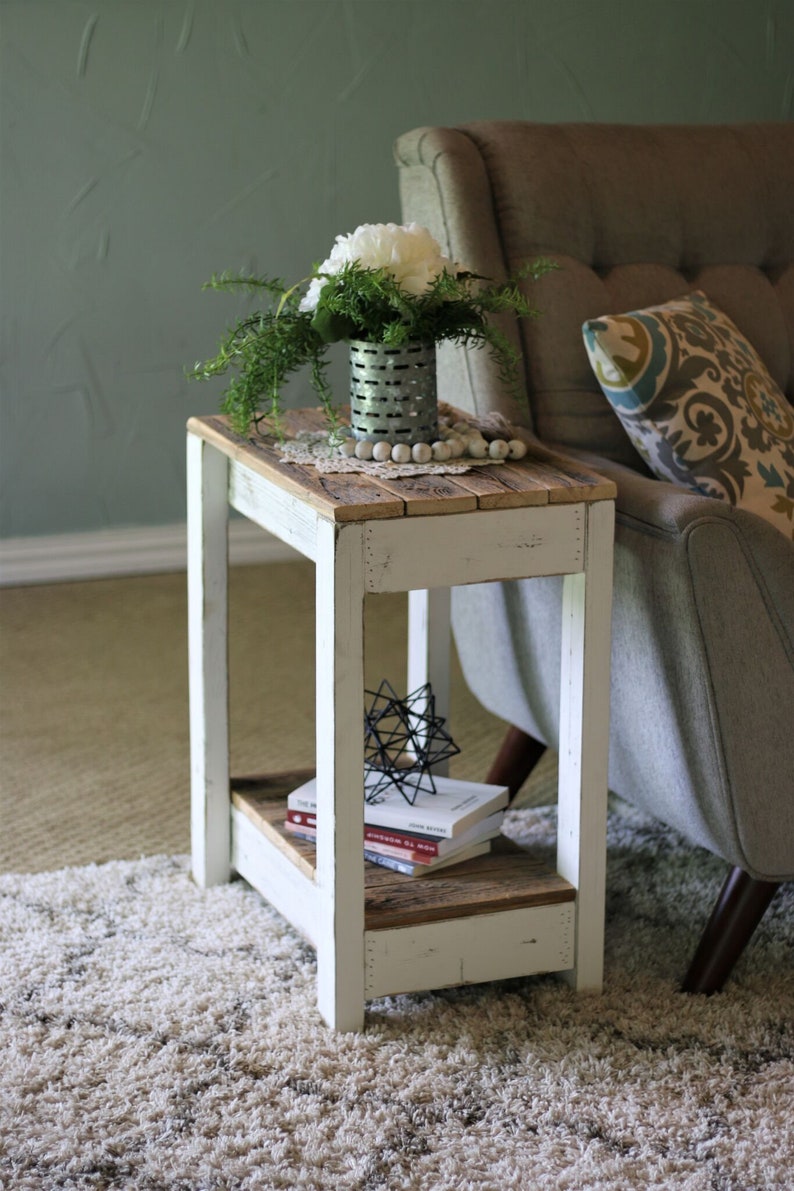 As opposed to a side table, an end table needs to be smaller, but with a surface able to accommodate the sorts of things that we place on end tables such as flower pots and coffee mugs. This white unit made of reclaimed wood would work very well beside an ocean themed sofa or chair in a sandy color palette.

Nantucket Chair Side Table
The Nantucket style is a classic known for its simplicity and practicality. This end table is a perfect example: the tall open space in lieu of drawers makes for very versatile storage of those little things that seem to always find their way into the living room… like magazines… and cat toys.

Diamenton Side End Table
I really like the gray faux concrete top on this little end table. It give the unit a nice, sturdy feel. And the color scheme of bright white frame paired with that gray top makes this table one that would fit in with your coastal decor theme.

Shawnalore Rustic Whitewash End Table
I love how this little end table is a combination of classic and modern. The basic shape of it, with its lathed round legs and straightforward top drawer design is one that has been around for a long time. Your grandmother probably had an end table with those same lines. But a few differences from grandma's time: hers would have had one-piece solid top and shelf as opposed to this mosaic slat work design; and hers would definitely not have had this wonderful whitewashed finish.

White Rattan Square Coffee Table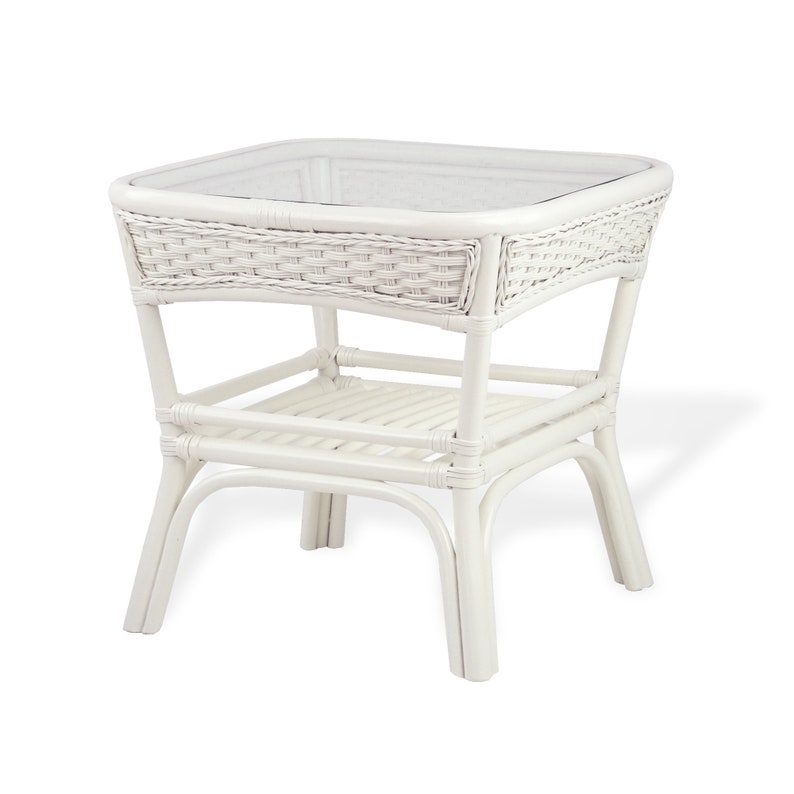 Rattan is common in coastal decor — the light design fits well with the casual atmosphere of a beach house, while a solid white rattan adds a modern edge to the feel. A perfect compliment to a coastal-themed room.

Live Edge Resin Ocean End Table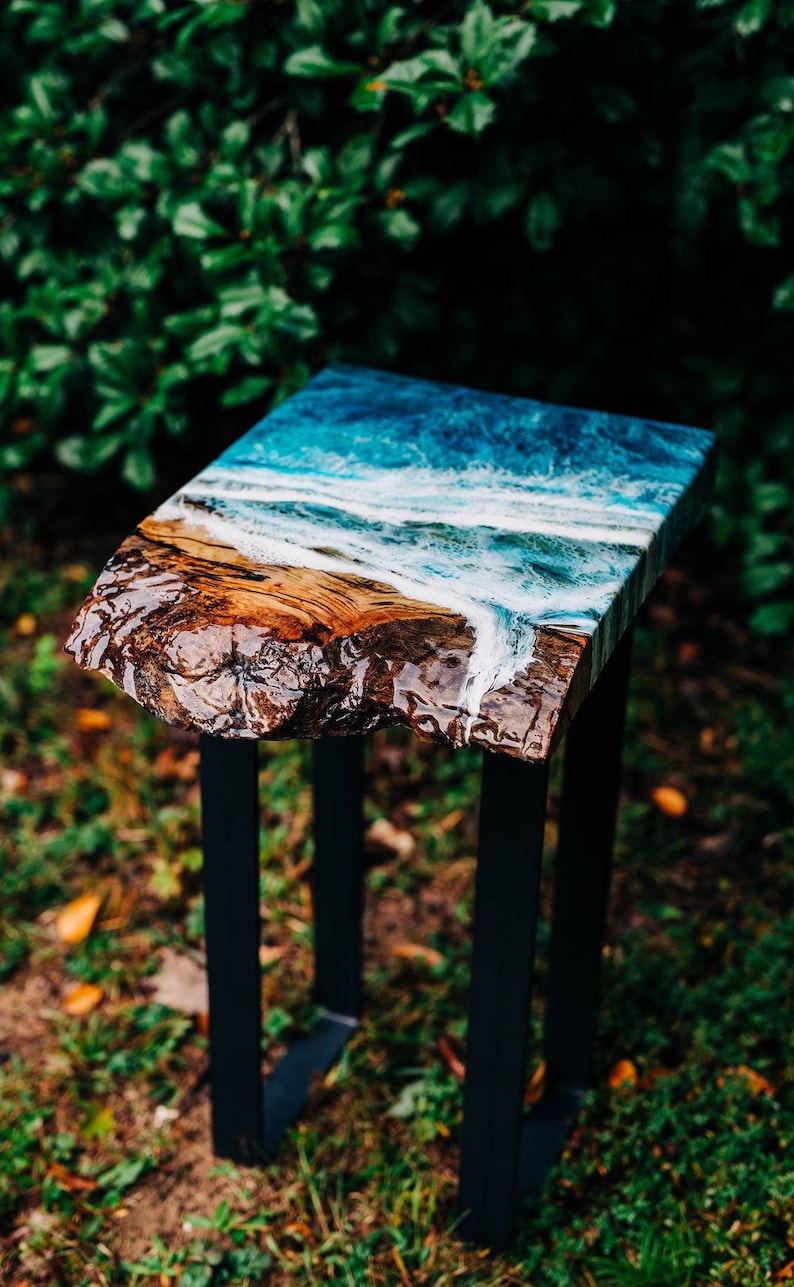 If you've been around Seashell Madness before, you know that I often rave about artwork made of resin. Resin really is the best way to depict an ocean. Its flowing nature makes the water both abstract and realistic at the same time. So if your decor features some resin art — which I hope it does! — I would wholeheartedly recommend this end table. Made from a rough-hewn piece of tree stump coated in resin, this one really brings the ocean into your home.

Tree Stump Stool Natural Edge Side Table
And speaking of tree stumps, if you want to go full on with the tree stump, I would suggest this wonderful end table. This "mushroom stool" uses just a few pieces of worn and weathered wood to achieve its look. It gives the feel of driftwood, without the driftwood.

Set of 2 Round Nesting Tables w/ Recycled Wood & Rope Accent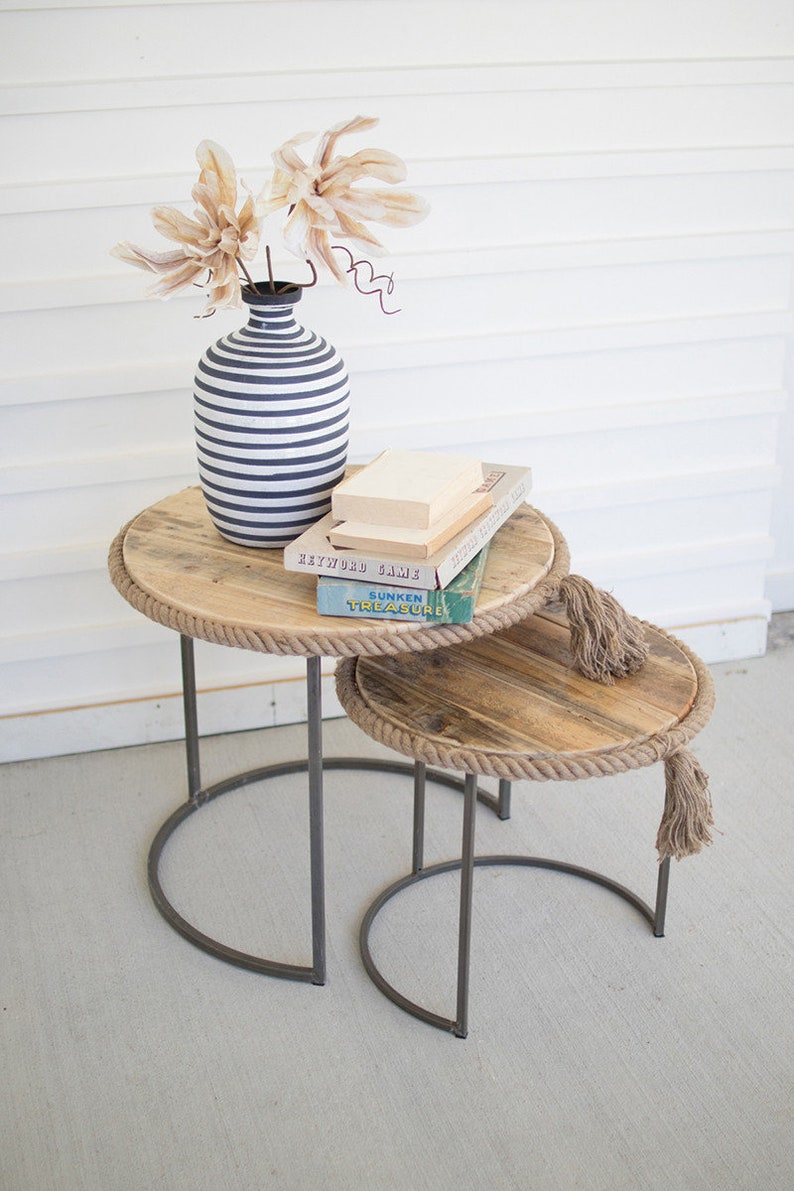 What a cool little look from these handmade tables. I am simply in love with everything about this design. From the crescent moons of the leg supports, to the beautiful reclaimed wood of the tabletop, to the rope wrapping around the edges. This table was born for a beach house!
Beach House End Tables
Thanks for checking out this list of beach house end tables. If you liked it, please share on your social. Thanks!
Written by Renee