Beach House Coffee Tables ~ because coffee & beach go great together
We all know that coffee tables serve more purposes than just holding coffee (though we do recognize that as a very important function, because, you know… coffee).

We use them to hold our magazines. We use them to display our artwork. And although our mothers told us not to, we do sometimes put our feet up on them.

If you're going for a coastal living room theme with your decor, please join me today as we check out some fabulous Beach House Coffee Tables.
See all of our Beach House Living Room Decorating Ideas:
Beach House Lighting • Beach House Sofas • Beach House Chairs • Beach House Coffee Tables • Beach House End Tables • Beach House Fireplaces • Beach House Pillows • Beach House Rugs

Hayward Rectangular Rattan Coffee Table
Rattan always makes a great choice when it comes to coastal decor. I think that it's something about the weaving of the wicker that is reminiscent of the sorts of reeds which grow along a lot of shorelines around the world. This particular rattan coffee table looks great and also has plenty of storage room inside.

Witherspoon Solid Wood Coffee Table with Storage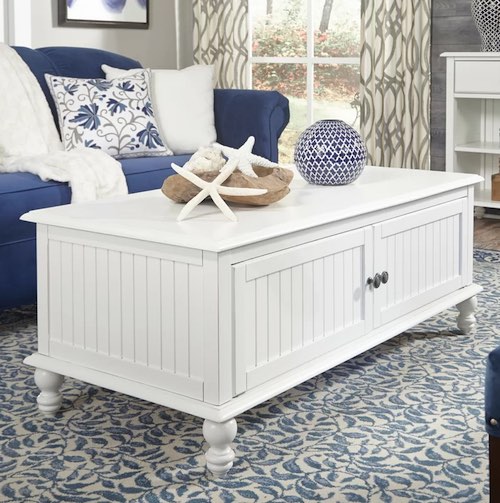 If you're going with a coastal theme to your living room decor then it is a pretty good bet that you'll be utilizing a lot of the color white. I love how this one has a very classic design to it (check out the wonderful legs on this one) yet it would feel perfectly at home within a more contemporary room. Also, as you'll see throughout this list, I really like coffee tables that also feature some storage, and this one has a lot of storage.

Gensho Rattan Coffee Table
You've just gotta love the look of this rattan coffee table. I really enjoy this sort of design, where instead of a really tight weave they use thicker pieces in a loose configuration. And the way that it is bound in the middle to create sort of a concave diamond shape really works for me.

Driftwood Coffee Table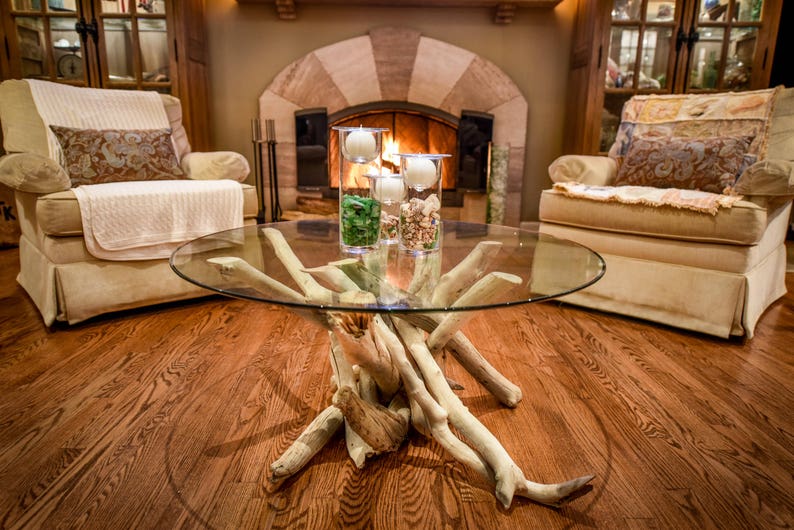 If you've spent much time on Seashell Madness you know that I am a big fan of driftwood (I've even got a post on the best driftwood artists out there. And here is a gorgeous use of some fantastic driftwood. Working with driftwood can be challenging, as pieces wash ashore in all sorts of shapes and sizes, but when an artist can pull together just the right pieces the effect is quite dramatic. As you can see here.

Reclaimed Wood Rustic Coffee Table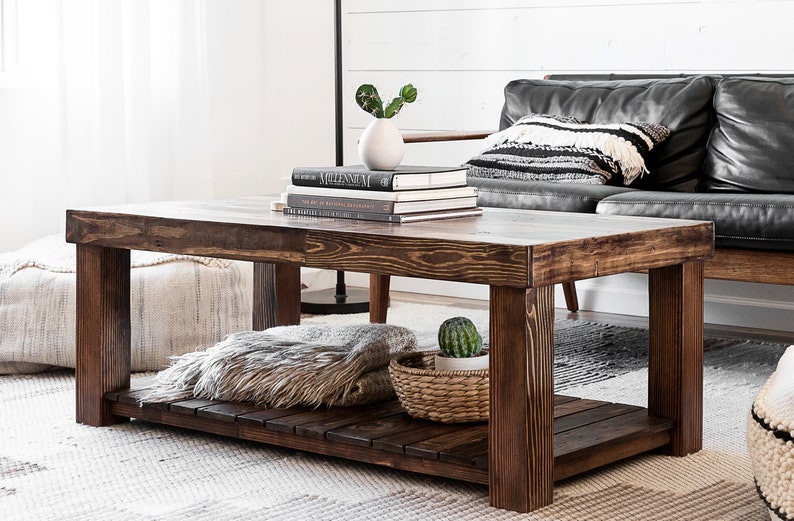 I am definitely a fan of using reclaimed wood for art projects and home furnishings. Firstly, and obviously, it is great to keep things out of the landfills when possible, but there is also a certain character that goes along with reclaimed wood. Which is very obvious in a piece like this reclaimed wood coffee table.

Eggers Solid Coffee Table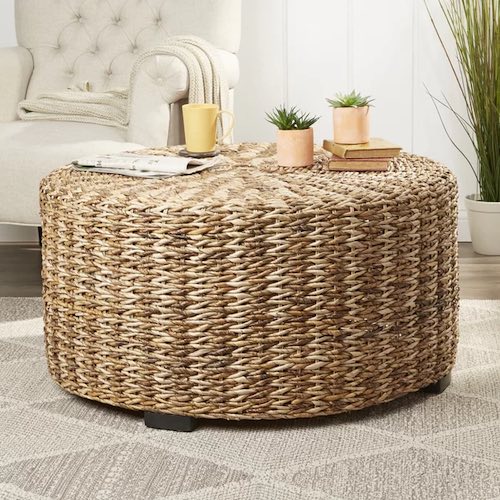 I really like the weave pattern on this particular piece of rattan. This one is hand-woven from banana leaves and I really appreciate the attention to detail of utilizing the different color shades within the weave.

Mango Wood Contemporary Coffee Table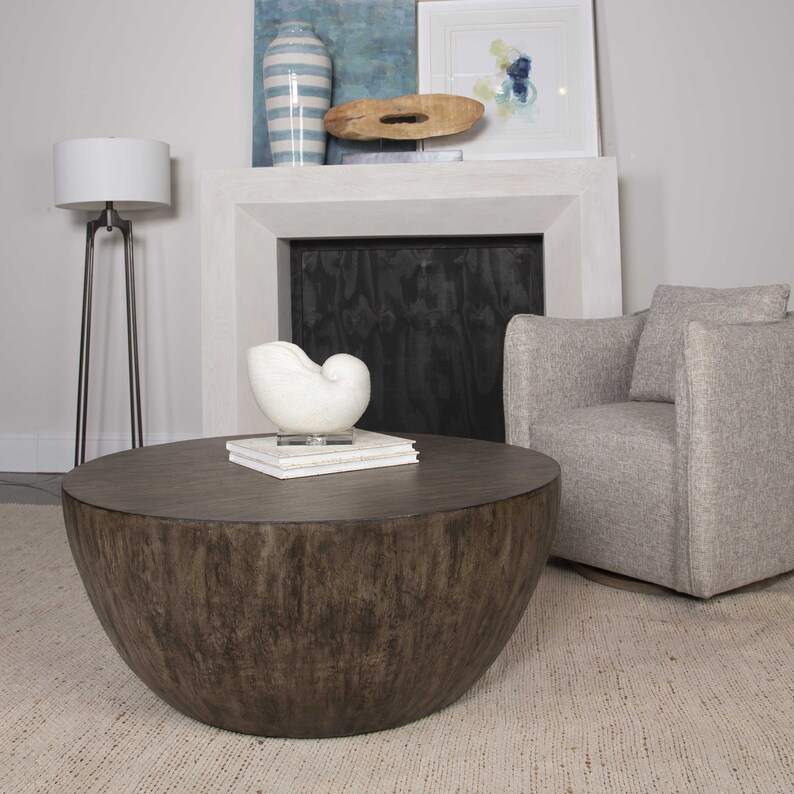 What a wonderfully minimalistic, modern style to this coffee table. Fashioned from aged acacia and walnut, this one will definitely be a centerpiece to any modern coastal living room. I absolutely love the shape of it — almost like a giant coconut half — and the colors of the wood used are simply breathtaking.

Bermuda Cocktail Table
If you need a heavy-duty coffee table for your living room, then this one is a good bet. It's heavy duty, with a rated weight capacity of 200lb! So if you are the type to really load up your coffee table, then this might just be the way to go.

4 Foot Surfboard Table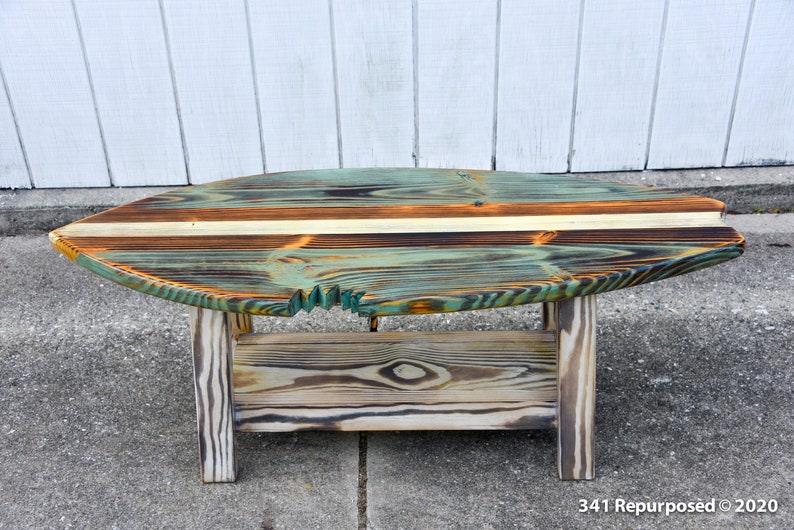 What could convey a beach vibe better than a surfboard? This coffee table makes really creative use of the surfboard motif. This table is handmade (and the craftsmanship here really shows) and stained in wonderful color combos and aged effects. And I hope that you noticed one really fun detail: yes, a shark has taken a bite at this particular surfer.

Maine Wooden Lobster Trap Coffee Table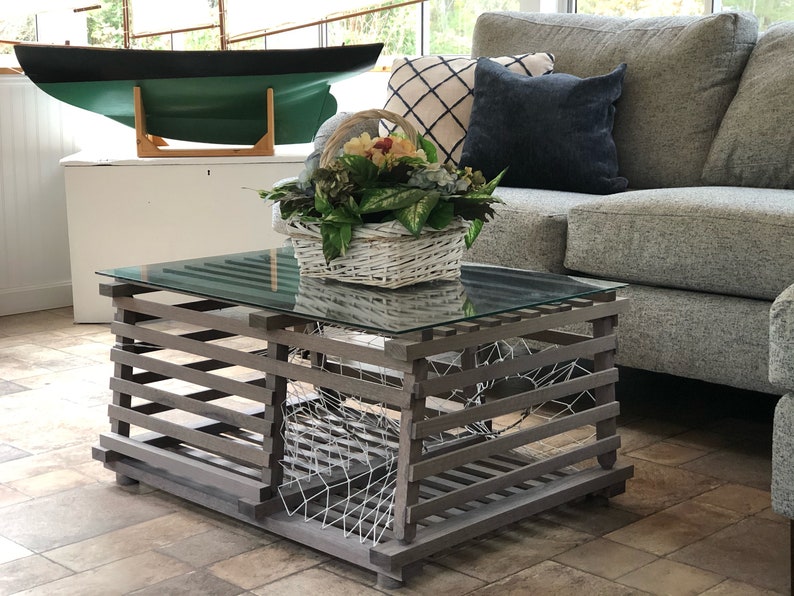 If you've ever spent time along the coast of Maine, you've likely seen a few lobster traps. This is really neat how these artists have taken the whole lobster trap motif and turned it into a handmade table! Not only is the netting there (which, by the way, should keep loose storage items from escaping), these tables are even made from Maine oak.

Stenciled Octopus table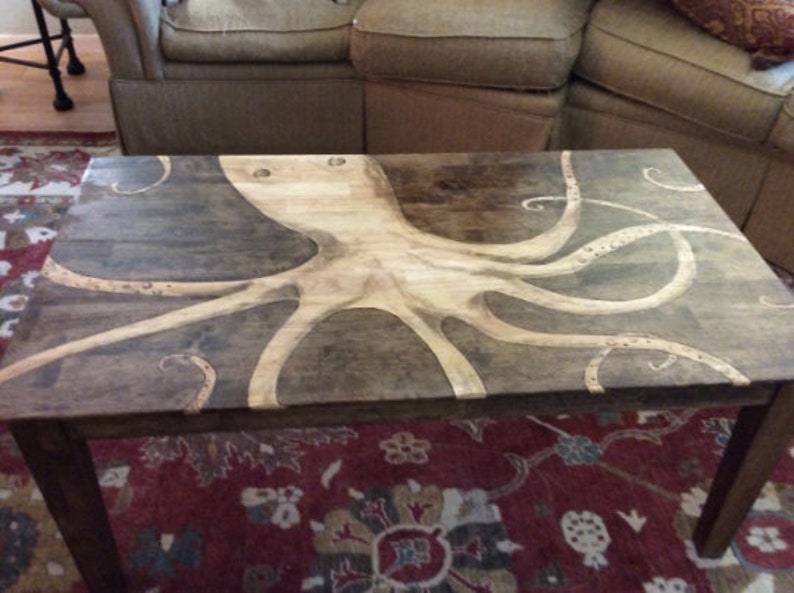 There's something really fascinating about the octopus. I don't know what it is exactly, but they are fascinating (I've written on not only art featuring octopi but also a whole bunch of octopus gift ideas. And I really like the artwork on this handmade octopus coffee table.

Bronze Octopus Table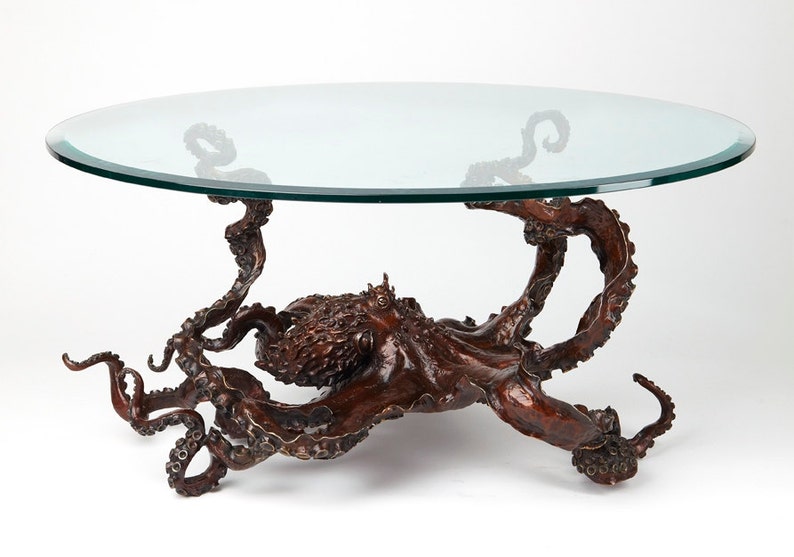 And speaking of octopus… hold onto your hats! This is one terrific octopus table. This handmade bronze cast octopus sculpture holding up a glass tabletop makes a statement. If you want a coffee table that will get noticed, then this one is surely it.

Ashmore Farmhouse Coffee Table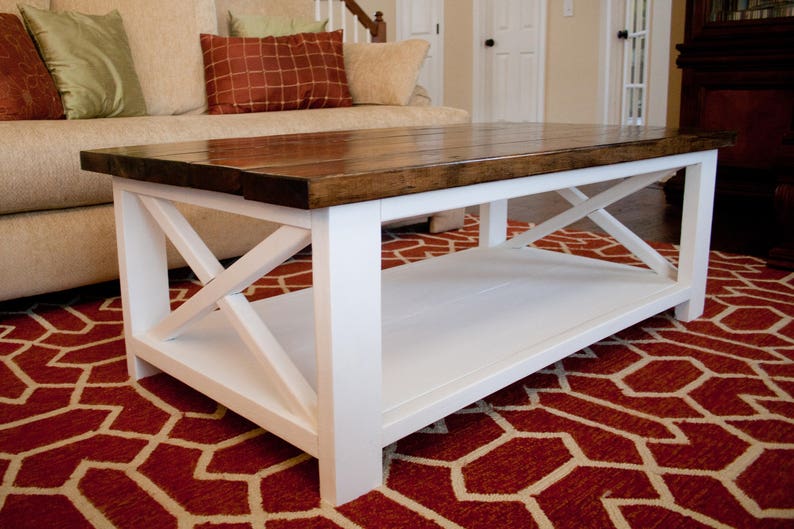 Quite often you'll find that coastal style and farmhouse style have several points that crossover really well. For instance, this particular coffee table is in the traditional farmhouse style, but with bright white legs that would fit perfectly into a coastal designed room. I also really like the look of the top of this handmade table, as it is a wonderful choice of color here.

Noam Coastal Brown Bamboo Style Coffee Table
Here's one for those who like a traditional coffee table design — two table-width levels allowing for open storage on the bottom — but want the look to have a little more of a "wow" factor. How do you do that? Why, by replacing the legs and edges with thick bamboo! What a wonderful and eye-catching design.

Live Edge Resin Ocean Table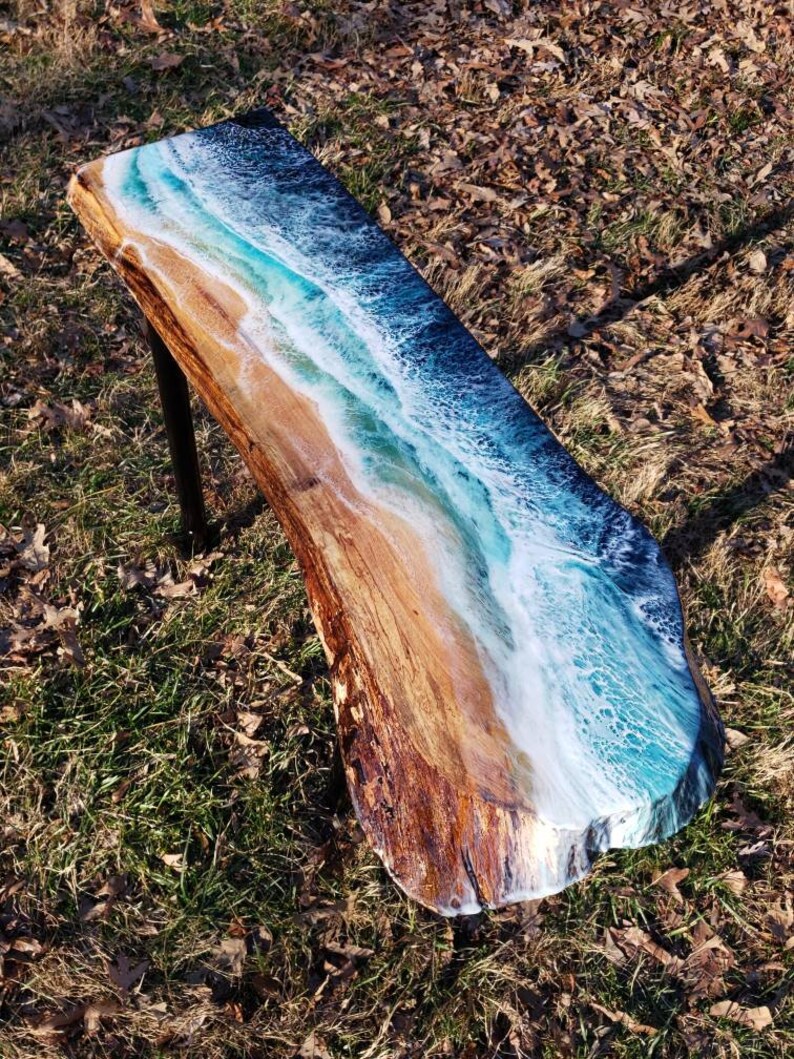 If you've spent much time on this site then you have likely noticed that I am a bit obsessed with the way that artists can use resin to depict wonderful ocean scenes. Resin is a really interesting medium, not liquid like paint, but not solid like clay, rather something somewhere in-between… like glue. This allows artists to pour and shape it in ways that create wonderful oceans. And for this coffee table I absolutely love the combination of the resin ocean technique in combination with natural rough-hewn wood to create one-of-a-kind pieces.

Madilynn Trestle Coffee Table with Storage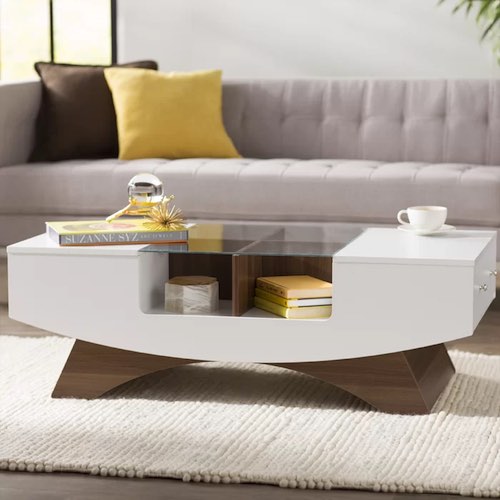 Okay, let's talk design here. If you are doing up your coastal space with an appreciation toward contemporary design, this is the coffee table for you — there's really no discussion needed here. I love the trestle inspired design, and the way that the glass surface runs flush with the white surface to show off the 4 storage areas, and the way that the entire thing is cradled by a uniquely designed understructure is simply breathtaking. If there is a museum of modern furniture somewhere, then this coffee table definitely belongs in it.

Naoma Coffee Table with Lift Top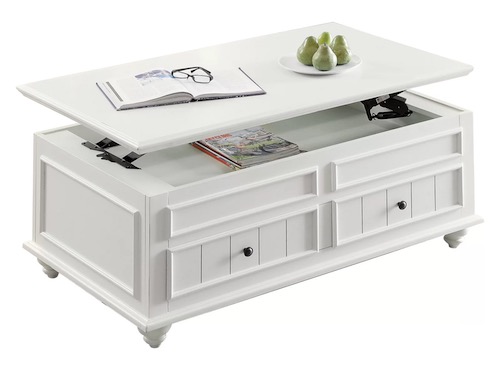 I really like the wonderfully inventing lift design of this table. In addition to its two full drawers, there is also a "hidden" top compartment, perfectly sized for storing away magazines. The white color and classic design would fit in with pretty much any coastally themed living room and that lift-up top just really makes this piece for me.

Solid Wood Drum Coffee Table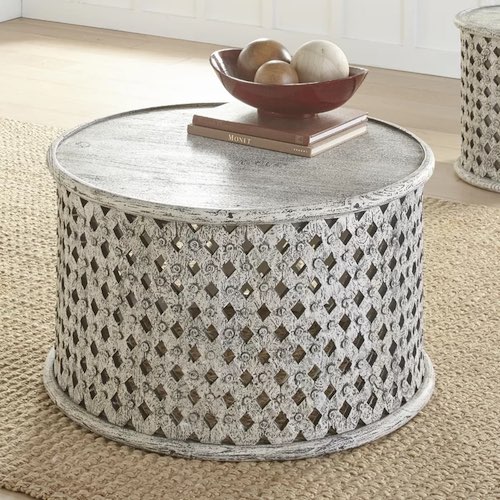 Here is a really nice twist on a rattan drum-style coffee table. First off, it is a wonderfully designed piece, with the diamond-patterned rattan paired with a solid top, but what really makes this work for a coastal theme is the excellent choice of color wash. The staining technique used here gives the impression of white wood which has been aged by splashes of ocean spray. It's simply a perfect use of white stain here.
Pelangi Handmade Wicker Colonial Style Oval Coffee Table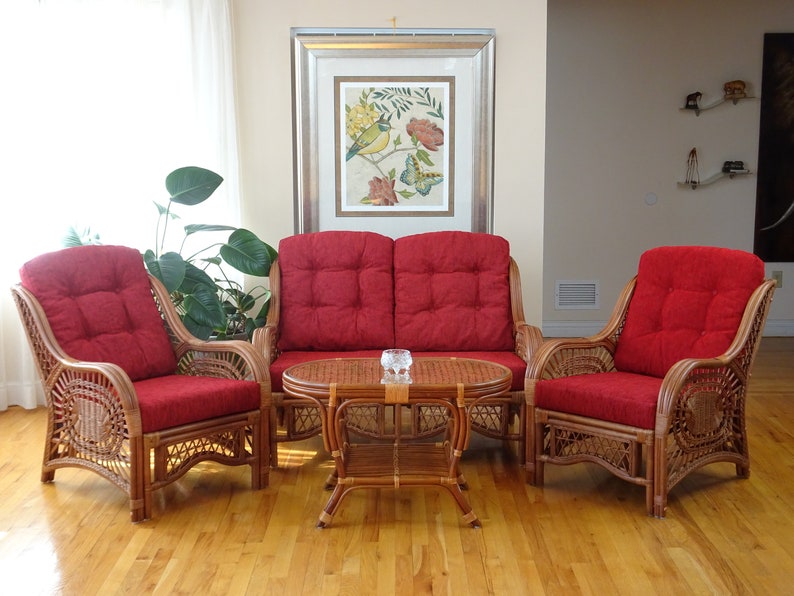 Handmade in the colonial style, this table is not only beautiful, but sturdy. If you have other wicker/rattan in your decor, this would make a remarkable addition. It has wonderfully gentle legs, with large pieces of bamboo gently curved to create this elegant shape. And finished off with a golden stain that makes this one really great.

Aldwin Coffee Table with Lift Top
Another great example of how farmhouse style can work really well in a beach house. I really like the lid on this one: if you'll notice it is a double-hinged design. That's one of those things whose usefulness you'll only really notice when you put it to use — as you can imagine, lifting up half of a lid to get at the storage beneath is so much easier than lifting up a full lid when items have been placed atop it.

White Original Coffee Table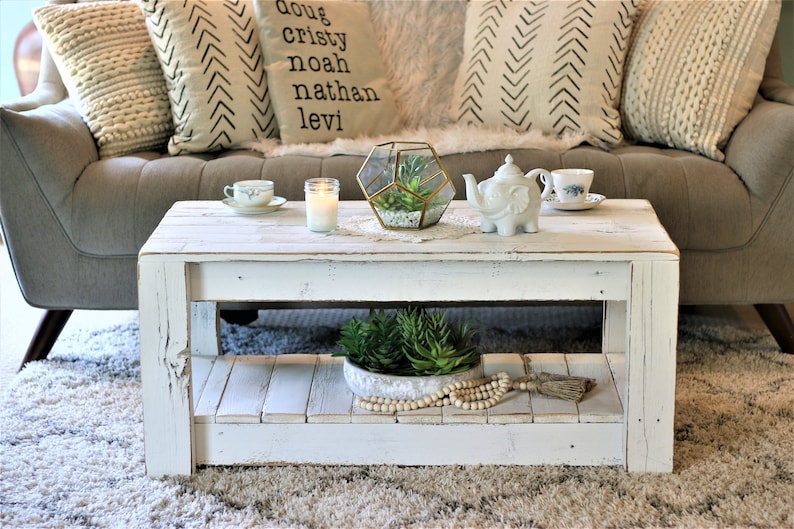 As I've mentioned before, I am a big fan of using reclaimed wood. It gives the wood a second life and it adds a distinctive bit of character to any design. I really like the minimalist design of this one, as well as the use of pallet slats to create the bottom shelf. Finish it all up in white and you definitely have a coffee table which fits in with a coastal living room.

Natural Wooden X Leg Coffee Table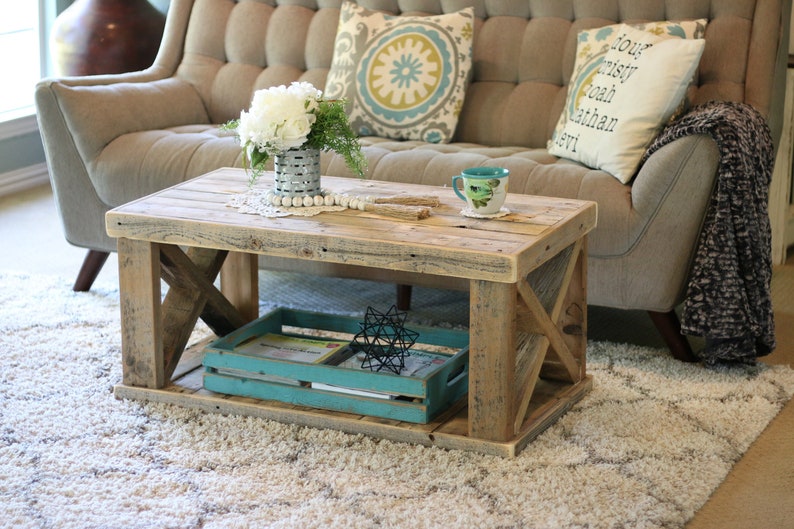 For many rooms, designs featuring really thick legs work really well. There is an air of sturdiness that comes along with this sort of design. This particular coffee table really lends that air of sturdiness to a room, and it has been wonderfully handmade using naturally weathered reclaimed wood.

Turquoise Combo Coffee Table with Shelf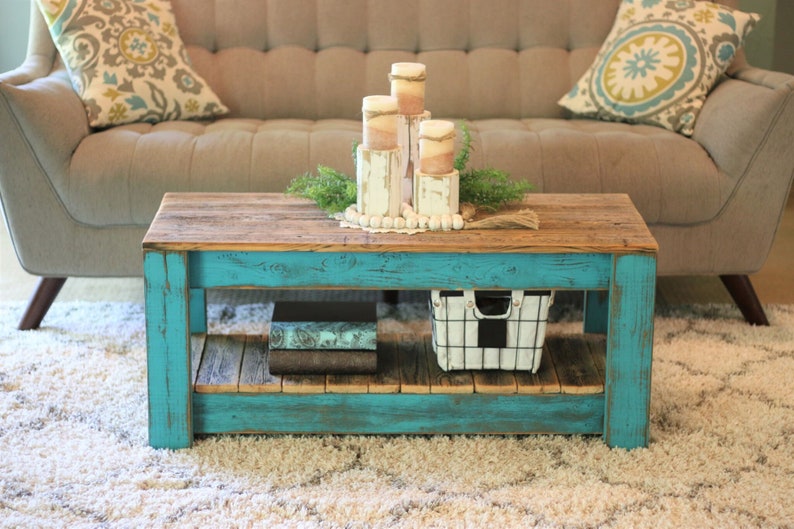 Colors in the blues and teals are pretty much standard in design that is looking to achieve a beach house flair. I really like how this table has been framed in turquoise, which creates a wonderful offset to the natural weathered look of the tabletop and the shelving.

Vintage Coastal Rattan Island Style Coffee Table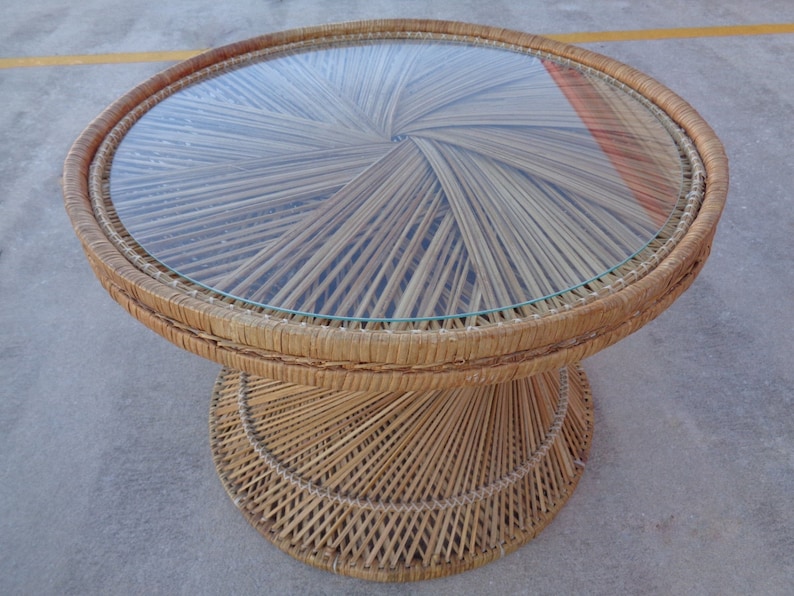 There is something really compelling about the spiral wrap of this particular vintage rattan table. And topped off with a glass surface to provide the balance necessary for serving beverages. Terrific!

Handmade White Rectangular Coffee Table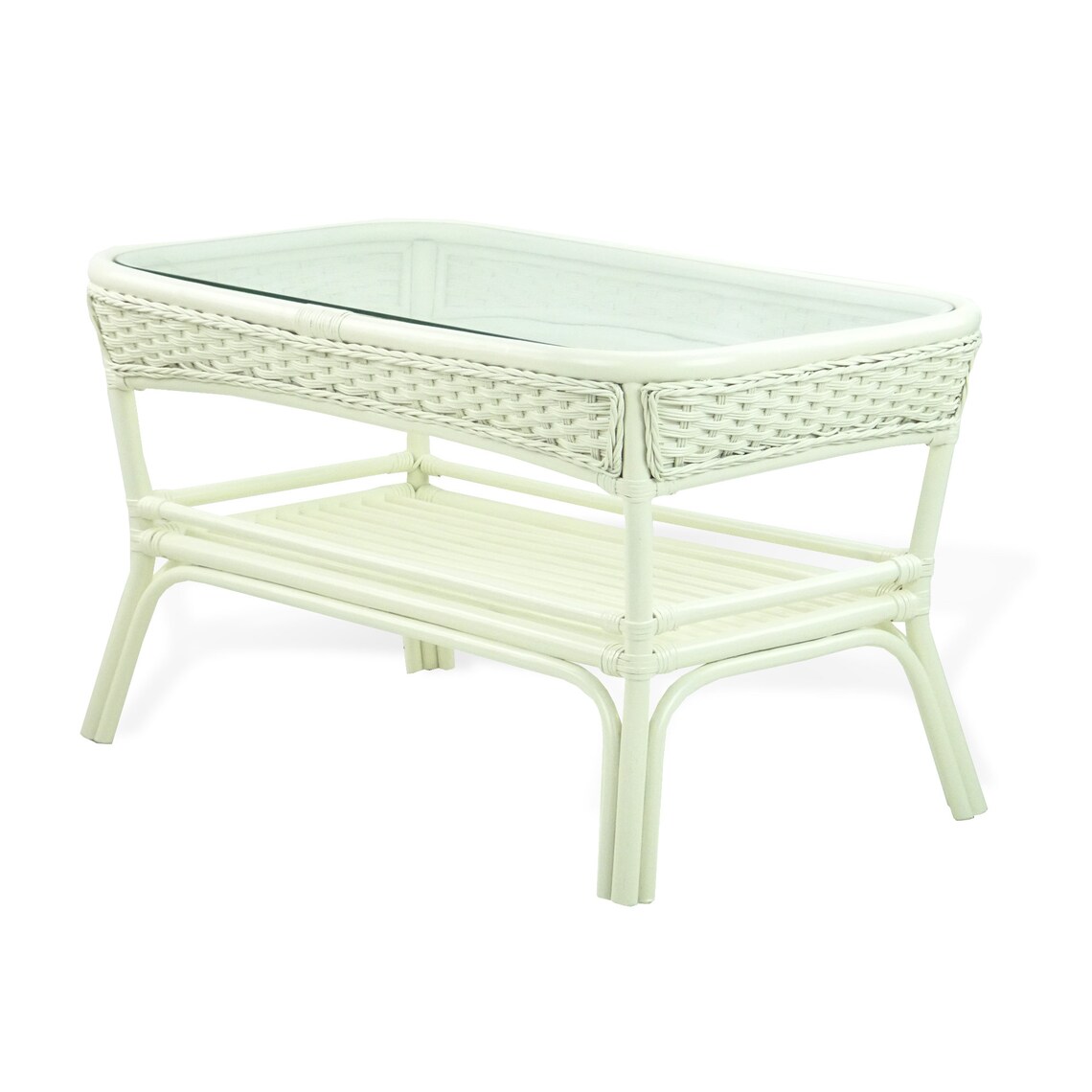 A definite classic here. This white wrapped rattan would work perfectly within a coastal decor environment. The minimal weaving and open shelves create a wonderful feeling of space — I can almost feel that ocean breeze now!

Driftwood Coffee table with Glass Top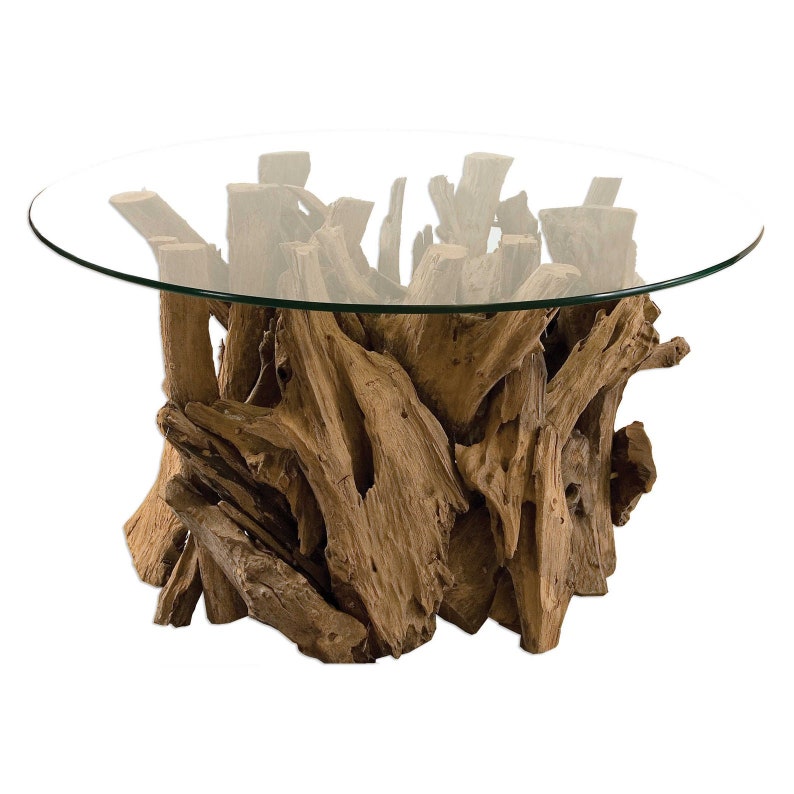 Another wonderful use of driftwood here. I love how this handmade table really conveys the feel of the ocean. It's almost as though the entire table has washed ashore intact. Fantastic!
Beach House Coffee Tables
Thanks for checking out my recommendations for great beach house coffee tables. If you liked these recommendations, please share on your social. Thanks!
Written by Renee