Beach House Rugs ~ getting them sandy is half the fun
Beach sand is probably the one thing that nobody minds getting tracked into the house. Because if you're tracking sand into the house, that means that you are at the beach.

And in my experience, tracking beach sand into the house is usually just fine with everybody.

So today I'm having a look at some of the best Beach House Rugs!
See all of our Beach House Living Room Decorating Ideas:
Beach House Lighting • Beach House Sofas • Beach House Chairs • Beach House Coffee Tables • Beach House End Tables • Beach House Fireplaces • Beach House Pillows • Beach House Rugs

Modern Coral, Lobster & Shells Rug: 5' 0 x 8' 0
As with any sort of design movement, there is a lot of use of a similar color scheme throughout most coastal decor . Whites, blues & teals definitely dominate the color palette. So this particular rug featuring wonderful renditions of coral and sea creatures definitely hits the mark. With blues and teals being in heavy use here, this rug will fit in very nicely at any beach house.

Celestial Modern Bohemian Wave Rug 5: 5'3" x 7'3"
If you want to venture a bit out of the blues and teals, might I suggest something bold like this colorful depiction of a crashing wave. I love the look of this one — you can almost feel the motion in the curling wave — and the use of reds and yellows in its design really makes this one "pop!"

Seagrass Natural Area Rug: 6' x 9'
What is a beach house without sand? And sometimes when choosing the flooring options for a beach house it makes sense to go with a sandy motif. Take for instance this wonderful seagrass natural fiber rug. Something like this would just the right sight when returning back from a day of beach-combing.

Jellyfish Ocean Hand Hooked Indoor/Outdoor Rug: '6" x 9'6"
A fantastic pattern like this can really only be achieved through the use of very careful hand-hooking. I love the crisp lines of the jellyfish and sand dollars in use on this one. Heck, this one is so well done that it would be tempting to hang it on the wall as a tapestry rather than put it on the floor as a rug.

Coastal Splash Aqua Rug: 5'x8'
I love the watercolor look to this one — the way that the dark blues and light blues just sort of melt together really make this one work for me. Add in a few sea creatures, and viola, there you are.

Octopus Area Rug: 4' x 6'
If you've been around this site much, then you know that it's no secret that I am a big fan of octopi. I've written about octopus art and I've written about octopus gifts and I've basically fit these 8-legged wonders in wherever I can. Because they're cool. So when I saw the absolutely wonderful depiction of an octopus that has been rendered on this area rug I knew that it was the one for me.

Seascapes Wave Design Coastal Area Rug: 5' x 8'
The wonderful thing about going with a coastal theme for your decorating is that it really opens the door for working with some wonderful abstract patterns. You see, abstracts work really well for depictions reminiscent of oceans and waves. This rug captures that feel perfectly. And if your beach house decor includes a lot of abstract art, this may be just the right one for you.

Coral Reef Coastal Area Rug: 5'x8'
You've really got to love the scene that this rug depicts of a field of coral. I really love the clean lines on this one, and it would certainly look great next to a side table which sported some real coral.

Coastal Modern Turtles Runner Rug: 8' 0 x 10' 0
Sea Turtles! Yes! I love sea turtles (as you know if you've been around a few pages of this site). And I love the depiction of the sea turtles on this particular rug. There is something recollective of ancient colorful glyphs painted upon a stone wall. What a wonderful feel to these turtles.

Ocean Life Coastal Teal Blue Sea Animal Seahorse Throw Rugs: 5' x 8'
If you want to make a statement — a statement which leaves absolutely no doubt about your coastal intentions — then I would suggest that this wonderful rug is the way to go. I love the way that the bulk of the rug is taken up with one giant portrait of a seahorse, but it's all of the other details — from seaweed to maps — that really make this one work.

Striped Area Rug: 5' x 8'
And here we get a rug which leads us to that subtle difference between "beach" and "nautical" in terms of design. And if your beach house decor leans more toward the nautical side of things (e.g.: anchors, brass & rope) then these big blue and white stripes would be the perfect fit.

Navy / Taupe Area Rug: 5'3" x 7'1"
Where we live, along the California coastline, there are many spots where cliffs overlook the ocean. At times of low tide in bright sun the receding waves form a view of beautiful patterns alternating between the water and sand beneath. Much like the abstract pattern presented on this rug.

Capri Shell Coral Reef Border Rug: 30"X48"
If your design tastes favors crisp lines with well-articulated strokes, then this may very well be the rug for you. I love the pattern here — as if you are emerging from a cave dive to make your way through a narrow passage of reef — and that wonderful understated teal is simply wonderful.

Rip Tide Blue Wave Coastal Area Rugs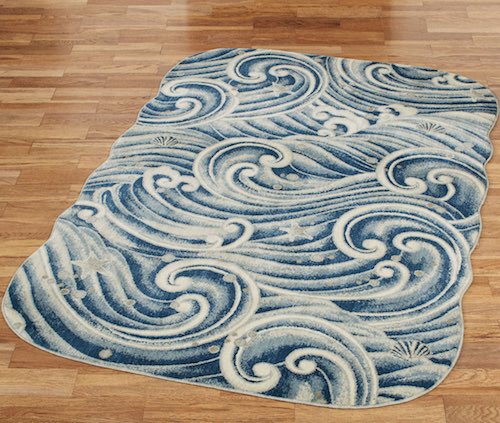 The swirled patterns on this rug are really great — the way that the waves have been rendered with a combination of dark lines and shadows gives the whole thing an almost 3 dimensional feel. But do you know what really makes this rug for me? The edges. It is pretty rare to find a rug that is not squared, and the use of those curvy edges fits absolutely perfectly with the design of the waves. Love it!

Coastal Modern Fish Area Rug: 5 x 8 Feet
The blues and teals of this rug would really set it off well against a wood or faux-wood floor. This one works!

Ocean Waves Seashore Chenille Area Rug: 6' x 4'
I am continually amazed by the great strides that have been made in printing patterns on cloth. This jump in technology has allowed for wonderful possibilities like this: a photo of a wave gently rolling in on the virgin sand… on a rug.

Martin Coastal Starfish Area Rug: 7' x 5'3"
Starfish everywhere! Here's the kind of rug that would work well in a beach decor style which features a lot of white components. The blues of the starfish against the soft whites and grays of the background would compliment the furnishings without drawing too much attention away from them.

Timeworn Modern Abstract Gray/Turquoise Area Rug: 4 ft. x 6 ft.
I absolutely love the rippled effect in play here. The colors in this abstract piece work really well, and the concentric rings evoke the feel of the beginnings of a rain storm upon the surface of the water. A definite good look for your beach house decor.

Chaves Sand Dollars Beach Blue Area Rug: 7'6" x 10'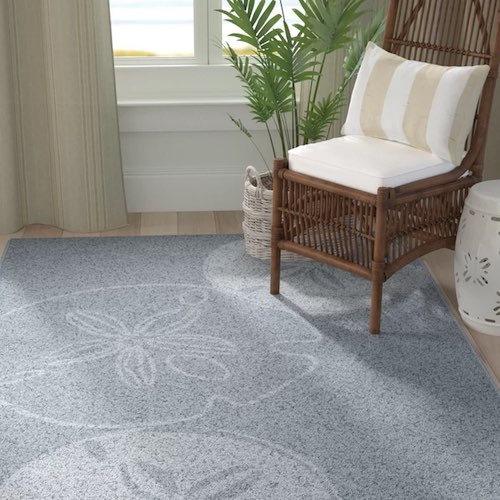 You can never go wrong with sand dollars. That's all I have to say.

Cream & Brown Abstract Plush Shag Rug: 5' 3" x 7' 6"
A wonderful abstract which evokes the feel of deep currents against the ocean floor. You already know that I am a big fan of ocean abstracts, and I've got to say that I really love the gently rolling lines of this one. Fantastic!

Laguna Boardwalk Stripe Area Rug, 5'x8', Blue/Gray
A return to the coastal style of the 19th century with this one. The lovely striped pattern of this rug was once common with those strolling the boardwalks in the days of old. I can almost hear some ragtime music in the background as I look at this rug. A perfect accompaniment if your decor features some coastal antiques .

Ocean Floor in Light Gray: 8' x 10'
I love how the scene on this rug has the feel of a fading antique photograph. What a simply wonderful technique at play here in this depiction of life on the sea floor.

Sea Life Coastal Area Rug: 7'10" x 9'10"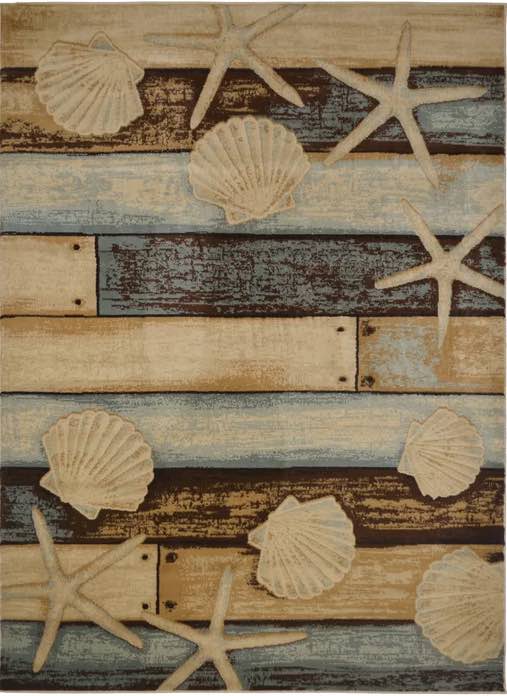 If, like me you have a home which features a lot of seashells (I do run a site called Seashell Madness after all) then you'll appreciate the beauty of this rug which depicts seashells and starfish laid out upon a simple wood-planked floor.

Blue Gray & Beige Floral Palm Leaf Pattern Area Rug: 6' x 9'
What a beautiful and artistic representations of floral palm frond on this large area rug! If you spend much time in a beach area, palm fronds become a regular sight, yet they never seem to lose their fascinating appeal. I love the way that the creators of this rug have rendered the palms in gentle shades of blue and gray to match with most coastal color palettes. Beautiful!

Contemporary Gray Gold Line Art Area Rug: 5'3"x7'6"
What can I say? I really am a sucker for a great abstract. And I love how this rug has not only rendered waves in an eye-catching way (you can almost feel a depth to them) but the use of gold trim to the work just really makes this one for me.
Beach House Rugs
Thanks for checking out my recommendations for beach house rugs. If you liked this list, please share it on your social. Thanks!
Written by Renee