Beach House Pillows ~ adding comfy to your coast
Ah, pillows!

There really are few things in this life better than curling up with a nice comfy, cozy pillow.

And since Seashell Madness is more than just a little bit obsessive about coastal decor, it is definitely time for me to be talking pillows that fit in with that coastal living room.

So without further ado, let's jump right in and list out some of my 25 most favorite Beach House Pillows & Pillow Coverings.
See all of our Beach House Living Room Decorating Ideas:
Beach House Lighting • Beach House Sofas • Beach House Chairs • Beach House Coffee Tables • Beach House End Tables • Beach House Fireplaces • Beach House Pillows • Beach House Rugs

Sea Turtle Coastal Velvet Decorative Pillow Covers
If you've been around this site a bit, it's probably pretty obvious that I'm a big fan of sea turtles (I've done posts on both art featuring the sea turtle as well as a big list of gifts for sea turtle lovers). There's just something about the way these giants gracefully glide through the water. So it should come as no surprise that I heartily recommend this particular sea turtle pillow. I really love the eye-poppingly bright colors on this one, plus the way that this turtle is checking you out is exactly the way that the real turtles will check you out if you happen to swim where they are swimming.

Mermaid Outdoor Throw Pillow Covers
Another frequent subject of discussion here at Seashell Madness is mermaids. But that makes perfect sense, right? I mean, who doesn't like a mermaid? So a set of pillow covers with a mermaid theme to them (there are 4 different designs in this set) makes absolutely perfect sense here. And I personally think that the artwork of this particular mermaid is wonderful. The patterns on her tail and in the ocean are really beautiful.

Hand Painted Colorful Geometric Trellis Chain Print Throw Pillow Cases
Blues and Teals are quite common when you're talking about coastal decor. And I really like the way that this pattern uses those colors drifting from one to the other.

Coastal Cotton Pillow Case Cover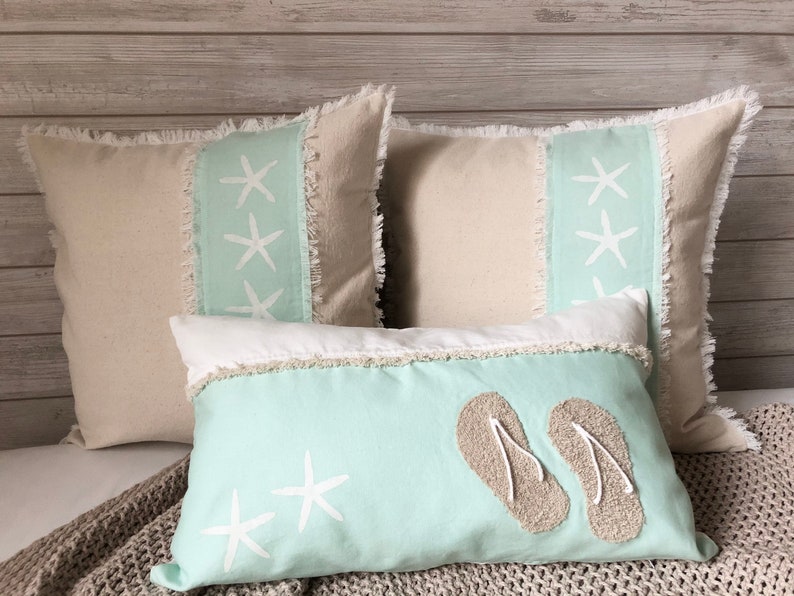 I am a big fan of handmade items here. Take for instance, these cotton pillow cases. How wonderful are these? There's so much about them that I like. First, the color combos are just perfect for beach house decor — those gentle teals and soft browns would work in both a classic beach house style or in a contemporary minimalist style. The patterns are wonderful, and I absolutely love the use of fringe here. Perfectly done!

Cotton Linen Ocean Starfish & Seahorse Pillow Covers
Starfish and seahorses are both great themes to go with when you're talking about coastal decor. After all, these are two creatures which are both beautiful and fascinating when in nature, so when interpreted by an artist they are even more so. This set of pillow covers contains one of each of these magical creatures.

Blue and White Octopus Pillow Covers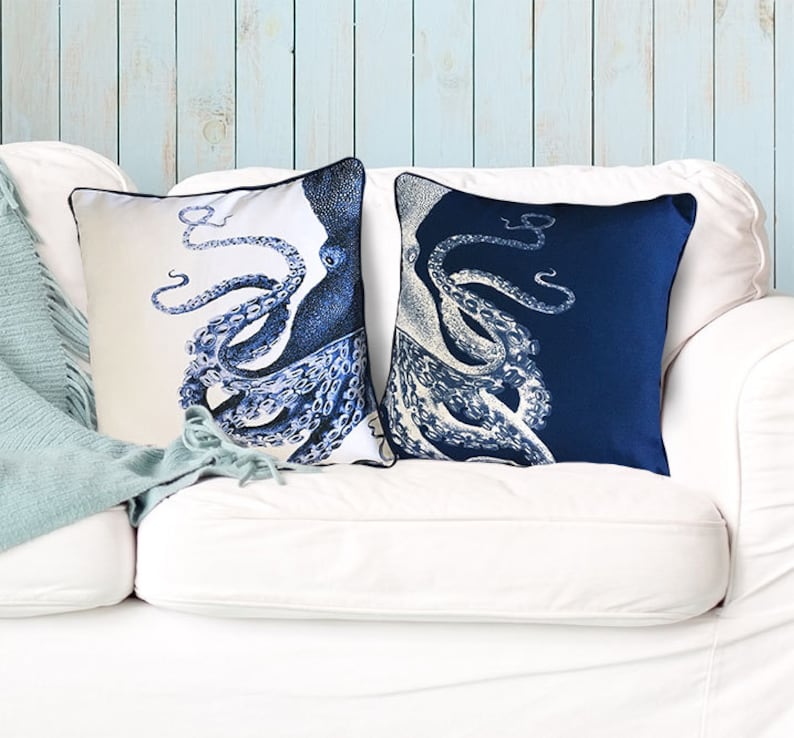 This… this is an amazing set of handmade pillow covers here. I'm already a pretty big fan of the octopus, but this is unique even in that art subset. How cool is it the way that the images "reverse" with half of the octopus dark blue on white on one pillow, with the other half of the octopus white on dark blue on the other half? Put this set of cushions on your couch and it will get a reaction from visitors.

Coastal Ocean Watercolor Design Pillow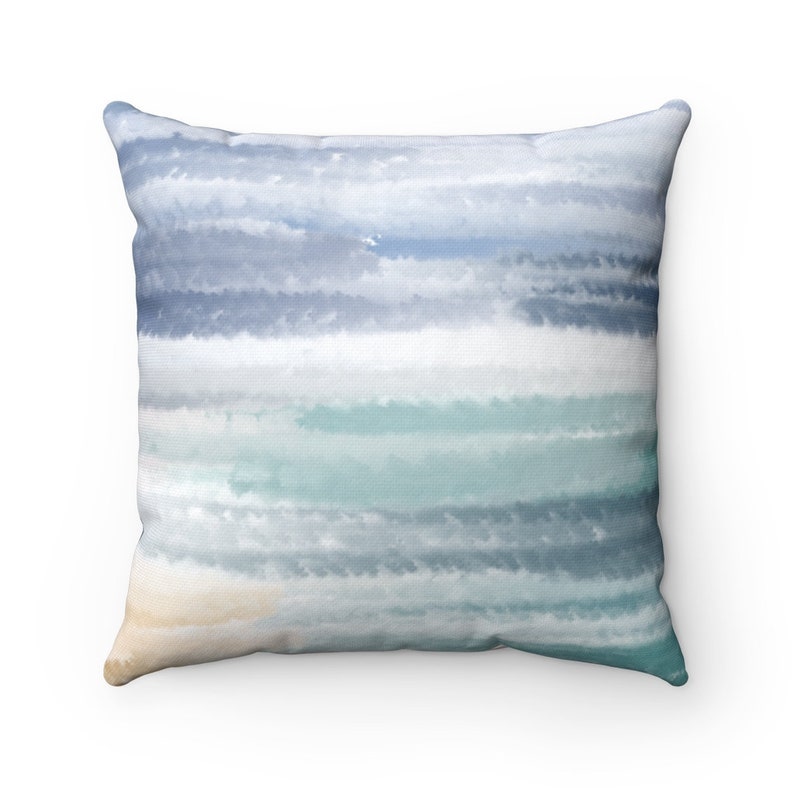 A good abstract ocean watercolor is a great choice when selecting artwork for a coastal-themed decor. So putting an abstract ocean watercolor on a pillow design makes perfect sense.

Sea Coral Tree Blue Teal Canvas Throw Pillow Cover
Blue/Teal coral on a white background: this is a theme that fits really well in a beach house. Or any house that you want to give a beach feel.

Turquoise & Gray Abstract Throw Pillow Covers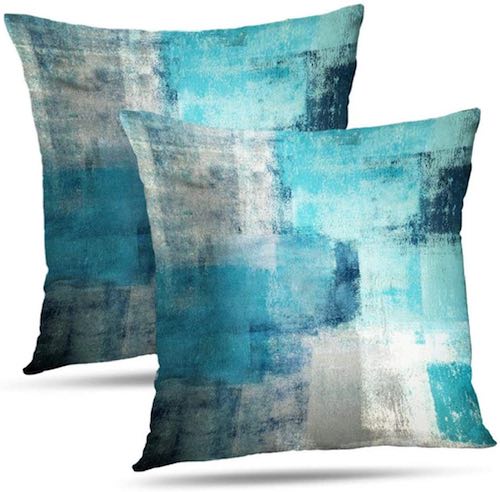 As you can tell, I really wasn't kidding about being a fan of abstract ocean art. I really enjoy the print on this particular pillow cover: the blues, teals and whites crashing together evoking an ocean environment. Wonderful!

Knightsbridge School O'Fish Rectangular 100% Cotton Pillow Cover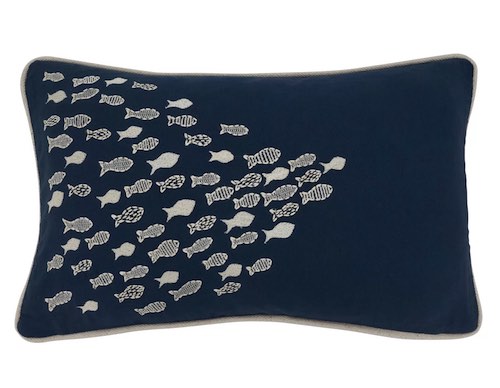 This pillow cover makes me smile. I don't know why exactly, but the sight of those little hand-drawn fishies swimming across the blue of the pillow and into the unknown… I don't know, it just gets me.

Sea Turtle Pillow Cover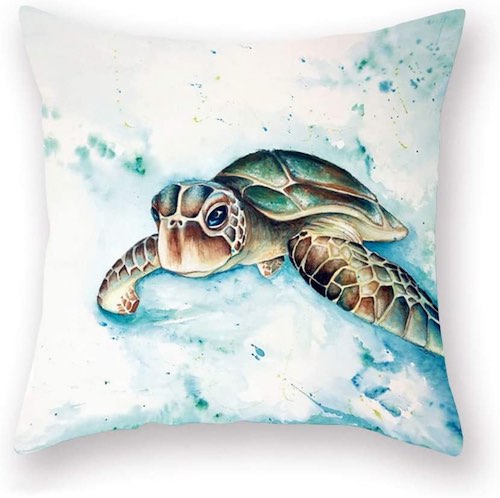 Yes! Another great design featuring a sea turtle. You really can't go wrong with sea turtles in a beach house. Really. I mean it.

Coastal Blue Coral Pillow Cover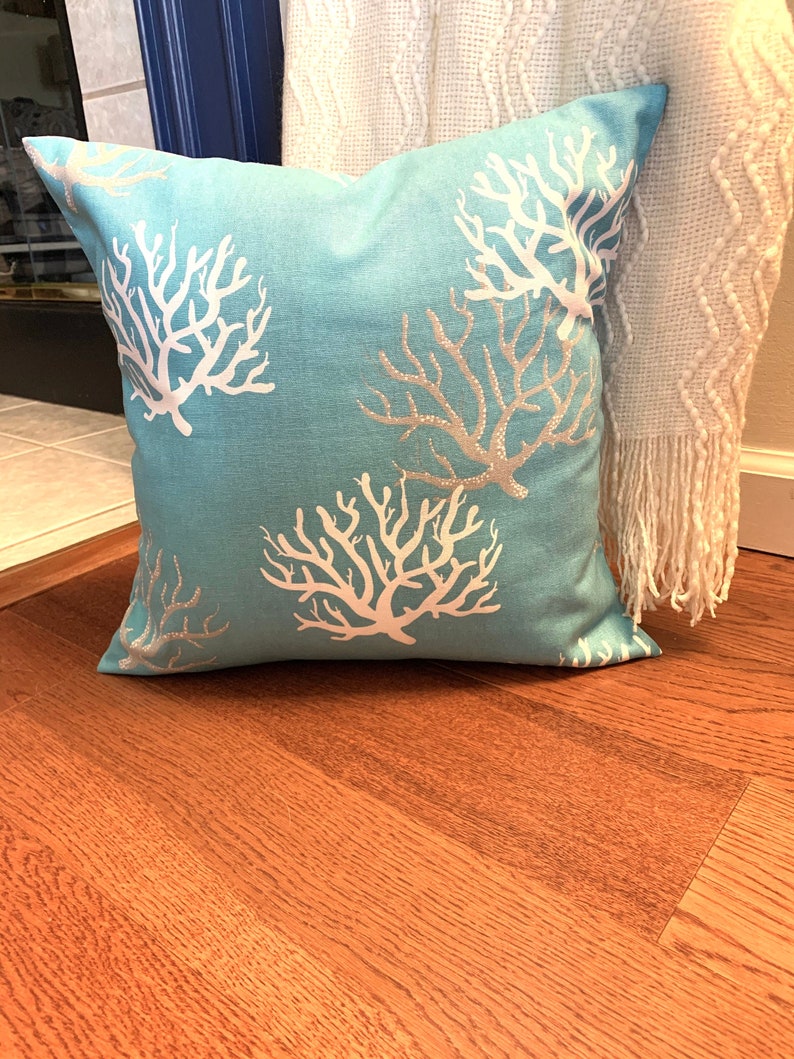 Here's another wonderful depiction of coral. I am particularly fond of the way that the coral has been rendered as a negative space to the light blue of the background. If you've decided to go with a white couch or chair for your beach house, I think that this would be the absolute perfect pillow to accompany it.

Soft Linen Decorative Throw Cushion Cover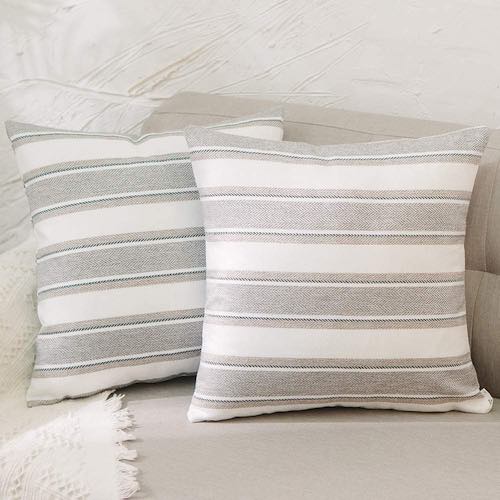 I like this particular cover because the big soft lines evoke a feeling of being on a sailboat. Often, that is exactly the feel that we are going for in coastal decor. If that's your intent, then here ya go.

Coastal Blue Coral Pillow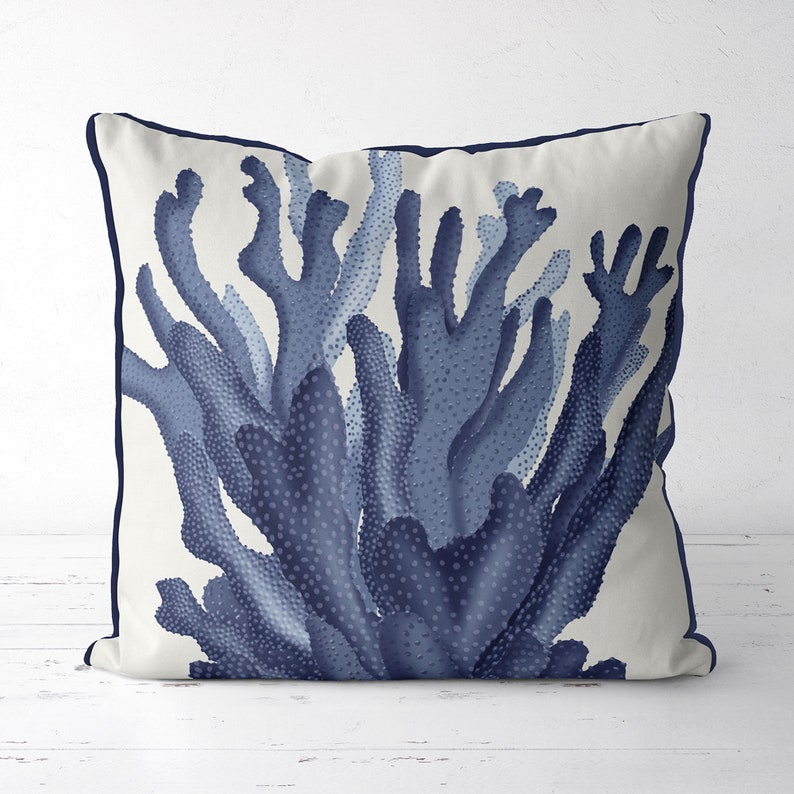 I love the obvious quality and care that has gone into these handmade pillows. The coral pattern is wonderful for beach house decor, especially in the shades of blue against white that has been chosen here. Beyond that though, these pillows have overlocked seams and are silhouetted in piping: a true sign of quality work in a pillow cover. So, beautiful and well-made. Yes, please!

Underwater Indoor/Outdoor 40" Throw Pillow Cover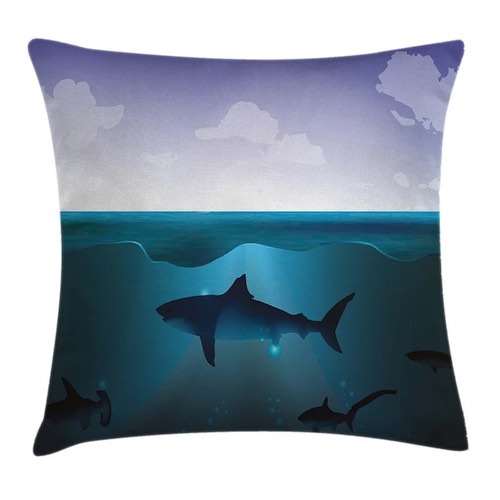 Sharks, baby, sharks.

Ocean Park Theme Decorative Throw Pillow Covers
Here's a wonderful set of designs in silhouette — shell, starfish, coral & octopus — with a wonderful gold on white design. This would make a perfect combo for that big coastal couch which requires multiple pillows.

Set of 4 Sea Turtle & friends Pillow Covers
What a wonderful artistic style to this set of ocean-themed pillow covers. The stenciled design is reminiscent of Polynesian design work, but not quite. And each pillow has a bit of beach wisdom printed on it in lovely script: "swim in the sea" accompanies the sea turtle, "lost at sea" matches with the octopus, "take me to the sea" is the perfect motto for the humpback whale — and the starfish says? "love the beach." Perfect.

Seahorse Watercolor Art Print Throw Pillow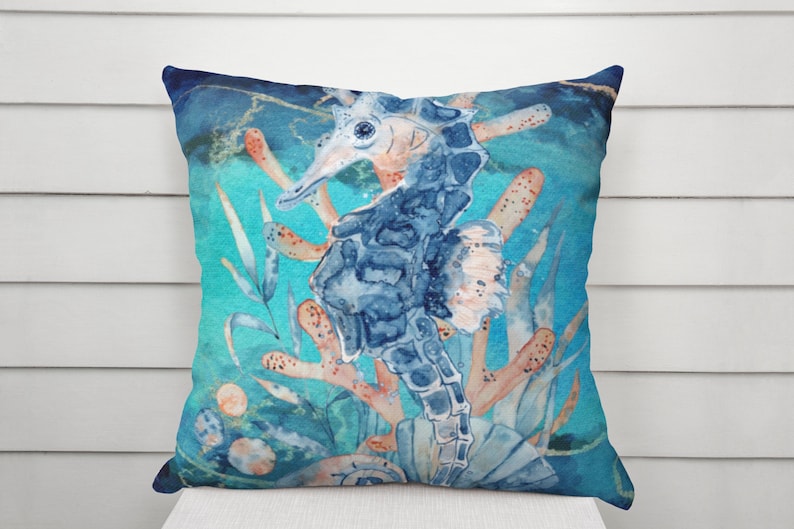 This is one piece of seahorse art that I would hang on the wall. How beautiful is this painting? I love the wonderful watercolor and brushwork details. What a terrific piece of art to put on a pillow. Maybe you should still hang it on the wall?

Coastal Marine Life Pillow Cover
This cool little crab pillow is just part of a series of four, all painted in a similar, wonderful style. In addition to this little guy, we've also got a great seahorse, a decorative compass and a big, orange octopus. I recommend all four.

Coastal Decor Nautical Theme Throw Pillow Covers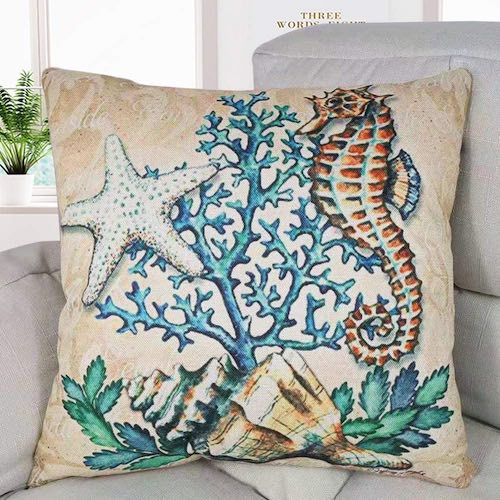 Done in a classic line-art style of illustration, this series of nautical pillow covers works really well. I particularly like the contrasting colors of the sharp lines against the soft pattern of the background. Perfect for a classic-styled beach house.

Beach House Coral/Seashell Pillow Covers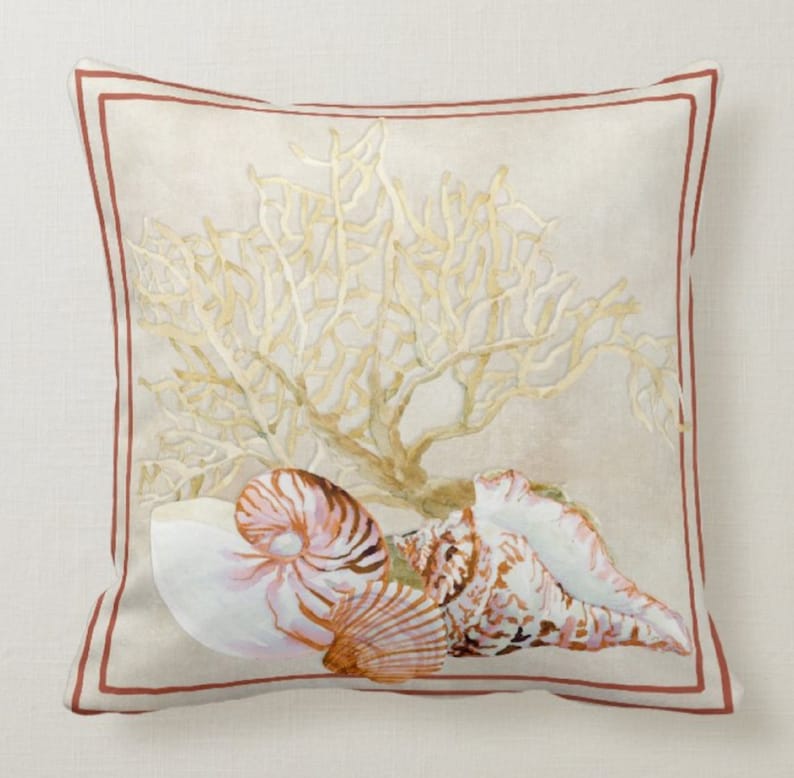 The soft look of the illustrations here really make you feel that the pillows themselves must be soft. I mean, just look at them! Those are some really soft pillows!

Pebble Beach 20-Inch Square Throw Pillows in Coral (Set of 2)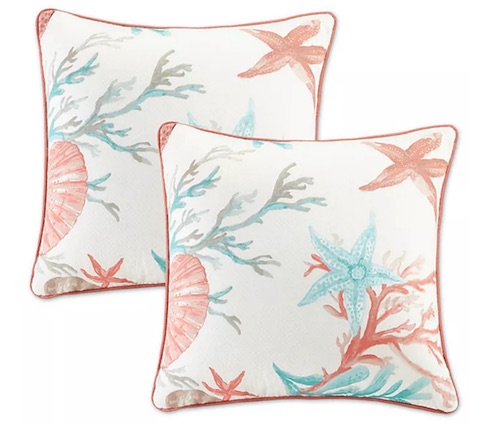 I know that most of the items on this list are pillow covers, but here is a wonderful set of actual pillows. The squared off design is perfect for poolside, and the starfish and coral patterns make it ideal for any other place in your beach house.

Coral Reef, Starfish & Beach Throw Pillow Covers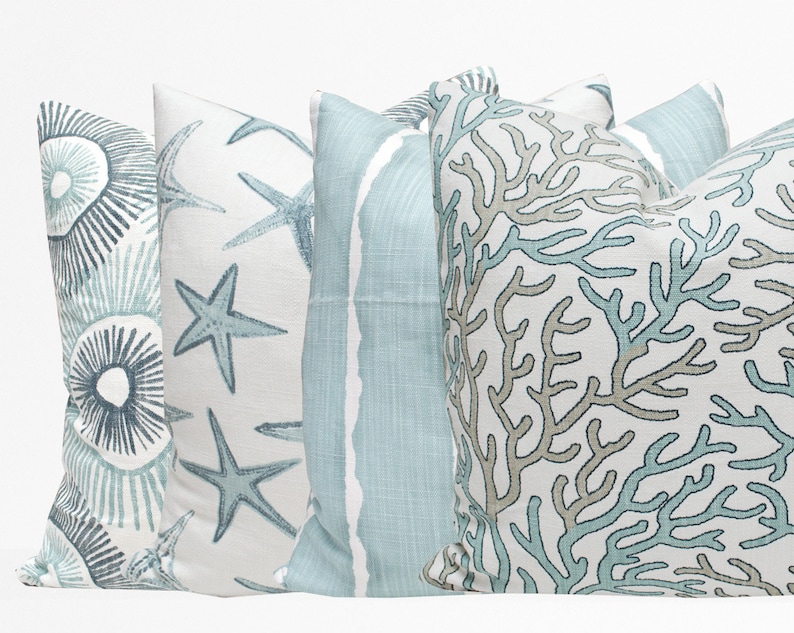 I love the modern, minimalist art used on this series of pillows. Anemoneas, starfish, a beach and coral reefs have all been depicted in a wonderfully sparse style. A definite accompaniment to any coastal decor, I would suggest these if you have gone with darker blues in your furnishings — the whites and the soft light blues will really make that coastal furniture pop!

Benat Coral Isle Outdoor Square Pillow Cover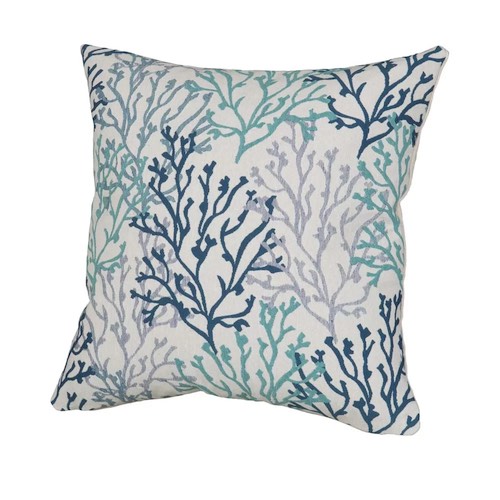 Coral, coral everywhere! Maybe I'm overdoing it on the coral?… Nah! Coral works absolutely great in a coastal decor environment. There is always room for more coral. Especially coral that looks as cool as this does.

Beach House Pillow Cushions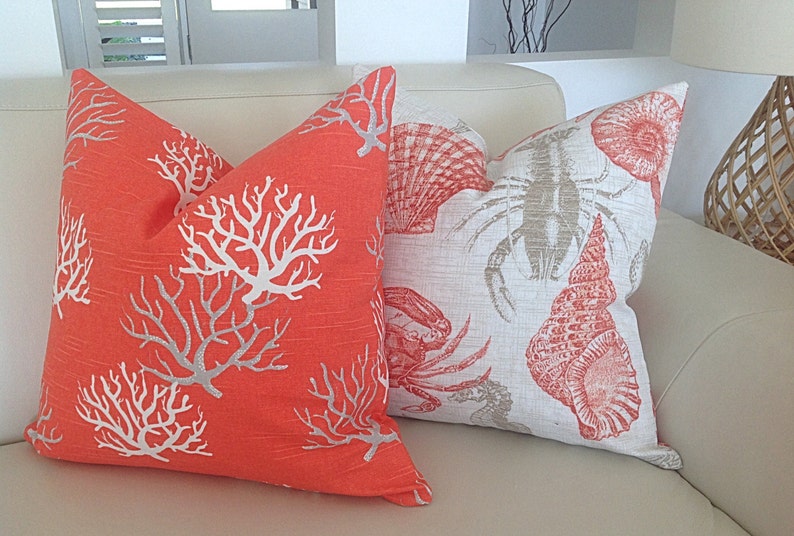 And in the event that you are daring enough to wander away from a strict blue/teal/white color palette for your beach house, this is definitely the way to go. A bright red pillow with silver coral will definitely get noticed. Definitely.
Beach House Pillows
Thanks for checking out my recommendations for beach house pillows. If you liked these recommendations, please share this article on your social. Thanks!
Written by Renee