101 Gifts for Beach Lovers (& seashell gifts for all)
Seashells. Gifts. Two words that definitely go together!

To prove it, today I'll be showing you ideas for 101 Seashell Gifts for Beach Lovers. Yes, you heard that right, one hundred one seashell gifts!

So, let's jump into it!

1. Inflatable Seashell Oyster Raft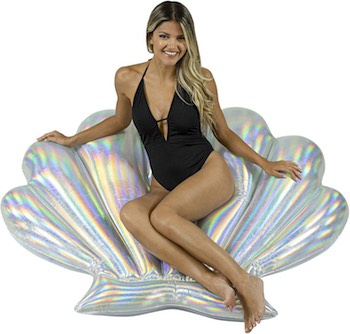 Okay, just how neat is this? Talk about your beach themes. This Inflatable Seashell Oyster Raft can take you floating out in the surf on a giant seashell! (or if you prefer to stick to the swimming pool, you can definitely use your imagination to envision that you are in the ocean). Also, the sparkling "hologram" finish looks a whole lot like the inside of a sparkly shell. Float away!

2. The World's Most Beautiful Seashells (Book)
For fans of seashells and beachcombing, The World's Most Beautiful Seashells is a classic. So, if they don't have it, then definitely get it for them. After all, there are a lot of beautiful seashells in the world. And there are a lot of beautiful photos of beautiful seashells in the world. So a book of the world's most beautiful… priceless!

3. Sea Shell & Sea Horse iPhone Case
A true friend would never let you have a boring cell phone cover. After all, since the cell phone has become the center of modern life, the cell phone cover has become the foremost spot for self-expression. And if you have a friend who hasn't figured that one out yet, you owe it to them to get them something as fantastic as this Sea Shell & Sea Horse iPhone Case.
I absolutely love the blue and gold theme to this artwork and really, how can you go wrong with sea horses? You can't. If you're looking for practical gifts for beach lovers, well, you can't do better than this!

4. Starfish Backpack
We all know someone who has been schlepping around the same backpack for years, although it has been worn out for years. Why not help them out with this great Starfish Backpack? The colors are great and you've gotta love the eye-catching seashell pattern.

5. Sea Shell Wine Glasses (as gifts for beach lovers)
Who doesn't like beautifully decorated wine glasses? And this set of Sea Shell Wine Glasses is definitely beautiful — a fantastic design of seashells resting on a layer of pale blue sand. I love the aqua-marine color theme there, which I think would work well with either reds or whites. Hmm. I'm picturing a nice Italian Pinot Grigio in there right now…

6. Starfish & Seashells Men's Underwear
Is there a man in your life who could use a little style with his skivvies? Then here it is. Actually, not a little style. A lot of style! This Starfish & Seashells Men's Underwear features a fantastic bit of artwork — I love this little scene of starfish and shells washed up on a nice little beach —which covers the entirety of this clothing item. Help someone be bold! Get him some starfish underwear!

7. Seashell Beach Non-Slip Indoor Entrance Rug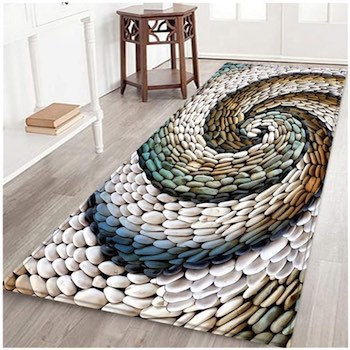 Is this a cool design for a rug or what? I absolutely love the pattern featured on this Seashell Beach Non-Slip Indoor Entrance Rug. This would make a great housewarming present. Warm that beach house right up with this amazing shell pattern.

8. Seashell Skins for Gaming Headset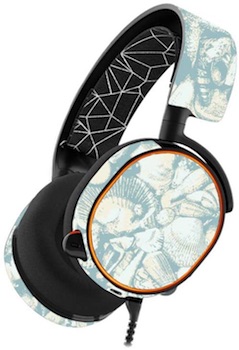 If you know someone whose gaming keeps them indoors a little more than is really healthy for them, hook them up with these Seashell Skins for Gaming Headset so they are reminded of what they're missing. With a cool blue pattern of seashells, they can unlock the loot in style.

9. 1000 Piece Seashell Puzzle
For many people, the beach is a meditative place. For many people, solving jigsaw puzzles is a meditative activity. If you know someone who fits both of those descriptions, may I suggest this 1000 Piece Seashell Puzzle. This should meditate them into nirvana.

10. Sea Shells & Rope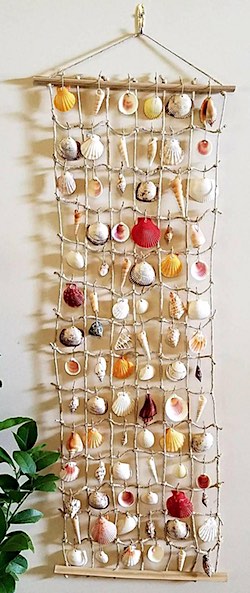 I've always liked seashell art that incorporates things that look fish-netty. Especially when it also incorporates a lot of shells! And I think that Sea Shells & Rope would make a great gift for anyone whose decorating taste has a nautical flair! Artist Laurette has used real palm fronds and real seashells collected from Panama City Beach in Florida and strung them all together with hemp string to create an awesome looking wall hanging that brings to mind a fishing net which has just landed a colorfol catch.

11. Seashell Dog Collar
These days everyone takes their dogs to the beach. So doesn't Fido deserve his own beach-themed apparel? Of course he does. And even at those times when he can't make it to the beach, he still deserves to be reminded of it with a Seashell Dog Collar, doesn't he? Of course he does. He's a good dog, after all.

12. Starfish and Seashell Tropical Beach Theme Bath Towel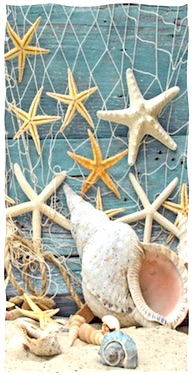 Wow, check out the starfish on that towel! Everyone needs towels, so why not give the gift of towels… especially when those towels evoke the kind of reaction that you're likely to get from Starfish and Seashell Tropical Beach Theme Bath Towel. I know that it amazes me that such fantastic artwork can be put on a towel, so I'm pretty sure it will impress others as well — one of those great gifts for beach lovers!

13. Seashell Steering Wheel Cover
Your friends may not have the car of their dreams, but you can make sure that they at least have the steering wheel of their dreams! With this Seashell Steering Wheel Cover let them know that you care about their mental well-being as they sit in their morning commute. Remind them that when their day off comes, the beach will be waiting for them.

14. Seashell License Plate Frame
>Honk if you love the beach! Okay, this Seashell License Plate Frame doesn't technically say that, but it most definitely says that. I love the artwork they've used here. It's such a nice, peaceful little mural of purple shells. I may have to go buy another car just so that I have another place to put this frame!

15. Mermaid Seashell Bikini T-Shirt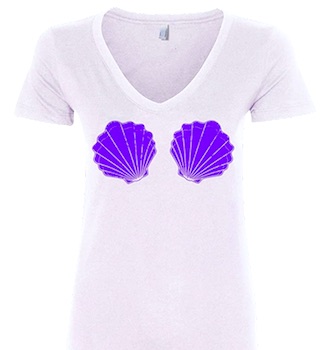 Most of us are a little too modest for a seashell bikini. But a Mermaid Seashell Bikini T-shirt? Bring it on! I love the cut of this shirt and having those shells there makes for a great fashion statement. And purple! I think I mentioned once or twice that I'm a fan of purple. So, a purple mermaid bikini is just aces with me!

16. Sandy Beach Mesh Cap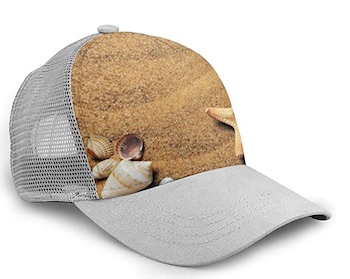 Your friends can take the beach with them everywhere they go if you give them each one of these Sandy Beach Mesh Caps. I love that they've got this great little scene of sand, shells and starfish printed right on the front. How much fun is that?

17. Seashell Chocolate Lollipop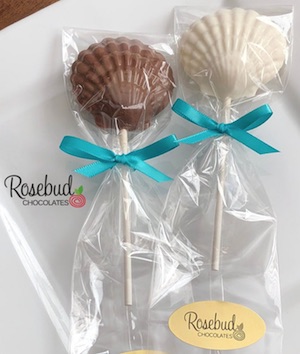 We all have a chocoholic or two in our lives, don't we? (My husband is definitely one) and I can think of no better gift for the chocolate lover than these Seashell Chocolate Lollipops. Especially if the chocolate lover is involved in some sort of event, say a wedding, anniversary party or luau — in which case the chocolatiers of Rosebud Chocolates will even personalize these beautiful chocolates for your event!

18. Summer Seashells Mug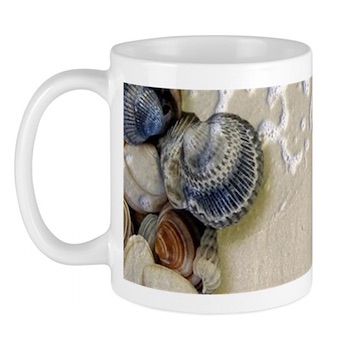 Is there anyone in your circle of friends who doesn't need a coffee mug? I mean, seriously, do you know even one person these days who doesn't like a good cup of coffee? So help them add to their mug collection with the beautiful coastal design on this Summer Seashell Mug. Get a little beach in with that caffeine!

19. Starfish Journal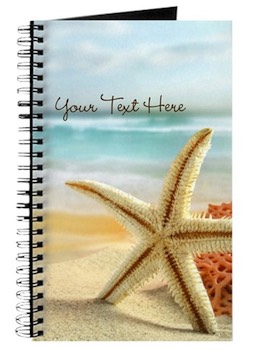 Dear Diary: today my best friend got me a Starfish Journal that was personalized with my name on the cover. I love my new little journal and I plan to use it to write down all of our fun beach adventures. Sure, I'll still post my photos on Instagram, but all of the really good stuff will just go in here, in my new favorite journal given to me by my new favorite friend!

20. Seashell Beach Night Light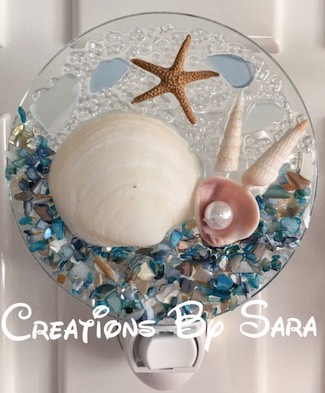 Let's face it: everybody needs a night light every now and then, right? We've all got that certain room, or corner or dark top of the staircase that needs some illumination late at night. Artist Sara has gathered shells from the beaches of Florida and New England and hand-makes these night light frames which are then glazed and fired (which means that they won't yellow of fade). So instead of a boring, generic night light, your friends and family can have a one-of-a-kind piece of art lighting their way as they stumble for the bathroom in the middle of the night.

21. Starfish Fleece Throw Blanket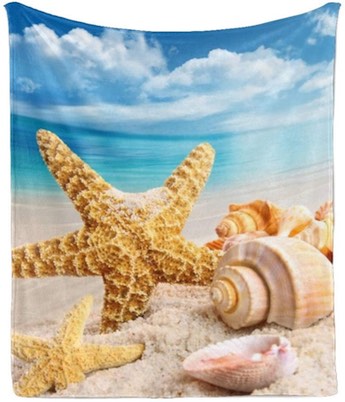 Remind them of their time at the beach even when they've come back from their time at the beach with this wonderful Starfish Fleece Throw Blanket. I love that not only does this one feature a really amazing scene of starfish and shells, the blanket itself is super soft! That way, even when they're far away from the beach, the owner of this blanket could snuggle up with a loved one before the fireplace and remember the beach.

22. Sea Shells with Heart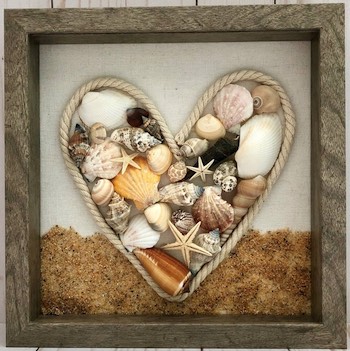 Giving someone your heart will always be the ultimate gift. After you do that, give them something heart-shaped so they know it! I love the clever use of the rope to make the outline of the heart (and I can think of a few people who would love to receive this one). Artist Stephanie fills that heart-shaped space with some amazing shells. And the really unique part that I see is the sand! I love how she's used the sand in the background. What a perfect way to tell someone they have your heart!

23. Seashell Flip-Flop Socks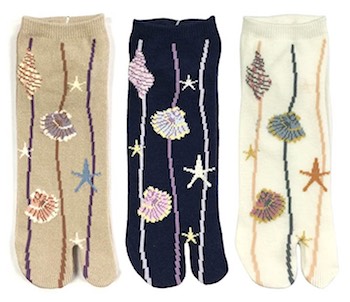 Until I saw these Seashell Flip-Flop Socks I wasn't even aware that there were such things as flip-flop socks. I always thought that the point of wearing flip-flops was to set your feet free. But then I remembered that in many areas, including the West Coast where we live, the temperature drops quite a bit when the sun goes down, and if you happened to be caught wearing your flip-flops at that time, then a pair of socks with a little indentation for your big toe would come in mighty handy. And if you were using those handy flip-flop socks, then of course they should have a seashell theme. Of course!

24. Sea Shell Cellars 2017 Wine Collection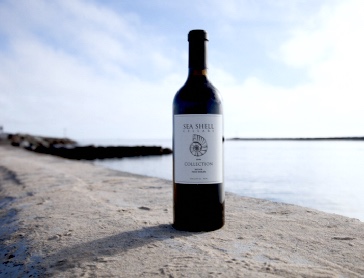 It should come as no surprise that there would be a winery that would use shells as their motif. After all, the beach and wine go together like… well… I can't think of anything that goes together better than the beach and wine. So grab yourself something from the Sea Shell Cellars 2017 Wine Collection and be prepared for that next beach outing with friends!

25. Sea Shell Magnets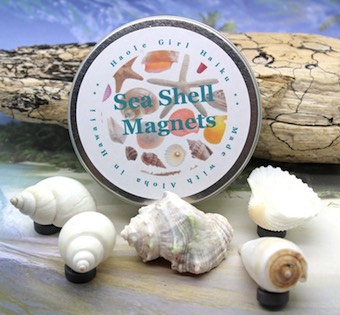 I don't care who you are, where you live, what you do for a living — everyone sticks things to the refrigerator. Therefore everyone needs fridge magnets. Help your friends and family lend a beach them to their kitchens with these Sea Shell Magnets.

26. Under the Sea Birthday Cookies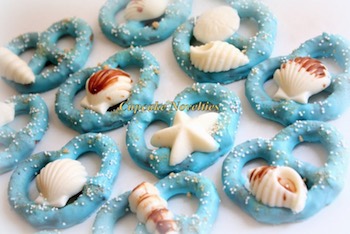 Yummy! These Under the Sea Birthday Cookies make great gifts for any occasion. Not just birthdays (although, what an awesome addition to any birthday party these would be!). I love that they've colored these chocolate-covered pretzels this great aquatic color (really, how do you get chocolate to be blue???) and then they top it off with a great chocolate seashell. A perfect addition to any beach-themed gathering!

27. Sea-Themed Face Mask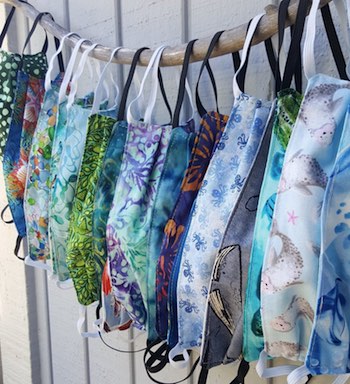 Obviously the demand for face masks has skyrocketed of late. But why give someone a plain, boring face mask? Not when you can give them a beautiful Sea-Themed Face Mask. Hailing from the seaside town of Santa Barbara, artist Cari Summer is a seasoned sea glass artist. During the pandemic, she's turned her artistic eye and love of the beach to making these beautiful face masks. Surprise your beach lover with one!

28. Mini Seashells Bottle Necklace
What a cute little gift a Mini Seashells Bottle Necklace would make. I can easily see this as being one of the bridesmaid's gifts for a beach-themed wedding. Can't you? I love the tiny little bottles filled with tiny little shells. These are just the cutest. And the perfect thing to remember some time at the beach, whether we're talking a wedding, or we're talking a romance, or… just a beautiful day!

29. Purple Starfish Tote Bag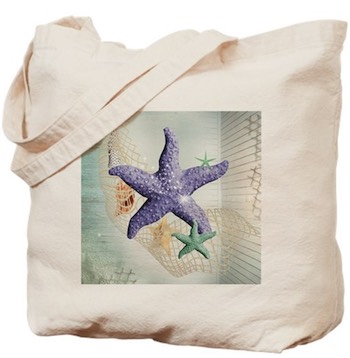 If you've got a friend or family member who lugs all of their beach stuff out to the sand in a big plastic Walmart bag, do them a favor and get them this Purple Starfish Tote Bag. This is an absolutely perfect item for carrying those beach items like beach-read books, or sunscreen… or maybe even a little wine in a sippy cup (I won't tell!). The starfish theme really makes this bag great, and if you've read any of the other pages here on Seashell Madness it's a pretty good bet that you've heard me say how much I like purple. So purple starfish? Yes, please!

30. Seashell Coasters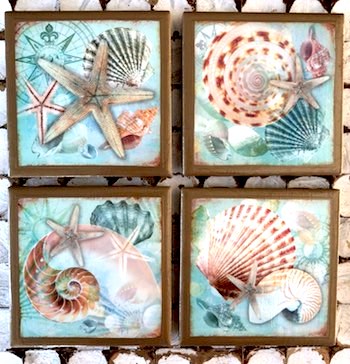 These beautiful coasters are handmade and they definitely make for great gifts. Artist Sarah Watts actually specializes in coasters. Each set that she handmakes takes her about 2 days. And that attention to quality and detail really makes a difference. Just look at these things. So beautiful, but also water-resistant so that you absolutely can place your drinks on them (though you may also end up holding your drink in your hand as you admire these beautiful pieces of art). Either way: terrific gift!

31. Sea Glass & Shells Suncatcher Window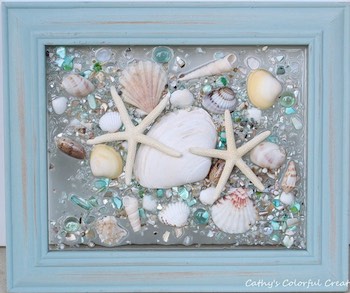 Who doesn't like a sparkly present? Really, who? I can't think of anyone. And this Sea Glass & Shell Shells Suncatcher Window is pretty darned sparkly (which makes it a great gift for beach lovers). Artist Cathy Michael achieves that sparkliness by the addition of crushed glass to the seashells, then it is all sealed in resin. This is great not only because it keeps whoever you give this to from getting cut on glass, it also gives this piece a feeling of liquidity. It's like when the receding waves leave a thin layer of water on the sand — and that water is full of shells and sparkles. I know I would love to receive this as a gift!

32. Driftwood & Barnacles Picture Frame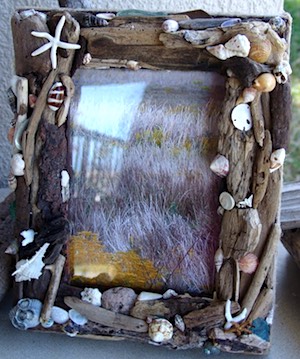 There's something about art made from driftwood that makes a great statement — and a great gift! Driftwood has been tossed around by the sea for a while, curving off the sharp edges and giving each twig and branch character. Which makes driftwood art a perfect present for someone who also has character!. Each of these picture frames is handmade by artist Lynette with small driftwood pieces and shells. Each one is unique… and perfect for that unique person in your life.

33. Starfish Flower Girl Hair Clip
These just have to be the cutest things that you could find for a flower girl. Especially at a beach wedding (though, heck, they'd be great for any wedding, wouldn't they?). Not only do they look great, they help to keep that "wedding hair" from coming uncoiled before she has the chance to coat the aisle in rose petals.

34. The Tree of Life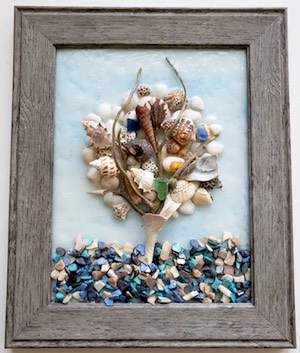 A shell mosaic is a gift that can not only look great, but can get across a certain feeling to the recipient. I really like this idea of Tree of Life — I love how the branches are formed by not just twigs but also by seashells (so cute!). Artist Heidi creates her one-of-a-kind designs using shells and crushed shells that have been hand-picked off the beaches of Florida.

35. Shell Trio Mosaic
This Shell Trio Mosaic would go really well with our kitchen tiles… oh wait, we're talking about seashell gifts for others, aren't we? Okay… I'm a big fan of blue tile (it's the perfect thing for a beach-themed decor) and I love how the blue tile has been used as a frame for these wonderful aquatic murals. And I think it's not just me — I'm pretty sure that others would enjoy receiving this trio for their kitchens just as much as I would.

36. USPS Seashells Postcard Stamps

When you're in that quaint little seaside town you're most likely going to be sending postcards to all of your friends and family who aren't (it's not that you're gloating or anything, you just want to share the good vibes). And the post office won't send those postcards off without proper postage. So why not give your seaside postcards the proper postage with a seaside flair!

37. Glass Lighthouse Window Art
What an awesome gift this would be for someone who loves nautical colors. I really like the lighthouse idea and I think it's really neat how artist Sherri Ortega has used recycled glass in different sparkly colors to create this mural. And the use of resin to seal it all has been used to great effect here, allowing the artist to feature seashell butterflies floating through the air.

38. Seashell Soaps Gift Basket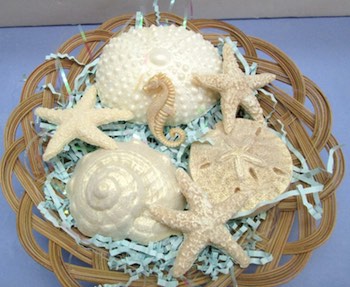 Everyone needs soap, right? So I maintain that a Seashell Soaps Gift Basket would be a great gift for anyone. Although, now that I think about it, you might need to also include a couple of bars of normal soap in with your present, as these cute decorative soaps might be a little too beautiful to really use to wash your hands after working on the car.

39. Driftwood, Glass & Shells Picture Frame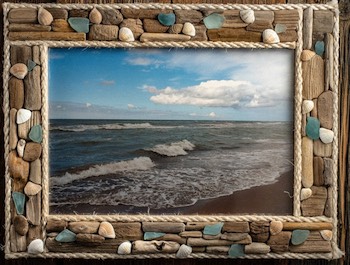 Say you've taken some awesome photos with your friends on your beach vacation — photos so awesome that you've decided to go the extra step and give them to your friends as gifts. This Driftwood, Glass & Shells Picture Frame has all of the beach elements — driftwood, seashells, rope — and it would be the perfect way to present that perfect photo. Wouldn't it?

40. Anchor on the Beach Shadowbox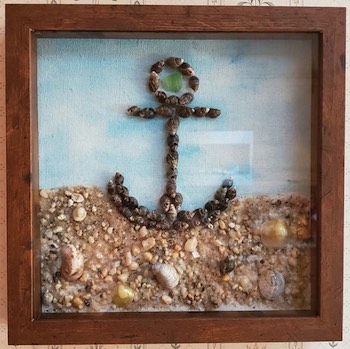 The boat-lover in your life would definitely enjoy receiving this Anchor on the Beach Shadowbox. Handmade by Jessica and Mark using real shells that they've hand-collected during beachcombing excursions to Crab Meadow Beach in Long Island. Your boater friends will love the great way that the real shells have been used to create the anchor. And the design of the sandy ocean bottom will remind them of that great scuba adventure.

41. Seashell Trinket Box
We often give trinkets as gift (and many trinkets are awesome gifts!), but sometimes they end up just kind of spread out across the top of a dresser, don't they? That makes the Seashell Trinket Box the perfect gift for someone who has already received a lot of trinkets. Makes sense, right? Artist Sheryl created this original design and creates each one using shells she has found at the beach combined with sand. A beautiful seashell-themed place to hold all of those little seashell-themed things!

42. Seashell Flower Anniversary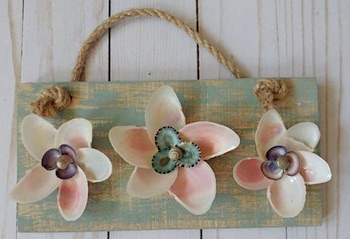 I love when shells are used to create flowers. Love it! And for this Seashell Flower Anniversary artist Holli Soriano has created some absolutely lovely flowers, and the distressed look of the teal makes for the perfect mounting board. I would definitely give this as anniversary gift, wouldn't you?

43. Beach Wedding Garland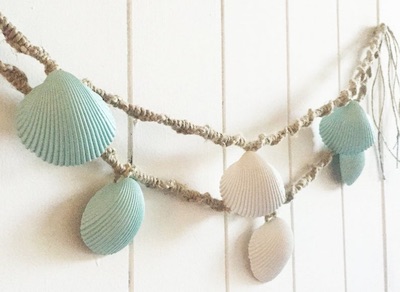 If you're planning a beach-themed wedding you need this Beach Wedding Garland. And if you're not planning a wedding? You still need it, because it is beautiful. Seriously, artist Melissa Luther creates some amazing things with items found on a shoreline, and this garland would be a great addition to any home anywhere.

44. Lucine Seashell Flower
Artist Carol Bell suggests that the Lucine Seashell Flower would make for an excellent centerpiece at wedding tables. I think that this beautiful little flower would make a great gift for a centerpiece to anybody's table anywhere! In my own seashell art I like to use similar flat, white shells (I created a snowy Christmas tree that my husband won't take down until sometime around August) so I can really appreciate the use of these lucine shells for this creation (hmm… maybe I should try to make a few flowers?) If the beauty of these little flowers isn't enough to convince you to give them as gifts, how about the fact that the shells were gathered by the artist on Honeymoon Island! Fantastically appropriate!

45. Seashell Molded Cups with Swirly Straws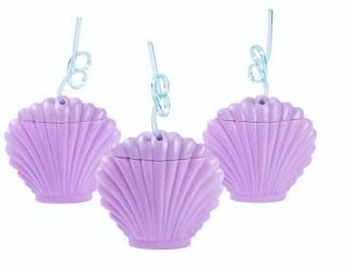 Every good party has party favors. So why not make your party favors not just fun, but practical as well? Take, for instance, these Seashell Molded Cups with Swirly Straws. Whether you're talking about a kids' mermaid party where the guests are drinking punch or an adults' beach party where the guests are drinking something stronger, these purple seashells and their swirly straws will make it all the more fun. And at the end of the party, kids and adults alike will love taking these cups home!

46. Under The Sea Cookie Cutters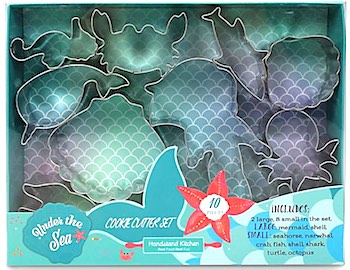 What a great gift for baking enthusiasts who are also beach-lovers! I can honestly say that these Under The Sea Cookie Cutters are the first time that I've ever seen beach-themed cooking cutters. And I love 'em! I can't wait to give a set of these to a certain baking friend of mine… so that I can get octopus cookies and dolphin cookies in return!

47. Sea Shell Twig Wreath
What a great housewarming present for a beach house (or any house that wants to add beach-house charm). Nothing says "welcome to the beach" like a Sea Shell Twig Wreath hanging from the door. Using real shells and beach items, artist Carrie Hill hand-makes each of these wreaths, personalized to order. Which means that it really can be the perfect housewarming for any house anywhere!

48. Conch 3D LED Desk Lamp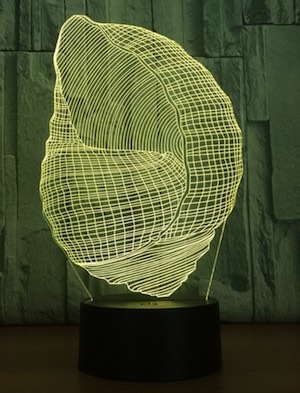 As a fan of interesting lighting (I've never been one for basic lamps or strip-lights) I am absolutely in love with the Conch 3D LED Desk Lamp. Aside from just the utter coolness of this design — seriously, would you guess that the 3D is just an optical illusion and that the image is actually on a flat sheet of acrylic glass? — it casts a soft, soothing light. So if the beach lover in your life has trouble sleeping because of the pounding of the surf? This just might be the perfect thing to help them relax.

49. Topsail Island Seashell Wood Plaque
I can just picture Topsail Island Seashell Wood Plaque hanging on the wall of a quaint little beach cottage somewhere — or on the wall of any home anywhere that would like to give the feel of a quaint little beach cottage — can't you? I love that this mosaic has been created by artist Crystal Garner using real sea shells gathered from the shores of Topsail Island, NC. And the colors that she's used for the background are just perfect. A work like this deserves a home on any beach-loving friend's wall!

50. Coastal Starfish Stainless Steel Water Bottle
A stainless steel water bottle makes a great gift for anyone, in my opinion. They're a great way to help you keep hydrated — which is something we all need, especially when we're being active with fun things like, say, beachcombing! — while the fact that the bottles are reusable is also a great way to help keep those plastic bottles out of our oceans. So why not help a friend help the ocean… Oh, and the design on this bottle is really cool, too!

51. Pink and Burgundy Shell Tree

I know from experience that a shell tree makes for a great gift! One of my earliest shell projects was creating a Christmas tree, and it was a big hit! This Pink and Burgundy Shell Tree is not only really great, it is really colorful — so not just a Christmas tree, but a tree that can be enjoyed year-round! Artist Connie Craven hand-makes these trees from shells collected on her daily walks on Atlantic Beach, FL, and with this tree you can bring that beach to someone in your life!

52. Coastal Wall Art
If you have a friend who would love some Coastal Wall Art, Lorri Yancy has created 3 different designs to choose from – so you should be able to find something perfect for that friend! Lorri creates these using weathered pallet wood and real shells that she has picked up on the beaches of Florida. Of the 3 designs I think that I would take… all 3 please!

53. Pearl Shell Earrings
Most people think of beach fashions as being ultra casual, but I'm sure you have someone in your life who loves beach fashion, but also enjoys dressing up occasionally? Sure you've got that person in your life. And that person deserves these Pearl Shell Earrings. They're carefully hand-crafted, they're very pretty and they're very fancy looking. A perfect present for the stylish!

54. Portable Conch Shell Night Light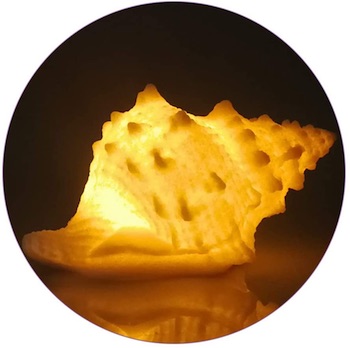 What a great gift for someone who is not a fan of traditional plug-in-the-wall night lights! This guy is about 7 inches long and battery-powered. So your friend could have it sitting on a desk or table — this beautiful, glowing conch casting a soft light through the room. Oh, and it has a timer, so nobody has to worry about turning it on and off.

55. Seashell Candle
I've noticed that a lot of beach-lovers are also candle-lovers. I'm not sure why that is, but it is. And because it is, these Seashell Candles would make an excellent gift. I personally love the soft pastel colors of these candles and having these in your candle dish definitely gives the room a beachy feel!

56. San Miguel LED Beach Light Table Decor
Take a jar, an ordinary jar, and imagine making it into something extraordinary. That's what's going on here. The San Miguel LED Beach Light takes an ordinary jar, fills it with seashells and pebbles, then adds light. This would give an instant beach feel to any friend's kitchen table, while casting a soft, coastal glow during the evening hours.

57. Hawaiian Seashell Love Decor
There is so much that I love about this Hawaiian Seashell Love Decor. First off, I feel that seashell art is naturally romantic and when used specifically to give a romantic feel, it works amazingly. I personally created a heart-shaped seashell wreath for my own bedroom, but if I hadn't, I would love to receive this Love decor for that same place. Another thing that I love? Artist Aubrey Aailoces hand-crafts these on the Hawaiian island of Maui using shells gathered in Maui. So much about this Love to love!

58. Sea Shell Vases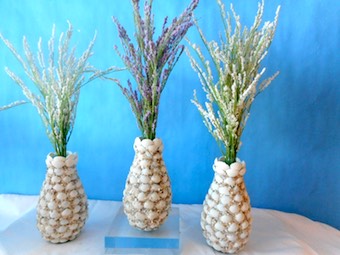 When I first looked at this I though that they were pineapples. And hey, pineapples are Hawaiian and therefore pretty beachy in and of themselves, but a closer look revealed that these were vases which had been covered in seashells and sand. I love it! If I were giving someone some cut flowers from the coast, I think that these Sea Shell Vases would be the absolute perfect thing to place them in.

59. Pebble Family on a Bench at the Beach
Something from artist Agata Milburn would make a great gift for any occasion. Why? Because she not only creates wonderful imagery such as Pebble Family on a Bench at the Beach from items like pebbles, seashells and sea glass, but she also personalizes her works. You could be the pebble people on the bench! So, she can create a lovely anniversary gift or wedding gift or any other gift, tailored to your occasion.

60. Seashell & Starfish Flameless Candle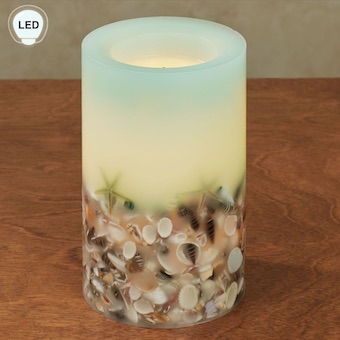 What a great gift to add an ocean flair to anybody's life. Although this is a flameless candle, it has been made with real wax. And encased in that real wax… real seashells. So no two candles will look exactly the same, but they will all look as cool as this Seashell & Starfish Flameless Candle!

61. Seashell Flowers Wall Hanging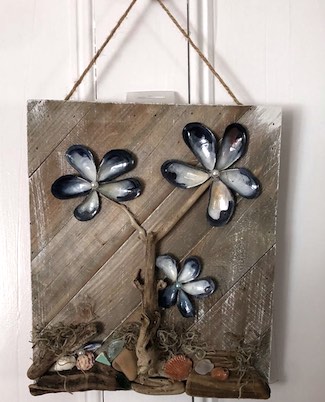 I'm just a sucker for shells made into flowers (it's one of the main themes that I use in my own seashell art — flowers and butterflies) so when I saw this Seashell Flowers Wall Hanging I was immediately in love. Like me, artist Lisa makes her shell art using local shells that she has found at the beach herself. Which is another thing that I think is great. And I also think that this wall hanging would be a perfect gift for anyone who wants to lend a room a great beach feel!

62. Abstract Shell Throw Pillow
I know you know someone whose couch would look so very cool with one of these Abstract Shell Throw Pillows on it. I just know that you do. Oh, and just so you know, this is double-sided. So not only does it have a great watercolor abstract shell design on the front, it has another on the back. So, I guess your friend with the couch would have to decide which of the abstract shells to display. Such pressure from a gift!

63. Stained Glass & Shell Jewelry Box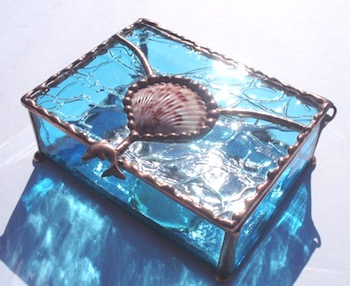 If you have a seashell collector in your life, you know that they can always use something to put those shells in. And in the case of the seashell collector's most prized shells, they want that container to be attractive as well. Which makes this Stained Glass & Shell Jewelry Box the perfect gift for anyone you know who has the seashell madness! Artist Nancy Keiber handcrafts these boxes, with several customization options. I love how she has used the blue, rippled glass for the sides of this one — the light shining through it is like the light bouncing off of the ripples of the ocean. A shell-lover's dream!

64. Treasures of the Ocean Wooden Heart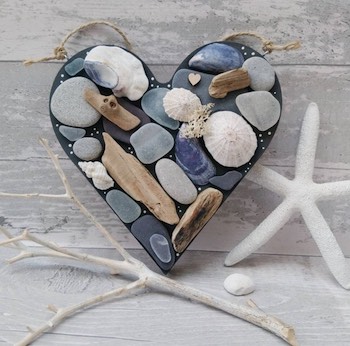 What a beautiful little heart this is (I guess that I would be considered a romantic, since I am a sucker for anything heart-shaped). I love the simple take of Treasures of the Ocean Wooden Art. Artist Toni is an avid beachcomber and creates her pieces using materials that she and her husband (and dog) have found out beachcombing. I'm sure that you have a romantic in your life, and I'm sure that they would be taken by this heart as much as I am.

65. Rustic Beach Collage
I've found that a great seashell collage — and this Rustic Beach Collage is a great seashell collage — makes for a winning gift every time. Artist Jess Faro has a great eye for deciding which shells to use in her pieces. I also think that it's great that she is devoted to using shells that have been gathered on beaches by either her or her family. I find that artists who really commit to that kind of concept are also artists who create great things. Like this.

66. Seashell Serving Dishes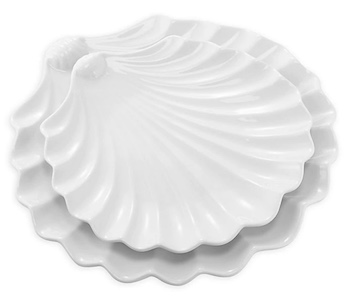 She serves seashell serving dishes by the seashore. Or something like that. I think that a set of these Seashell Serving Dishes would make a wonderful wedding present or housewarming gift. Aren't those 2 occasions where you would expect to find serving dishes? And wouldn't the seashell theme be awesome for a beach lover? Yeah, I thought so too!

67. Shell Canisters
Say you've got a friend who keeps things like flour or sugar or coffee in their original bags on their counter. Or, maybe in some generic tin canister. Then imagine how grateful they would be if you added a bit of coastal flair to their lives by giving them a set of these beautiful Shell Canisters. Same coffee. Same Suger. Much more beautiful… I think that they would thank you for it.

68. Rustic Wood Nautical Jewelry Box
It's been a long time since I read Treasure Island, but I do recall that there was a lot of talk about pirates' chests (and rum, but I think that's a different topic). When I looked at this Rustic Wood Nautical Jewelry Box it definitely brought to mind those youthful adventures of that book. I love the distressed look on this one. And the seashells make it an absolutely beautiful place for someone to store their jewelry — preferably their sea glass jewelry!

69. Green Seashells & Starfish Makeup Bag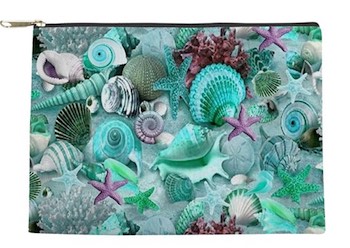 It's great (and rare) when a gift can be both practical and beautiful too. But that is the case with this Green Seashells & Starfish Makeup Bag. After all, anyone who uses makeup needs a makeup bag or two. And just look at this amazing print which has been put on the side of this one. I love the greens and teals that really bring out the feeling of an underwater scene. And pulling out something this pretty when pulling out the things that will make you pretty… something about that is just wonderful. And it definitely earns its place on this list of gifts for beach lovers.

70. Sanibel Seashell Heart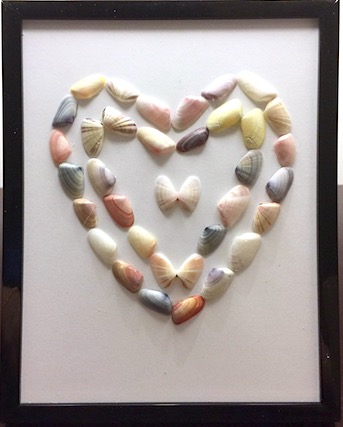 Sanibel Island in Florida is one of the worlds best places for finding sea shells. Seashells wash up on the shores there in such great numbers that the piles on the shore are almost like snow drifts. I've never heard an explanation of why the seashells are so abundant there, but it is well-known that they are abundant there. So an artist like Melissa Carpenter, who goes to the island to collect shells herself will have a wonderful assortment to use. And use them well she has in Sanibel Seashell Heart. I love that the shells come in a wide variety of colors. This one's just perfect!

71. Seashell Embroidered Turkish Towels
I'm sure that your mom told you that towels always make great gifts. Admit it, you know she told you that. That's because a towel is an insanely practical thing. Everybody needs a towel every now and then. Everybody! So why not add a beautiful beach theme to this ultra-practical gift? I love the patterns on these Seashell Embroidered Turkish Towels. Practical and beautiful.

72. Sterling Silver Starfish Ring
A ring makes a great gift for that someone you love, and a hand-made ring makes that great gift even greater. I especially love the patterns that artist Omri Ezer cuts into this Sterling Silver Starfish Ring. Each ring in his collection is beautiful and I love the detail here. Look at all of those little shells and all of the other ocean-floor details which have been handcrafted into this ring. Definitely a keepsake!

73. Sea Glass Bath Ensemble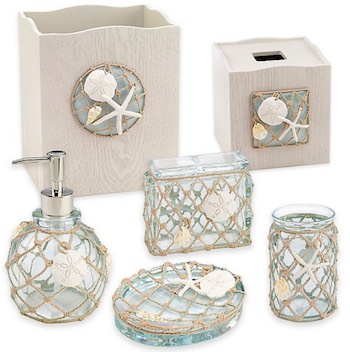 Just to be clear here: Sea Glass Bath Ensemble is glass that is inspired by the sea rather than glass that is sea glass. Even so, what a beautiful collection we have here. While some people are fine with just leaving their soft soap in the standard plastic bottle, we all know someone for whom that simple will not do. And for that person, this is a fantastic collection. Whether the bath is at a beach house or just a house that likes to remind you of the beach, these little items are fantastic. I love how each coordinated item uses both shells and netting for that aquatic feel. They'll love their soap in these!

74. Seashell String Lights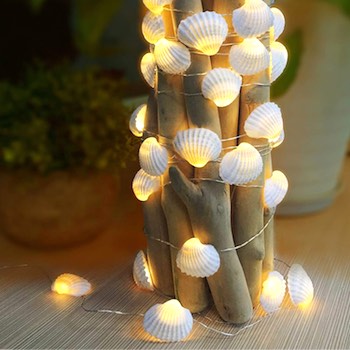 As a fan of creative lighting I am a big fan of string lights. And as the name of my website would suggest I'm also a big fan of shells. So, Seashell String Lights? … Well, yeah. That would be the perfect gift for someone like me.

75. Seashell Wall Sculptures
I can think of nothing that would make a friend's beach house — or normal house that wants to be a beach house — more like a beach house than these Seashell Wall Sculptures. Artist Kimberly Periat makes some pretty incredible beach things (you can see some of her work in the beach house of the Netflix series Grace and Frankie) and these little sculptures, which come in styles from conches to seahorses, will make any home look beachy.

76. Seashell Foot Jewelry
As a day-to-day footwear option, this Seashell Foot Jewelry may not be the most ideal choice. But for wandering out onto the shore with the sand between your toes? Absolutely! I love the little seashells here. Definitely styling!

77. Seashell Gel Tealight Holder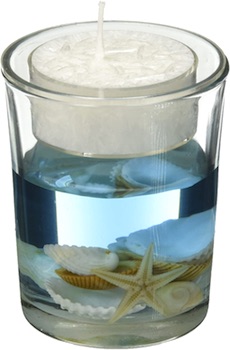 Weddings often feature a lot of tea lights, but why stick with just those boring little white discs when you can add a sea flair to the flames? This Seashell Gel Tealight Holder is really great. It features actual seashells floating inside an ocean blue gel. Makes your tea lights really stand out!

78. Mini Table Lamp in Seashell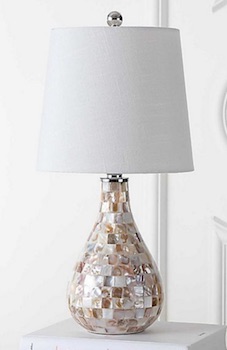 Here's a great one for someone who likes traditional lighting options, but with a little flair! I think that Mini Table Lamp in Seashell looks tremendous, the way that a very simple and basic table lamp shape has been transformed with the addition of seashell mosaic tile. Sparkly and great!

79. Beach House Wind Chimes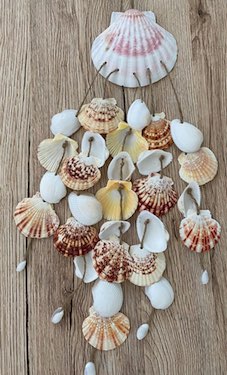 A calming addition to any beach house is a set of wind chimes, gently calling out theirs sounds in the ocean breeze. But don't just give your friends the standard wind chimes, instead go with these amazing Beach House Wind Chimes. Artist Alana started making beach-inspired items as decoration for her own beach wedding, and her pieces proved so popular that she just kept on creating. Come to think of it, these amazing wind chimes, made using real seashells, would also make a good addition to any wedding, wouldn't they?

80. Summer Seashell Wreath
There are a lot of seashell wreaths out there (I've got a full list of great ones elsewhere on this site). Wreaths are beautiful and I've found that they make excellent gifts. I've never seen anyone disappointed when presented with a wreath. And I especially like this particular Summer Seashell Wreath. I love how they've gone with a white-colored theme here, suggesting items that have been bleached and salted by the sea.

81. Seashells in a Bottle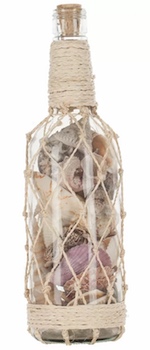 I'm not exactly sure how they got all of those Seashells in a Bottle. I mean, really, how the heck do they do that? Well, however they do it, this makes an awesome sea-inspired gift. I could see these used as centerpieces at a beach-themed wedding (I especially like the way that the bottle is covered in fish netting). Absolutely great!

82. Seashell Serving Tray
Say that you're at the beach and a friend has brought along her famous spinach-avocado wraps. These things are delicious (trust me!). Now, don't those wonderful and tasty originals deserve to be served on something better than just a standard plastic container? I love the teal color with the distressed edges on this Seashell Serving Tray. And the little seashell and starfish patterns are just the cutest aren't they? Those spinach-avocado wraps deserve to be served on something like this! Make it happen!

83. Personalized Seashell Collection Bag
As an avid beachcomber myself, I find that one of the most important, underappreciated and overlooked steps in the process is… bring something to put your seashells in! It's amazing how many times even the most experienced beachcomber, in her desire to hit the beach as quickly as possible, will head out the door of the vacation rental with nothing to carry those shells in. Here is a great way to solve that problem for them. Not only does this bag have a mesh bottom (which makes it perfect for stashing away wet seashells) it comes personalized. So, your favorite beachcomber can hang this right by the door, with their name staring them in the face each time they head out on their quest for shells.

84. Starfish Beach Ornament
Not just for Christmas at the beach (although not not for Christmas at the beach) these little Starfish Beach Ornaments make fantastic presents. Artist Natalie Hagan handmakes these little cuties to order — just tell her which shells, colors, etc. you would like — from real driftwood and seashells. A popular use for these ornaments would be to hang several of them from the bottom of a counter or bar. Instant beach feel!

85. Seashell Bottle Opener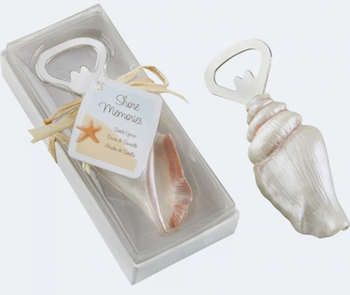 Here's another one that makes such a great gift because it takes something ordinary and makes it extraordinary. After all, who doesn't have a bottle opener or two hanging around? But a Seashell Bottle Opener? Bet your friends don't have of those… yet.

86. Iridescent Seashell & Starfish String Lights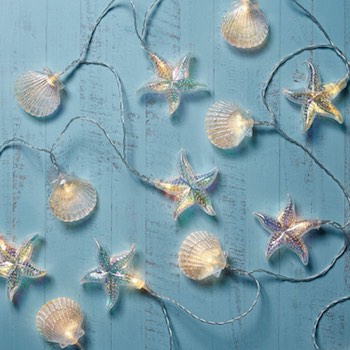 I think that these Iridescent Seashell & Starfish String Lights would make an excellent gift for nieces and nephews. Wouldn't this just make a wonderful addition to a kid's room? I know that if there had been a string of lighted seashells hanging above my bed when I was a little girl, then I likely would have gone to sleep dreaming of beautiful beaches… kind of like I do now.

87. Frosty Sunrise Seashell Tree
I know from experience that something like this little Frosty Sunrise Seashell Tree makes for an excellent gift to bring to the host of your next Christmas party. Artist Pandora Epting specializes in making trees out of seashells, and that amount of experience definitely shows in a work like this one. I love the little sparkles of "snow" that she's created here, and I'm telling you — trust me on this one — if you bring this for your Christmas party host, they will proudly make it the centerpiece of their table for both the Present Christmas Party and all of those Christmas Parties Yet to Be.

88. Crab Occasions Trivet
This Crab Occasions Trivet may be the perfect gift for someone who doesn't know what a trivet is (my husband didn't). Just tell them that it's this really neat crab-themed thing that you can place hot things on at your next beach barbeque. They'll thank you for it.

89. NATIONAL GEOGRAPHIC Ocean Animal Dig Kit
Want a great idea for a kids' party? An idea that's fun? An idea that's educational? Well, check out the National Geographic Ocean Animal Dig Kit. This is an awesome activity that lets kids dig up and discover (2 things most kids love to do). Each kit features 12 shell-shaped "dig bricks" which kids can not only excavate from the sand, but which contain inside a cute little sea creature (and since it is National Geographic, they are real sea creatures, not Sponge Bob).

90. Seashell-Themed Kids' Bed Sheets
Not all kids want superhero bed sheets. Some kids are looking for something else. And some kids who are looking for something else may not yet know that they are looking for something else. These Seashell-Themed Kids' Bed Sheets will have them spending the nights dreaming of the ocean.

91. Seashell Starfish Wall Clock
What time is it? Why it's time to go to the beach, isn't it? I love it when someone finds a way to blend together something artistic and something practical. I find this painting, with its soft pastels and gentle lines, to be very soothing and beautiful. And why not put it someplace where it will often be seen? I love this.

92. Seashells & White Sand Beach Wallplate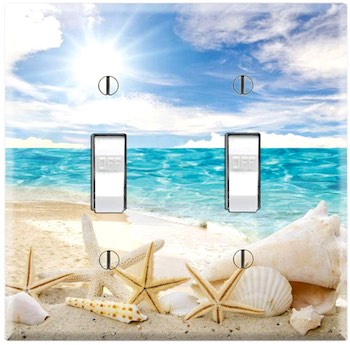 Every flip of the light switch can now be a reminder to get yourself to the beach. These wallplates are easy to switch out with any standard wall plates. Then next time it's lights out, it's dreams of beaches and starfish.

93. Seashell Welcome Mat
Is there anything more welcoming than a starfish? I don't think so. That's why I recommend this Seashell Welcome Mat for the front door of your beach cottage. Or a friend's beach cottage. Or apartment. Wherever.

94. Sea Shells & Starfish Comforter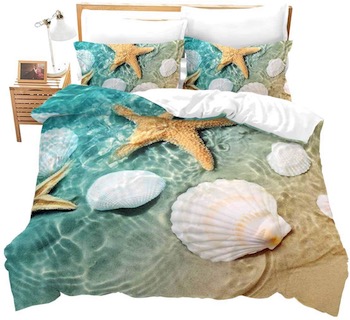 Imagine you have some visitors from out of town. You lead them into the guest bedroom. And they are magically transported to the beach! That's the effect you'll be giving with this Sea Shells & Starfish Comforter. The design on this is both beautiful and hyper-realistic. Take me away to the beach!

95. Large Plastic Party Shellbowl
If you're the one assigned to bring the punch to the party, why not be the one to bring the beach as well? This Large Plastic Party Shellbowl will leave all of the guests dreaming of the beach (unless, of course, the party is at the beach, in which case they wouldn't have to dream it… but that's another story, I guess). Put all of those fruity liquids into this shell-shaped bowl and watch the party happen!

96. Seashell Hanging Swirl Decorations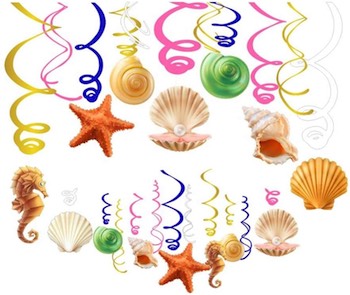 If you are in charge of decorating a birthday party or baby shower, why not really make it festive with these Seashell Hanging Swirl Decorations? I love the color of the seashell and starfish cutouts. Then dangle them from colorful swirling foils? Instant party magic!

97. 50+ SPF Infant Beach Hat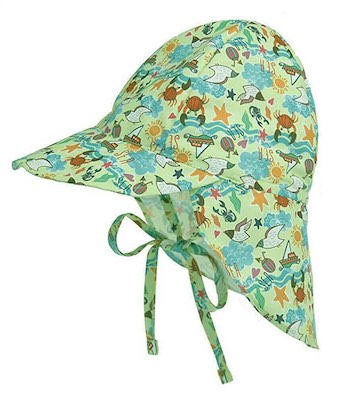 When off for a day in the sunshine of the beach it's always important to keep the heads of the little ones in your life covered. And this one 50+ SPF Infant Beach Hat is an extremely cute way to keep that precious head protected. This hat features a great beach scene with shells and crabs and birds while sporting an extra-wide brim to help keep the sun off as much as possible.

98. Conch & Starfish Hairpin Barrettes
Do you know someone who has long hair and uses boring barrettes to keep that hair in place? Well, lucky for them you have just the thing. The set features hairpins with different seashells in different colors. Meaning that these Conch & Starfish Hairpin Barrettes will keep their hairstyle in style.

99. Blue Glass Shells Wine Bottle Stopper Set
Here's one for the beach-loving wine-lover. Do you know someone like that? I'm sure you do. These stoppers are a beautiful teal of handblown glass. So, not only functional, but also artistic and beautiful. And they help to keep wine kept until needed.

100. Sandy Beach Seashell Sunglasses Pouch
If you know someone who can't keep track of their sunglasses when those sunglasses are not on their face, then boy, oh boy, do I have the perfect present you can give them. They need a pouch for those puppies. And since we're going to the beach here, how about a Sandy Beach Seashell Sunglasses Pouch? Yeah!

101. Sea Shell Design Plastic Toilet Seat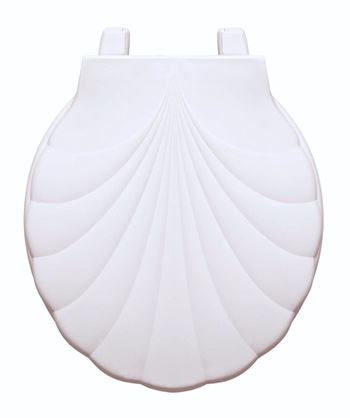 'Nuff said.
101 Seashell Gifts for Beach Lovers
Thanks for checking out my recommendations for seashell gifts for beach lovers. If you liked this, please share it on your social. Thanks
Written by Renee