Beach Christmas Ornaments ~ for that Coastal Christmas vibe (wherever you are)
Every Christmas has a Christmas Tree and every Christmas Tree needs some ornaments — so how about some Beach Christmas Ornaments?
If you're pursuing a Coastal Christmas theme (like I am!) you'll need to have some Coastal Christmas Ornaments for that tree. It's actually amazing how many different choices you have when it comes to beachy ornaments, so without further ado:
After you've read this article, be sure to check out our big Beach Christmas Guide for lots more suggestions on hosting a beach Christmas!

Starfish in Swimsuits Whimsical Christmas Tree Ornaments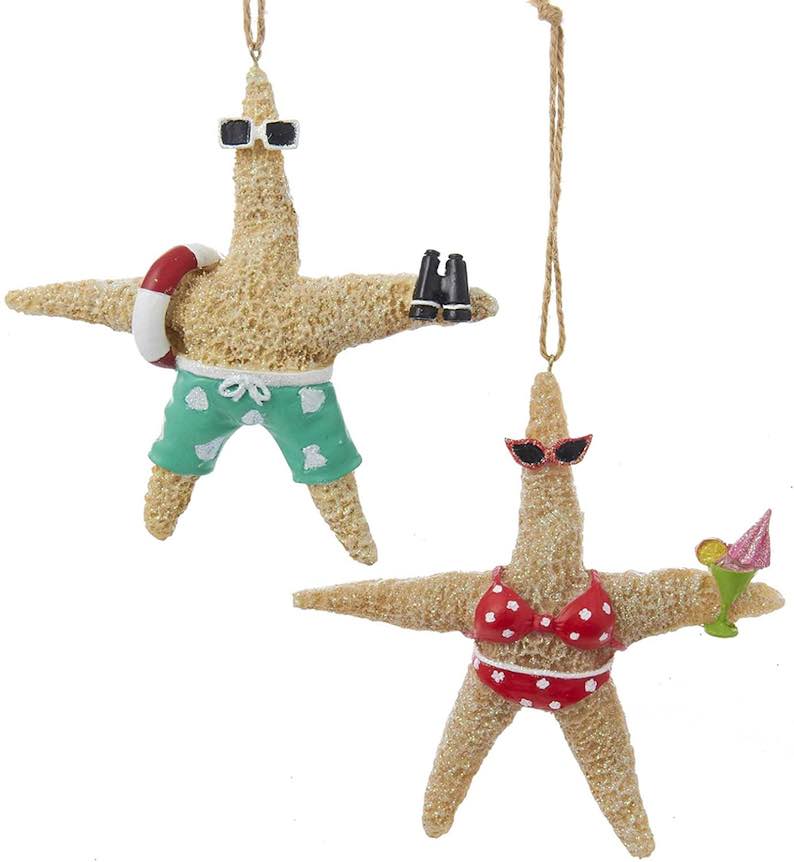 How cute are these little starfish in their little swim suits? I tell you, I've looked at this pair multiple times and each and every time they bring a smile to my face. I especially like that the female has a nice tropical drink in her tentacle. Love it!

Starfish & Driftwood Coastal Ornament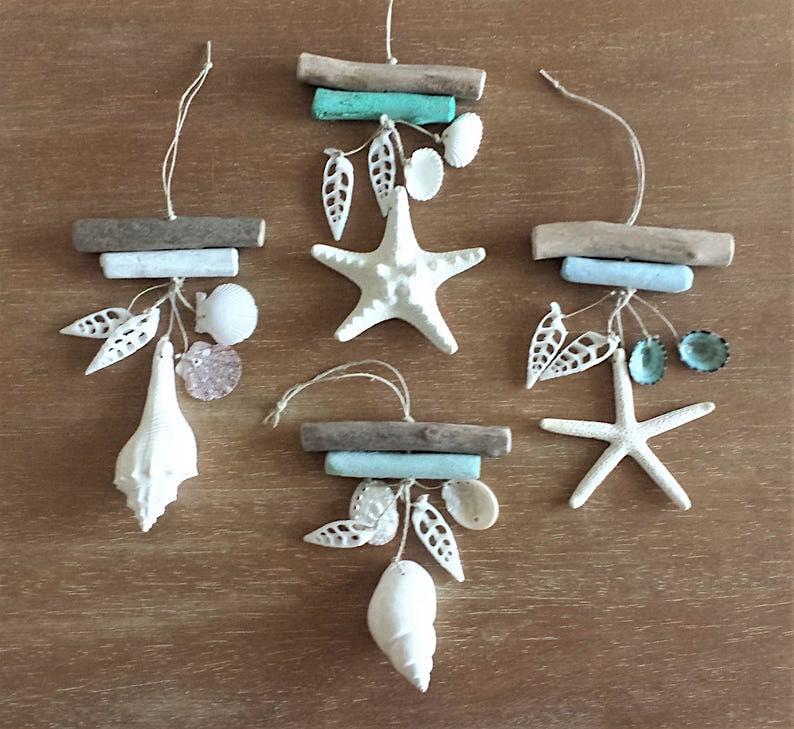 It's no secret that I'm a fan of driftwood — there's just something really cool about walking down the beach and stumbling upon a small piece of wood that has been tumbled around by the sea and ended up smooth as a result. Then when an artist takes that driftwood and makes something beautiful I love it. Like these ornaments with both driftwood and shells.
See all of our Christmas Pages:
Beach Christmas Cards • Coastal Christmas Stockings • Beach Christmas Ornaments • Beach Christmas Trees • Beach Christmas Decorations •

Coastal Beach Theme Christmas Ornament
Sometimes simple and elegant is the best way to go. I really like how this Coastal Beach Theme Christmas Ornament has just stuck with a few beachy elements. It works really well (for beachy ornaments).

Handmade Shell Wreath / Beachy Ornaments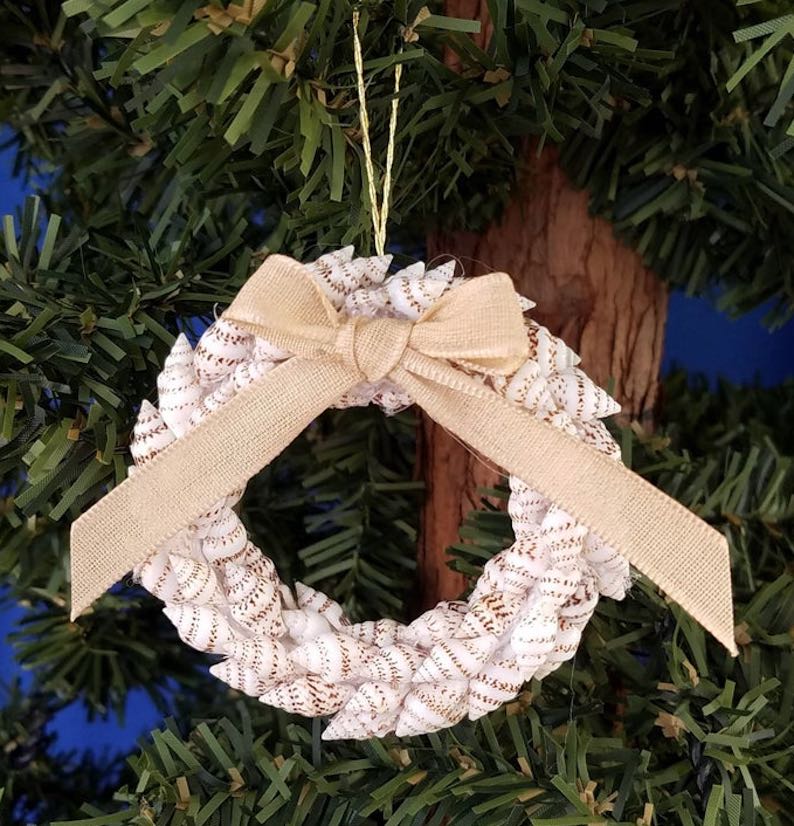 Seashell wreaths are some of my favorite beach house decorations. I think that nothing says "Welcome to the Beach" better than a seashell wreath. So it tickles me no end that someone has take teeny, tiny shells and made a beautiful teeny, tiny wreath for this beachy ornament.

Metallic Turquoise Finger Starfish Christmas Tree Ornament
Hey, you can't go wrong with starfish hanging from your trees.

Nautical Christmas Ornament
I love the color combo on this particular coastal Christmas ornament. And the delicate combo of sea glass, starfish, shells and sprigs really pulls it all together for me.

Genuine Sea Glass Delightful Tree Ornament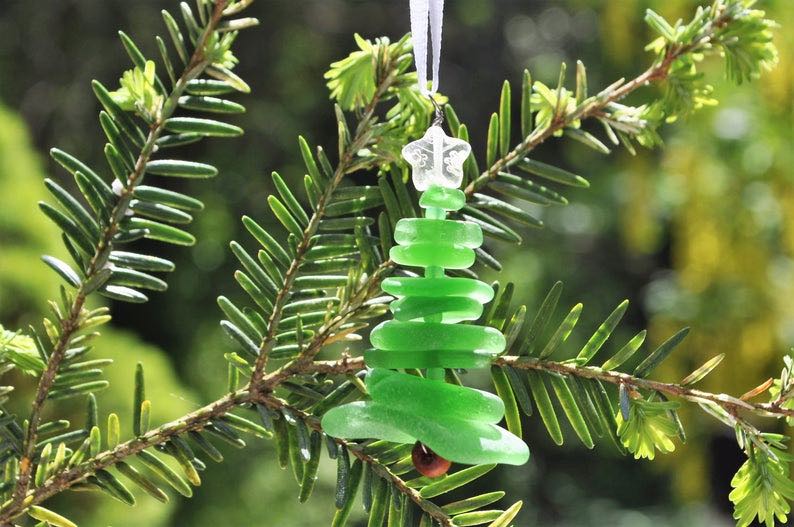 I'll tell you a story: "Once upon a time a group of people from a tiny village on the coast dumped a bunch of broken glass into the ocean. For many years the ocean tumbled and turned what the careless people had discarded. Then one day the ocean came back to the children of those who had dumped their trash into the waves and said 'here, I have brought you gems in return for what your parents gave me.' And the people were happy and they called these gems sea glass."

Seahell Angel with Birthstone. Personalized Holiday Tree Beach Christmas Ornament
Being an amateur seashell artist myself, I have a fascination for the medium. And I think that these little seashell angels are both cute and creative. Wonderful seashell art! and a wonderful Beach Christmas Theme.

PRODUCTHEAD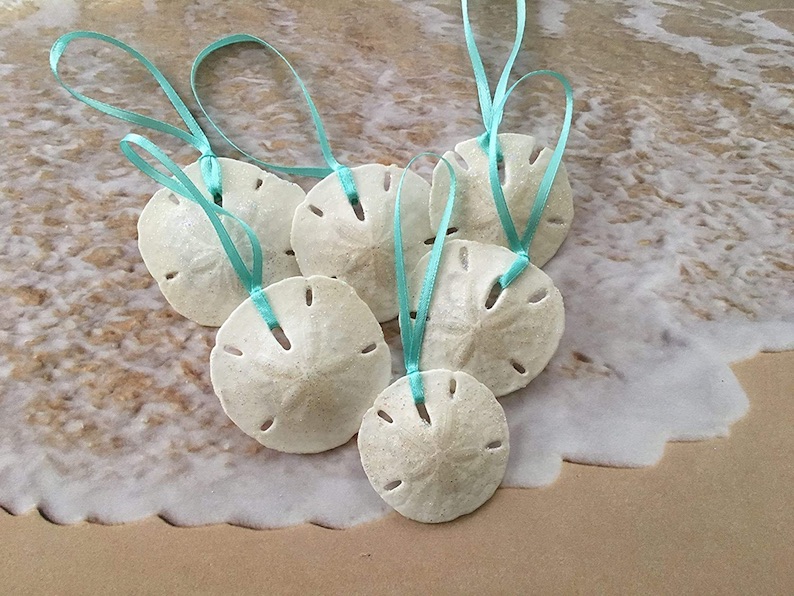 As you admire these great beachy ornaments, let me ask you: did you know that sand dollars are actually purple? The part of them that washes up on the beach is a beautiful bleached white, but when they are alive and scurrying around the ocean floor (okay, they're a little slow to "scurry," but you get the idea) they are actually purple and fuzzy!

Santa Gone to The Beach Clothesline Coastal Christmas Ornaments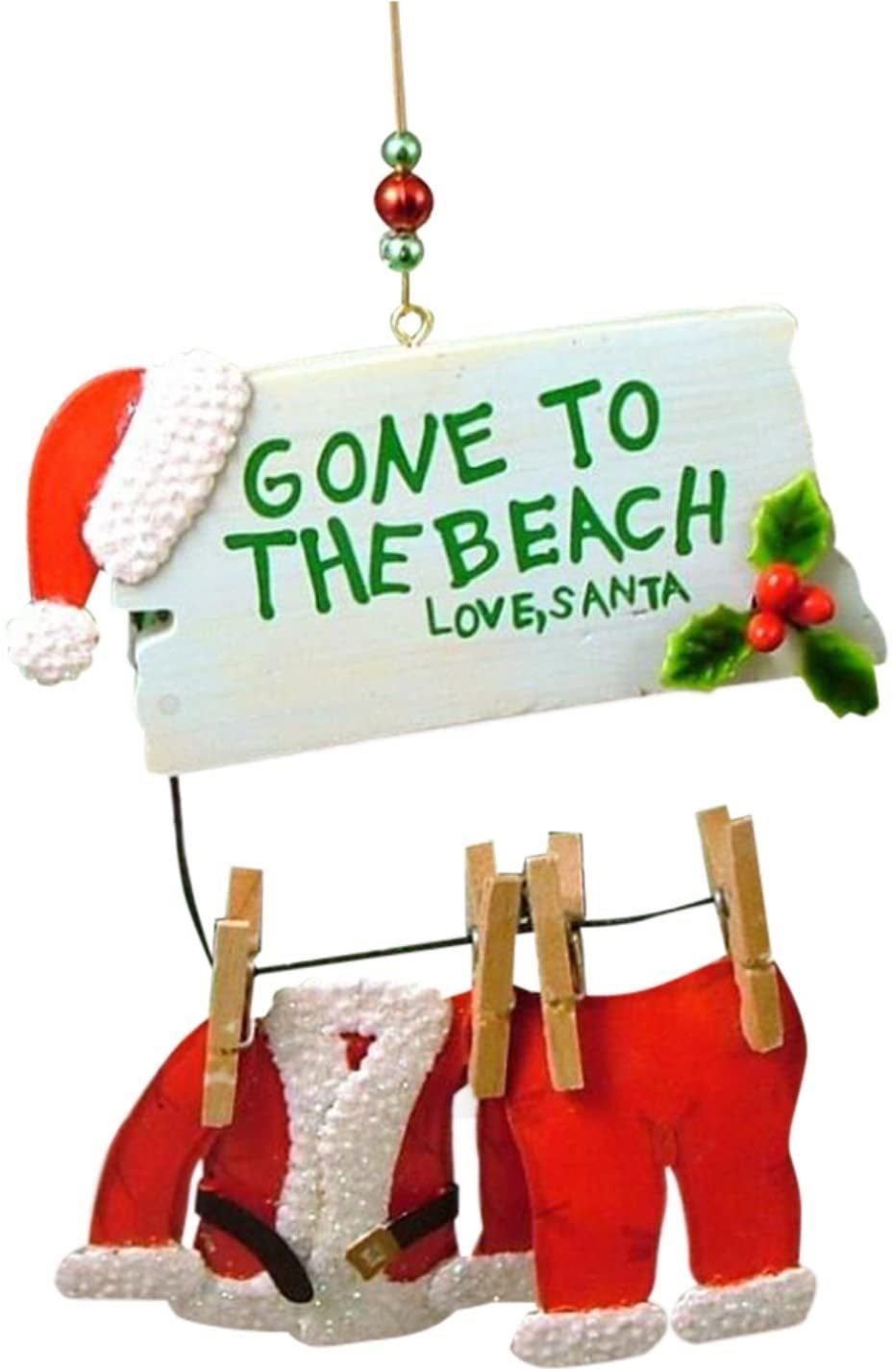 I've always envisioned that on December 26th Santa takes off for the beach for a few weeks. So… here's the perfect beachy ornament for that sentiment.

Midwest Sand Beach Christmas Tree Hanging Resin Christmas Ornament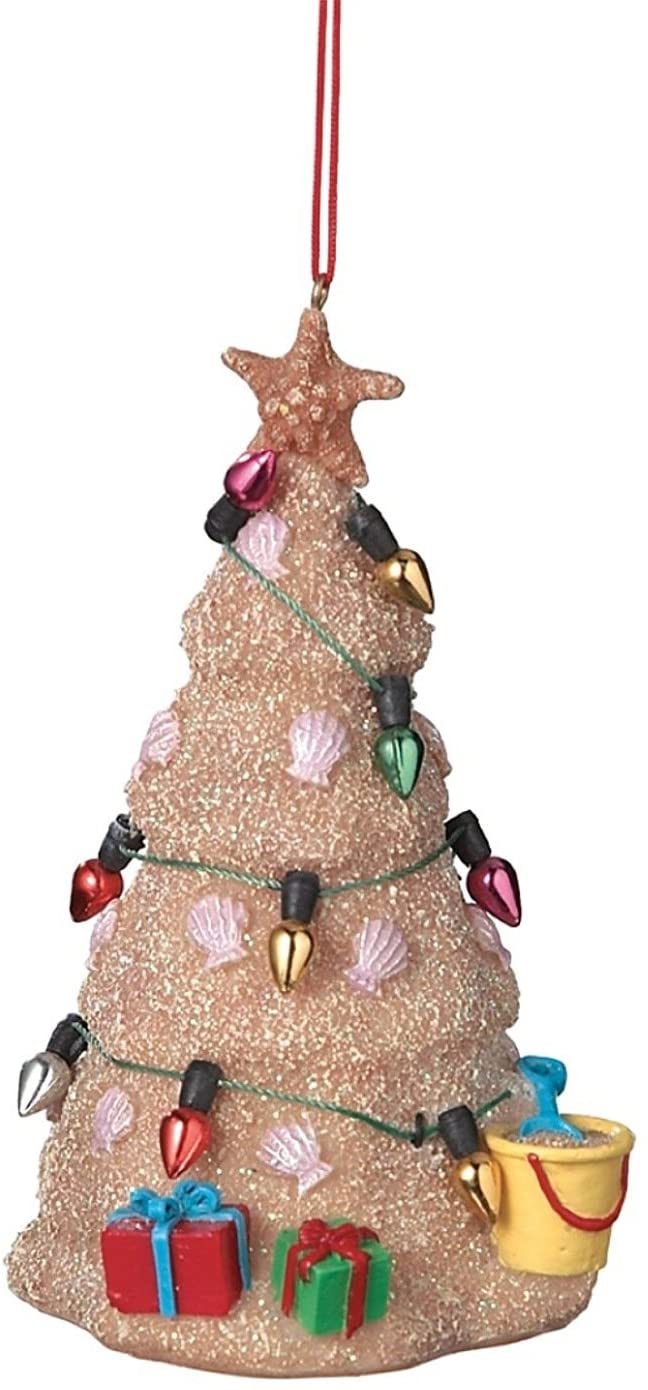 Sometimes we forget that the Midwest has beaches too. But they do (and some good ones too!) The sand tends to be a little more coarse than at the ocean, but otherwise still great times!

Festive Green Palm Tree
At the beach we hang our lights from the palm trees. Okay, we don't actually do that because the palm trees around here are about a hundred feet tall, but I certainly love the thought. And this cute little Coastal Christmas ornament certainly makes that look tempting.

Shell, Sand & Starfish Christmas Ornament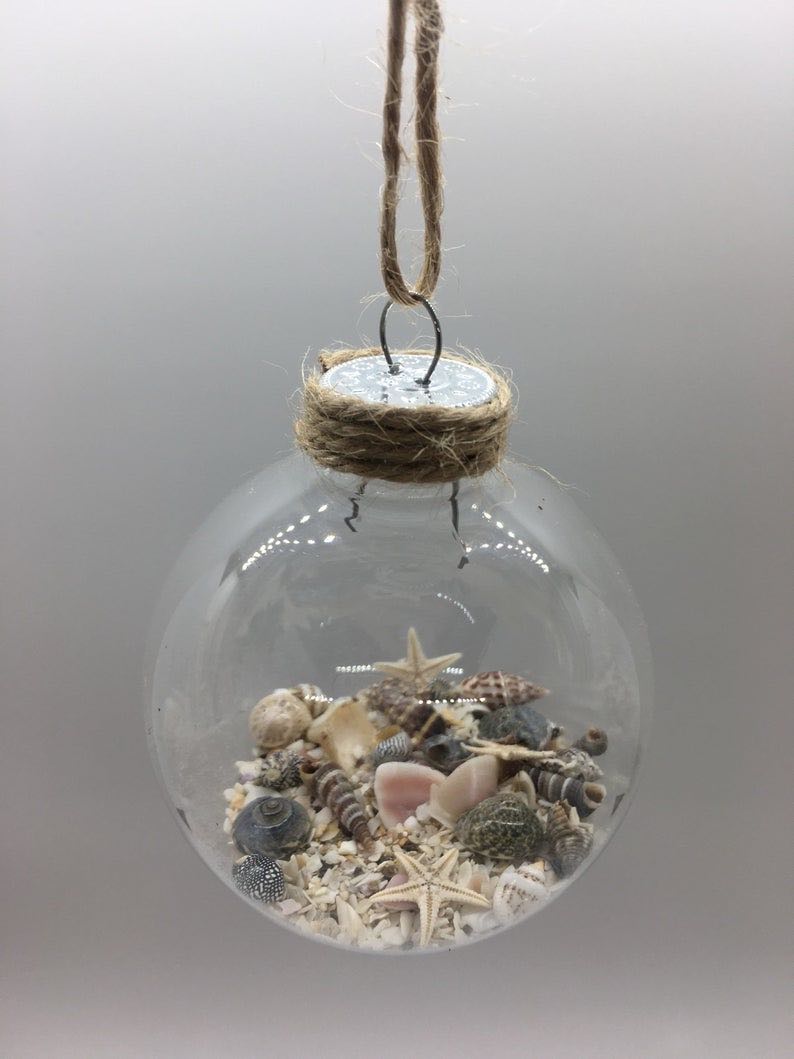 Tiny little shells and starfish encased in a little globe… a very beachy Christmas indeed

Wondrous Waters Wreath
Attention all those Snowbird Grandmas at the beach: here's the perfect ornament for your grandkids! These cute little sea creatures are absolutely perfect for kids. I really like the sea-foamy look of this little ornament. This one is fun!

Starfish Christmas Tree Topper
Wow! Starfish on starfish on starfish for a wonderful effect!

Caribbean Starfish Christmas Tree Topper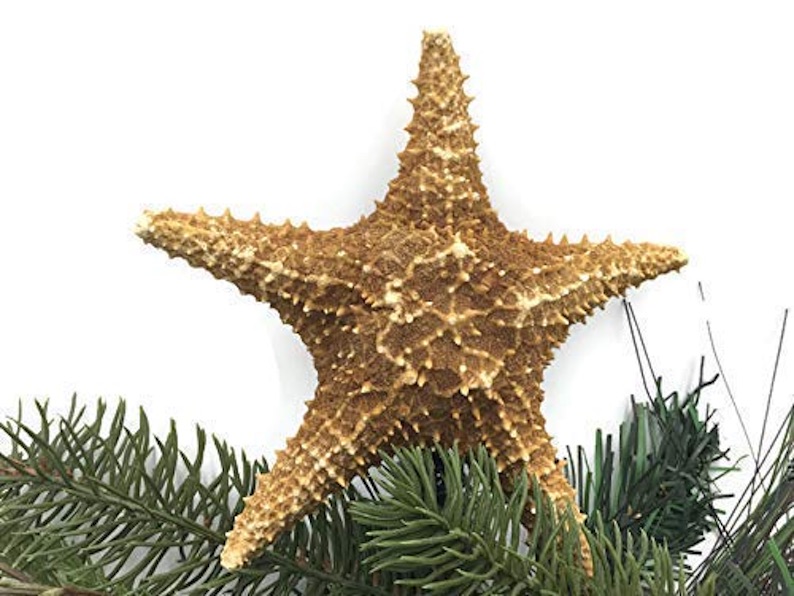 Sometimes simple is best. A starfish is beautiful in and of itself so why not hang one from a tree?

Mediterranean Nautical Fish Net Accessories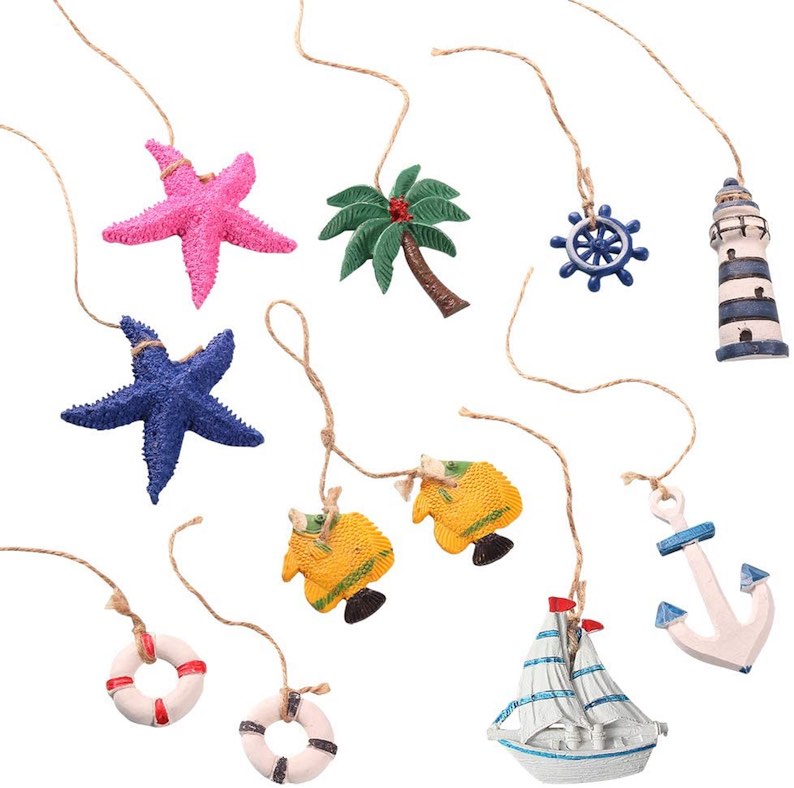 Colorful and cute, the perfect combo for a festive little beach holiday gathering. I especially like the pink starfish. I mean, how can you go wrong with a pink starfish?

Flip Flop Wall Ornament, Wooden Slippers Hanging Decoration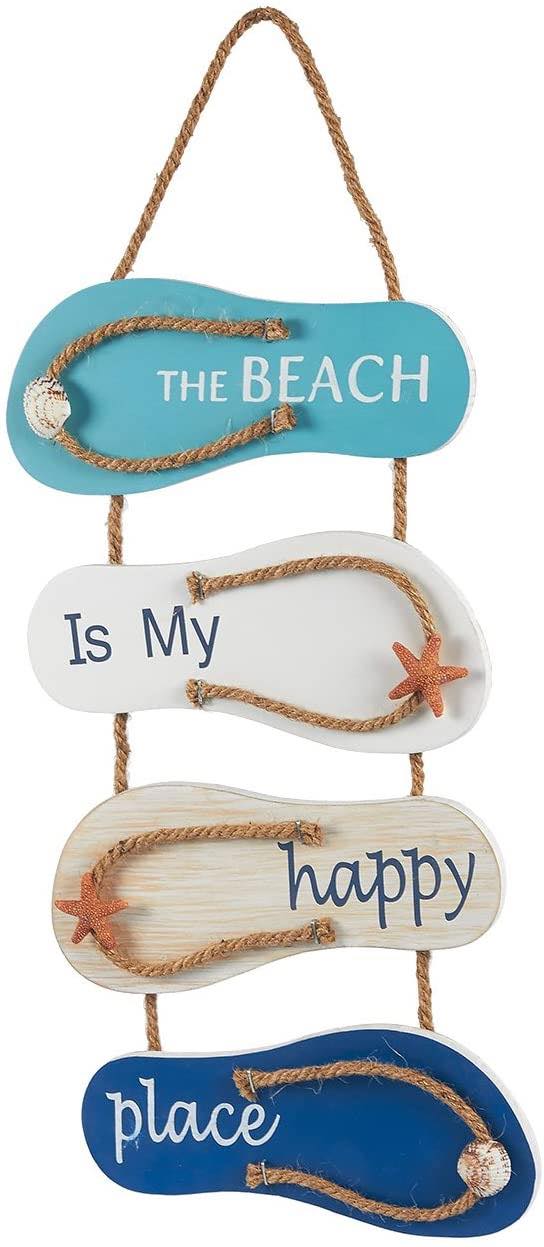 One thing I've noticed about people who live near the beach: they always have one or two pair of flip-flops on the mat outside their doors. It's almost as if the flip-flop is a required part of the door mat near the beach. So, here's an ornament that will give you that flip-flop beach mat vibe!

Starfish White Christmas Tree Ornament / Coastal Christmas Ornament
Lot of little starfish formed into a tree and topped with a sand dollar. Can't go wrong there.

Happy Aloha Hawaiian White Finger Starfish Pinecone Coastal Christmas Ornament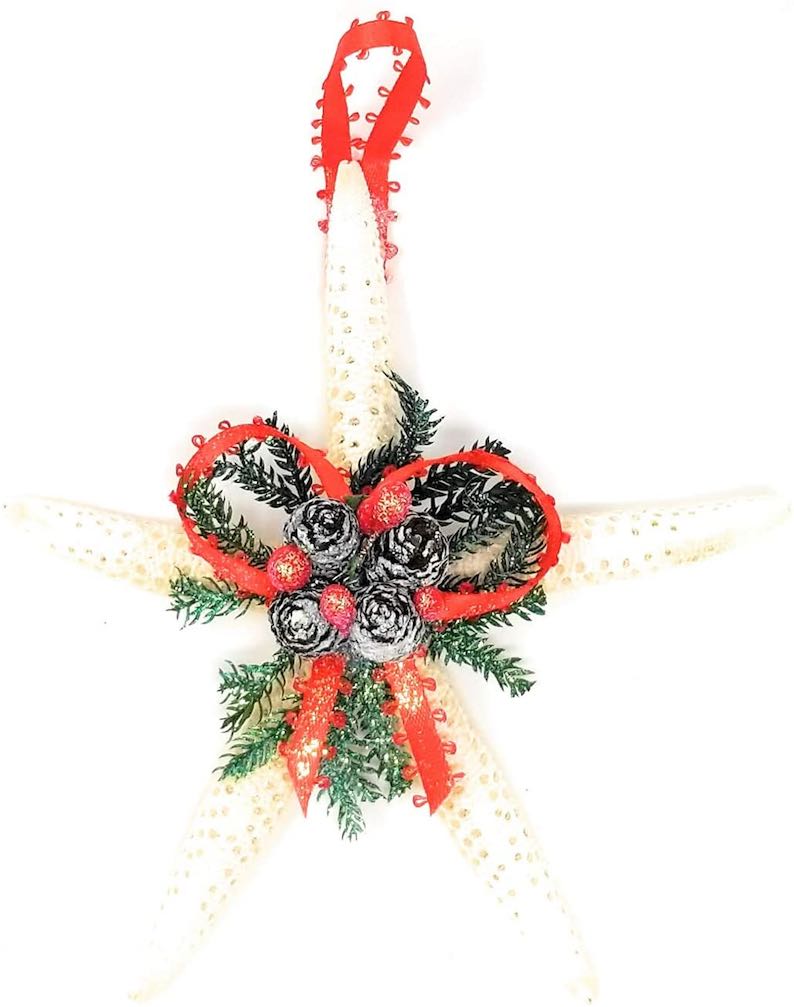 I love the combo of traditional Christmas with the beach here. If you just focus in on the center of the ornament you see snowy-looking pine cones and fir boughs wrapped in a red ribbon. Very traditional. But then step back a bit and see that it's all mounted on a starfish! What a combo!

Hawaiian Festive Holiday 3-Pack Collectible Metal Christmas Ornaments

For those too young to remember Bing Crosby (he's the original "White Christmas" guy, so I know you've heard him), "Mele Kalikimaka" is how you say "Merry Christmas" in Hawaii. There's a song with that title, which is generally thought of as the anti "Let it Snow" because… you know… it's about Christmas in Hawaii.

Hawaiian Starfish Hand-Painted Glass Globe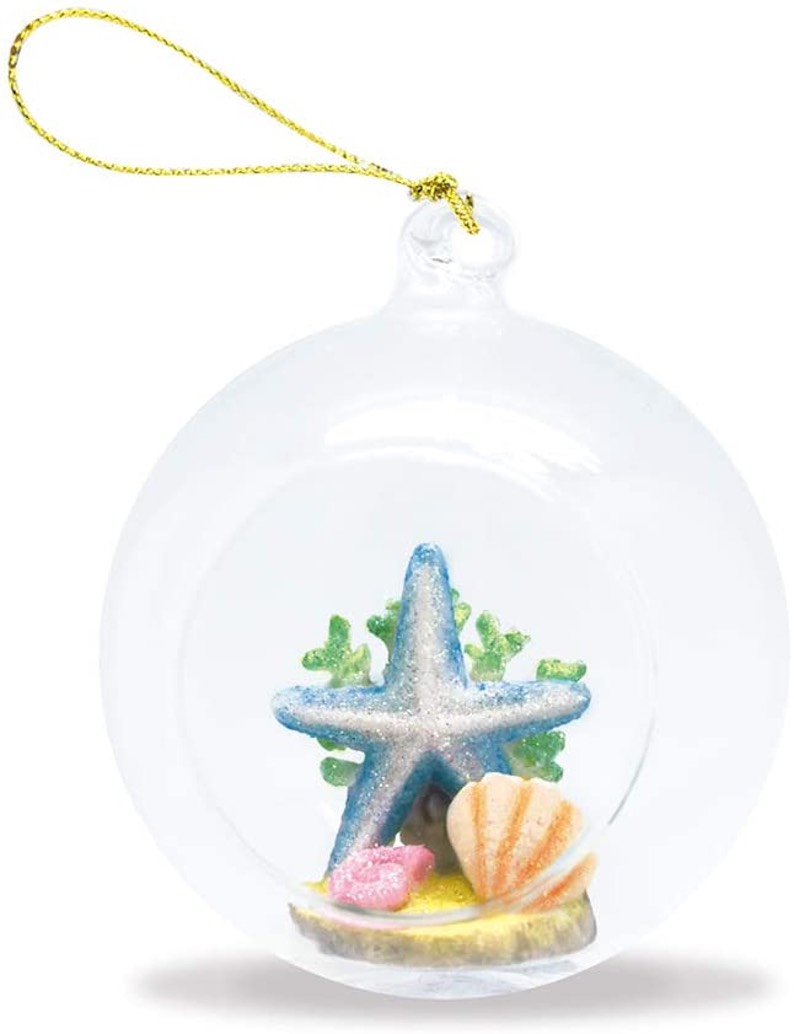 I love these little sugar cookie-looking shells and starfish. And enclosed in a tiny little globe turns them into a great Christmas tree ornament.

Personalized Beach Chair with Umbrella Christmas Tree Ornament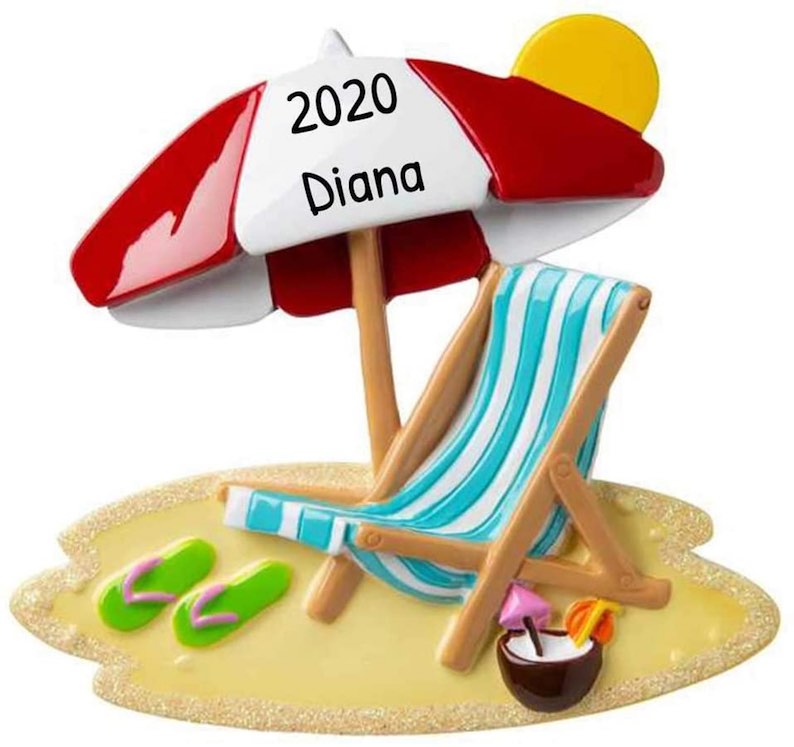 Not only is it a nice representation of a scene of an excellent way to spend Christmas, they'll personalize it for you!

"I Love The Beach" Sandals, Sunglasses & Shells Christmas Ornament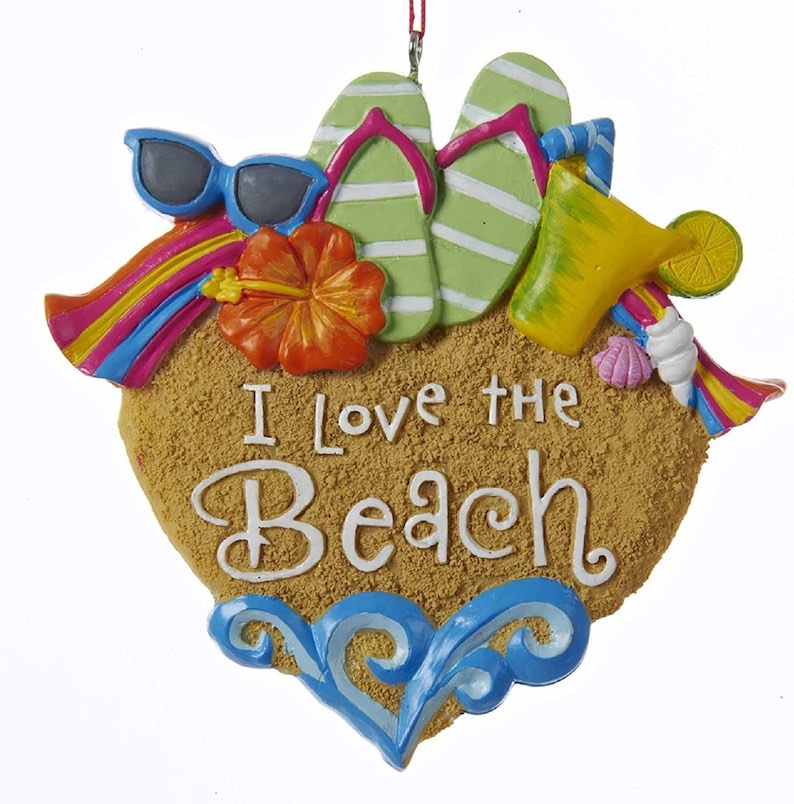 In case there's any doubt for your visitors, this one lets everyone at the Christmas party know your feelings.

Blown Glass Shell Beach Christmas Ornaments – Set of 4 (Blue)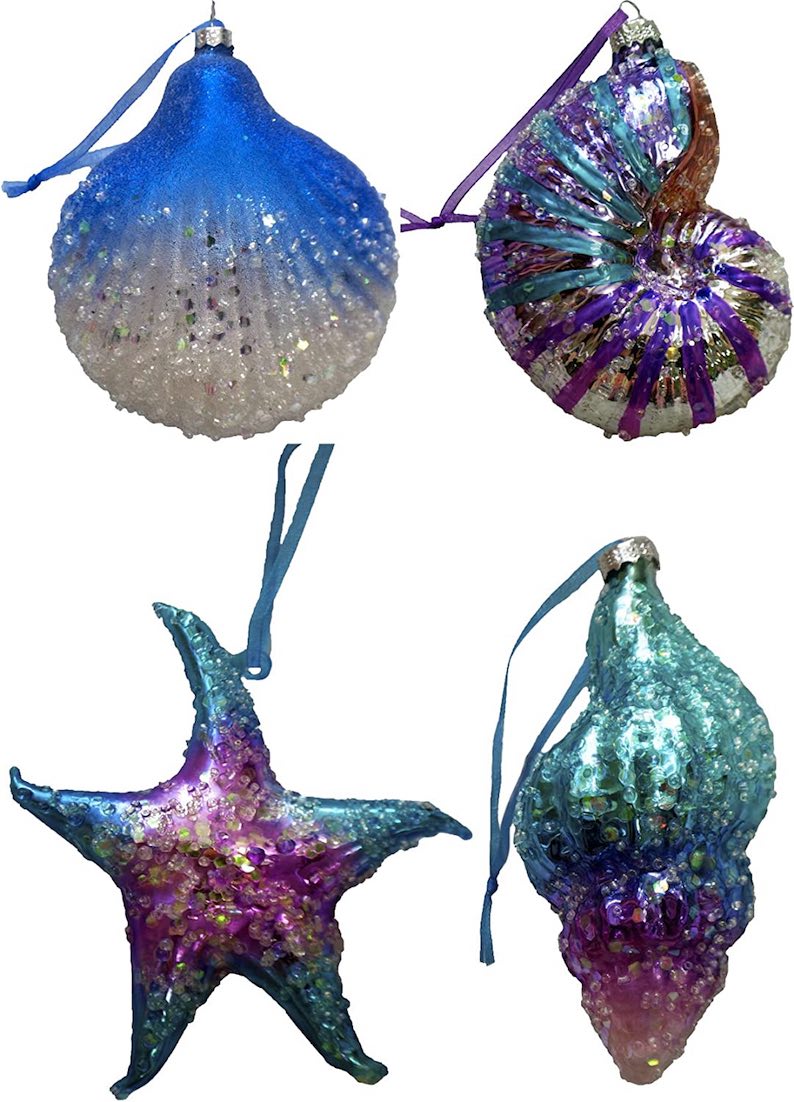 Shiny!

Fishing Float Christmas Xmas Ornament
I've always been fascinated by fishing floats — even before I knew that they were! I just thought they were beautiful little globes bound up in fishing net, but (in case you didn't know) in the pre-plastic days these were attached to large fishing nets in order to keep the edges afloat. So, not only beautiful, but practical too. And they look great on a Christmas tree!
Beach Christmas Ornaments
Thanks for checking out this list of great beachy Christmas ornaments. If you liked this, please share on your social. Thanks!
Written by Renee