Beach Wedding Accessories ~ all the details for your beach wedding
There are obviously some important differences between a beach wedding and a wedding that's not at the beach (sand comes to mind). And it is all of those special beach wedding accessories that really make the difference:
Beach Wedding Boutonnieres & Corsages
A wedding is one of the few occasions where you will be wearing a boutonniere or corsage, so you want that corsage to be a beautiful corsage, that boutonniere to be the most awesome boutonniere possible. And if you are going for a beach wedding vibe, then these wardrobe additions are an excellent chance to show off that theme.

Seashell Beach Boutonniere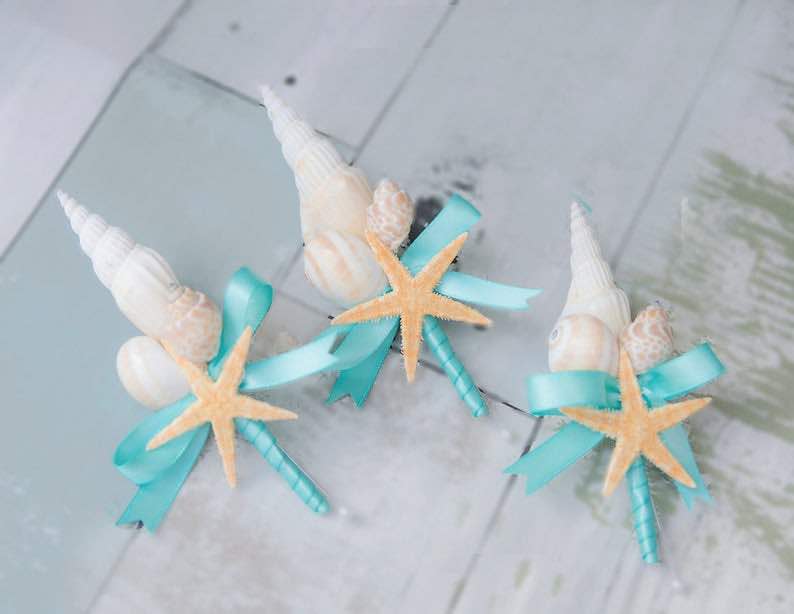 Some would say that if you're going for a beach theme, then go all out for that beach theme — leave nothing in that's not beachy. If that's your thinking, then it may come into your mind that all the flowers should be replaced with seashells. And with this particular seashell beach boutonniere you would be in luck

Calla Lily & Starfish Boutonniere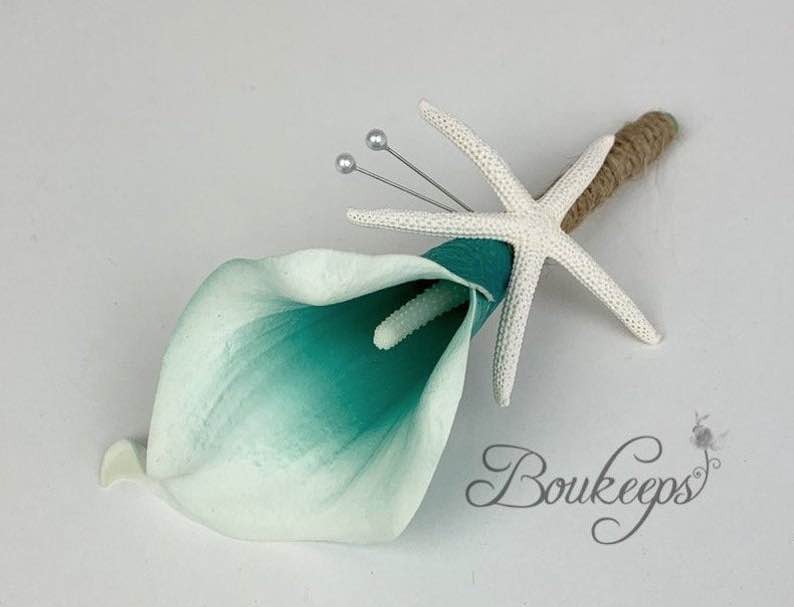 Calla Lilies are a popular choice (and a quite beautiful choice!) for wedding boutonnieres. I know that they're one of my personal favorites, and I love the tasteful way in which this particular calla lily and starfish boutonniere adds the beach element in the form of a starfish.

Ocean Theme Groom Boutonniere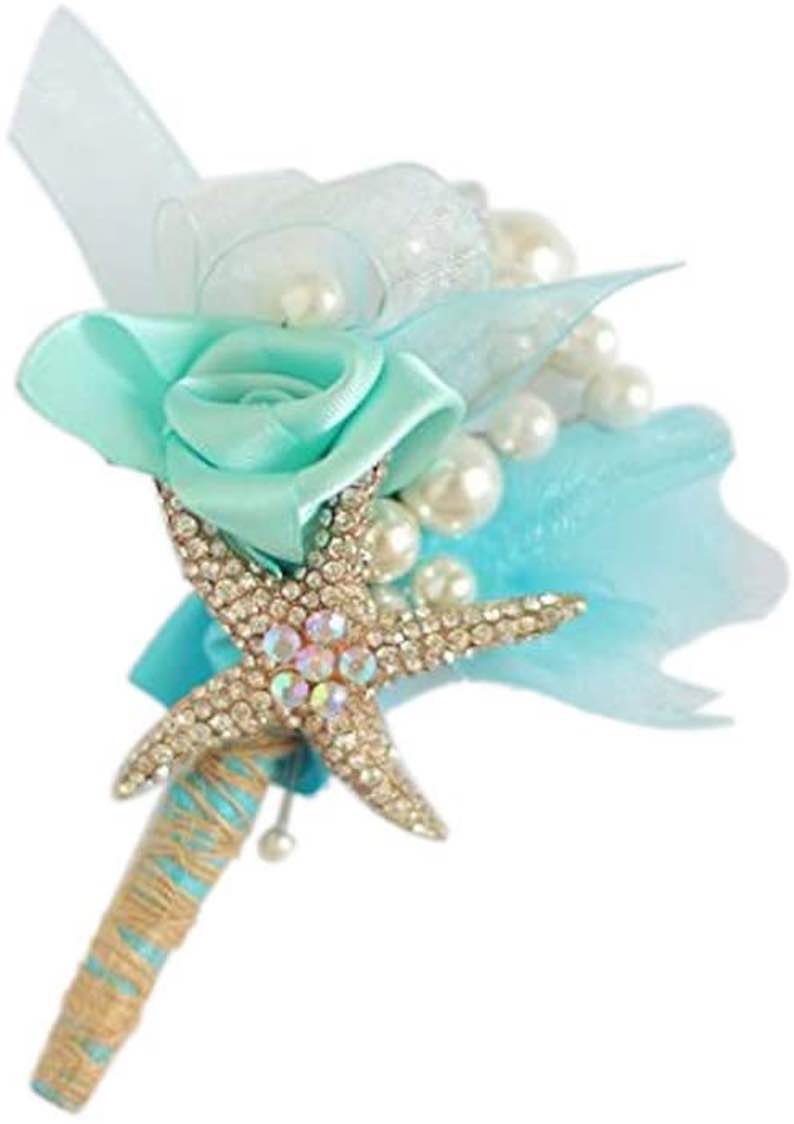 I really like the color scheme on this particular ocean theme groom boutonniere. Since teals and soft blues are basically the official color scheme of beach house decor, it makes perfect sense that these colors would also work well for beach wedding accessories. Of course we need to be honest and note that some grooms might object to the rhinestone starfish, but if they are good with that, this would look great with their tux

Aqua Blue Seashell Boutonniere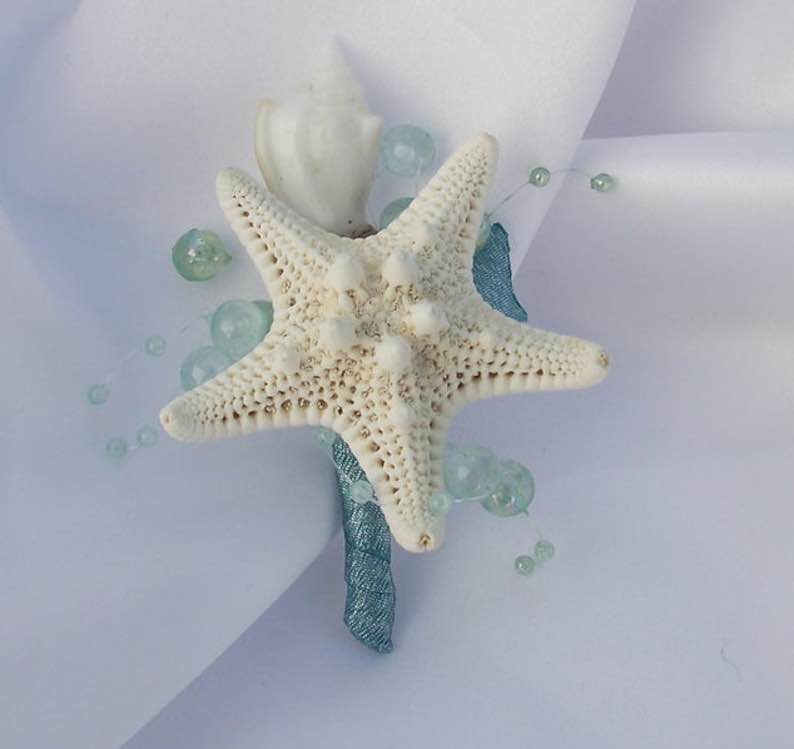 I love the simplicity of this aqua blue seashell boutonniere. The starfish is the most prominent feature, which is great, and I love that the little faux pearls give the feeling of bubbles in the ocean.

Seashell Groomsmen Rustic Wedding Boutonniere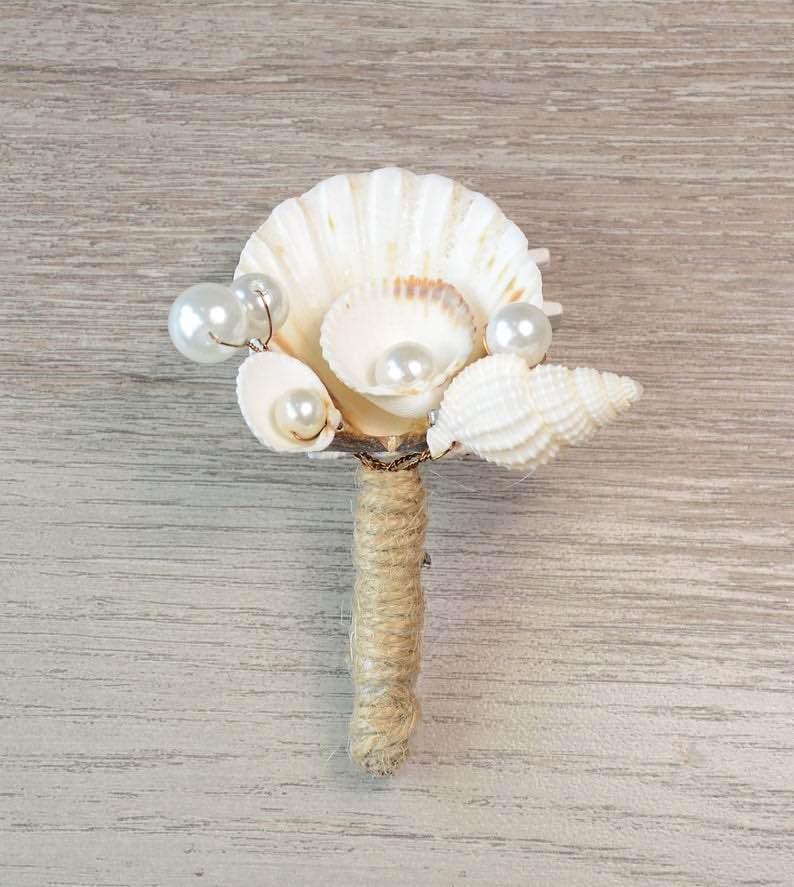 This seashell groomsmen rustic wedding boutonniere is another that I really like for its simplicity. Just a few simple shells, but arranged so skillfully as to make a beautiful addition to the groomsmen's tuxes.

Beach Wedding Hair Pins
Anyone who has ever been involved in wedding planning knows that the bride's hair is a very big deal. It's extremely important to get that wedding hair right. No matter what style you end up going with, it's likely that there will be hair pins involved.
Long Bridal Hair Vine Headband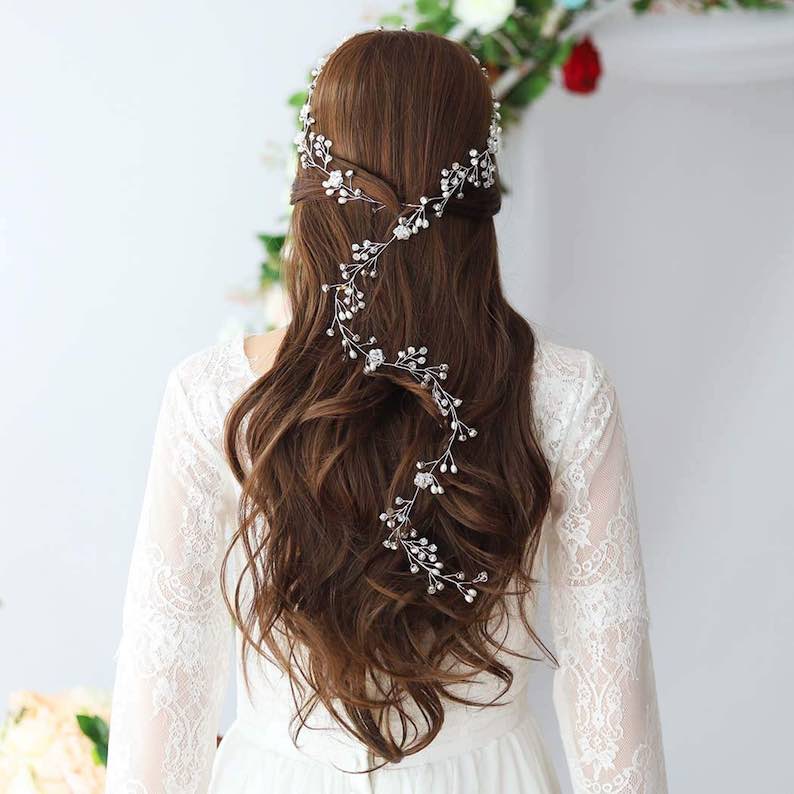 If the bride is going for a look that lets the long hair flow, then this long bridal hair vine headband is an absolutely beautiful way to go. Though not technically beach-themed, this gorgeous little accessory certainly fits right in with a beach theme.

Shell & Starfish Hair Comb
This beautiful shell & starfish hair comb leaves no doubt of your beach wedding intentions. Real shells and starfish are interspersed with fine glass beads to create a really fantastic way to keep your hair up.

Starfish Hairpins
I absolutely love these delicate and beautiful starfish hairpins. The combination of the silver color along with glass highlights really works for me.

Silver and Blue Sea Glass Bridal Hair Vine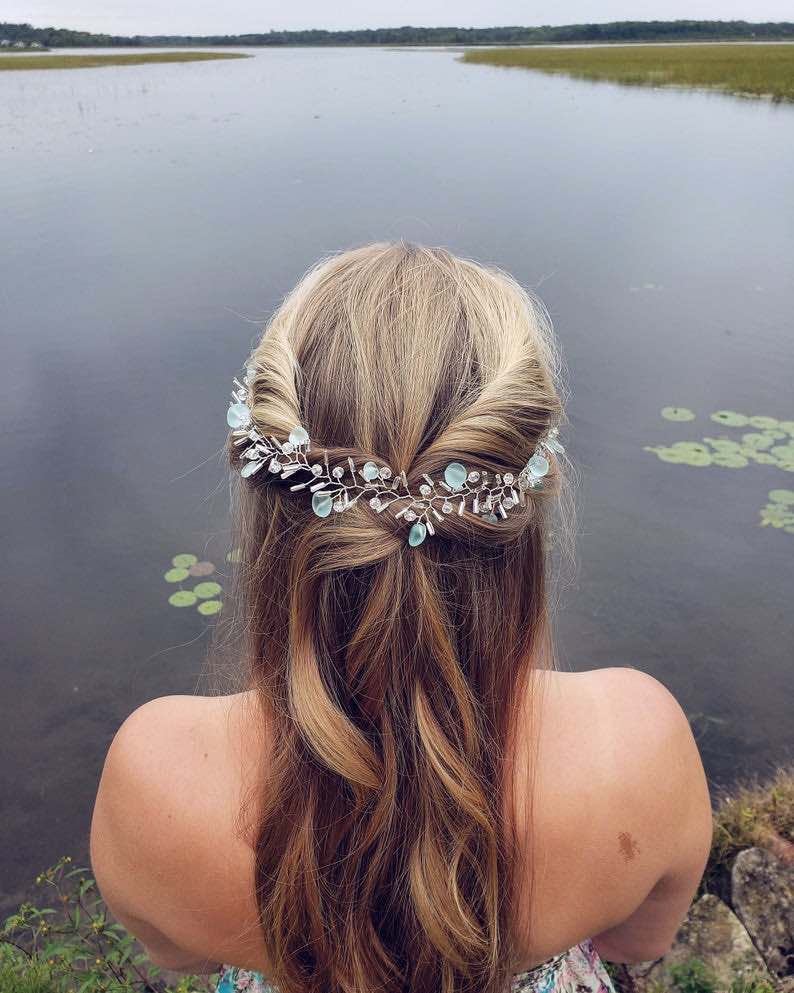 If you've read much of this site, you know that I am a big fan of sea glass. There is something so intriguing (as well as beautiful) that happens when glass is tossed around in the ocean for a few decades — something as beautiful as any jewel. So I was thrilled to see this silver and blue sea glass bridal hair vine. Silver mounting often works really well with sea glass, and the way it has been used to create a delicate laurel of sea glass is just stunning.

Seashell Crown Beach Wedding Headband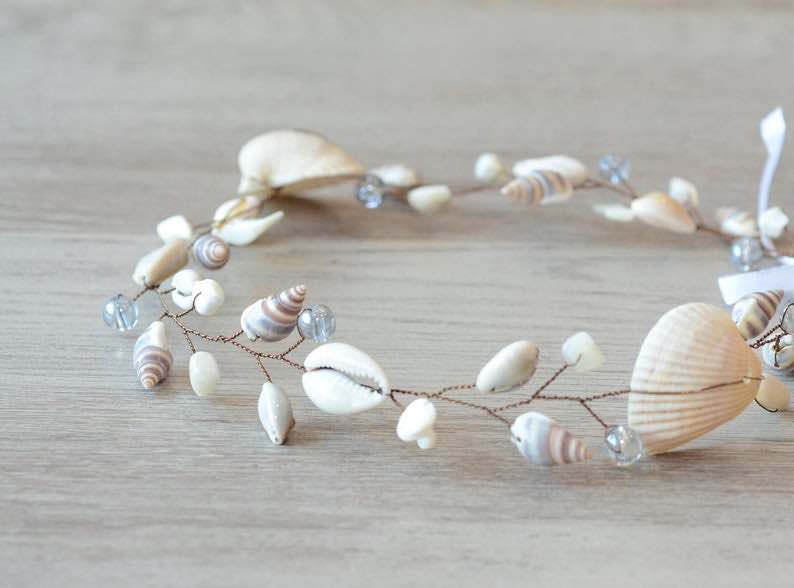 And if you're going into full beach mode with this wedding, then something like this seashell crown beach wedding headband is a must. Nothing but shells make up this accessory — a perfect boho beach statement in a tiara.

Beach Wedding Hair Pin with Natural Seashells
Here's another for the beach purist, a beach wedding hair pin with natural seashells. This handmade piece is a fantastic collection of tiny shells mounted on copper. Just beautiful!

Beach Wedding Starfish Headpiece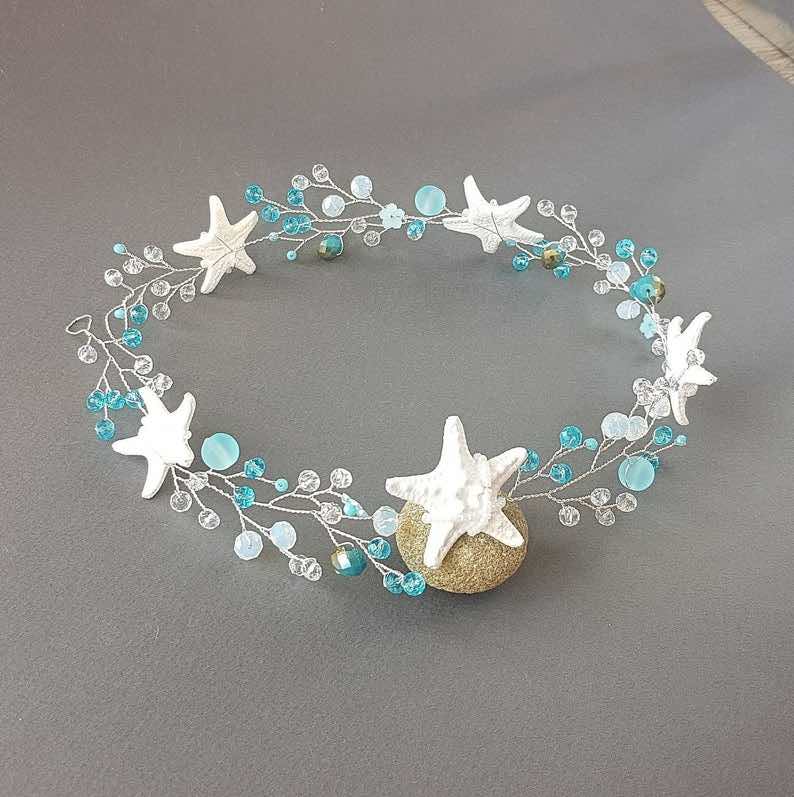 If you're looking for something like a crown or tiara, check out this beach wedding starfish headpiece.

Beach Hair Pins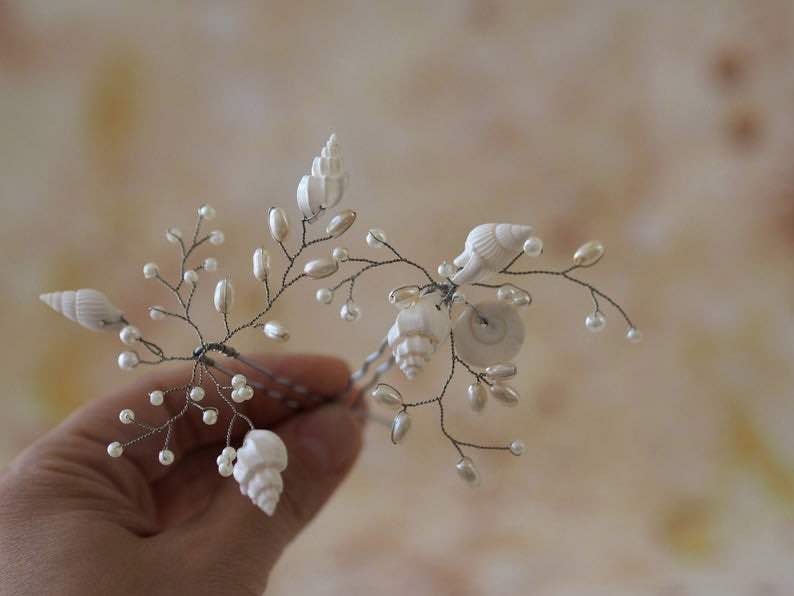 This kind of work, with tiny shells mounted on thin strands, is something that really works for me. I love how delicate and beautiful these little beach hair pins are.
Beach Wedding Earrings & Bracelets
Two great places to accentuate that beach theme: ear lobes and wrists! There is an amazing amount of beach-themed jewelry out there, and adding an item or two can really make that beach wedding shine.

Starfish & Freshwater Pearls Earring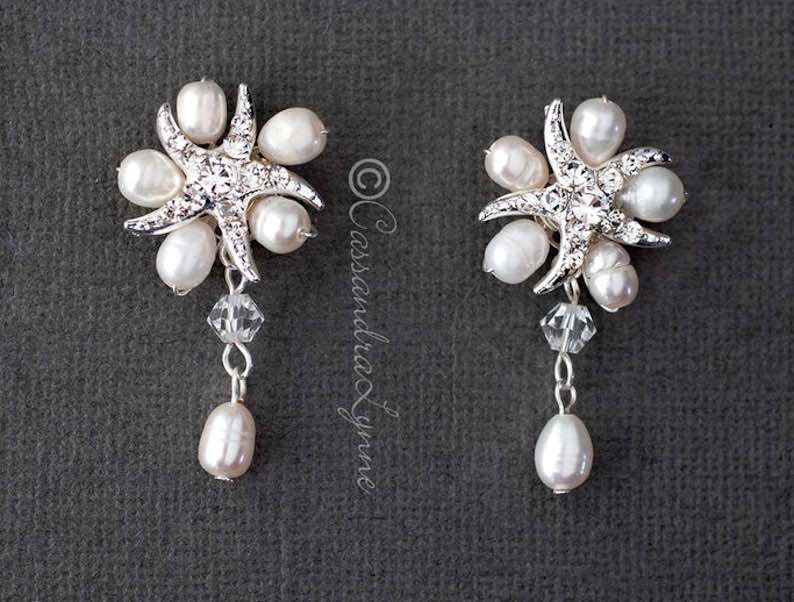 Silver and pearls are definitely popular when it comes to wedding jewelry. So why not take that silver and create stunning starfish? The design of these starfish and freshwater pearls earrings are very cool indeed.

Seafoam Green Sea Glass Silver Earrings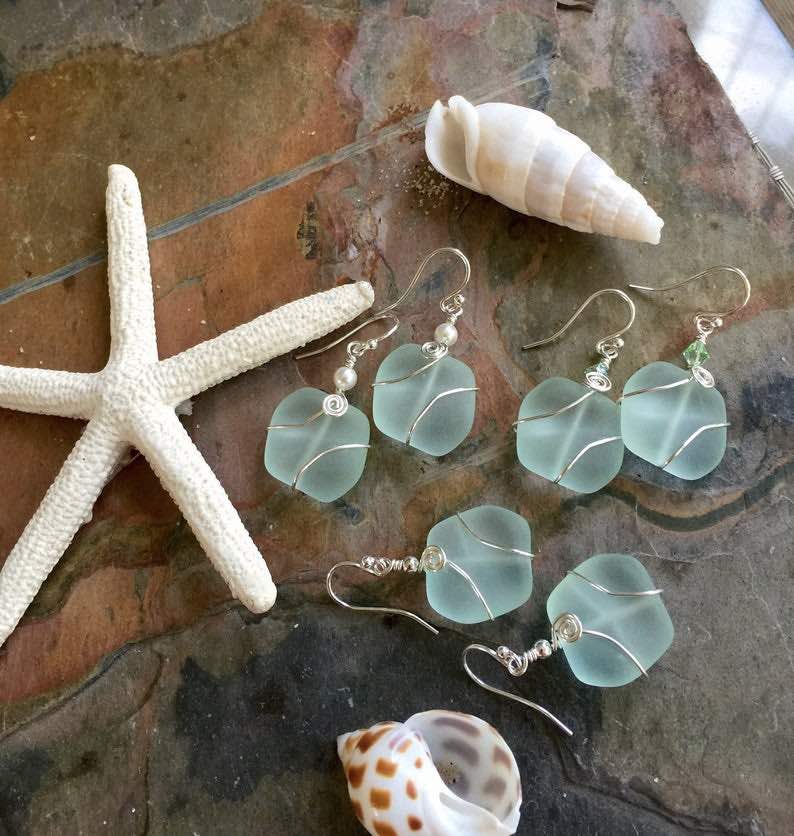 Earrings are another great opportunity to use sea glass. As mentioned before, I am a big fan of sea glass (in fact, another page on this site shows a great assortment of really great sea glass jewelry). Let's face it, few things say "beach" as well as sea glass. Therefore, few things really say "beach wedding" as well as sea glass earrings.

Starfish & Sterling Silver Long Earrings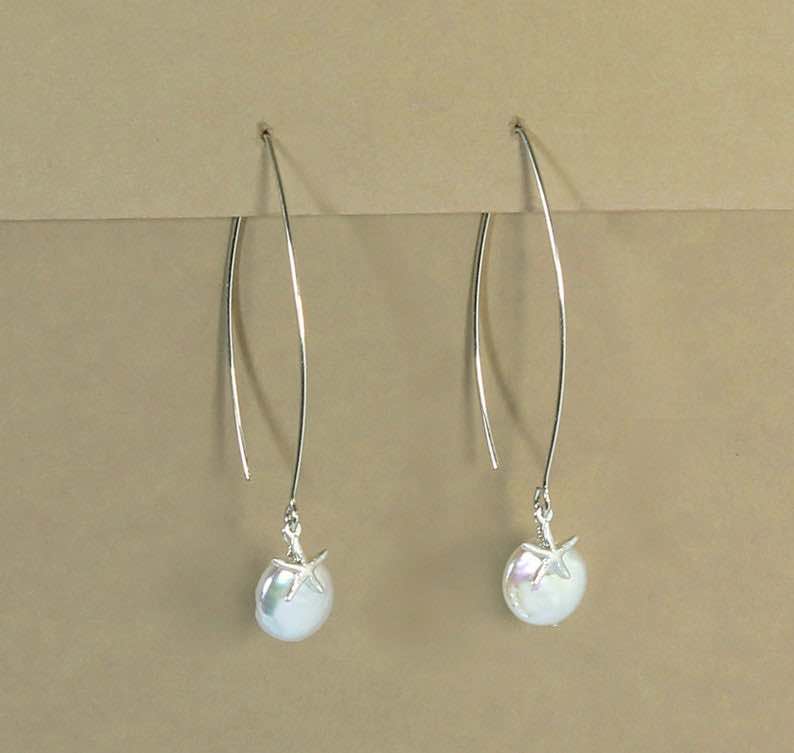 These cute little starfish and sterling silver long earrings are a subtle way to announce your beachiness.

Starfish Beach Wedding Bracelet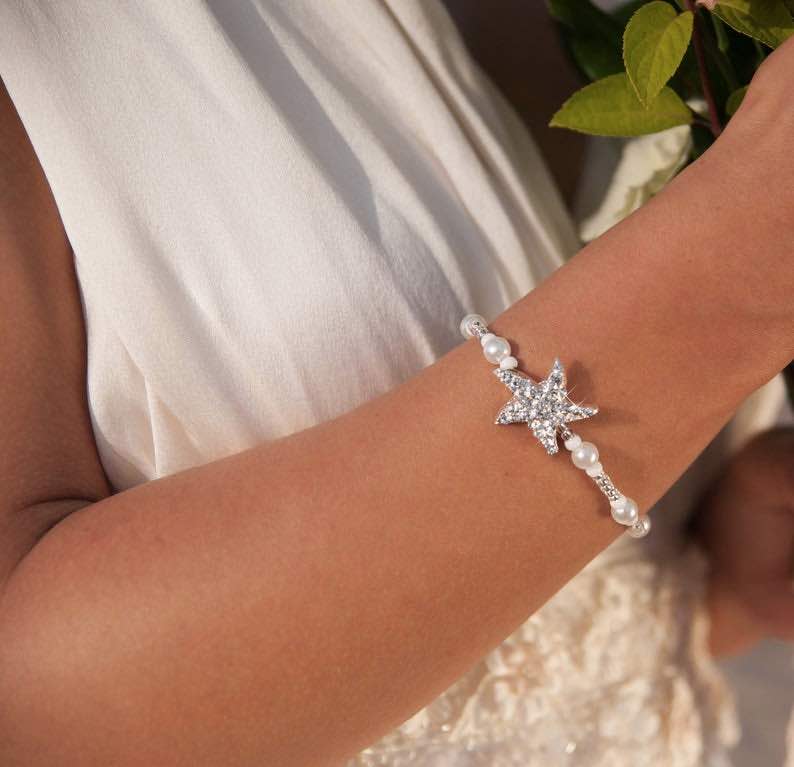 As I mentioned before, silver and pearls are common for wedding jewelry, so using them with a beach theme — as in this beautiful starfish beach wedding bracelet — seems a perfect fit for a beach wedding.

Sparkle Beach Wedding Garter with Starfish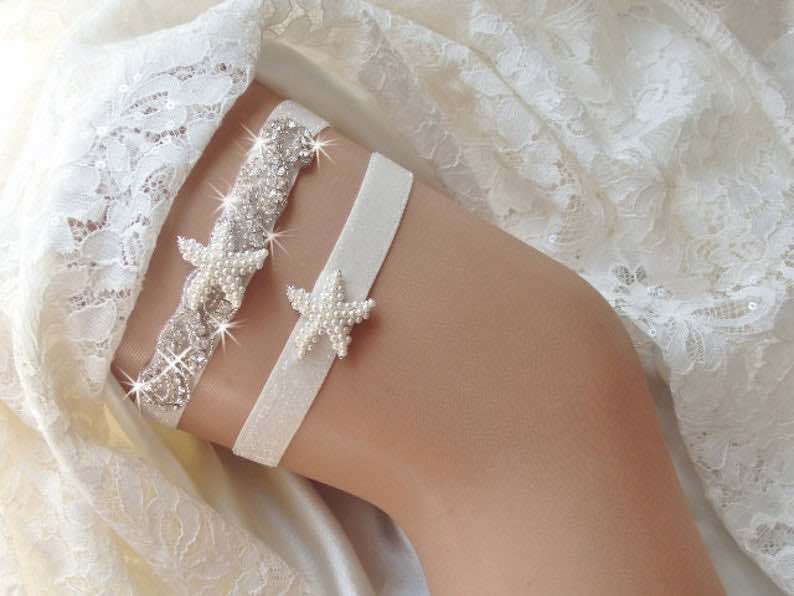 When it gets toward the end of the reception, that garter needs to get tossed. And when it does, it should be a pretty one. Like this beautiful sparkle beach wedding garter with starfish — beautiful!
Beach Wedding Footwear
A beach wedding necessitates a different sort of footwear, doesn't it? I mean, walking through the sand in high heels could prove to be quite perilous. But just because you can't wear those big sparkly heels doesn't mean that you have to be boring either. Check out these great options for beach wedding footwear:

Starfish Barefoot Sandals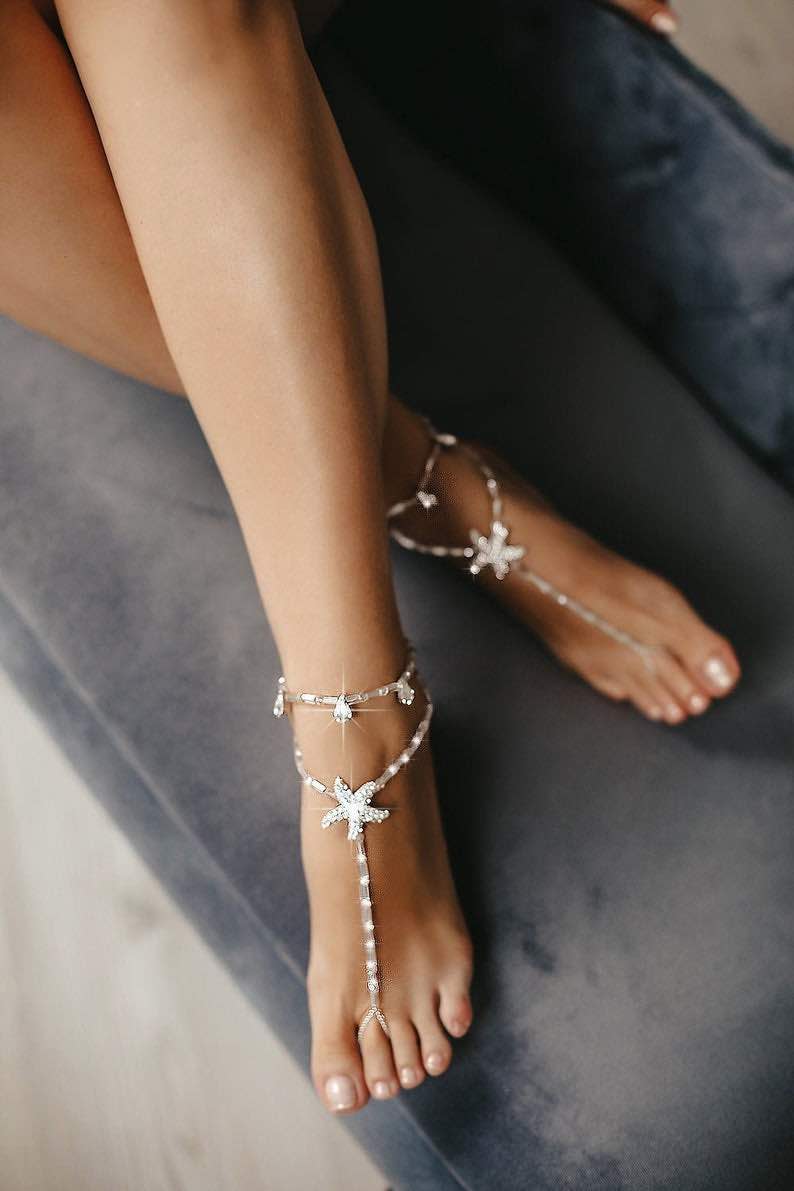 I've always enjoyed the concept of barefoot sandals. And when you think about it, doesn't that concept perfectly embody the whole idea of a beach wedding? After all, you're at the beach so you want a certain amount of casual feel (like going barefoot). At the same time, it is a wedding after all, and most folks like a little bit of glamour in the day. Something like these starfish barefoot sandals can bring both of those feelings at the same time.

Pearl Rhinestone Bridal Flip Flops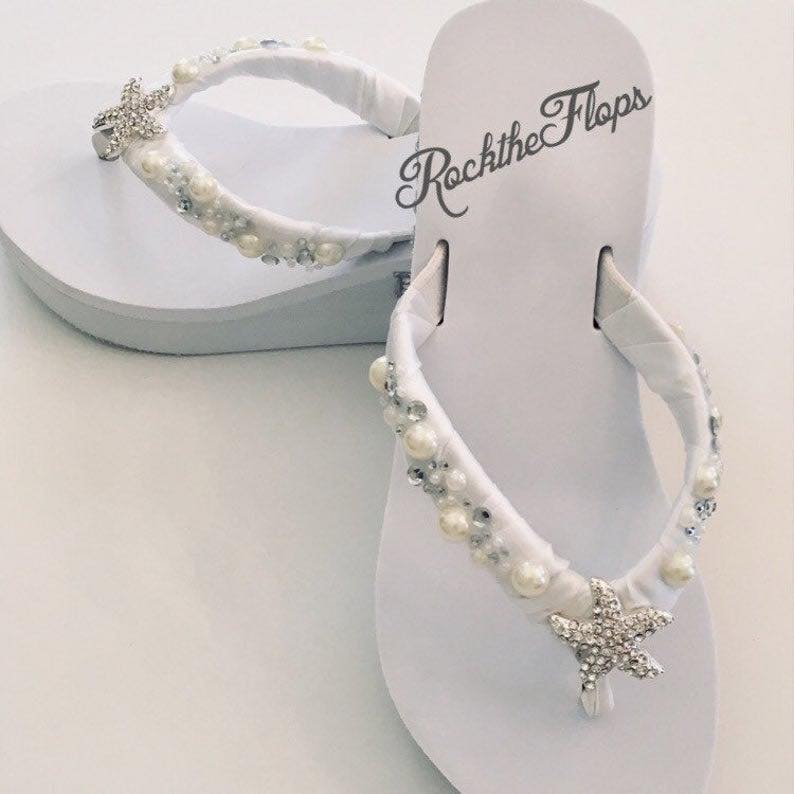 If flip flops are the way that you want to go for your beach wedding, then how about these pearl rhinestone bridal flip flops? I especially like the little accent of the starfish in the center of the straps!

Crystal and Pearls Beach Wedding Sandals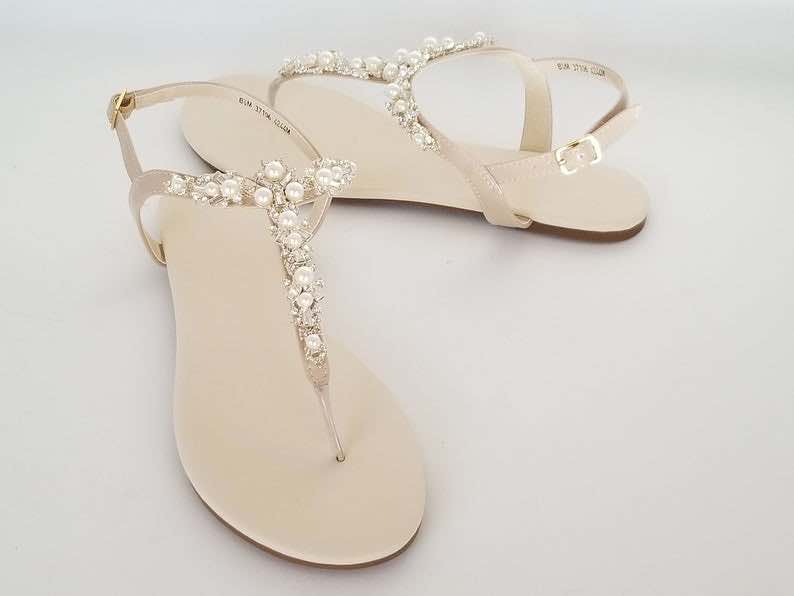 Sandals and pearls go surprisingly well together. Who would've thought? Well, the designers of these wonderful crystal and pearls beach wedding sandals certainly did. And I'm glad that they did.
Beach Wedding Flower Girl Dresses
Probably the cutest moment of any wedding ceremony is when the flower girls come up the aisle. A beach wedding is no exception. So you want to make sure that your flower girls are looking the cutest that they possibly can when their moment in the sun comes and every one of the guests says, "aaaaawwwww."

White Boho Flower Girl Dress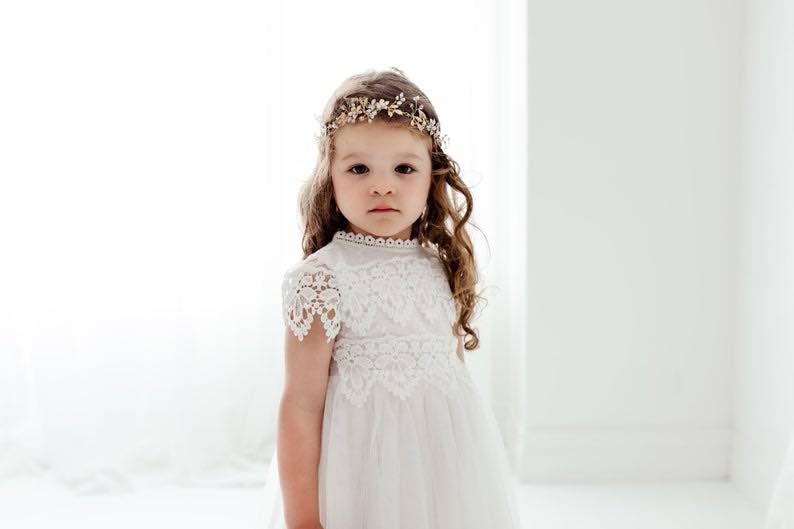 I love the vintage look of this white boho flower girl dress. The decorative high collar gives a definite old-fashioned feel to it. And I love the crochet work on the shoulders.

Bohemian Flower Girl Dress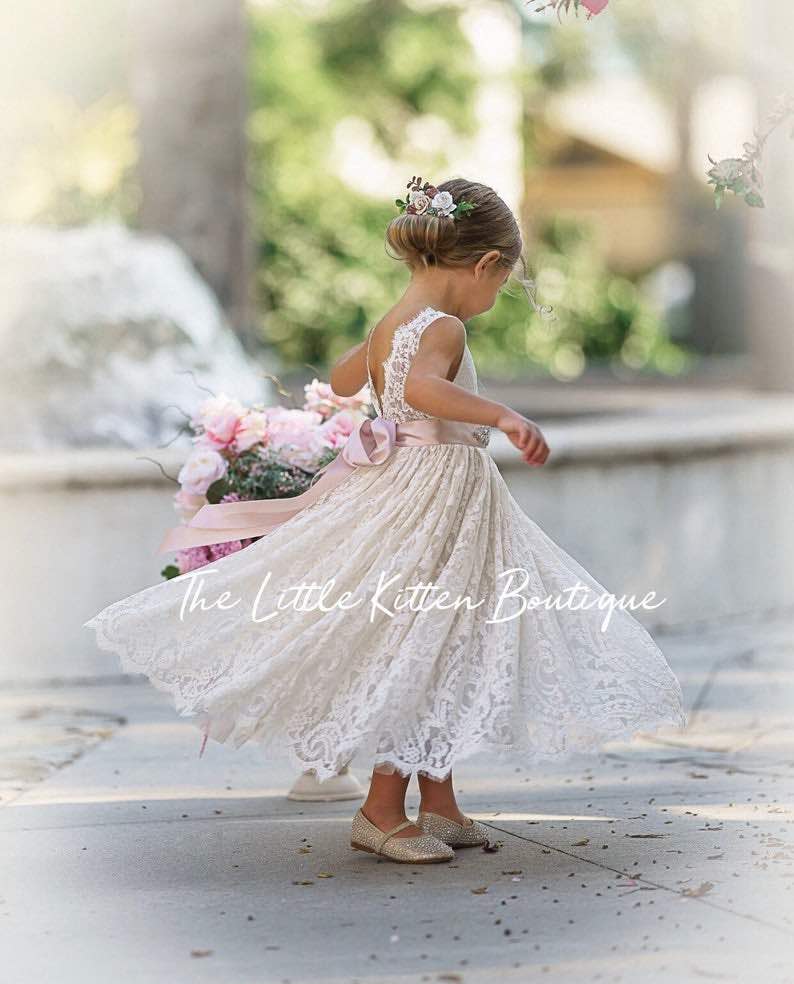 This cute design has a very modern and "boho" look to it. The lacework on the sleeveless top will match well with many modern bridal gowns. But what really makes it for me is the sash and bow. How cute!

Bohemian Lace Junior Bridesmaid Dress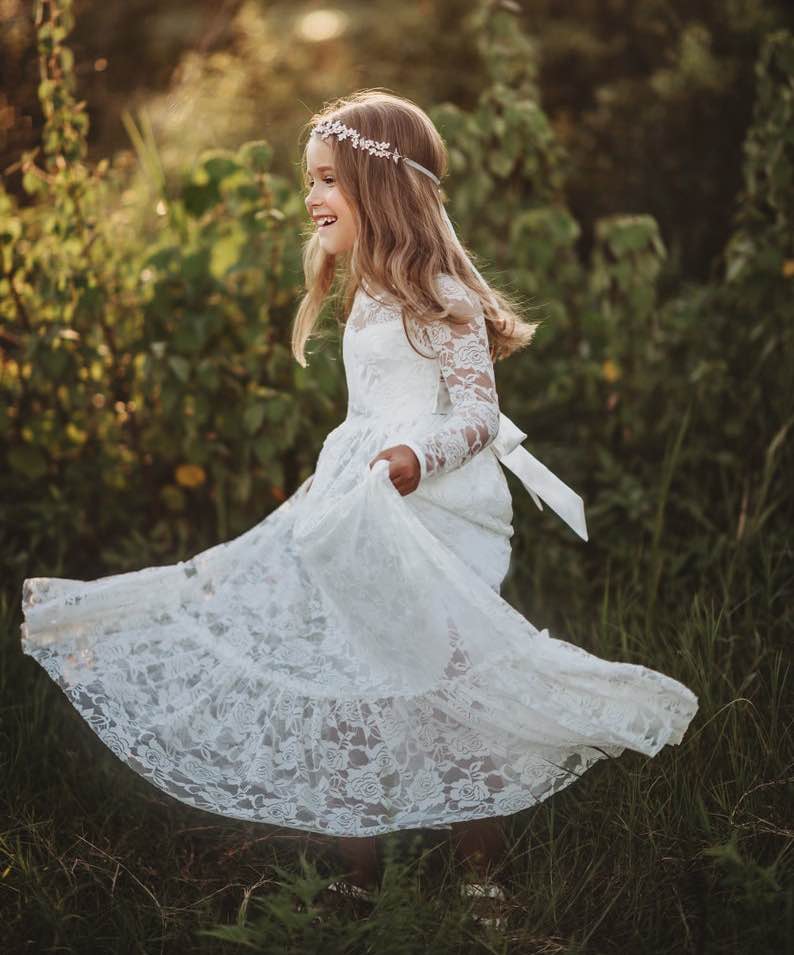 If you're looking for a full-length dress and for something with long sleeves, I think that this bohemian lace junior bridesmaid dress is just wonderful. The lace work on this one, with its theme of roses, is simply beautiful.

Boho Lace Flower Girl Dress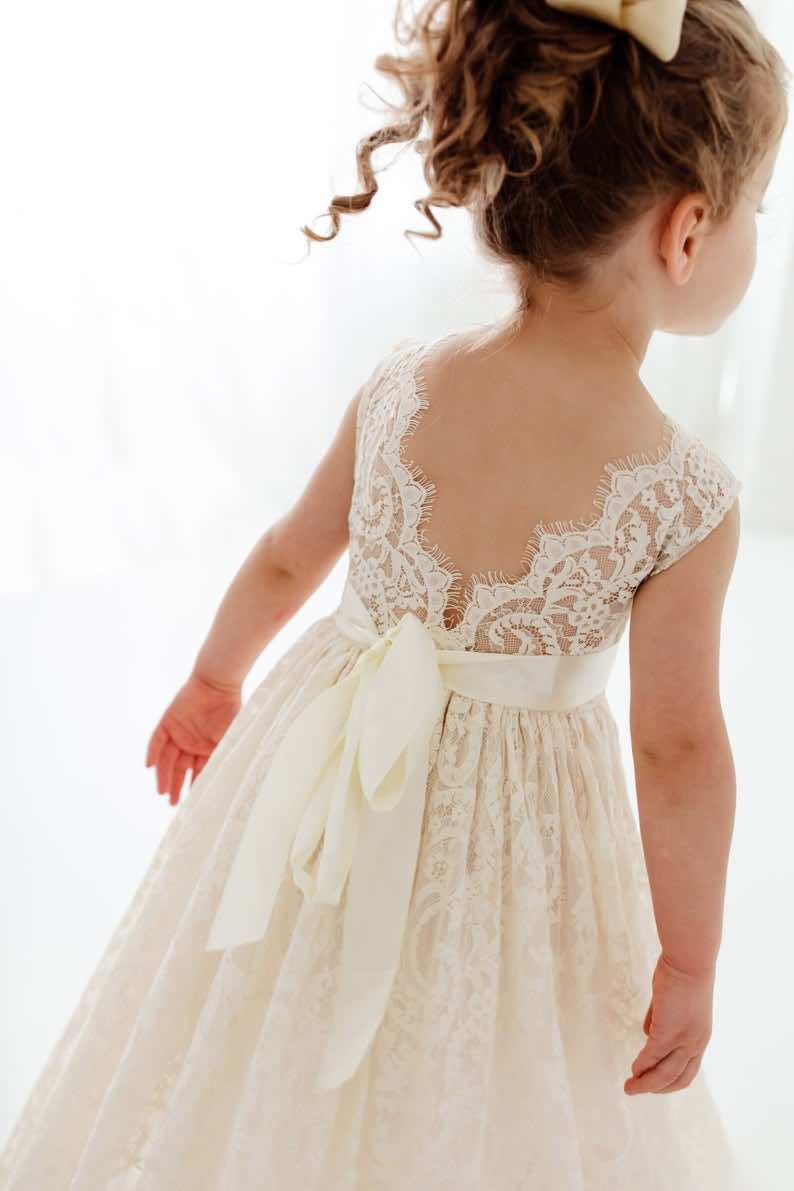 This boho lace flower girl dress has a really neat unfinished lace V back which gives it a definite boho vibe.

Long Sleeve Rustic Crochet Flower Girl Dress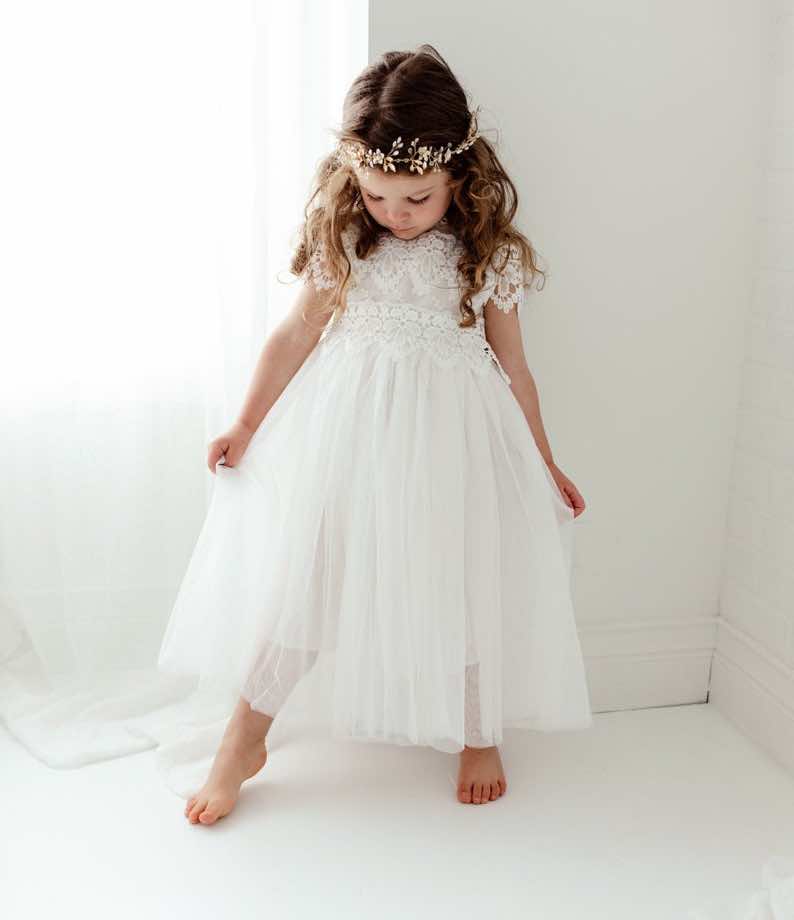 This long sleeve rustic crochet flower girl dress has a simple, classic look to it. There's less lace on it than a lot of other dresses out there and it works really well. A basic, classic statement here.
Beach Wedding Bouquets
You simply cannot have a wedding without a bouquet. You can't. But that doesn't mean that your bouquet has to be all flowers either. We are talking about a beach wedding here after all. So why not add some shells to your bouquet? You might need to take a little more care when tossing it at the end of the night, but any of these bouquets would be great with a beach themed wedding.

Tropical Beach Wedding Bouquet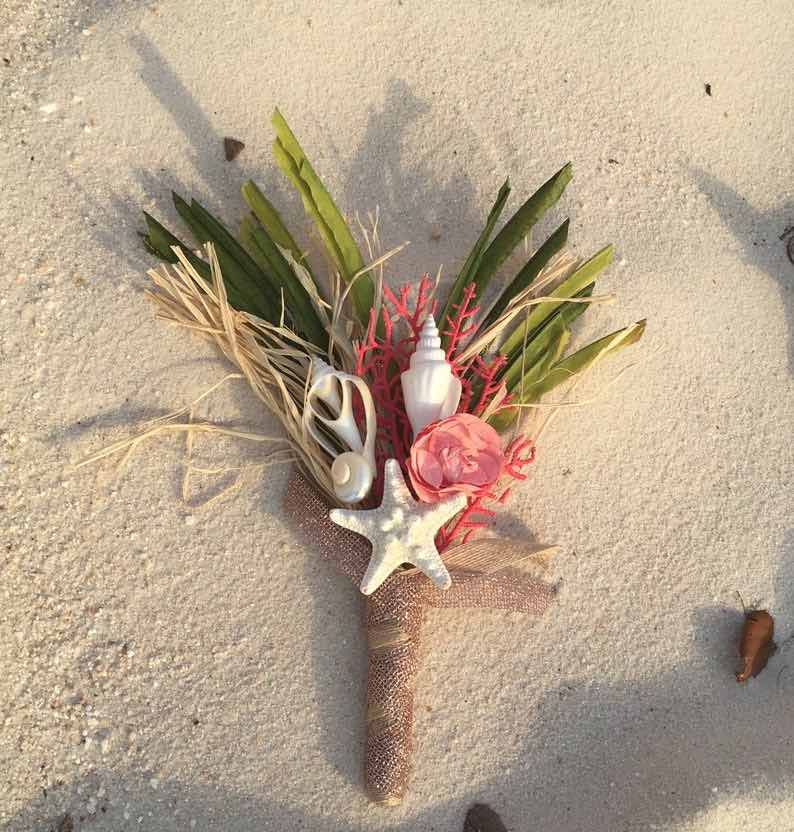 There's something about this tropical beach wedding bouquet that makes me think of a deserted isle. I can imagine this being the bouquet used in a marriage of some shipwreck survivors (the ultimate beach wedding there!). And I love it!

Seashell Beach Wedding Bouquet
Strictly seashells here on this seashell beach wedding bouquet. I really like how the designer has used an abundance of white and bleached shells to create the bouquet. Combine that with a little bling on the handle and you've got yourself a mighty fine looking piece of beach wedding apparel.

Seashells, Starfish & Flowers Bouquet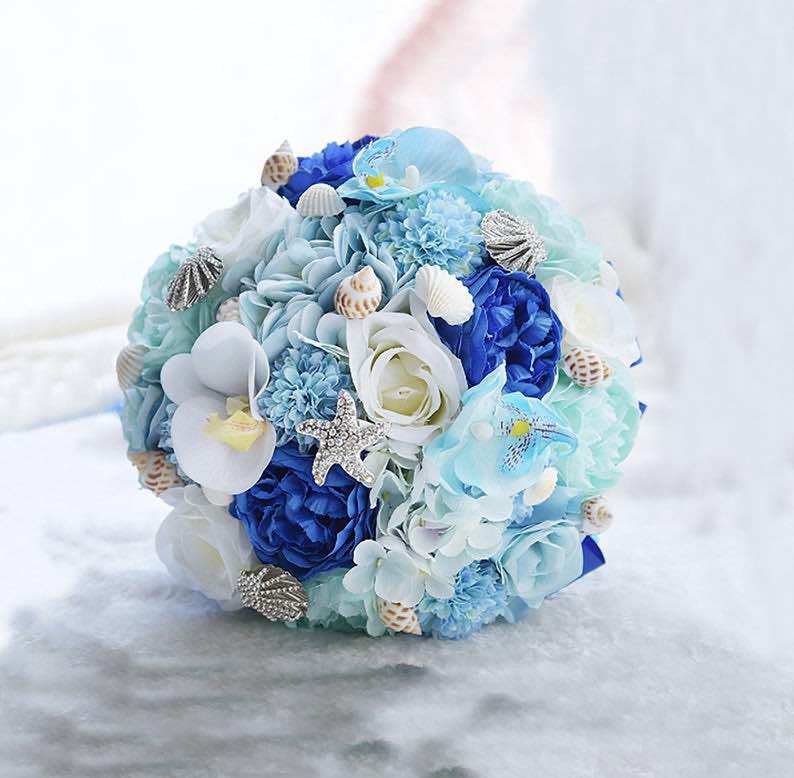 The color combination on this one is just superb. Blues, teals and whites (your most popular beach palette) come together with a mix of fabric flowers, shells and silver brooches.
Beach Wedding Glasses
A toast to the happy couple is an essential part of any wedding reception. Actually, several toasts to the happy couple are essential. And when going with a beach-themed wedding, then that part of the reception should be beach-themed as well. Here's a complete collection of glasses.

Seashell and Starfish Wedding Glasses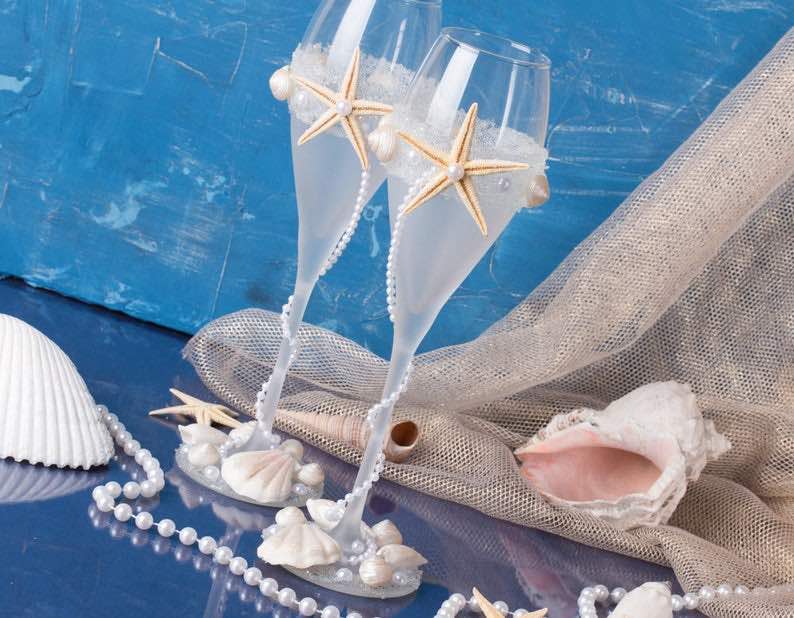 These champagne flutes are not only adorned with starfish (which is great, anything adorned with starfish is great), but they are also frosted with a pattern reminiscent of crashing waves. Which makes these seashell and starfish wedding glasses perfect for that beach wedding.

Nautical Wedding Toasting Flutes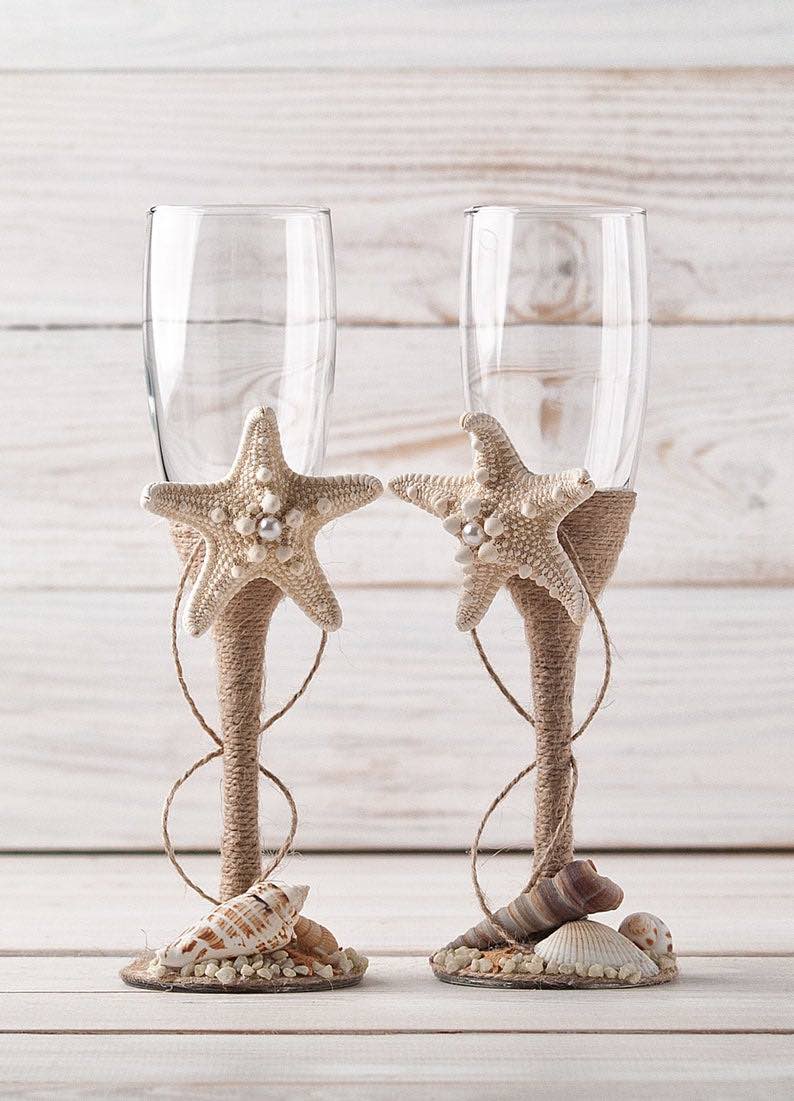 I love the boho beach feel of these nautical wedding toasting flutes. Just look at that great collection of seashells and starfish. And the twine wrapping the stem on up gives this one all the nautical theme that you would want.

Personalized Set of Beach Wedding Champagne Flutes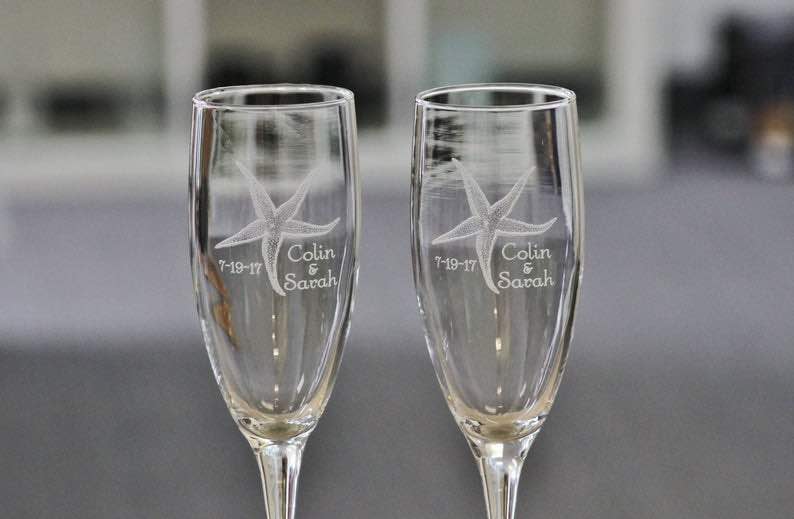 And if you're going to have your toasting glasses etched with names for personalization, why not just etch a starfish in there as well? That makes this personalized set of beach wedding champagne flutes perfect.

Coastal Beach Toasting Glasses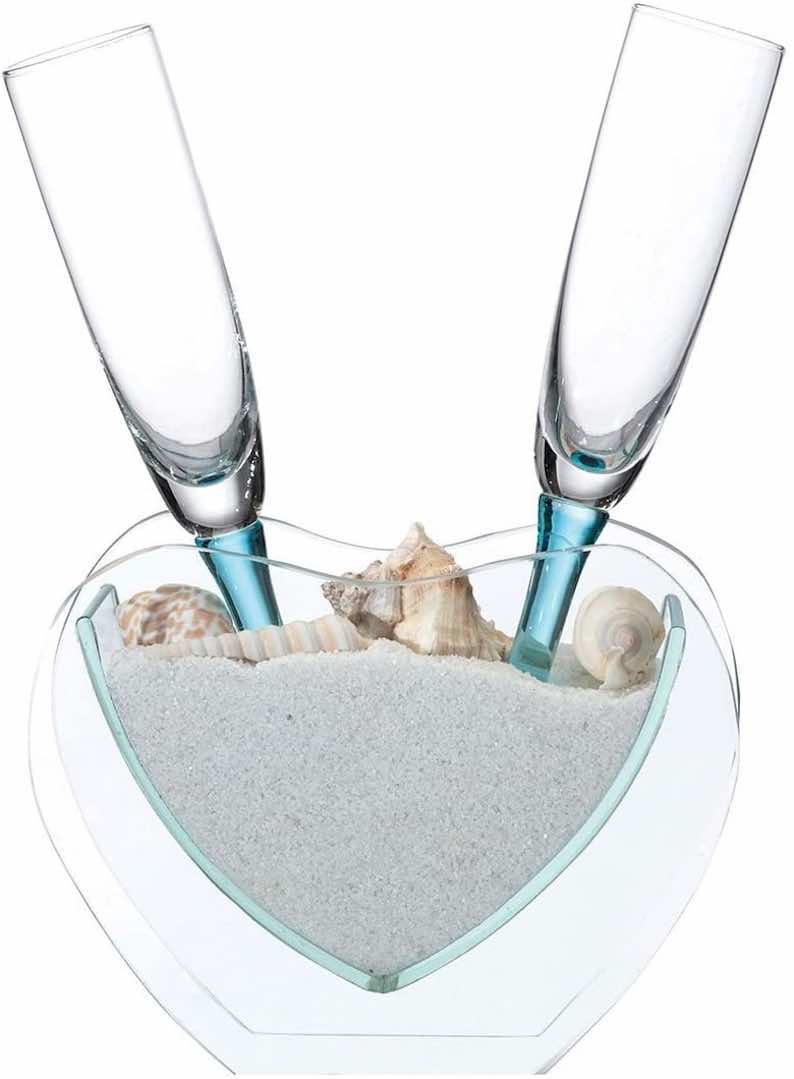 These flutes come with a beach of their own! First off, I think that the design of the glasses themselves are great — a minimalist design with a blue stem. But then these coastal beach toasting glasses come mounted in this heart-shaped glass complete with sand and shells!
Beach Wedding Ring Dishes
For any wedding you need to make absolutely sure that the ring bearer has some sort of way that they won't lose the rings on the way up the aisle. For a beach wedding, there are some very cool choices.

Seashell Turquoise Ring Bearer Shell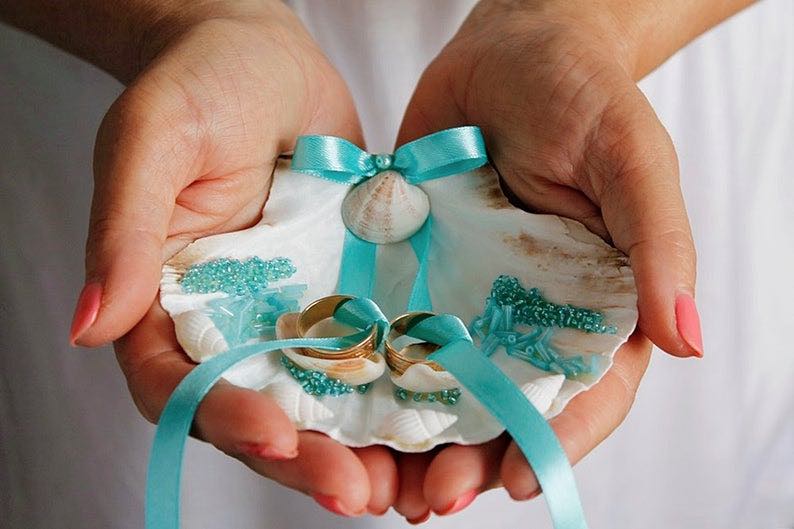 I love how this seashell turquoise ring bearer shell seems deceptively simple, but when you look more closely the details become obvious. At first glance it appears to be just a big ol' shell (and there's nothing wrong with that, a simple big shell would serve the purpose well), but look at the spot wherein the rings reside: they are two smaller shells with the rings affixed by a ribbon.

Seashell Ring Holder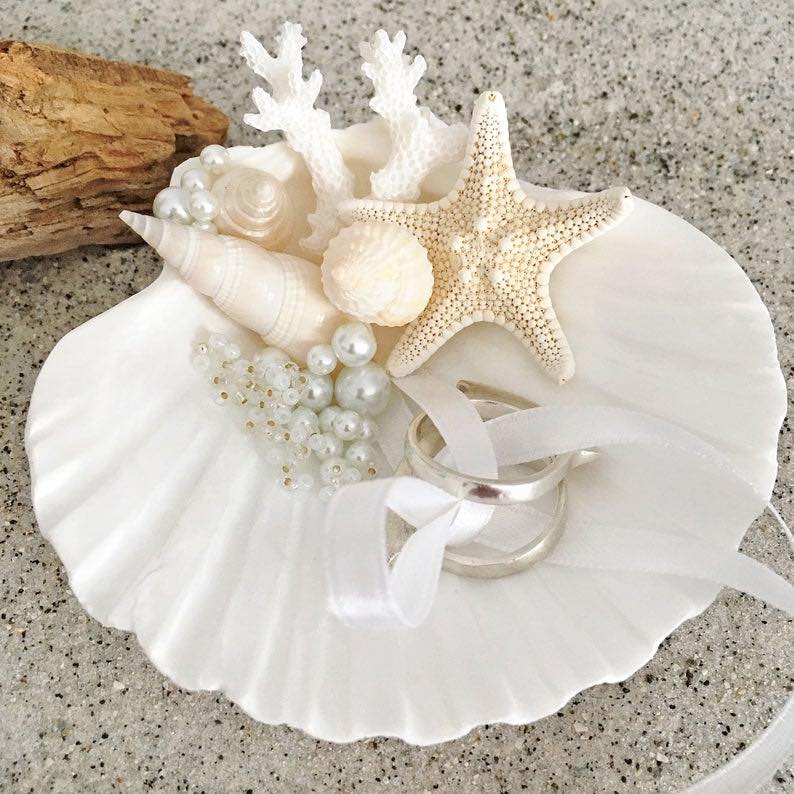 This seashell ring holder is another which starts off with a big shell and goes from there. I think it's really neat how the designer of this handmade piece has fit everything beach-themed within this one dish. We've got shells and pearls and starfish and coral and…

Personalized Seashell Ring Dish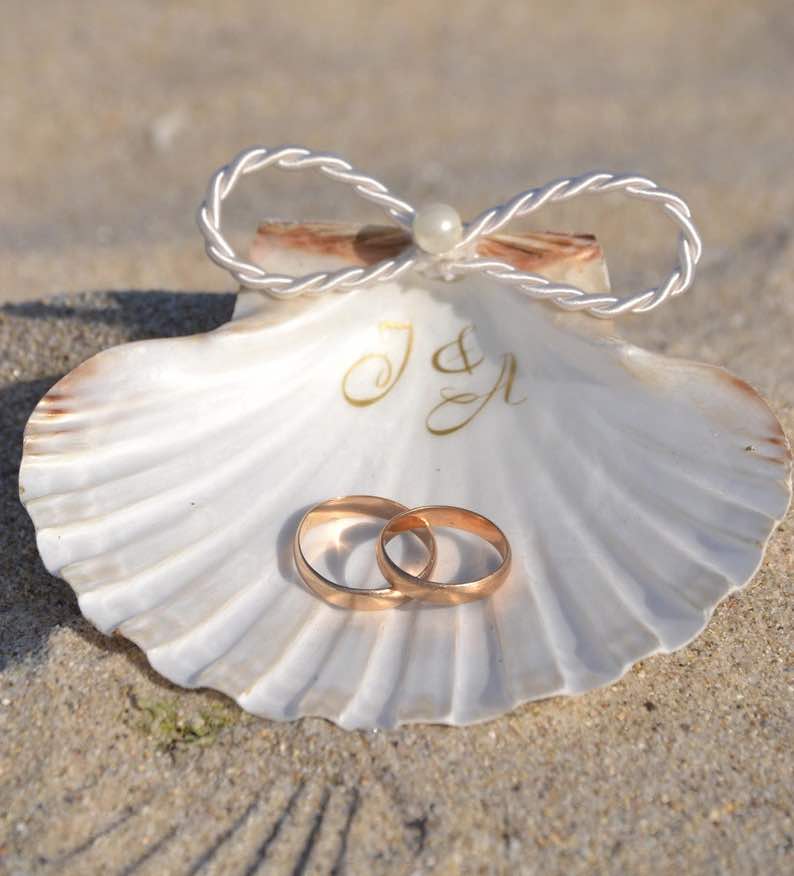 I love the simple elegance of this personalized seashell ring dish. A simple scallop shell is decorated with the bride and groom's initials and tied off with a piece of decorative rope. Simple and beautiful.

Starfish & Seashell Wedding Ring Pillow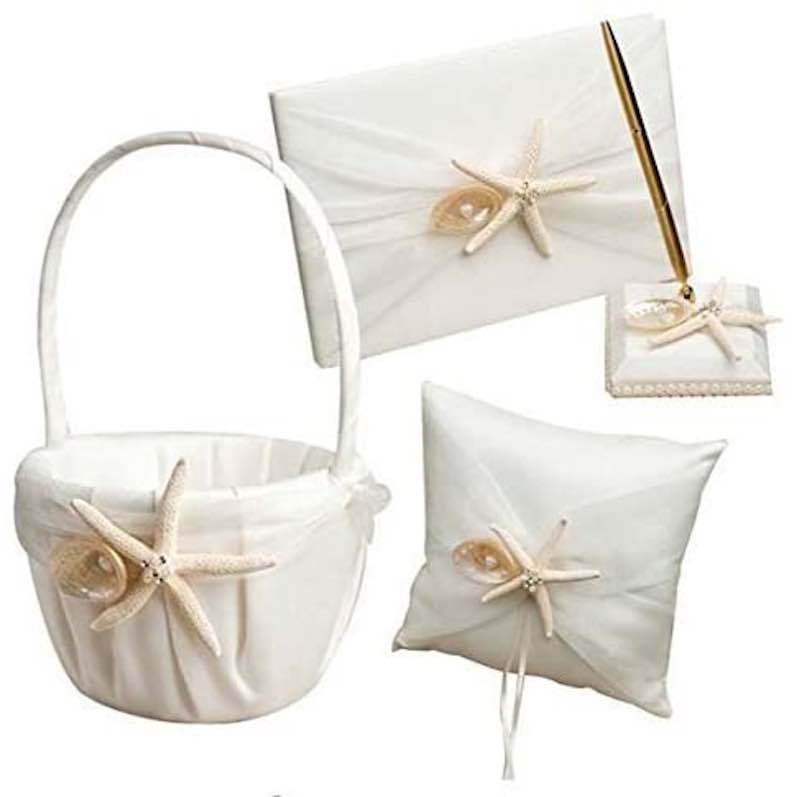 And if you prefer a pillow for your rings to reside on, this starfish and seashell wedding ring pillow comes in different options, but each one adorned with a starfish.
Beach Wedding Place Cards
Even at the beach your guests still need to know where to sit. Once you start looking for place cards you'll notice that there are a whole lot of different styles available. Here are a few beach-themed options.

Beach Wedding Place Cards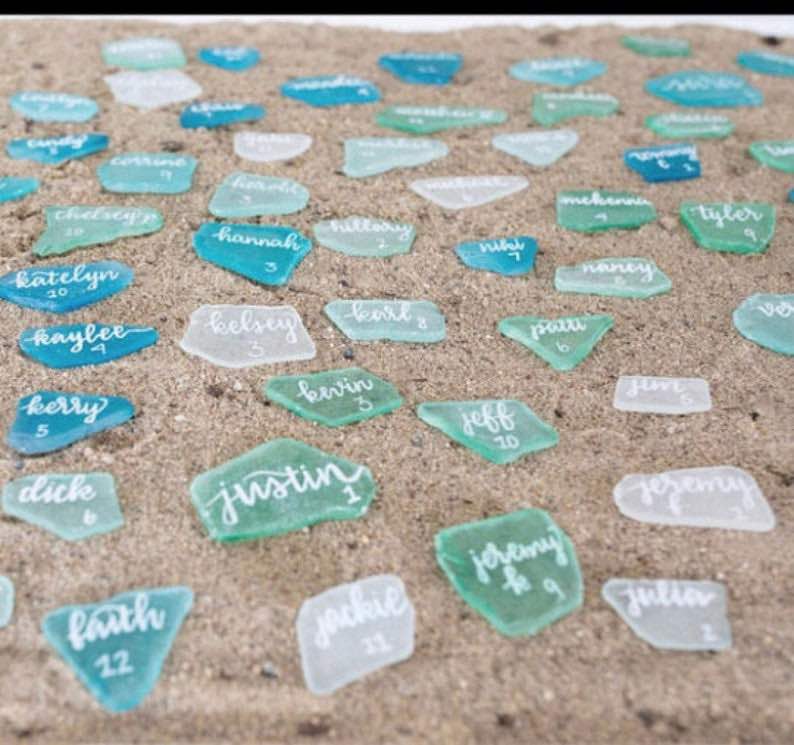 Okay, now this is one of the coolest accessories that I've ever seen. These beach wedding place cards are actually made from faux sea glass (machine tumbled rather than ocean tumbled). And hand-painted with each guest's names and table numbers. I honestly can't think of anything more beach-themed that this!

Message In A Bottle Place Card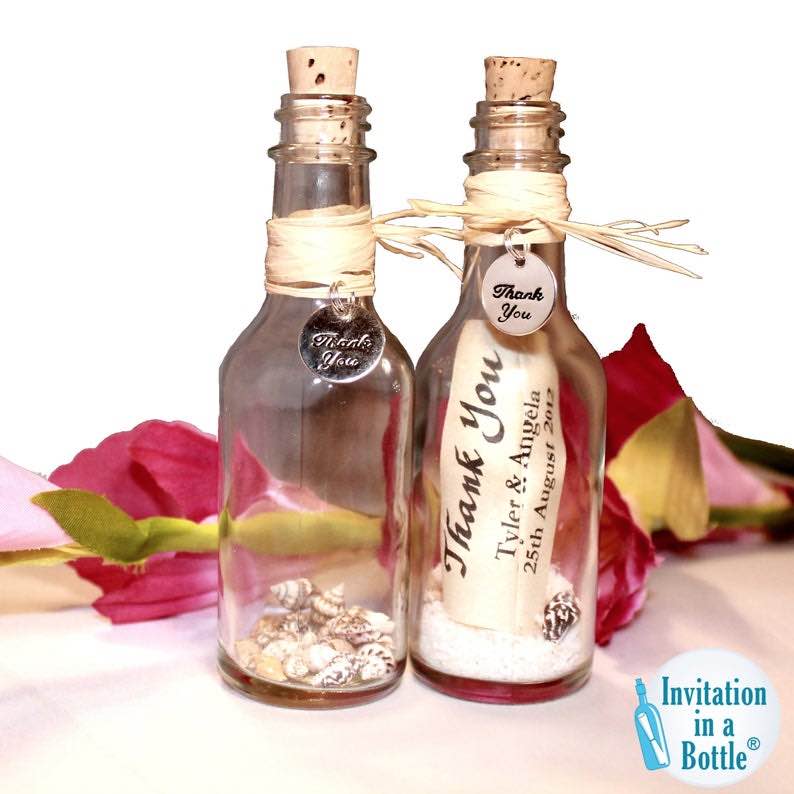 Who hasn't at least once gone out on a beach and fantasized about finding a message in a bottle from some faraway place or time? Well, these cute little message in a bottle place cards would make a really cool way to point your guests to the correct table
Beach Wedding Centerpieces & Table Decorations
Even a wedding at the beach will still likely have tables. And having tables means that those tables need to be decorated. Here are some great beach-themed centerpieces:

Beach Wedding Centerpieces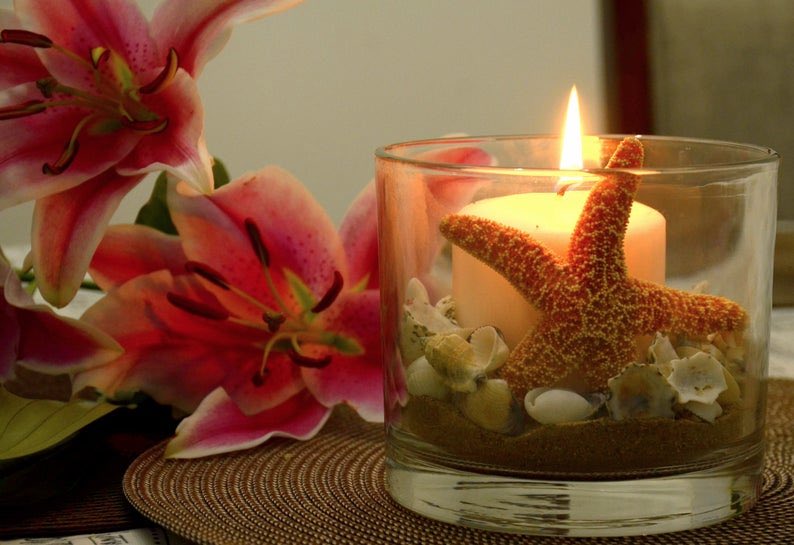 Sometimes the simplest approach is the best approach. These beach wedding centerpieces feature a candle and a starfish and some shells. And that's really all you need now, isn't it?

Beach Wedding Candle Holders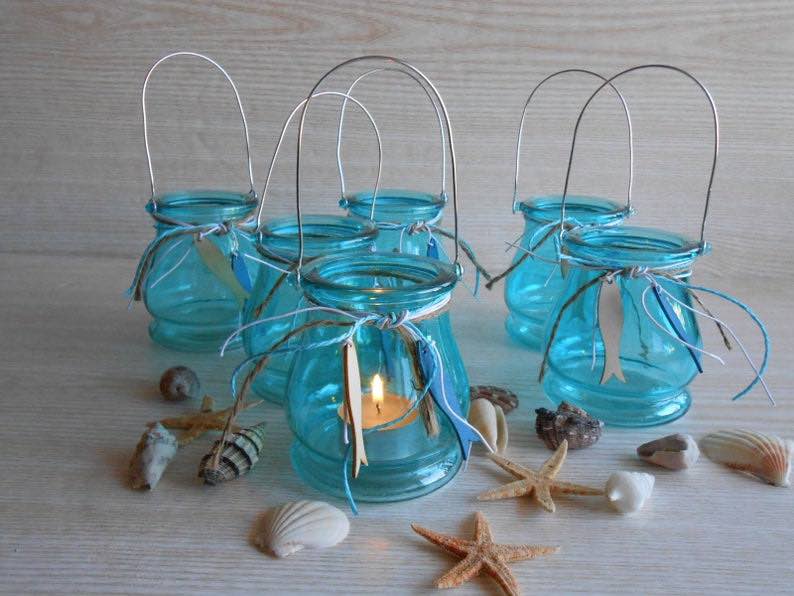 It's the color that does it for me on these beach wedding candle holders. As we all know, blue is a perfect beach themed color. These little candle holders have been made from blue mason jars turned into lanterns. One of these on each of the tables will definitely give your reception a beach feel.

Seashell Candle Wedding Favors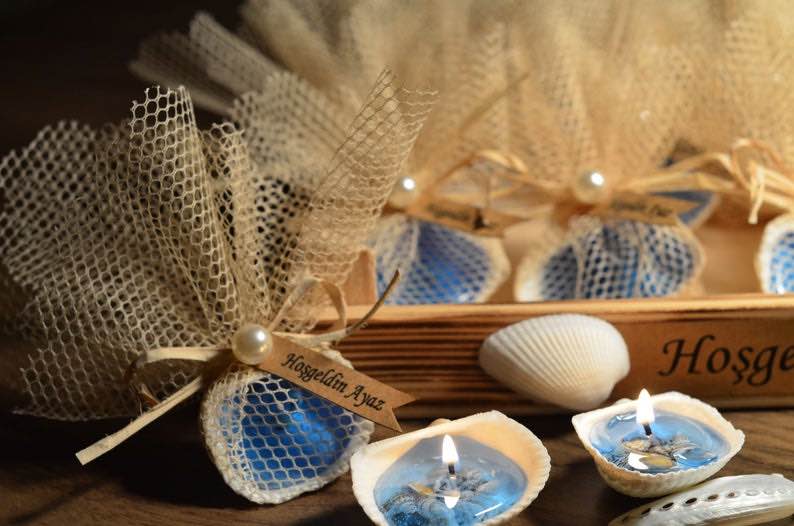 One of these seashell candle wedding favors on the table will really make that table. These handmade candles couldn't possibly be more beach themed! They are gel candles contained within a seashell. And if you look closely, there is also a collection of tiny shells within the gel of each candle. Wonderful!
Beach Wedding Aisle Decoration
Since the aisle is a focal point at the beginning and end of the ceremony, it makes real sense to make that aisle beautiful. And since we're decorating for a beach wedding here…

Elegant Beach Wedding Aisle Decor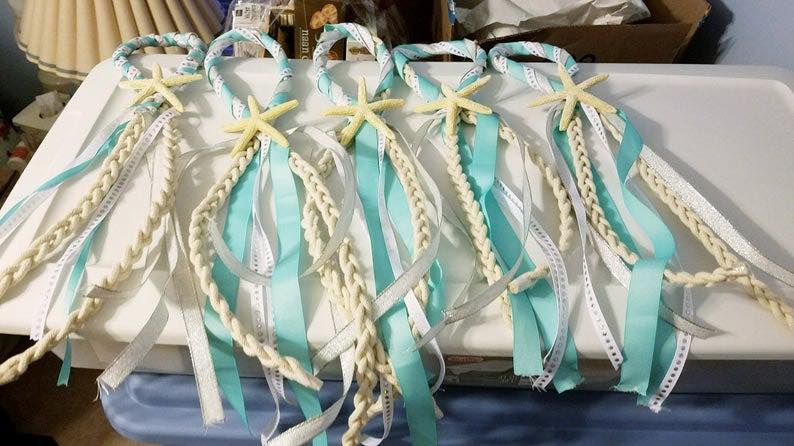 First off, this elegant beach wedding aisle decor comes as braided strands. That right there lends a beach or nautical vibe to things. Then the colors are teal and white (definite beach colors) and then they are accented with starfish and seashells. There would be no denying your beach theme with these hanging along the aisle.

Starfish Aisleway Decorating Kit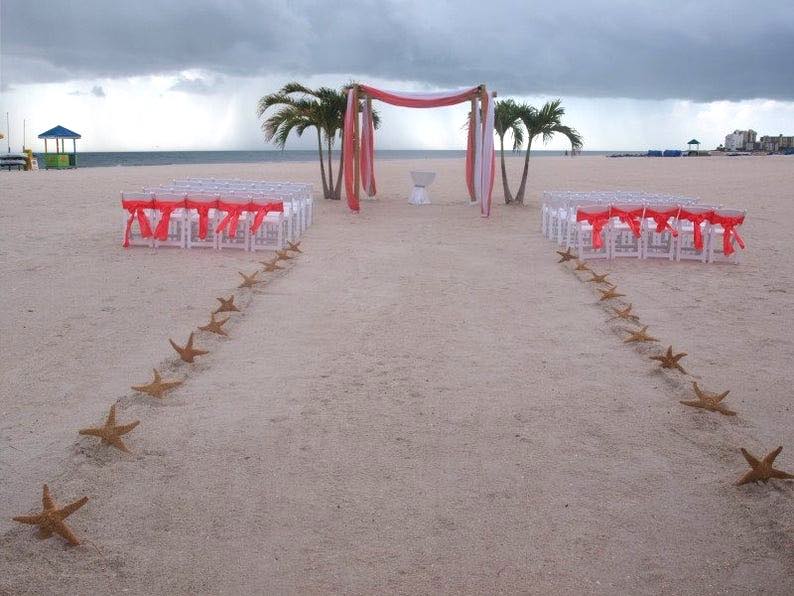 Not all beach-themed weddings happen right on the sand (actually, not all beach-themed weddings happen at the beach either), but if you've got a wedding that is right on the sand then marking out where the aisle actually is can sometimes be a challenge. But not with this starfish aisleway decorating kit!
Beach Wedding Cake Decor & Utensils
Ah, the cake. I know some people who like attending weddings just because they are so fond of wedding cake. And even the cake can benefit from a little beach theme added to the mix.

Beach Cake Cutter & Set Serving Cutter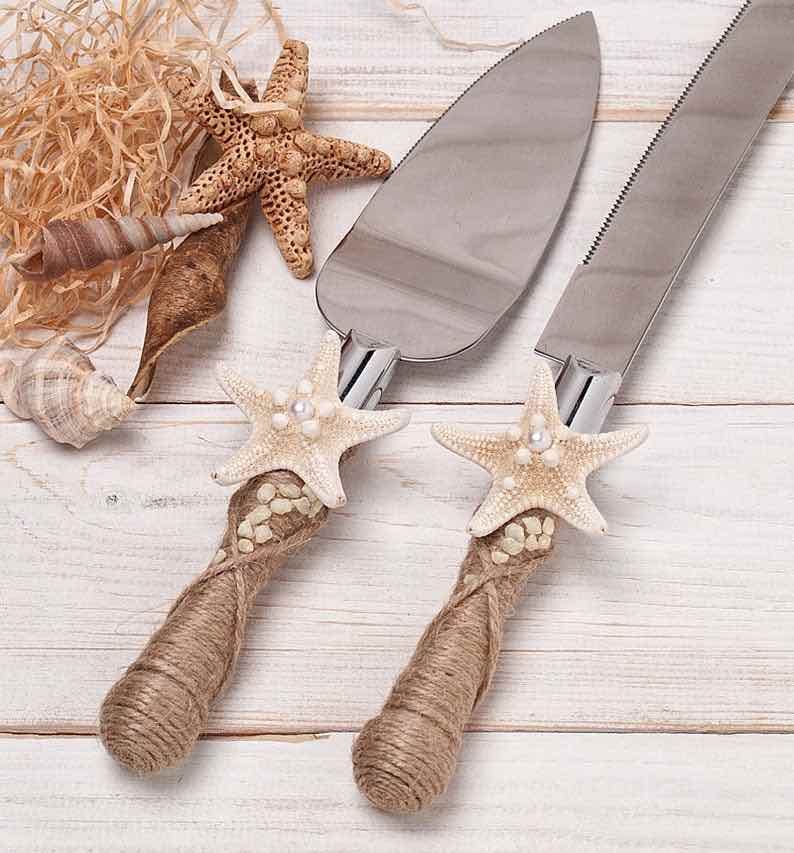 I think that this beach cake cutter and set serving cutter are really neat. First there's the fact that the handles are wrapped in twine, giving them a definite beach or nautical feel right there, but then they are topped off with a starfish accent. Perfect for digging into that great big wedding cake.

Custom Beach Wedding Cake Topper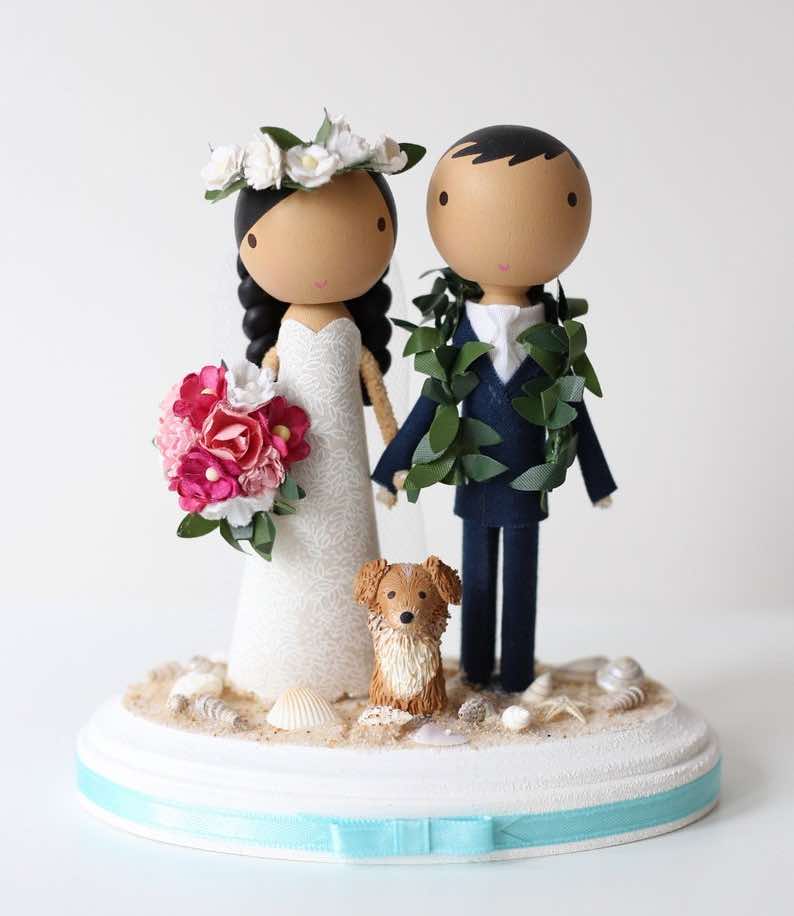 Gone are the days of boring cake toppers! These custom beach wedding cake toppers are really cool! Not only is it a cake topper with a beach theme — that would be great enough — but it is also customized to look like the couple! How awesome is that?

Beach Wedding Accessories
Thanks for checking out this roundup of beach wedding accessories. If you liked it, please share it on your social. Thanks!
Written by Renee