Beach Cams ~ The Best LIVE Beach Cameras on Youtube
Since most folks of us aren't able to get to the beach as often as we'd like, I wanted to share my bookmarks of great beach cams on youtube.
I've only included those that stream live. I have a bunch of bookmarks of beautiful beach scenes that have be pre-recorded, and I'll probably share those on another post sometime, but for this one I want to show you only those that are LIVE.
I just love the idea that via a beach cam, we can — no matter where we are in the world or what the weather is like where we are — we can log on to Youtube and see gentle waves lapping upon sunny shores somewhere.
Meditative Beach Cams
This one is my new favorite for those stressful days. When you come home from work, totally shot, totally stressed, I recommend sitting down with a nice glass of wine and putting this streaming web cam video up on Full Screen.
I'm not sure where exactly in the world this camera is, but just knowing that it exists somewhere brings a calming feeling to my soul.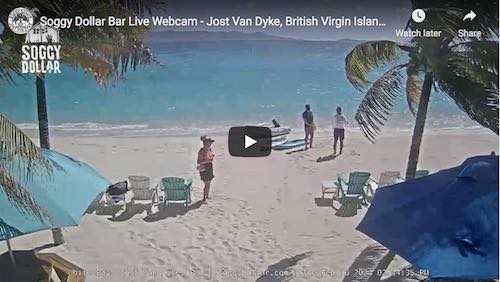 Here's another one that's pretty darned calming (I suppose it's the swaying palm trees). This one is from the British Virgin Islands.
At those times when there's no one on the beach, this view is particularly peaceful. Just the white sand and that beautiful turquoise water.
Ah…
I feel relaxed already.

So this one can be relaxing or wild, depends on when you look. What you're looking at is the Banzai Pipeline on O'ahu's North Shore in Hawaii.
You've probably heard of Pipeline. It is one of the most famous surf spots in the world. Home to big-name surfers and big-bucks surfing competitions (and more than a few famous surfer's deaths — yikes!)
So, if you tune into this beach cam at certain times you'll catch those big waves. And those big waves will be full of surfers.
But if you watch at the time when there are no big waves, the scene is the complete opposite. It is particularly relaxing as very gentle waves lap upon the shore.

Straight from Belize comes another very relaxing beach cam. I really like the framing of the image on this one. It's got the two palm trees there and the view is through the middle of it.
This beach cam, more than any other, makes me feel like I am lounging in a beach chair while someone brings me one tiny umbrella-filled drink after another.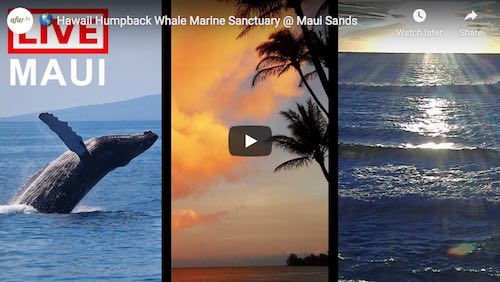 This one switches among three different cameras depending on the time of day. All of the views are from the Hawaiian Island of Maui, and the cameras are pointed towar the Humpback Whale Sanctuary. I'm told that at the right time of the year (between December and April) you can see whales on this beach cam feed.
So far I haven't seen any whales, but I'm not complaining. The view from this feed is very relaxing. So I'm good.

Here's another very calming beach cam. This one is from St. John's in the US Virgin Islands. This is one that stays on the one image the whole time, which I find really puts me in a mellow mood since it is such a beautiful view.
In case you haven't noticed yet, these live feeds on youtube keep things in memory for several hours. This particular cam is one that I like to rewind to check out the sunrise.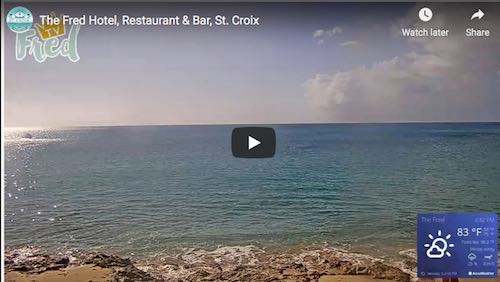 I've never been to St. Croix, so I've never been to The Fred. I don't know why you would name a hotel The Fred (I'm sure that I could google it and find out, but I think it's more fun to just wonder "why in the world did they call it The Fred?").
But one thing I do know, The Fred has a great spot for a beach cam.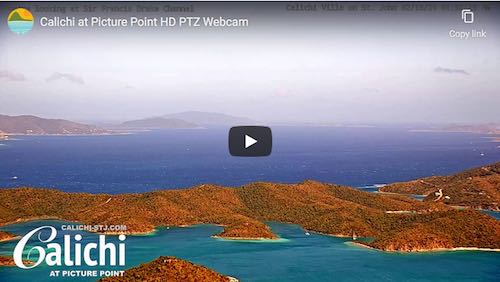 Here's another one from St. John, but this one moves. It is located atop a mountain which is known as Picture Point (for fairly obvious reasons) and it pans around this great view of the island and the ocean.
Love it!
Tourist Destination Beach Cams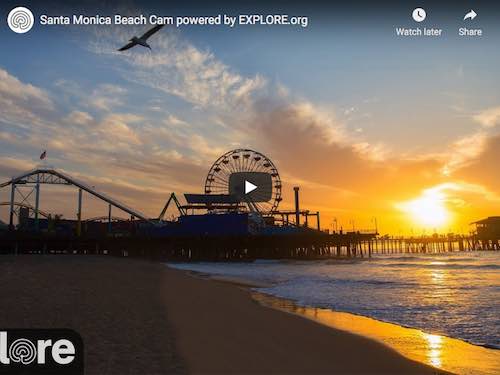 When you're talking about tourist beaches, one of the best-known has to be Santa Monica.
Actually, come to think of it, this may well be the best known in beach in the world because of the movies. I doubt that there's a person in the world who hasn't seen a movie, TV show or commercial shot at Santa Monica. Even if you don't know where it is, you've seen it.
There are a couple of neat things about this beach. One of the coolest is that if you've just driven across country and your GPS puts you on the 10 Freeway, this is the first beach that you will see. And the way that it happens is after all those miles coming through LA you enter a curved tunnel (it used to be a railroad tunnel) and then BOOM! you come out of the tunnel and the beach is right there! Your first time experiencing it feels amazing!
Oh, and my husband likes to watch this web cam as, when he was training for a marathon in his youth, he would run the beach from Pacific Palisades to the Santa Monica Pier and back.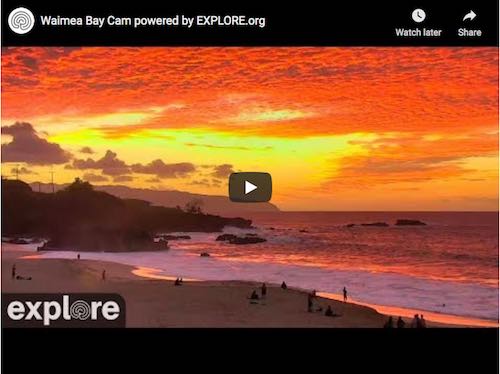 Waimea Bay is a fairly popular beach on the north shore of O'ahu in the Hawaiian Islands.
This particular beach cam is a good one to check out if you are stuck in a cubicle. It gives you inspiration to go ahead and book that vacation to Honolulu that you've been putting off for years.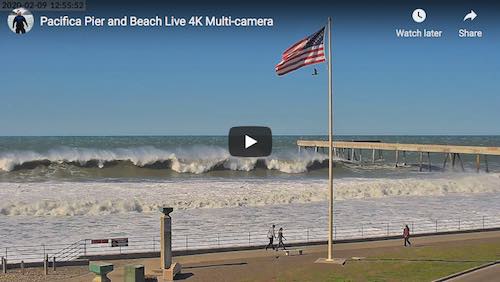 Since we are in California, I often like to see how things are going at other beaches up and down the coast. I really like this view of Pacifica Pier, which is just a little south of San Francisco.
It usually has a good mix of the peaceful waves and strolling people. Really relaxing.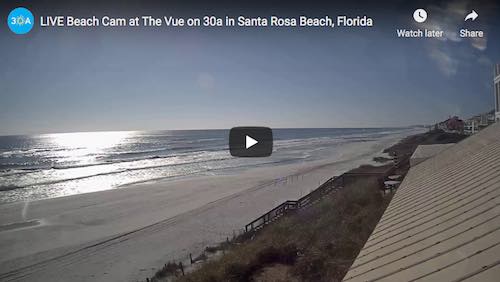 I find that the positioning of the camera for this one from Florida's Santa Rosa Beach is right on. This beach cam feels like a professional photographer framed it. You have a bit of foreground object with the condo here on the right, then the sweeping off into the distance of the beach and all its sunbathers.
This one's a winner in my book.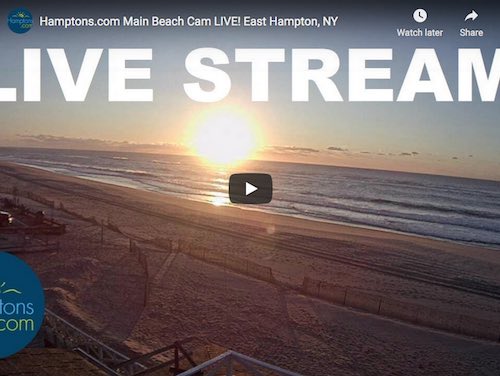 Though I've lived all over I've never been an East Coaster. But I've seen enough movies to know that "a house in the Hamptons" is a big deal.
Kind of like "a place in Malibu."
So even though I've never been there, I do enjoy checking out this beach cam from The Hamptons.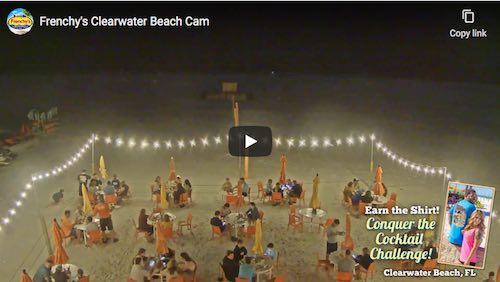 And let's end this post with a beach cam that just might leave you really hungry.
This one is from Frenchy's Rockaway Grill at Clearwater Beach, Florida.
I find it strangely entertaining to watch the tranquil beach in the background while also spying on the folks who are chowing down on seafood.
Hmm. Now I want french fries…
Beas Beach Cams on Youtube
Thanks for checking out this list of beach cams on youtube. If you liked it, please share on your social. Thanks!
Written by Renee