Christmas Beach Art ~ like regular beach art, but with Christmas
Or is it like regular Christmas art, but with beach? I'm not sure.
If you've spent much time on Seashell Madness you know that the site's main mission is to feature great beach art and great beach artists. That's even true during the holiday season, when we turn our attention to great Christmas Beach Art.

Sandpipers Spell Out "Merry Christmas"
Let's start of this collection of great Christmas-themed beach art with this wonderful painting by artist MaryAnne Klausner of sandpipers spelling out "Merry Christmas." I love the coastal feel of this painting with the soft lines and cozy color palette which work really well in evoking a beach. The Santa hats make clear that this is a holiday-themed work, but even without that theme this is a lovely rendition of a beach.
Since this is an original painting and not a print it's possible that by the time that some of you read this it may be sold. But fear not, MaryAnne has several different works with both a beach theme and a beach Christmas theme, and they are all just as good as this. So definitely check out her work!

Season's Greetings Beachy Christmas Garden Flag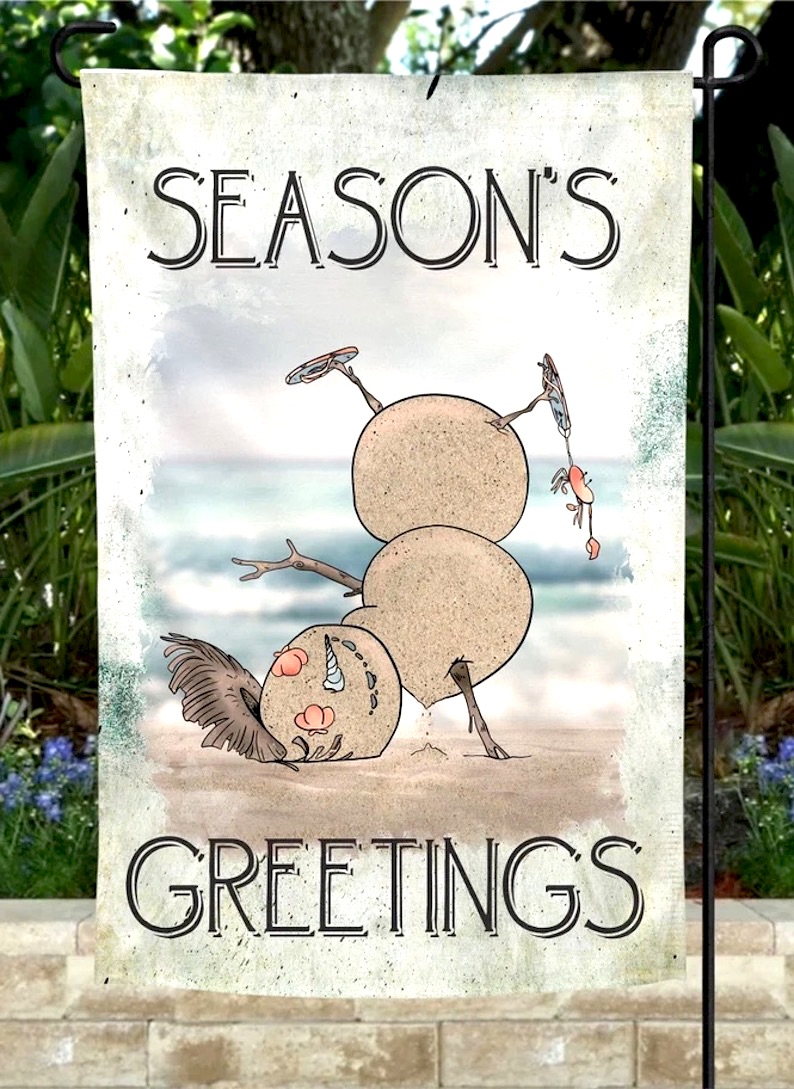 I have to admit that this one gave me a giggle. I just adore the goofiness of this snowman on the beach. I swear that I've known a person or two who give off this kind of joyous vibe, and to see it rendered as a snowman on the beach is just delightful.
Put it on a garden flag and let all of your neighbors know that you are in the right headspace to enjoy a Merry Christmas at the beach!

Christmas Watercolor, Santa's Workshop by the Sea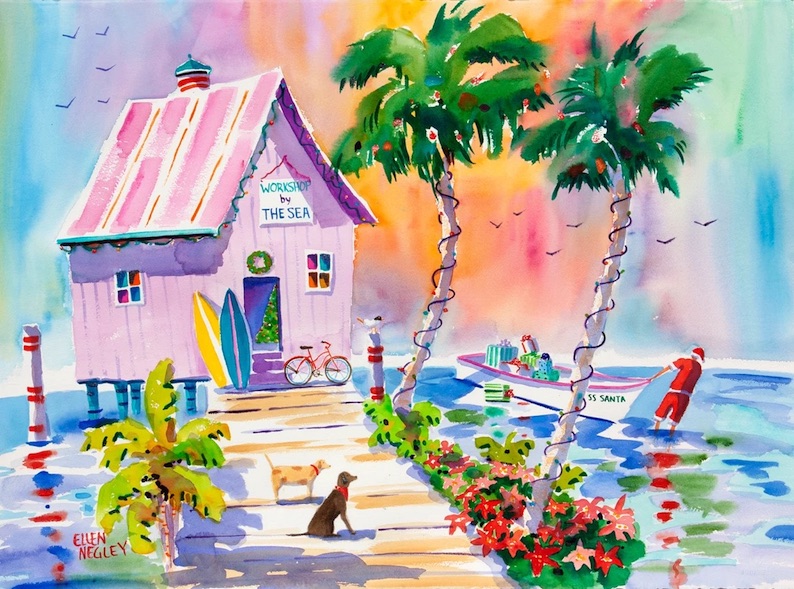 I am a big fan of watercolors, especially when it comes to beach art. There's just something about the way that watercolors flow and blend that really lends itself to a beachy feel. And when an artist uses really bright colors in watercolors it just amps up the beach vibe several notches.
That's what artist Ellen Negley has done with this watercolor of Santa's Workshop by the Sea. This is how you add a Christmas feel to your coastal decor. I love the way the water ripples in blazing colors, and there's Santa, pulling in his little row boat to load up with presents. Wonderful!

"Have Yourself a Beachy Little Christmas" Sign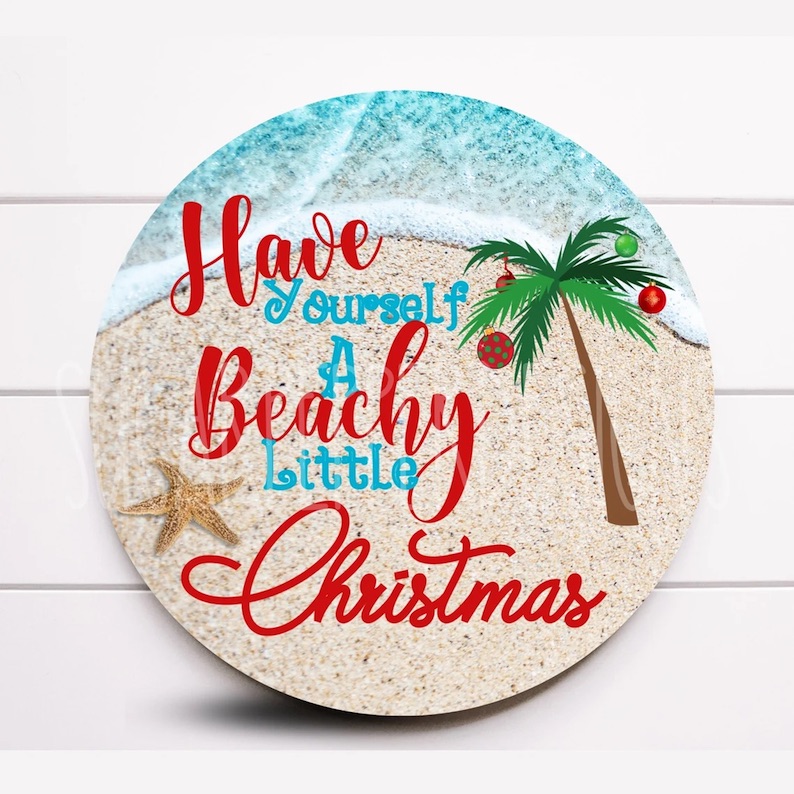 Sometimes you need a sign to let everyone know exactly what you feel. And if you feel like you want everyone to experience the great things that a Beach Christmas has to offer, then a sign like this one will do the trick. They'll know at a glance that you wish for them a Beachy Little Christmas.

Beach Holiday Photo Wine Bottle Stopper
If you are someone who A) enjoys wine and B) knows how to pace yourself, then you will definitely need a wine bottle stopper or two around the house. And if we're talking wine at the holidays then it makes sense to have holiday wine bottle stoppers and if we're talking about wine at the holidays at the beach then these are most definitely the way to go. I especially like the images of sandpipers wearing little beach hats as they frolic on the beach.
Plus, they'll keep your wine fresh.

"Have Yourself a Sandy Little Christmas" Sign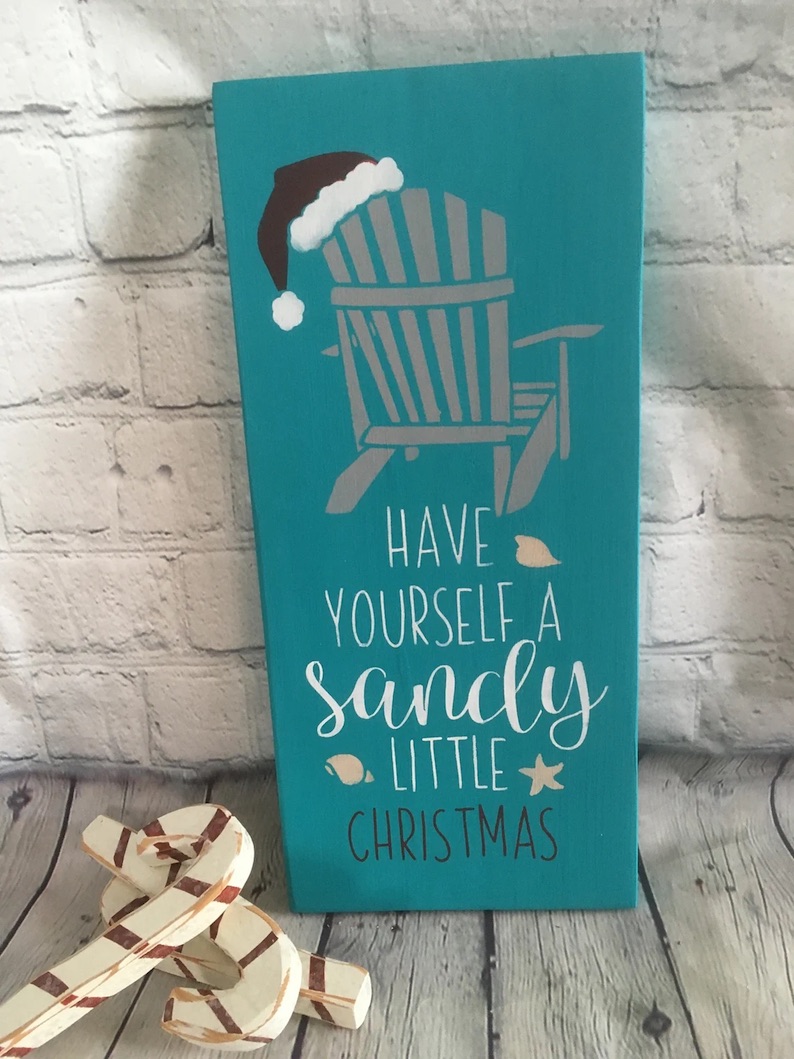 Teal and white is pretty much the official color scheme of coastal decor. So if you've gone that roiute then you may not want the jolt of greens and reds when the holidays roll around. If that's the case, then this "Have Yourself a Sandy Little Christmas" sign fits int the scheme of things just right.

Beach Christmas Sign: "He Knows if You've Been Crabby or Nice"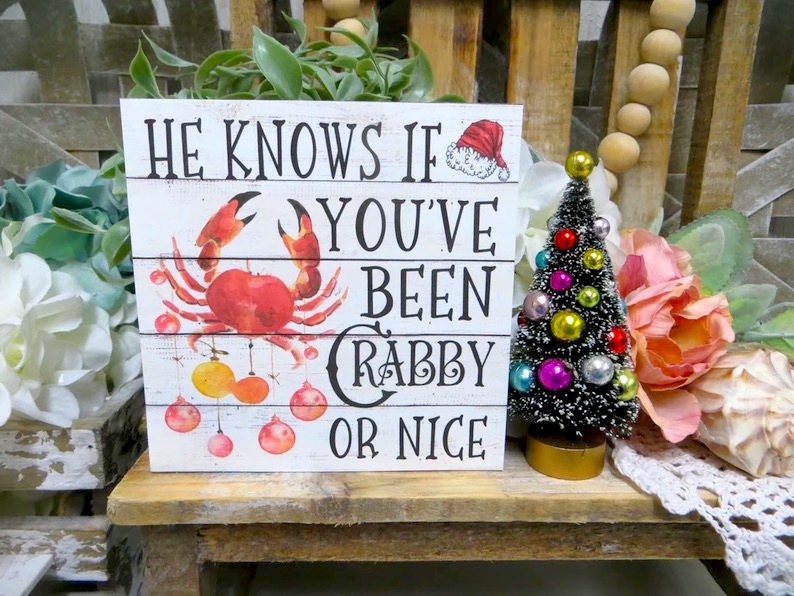 Let everyone on the premises know that crabbiness is a no-go in your home. If people want to get presents, that is.

Beach House and Wooden Sign Model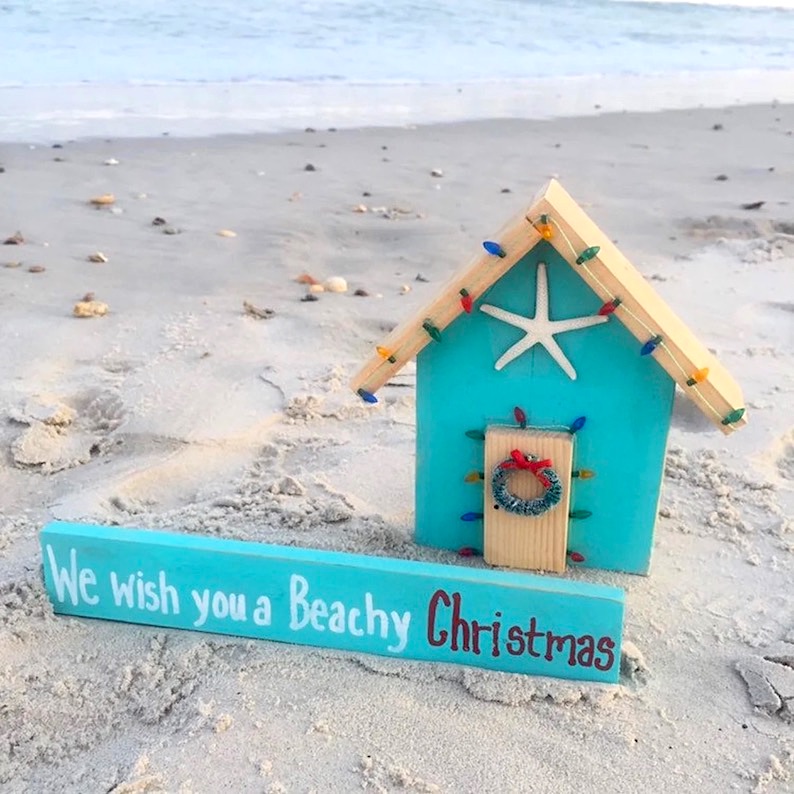 This little set is so cute together and it would bring such a great holiday feel to your home. I really like the simplicity of it: a little sign and a little wooden house. Mount then on your wall and you now have a room with the coastal holiday spirit.

3D "Christmas is Better at the Beach" Sign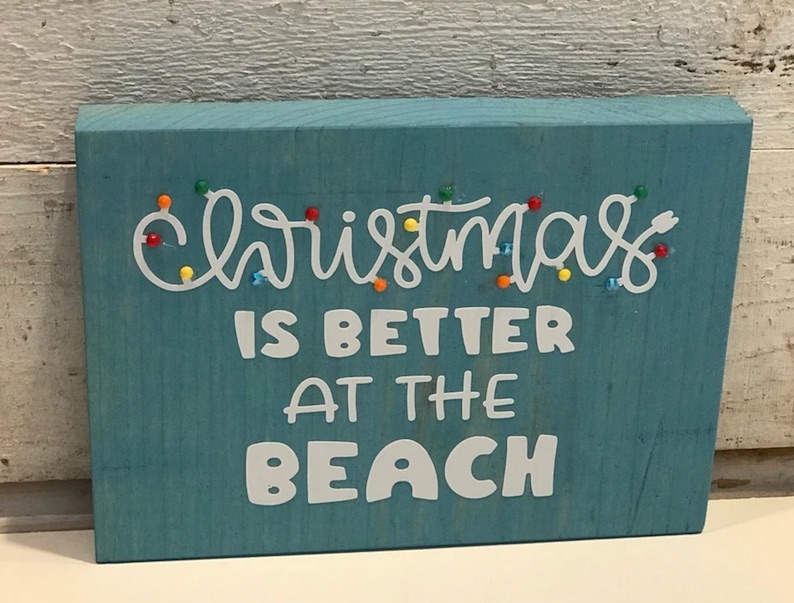 While I definitely agree with the sentiment that Christmas is better at the beach, this little piece of art goes beyond just that sentiment. The little colorful bulbs that highlight the word Christmas just make this sign pop out from wherever it resides.

"Christmas By The Sea" Sign in Aqua Blue and White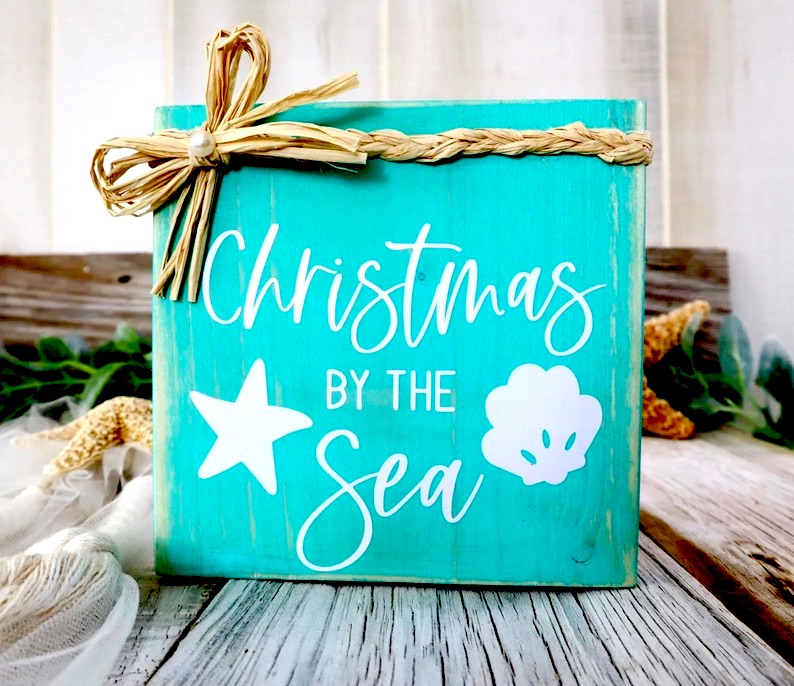 It's the little touches that can make all the difference. Yes, a Christmas by the Sea sign is really cool regardless. But I really enjoy the touch of wrapping it up in some very coastal looking flat rope. Definitely beach.

Watercolor Beach Christmas Tree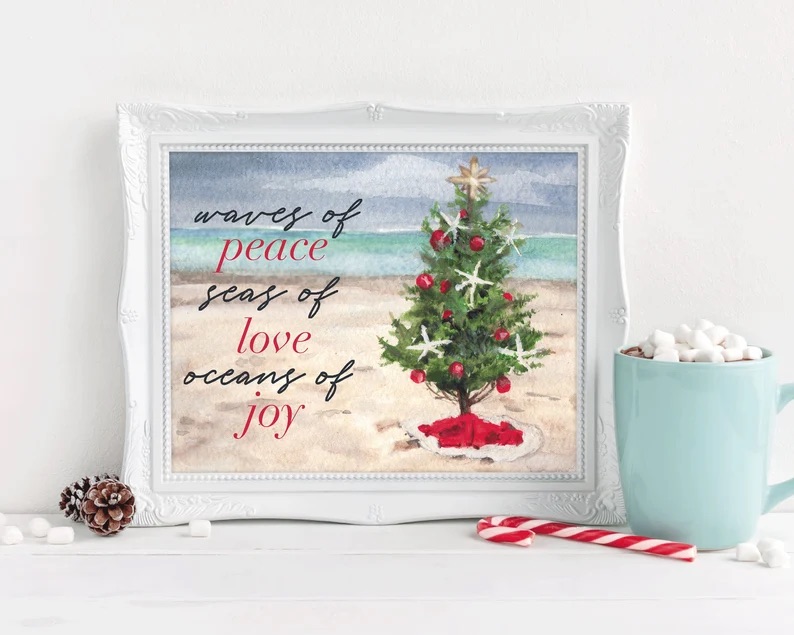 Just a nice little painting of a Christmas tree on the beach. There's something about it that feels very calming, isn't there? Aaaaaah. Perfect.

"Gone to the Beach. Love, Santa" Beach Sign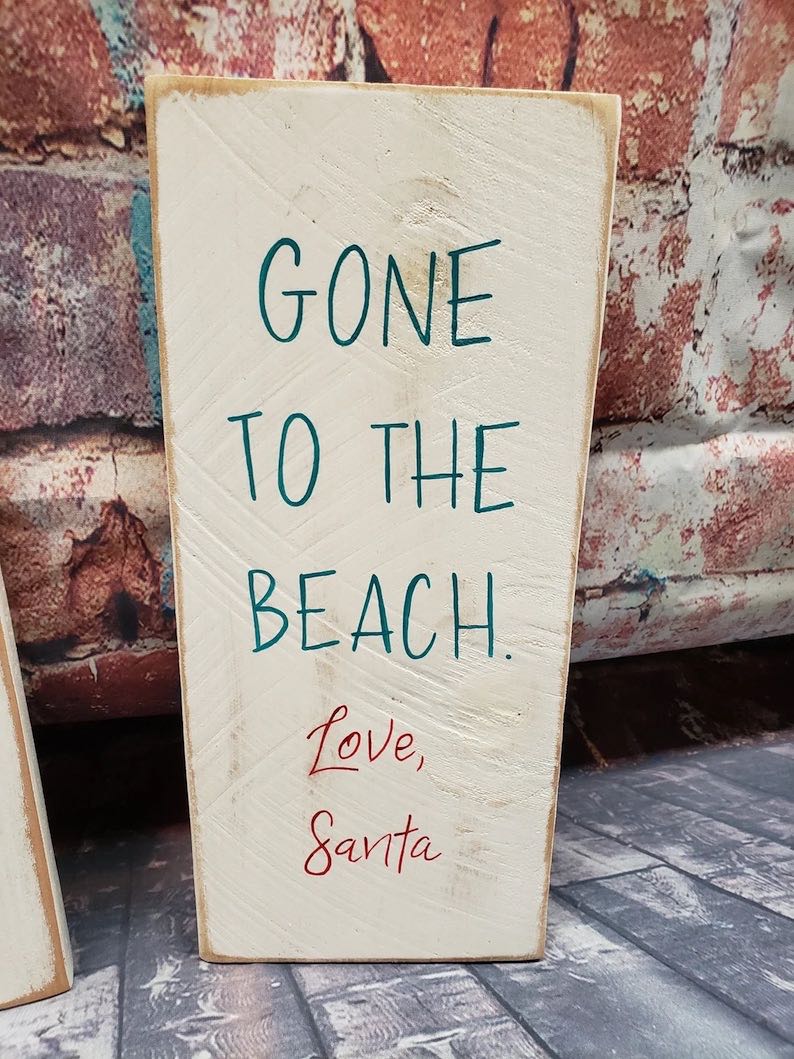 Hey, everybody needs a beach day from time to time. And when you consider the workload that Santa carries at year-end you certainly can't blame him for taking a day for himself. Luckily, he left us a sign if we need to find him.

Tropical Snowman Stickers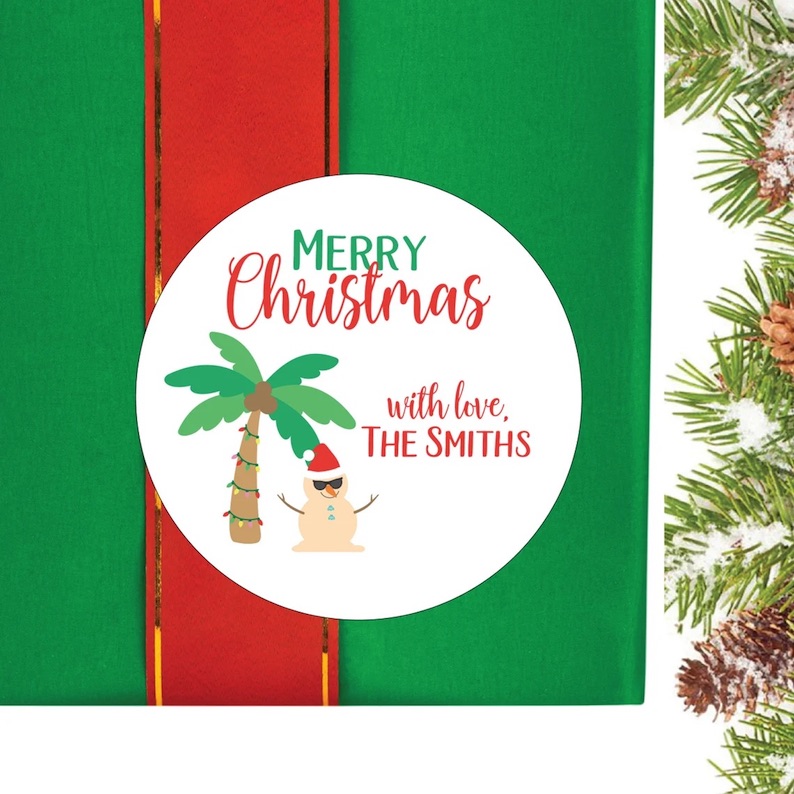 Stickers are fun, aren't they? There's just all kinds of things that you can do with a sticker. All kinds of places that you can stick 'em. And here we've got a sticker with a great Beach Christmas theme. This would be perfect to stick to the outside of presents or greeting card envelopes or your loved one's forehead — the possibilities are endless.

"I'd Rather Have Seashells than Snowflakes" Wooden Sign
Though I used to believe that a white Christmas was the way to go, these days I certainly agree with the saying on this sign: I'd rather have seashells than snowflakes. I would indeed.

"Sand is the New Snow" Christmas Beach Sign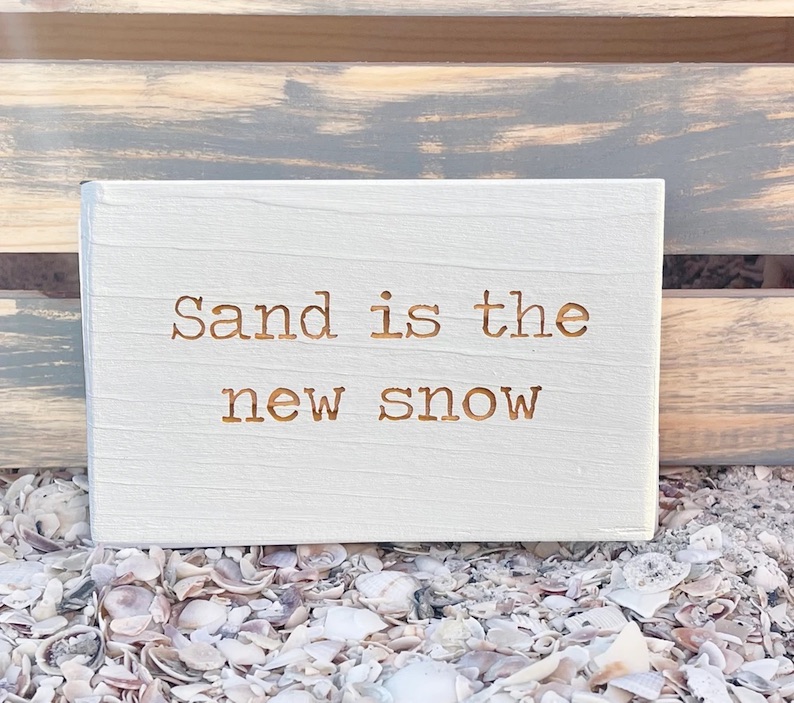 Not only do I agree with the sentiment expresses by this sign (yes, sand is the new snow), I really like the way in which it has been rendered. Check out the way that the text has been engraved into the wood after the wood has been painted. I find that really cool and very much representative of the spirit of the beach vibe.

"Santa Claws" and "I Saw Mermaid Kissing Santa Claus" Mini Wood Signs
Two great plays on words meant to get you into the spirit of a coastal Christmas. Each one of these little mini signs would be a great addition to your beach house decor at Christmastime. But both of them would be amazing!

"Seas and Greetings" Beach Christmas Sign
There are quite a few pieces of art and merchandise with the phrase "Seas and Greetings" out there in the world and a lot of them are great. So why did I choose this one? Honestly, it was because of that cute little starfish that accompanies the text. And the fact that each of these signs is hand-painted makes me smile a Christmasy smile.

Beach Winter Christmas Sign: "Who Needs Snowflakes When You Have Seashells?"
Something about the seagull depicted in this one really caught my eye. As a fan of the beach I have encountered many a seagull (and it is fun when you see a little kid at the beach trying to catch the seagulls — which of course they never do.
Plus, as the name of this website would indicate I am somewhat a fan of seashells, so the sentiment "Who needs snowflakes when you have seashells?" really does ring true for me.

"Dear Santa" Beach Sign
I know a lot of people who feel this way, that all they really want for Christmas is a ticket to the beach. I wish that everyone could see that wish come true, but until then I'll enjoy the beach Christmas for them.

"I'm Dreaming of a Beachy Christmas" Sign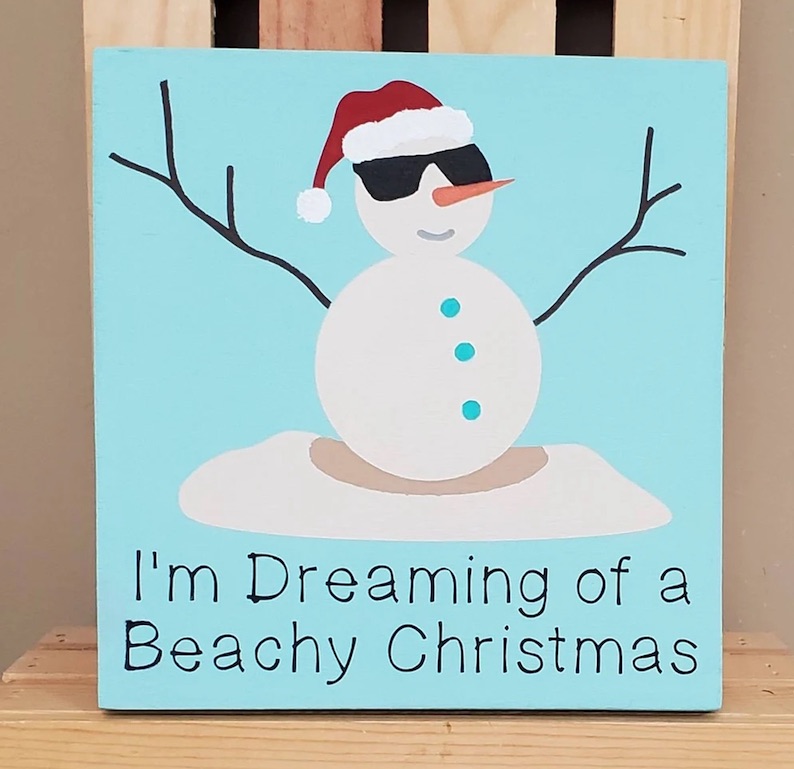 Is this not the cutest little snowman? I love how his arms are up in excitement — he is really, really eager to make this whole beach thing happen. This would be the perfect decor for the person who can't make it to the beach this holiday season, but is ever-optimistic that it will happen someday.
And it's a fun painting too.

Beach-Themed Christmas Stickers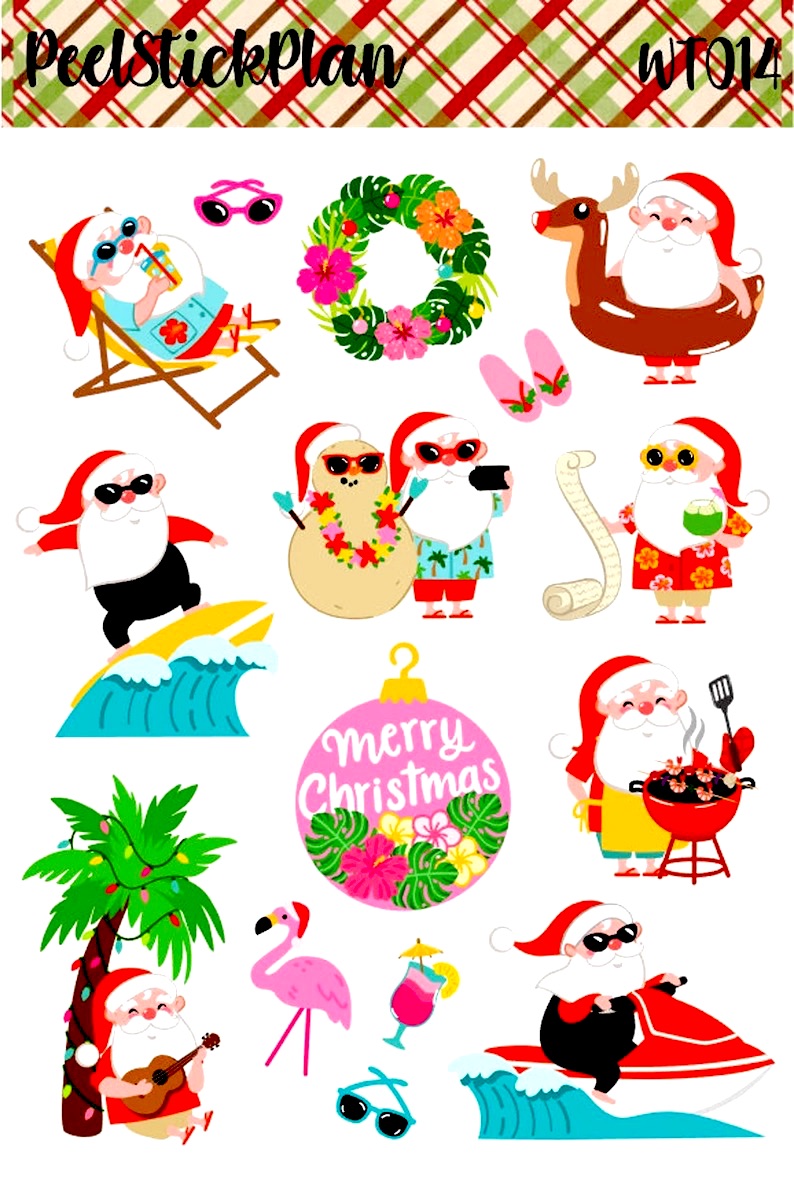 Are you the type of person who enjoys sticking stickers all over the place? Or maybe you know someone who is the type of person who enjoys sticking stickers all over the place. Either way, when that urge for sticking things comes around for the holidays then holiday stickers are required. And if you're at the beach for those sticky holidays...

"Christmas Wishes & Starfish Kisses" Beach Christmas Sign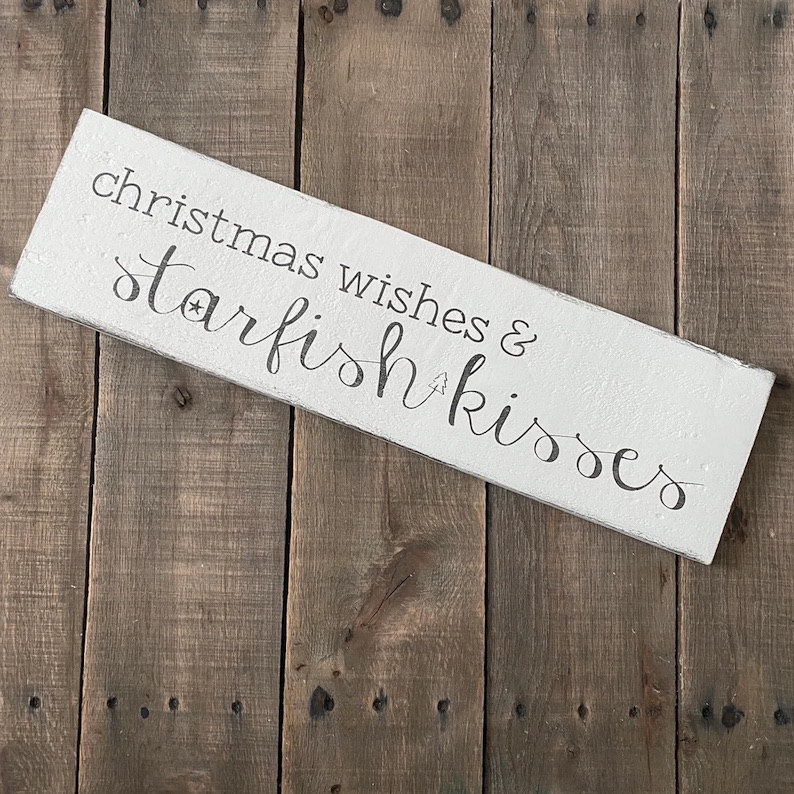 What we wish for everyone at the beach is some Christmas cheer and some starfish kisses. It makes those days merry and bright, believe me.

Flamingo Reindeer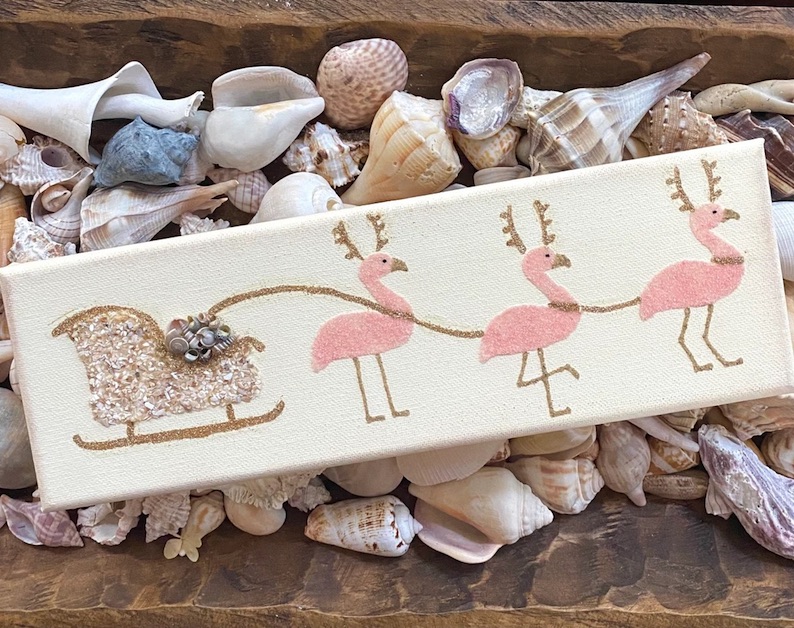 Okay, this one is one of my favorite finds this year. So you may notice that I put it on a few different pages in this Beach Christmas collection. I really get a kick out of the thought of Santa's tiny reindeer being replaced by flamingos. I don't know why, but that just brings a smile to my face.
So I'll be really disappointed if some art fan or another doesn't snatch up this wonderful painting of Flamingo Reindeer... and it's even got real shells as the presents in the sleigh. Who's with me in thinking that's about as awesome as it gets?

Sandpipers in Santa Hats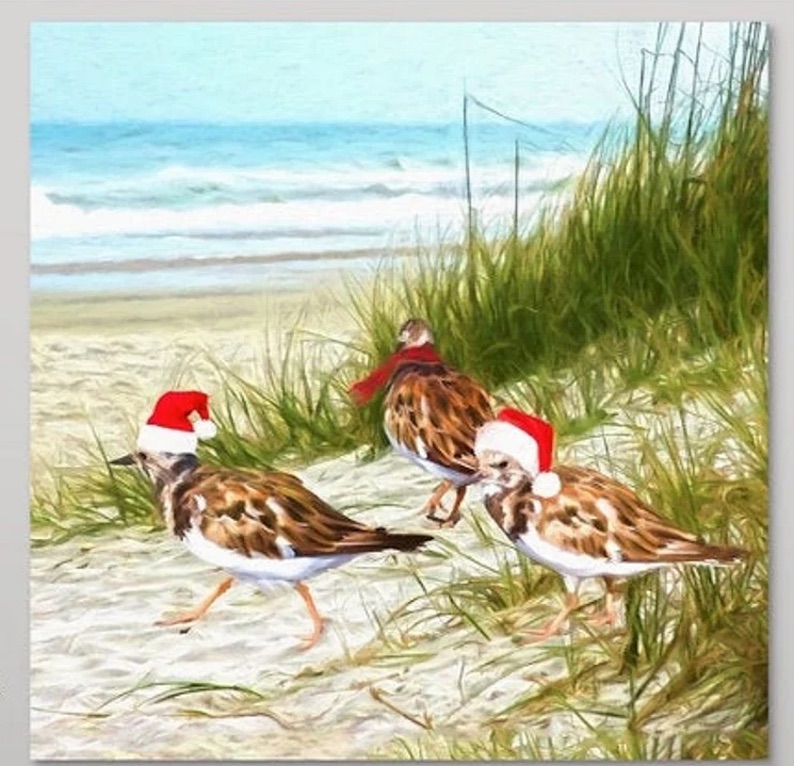 I love watching the sandpipers down at the beach. It is so much fun the way that when the waves roll out the sandpipers rush out to the newly uncovered sand, then they run back inland as the waves come back in. Back and forth these little birds run all day. It's almost hypnotic to watch.
So for me any painting of sandpipers brings that wonderful hypnotic feel. And when they're in Santa hats? What a wonderful Christmas thought.

"Seas 'n Greetings" Beach Christmas Sign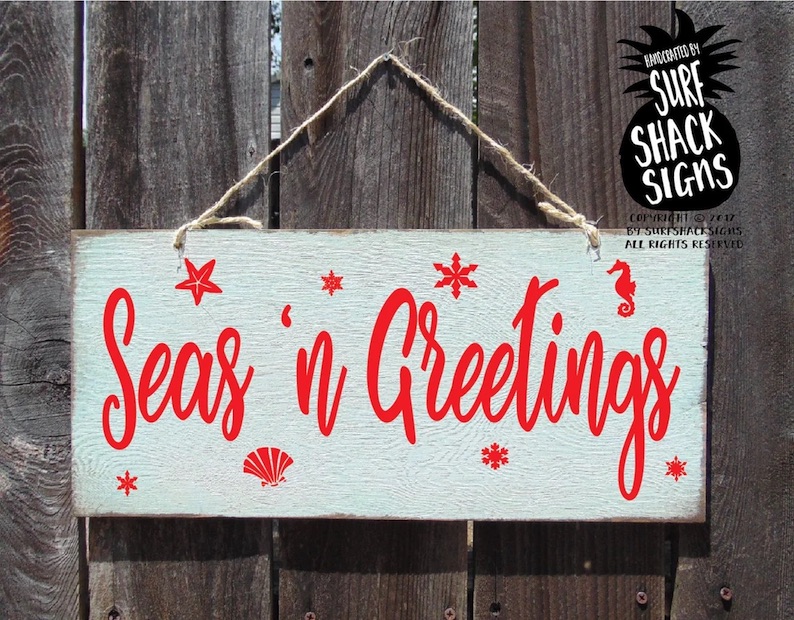 Greetings from the sea during the holiday times. What a great sentiment.

Snowman's Summer Vacation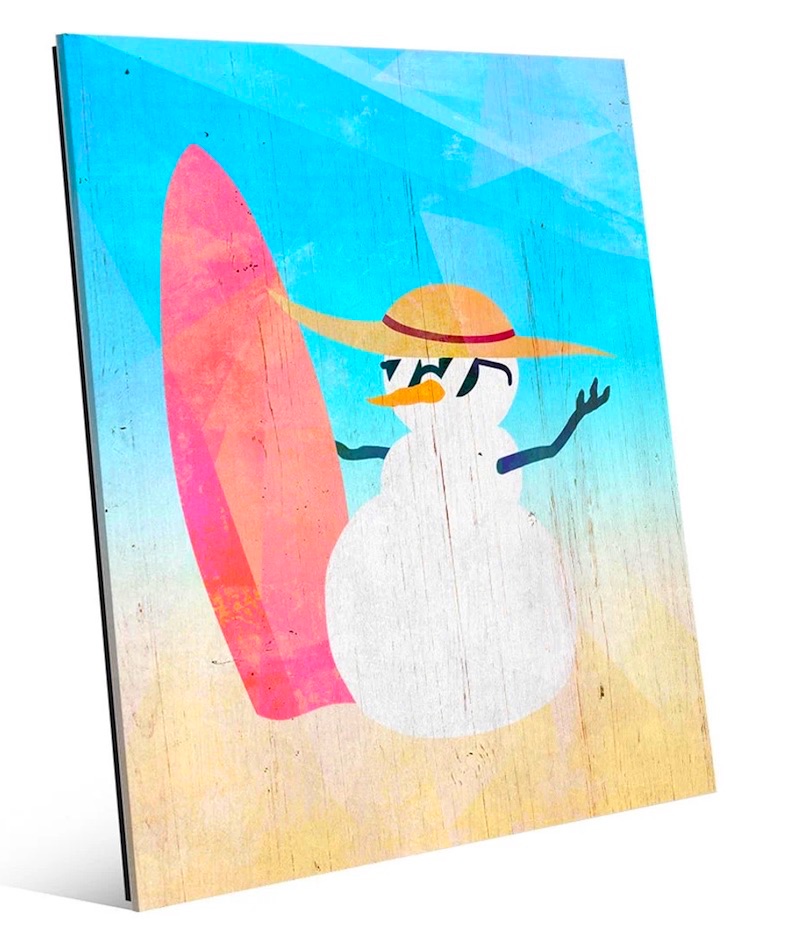 The snowman hits the beach in this whimsical little portrait. I love the colors that the artist has picked here. The way that the soft blues of the sky blend into the soft tans of the beach is a really wonderful effect. I think that this snowman has found his happy place.

Christmas Beach Print Download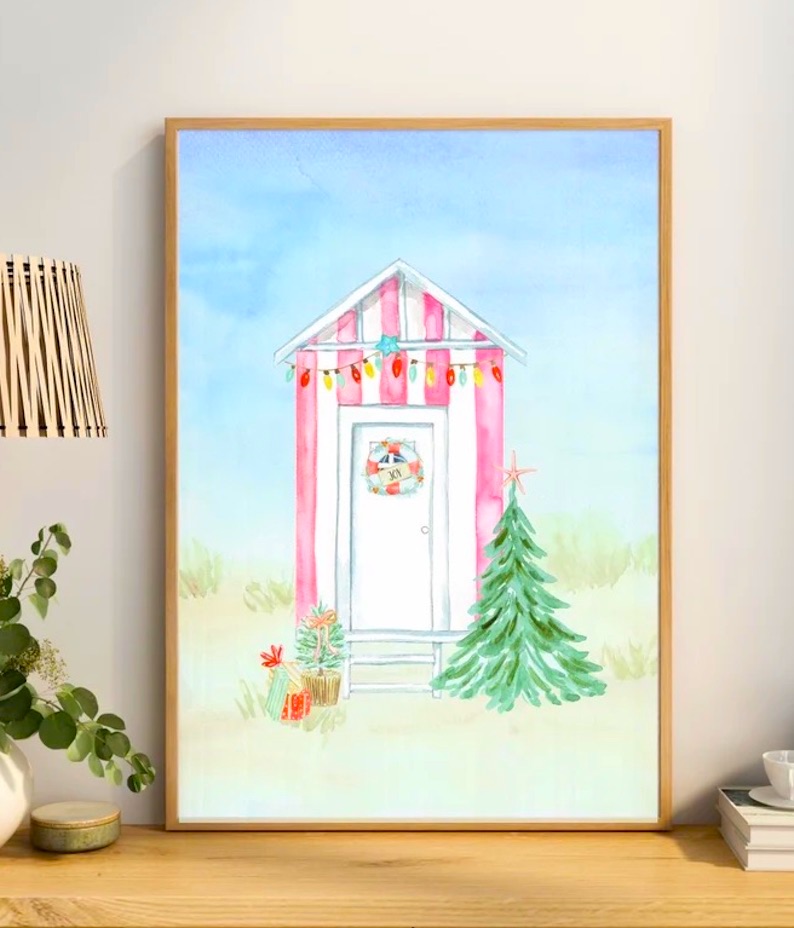 A wonderful soft watercolor painting of a little beach changing hut decked out for Christmas. What a soothing little scene this is.
And this one is being sold as a digital download, meaning that you could print it out at a size that fits your space or you could add the image to a crafts project of your own.

"You Can Have Your Snowflakes I'll Enjoy my Seashells" Rustic Wooden Wall Decor Print
The starfish and Christmas ornaments on the beach create the perfect feel for a Beach Christmas, while the sentiment expressed in the text — You can have your snowflakes, I'll enjoy my seashells — really strikes a chord within my seashell-collecting heart.

Tropical Christmas Planner Stickers
First day of Christmas: flip flops; second day of Christmas: sandcastles; third day of Christmas: flamingos in Santa hats...
I think you can kind of see how my holiday planning goes.

"Merry And Bright" Tropical Christmas Sign
Wonderful pastel colors at work on this painting of a palm tree lit up with Christmas lights, making the beach "Merry and Bright!" Could do the same for your home as well.

Indoor-Outdoor Tropical Christmas Tree Door Hanger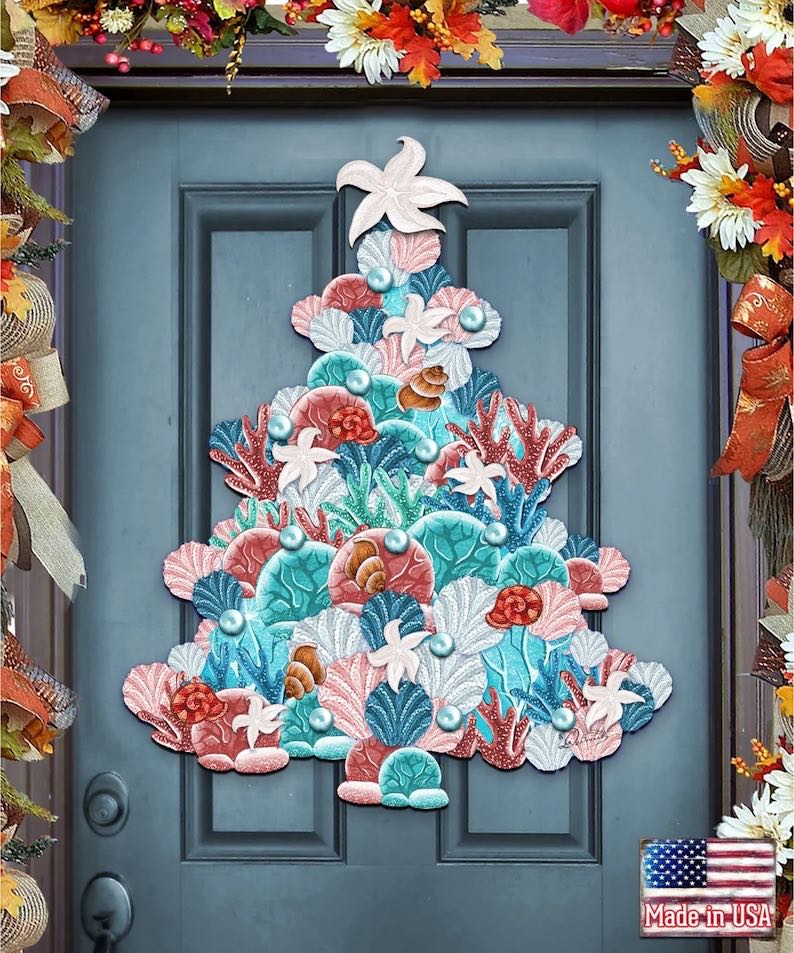 I love the collage-like feel of this depiction of a Christmas tree. It really feels like each of the sea-themed elements has been created separately and then assembled to form a Christmas tree. The effect is wonderful and certainly fits the bill for something which is Coastal Christmas.

Christmas Eve At The Beach by Lori Deiter - Wrapped Canvas Print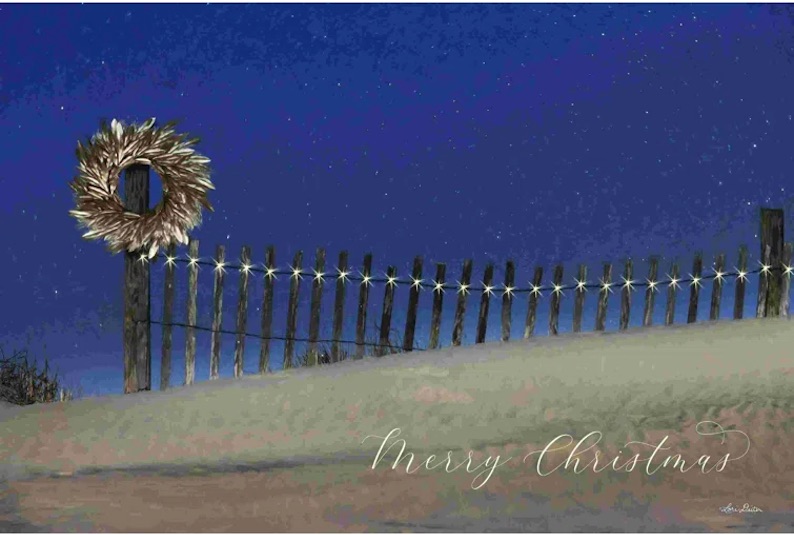 This print just captures the mood of the holidays at the beach. I feel all warm and fuzzy inside. Sigh.

"Merry Christmas From The Beach" Wrapped Canvas Graphic Art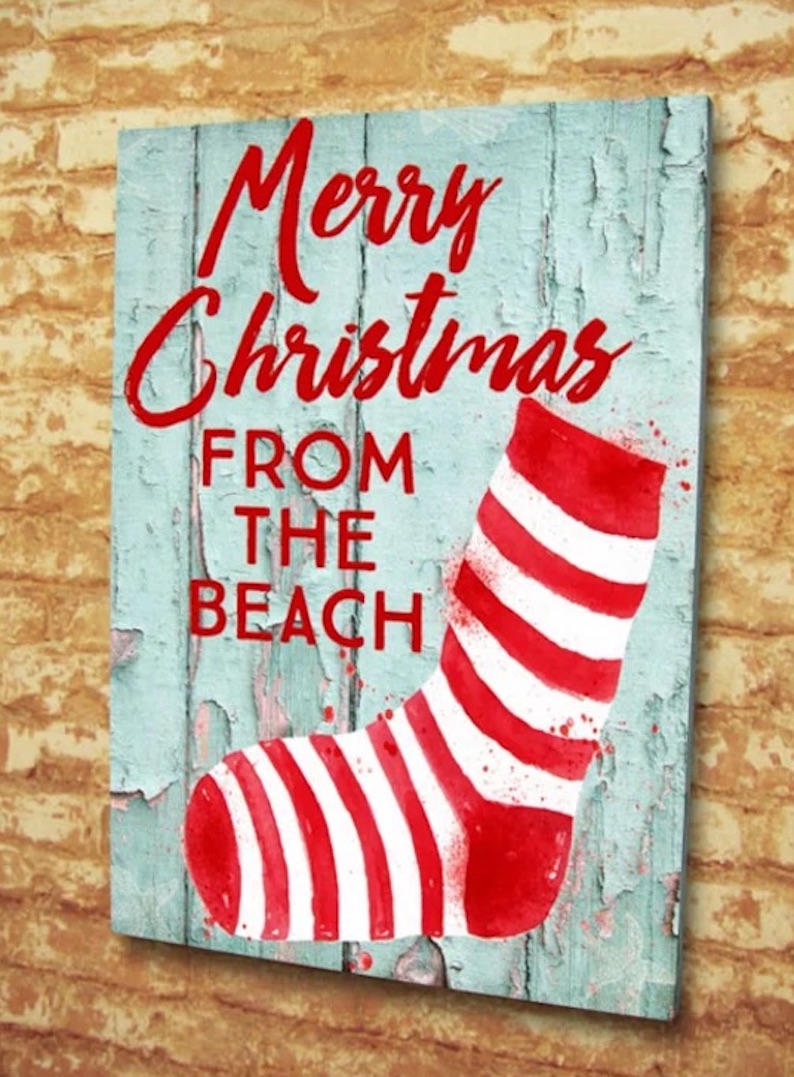 Straightforward message here. Stocking. "Merry Christmas from the Beach." It works.
It works great.

Christmas Beach Art
Thanks for checking out our big list of Christmas Beach art. As you can see, we've featured a lot here. But the truth is that we had to really contain ourselves on this post or we would have gotten really carried away with all of the beach art we love. If you enjoyed this list as much as we enjoyed making it, please give us a share on your Social. Thanks!
Written by Renee