Beach Christmas Sweaters ~ not so ugly when they're at the beach
Sweaters, jumpers, whatever you want to call them, these knit wonders are a staple of the holidays — beach holidays too!
Depending upon which beach you are spending your Christmas it may be necessary to pull on that sweater at night. Even if it's not technically necessary, a Christmas sweater is a fun part of the holiday tradition. So let's have a look at some sweaters that would be great for your Beach Christmas.

"Merry Xmas From The Sea" Sweater
What a wonderful retro look to this Christmas sweater. Merry Xmas from the Sea has that neat pattern of crabs coupled with the traditional sweater look... yet manages to look pretty darned good.

Santa with Ukulele Sweater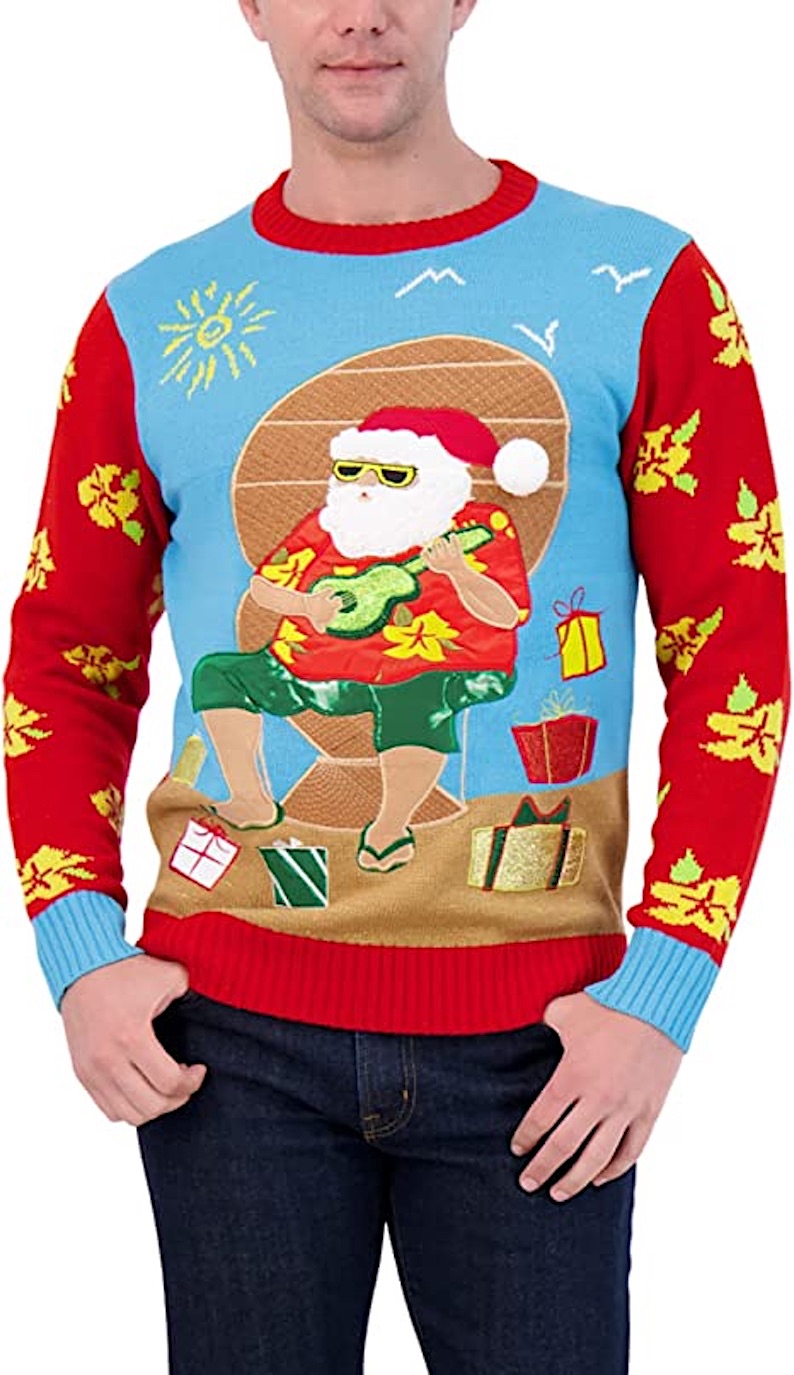 Okay, if there is such a thing as the perfect beach Christmas sweater then this one featuring Santa playing the ukulele is certainly in the running. What a fanstastic design this is. I love the representation of Santa here, as he strums along on his uke at the beach. How great is it that his lips are pursed in song? I imagine him singing the Mele Kalikimaka song for all of the other beachgoers to enjoy. And then there's the color scheme of this sweater. Can anyone say "Merry and Bright?"

"Fa La La La Mingo" Christmas Sweater
I would definitely wear this one while caroling at the beach (people do that, right?). I love the flamingo in the Santa hat. It's just such a great beach Christmas image. And of course that flamingo would be a Fa la la la mingo. Of course it would.

Merry Beachmas Tie Dye Christmas Tree Sweater
How cool is this one? I mean really. Tie dye usually works well at the beach anyway, but I love the creative use of tie dye here. First off, it's only on the lettering, not the whole shirt (wait, how did they do that?) and with the reds and greens you've got the traditional Christmas colors. I really love this shirt and think that it is such a really great twist on the concept of a Christmas sweater.

"Merry Christmas" Starfish Unisex Hoodie
When you're talking about adding a layer at the beach as it cools off, you're generally talking about a hoodie. A hoodie is the perfect thing to just slip on as the temperature drops. And naturally if you are at the beach during the holidays, then a hoodie with a Santa-hat-wearing starfish makes perfect sense.

Beach Santa Sweatshirt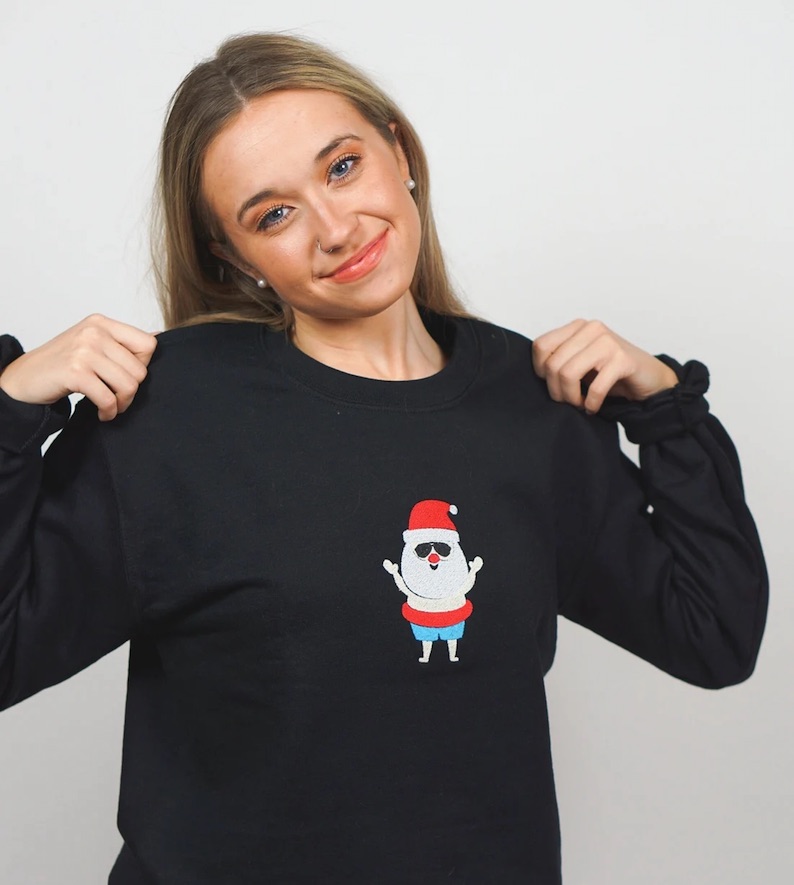 Okay, so say you're at the beach during the holidays and you feel like you want to do something along the lines of a Christmas sweater but you don't really have the nerve to pull it off? Or maybe you just want to be a little more sublte. Let's go with that instead. Well, this sweatshirt with the small graphic of Santa with a pool float will work great at letting you express the beach Christmas spirit without calling too much attention to yourself.

Jingle Shells Green Top Striped Christmas Pajamas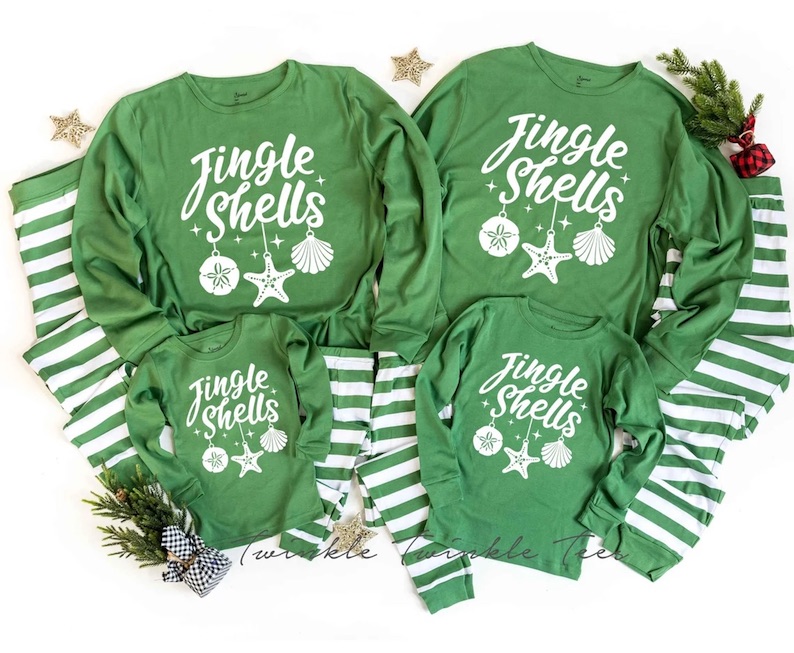 Technically not a sweater. But everyone should have a special set of PJs for the holidays. And if you are celebrating coastal holidays then these pajamas are just the ticket.

Merry Beachmas Jumper Sweatshirt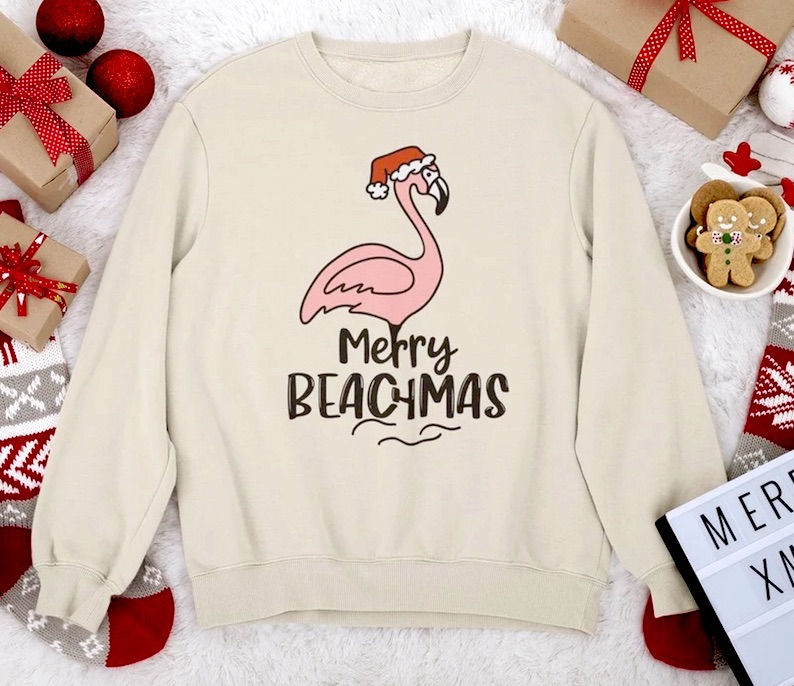 "Merry Beachmas" pretty much says it all. And accompanying it with a flamingo in Santa hat says the rest. So, I guess it then says it all.

The Beach Boys Christmas Album Sweatshirt
I don't know about you, but I can't set foot on the sand without getting the sudden urge to belt out a Beach Boys tune (I usually am able to refrain, but the urge is always there). Despite the fact that only one of them actually surfed, the music of the Beach Boys has come to mean surf and sand to people of all ages all over the world. And they made a Christmas album! So a sweatshirt with an image of the Beach Boys Christmas Album cover... well that will make you a big hit at any beach gathering in December.

Christmas Shark Sweatshirt
I don't know about you, but I believe in the Christmas Shark, and no one can tell me that he doesn't exist. No one.

Hula Dancer Christmas Sweater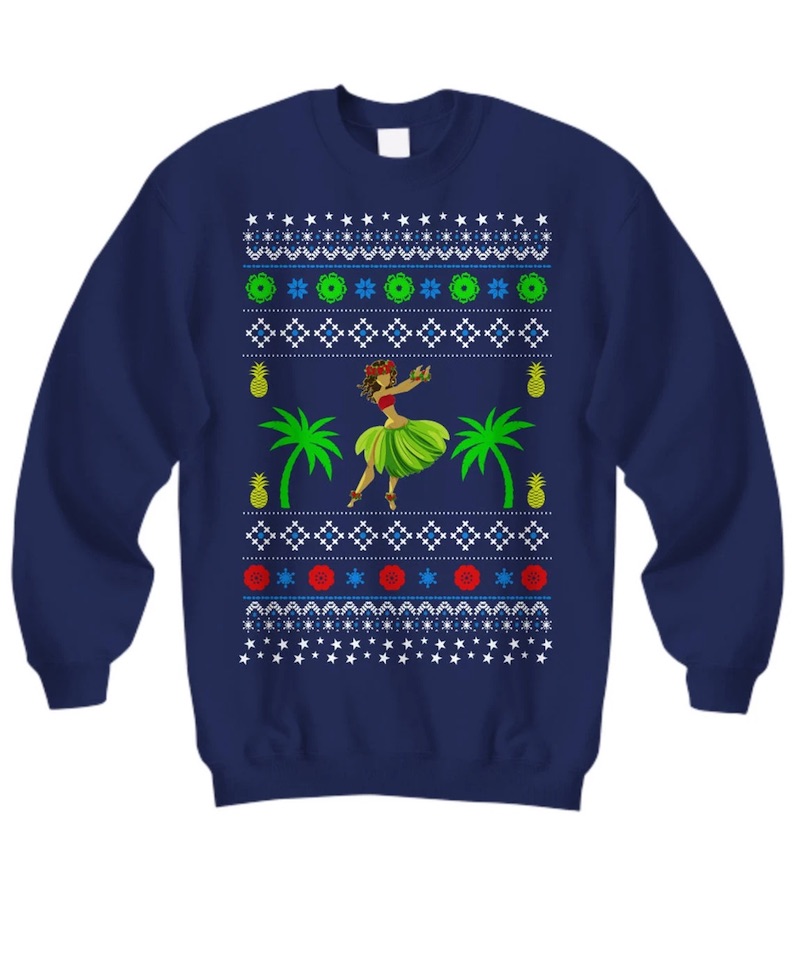 If you are looking for a traditional Christmas jumper (but better) with a traditional beach theme (which is always great) then look no further than this Hula Dancer Christmas Sweater. It has those classic Christmas-sweater patterns, but there in the middle is a wonderful rendition of a hula dancer. This one is way cool.

Jingle Shells Forest Green Christmas Pajamas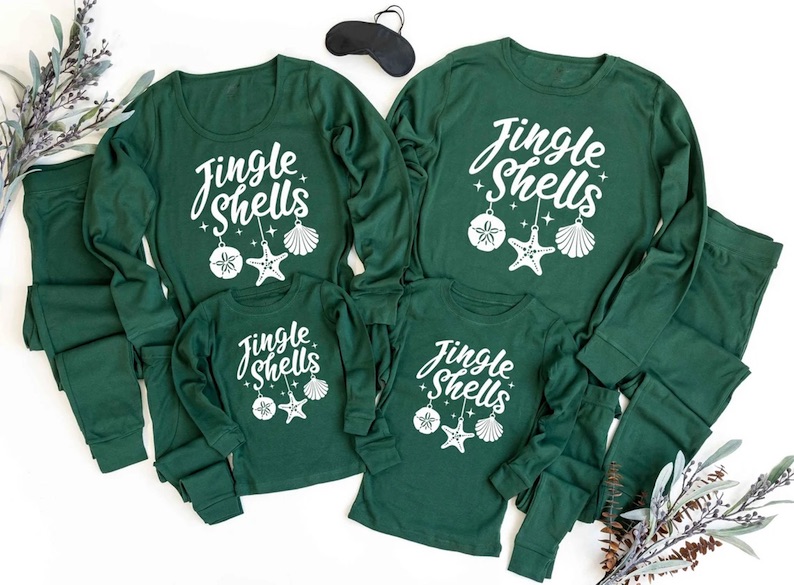 Oh yeah, we talked about pajamas earlier. This pair really rocks.

"Think Warm Merry Christmas" Long Sleeve Tee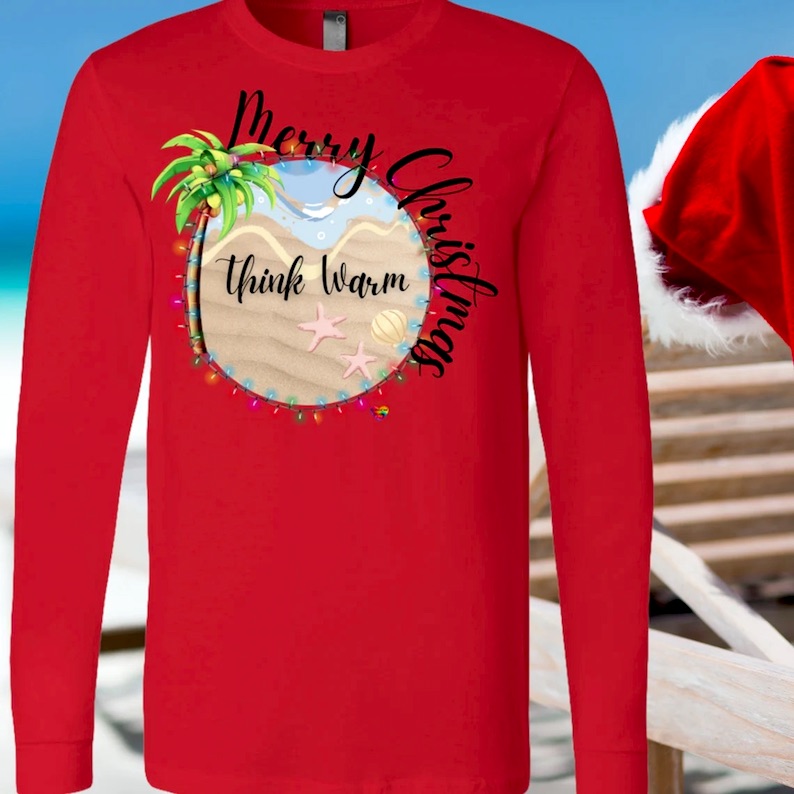 Of course if you're going for a coastal Christmas than you more than likely are hoping for a warm one. After all, you're trying to get out of the snow for this holiday season, right? So there's nothing wrong with expressing the sentiment of "Think Warm." Nothing at all.

Santa Claus Chaka Brah on the Beach Sweatshirt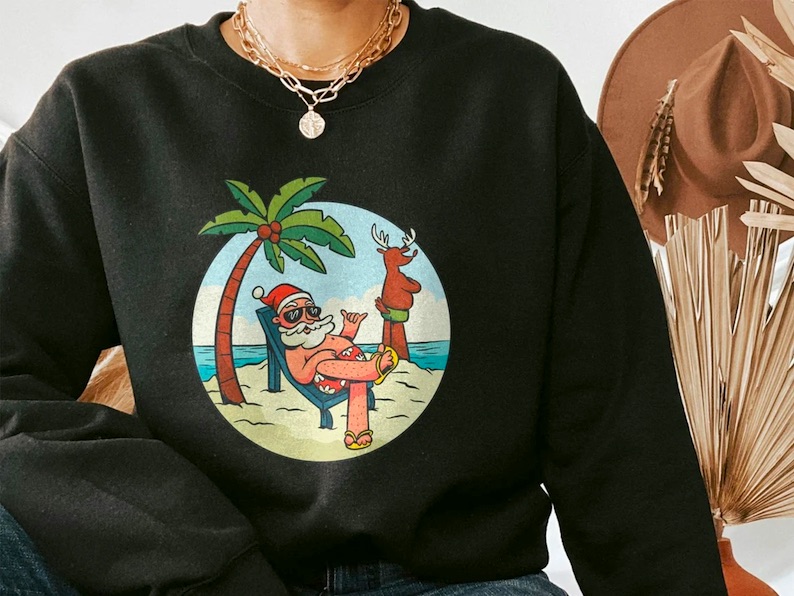 You've just gotta love this design. Santa's relaxing at the beach. Someone points a camera at him. He flashes the universal "hang loose" sign. Because Santa is cool.

Santa Springs Sweatshirt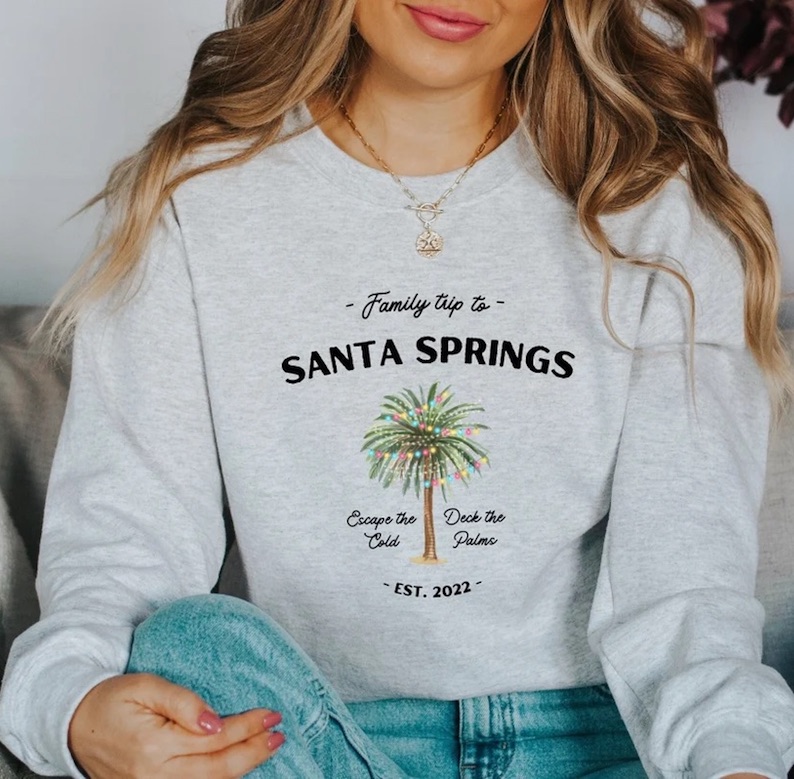 I know this is probably kind of subtle, but it made me break out in laughter the first time I saw it. I love the play on the souvenir shirts from a beach resort. It's just Santa Springs, a wonderful spot for your vacation.

"Have a Very Beachy Christmas" Sweatshirt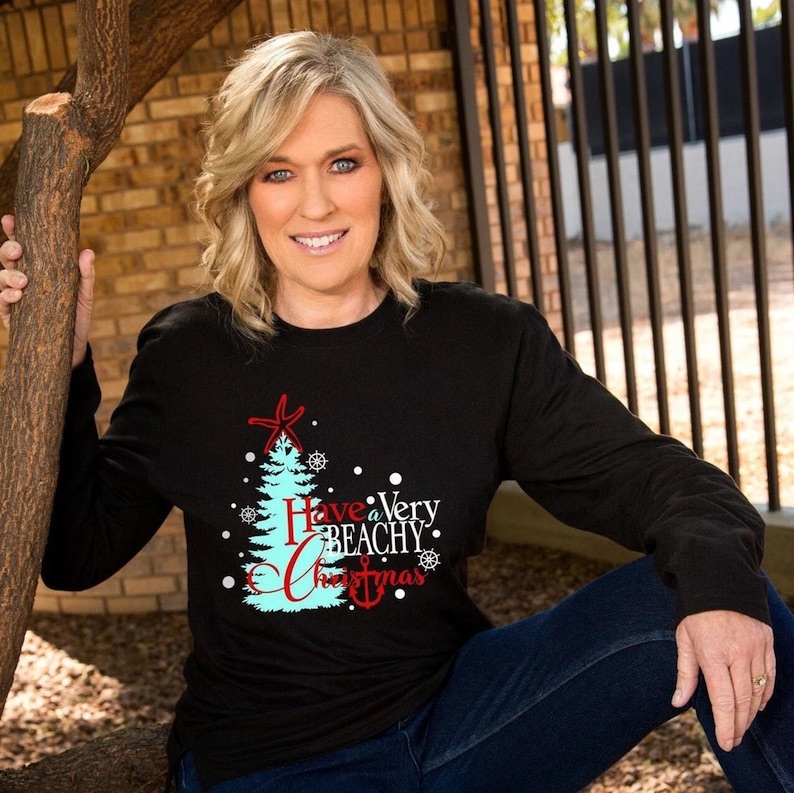 There's something about this graphic that feels very down-home and wholesome. Like you would expect this on a the cover of a country musician's Christmas album. Or in the window of a tiny shop run by somebody's grandmother. And yet, it's not traditional holiday that is represented, it is a holiday at the beach. Or am I reading too much into it?

Christmas Lights on a Palm Tree Sweatshirt
I love the vibrant colors on this one. And let's face it, the holidays are all about "vibrant," wouldn't you agree?

"This Will Beach Christmas Like No Otter" Long Sleeve
All right, I'm going to admit something here: I have no idea what's going on with this particular shirt. But I like it anyway. It has two puns, which I think is great. But what I don't know is "why otters?" My guess is that this is some meme that I just missed somewhere along the line, but I choose to think instead that it's just been created by someone with a really tangential mind.

"Mele Kalikimaka" Surfing Santa Unisex Pullover Hoodie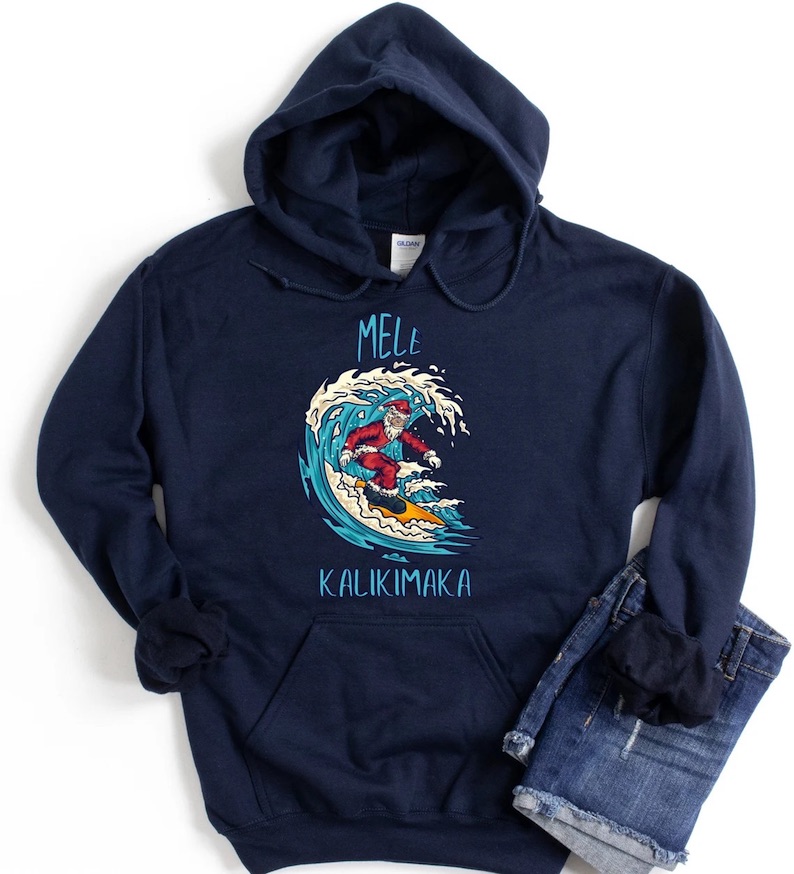 Sufing Santa, "Mele Kalikimaka" and a hoodie: three elements that say Beach Christmas brought together in one place.

Decorated Palm Tree Tropical Christmas Sweatshirt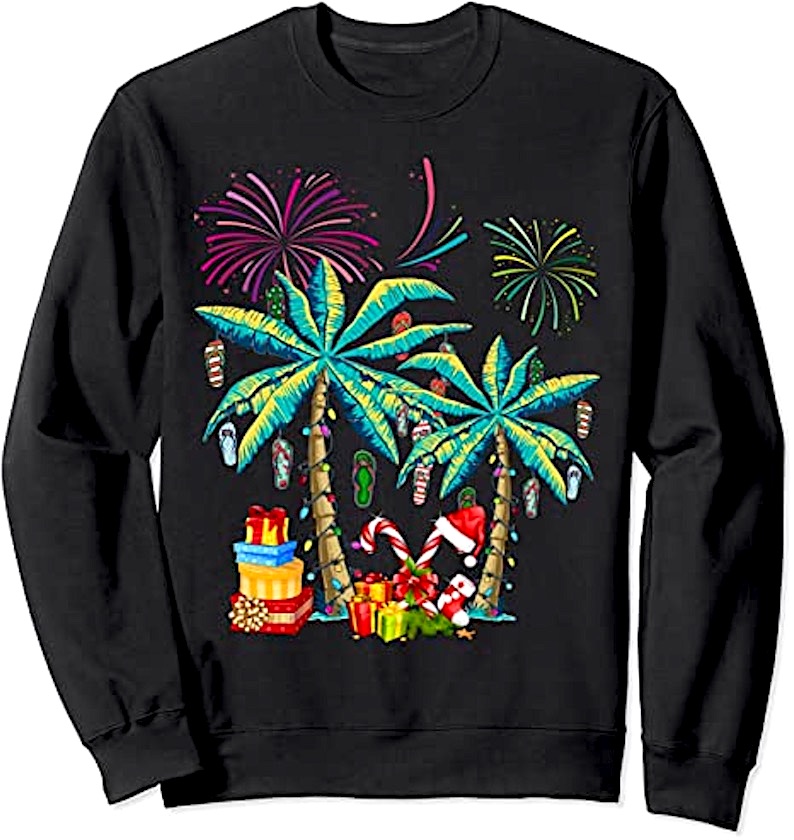 Deck the palms with candy canes and flip flops.

Santa with Surfboard Sweatshirt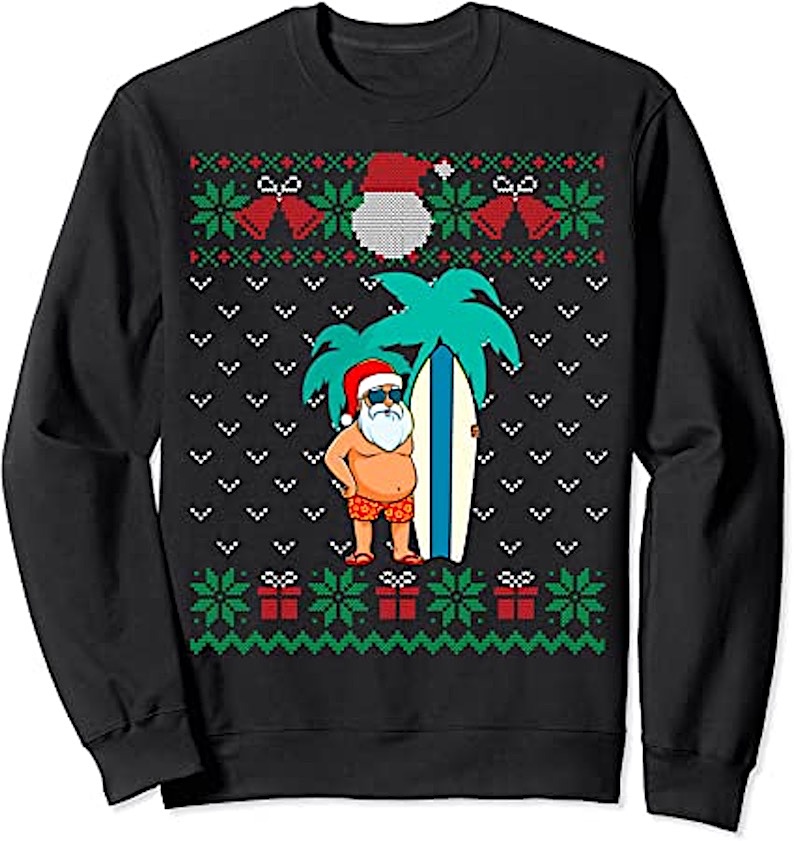 Another traditional style Christmas Sweater — with holly and bells and presents in red and green — but with Santa and his surfboard, scoping out the beach for some tasty waves. If you want both traditional and way cool in a Christmas sweater, then this is definitely the one.

Surf's Up Santa Knit Sweater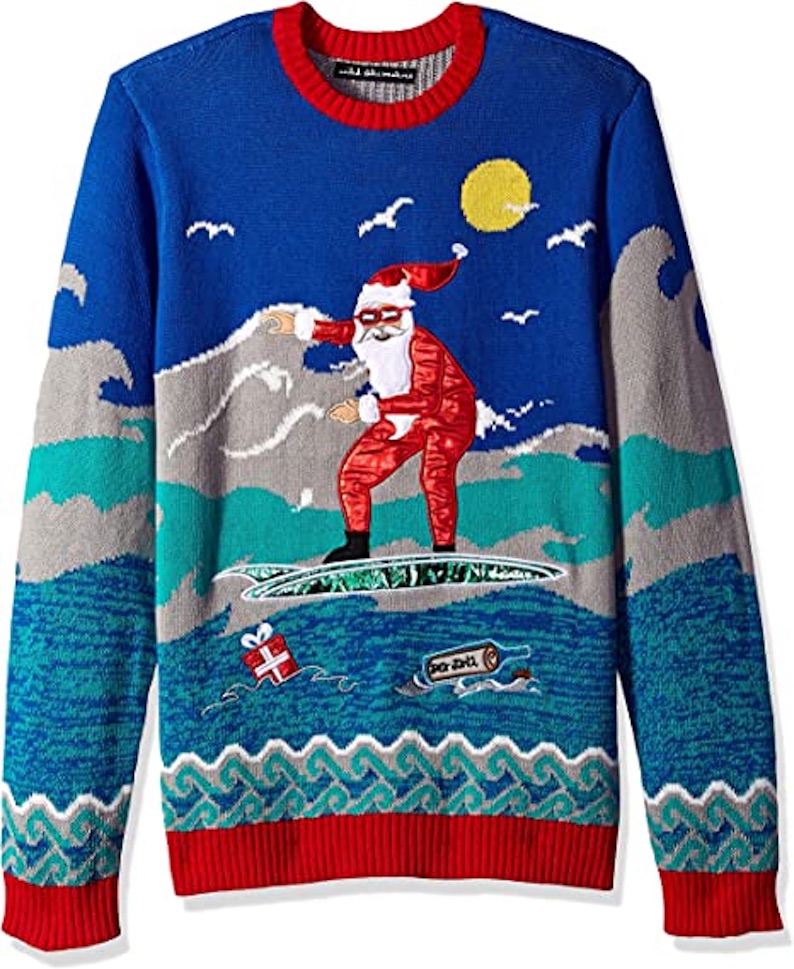 The patchwork on this one is wonderful. You can just feel the love of life that Santa is experiencing as he catches a wave. I love this sweater!

Beach Christmas Sweaters
Hope you found the right sweater to keep you warm this Beach Christmas. If you did, then please think about passing on this page to others by sharing on your Social. Thanks!
Written by Renee