Beach Christmas Lawn Decorations ~ be the coolest house on the block at Christmastime
Most of us have lawn decorations that we pull out of the garage once a year. Here's a list of decorations that you can add to the collection to give your house a Coastal vibe.
Your lawn doesn't have to be covered in snow for it to be Christmas festive — the right lawn decorations can bring that holiday spirit no matter what the weather. Here are a few that we at Seashell Madness really like.

Surfing Santa and Christmas Dolphins Yard Signs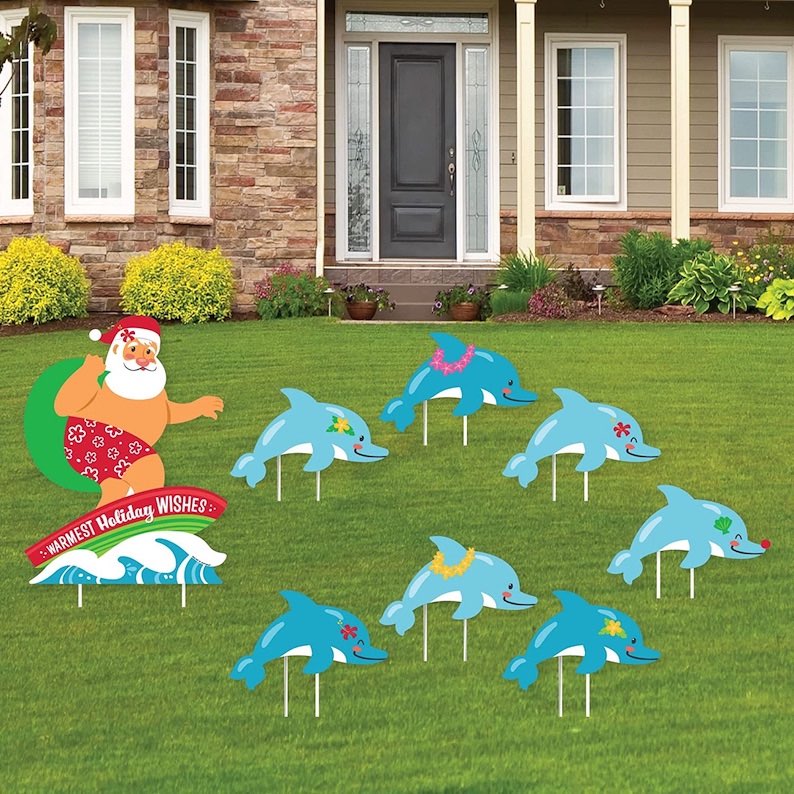 The most classic of holiday lawn ornaments has got to be Santa and the reindeer. You can see them on countless lawns around the world. So the fact that we've got such a great take on such a classic is just wonderful. I love that Santa is surfing away with his pack slung over his back while he is preceeded by a pod of Maui dolphins (complete with a Rudolph!) who are guiding him to the beach. Whether your yard is sandy or covered in snow, this guy will make your Christmas coastal.

Tropical Christmas Yard Art - Large
This image of Santa enjoying a tropical drink out of a coconut is priceless. I mean, who wouldn't want that in the front yard? Add in a "joy" surfboard, a sandy snowman and a palm Christmas tree and you are showing the neighborhood that you have definitely caught the spirit of the season... and of the beach!

7-Foot Inflatable Santa Claus and Penguin on a Desert Island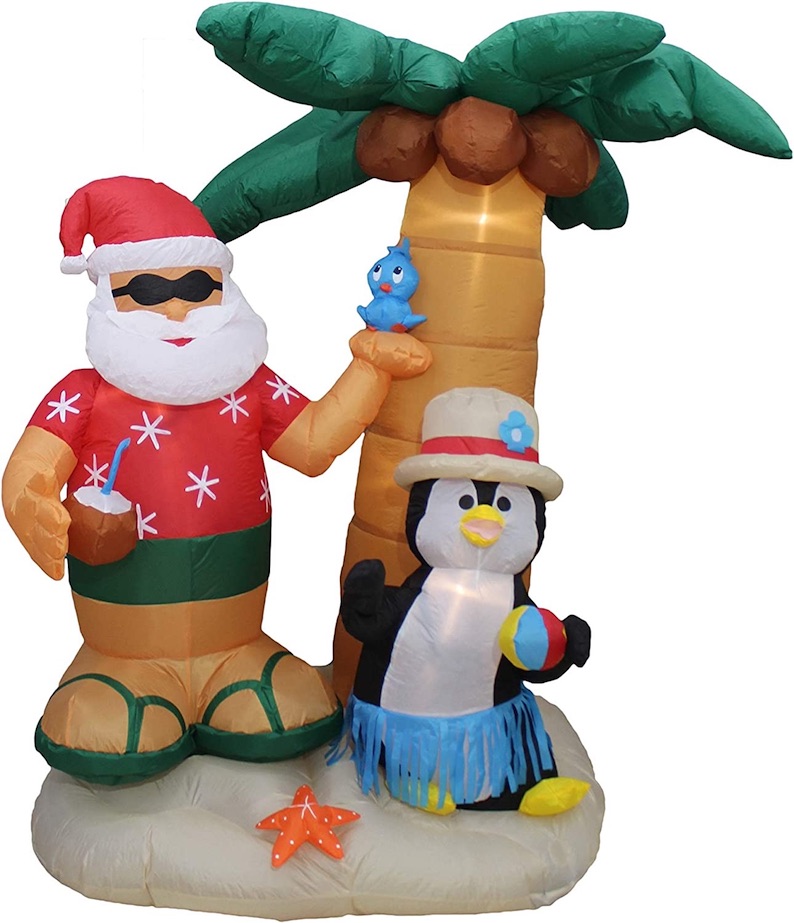 Everyone loves a good inflatable figure on the front lawn for the holidays. Though they haven't been around that long, the inflatables are certainly part of the tradition. And you can show your love of the beach with this inflatable Santa — and his penguin.

"Have Yourself a Beachy Little Christmas" Door Hanger
Wish one and all a beachy Christmas when you hang this sign on the front door. Doesn't matter where you are. Doesn't matter what the temperature is outside. This sign will put anyone in the mood for a Beach Christmas.

Tropical Christmas Santa, Palm Tree, Flamingo, Snowman and Elf Lawn Decoration Set
I love this set of little yard decorations. They have all of the elements of Christmas: Santa, elves, snowmen, and all of the elements of beachiness: palm trees, flamingos, surfboards, all wrapped up in these cute little illustrations. These would be great lining the walkway to the porch of your beach house (or any house, for that matter).

Beach Santa "Mele Kalikimaka" Hawaiian Holiday Party Yard Sign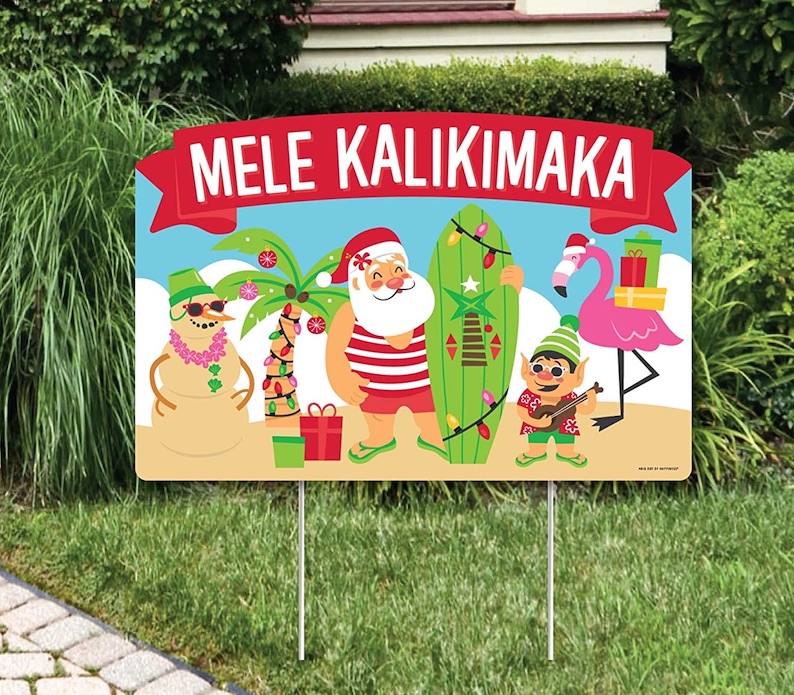 It's how the Hawaiians say Merry Christmas. And since we are talking about having a Beach Christmas, then we should probably follow the Hawaiians' lead here. Mele Kalikimaka!

Santa Writes "Merry Christmas" in the Sand Yard Sign
I imagine that his scene is taking place just after the last toy deliveries. Santa and his crew have gotten through that one stressful night then headed the sleigh toward the nearest beach where ol' Saint Nick hops onto the sand and writes Merry Christmas for all to see.

Christmas Coastal Seabird Small Garden Flag
I love that not only does this coastal bird wear a Santa hat, but her holiday spirit is made even more complete with a necklace of seashells. What a wonderful addition to any garden around this special time of year.

Pink Flamingo Yard Ornament Stakes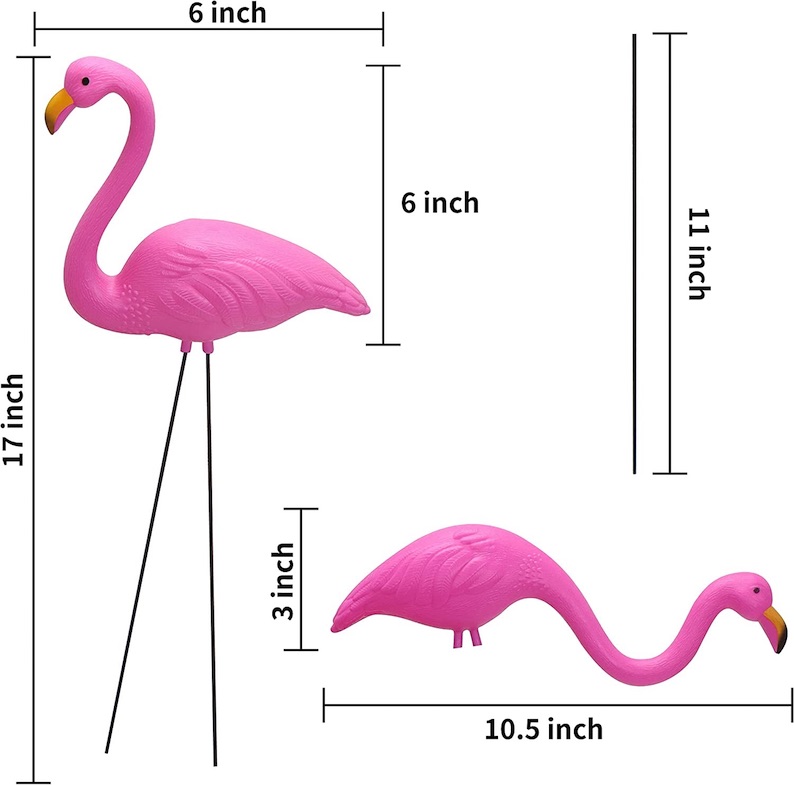 Okay, so there's nothing actually Christmasy about your standard pink flamingo yard stakes. But hey, if you wade out into the snow and stake these guys down in your yard at Christmastimw you will definitely be making a coastal stateme.

Tropical Pineapple Yard Sign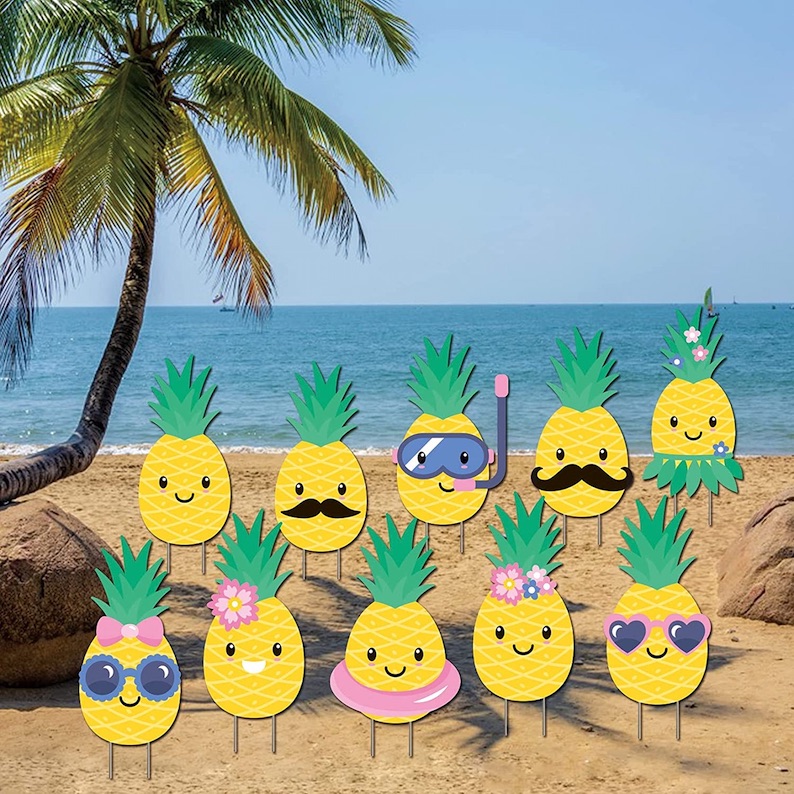 Again, not really Christmas pineapple, but come on, these guys are so cute!

Giant 8-foot Inflatable Hawaiian Snowman
If you're going to have an inflatable snowman in your yard, then definitely make it a giant 8-foot inflatable snowman. And if you're making that kind of statement already, then give him a Hawaiian them so that everyone in the neighborhood knows that you're dreaming of a beach Christmas.

Lighted 7-foot Palm Tree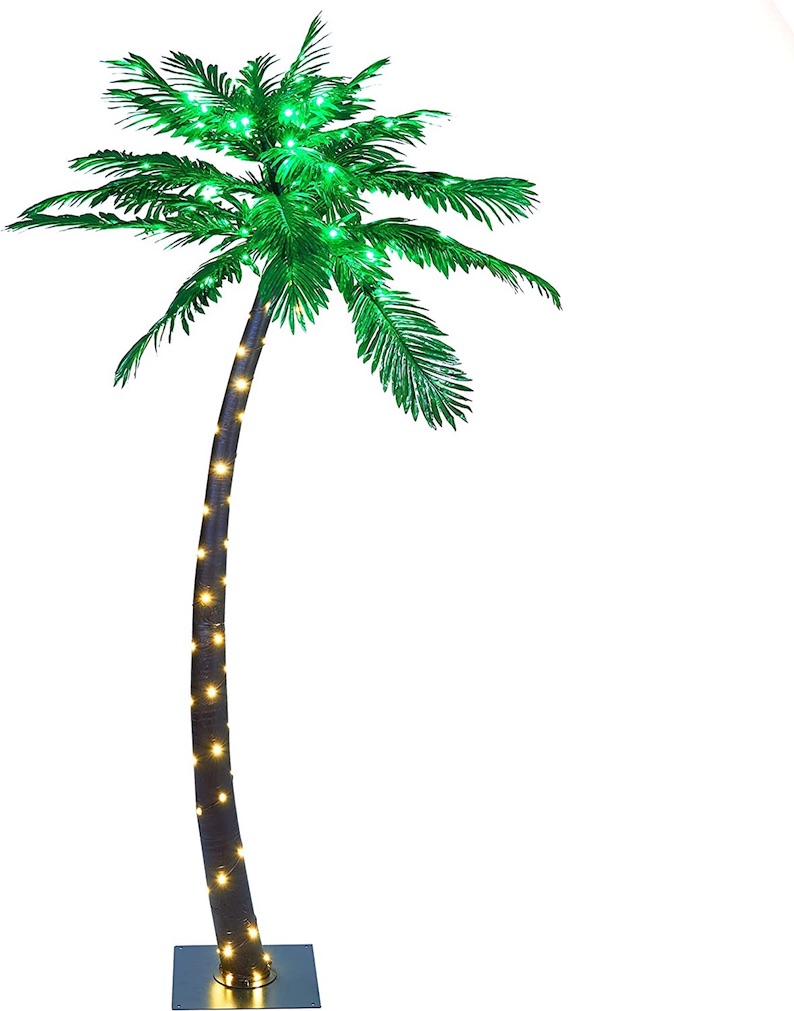 In case your yard doesn't have a palm tree that you can light up — or in case the palm tree in your yard is too tall to climb to light it — this one will work just fine.

7-foot Inflatable Hula Santa
Hula Santa is a perfect image for the coastal Christmas. Make sure that you feature that image huge and inflatable in your front yard.

Pool Party Elf
Even the elves need to get away from the North Pole every now and then. And when they do, they all congregate poolside. And float on innertubes.

Flamingo "Reindeer" Pulling Santa's Sleigh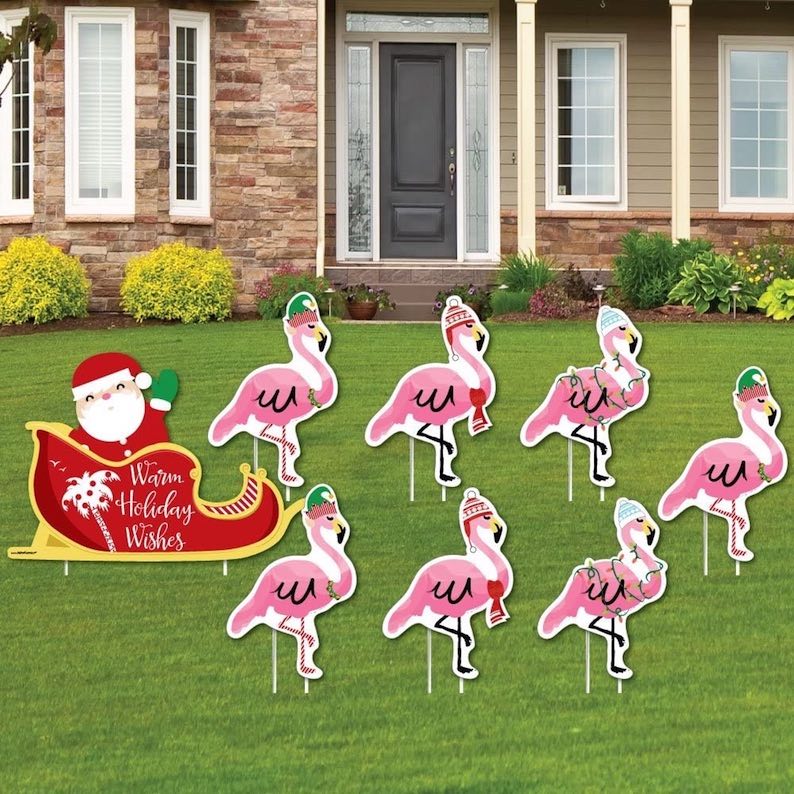 Who says you need reindeer to pull a sleigh? Why I've heard that flamingo are perfectly capable at that task. Maybe even better, as flying comes to them much more naturally than it does to a deer.

32 inch Pre-Lit Pink Flamingo with Santa Claus Hat Outdoor Decoration
If anyone can rock a Santa hat it is a flamingo. That red hat just naturally goes with those pink wings. And having this guy in your front yard lets everyone know that you know that.

6-foot Inflatable Beach Snowman
You've gotta love the look of this inflateable snowman. Everything about him says "beach," from his sunglasses and floppy hat to the Hawaaian lei around his neck right down to that goofy smile made of seashells. This, my friends, is what beach Christmas looks like.

"Seas & Greetings" Mermaid Coastal Yard Sign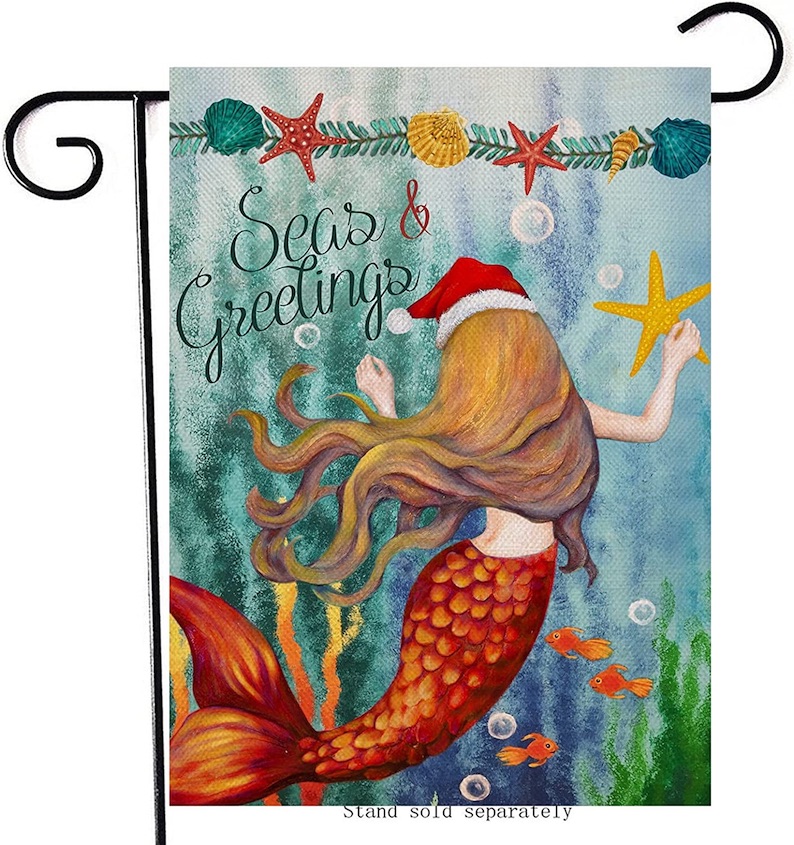 If you've looked around the site here at Seashell Madness you'll notice that we have a lot of pages devoted to mermaids. There's just something fascinating about these mythical ladies and there's something about them that just lends them to artistic expression. Add in a little "Seas and Greetings" and you've got a neat little yard sign to show off your beachiness for the holidays.

Christmas in Paradise Flamingo House Flag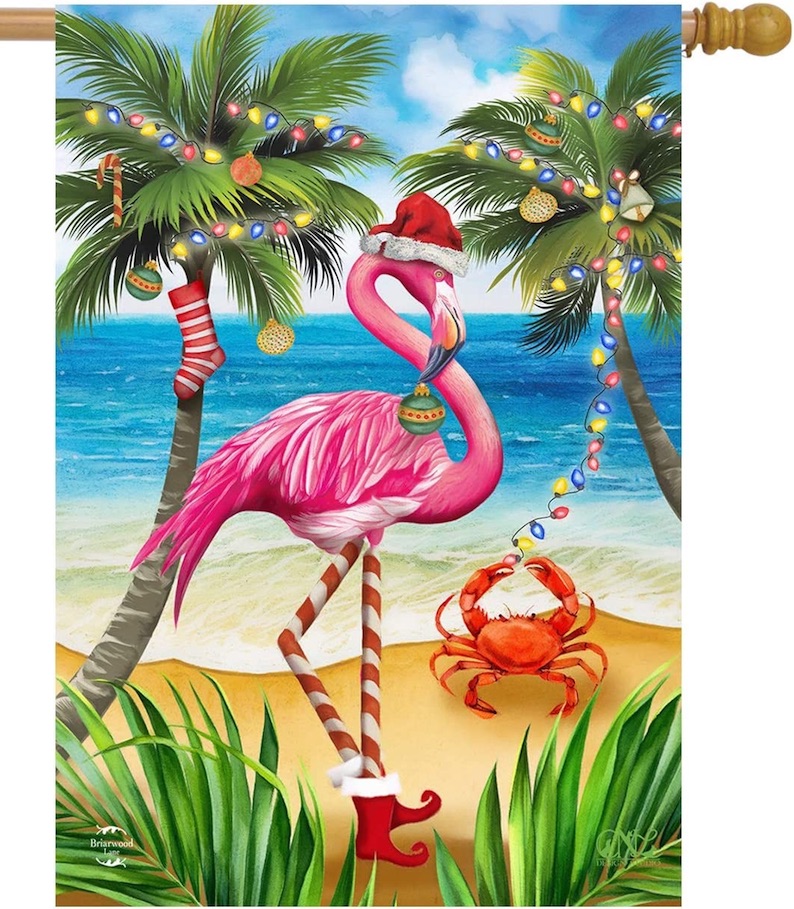 I love that the flamingo is hanging the ornaments on the tree while the crab strings the lights. It's a perfect way to go about decorating for the holidays if you happen to live on the beach as these two do.

Beach Santa Hat with Starfish Magnetic Mailbox Cover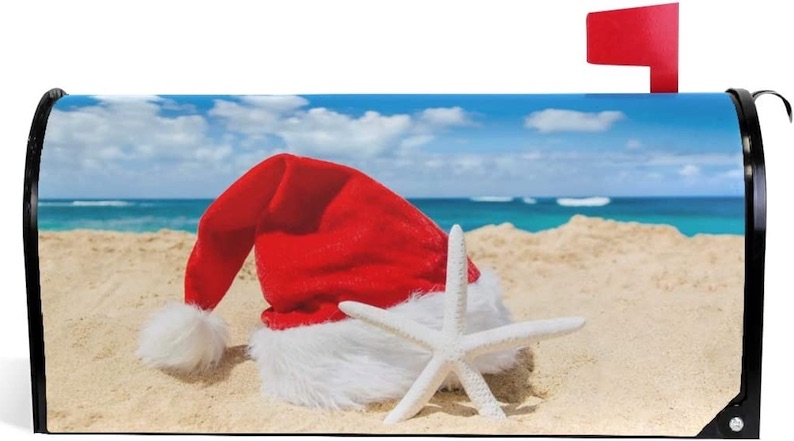 So you probably wouldn't want to permanently cover your mailbox in a Christmas theme, but to do so just for the holidays is a great use of the space. And having a magnetic cover makes it easy to apply and remove whatever you want from atop your mailbox. So why not a Santa Hat on the beach? Perfect!

Coastal Fisherman Santa Wooden Door Hanger
I love the artwork here of the old-world St. Nicholas making his way along the road. Yet there is a coastal twist: if you look at his robe, you can see it is patterned in shells and starfish. I think that this is beautiful, and Christmasy and beachy all at the same time.

Beach Santa Claus Hand-Painted Wooden Door Hanger
Wewlcome everyone to your pool at Christmas with this wonderful wooden door hanger.

Beach Christmas Lawn Decorations
That was a fun one, wasn't it? I know that I really enjoy sprucing up the lawn for the holidays. And I hope that you found something on this page to spruce up yours. And if you did, please consider giving this page a share on the ol' Social media. Thanks!
Written by Renee