Beach Christmas Clip Art ~ drawing up the Christmas spirit with digital downloads
Give your Christmas crafts projects a headstart with a little Beach Clip Art, we've got a big list that you can download!
Crafty projects around Christmastime can be a fun addition to the holidays. Whether you are doing crafts by yourself or with the kids or with some friends, it can be a really fun way to spend your holiday time.
And these days you can add another dimension to your crafts projects with the help of a little Beach Christmas Clip Art. Just download and make these little bits part of your grander crafts scheme!

Surfing Santa and Hula Santa Clip Art
The image of Santa at the beach is something that you will see quite a bit when you're looking for Christmas clip art. There area a wide variety of styles and representations of what Santa would be doing on the beach, from surfing to drinking pina coladas.
The hula Santa here is one of my favorites. I'm picuturing adding him to a little one's ornament right now.

Tropical Christmas SVG Bundle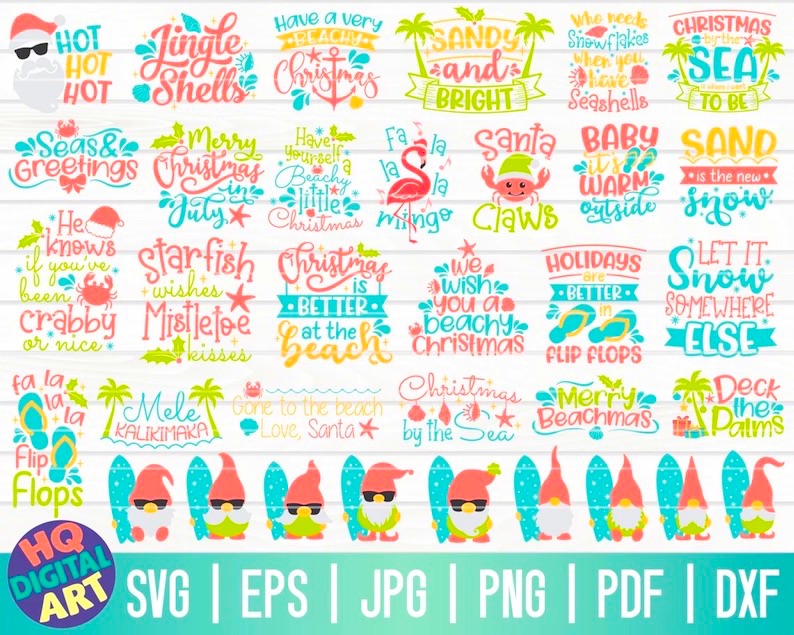 There are a few download bundles on this list. How great is it that you have several different images to choose from when creating your crafts projects? I love this particular collection for its downkeyed pastel tones. Obviously, there is a place for big and bright in holiday crafts, but there's just something about the cool color tones of this bundle that seems to really fit with our theme of a beach Christmas.
And all of the great Christmas beach sayings are represesnted, making them perfect for your own personally crafted decor. "Jingle Shells," "Have a Beachy Christmas," "Santa Claws," "Mele Kalikimaka"... all the great ones are here for your crafting pleasure.

Tropical Islander Santa with Surf Boards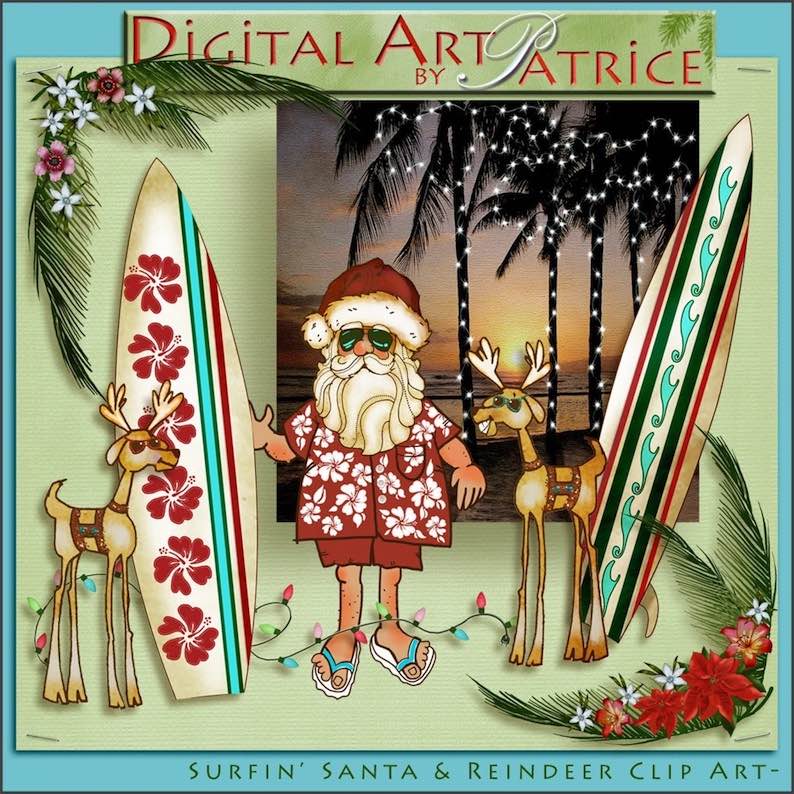 As a piece of art, this particular illustration of Beach Santa is definitely one of my favorites. It's just something about the artist's style that I really like. The clean lines of the illustrations would make this one work well in crafts projects — you won't lose the image in this one no matter what you do with it. And that smiling reindeer wearing sunglasses is a great image that I could see using in all sorts of places.

Coastal Christmas Clip Art
Another great clip art collection here. I like that this one has used some of the common Beach Christmas sayings in fun ways. My favorite? "Ho Ho Ho" spelled out with sand dollars!

Beach Christmas Ornament SVG Bundle
This download bundle is designed expressly for the making of ornaments. And I personally think it works really well. Lots of great sayings like "Christmas by the Sea" and my favorite "All I Want for Christmas is a Real Good Tan" will help your crafts be different than most. The unique thing about this collection is that they have gone with a color palette which is decidedly "beach" rather than "Christmas." A definite fit in with any room that features coastal decor.

Tropical Christmas Clip Art
"Deck the Palms," "Sandy and Bright," and many more beachy slogans are featured in this Tropical Christmas Clip Art collection. I particularly like the happy Santa with his beach tube as he seems really thrilled to be partaking of the surf.

Christmas on the Beach Art Download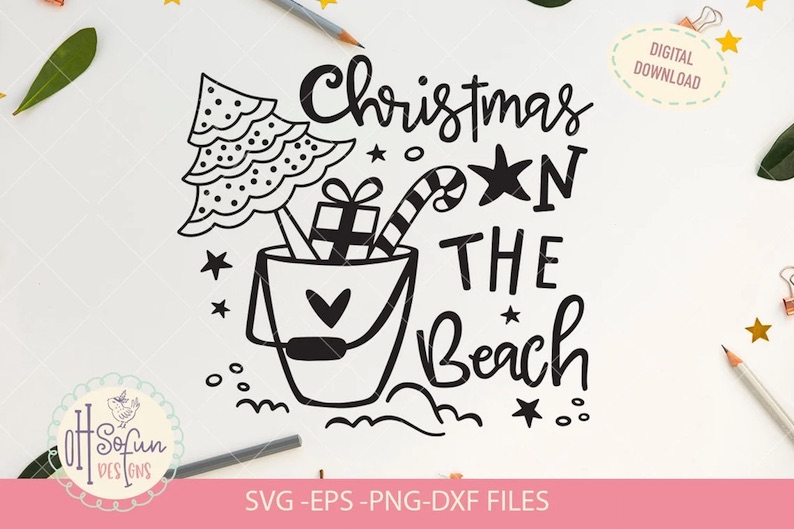 Here's a download that should work really well in crafts projects: "Christmas on the Beach." I mean, that just gets right to the point, doesn't it? And I think that the little beach pale filled with Christmas goodies is just great.

Tropical Christmas Digital Clip Art
I really like the Santa in this collection of Tropical Christmas digital clip art. Red bathing suit — which of course Santa would be wearing — and those oversized sunglasses! Yes, it's the oversized sunglasses that make it for me. And this collection features that same St. Nick in lots of different poses. Love it!

Surf's Up! Surfing Santa Digital Download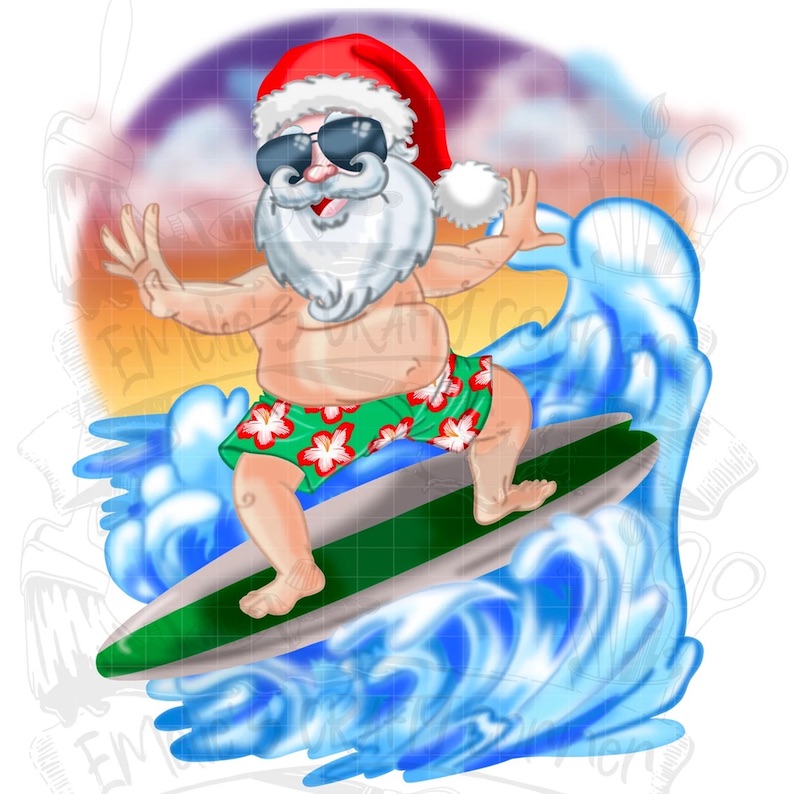 The detail on this one is just wonderful. I love how modern digital painting tools can recreate traditional styles so well. You would swear that the background and the waves had been airbrushed, but no, they're done digitally. And those painting tools have been used to great effect here as Santa catches a tasty wave off the coast.

"Jingle Shells" Christmas SVG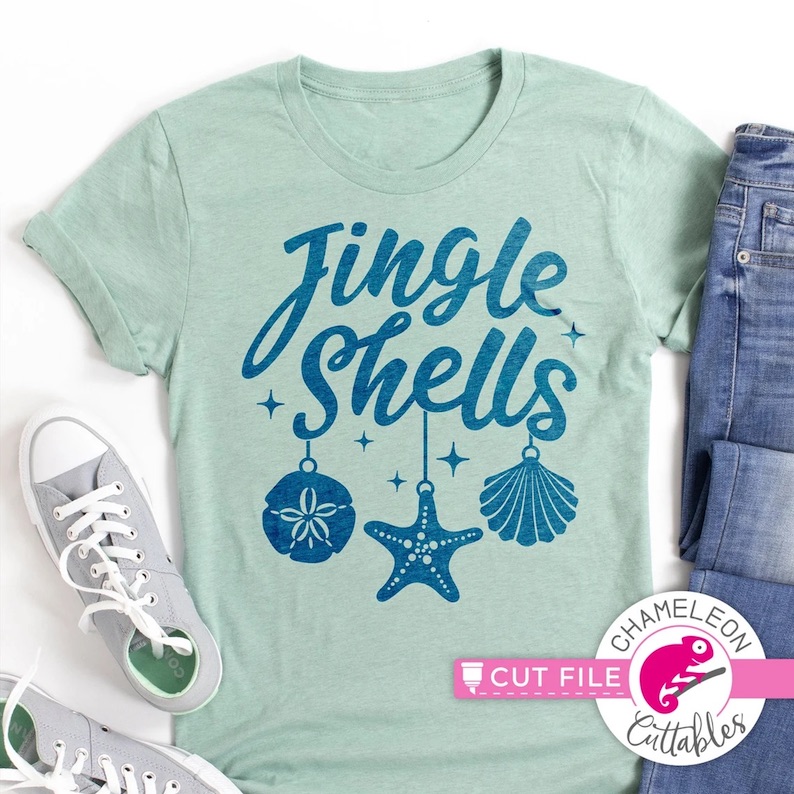 Here we have a piece of SVG art which has been created basically for one purpose: for use in making T-shirts. And personally, I think that this "Jingle Shells" works great in that context.

Tropical Christmas Clip Art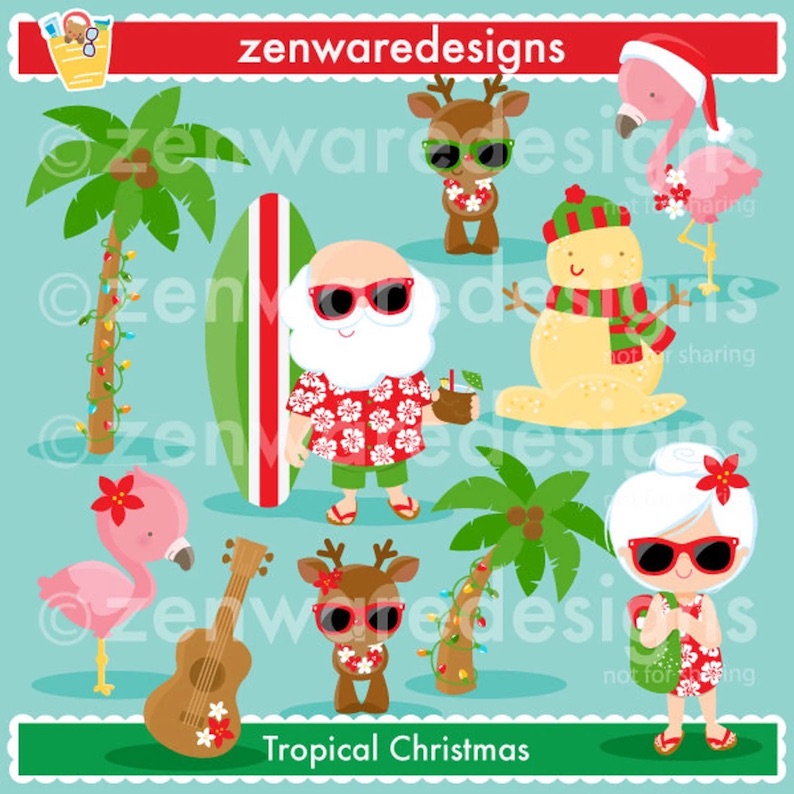 I like the big heads on this collection of Christmas clip art. Santa looks so relaxed and happy as he walks the beach with a drink in his hand, and I think this representation of Mrs. Claus is one of the best I've seen. I love that she's got the little Hawaiian print sun dress on and has her beach tote over her shoulders for a great day in the sun.

"Deck the Palms" Digital Art Download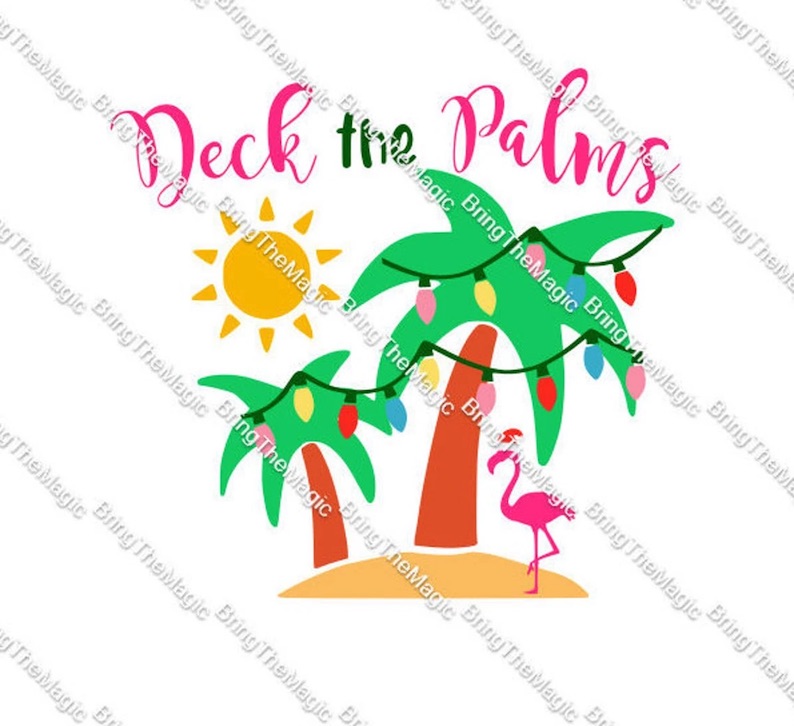 I've always wanted to deck the palms in our neighborhood. But since the fronds are about 100 feet off the ground, it's not really practical.

Palm Trees with Christmas Ornaments Digital Art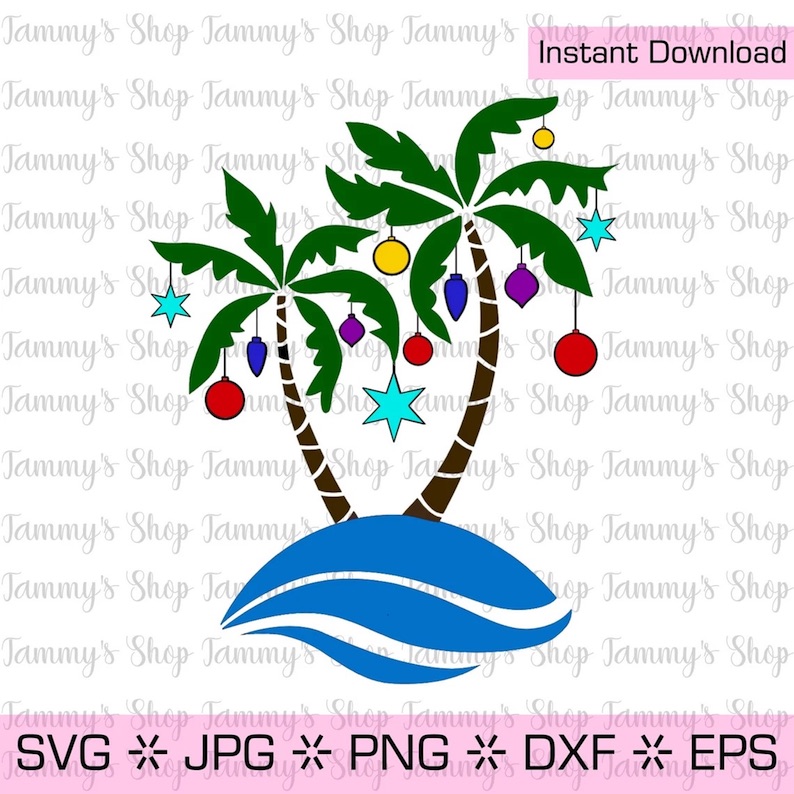 Another great depiction of Christmas palm trees. I think that this would be a wonderful image to use in multiple ways during this Christmas season. It would work on cards, on invitations, on ornaments and pretty much anything else that you want to give a coastal Christmas theme.


Christmas Mermaid and Other Holiday Sea Creatures Art Download
Mermaids! If you've spent much time on this site, you know that we have a lot of mermaidness. From mermaid art to mermaid rings to mermaid jewelry boxes, we've tracked them all down because, well, we really like mermaids. And I love the way that this particular mermaid is rendered. This is definitely a Christmas mermaid — she's all bundled up in a sweater and she's got the clip-on reindeer antlers. She's perfect for Christmas decor! (and the octopus in the tobaggan hat is really cool as well!)

"I'm Dreaming of a Sunburnt Christmas" Art Download
This piece of downloadable clip art expresses my sentiments exactly: I'm dreaming of a sunburnt Christmas too!

Aloha Shirt Snowman Clip Art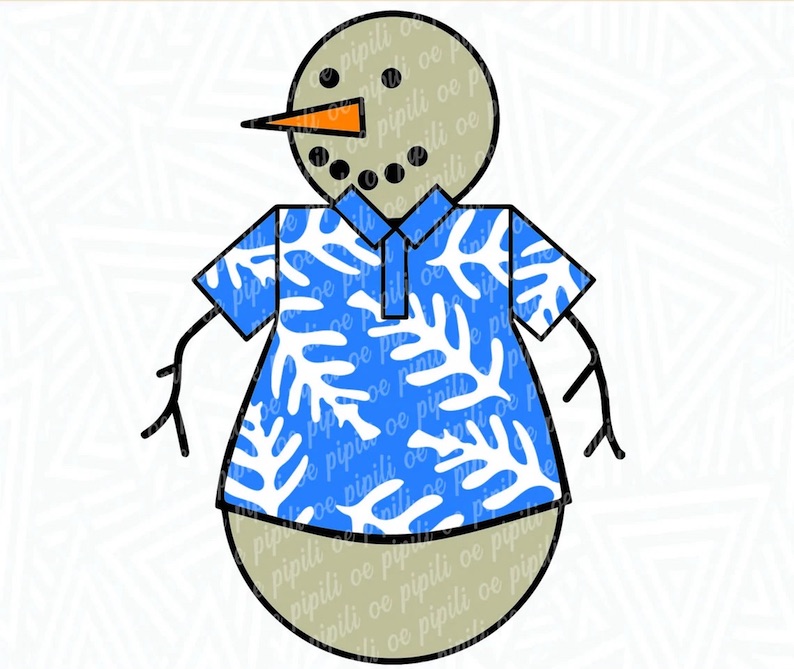 There's something about the simplicity of this piece of Christmas clip art. It's a snowman. He's wearing a Hawaiian shirt. That really says it all, doesn't it?

Tropical Beach Christmas Party Clip Art
Not only is Santa on the beach, not only is the snowman with him, not only is the surfboard deorated with string lights, but obviously these wintery guys are having a great cookout on the beach. Who's up for joining them?

Beach Christmas Clip Art
Thanks for checking out our list of Beach Christmas Clip Art. Hopefully you found something to help spark your Christmas crafts creativity. If so, please consider sharing this list on your Social. Thanks!
Written by Renee